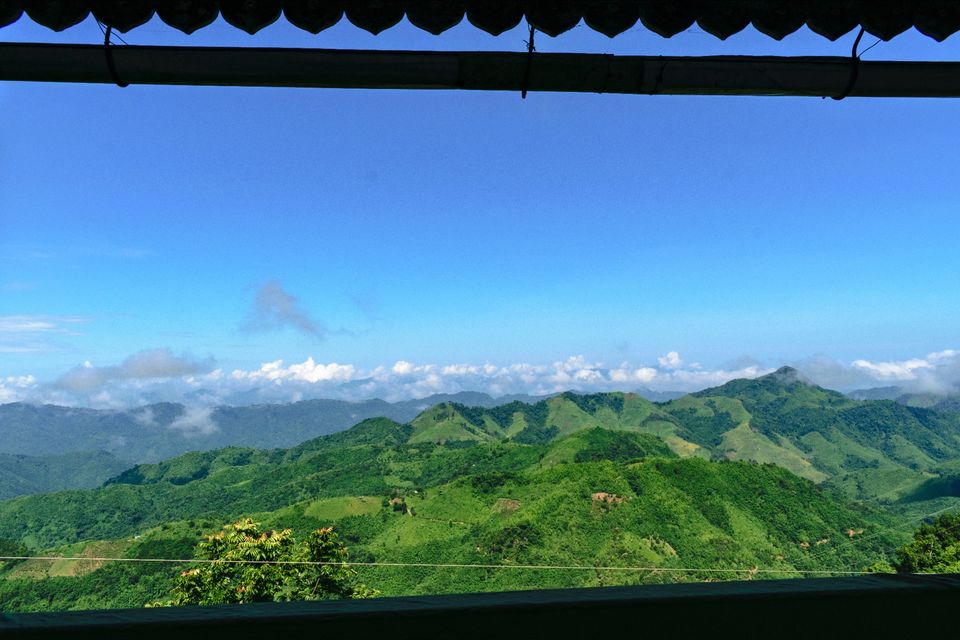 I did a solotrip to Mizoram for 10 days(September 8th to September 17th). I will be sharing my itinerary,transportation expenses, ILP details,where i stayed, room costing, places to visit and other details in this post.
I hope people planning trip to Mizoram find it helpful.
Itinerary:-
Day 1:- Pune to Aizawl(Lengpui Airport) to Chaltlang Tourist Lodge
Day 2: - Aizawl
Day 3:- Aizawl to Thenzawl
Day 4:- Vantawng and Tuirihiau waterfall
Day 5:- Thenzawl to Hmuifang
Day 6:- Hmuifang to Aizawl to Reiek
Day 7:- Reiek Peak
Day 8:- Reiek to Aizawl to Saitual
Day 9:- Saitual to Tamdil
Day 10:- Saitual to Aizawl to Lengpui Airport
Permits:- Indians need permits to travel in Mizoram. Getting the permits at airport is an easy process.I got mine in 10 minutes. All you need to do is fill up 2 forms asking your personal details and submit a copy of Id proof. No photos required. The permit is issued for 7 days. I pleaded with them to extend it for 3 more days, but they told me to goto DC office for this. I couldn't go to DC office during my trip because its closed on Saturday and Sunday and on weekdays i was not in Aizawl. I had this in the back of my mind what if i am fined since my permit expired on Day 9. But i didn't come across any checkposts on last 2 days. The cost of ILP is Rs.170
Day 1:- Pune to Aizawl(Lengpui Airport) to Chaltlang Tourist Lodge
There are no buses from Airport to Aizawl. Only options are shared sumos or hiring taxis. By the time i got out of airport the 2 shared sumos at airport where already full. So i shared a taxi with an other guy who was also heading to Aizawl. The taxi dropped me at Chaltlang Tourist Lodge. It took almost 90 minutes from Airport to Lodge. Paid Rs.500 for the taxi.The rooms are clean, equiped with geyser,television,has great view of Aizawl city. Menu has all basic items to fill your stomach and rates are reasonable. There are deluxe rooms available too, but didn't enquire about the cost.
Shared Taxi- Rs.500
Chaltlang Tourist Lodge- Rs.600(single bed)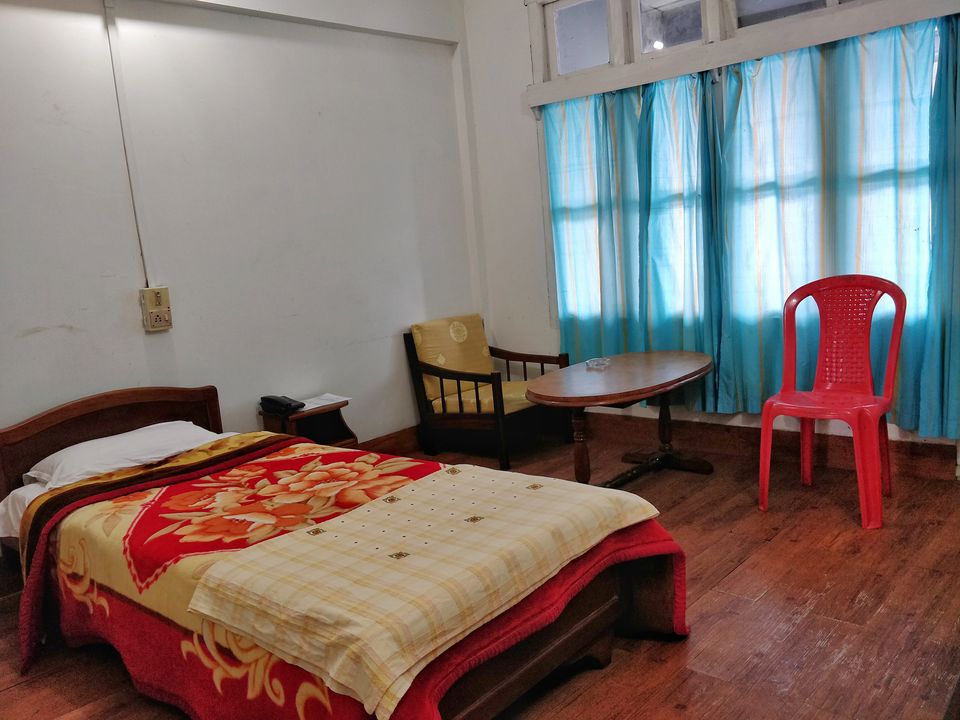 Day 2:- Walk on the streets of Aizawl
You will not find any sumo service on Sundays. But there are buses,taxis and scooty taxi for commuting within the city. Scooty Taxi are Activa's with yellow number plate and guy riding it will be wearing a yellow helmet with 'TAXI' written behind the helmet. Since all the shops were closed, i spent the day walking on the streets from Chaltlang to Bawngkawn to Zarkawt
Cost:- Zarkawt to Chaltlang Tourist Lodge on Scooty - Rs.40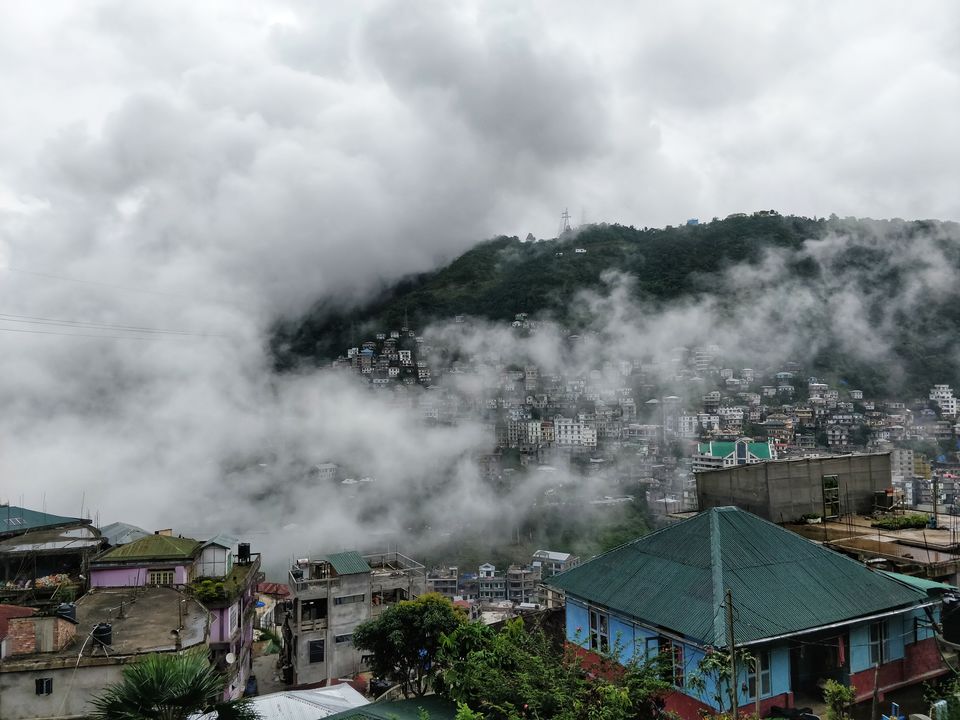 Day 3:- Aizawl to Thenzawl
You will find many sumo operators near Millennium Centre. But one thing i wasn't aware of was these Sumos have fixed timings like 6am, 9am and so on and i reached the sumo counter at 6.30am. So the taxi driver took me to a another sumo counter few kilometers outside city and helped me book a seat in 10am Sumo to Thenzawl. It took 3 and half hours to reach Thenzawl. I reached there without any bookings and luckily there was one cottage available.My cottage stay in Thenzawl and Reiek were the most comfortable stays during my Mizoram trip.The cottage i stayed had 2 single beds and big windows and what you see from those windows is a beautifully maintained garden on one side and on other side is jungle and a stream flowing. It gets dark by 5pm and there is not much activity going outside after that, luckily they had TV and had subscribed to all channels. Food here was very basic. The only options were dal,rice,aloo ki sabzi,roti,puri,omellete. There are 2 small restaurents just outside the Tourist lodge. There is a SBI ATM and Sumo Counter in Thenzawl town, which is 1km from the Lodge.
Tourist Lodge:- Rs.700 per day
Sumo from Aizawl to Thenzawl:- Rs.250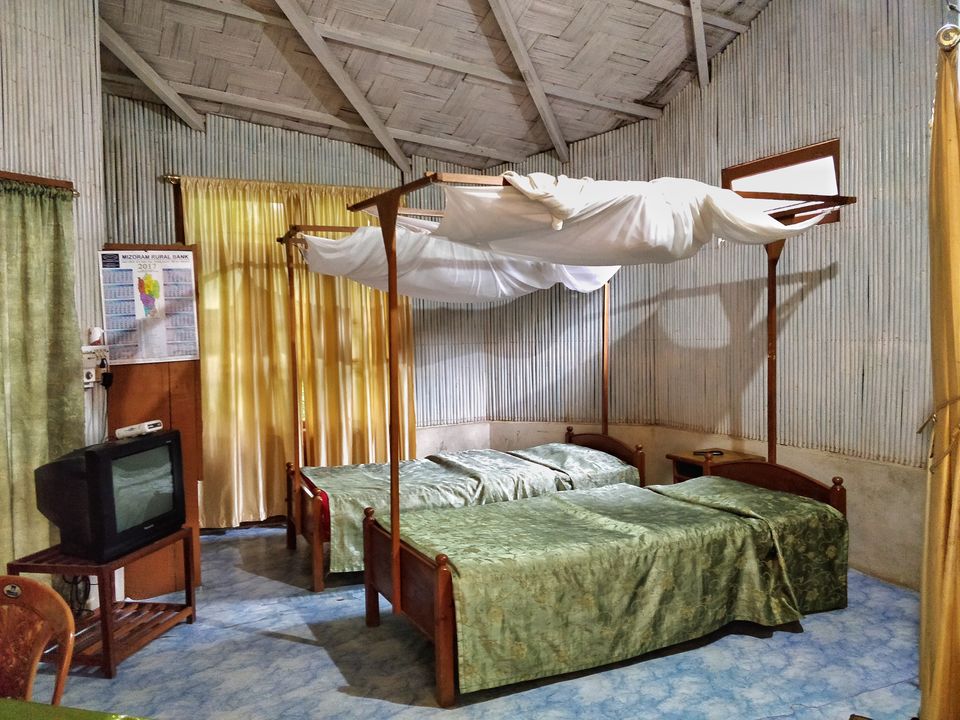 Day 4:- Vantawng and Tuirihiau waterfall
If you are travelling solo or don't have your own vehicle, get ready to shell out Rs.700 for a taxi to goto these 2 places. Thenzawl tourist lodge to Tuirihiau waterfall is around 9kms. It falls on the Lunglei road, but the shared sumos running on this route are always full and not many private vehicles ply on this route so chances of getting a free ride on this route are difficult. There is also a park on the way to these falls, but i didnt stop there.The speciality of Tuirihiau waterfall is you can walk to the back of this waterfall. As for Vantawng falls, you can see it only from a view point.
Taxi to Vantawng and Tuirihiau waterfall and back :- Rs.700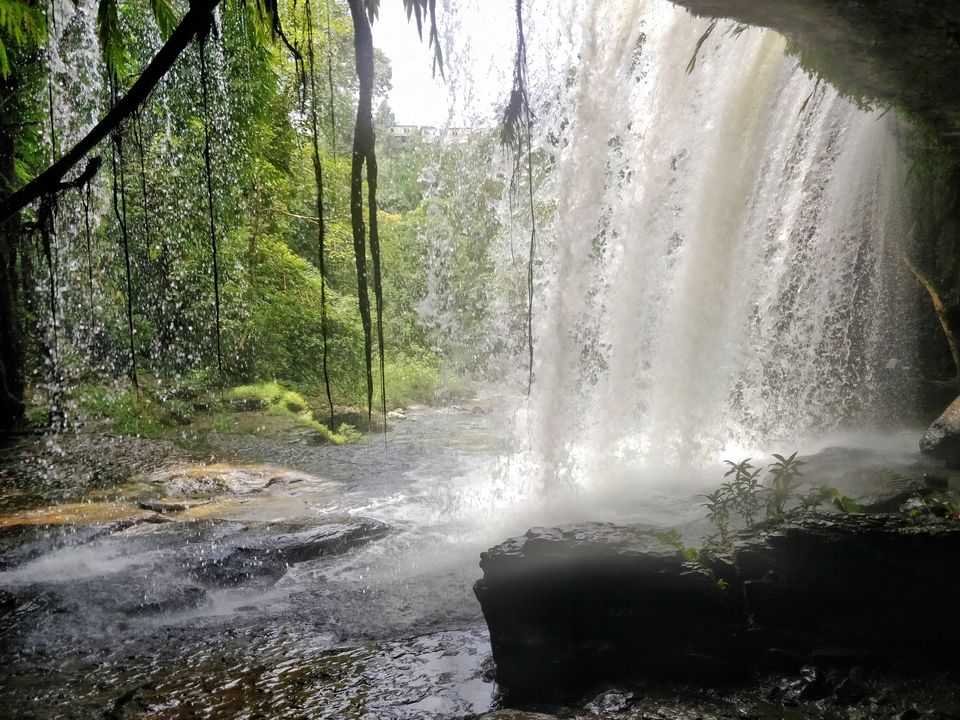 Day 5:- Thenzawl to Hmuifang
There is a 9.30am sumo which starts from Thenzawl and goes till Aizawl. Also there are sumos coming from Lunglei, which reach Thenzawl by 11am. But chances of getting a seat in those sumos is rare as informed to me by Sumo counter guys. It took around 2 hours to reach Hmuifang Tourist Lodge from Thenzawl. This place is very poorly maintained. Rusted, dirty windows and doors. Plasters coming of the walls. Basin and toilets were not clean. Food options where omellete,dal,rice,roti,chicken curry,aloo ki sabzi. No ATM's and Sumo counter in Hmuifang. There is a restaurent outside this Resort which stays open till 8pm. If you are coming by your own vehicle from Aizawl side i would recommend stopping by here for an hour, goto Hmuifang peak, drive till Sialsuk, spend an hour there and later go till Thenzawl and stay there.
Sumo from Thenzawl to Hmuifang:- Rs.100
Room Cost:- Rs.600
Day 6 - Hmuifang to Aizawl to Reiek
Hmuifang doesn't have a Sumo counter.So i had to wait for Sumo's coming from Sialsuk,Serchipp,Lunglei. But just as expected all the sumo's where full. Waited for over an hour, waived at all passing vehicles and finally after an hour an elderly guy in an Alto coming from Lunglei stopped by and he too was heading to Aizawl. He dropped me at Bungkawn. After getting down i asked him how much to pay, he told me its ok even if you don't pay. But i still gave him Rs.150 which is the actual sumo rate from Hmuifang to Aizawl. From Bungkawn sumo counter, i got on a sumo to Reiek. It took around 1 hour to reach Reiek. From the point where sumo dropped me, it was a 15-20 min walk to the Reiek Tourist Resort. The rooms and toilets are clean and had a geyser too. This tourist resort occupies a huge area and has greenery all around. I spend the rest of the day walking on this property and the rain added to the beauty of the walk.
Hmuifang to Aizawl:- Rs.150
Aizawl to Reiek:- Rs.100
Reiek Tourist Resort:- Rs.600(room with 2 single beds)
Day 7:- Reiek Peak
The main attraction of Reiek is Reiek Peak. Its a one hour walk from Tourist Resort. The view from the top is very good and is a good place to spend hours sitting there looking at the vast landscape.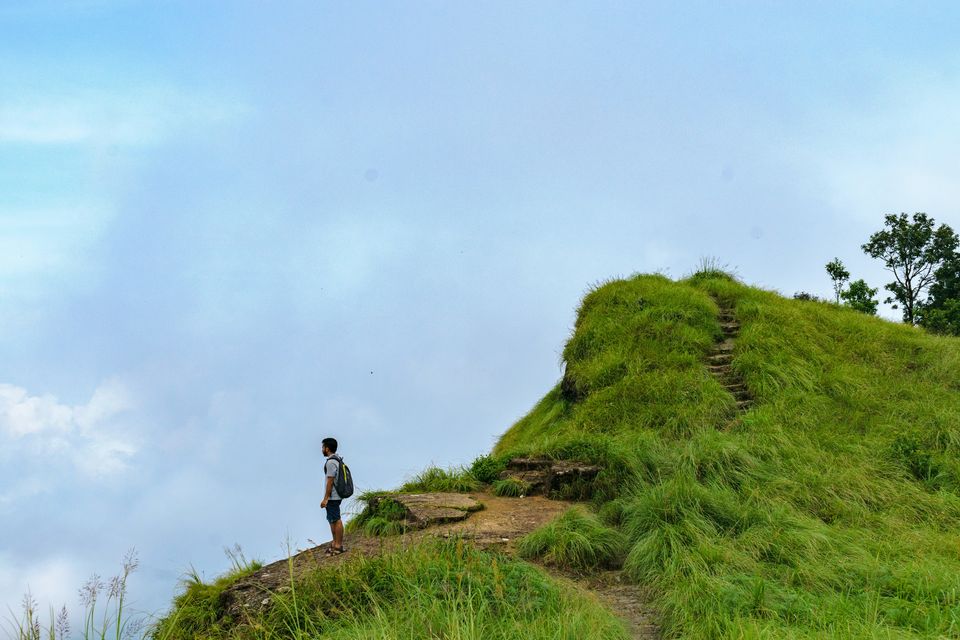 Day 8 - Reiek to Aizawl to Saitual
The caretakers of Reiek tourist Resort booked a seat for me in 8.30am sumo to Aizawl. There were many Sumos leaving Reiek during that timeframe and most of them had empty seats.Got down at DC office since my permit had expired on Day 7, only to realize that it was closed since it was a Saturday. Then took a scooty taxi to Millenium Center. After some enquiry found the sumo counter for Saitual, which is in a narrow lane in a series of steps going upwards. The counter name is "SM Sumo Counter". It took 4 hours from Aizawl to Saitual. After dropping all passengers the sumo driver drove all the way to Saitual Tourist Lodge. But i was told there are no rooms available. So the Sumo driver made few calls and arranged a room for me in the BRC Lodge. This room had the best view compared to all places i stayed in Mizoram. Someone from a nearby hotel would come to take my breakfast/lunch/dinner order. And one thing common to all places i stayed(except Chaltlang) was i had to place my dinner order in afternoon, lunch order during breakfast. There is an SBI ATM at Saitual. I spend rest of the day sitting in the balcony and looking at the clouds and the mountains.
Cost:- Reiek to Aizawl(DC Office):- Rs.90, time taken - 1 hour
DC Office to Millenium Center on scooty - Rs.30
Aizawl to Saitual 12pm sumo - Rs.230, time taken - 4 hours
Room in Saitual:- Rs.500
Day 9(Sunday) - Saitual to Tamdil
Since it was Sunday,roads were empty,shops closed and no taxi in sight. So the guy at the place where i stayed arranged a taxi to Tamdil for Rs.700. The taxi driver called me to ask if its ok to bring his wife along. I had no issues with that and he kept me entertained with his talks about his life and the village. Now Tamdil is a small lake located 9kms from Saitual. There are options for boating too. Has some really good views and rooms for night stay are also available.
Cost:- Taxi to Tamdil - Rs.700, time taken - 1 hour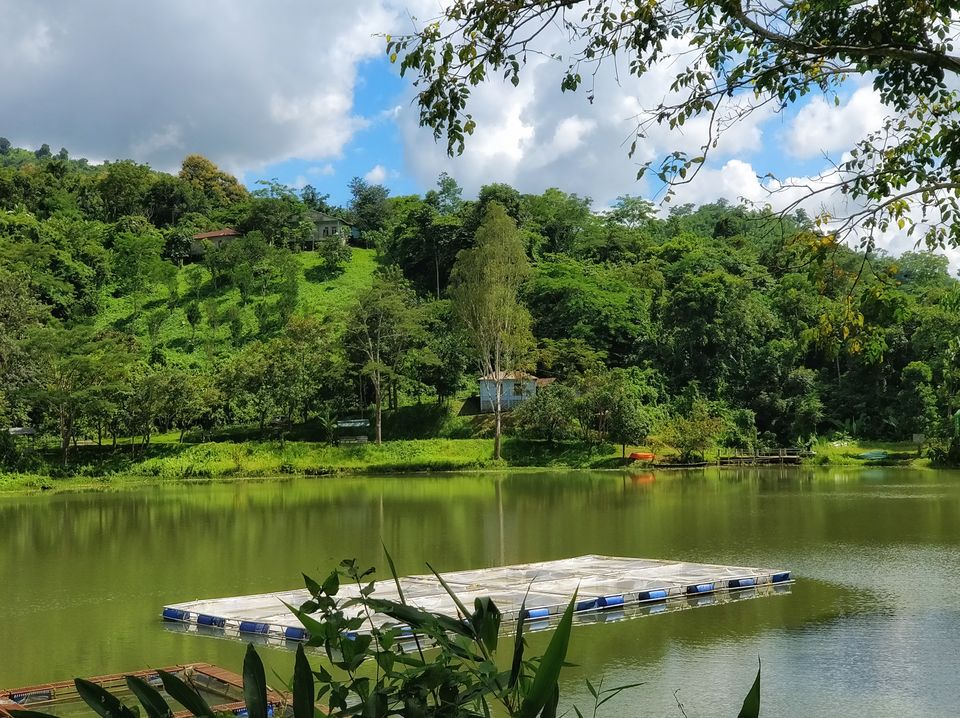 Day 10 - Saitual to Aizawl to Lengpui Airport
The Sumo driver who helped me find an accomodation on Day 8 also made sure that i get the front seat in sumo on Day 10. The 6am Sumo from Saitual reached Aizawl(Zarkawt bazar) by 9am. Here again the sumo driver took me to the sumo stand for Lengpui. It took 2 hours to reach airport due to traffic.
Cost:- Saitual to Aizawl - Rs.230, time taken - 3 hours
Aizawl to Lengpui Airport - Rs.150, time taken - 2 hours
And with that i am concluding my trip report for Mizoram :)