People raised their eyebrows when we decided to explore Mizoram (during the Durga Puja 2018), one of the least tourist infested places in India. Even I did not know much about this state when I booked the flight tickets to Aizawl. After much research in the internet, I found limited but useful information. I was quite excited to explore a new place which many do not even know is a tourist destination; and that perhaps is another one of those criteria which establishes a fine line between a tourist and a traveller.
Aizawl
We left Kolkata on 14th of October,2018 on a Air India morning flight to Aizawl. Nirvaan perhaps had his best flight ever, he loved the cheese sandwiches served on board, his eyes twinkled when the airhostess smiled back at him, had a window seat with his daddy and perhaps appreciated the view outside as well, at least his smile and almost no tantrums suggested so. We reached the picturesque Lengpui airport nestled amongst the green hills in just over an hour. Our driver Kim was waiting at the airport with a Bolero to pick us up. The road to Aizawl was mostly good with a few bumps here and there but the scenery around hardly made us twitch. Nirvaan would not stop giggling as the cool breeze blew in through the rear window. It was a welcome change for him as well as for us from Kolkata's sultry and humid weather.
Our stay booked through Airbnb was at Zotlang at Annexe homestay. We took an hour to reach there from the airport. The place was basic but nice with a beautiful view from its terrace. We were hungry, so after having a sumptuous lunch at the Floria, we headed towards Durtlang, a view point situated inside Aizawl Theological College. Unfortunately, the weather was all cloudy and misty and one could not see much but click a couple of customary photographs. We retired to our place by 4pm and had a lazy evening to ourselves. Our host Nunui was courteous enough to cook us a Mizo dinner. If you have a taste for bland food, perhaps Mizo cuisine will not disappoint you.
Next day, we first visited Solomon's Temple. It is a beautiful prayer hall located at the top of a hill with a mesmerizing view of the hills and valleys from above. It is a must visit place if you are in Aizawl.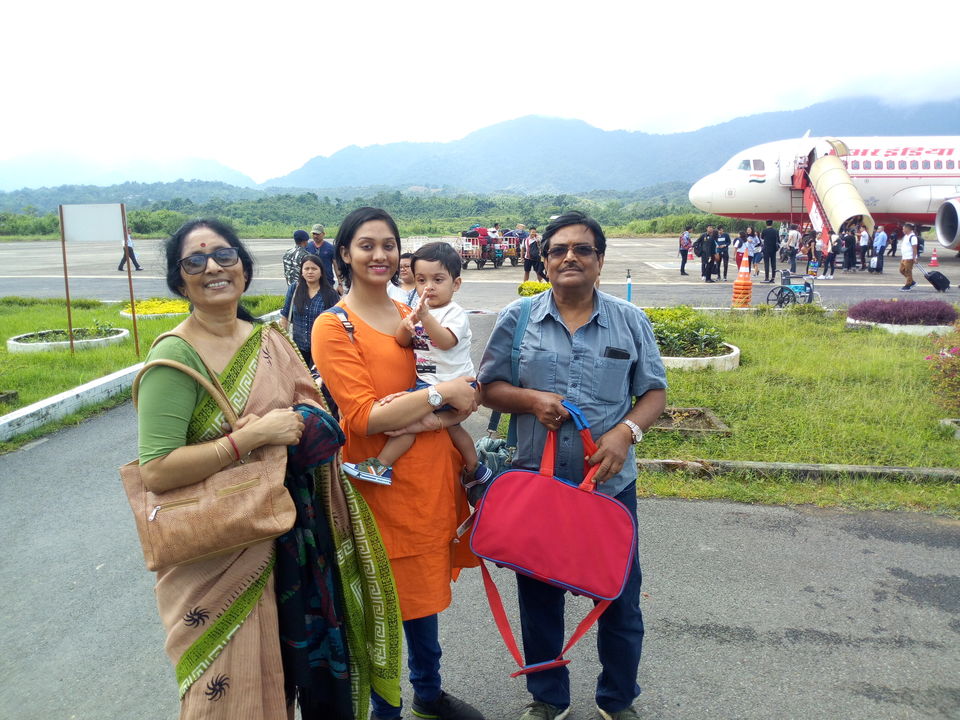 Reiek
Next we headed towards Reiek tlang, another peak 30 kms from Aizawl with a government lodge as the only accomodation option. It took us a little over an hour to reach there from Aizawl with the road being a little curvy but mostly in good condition. We did not have much to do after lunch at the tourist lodge rather than soak in the silence of the dense jungle amidst which the lodge was situated. We had a huge double bedroom suite to ourselves with nightly tariff of only INR 1000 ( unbelievable right ! ). However , the lodge could do with some repair and maintenance as one of the bathrooms lacked a window pane, flush was not working in one and such small problems existed. But the serenity of the place did not let us bother much about all such trivial issues. Meanwhile, my parents had gone to visit the model Mizo village of Reiek nearby, which also boasts of a children's park, a small futsal cum basketball court and a rock climbing arena but there are hardly any tourists to enjoy them. We slept early as next day I was supposed to trek to the Reiek peak...alone. Priyasha had to look after the baby and my parents wanted to relax than to trek 2kms uphill to the peak.
16th October, 7 am ,I left for Reiek peak alone. 10 minutes into the trek, I felt I made a mistake. Yes, it was steep but not that tiring; it was just the dense forest and its creepy sounds which gave me the scare of a lifetime. I was all alone on that route at 7am in the morning, there was hardly a ray of sun reaching through the dense forest, the insects in the jungle were constantly making a atypical sound, the signboards were in Mizo and it was highly possible that I could come across a bear or a leopard to greet me good morning and have me for their breakfast. I did not know if they existed in this jungle though, just that human mind tends to imagine the worst things at worst times. But I was not the one to give up. I tightly grabbed my only weapon, my small little umbrella and kept walking forward. After an hour of going uphill through the forest, a cave and some slippery rocks, I finally reached the peak where a mesmerizing view with the clouds below awaited me. It was worth it, i thought. Interestingly, after no infrastructure throughout the trek, there was this solitary bench erected at the edge of the peak to cherish the view from the top, from where in case you slip you are nowhere to be found. The road downhill was not that scary as I got used to the sounds and silence ( or as the Carpenters put it; "sounds of silence" ) of the jungle. The feat of doing this trek all alone; literally, caused my body to release some endorphins-the happy hormone!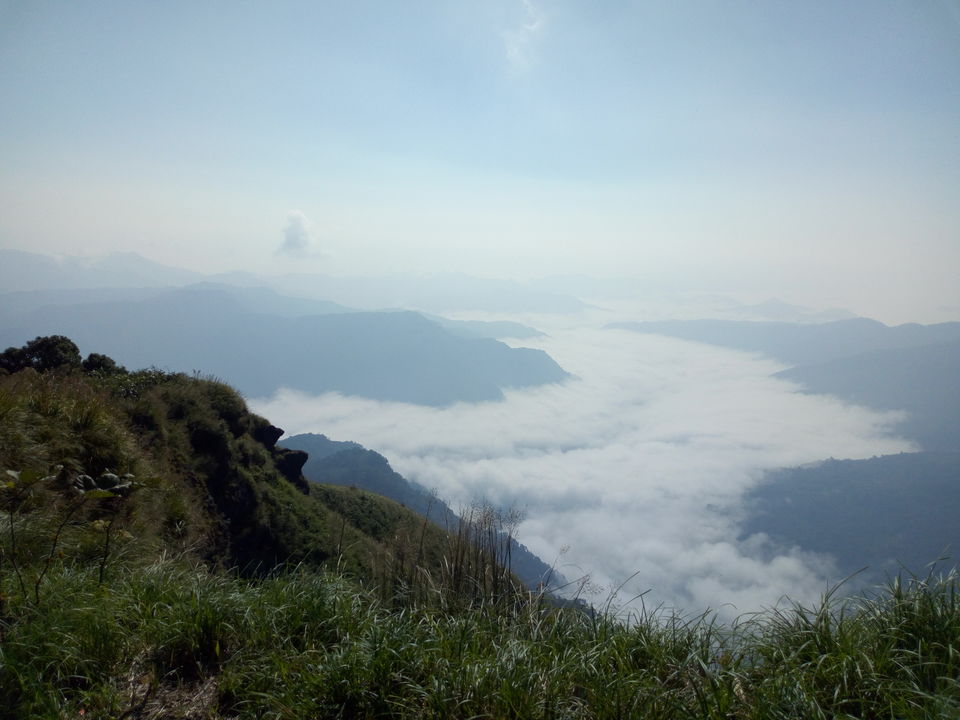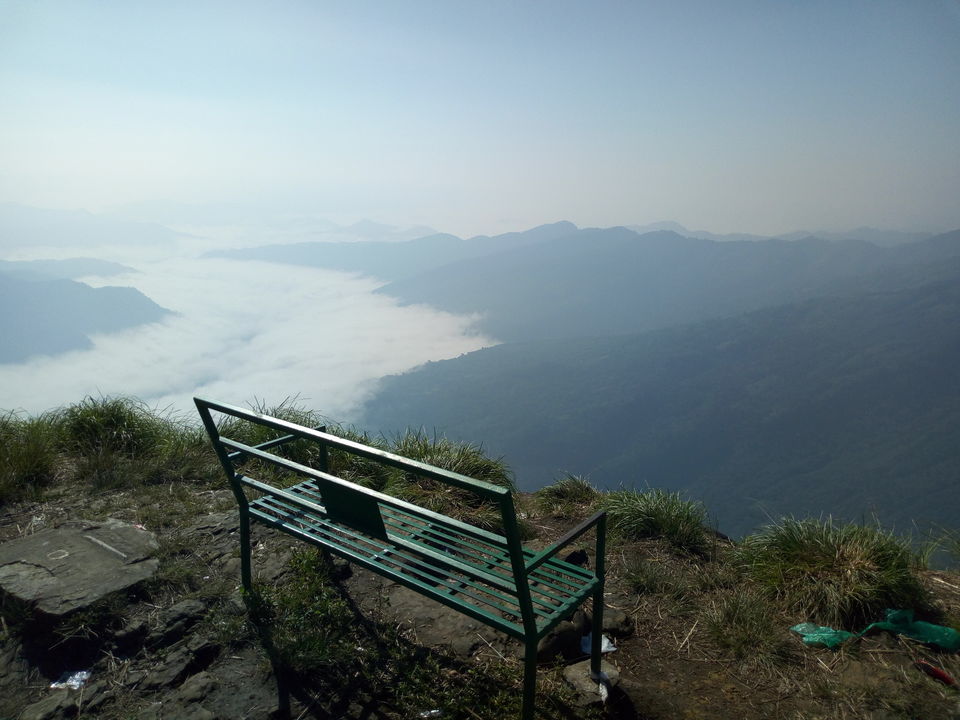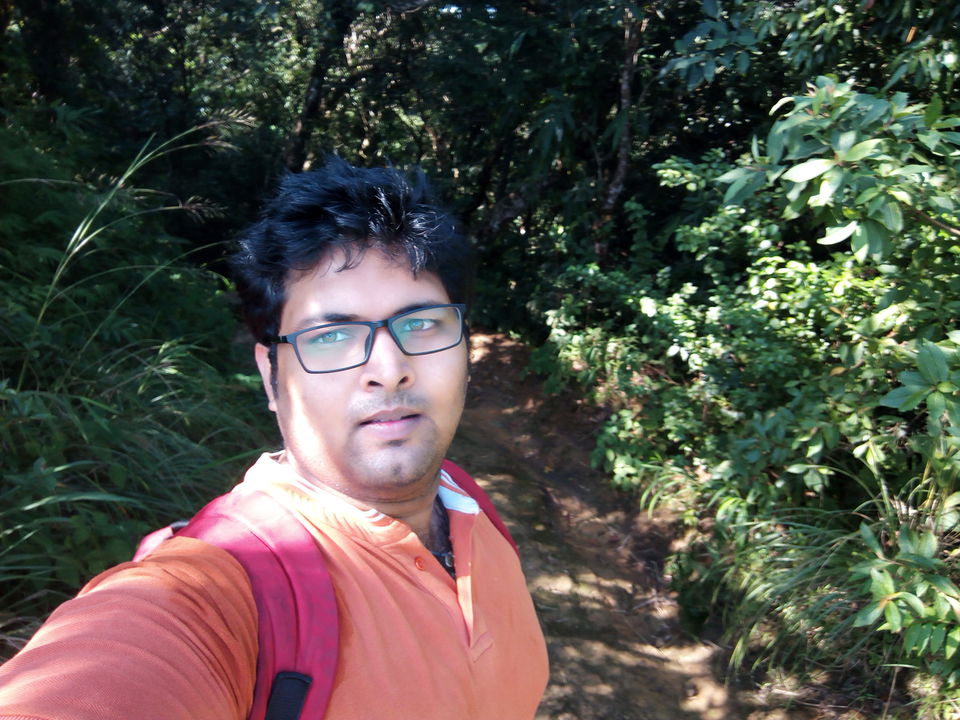 Hmuifang
We left for Hmuifang after breakfast. The road to Hmuifang goes through Aizawl. It took us roughly 3 hours to reach Hmuifang from Reiek. The scenic beauty of the road was beautiful. Once you reach Hmuifang there is nothing much to do rather than enjoy the jungle and the hills from the tourist lodge. It became all misty by 5pm and it was pretty cold thereafter, more than we were prepared for. Hmuifang tourist lodge though extremely quaint was even more ill maintained than Reiek. It was damp and cold inside the rooms, and only one room had a working geyser, but what more can you expect at a daily rent of INR 600.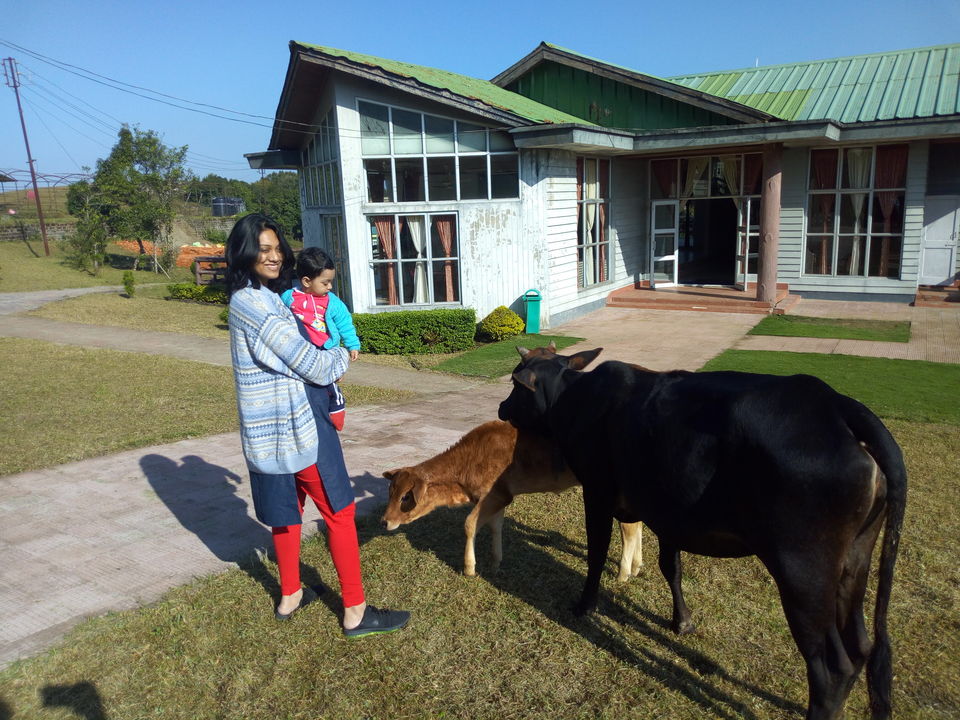 Sialsuk and Thenzawl

Next day was going to be one of those days in the Mizoram tour where we would be visiting quite a few places. First we left Hmuifang for Sialsuk village, about 15kms from Hmuifang. Sialsuk is a village situated on a high peak on the route to Thenzawl. One gets a Kashmir like feeling from the top of the Sialsuk peak with lush meadows around you and greenery as far as you can see. The road to the top was narrow and non metalled and thats the fun of the ride to Sialsuk. A PWD bungalow from the nineteenth century adds to the charm. Also, the tourism department had put benches and swings on the top so that tourists can chill and feel the beauty from high above. Sialsuk was easily one of the best places in this tour.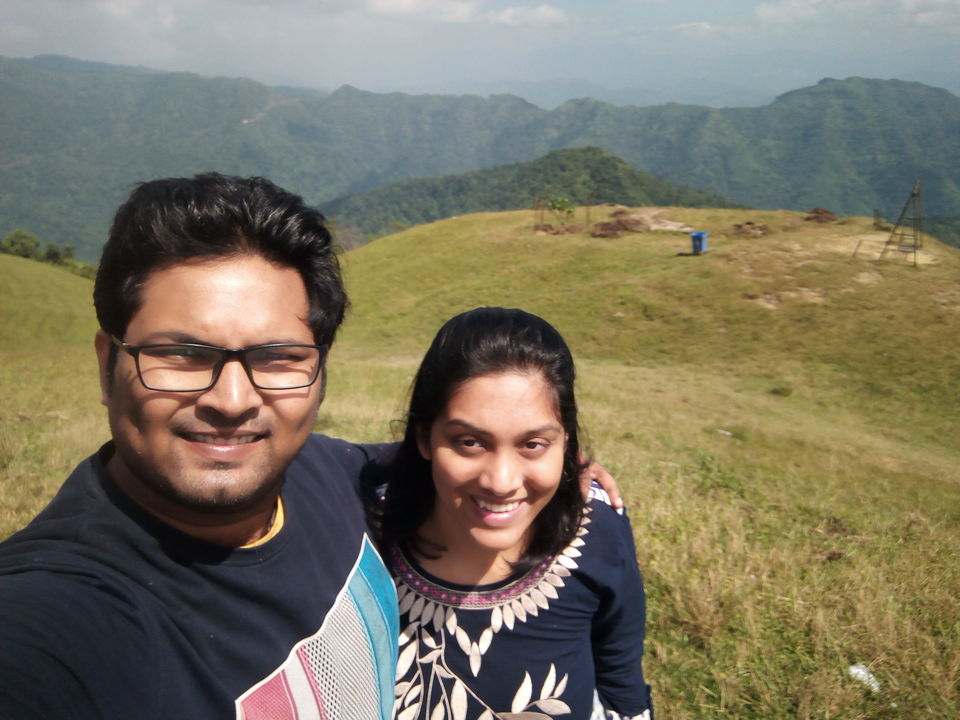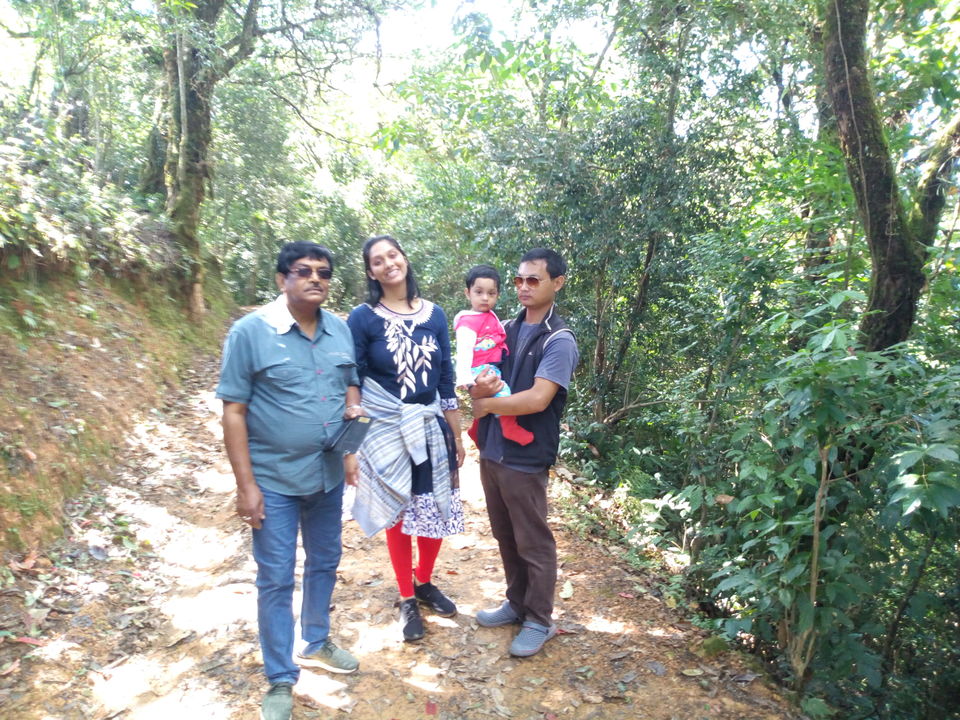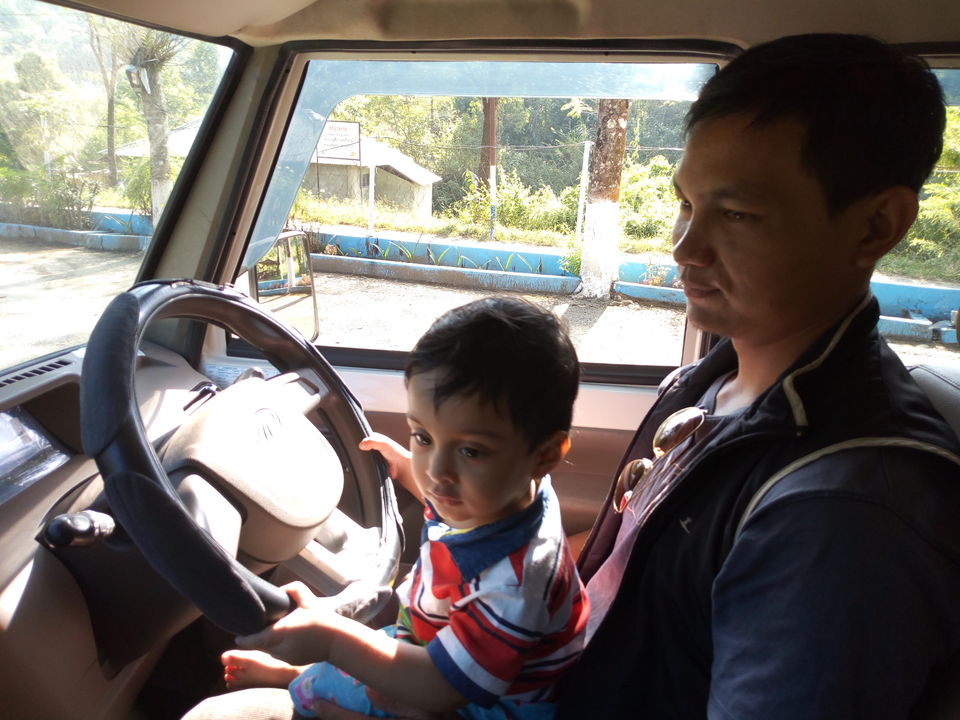 After spending some time here, we left for Thenzawl, our last destination of this trip, beyond which the road worsens and at times becomes non existent as I have read in some other blogs. The road to Thenzawl itself was not too great itself with lots of pits and bumps in between. However it took us another hour to cover the last 25kms from Sialsuk to Thenzawl. The tourist lodge at Thenzawl was right next to the road going through the jungle. By the looks of it, we felt that this lodge was the best maintained of the ones we stayed in. Here, we met quite a few other tourists as well. There was a small stream flowing behind the cottages ( INR 600/night ) but without geyser which you would find in the deluxe ones ( INR 1000/ night).
After a quick and sumptuous lunch, we headed towards Vantawng falls. The approach road to the falls was very interesting. It started as a concrete one, then just after a while it became non metalled and narrow and cut through extremely dense forests like the one I experienced at Reiek. After travelling for almost 20 minutes came a sudden turn and a dilapidated watch tower and a view point; and out of nowhere suddenly you could see a waterfall amidst dense forest. But the place was beautiful , it was solitude and serenity at its best. The ramshackled structures, the dense forests, the strange chirping of the 'mizo' crickets, and the undulating view of the hills till you could see gives an intrepid touch to the remoteness of the place. Another must visit place in Mizoram.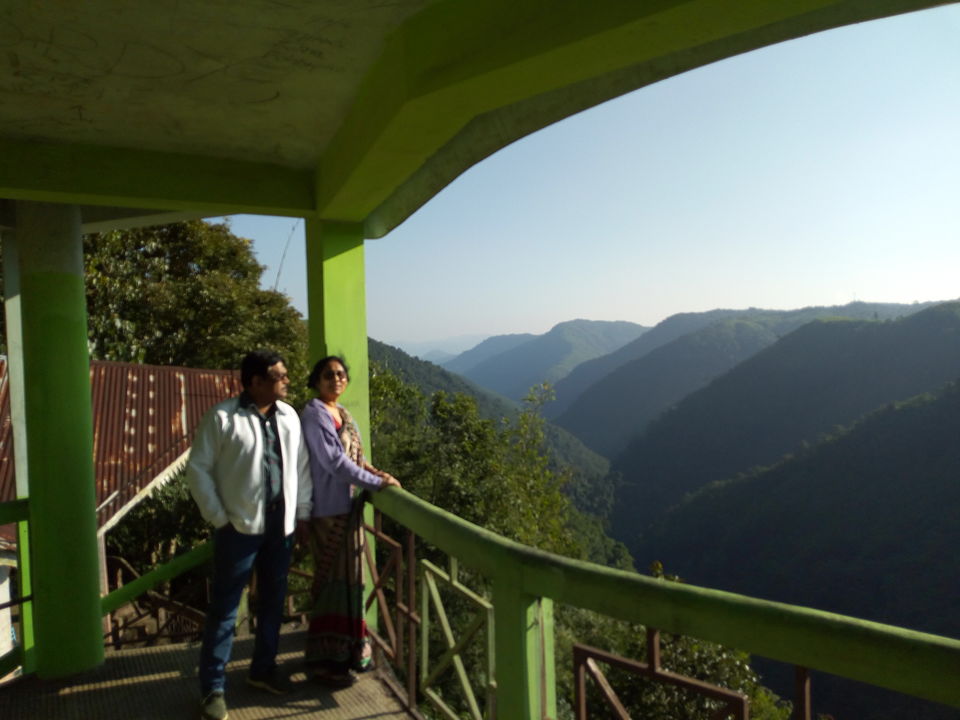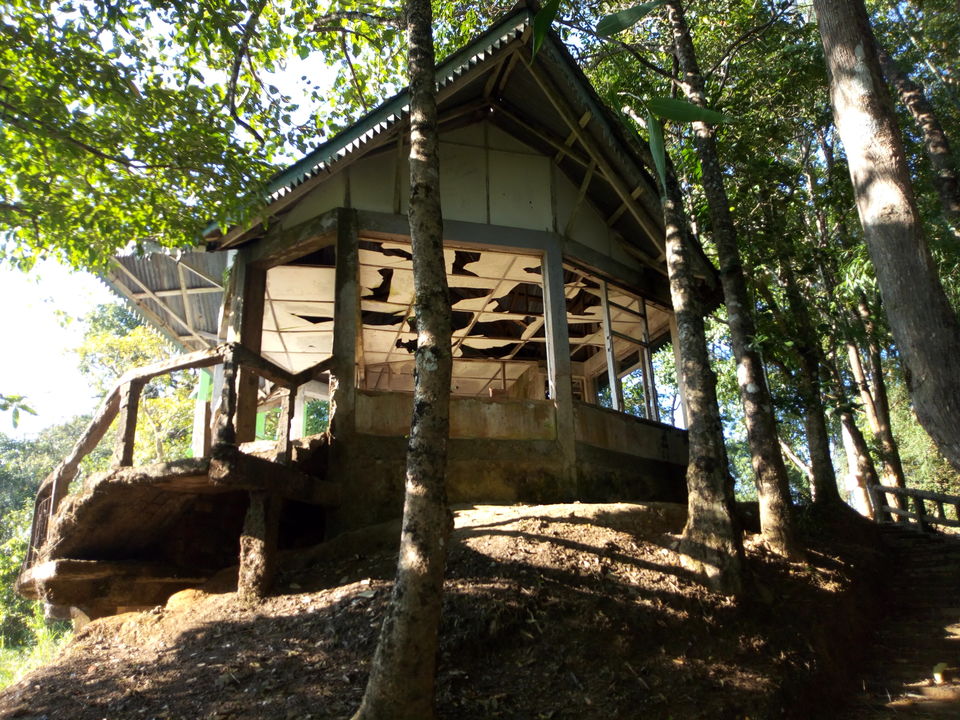 Our next stop was Tuirihiau waterfalls, the only falls where I have been till now which you could see from front and behind both, though you have to manoeuvre through the slippery rocks to get to the backside of the falls. Another remote place, and you have to walk down approximately a hundred stairs till the waterfalls. Kim carried Nirvaan on his back to the falls and went a bit ahead of us. Nirvaan, who had been the most adventurous baby till now, was scared on his first tryst with such a noisy waterfall and started screaming. He wanted his mumma bear and papa bear along with him and would not let go of their lap. Lastly, we visited a lake called Dilpui. To reach here, one has to go across an animal husbandry and a farm. The lake itself was nothing extraordinary except the road which leads to it.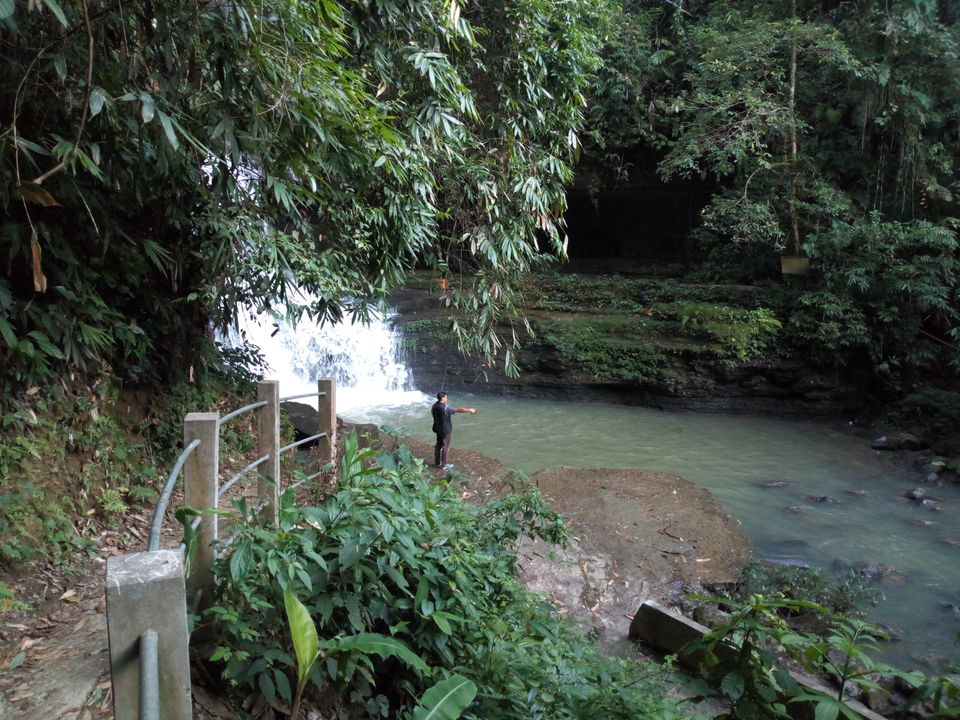 We were on our trip back to Aizawl the next morning. Before that, we took Nirvaan for a mini trek into the forest at the backside of the lodge. The fresh air and smell of the forest gave a refreshing start to our day. It took us almost 4 hours to reach Aizawl. One can also visit the model Mizo village of Falkawn on the way.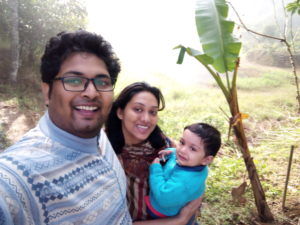 Back to Aizawl
In Aizawl, we checked in to the Blue Vanda hosted by Mrs. Lalthan Sangi (again booked through Airbnb). The best was saved for the last. The Blue Vanda is a sprawling 3000 sq ft apartment with the most panoramic view of the hills from its humongous balcony, a treat to the eyes and soul. One of the places which we missed last time in Aizawl was a view point called Muthi tlang, only one blog had mentioned it but it was an interesting read. So myself and Priyasha decided to take Kim along to check out this place 10kms from Aizawl. After a series of tortuous turns on a long stretch of narrow unmetalled road ( only if it could be called a road ), we finally reached a point on the top of a hill exactly opposite Aizawl from where you could see the entire capital. We were lucky that we could just catch the sunset.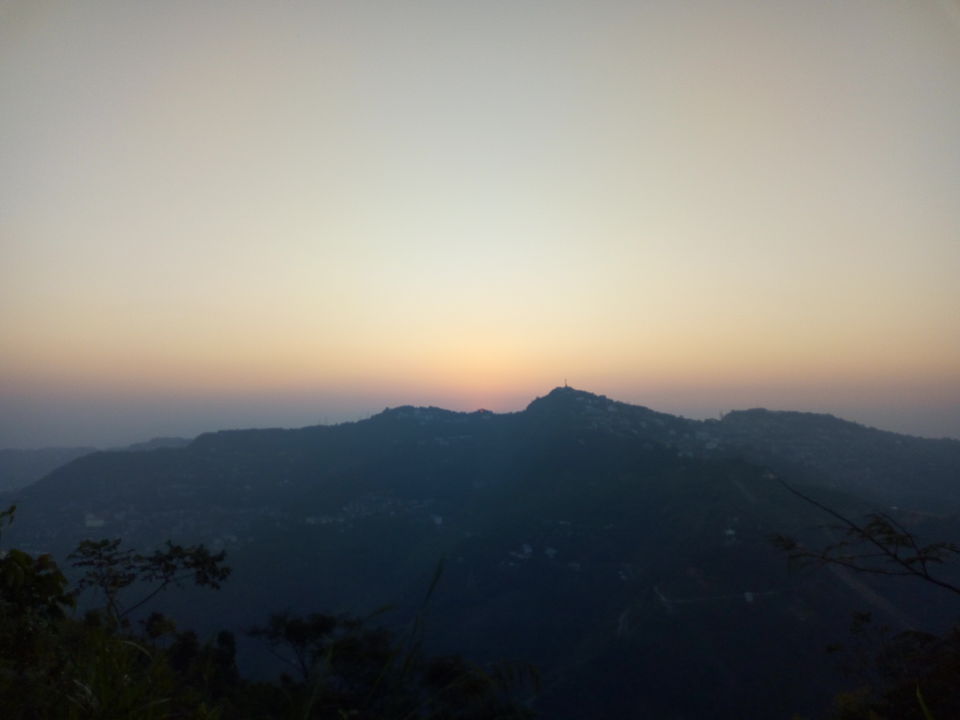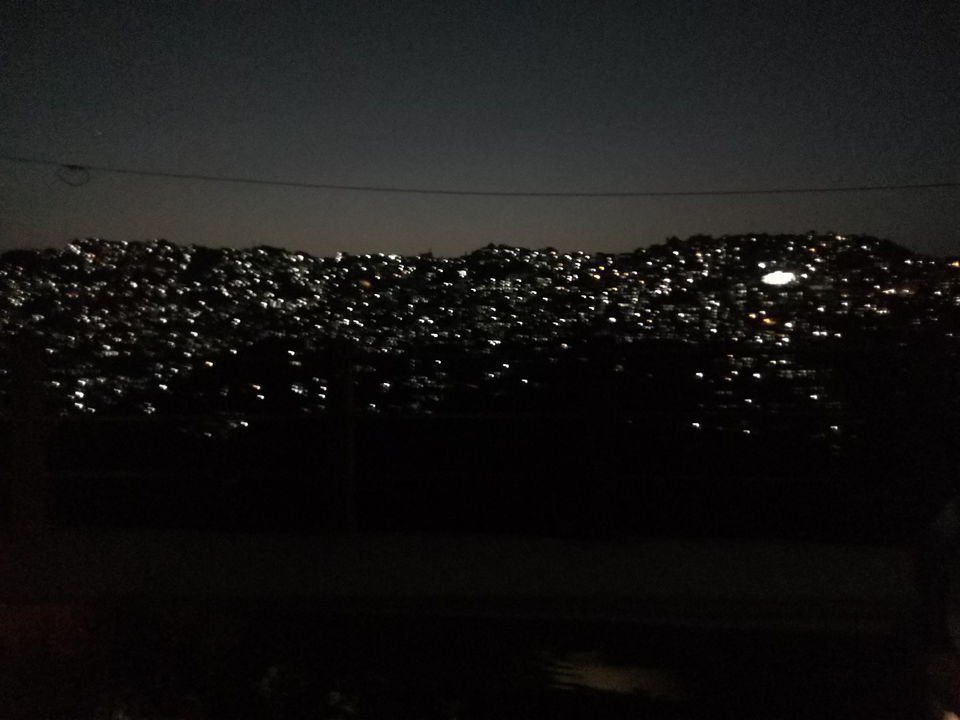 Mrs Sangi was a very warm host. She even cooked dinner for us which included a traditional Mizo bamboo soup called mai. The mai was bland yes, but a chutney accompanied it and perhaps it was the hottest thing I ever tasted. It was made from one of those famously infamous northeastern chillies. I was high on scotch till i had it.
Next morning, it was Dussehra. Also, it was time to board our flight back home. It was the end of our Durga Puja trip. But wait, not without visiting Durtlang, which was all foggy on our first day of the trip. The view from Durtlang was beautiful, so was entire Mizoram and its people.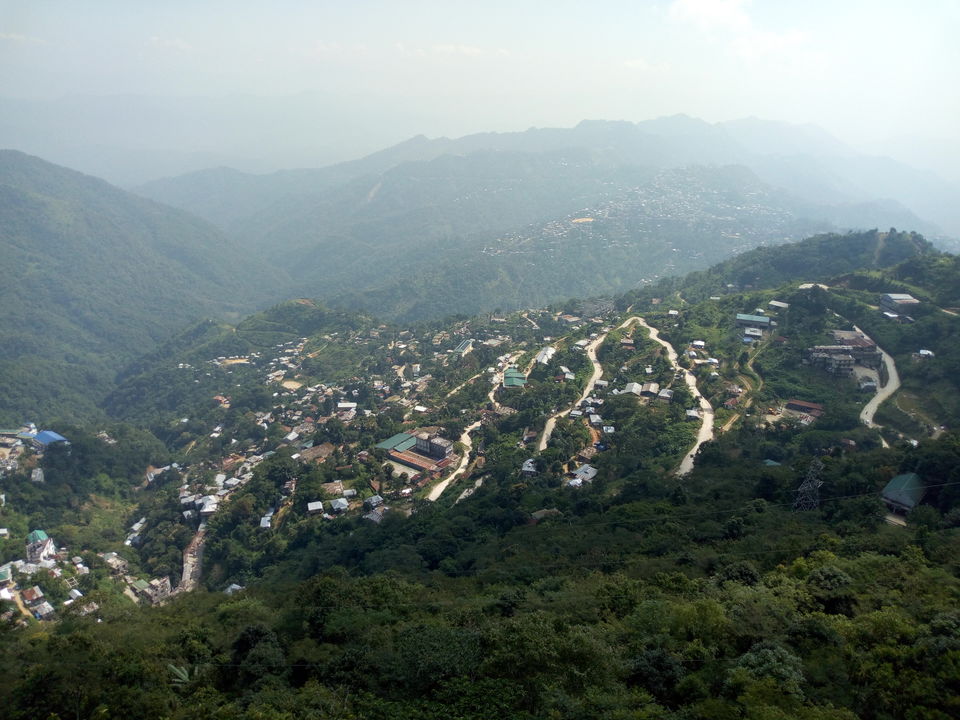 A few important pieces of information on Mizoram:
An Indian national requires an Inner line permit to enter Mizoram. If you are reaching Aizawl through Lengpui Airport, you just have to fill up a form and pay INR 170 per head at the permit counter to receive one. Though not mandatory, keep a photo id xerox and a couple of photographs with you. Hiring private cabs in Mizoram is the costliest thing of your entire trip. They charge Rs. 2500 for airport pick up or drop, otherwise Rs. 25 per km no matter wherever you go. Also, nightly charges for driver could be as much as INR 1000. The entire trip in a brand new Bolero costed us INR 17000 for 6 days. Our driver Kim was an exceptionally helpful human being, as well as a very efficient driver. He was Nirvaan's best friend throughout the entire trip. Our car was arranged by Mrs. Sangi through one of her neighbours. You can find other travel agents from Mizoram government's official tourism site.
Mr. Muankima (for car booking) :9862098945 ( Ask specifically for Kim to drive and show you around if possible; he was one of the nicest persons we came across in Mizoram ).
Accomodation options in Aizawl are aplenty with quite a few hotels and two government tourist lodges. If you want to experience the Mizo culture, Airbnb is a good option. I will definitely recommend Mrs. Lalthan Sangi's Blue Vanda. However accomodation options in other places are limited to government tourist lodges which are mostly basic but doable. These lodges are only booked over a simple phone call without any advance payment. The phone numbers of the lodges could be found at official website of Mizoram tourism. However, the site keeps crashing from time to time. So here are the phone numbers of the places where we stayed.
Reiek Tourist lodge: 9366078543
Hmuifang Tourist lodge : 9436379544
Thenzawl tourist lodge : 9612065527
The Blue Vanda, Aizawl ( Mrs. Sangi ): 9871659988
The Annexe homestay, Aizawl ( Ms. Nunui ): 9774877847
Do inform the manager of the tourist lodges about your meals in advance as they hardly have tourists, so they need to arrange early. If you are planning to travel with a baby, make sure to carry enough baby clothes and warm garments. It could be cold at times at certain places. Also, do not forget to carry mosquito repellants. We carried anti mosquito patches called moschito which were very effective throughout our trip. Mizo people are very friendly, polite and helpful. They also adore babies and are very considerate. So do not hesitate at all to visit Mizoram with your baby. If you are planning to trek to Reiek tlang with the baby , then a baby carrier is a must. I would advise those doing it with a baby to be extremely careful because of the last few hundred metres of the slippery stretch. Alternatively, at a certain point one can take a shortcut through the stairs made of rocks but they went up right along a gorge without any railing and it made me dizzy. Make sure you have a pair of shoes with a sturdy grip and an umbrella along with you. Carry some dry fruits,chocolates and enough water for the two hour trek. Also carry some salt and wear full length pants or tracksuits to avoid any leech bites (especially just after the monsoons, though I did not experience any). The best time to visit Mizoram is October till March as the locals informed us. We found a beautiful weather in October, with nights being optimally cold and mornings having a sweet sunshine. The rainy season ends by the first week of October, and leaves a perfect touch of the green to add to the comfortable climate. The circuit we travelled was Aizawl-Reiek-Hmuifang-Thenzawl-Aizawl. However as per my research and recommendations by the locals, Phawngphui hills or the blue mountains ( Mizoram's highest peak ) and Champhai and Zokhawthar (the Indo Myanmar border) are some of the other places worth visiting. However, the road leading to these places are pretty bad and it takes 9 hours to a 180 km trip to Champhai from Aizawl. Alternatively, one can book the 20 minute helicopter ride to Champhai. I could not find any online portal to book the helicopter. Mrs. Sangi told me that one has to book it in Aizawl in person and asked me to inform her 3 months in advance (as locals prefer the helicopter to the road trip) so that she could get it done on our behalf. Phawngphui is better avoided with babies as the road is not good; also it is mainly known as a trekker's paradise. While in Aizawl, you can try the local Mizo cuisine at The Red Pepper after 5 pm. Chopstix offer open air dining, while one can visit Floria or David's Kitchen too for some good food. Enjoy the local market at Burrabazaar, the heart of Aizawl. Also, visit Luangmual if you are interested in handicrafts. It is extremely tough to buy alcohol from off shops in Mizoram. The locals with a liquor license only can purchase them. I read online that tourists are sold alcohol on producing their inner line permit but I had a hard time doing so. The guys at the shop told me one has to get permit from some commisioner to buy liquor !!! The 'flabbergasted' look on my face made a kind local buy us some scotch through his license. Also, conoisseurs of wine can taste a pitaka wine from Myanmar called the Pink Lady ( available at Thenzawl tourist lodge and requires no permit ). However, I am assuming carrying alcohol to Mizoram is legal as I had a small bottle in my suitcase and noone bothered me while security check at the Kolkata or Lengpui airport. Generally all mobile networks are available at Aizawl and Thenzawl. However, as per our experience, only Jio worked at Reiek and Vodafone at Hmuifang. However, data connection was pretty weak in both these areas.
Thats it folks. Pack your bags to the unexplored world of Mizoram soon and thank me later.