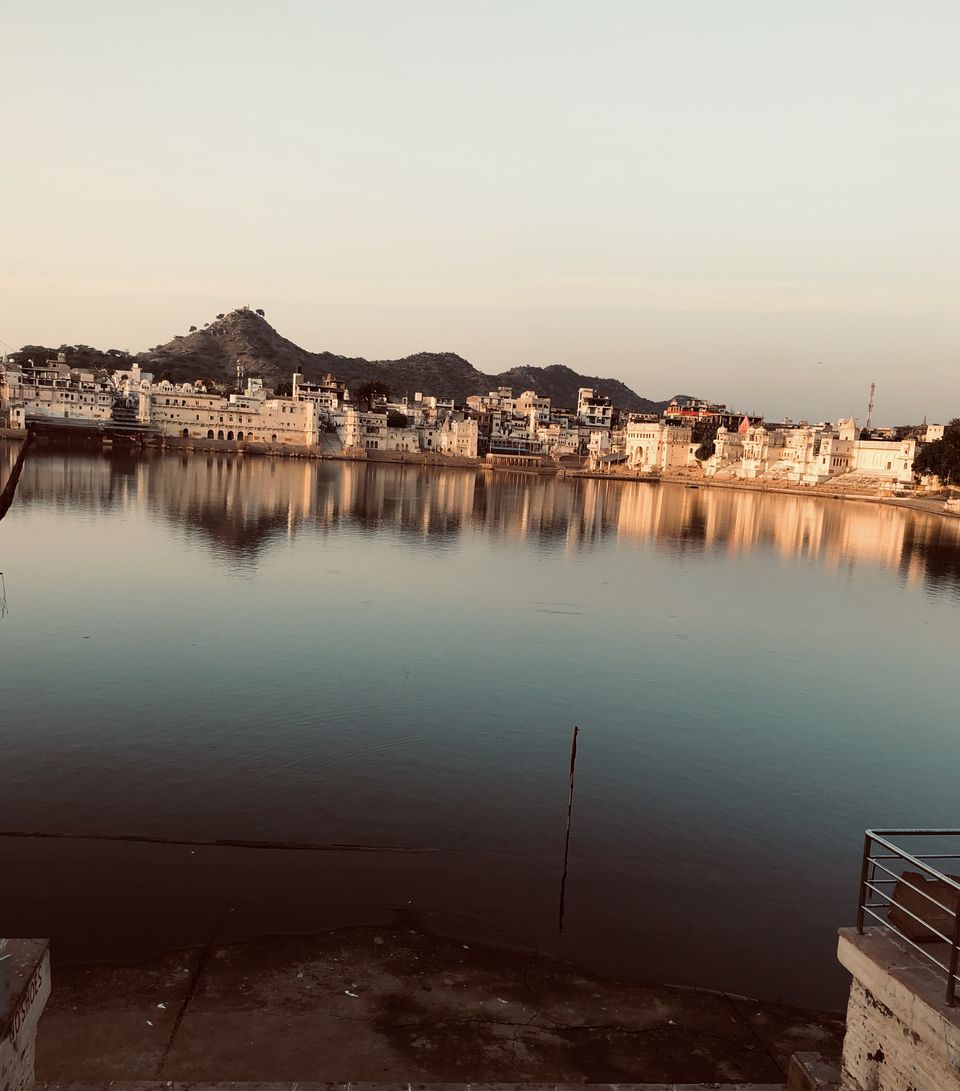 PUSHKAR is one of the holiest place in India. Along with an interesting mythological history a legacy of timeless architectural heritage makes PUSHKAR a fascinating city. A place away from your daily chaos surrounded by THE ARAVALLIES around the vast, holy and BEAUTIFUL LAKE (PUSHKAR LAKE).

According to legends, lord Brahma the creator god in Hinduism dropped a lotus to the ground leading to the immediate creation of a vast lake. He at that time decided to name the flower and thus he named it PUSHKAR.
I was born in Ajmer which is around 10km away from PUSHKAR so basically PUSHKAR used to be a place where I can visit any time. I have visited PUSHKAR more then any place that I have ever visited. In childhood it used to be my second home and even now I will enjoy going there and will still explore something new about the place.
In Hindus PUSHKAR is considered as a journey to the ultimate pilgrimage that must be undertaken to attain salvation.
Things to do there
- "Chill it's only chaos" (relax in resorts)
Pushkar is not only known for the Temples and heritage sites but also because of the exquisite and magnificent resorts. Where you can just relax yourself while sitting around the poll side with a glass of refreshing juice in your hands enjoying the beautiful surroundings. There are many resorts available in all kind of budget some of the famous resorts are Ananta Spa and Resort, Western Resort country club, Dera Masuda | A Luxury Resort in PUSHKAR, PUSHKAR Resort and many more. The unique thing about these resorts are the tent shape luxury rooms, they are just in the shape of tent but from inside they are filled with every comfort you can ask for with private pool and jacuzzi tub.
- "Shopping is always a good idea" (shopping in Pushkar)
You will love to traverse around the little PUSHKAR market which is filled with items like embroidered clothes, silver jewellery, groovy accessories, rose products and leather goods or decorative pieces like miniature paintings, colourful puppets and wall hangings. The market is full of small shops with all the colours in there shops. The vibes are so positive and enriching that you will never fell exhausted or tired, unless you are running around the market. The main shopping area is Sadar Bazaar where you will find all the handcrafted leather, silver goods. These goods are available at a very cheap rate . An amalgamation of ethnic and hippie culture reflects in the items on sale in PUSHKAR market.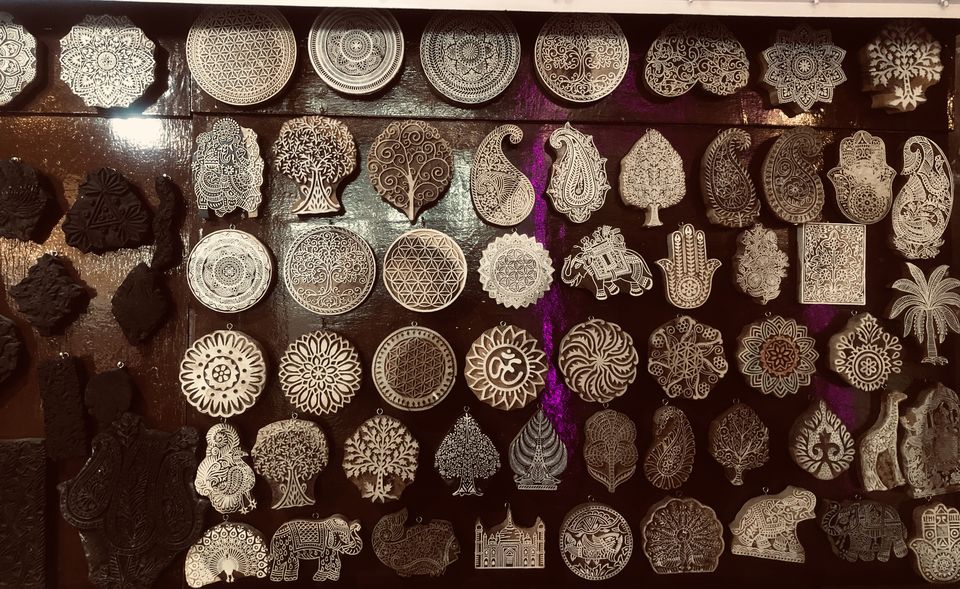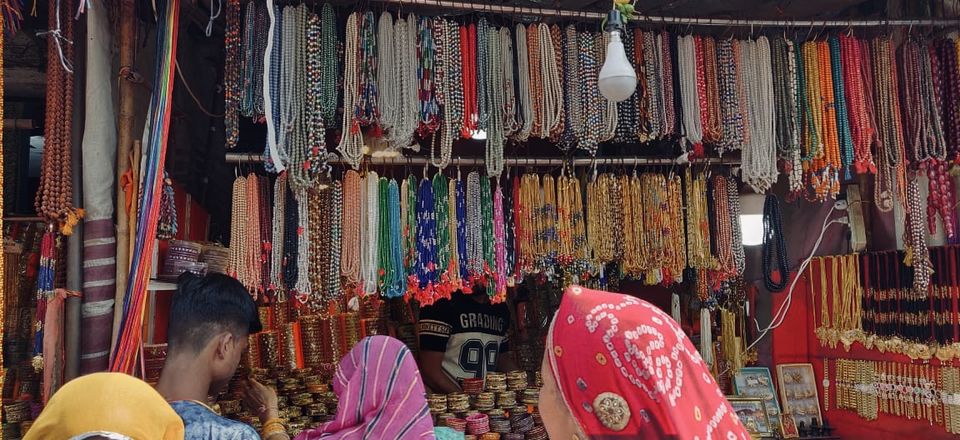 - "A yawn is a silent scream for coffee" ( Eateries and cafes )
A little town with lot's of café around. There are many café in PUSHKAR with delicious food and magnificent coffee. Many of them are terrace café where you can just see the beautiful PUSHKAR surrounded by the Aravalli mountains with a cup of coffee in your hand. And a toast of delicious food in your mouth. Some of the café are coffee Temple, sunset café, Mamasita café, Lapizzeria and many more. All these café are in the budget (around 500 for two). If you are looking for a terrace café with good food and coffee I'll suggest coffee Temple which is near the PUSHKAR lake. One of my favourite refreshing drink is Lamonnana which is also the speciality of the café.
- "Roam far and wonder wide" (strolling around PUSHKAR)
You can roam around PUSHKAR by taking a bike or cycle on rent. There are many narrow roads in which one cannot go with a car, so you can rent a bicycle or cycle which will help you in strolling around the PUSHKAR. The beauty of PUSHKAR is not only in the Temples, cafes or markets it is there in the culture and life style of the people. There are many graffiti walls where you can click wonderful pictures. People of PUSHKAR are very friendly and will welcome you with all their heart and you will get to know a lot about the place by them. You can take bicycle or cycle from any vendor there are many of them. All types of bikes are available for rent and the rates varies according to the model (200/per day- 1400/per day). Famous renters are Hanesh bike on rent, Manu bike rent and Jagdamba bike rent.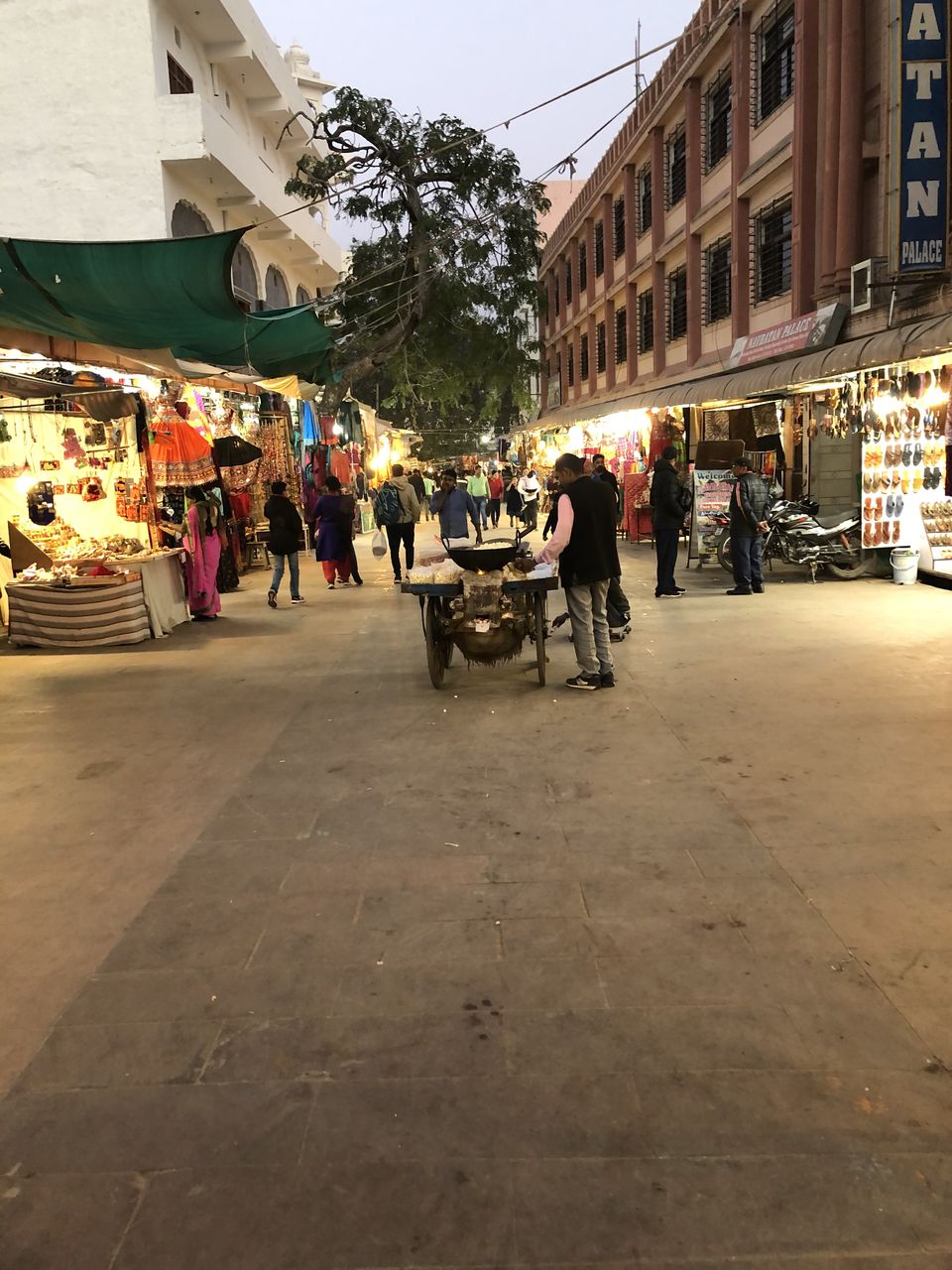 - "Temple going is for the purification of the soul" (TEMPLES).
PUSHKAR is the "city of Temples". You'll witness some amazing work of architecture and holiest Temples in PUSHKAR. It is the ultimate pilgrimage for Hindus to attain salvation. There are many Temples in PUSHKAR, THE BRAHMA TEMPLE which is the most famous Temple in PUSHKAR, THE GURUDWARA SINGH SABHA which is also one of the famous and oldest Temple in PUSHKAR, VARAHA TEMPLE, SAVITRI TEMPLE, RANGJI TEMPLE and many more. These Temples show the beauty of architecture and enhance the beauty of PUSHKAR. One must visit THE BRAHMA TEMPLE and THE GURUDWARA SINGH SAHIB.
Top 5 places to visit
1) PUSHKAR LAKE/PUSHKAR SAROVAR- It is a sacred lake of the Hindus and described in the Hindu scriptures as "TRITHA" Guru. Around the lake there are 52 bathing ghats and it is said that a dip in the sacred lake cleans all the sins and help in curing skin diseases. No pilgrimage is considered complete without a dip in the sacred lake of PUSHKAR. There are many café near the lake where u can relax yourself with the soft Rajasthani music. People come from all over the world to see the beauty of the lake, During winter night in the month of December people do born fire, play music and dance.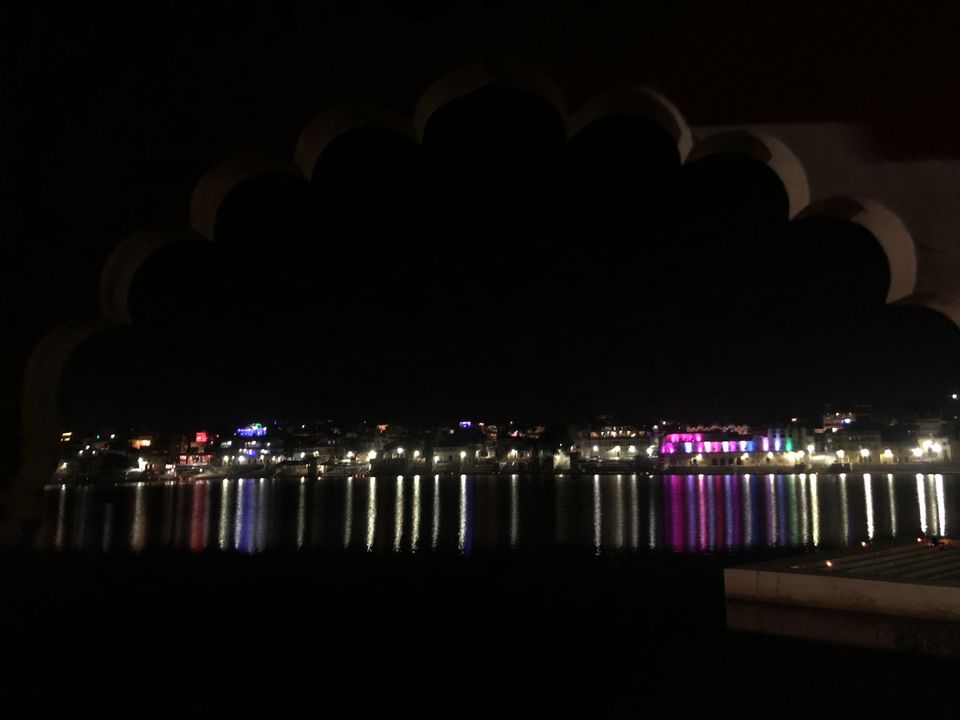 2) BRAHMA TEMPLE- It is the only Temple in the world dedicated to LORD BRAHMA. Built with marble and decorated with silver coins, this Temple can be identified by its red spire and the image of a swan . The Chaturmukhi (four faced) idol of Lord Brahma is housed in the inner sanctum. A marble statue of the sun god stands sentinel at the Temple. Interestingly, while all the gods are shown bare footed, Surya is shown wearing ancient warrior's boots. It is the most famous Temple in PUSHKAR Near the Temple there is also PUSHKAR Bazzar where you can buy hand made silver sculpture of LORD BRAHMA . The Temple is extremely beautiful from inside you can see the exquisite work of architecture. The best time to go there is in the evening.
3) GURUDWARA SINGH SABHA- It was built in the beginning of the 19th century and it is said that It is visited by first and tenth gurus- GURU NANAK DEV JI AND GURU GOVIND SINGH JI. The gurudwara is extremely beautiful the white colour shine brightly during the day light. Langar is served everyday. One can visit anytime to have 'langar' without hesitating.
4) SAVITRI TEMPLE- This Temple is situated on the Ratnagiri hill which is a popular pilgrimage site for THE HINDUS. To witness this beautiful Temple you first have to climb 200 stairs to the Ratnagiri hilltop but it is also believed that harder you work to travel there the more taps are gained. Now days to make the climbing easy rope cable service are available which is also an amazing experience as you can see panoramic view of the lake, surrounding Temples and sand dunes. It's little scary but you'll definitely enjoy the experience. Idols of both the goddess Savitri and Gayatri are there (wives of LORD BRAHMA). But as per tradition Goddess Savitri is always worshipped first and then prayers to Goddess Gayatri are offered.
5) Rangji Temple-This Temple is devoted to lord Rangji who is the incarnation of lord Vishnu. The architecture of the place is very eye catching. The influence of South Indian style, Rajput style and Mughal style in the Temple's architecture is highly noticeable. You can visit the Temple anytime it is open from morning till evening. You can also witness "puja" during the sunset. Avoid visiting the Temple between 1pm-4pm as it might be closed due to lunch hours. The main attraction part of the Temple is VAIKUNTHA VENKATESH.
Pushkar Fare:
The PUSHKAR Fair, also called the PUSHKAR Camel Fair or locally as Kartik Mela or PUSHKAR ka Mela is one of the biggest carnival in India. The fair starts with the HINDU CALENDAR month of Kartik and ends on the Kartik Purnima or in simple language it starts between the end of October and start of November. Many people come for this fare around 2lakh people come every year to witness this carnival. This traditional carnival brings thousands of camels, cattle, and horses together. This is a seven-day colourful unique exhibition that attracts a large number of tourists from all over the world. Apart from trading the livestock the main attractions of the carnival are camel and horse races, cultural performances, exhibitions, magic shows, longest moustache competition, bridal competition, and many more. During this time, one can spend some time with the locals and get a deep insight into rural India into its pure form
BEST TIME TO VISIT- 12AM-5pm or 6pm-8pm.
ACTIVITIES TO DO-
1) HOT AIR BALLOON
2) CATTLE FAIR
3) CAMEL AND HORSE SAFARI
4) HARMONY HALF MARATHON
5) CAMEL AND HORSE RACES
6) FERRIS WHEEL
In evening when sun goes down the place become extremely beautiful with all the colourful lights around and you can just roam around or can get on to some ride. There are many eatery places around so you will never get tired or exhaust. But be safe at night as there are many people around which can make difficult for you to handle your precious things such as wallet, camera, phone etc.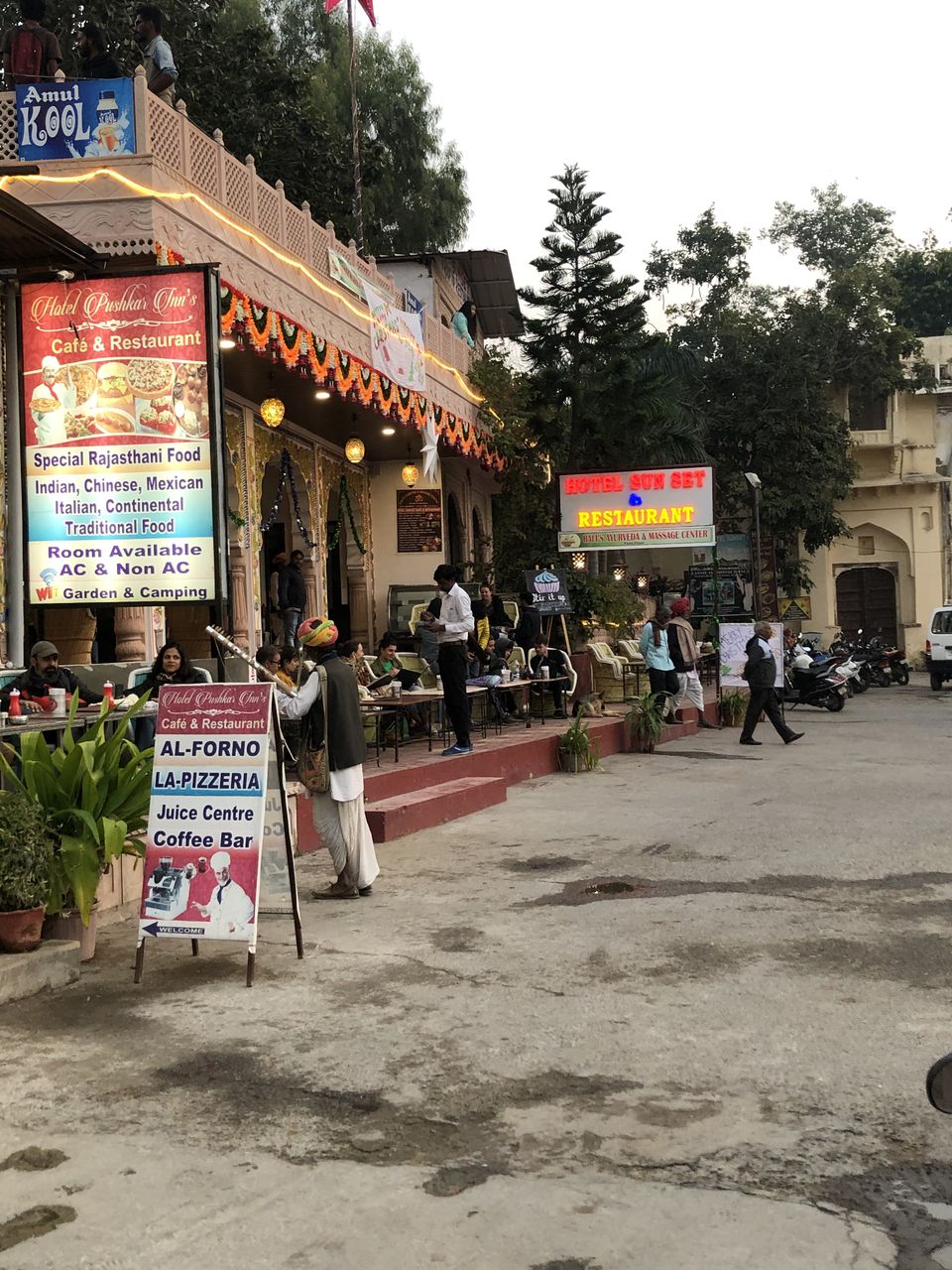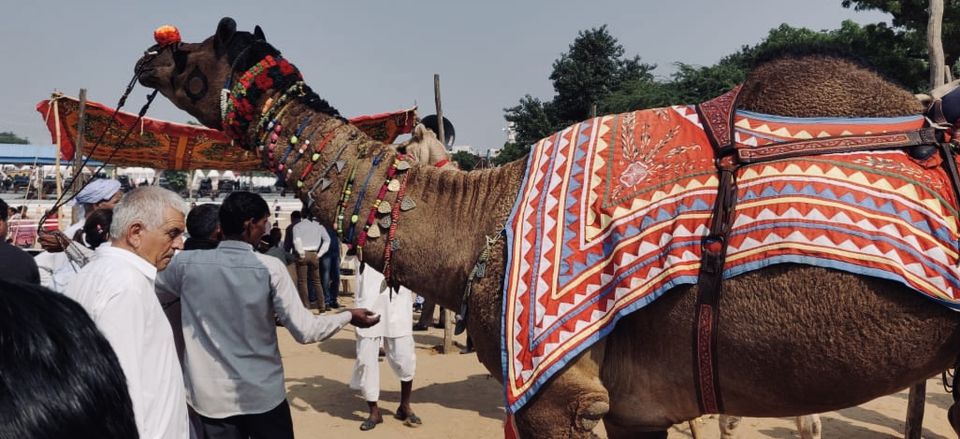 Pushkar travel cost.
Hotel cost- There are variety of hotel and resorts in Pushkar. Roughly there are around 200 hotel and resorts, and they are available in all range and budget. Starting price of hotels are 300/per day in which you'll get an average room in the market area which is a pretty good deal if you are travelling alone. Then mid-range hotels in which you'll get proper a proper room with proper faculty and room service the price varies according to season ( 1000/per day-2000/per day). If you are looking for luxury resorts then the price will be(3000-4000/per day), In this luxury resorts you'll get all the facilities from breakfast to dinner, swimming pool, Bar, Room service.
Food cost- Food price in Pushkar is very economical there are variety of place to eat from breakfast to dinner you'll get everything. Lot's of café are there in Pushkar where you can have proper breakfast and lunch where price for two is (500-600), in which you can have proper breakfast with a wonderful coffee. Many dine places are also there in Pushkar with candle light dinner. Price for dine varies from (1000-1500) for two.
Travelling cost- Travelling cost is very low in Pushkar, the benefit of this small town is-you can go anywhere in just few minuets. No traffic problems no chaos nothing. Everything is under walking distance but if still you want to travel Pushkar via bicycle you can get it on rent. Rent of bicycles depend on the model and varies from (200/per day-1400/per day).
Best time to go Pushkar.
Best time to go Pushkar is in the month of September to December, When there is very less crowd and the rates of the hotels and resorts are also very reasonable and you can easily find a room for you. With this the temperature is also very favourable which will help you in roaming around Pushkar without dehydration. In night it is little chilly as there are mountains all around but it will be fun to do bonfire with soft Rajasthani music.