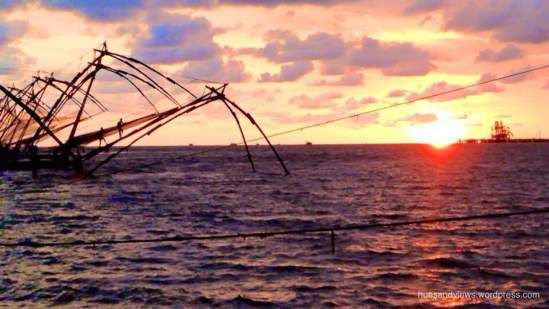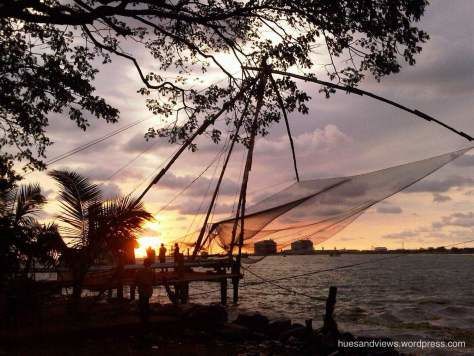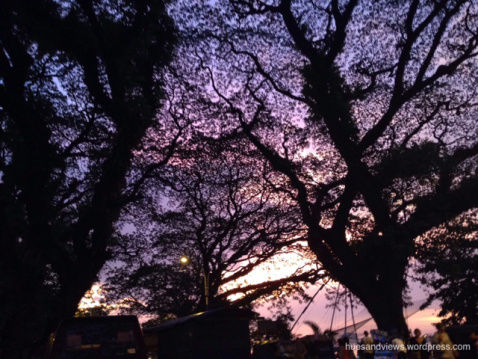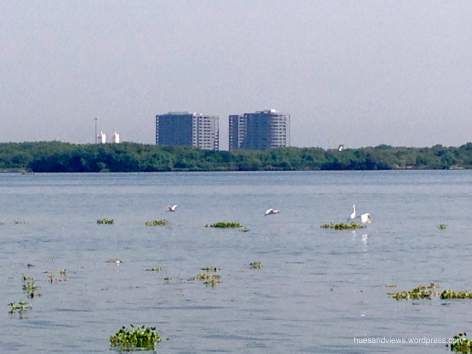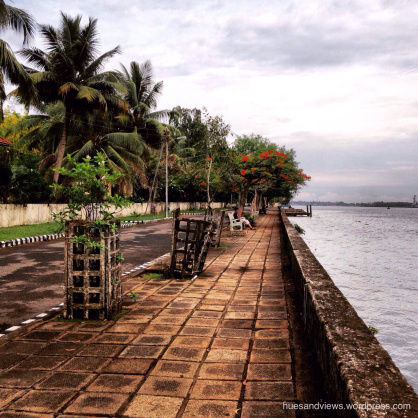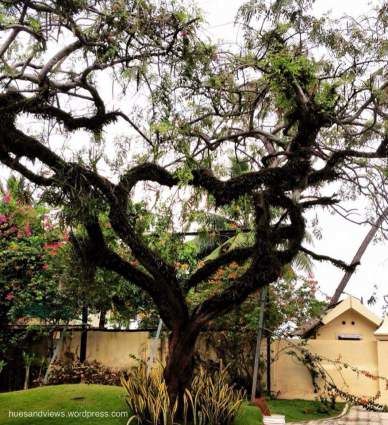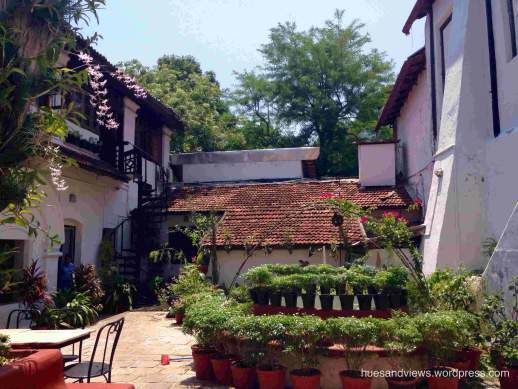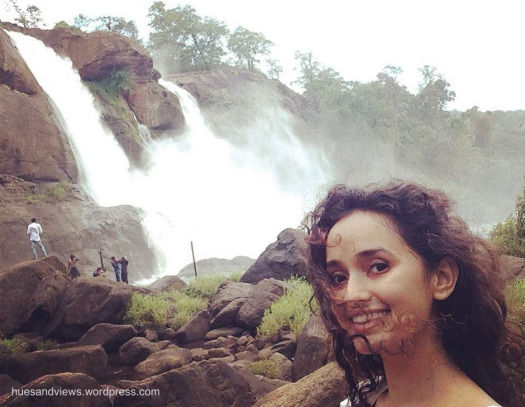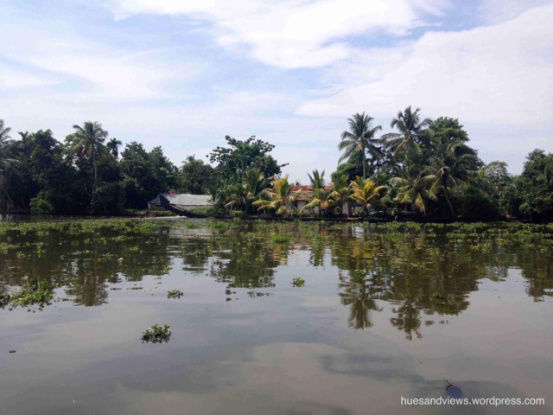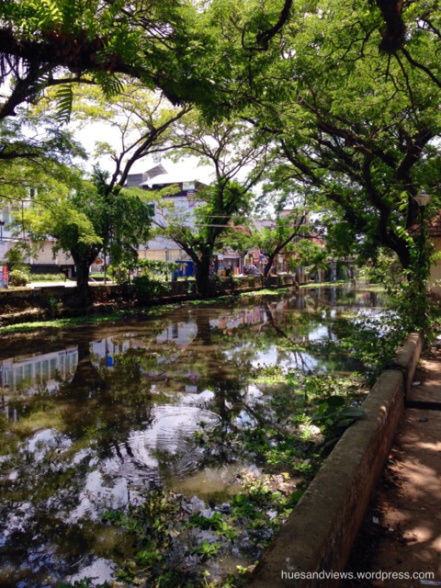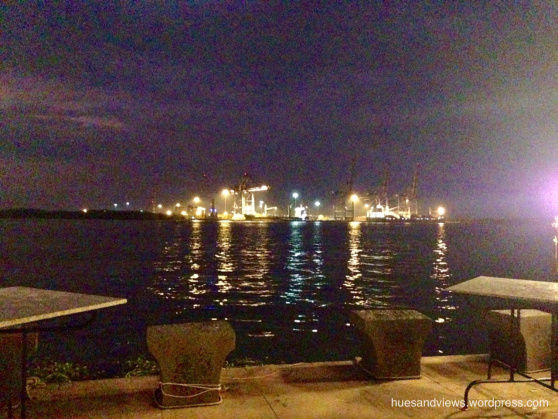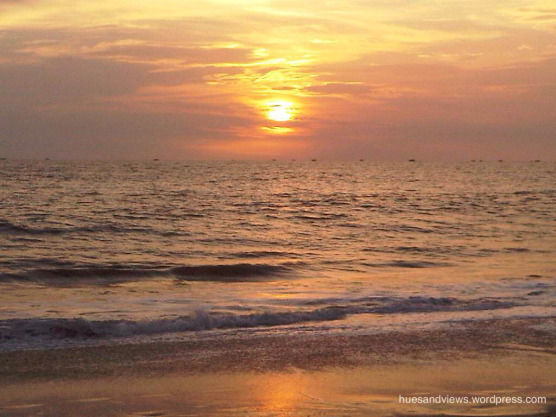 The last fishing net had just taken a bow, and a row of others stood poised to throw the sun a bait. I could see why the Chinese fishing nets are an icon of Kochi. And why they topped every single list of 'top things to do in Kochi' on an entirely different kind of net. The bamboo rails of one of these nets was the closest we could get to the sun, just in time for this mind-stopping sunset.
The last sliver of the sinking sun had me wonder where on earth it might be showing up at that very instant. And how many other eyes might be refusing to blink at it. How every single moment hosts a brand new sunset and a corollary sunrise somewhere, for anyone who cares to stop and stare. A walk by the sea at any time of day showed us herons gliding by and parking themselves on steadily drifting weeds to give their wings respite from long flights. The same walks gave me another reason to heart trees in this tree-dominated land. Colonial cafés on Princess Street made for a sweet afternoon… quickly spiced up by the spices and street art in Jew Town A steep slippery climb up and down a monkeyfull forest under blink-and-miss rains led us to a waterfall that overpowers everything it sees.
After the roaring exuberance of the falls, the backwaters presented an almost stillness that could compel the most restless spirit to rest awhile. For two hours, our boat waded forth with all the haste of a snail in a slow dance. The water seemed to have no plans for the foreseeable future, besides mirroring the sky and trees. Its day-long siesta shaken only by a water crow here and a kingfisher there. We lounged back and listened while the elements sang their silences and the boat hummed along. The floating journey was our destination.
Known as 'Venice of the east' (or even 'East Venice' on some signboards), Allepey is a town made quaint by its many bridges sandwiched between crisscrossing canals and canopies. The fast and fastidious tourist in me had lists upon lists of things to do and see, to be duly ticked off in five days. Thankfully, the slow and curious traveller in me overtook the FOMO-driven list-ticker and those five days rolled out surprises, streets and sunsets I wouldn't have discovered otherwise. Travel taught me once more that the lists, plans and research do have their uses, but the best things happen unplanned, unexpected and unlisted. And that's also what makes them 'the best things'.
For anyone who likes surprises and enjoys uncertainty, less is really more when it comes to travel plans. I 'missed out' on most places and activities on my lists, but not on the moments that pulled up right in front of me, at the busy intersection of what I'd have expected to happen and what actually unfolded. Good old serendipity made sure that a lot happened over an impromptu five-day trip to Kerala, and someday I'll go back for more – with way less of a plan.