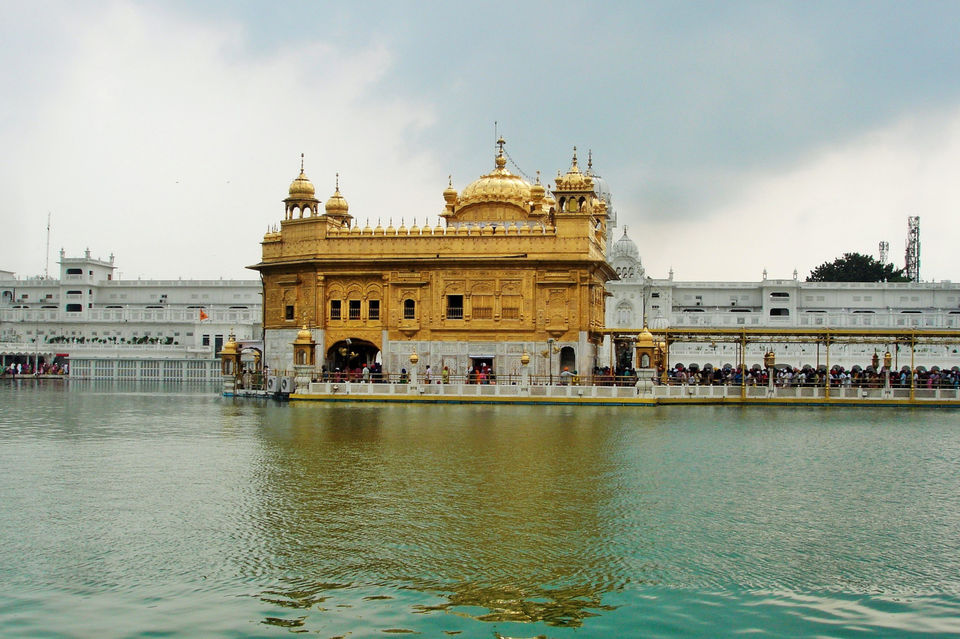 There are some cities which have their own vibe. Well, in the case of Amritsar, I can safely say it not only has a homely vibe, but also a distinguishing taste. If you see stalls of sweets, lassi, chaat and kulche chole dotting the streets you don't need a GPS to find your location. You must be in Amritsar!
The best time to visit Amritsar, like most of the other Indian cities, is between September to March. This is the time when winter sets in, in the same proportion as ghee and butter settles on the Punjabi food. It's a crime to be diet conscious when in Punjab.
To experience the winter, and the food, we arrived in Amritsar on one December morning. To say that the weather was cold would be an understatement. The temperature was chilling and our hands and feet were already numb in the subzero temperature. It took a while for us to get accustomed. We freshened up, and decided to hit the road to explore straight away. Our first stop for the breakfast was the famous Brothers' Dhaba.
Brothers' Dhaba is an old family run restaurant just around the corner, near the famous Golden Temple and Jallianwala Bagh. It is known for its traditional Punjabi food. Going by the safest and most popular thing on the menu, we ordered the Amritsari gobhi kulcha. The kulcha was a whole meal in itself. It was thick, heartily stuffed with cauliflower and accompanied by dal makhni, butter paneer masala and, of course, curd. How can I forget to mention? Everything was covered with a thick layer of desi ghee and butter. It took some effort to push it all in, but it was a delightful experience nonetheless.
Then, we decided to head for sightseeing – Jallianwala Bagh and the Golden temple. Golden Temple is famous for its healing powers and the peace it gives to its devotees. Equally, it is also famous for the moong halwa, or the karah prashad, which is offered to the devotees. Also, the Langar, or the holy kitchen, holds the record of being the largest free community kitchen in the world. Around 50,000 devotees have this free meal every day. Meals in Langar are vegetarian and simple. They usually consist of dal, roti, rice, a vegetable dish and kheer. We took blessings of Sir Harmandir Sahib, tasted the karah prashad, and headed for lunch to Langar. The Langar food was amazing, simple and tasty and way beyond our expectations. That was the, by far, the best meal we had in Amritsar.
The best thing about winters is that your appetite increases multifold. And you need it when cruising the bylanes of Amritsar. After having the humble lunch we went to the market area, the Hall Bazar, to try the famous Gian Di Lassi, which was a full glass of yogurt drink with a thick layer of cream. We were done with our food quota for the day J. Or at least we thought so ignorant to the fact of what more was to come! Post some window shopping, we came across some irresistible chhole aloo tikki. The aloo tikki was wholesome and chhole were thick, with an overwhelming taste of butter it was fried in. Th overall taste was good, but considering the high expectation Amritsar had thrown us into, we found it average.
My friend advised me to visit Kesar da Dhaba for non-veg food. So, my trip wouldn't have been complete, if I wouldn't have had tandoori and butter chicken for my dinner. Well, dinner at Kesar da Dhaba was the perfect end for the food trip to this city. The chicken was soft, naan was like silk, and the chaas was refreshing. I can easily claim it was the best butter chicken I have had in my life. And yes, I have travelled a lot and tried many varieties.
I did surprise myself by eating so much in a day. Considering all that this lovely city has to offer, it can't be explored in one trip, and in one blog. We are planning to visit the city soon, to explore the things we left unexplored, and a lot of things remain to be tasted. Until next time, Sat Sri Akaal, Phir Milenge Amritsar!