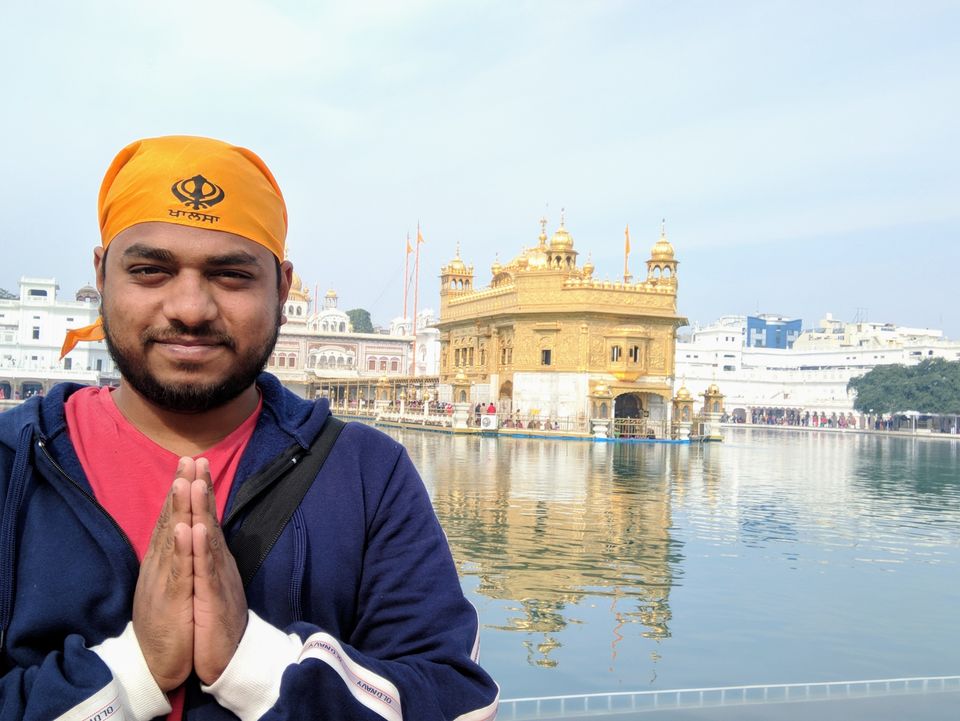 Harmandir sahibji aka the golden temple
dates back to 1577 and was founded by the 4th Sikh Guru, Guru Ram Das but the present-day gurdwara was rebuilt in 1764. The temple is mostly made out of marble but it is gold plated with real gold which gave it it's English name – the Golden Temple.
The golden temple is located right in the middle of Amritsar city. The distance from Amritsar railway station is appx 3 kms. You Can take cab or rickshaw to reach the golden temple for ₹20 - ₹40 per person.
I am not much of a temple guy, but beauty of this place will touch your heart.
The main building is surrounded by a holy lake known as Amrit Sarovar. It is surrounded by a broad walkway having 4 directional entry points ( west, north, east & South) The water is said to have special properties and healing powers so devotees come here to take a dip in the holy water.
On our way out of the main building we got a chance to sip the holy water from the lake. People there got their water bottle and cans filled with the holy water.
The Gurudwara is open for all human beings irrespective of their Nationality, religion and race. despite of round the clock devotees operations, discipline prevails.
While on our way out we had the delicious "kada prasad" served as prasad to the devotees.
Post that now it was time for world famous "Guru ka langar"
The Golden Temple feeds up to 100,000 people a day from the free kitchen run by volunteers.
No matter what your position in life, everyone eats together on the floor.
The menu served is Roti, Dal, Aloo-matar ki sabzi and Kheer. You'll have accept the roti with both your hands, while the other items were served in the dish. The food was as simple and tasty as it could be served in a temple. There's no judgement to such food.
We spent an around 5 hours visiting the golden temple. And an amazing experience can't afford to miss out while in Punjab.