One of the largest city in Punjab situated in the northwest India, Amritsar is known as the holy city of Sikh Pilgrims.
The city was founded in the 16th Century by Guru Ram Das, Fourth Guru of the Sikhs. It was earlier known as Ambar Sarovar meaning a "Pool of Nector" amidst which stands the very famous Golden Temple. It is a very colourful and old city that holds rich heritage with eventful history, where the air of patriotism is felt everywhere.
The city is well connected by all modes of transport- Road, Trains and Flights as well. There are decent hotels where on can stay on - Queens Road, GT Road, even dormitories in Golden Temple. The best time to visit would be between October to March to experience a pleasant weather. So we planned our stay at RV Continental on Queens road.
After reaching and freshening up, we began sightseeing. On the 1st day we covered the Golden Temple, Jallianwala baug, nearby markets. Next day was saved for Shopping and Attari-Wagah border.
Golden Temple also known as the Harmandir Sahib, is one of the holiest Gurudwara. The Sikh scripture -Guru Granth Sahib has been situated in lower floor of the temple. It has 4 doors facing each direction. Made up of marble, covered with, surrounded by holy water, the splendid architecture and atmosphere here makes you fall in love the moment you enter in. The Temple is open 24 hours and serves Langar day and night. Apart from Langar, Kada prasad is also provided and packets of dry prasad are available, that can be purchased for family and friends. The mandatory practice that devotees need to follow is to cover their head with a scarf while being inside the Temple area.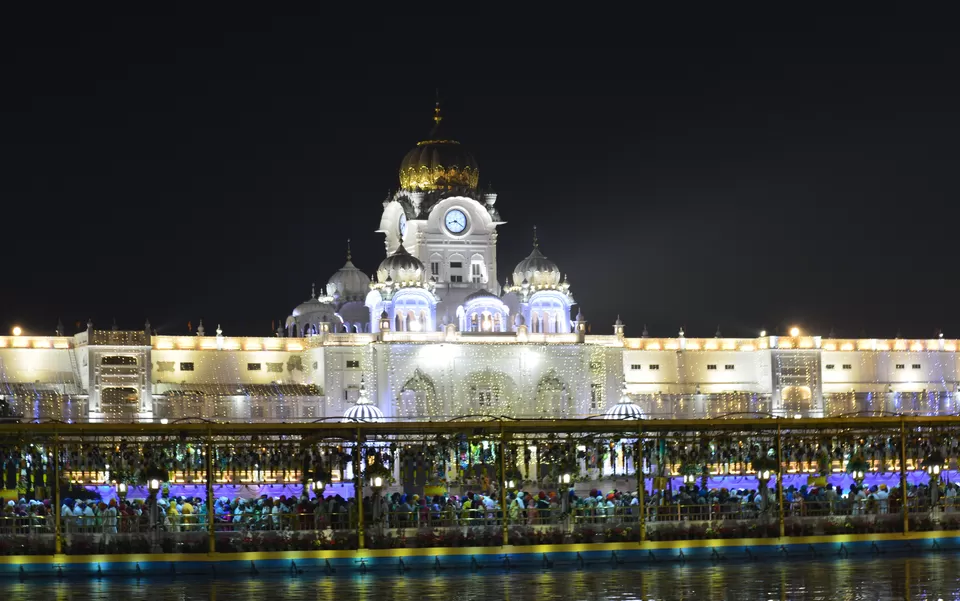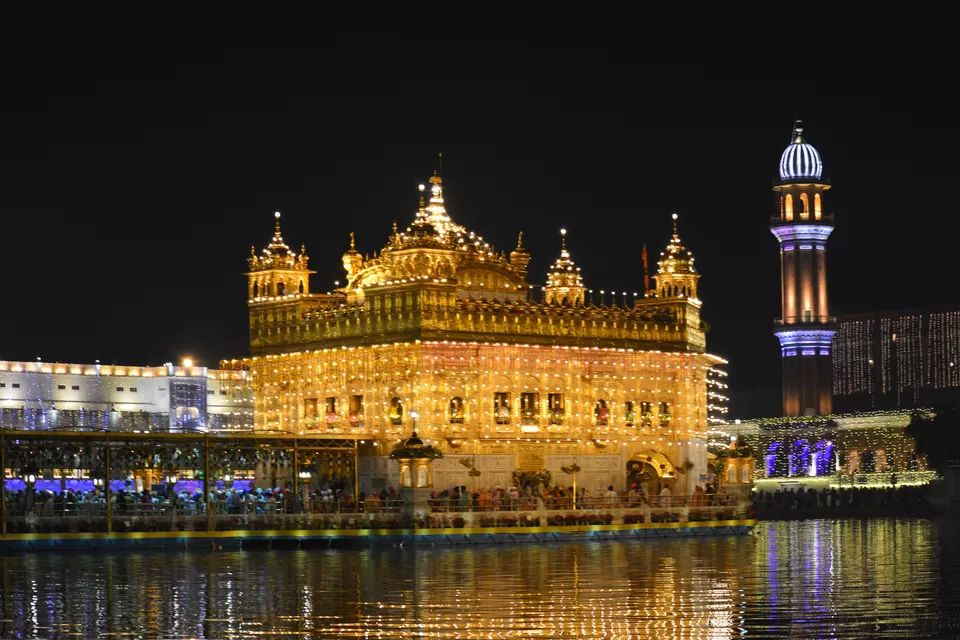 We were privileged enough as we happen to visit the Temple on an auspicious day of GuruPurab and also received the Ardas in the evening . The real beauty of this divine place can be prominently felt in the evening. Sitting by the tranquil water in a serene atmosphere just takes you to a different level of divinity.
Jallianwala Baug:
Who can forget the massacre that occurred here on 13th April 1919 where hundreds of unarmed Indians were killed by the British army led by General Dyer, during the War of Indian Independence. And Just in case if you have forgotten, the below lines will surely take you back to that era :
Jallianwala Bagh yeh dekho, Yahan chali thhi goliyan,
Yeh mat puchho kisne kheli yahan khoon ki holian
Ek taraf bandook dandan ek taraf thi tolian
Marne waale bol rahe thhe, Inqalaab ki boliyan
Yahaan lagaa dii bahano ne bhii baaji apani jaan kii
Is mitti se tilak karo ye dharti hai balidan ki...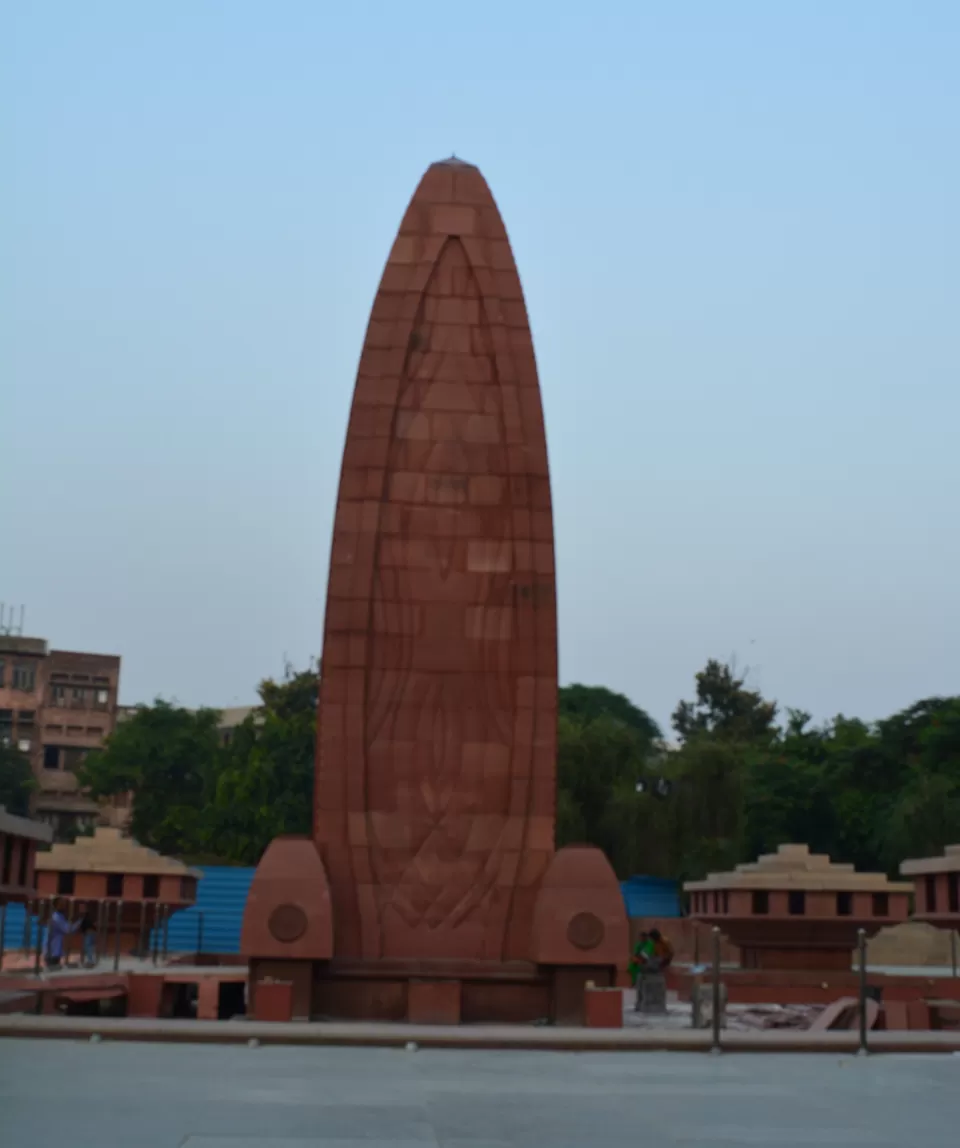 Unfortunately this years marks the 100th year of this dreadful act. Even today the bullet marks are very much prominent on those walls, seeing which literally sends shivers through your body. The entry for Baug is free and open until sunset. Also there is Jallianwala Baug museum which you can visit. Baug is Located in the city centre, walking distance from golden Temple.
You just cannot afford to miss this when in Amritsar. Located at a distance of 28 kms from Amritsar, Wagah marks the boundary between India and Pakistan and runs around the Grand Trunk road. The ceremony is popularly known as the Beating Retreat Ceremony, held daily in the evening by the BSF soldiers where one can witness the Military camaraderie for 45 mins. The official purpose of ceremony is to close the border and lower the National Flags.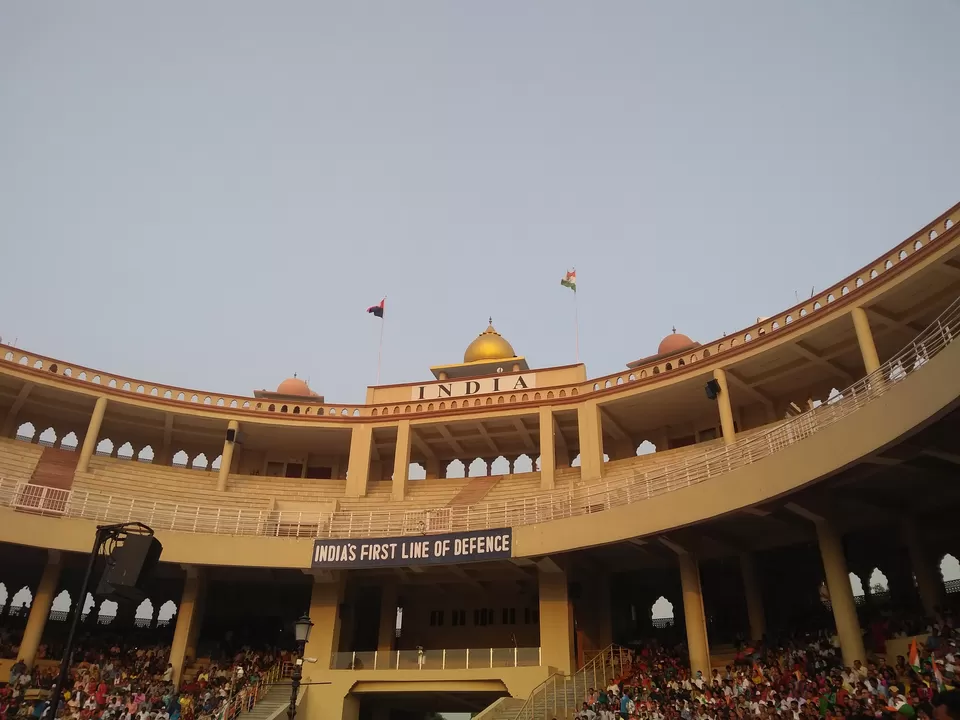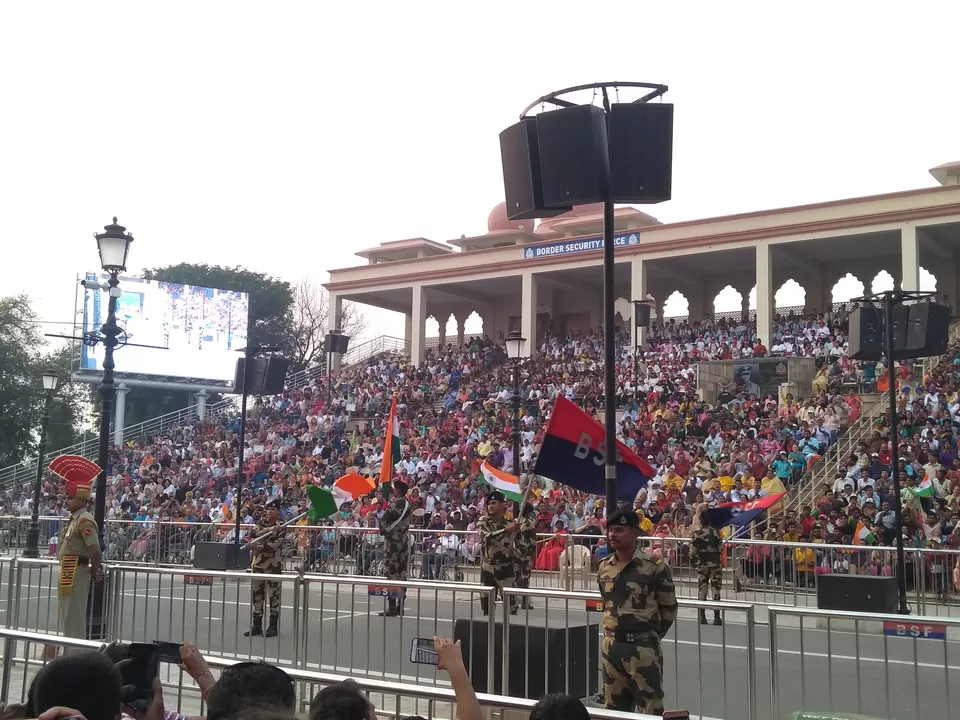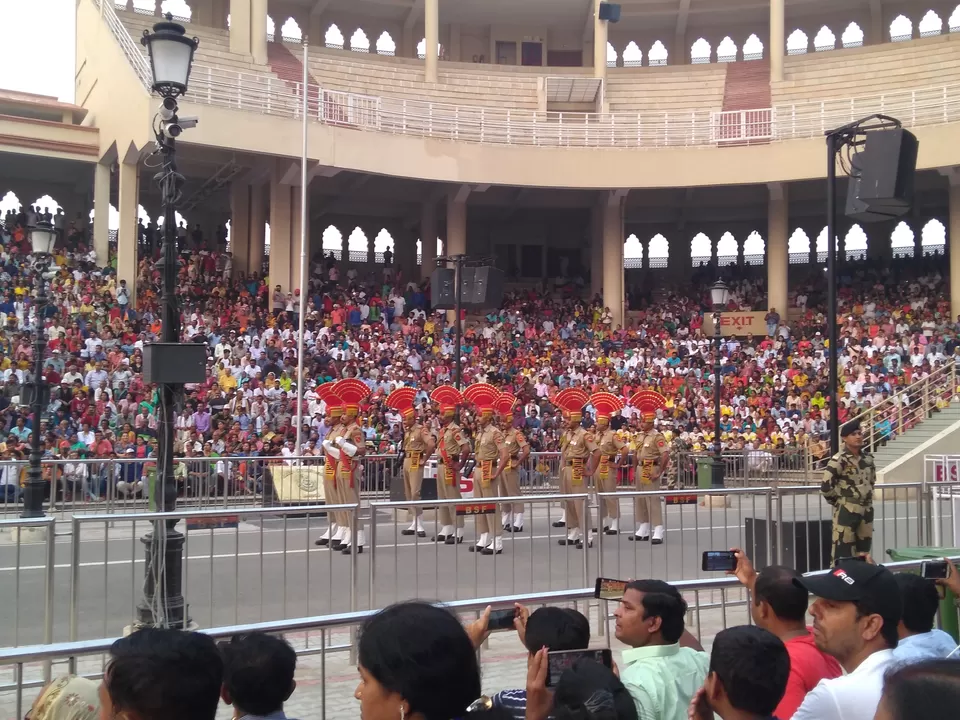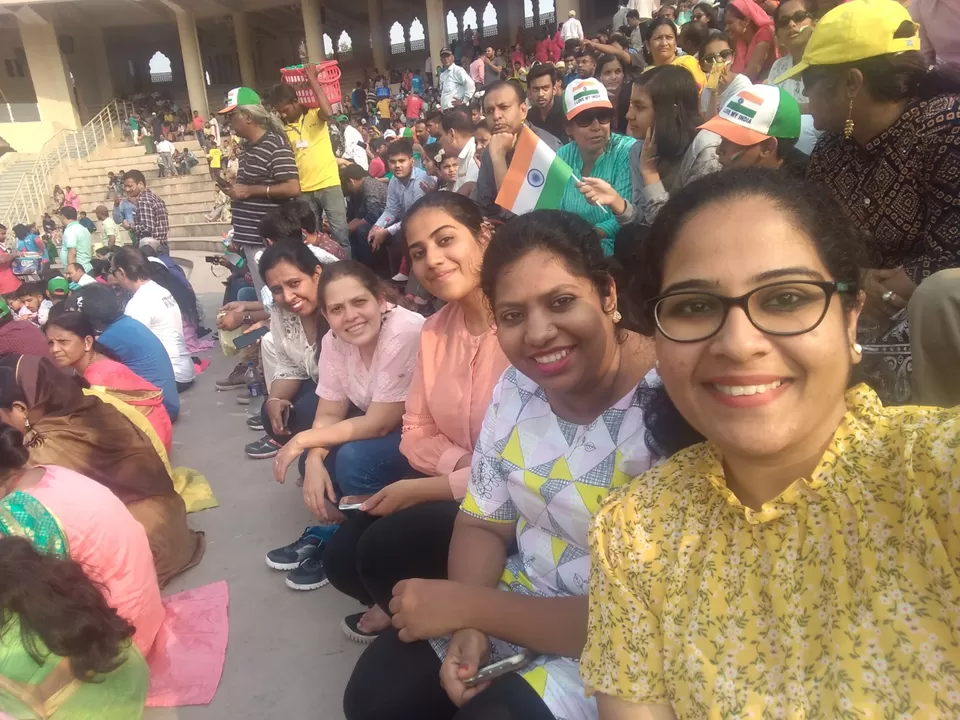 The atmosphere is patriotic and very joyful where Slogans and National Anthem along with various Patriotic songs are played, also dance on such songs takes place. The Josh here is indeed very High. The ceremony starts at around 5.30 PM, so its better to reach an hour or 2 earlier, to get the proper place considering the tremendous crowd that comes daily.
PS: Most of the photos have been clicked by Nikon dslr and Moto cellphone.
Museum:
There are some famous museums here which one can visit - The Partition Museum, Maharaja Ranjit Singh Museum, Central Sikh Museum a War Memorial Museum. They offer a nominal fee and are open till 5-6 pm in the evening.
Amritsar offers varieties of food dishes that savour your taste bud with utmost satisfaction. The must try items here are - Amritsari Kulcha, Makki ki Roti aur Sarsong da saag, Tandoor chicken. Pinni, Phirni and Besan Laddos satisfy you sweet desire. Dal Makhni was one of my favourite here. And how can you ever miss Lassi when in Punjab! Kesar Da Dhaba, Beera Chicken house, Friends Dhaba and Hall Bazar are some famous places to try out for.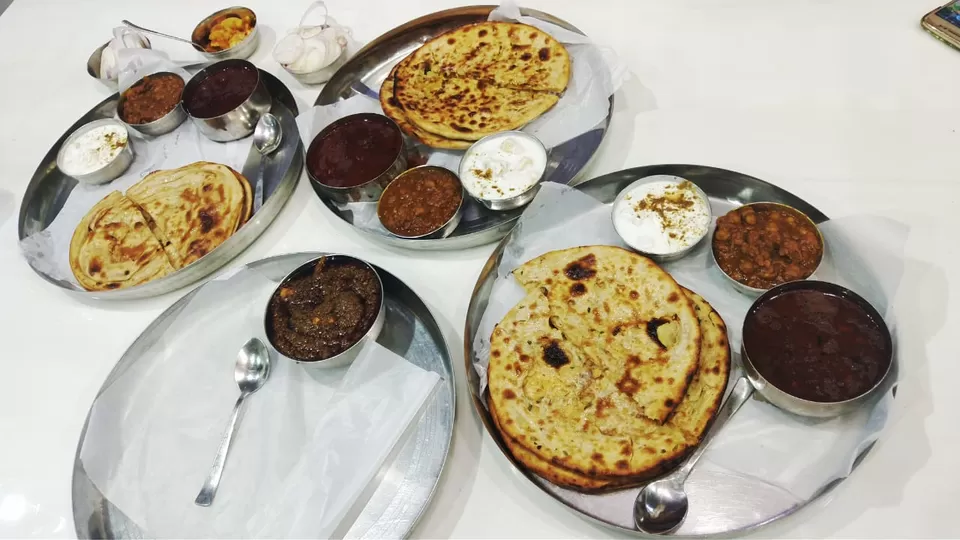 PS: Most of the photos have been clicked by Nikon dslr and Moto cellphone.
Shopping:
The colourful markets of this city just test your greed for shopping. Especially for women there are endless options and if you love Phulariks, this is just the place for you. Phulkari Suits, Sarees, Duppatas, Patials,Punjabi suits and Jutis just make you go crazy. Also it has good collection of Shawls, Sweater and Wollen garments. Hall Bazar, Shastri Market, Katra Jamal singh market and shops near the Golden temple are places where one can shop from.
2 days are sufficient to cover all these places. Also a long trip can be planned to other connecting cities and states from Amritsar, such as Himachal, Delhi, Chandigarh or Rajasthan as per ones interest.