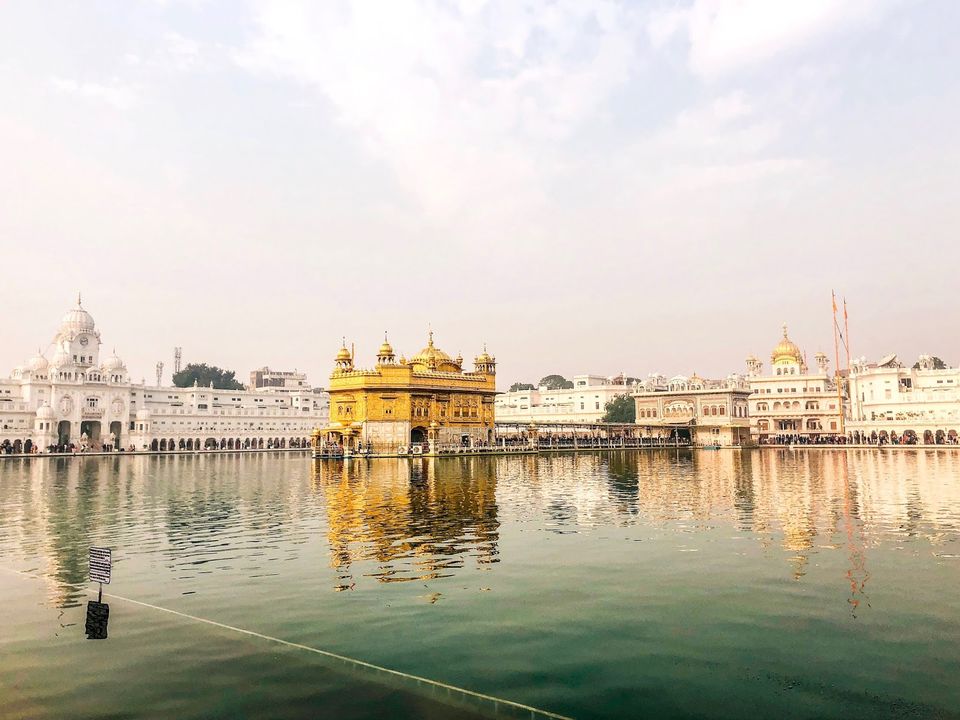 Fluffed and packed in our warmest of woollens, we made our way to the Holy city of Amritsar on a cold Sunday morning. The journey by car from Ludhiana to Amritsar is around 2-2.5 hours and since Amritsar has its own international airport, the city is well connected by flights, trains, buses and by road.
It was 7:30 AM in the morning and the air still had specks of fog. We made our way directly to the first stop in the city: Yes, you guessed it right! The Golden Temple.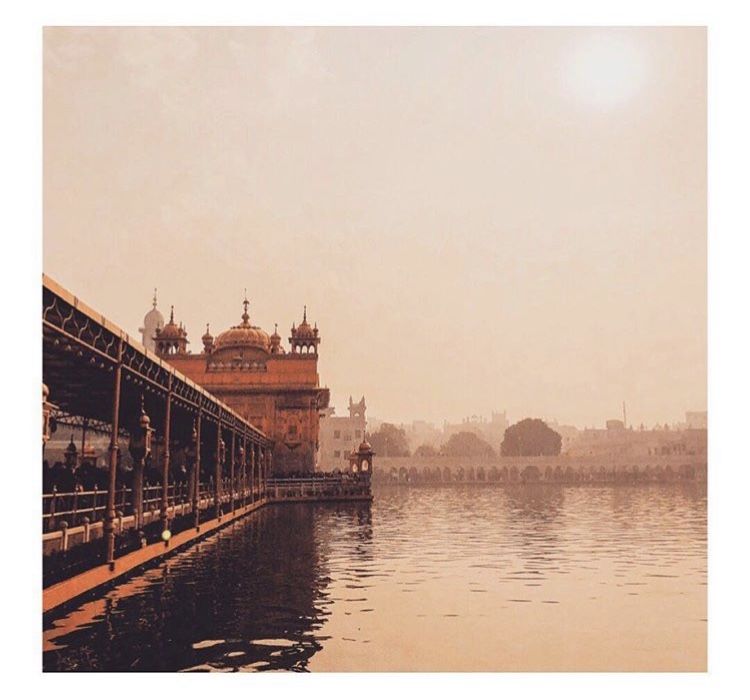 Pro Tip: If you are planning to visit the city on your own vehicle, head directly to the well-maintained multilevel parking of the Golden Temple complex.
Coming out of the parking, we were welcomed by the cold gush of winds, which if you have experienced the North Indian Winters, you must be very familiar with. The whole path to the Golden Temple has been redesigned for the better and is now named as Heritage Tour as the same area houses the Golden Temple, Jallianwala Bagh, The Partition Museum and a lot of popular eating and shopping outlets.
As we started our Heritage Tour walk, we were first greeted by a huge white marble pedestal housing a huge statue of Maharaja Ranjit Singh on the top and depicts intricate carvings of war scenes and elephants. The pedestal is truly a symbol of the great period of Sikh Glory.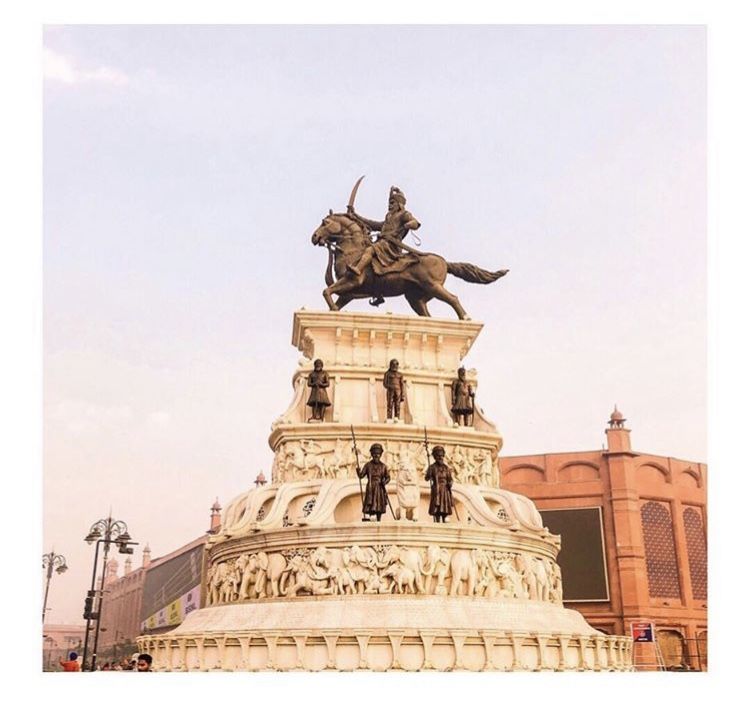 As you move further and make your way for the Golden Temple, you witness a huge number of devotees, all wrapped in warm clothes and not letting the cold Amritsar winters dampening their faith and excitement to make their way to the Temple. Small shops of fresh hot chai gather huge crowds of people, especially in the morning. As you enter the Temple Complex, you are welcomed with a sense of bliss and peace. The golden words of kirtan, the pure sarovar waters, and the faith reflected by the devotees will surely transport you into another world.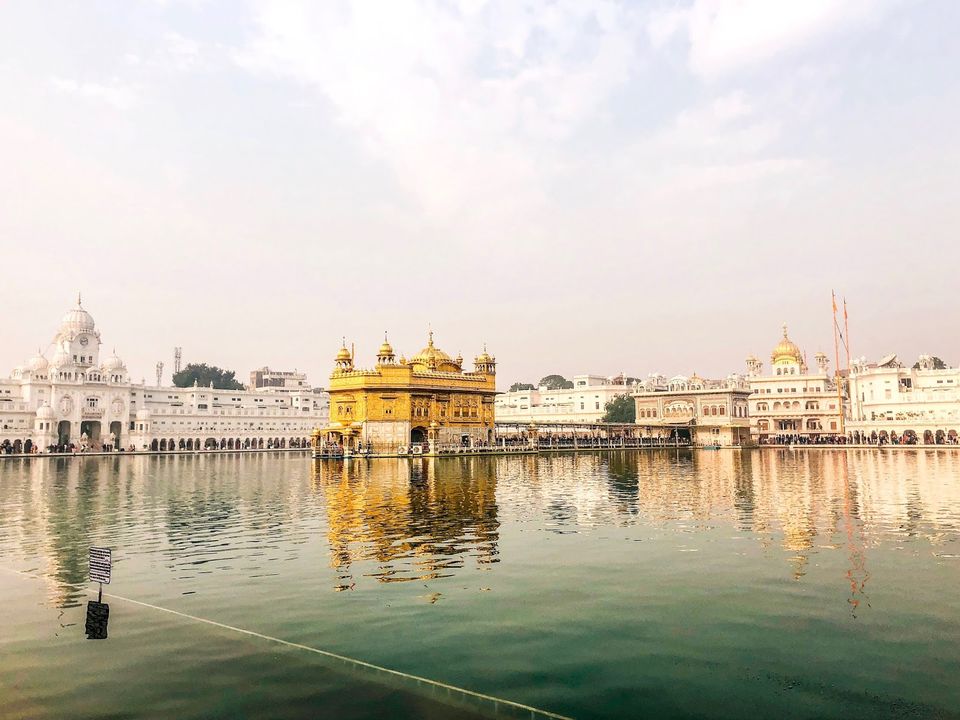 After our darshan, It was time to explore other heritage places the city has to offer. We first made our way to Jallianwala Bagh where during Baisakhi Day in 1919, General O'Dwyer opened fire on unarmed people who had gathered at the place. Since the Bagh had only one entry and exit, so many innocent people could not escape the ruthlessness of the British soldiers and lost their lives.
The place is a symbol of sheer sacrifice so many people had to make for the freedom of this country and our heart salutes the brave martyrs in remembrance.
Since it was almost 1 PM in the afternoon, our hunger was on the top of the peak and what better to have than the very popular Amritsari Kulcha. We started hunting for a good place to relax and eat and within seconds, we quickly spotted Amritsar Haveli which is just a minute walk from Jallianwala Bagh. We quickly ordered Amritsari Kulchas and Chole with a cup of hot masala tea to beat the winter cold. Tandoor baked kulchas with spicy potato filling were well complemented with spicy chole and hot tea and we ate to our heart's delight.
After a wholesome lunch, we made our way to the Partition Museum which is again a must visit place if you plan to visit Amritsar. You have to purchase a nominal ticket of Rs 10 at the entry. Once we reached inside, I was in awe of how this museum had so many artifacts,so many scripts and audio and visuals of the time. It was truly an enlightening experience and the museum walk throws so much light on events and circumstances preceding the country's partition, the plethora of events happening during and after partition and the museum also has videos for you to listen to from people who were present during the time and have witnessed partition themselves.
We next made our way to witness the Wagah Attari Border Beating retreat ceremony which is performed each day by soldiers of India and Pakistan while lowering down the flags. In all honesty, you have to be present here to actually feel the patriotic fervor the crowd has. Patriotic songs, loud cheers, dance and claps fill the atmosphere with tons of energy and crowds in huge numbers come to witness the lowering of flag each day.
Pro Tip: The ceremony starts at 4:15 PM in winters and 5:15 PM in summers and it is advised to reach the venue at least an hour before as the seating gets filled pretty quickly, especially on weekends and public holidays.
It was now time to bid goodbye to this beautiful city of Punjab and head back home. But not before we shopped some special items which Amritsar is famously known for. We bought ourselves a lot of traditional Amritsari food, especially Wadiyan and Gajak and also bought Punjabi Juttis and Phulkari Dupattas, for which Amritsar is famous worldwide.
There is still so much to explore in the city and so much more traditional street food to try..but then, this is what next time is for!
If you have been to Amritsar before, leave your favorite places to eat and explore in Amritsar in the comments section below and I will make sure I check them off my list during my (hopefully soon) next visit.