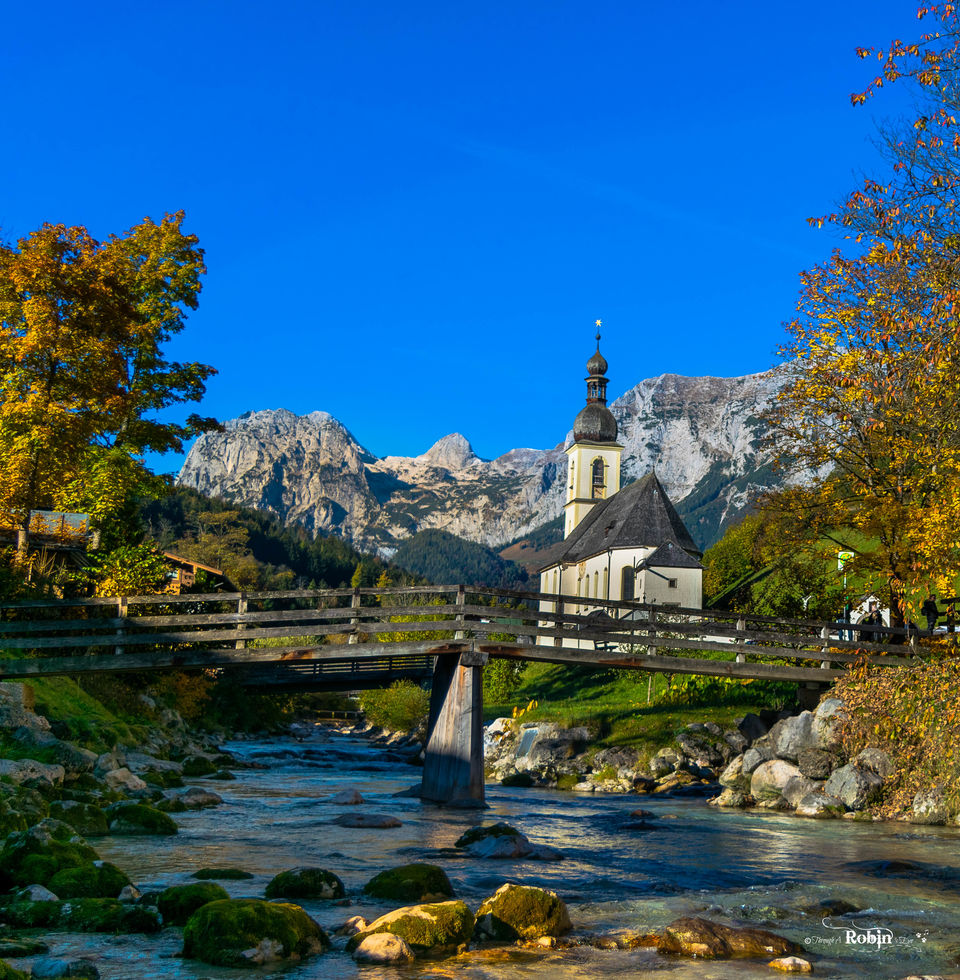 Something just did not feel right when I set up my camera on Charles Bridge to capture the sun rise above the cityscape of Prague that day. Although everything feels entirely different when experienced in real life, feasting over millions of stories and photographs of the bridges and streets of these popular European destinations over all these years meant I had to look really hard for experiences that could sweep me off my feet. For a budget traveler as I am, I have gone through similar ordeals of having to stick to these popular destinations - since those are where most cost effective modes of transportation options exist for travelers. However, if it has been for the lack of information regarding possible alternatives to these popular destinations, then you need not look any further - after all, who doesn't want to spend a day away from the trodden path, forging unforgettable memories associated with their visit to the popular destinations and sticking them on that travel diary!!
It is extremely difficult to avoid putting Salzburg or Munich on your dream European itinerary - for entirely understandable reasons. However, in the midst of all that time spent walking along their cobbled streets or feasting over delectable food or beer in their famed cafes and restaurants, it is quite easy to miss out on one of the most beautiful corners of this part of Europe. Located just 150 km away from Munich and mere 30 km away from the beautiful town of Salzburg are the enviable alpine landscapes of Berchtesgaden National Park region of Germany.
From landscapes straight out of a painter's canvas and alpine lakes clearer than the clearest mirror you ever bought for yourself, the sheer beauty of Berchtesgaden is bound to leave you in awe – making the memory of that last crush of yours but a distantly vague memory!!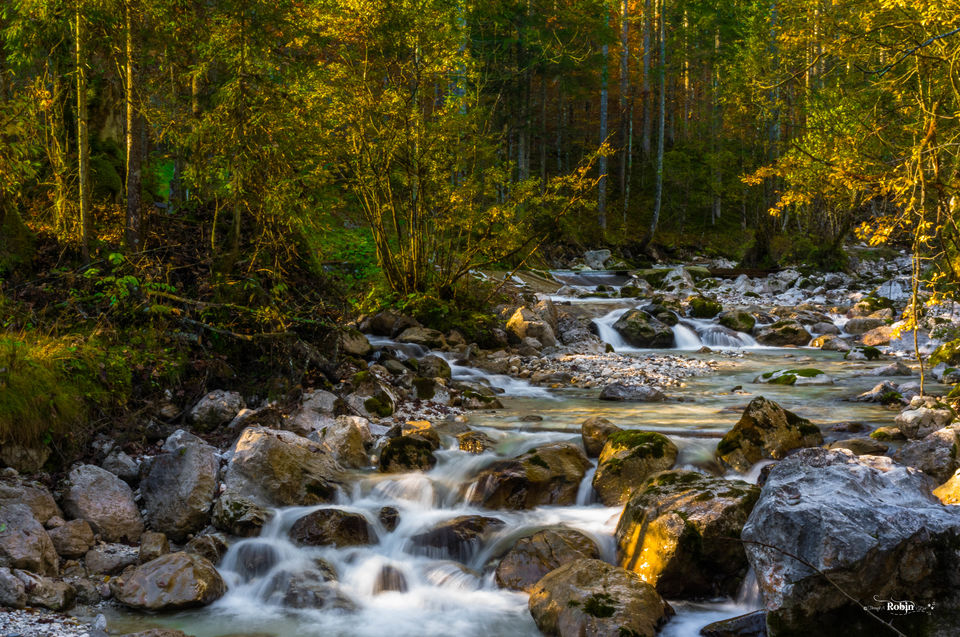 How to reach -
(a) From Salzburg -
Via train: Check out bahn.de for hourly trains that ply between Salzburg to Berchtesgaden. The train ride will take you through some of the most beautiful parts of Bavarian Alps, albeit taking a bit more time than other options. But, for a mere 30-40 km journey, are you really running so short on time as to miss out on these beautiful vistas?
Via bus: It is the cheapest option, with one way ticket costing only 4.5 euros. 45 minutes and multiple short stops later you should find yourself at Berchtesgaden Hbf, which makes this option a no-brainer. Click here for more options.
Via car: Ideally a 30 minute drive, but will give you the flexibility to visit Koenigsee or the ice caves of Werfen on the way.
(b) From Munich -
Via train: No direct trains run between Munich and Berchtesgaden. However for only 23 euros you can buy a one-day rail pass, giving you unlimited rides on regional trains in the region!! It is one of the cheapest options available from Munich. Visit bahn.de for more details.
Via car: A joyful 2 hour drive will take you through the pristine Bavarian landscapes. Maybe you can catch a glimpse of Chiemsee on the way as well!!
It's extremely difficult to avoid a visit to the picturesque old town of Prague and party through the most vibrant of late night ambiances in Europe. However, perfectly hidden from the gaze of travelers, at the north-western border of Czech Republic lie some of the most unique sandstone rock formations in Europe.
Frequented by local rock climbers and making up for some of the most picturesque backdrops for those perfect sunset shots are these unique rock formations located only 150 km away from Prague. A short hike to any of these viewing stations is bound to leave you spellbound - such is the power of these landscapes!!
How to Reach -
Day Tours from Prague - There are a lot of tour companies operating day tours from Prague. You can check here for more information.
Via public transport - Take the train to Decin and then take the local bus to Hrensko or Jetrichovice. Alternatively, you can take a train to the village of Schona and then catch a ferry to Hrensko. Check here for more information regarding trains.
Nestled away from the bustle of the beaches and night life of Barcelona lie the quiet and relatively unknown country of Andorra. Yes, you heard it right – this is not a suggestion for an alternate city but a whole new country I am talking about!! Perched high up in the Pyrenees, surrounded by its big brothers France and Spain, this small mountainous country boasts of some of the most pristine and less frequented landscapes in the region.
The fact that it is a mere 40 km drive across the entire country, the 16th smallest country in the world is almost completely covered by mountains, leaving you with lots of beautiful landscapes to feast your eyes upon.
How to Reach –
Via bus: This is the most preferred and convenient way of reaching Andorra. You can check here for all the details regarding the bus options available between Barcelona and Andorra.
Tour option – Another interesting option to visit this country is to club it with Baga in Spain and Ax Les Thermes in France in a full-day tour. This option is one of the best ways to capture the essence of these beautiful destinations – especially if you are in pursuit of ticking those countries off your 30-under-30 bucket lists!!
Bavarian Alps are not the only sights to swoon over close to Munich. One only needs to venture further inland to discover the marvels of the region. Bavaria is one of the most gifted of German regions, both in terms of quality and diversity of natural landscapes, and Altmuhltal National Park is one of these hidden gems. Located to the north of Ingolstadt and boasting of beautiful hikes and sights as the river Danube cuts across the landscapes in the region, this region is a paradise for landscape lovers, photographers and casual hikers.
Do not miss out on a visit to Weltenburg Abbey monastery when you are there. Its brewery is considered to be the oldest monastic brewery in the world, having been in operation since 1050. Now who wouldn't want to get a taste of the history mixed in Beer!!
How to reach -
Via Train - There are lot of options available between Munich and Altmuhltal. Check out this website for train itineraries. Alternatively, if you are traveling in groups then getting a one-day rail pass is the most cost effective and convenient option available.
Enough has been said about Amsterdam already by all the travel journals. Infact, by now the fortunate ones have visited this city at least once, the eager ones have been keeping it on their bucket-list since a long time and the rest have a fair idea of what the enviable night life and beautiful canals hold for the travelers through all those Instagram photographs.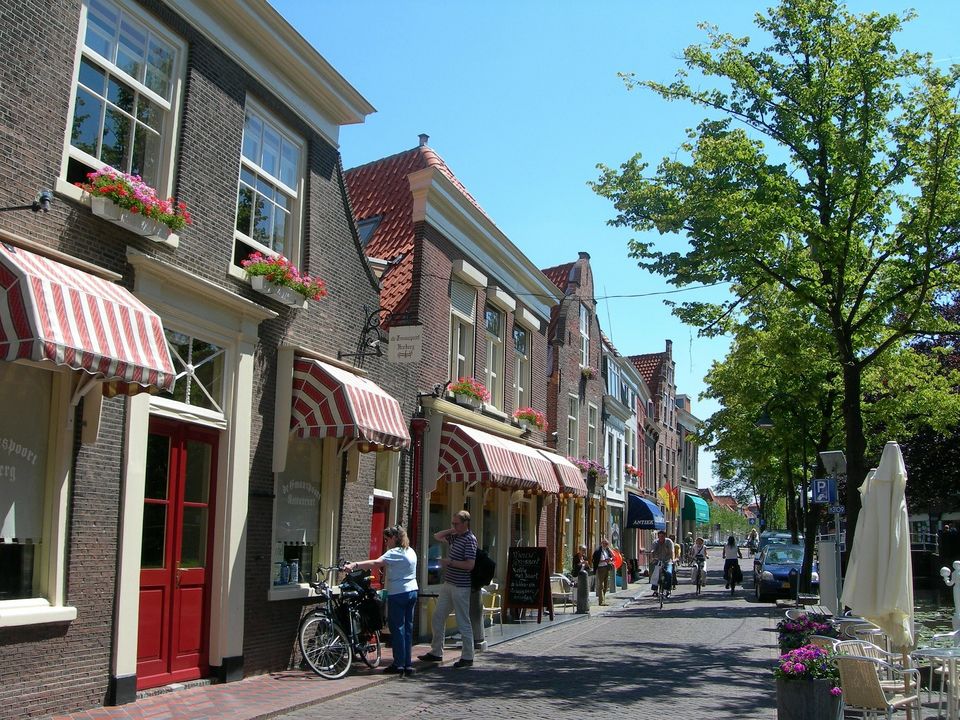 This is where the small town of Delft takes the centre stage!! Located only 70 km away from Amsterdam, this small town is probably the most picturesque that you will come across on your journey through Netherlands. Remove the tourists walking along the canals of Amsterdam and you will have something as beautiful and pristine as this town. Be rest assured that by the time you check out from here you will understand why 'Delftware' is such a pride of this region!
How to reach –
Via train – Check this for all the rail options and ticketing info. It should cost you around 12 euros for the 1 hour journey. This is the only means of public transport operating between Amsterdam and Delft.
Via Car – A car rental arrangement makes up for a convenient journey as Delft is only 70 km away from Amsterdam.
----------------
There is an unrivaled excitement in walking through the paths less traveled upon. Therefore it's definitely not a bad idea to supplement your European itinerary with these small detours or ideal day-trips. Even now when I look back at the memories of mine etched on polaroids, I relive Munich more through the memories I created while hiking in Berchtesgaden than the museums and beer halls. I believe you now possess all the information you need to go ahead and forge these beautiful memories for yourselves too!!
Frequent searches leading to this page:-
Europe tour packages for family from Delhi, Europe tour packages for family from India, Europe tour packages for family from Mumbai, Europe tour package from India, best things to do in Europe during winter, best things to do in Europe, unusual things to do in Europe, extreme things to do in Europe