Andaman & Nicobar Islands has mostly been labelled as a romantic getaway for honeymoon couples and sometimes more of a family holiday destination. So when I with my group of friends decided to go to Andaman this time for our yearly get-together, there were many curious glances from friends, family & acquaintances alike. On top of it, when I started researching for itineraries & blogs for my trip, I found there was very less and scattered information available. So here I am with my Andaman travel blog along with beautiful pictures which I hope would help in case you planning for your trip there.
First of all, I keep saying Andaman because Nicobar Islands are out of bounds for general public or any tourist activity as majority of people living there are tribal.
Andaman Island is divided into three- North Andaman, Middle Andaman & South Island; Port Blair- capital & the biggest city is located in South Andaman and also the base location for the trip. So while planning for the duration of the trip keep in mind Andaman has a lot to offer and one trip is definitely would not be enough to cover everything.
So we had planned our trip during April- which is slightly hot but it kept raining in between which gave us quite a relief. The ideal time to visit Andaman is between November and April when the weather is less humid and you can indulge in all the water sports.
Day 1:
We arrived at Veer Savarkar International airport, Port Blair in afternoon and straightaway headed to our homestay as almost all our flights were connecting and we had been traveling for more than 5 hours we thought it would be best to take some rest first. Port Blair is a small town with everything concentrated within the range of 7-10kms (even lesser). Our homestay was just 3 kms away from airport and we paid 100bucks for a taxi which was split among five persons. You can alternatively take auto rickshaws also which are more common there. In the evening we planned to go watch the light & Sound show at Cellular Jail (also famously known as Kaalapani) which starts at 7pm. The jail is an imposing building constructed in such a way one inmate in a wing cannot see or communicate with another inmate in any of the adjacent wings. The cellular jail is open till 5pm, after which they shut down for two hours for preparation of the sound & light show. After that we went to have dinner at Icy Spicy Veg restaurant – the food was absolutely delicious.
Day 2 & Day 3:
Next day we checked out for our two day stay at Havelock Island. We had booked cruises online leaving at 8 am in morning- it took us two hours to reach Havelock from Port Blair. The moment you get down on from the cruise, you are struck by the clear skies, and crystal clear waters dotted with boats & ferries and a vast tropical Island across.
We checked into our Sea Shell Resort which was hardly 10mins walk away from the jetty. The resort is located on the GovindNagar beach and opens into the vast sea beyond. You can lay there and hear the gentle crashing of the waves, sit with a book watching the endless expand of calm blue green sea with not a single human in sight. Nature fills our hearts with awe as it showcases its might both in subtle and spectacular ways –always stunning, always humbling.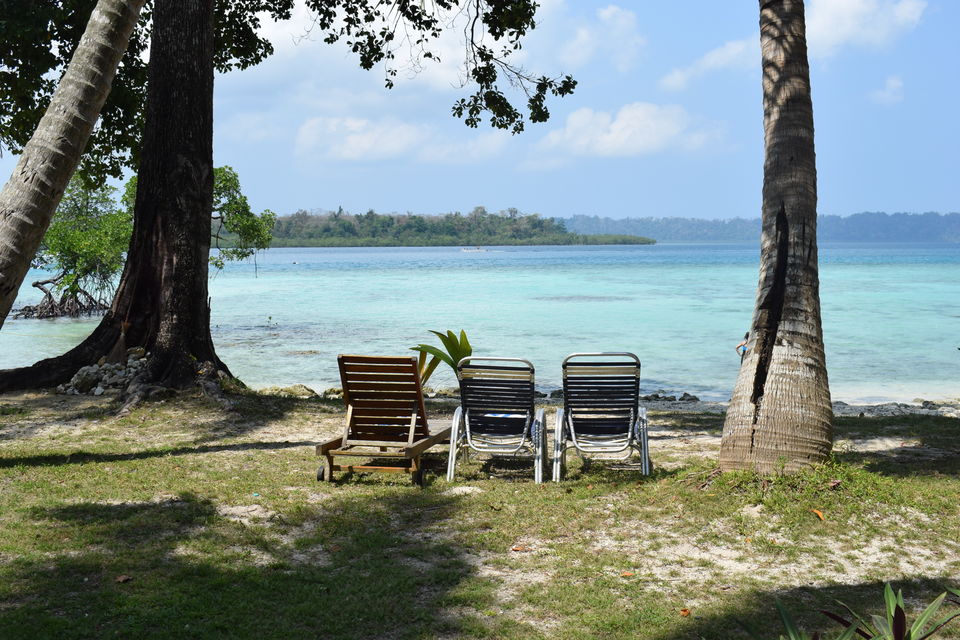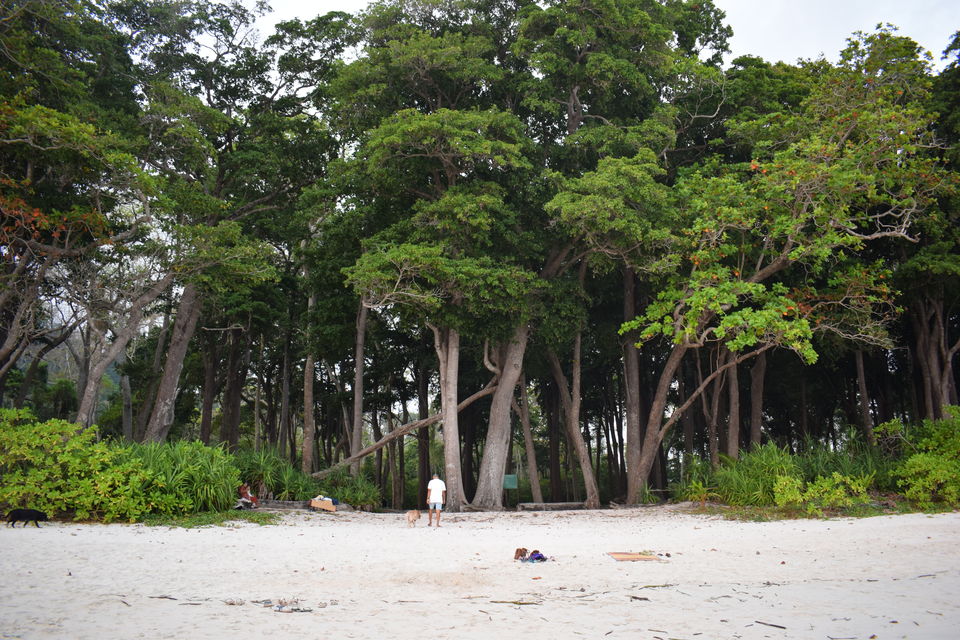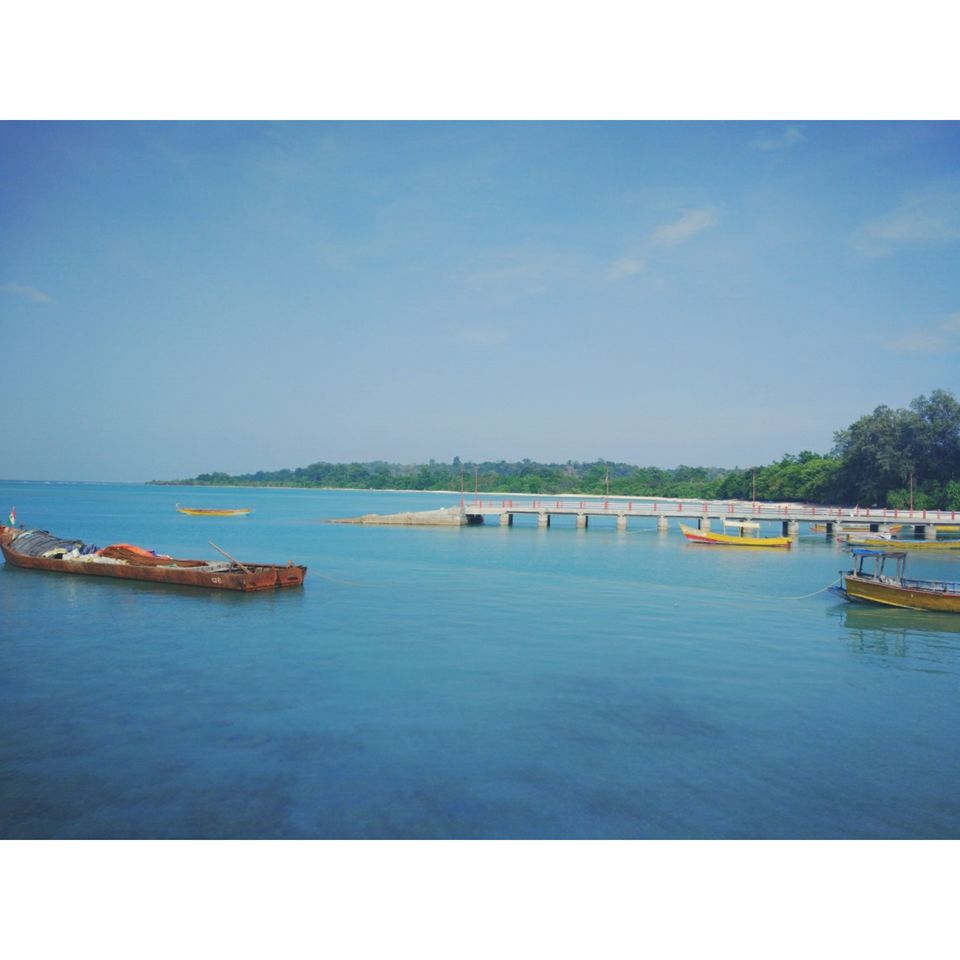 In the evening we headed for Radhanagar Beach (also called beach #7) to watch the sunset and planned to have dinner at the only resort there- Barefoot. Radhanagar Beach is unlike any I have seen before- soft white sand, huge tropical trees forming a formidable canopy and pristine water. We started walking away from the main market as it was more crowded and it was also closing time (no one allowed after sunset). But we managed to move away and spent quite a peaceful time here before going to Barefoot. It's a nice place but they only give preference to their in house guests, so we left shortly. Do make sure you have either taxi or rented bikes to go back otherwise booking taxi on the spot will cost almost double.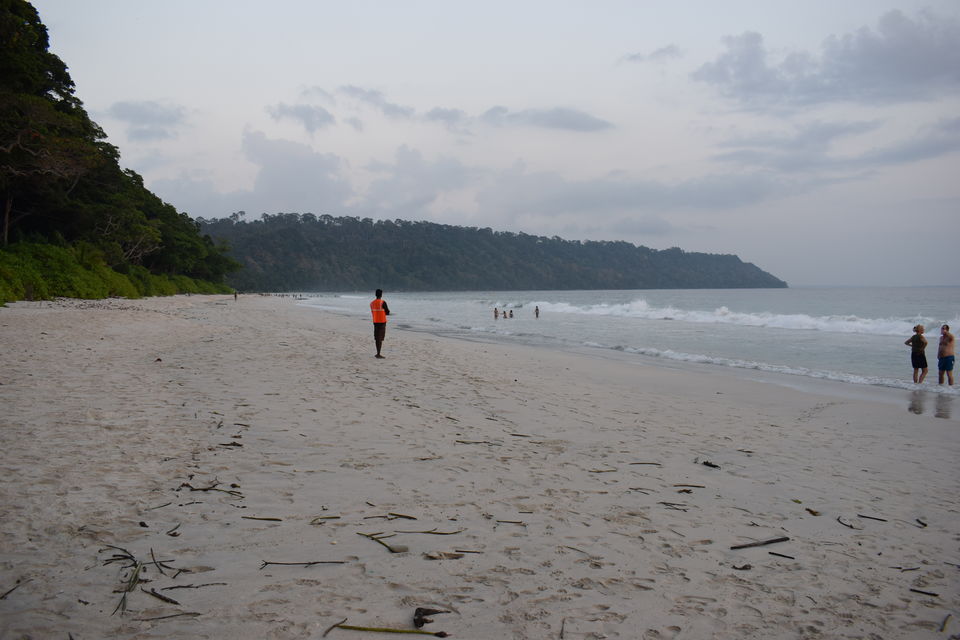 Next day, in the morning we went to Elephant beach by motor boat as there is no road connecting to this beach from main town. This beach offers all the water sports as the water is placid but also expect to be super crowded. If you are planning to do snorkeling I would suggest go for North Bay Island or Jolly buoy Island as the experience was far better than here. In evening we went to Kalapathar Beach- the shoreline was washed up during 2004 Tsunami and therefore you will find trunks of fallen trees but that's what make it more spectacular.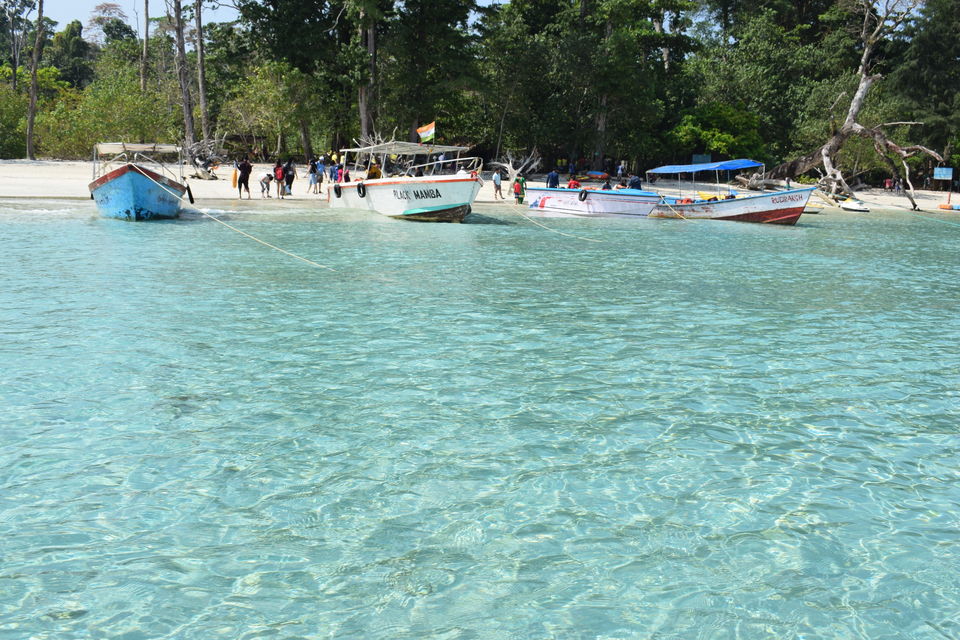 Havelock has lot many options when it comes to food- take your active towards the Kalapathar beach road and you will find the whole way lined with restaurants- my favorite is Full Moon Café & Fat Martin café.
Day 4:
We checked out of Havelock and took the ferry for our next destination-Neil Island. It is even smaller than Havelock but far less crowded and the water is so clear that you can see the corals from the seashore. There are two main beaches- Laxmanpur beach, Bharatpur beach & Sitapur beach. We went to see the coral bridge on Bharatpur beach- it's a natural bridge formation made of rock. Laxmanpur beach has white sand and is perfect for taking long evening strolls. As we had the evening ferry back to Port Blair, we couldn't go to Sitapur beach for watching sunset.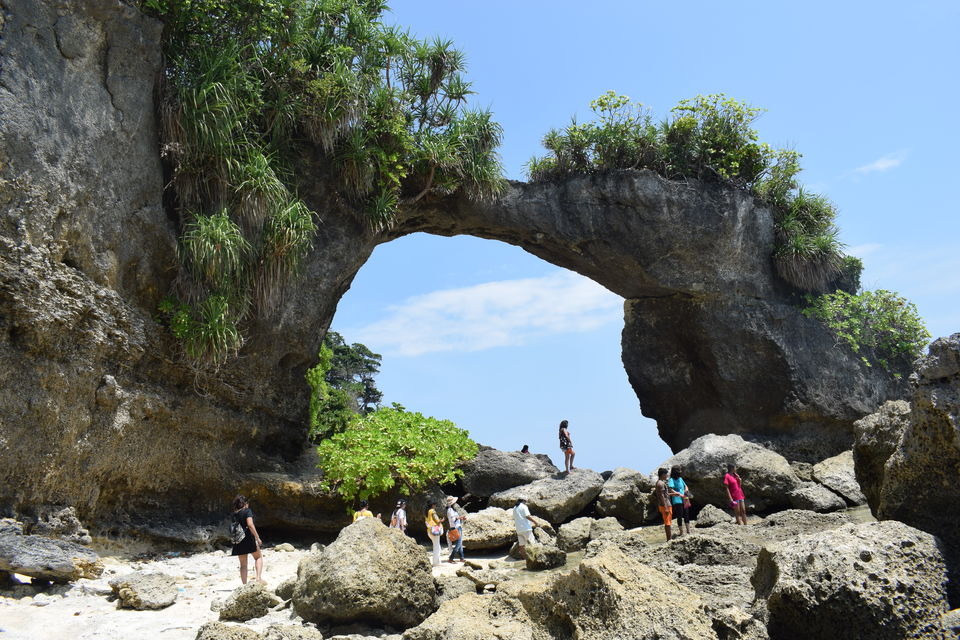 Day 5:
Jolly Buoy is one of the 15 islands which forms the Mahatma Gandhi National Park and is situated along the Wandoor beach which is one hour drive from Port Blair. So we started early morning at 5am from our hotel as we had to reach by 630am at the National park. We have booked the activity online as you need to obtain a permit a day before and we didn't want to get into the hassle. Before leaving to Jolly buoy Island, people have to submit the list of all plastic items as it's a no plastic zone.
You reach jolly buoy through a small ferry which at a time carries 30-40 people. We managed to go upstairs on the deck later and enjoy the wonderful view all around. It seems like end of the world with no habitation and only thick forests around. When we reached there we were first taken for a glass boat ride where you can see underwater corals through the glass bottom. It's for a very short duration and if you are willing to see more, you have to shell out 350 bucks extra. We went for snorkelling instead and it was the best decision of the trip. The two persons escorting us took us to see different varieties of corals, fish and aquatic animals and the whole activity was close to 45 minutes long. Luckily for us they didn't ask us to hurry and once started we didn't want to come out of the sea. It's was an altogether new experience and I managed to hold the starfish and nemo also which I have been boasting of since forever!!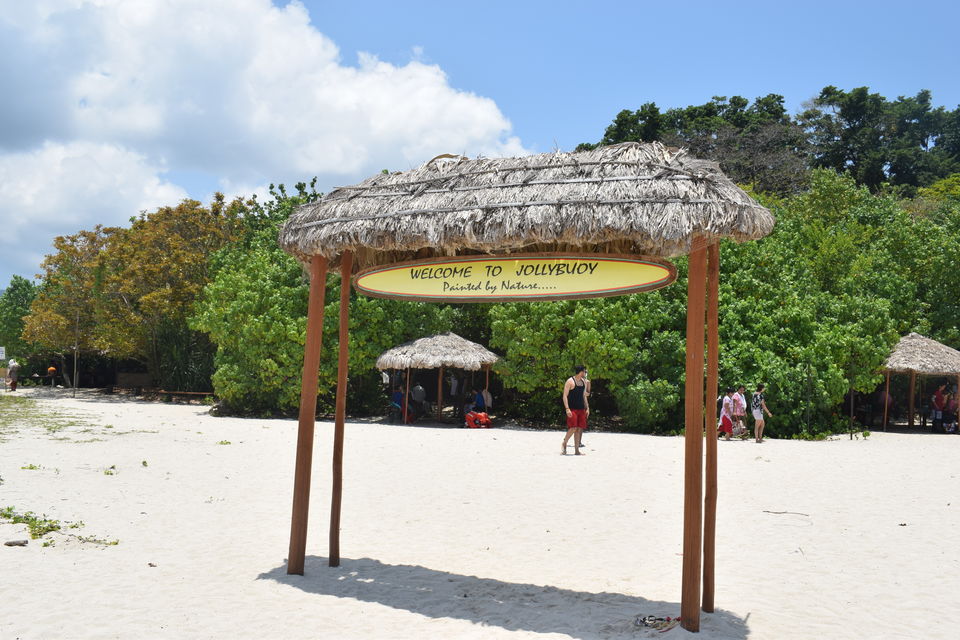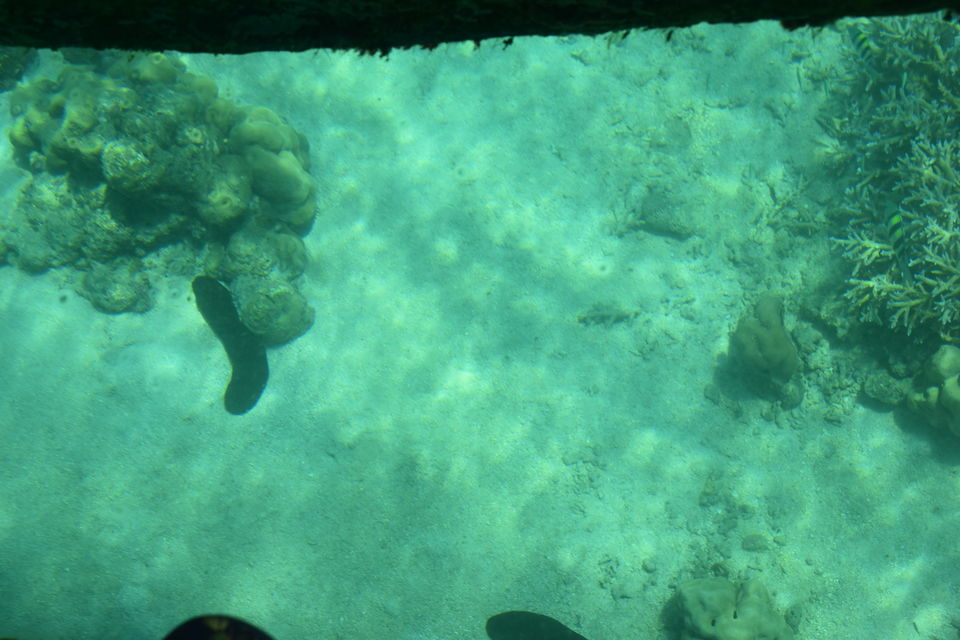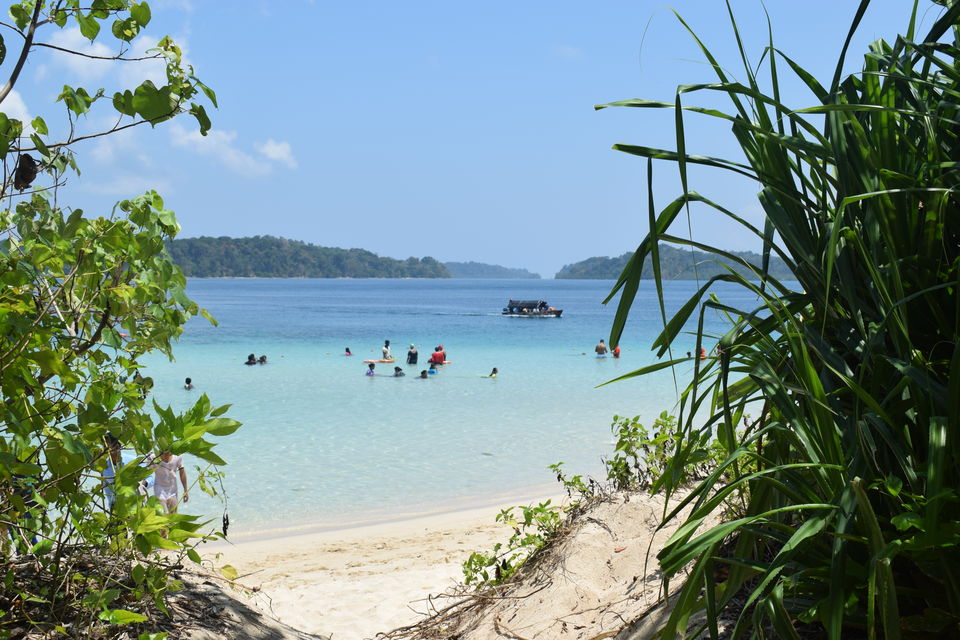 After that we kept lazing at the beach and finally started return journey to Wandoor when our boats came at 2:30pm. Make sure you carry towels, extra clothes – there are changing rooms available at beach.
We returned to our hotel completely exhausted and after taking some rest we went to Brewberrys coffee shop near airport. It's present in many cities across the country and serves very good coffee. In the night we went to Excel restaurant- it's a rooftop restaurant with a relaxed vibe- the kind of you find in Goa!!
Day 6: Left the hotel for Airport
We covered only south Andaman as the purpose was to unwind and relax from our daily hectic lives and wanted a relaxed trip. If you are coming to explore then following are the places which you can include in the itinerary:
1. North Bay Island, Chidiya Tapu, Mount Harriet
2. Middle Andaman: Baratang Island is famous for its mangrove creeks, visit to Jarwa tribes, mud-volcanoes and limestone caves.
3. North Andaman: Visit to Diglipur
4. Havelock offers Kayakaying at Night which is spectacular but you need to check with Ms. Tanaz regarding the availability.
5. Do include one night stay at Havelock – I stayed for two days but still seemed less and don't miss Jolly Bouy!
For booking ferries/activities, you can check out www.experienceandamans.com; it's a one stop for everything related to Andaman.
I have tried to provide as much as details is possible for the trip. For any further clarification, feel free to post comments in the blog
Happy Tripping 
Frequent Searches Leading To This Page:-
best places to visit in andaman and nicobar islands for honeymoon, andaman nicobar cheap packages, best places to visit in andaman for honeymoon, andaman tour package from chennai by ship, andaman and nicobar islands best tour packages