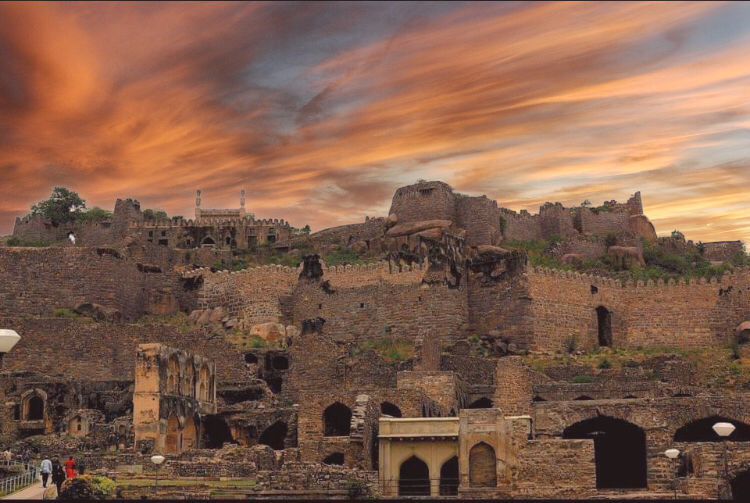 India at that time, had the only known diamond mines in the world.
The Mines of Golkonda themselves yielded diamonds of trifling quantity. Europeans knew that diamonds were found only in these fabled mines. Golkonda was, in fact, the market city of the diamond trade, and gems sold there came from a number of mines. The fortress city within the walls was famous for diamond trade.
All the states in India have some or the other cultural history. If you ever chance to visit Hyderabad, the capital of Andhra Pradesh, you can't possibly miss out the 400-year-old majestic and imposing Golconda Fort situated on the western outskirts in the city. The fort was built by the Kakatiya dynasty in the 13th century.
Considered one of India's most outstanding citadels, the Golconda fort epitomises the sumptuous 'Nawabi' culture of the time. "Shepherd's Hill" or "Golla Konda", as it was popularly known in Telugu, has an interesting story behind it. One day, a shepherd boy came across an idol on the rocky hill, which was called Mangalavaram. The news was conveyed to the ruling Kakatiya king. The king got a mud fort constructed around the holy spot and his descendents continued to follow this trend.
Later, the Golconda fort came into the possession of the Bahmani dynasty. Still later, the Qutub Shahi dynasty took over and made Golconda its capital. Golconda fort owes much of its present grandeur to Mohammad Quli Qutub Shah. The subsequent generations saw Golconda being fortified further with several additions and the formation of a beautiful city within. By the 17th century, Golconda was famous as a diamond market. It gave the world some of the best-known diamonds, including the 'Kohinoor'. The meticulous details of the architecture and the fading gardens, which were once upon a time replete with sprawling lawns and playing fountains has the power to transport you back in time. The magnificent architecture of the Golconda fort is as imposing as ever, and this is evident from the colossal gate at the entrance studded with long iron spikes, to deter invading armies from battering it down. The gate leads to the portico known as the Balahisar gate, magnificent as the gate itself.
One can't help, but be amazed at the modern acoustic system, which was so designed that a handclap sounded at the Balahisar gate of the fort could be heard right up in the citadel! The brilliant planning of the architects is evident from the ventilation, which is so designed to let in bouts of fresh cool breeze, a respite from the scorching humid summer of Andhra Pradesh!
Shayari by Jagjit Singh on Golconda fort .
एक गुलशन था जलवानुमां इस जगह,
रंग-ओ-बू जिसकी दुनिया में मशहूर थी,
बेग़मों की हँसी गूँजती थी यहीं,
शाह की शानोशौकत में भरपूर थी
ताज की शक्ल में जब तक ये क़िला,
गोल्कोंड़ा की अज़्मत करेगा बयां,
मिट सकेगी नहीं शानेमुल्केदक्कन,
मिट सकेगा नहीं उसका कोई निशां
ये क़िला ये फ़सीना ये वीरानियां,
हैं उसी शान-ओ-शौकत की परछाइयां,
जिस की दिलकश कहानी का है राज़दां,
ये नीला सितारों जड़ा आसमां
वक़्त की मार सहकर जो कायम रहे,
कैफ़ियत बस यही थी उसी रान की,
गोल्कोंड़ा की अज़्मत का कहना ही क्या,
ये क़िला है निशानी उसी शान की
#golconda #hyderabad #telegana #fort #incredibleindia #atulyabharat #yolo #solo #escapingsoul