Tada, also known as Ubbalamadugu (let go!) waterfalls, situated on the border of Tamil Nadu and Andhra Pradesh is one of the best trek one should know. Hold on there is IF.
If you are from south India.
If you are around Chennai, capital city of Tamil Nadu.
If you are visiting world famous Hindu Temple - Tirupati.
If you are Andhrite(resident of Andhra Pradesh) and looking for first trek.
If you are group of 15 friends, or shall I call GANG like us, and need a day out where your nonsensical fun will not trouble other people.
If you wanna experience beauty of nature.
If you are on the other side of the world and ready to appreciate Indian suburbs.
basically everyone ????
Tada is around 100 km from both Chennai and Tirupati, so is perfect location amid waterfalls and beautiful rocky mountains with approx. 10 km day trek roundabout from the base camp. Hire a travel company vehicle from Chennai or Tirupati and ready set go. Affordable,easy and smooth.
Ideal time : August to December
Must need : Trek shoe, swim dress and lots of water and sunscreen. Oh ya, camera.
Good to know : No trail directions, so stick to the crowd or follow the water stream.
:: Gorgeous views ::
OK! for starters, yes the views are breath taking. Shallow valleys, mountains, waterfalls, huge rocks,it has everything. One can indulge in the nature for hours while you trek. And yes its a great place to try photography skills.
:: Rocky trail ::
:: Crystal clear water ::
:: Fauna, yes Fauna ::
From the base camp, about 1 km, there will be rocky and mud trail. You will also encounter clear stream of water here and there, making perfect pit stops. You will soon be amid thick dark(kinda) forest paved with heavy rocks.
Water in Tada is just amazing. It is so clear that we can see the rocks beneath and cold to rest our feet for peace in burning sun. Don't hit the water yet, there is plenty of water to swim up the hill.
Well, you can't usually find snakes and cheetah but there are earthworms, fish(please do not catch), monkeys(yay!) and insects. There might be insects when you are traveling under trees, so please be careful. Also when eating snacks, please be aware of the surroundings.
:: Cascade falls ::
Fun part is to go little out of the way and find the cascade falls along the rocks. There are lot of them through out the way. These little waterfalls add beauty to the trek. All the exhaust will be vanished with the glimpse of these falls, guess its magic of nature. There are even caves here but not to go inside of them.
:: Rock-climbing ::
Yup! Rock-climbing. There is at least one huge rock which has to be climbed to complete the trek to see huge water falls. This can be done alone but with the help of friends, its definitely possible. Rock is definitely steep and it is over several small ones making it an altitude of at least 15 ft but there are anchor points one should watch out for. Not for weakhearted though. But its a proud moment when we completed our first rock climbing and we are ready to do more.
:: Sound of water ::
:: Thick forest ::
Trees give us shade and cool breeze when we are tired of scorching sun. And there are moments, we thought if we need to go through these trees as we don't see the path ahead with thick tree cover and huge rocks.
Apart from the chirping, screaming monkeys and rustling, there is one sound we don't hear often but love when we do is burble - splash and whoosh. It all combines to make a pleasant music otherwise can only be heard from Ilayaraja ????
:: Huge hanging roots ::
It is fun to hang and play with these roots reliving childhood days. These roots are not supposed to use for rock climbing though as they may not hold. BTW the white shorts guy in the mid-right of this image is claiming he climbed the rock first, who cares right ????
:: The End, not really ::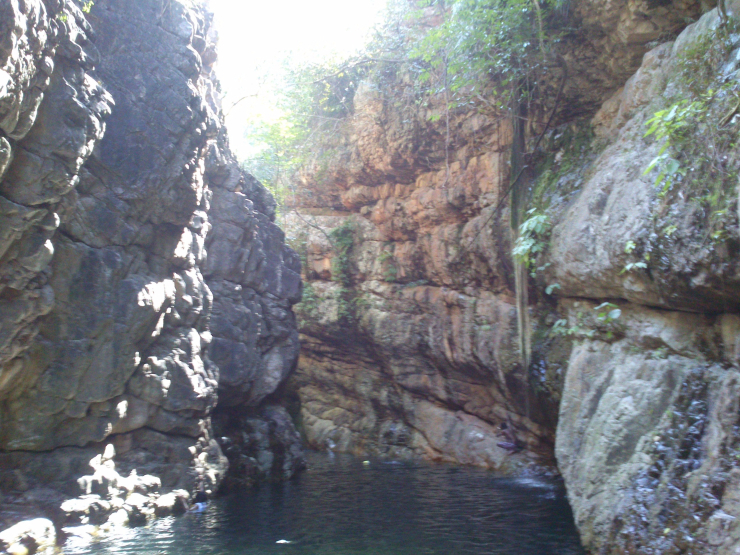 When the huge rock climb is complete followed by few other small rocks, we will finally land into this big stream of water. If there are heavy rains earlier, one can witness beautiful waterfalls here. Now is the time to swim, play in water which will be cold enough. There will be others who even dive into the water from above the huge rock. And our friends who are confident enough, swam to the end of the rock and claimed there are bigger rocks after the curve and a better view of waterfalls from above the mountain. Few never risked as it is always better to be safe than sorry. Watch out for sink holes and water can be really deep at few points or even near shore. So non-swimmers stay at shore and enjoy the view down the rocks or play like a little kid enjoying the small moments in a grand scale ????
Walking back to the base camp might take less than 2 hours with few pit stops. And of course, you might want to head out much before the sunset as the place might get dark. Returning back? Try tea in any local stall in the nearby village and relish it.
We had the best time here checking out our first trek and first rock climbing and it is still one of the loveliest memories for my GANG!
I hope you have the same!!
Selavu ????
Almost forgot... Dada means Tremor indicating fear in local language which is Telugu and selavu means Good bye!