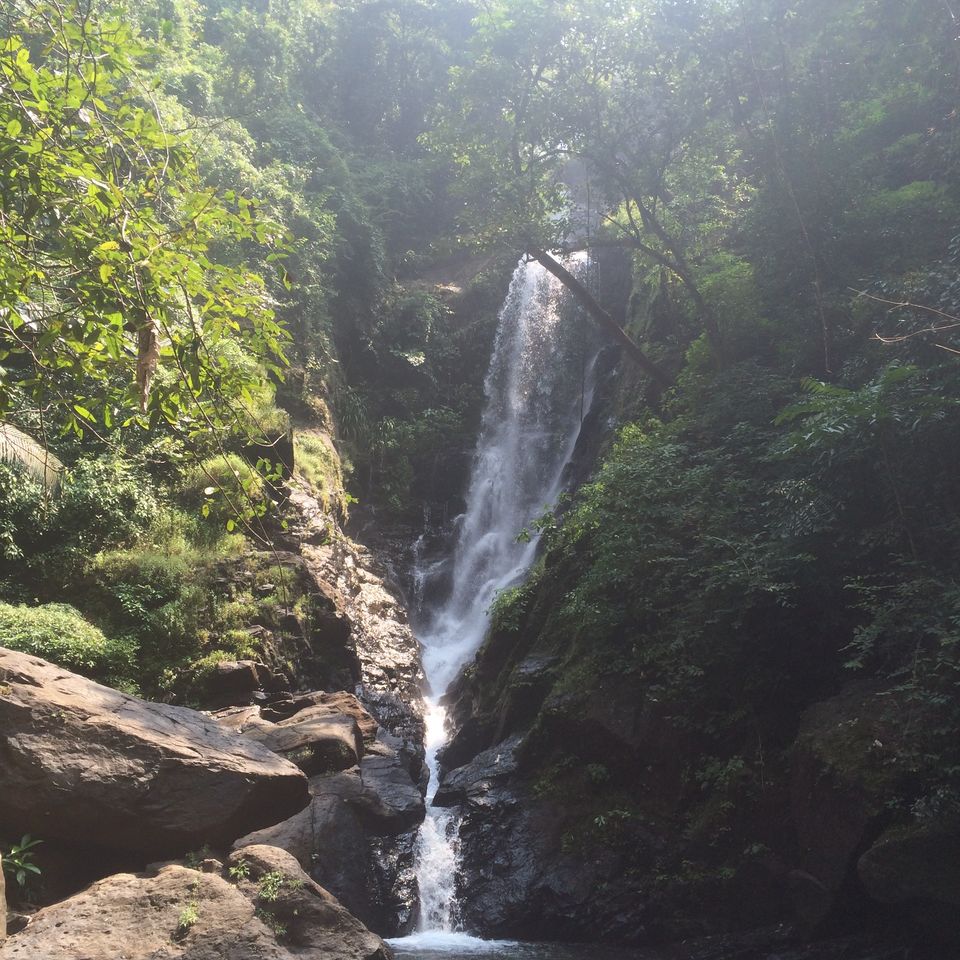 During the 6 months I spent in Goa, my target was to rediscover this place and move away from the perception which people generally have. I can safely say that I succeeded in doing that and Netravali Waterfalls is just one of the many examples of that.
Nested in the Netravali Wildlife Sanctuary in lush greenery, this paradise hike is at a distance of about 160 km from Dabolim. To reach here you'll have to traverse a variety of roads ranging from National Highways to ghat section in villages. Because this are lies in a wildlife reserve, it's in midst of lush greenery and has views which no other place in Goa can offer.
Once you reach the end point of the road you'll see a some houses on your right. This is the place from where you have to trek to the waterfalls. The way to falls covers a variety of terrains varying from open farm, lush jungles to crossing streams. The trail will start from behind the huts and will lead you into an open space with fields on both sides. After crossing this you'll be able to see a faint trail leading in the jungle.
Once you start trekking in the jungle, most of the time you'll be walking in opposite direction of stream flow which will be leading you to the base of falls. There are many markings on the stones itself which are there in the stream indicating the direction as well as the distance left for the falls. Since it's a forest reserve, it's not advised to wander off too much as there could be wild animals roaming around. Although they avoid areas where humans are present but it's still advisable to stay a little cautious.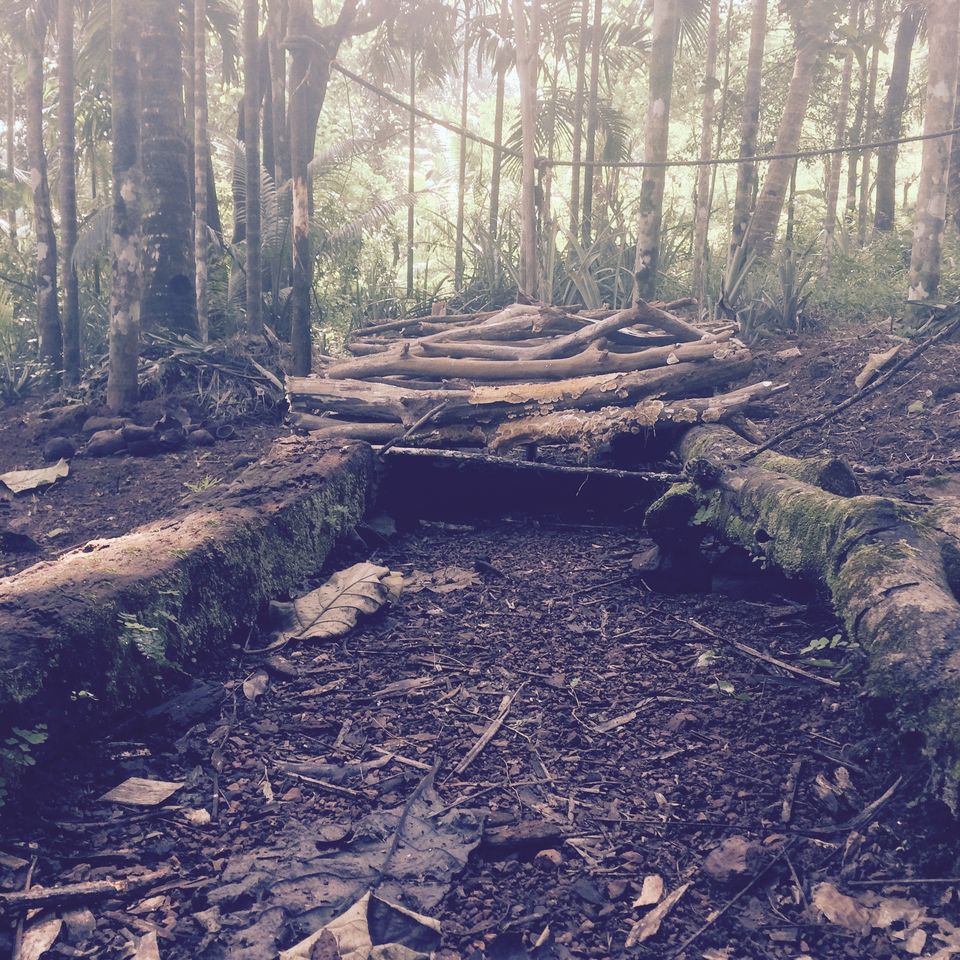 There will be times when path on one side of the stream will be blocked by trees or some massive boulders. In those cases, you'll have to cross the stream and move to the other side from where on you can keep moving forward. Although the water is only knee deep but the stones at the base of the stream are pretty slippery because of algae. It's hardly a 3 meter wide stream so slowly and carefully you can cross it without getting yourself wet in the water.
Because of the surrounding area, the water is the stream is pretty cold. After a 4 km hike you'll finally be able to hear the sound of water splashing against the rocks and falling from a great distance. Just a few meters ahead lies the Netravali waterfalls. Since it's a perennial waterfall, it's gushing with water for most part of the year. The views on reaching there can't be described in words.
Directly ahead of you will be a jaw dropping waterfall where the water falls from the 30 meter height in two phases making a small pond of water at the bottom. This pond might seem harmless but the flow of water directly beneath the falls makes the depth a good 10-12 ft. That said, the area a few meters away from the base of the falls is pretty safe and is hardly having a depth of 4-5 ft. This depth gradually increases as you move towards the base of the falls.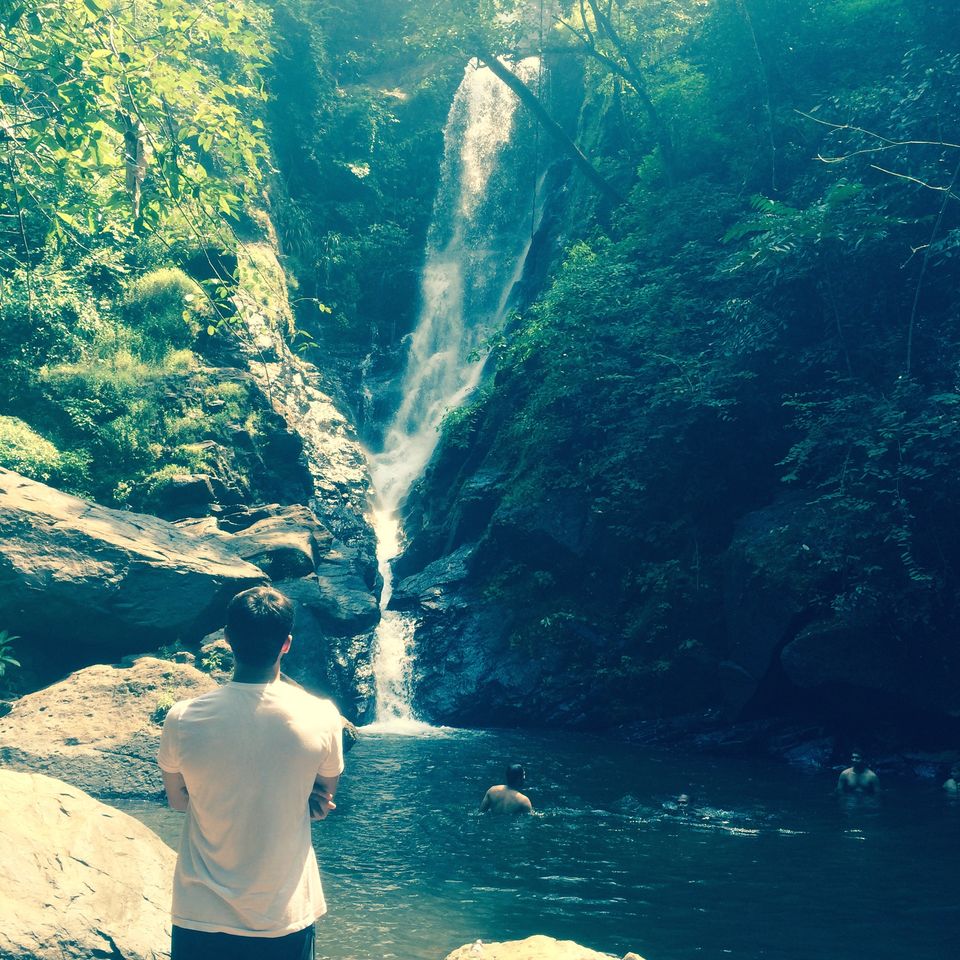 On reaching there, we enjoyed the views for a good 30 min after which we just jumped in the water. The water was chilling but after the hike it felt more refreshing than chilling. At the time we visited, water was pretty clean and since it was stream water it didn't really harm our bodies too.
After enjoying in the waterfalls you can straightaway head back to your bikes which are parked about 4 km back.
This happened to be one of those trips where the place was so awesome that all of us actually forgot to get our cameras out and instead focused on enjoying what was present in front of our eyes.
How to reach:
Take NH 66 and reach Majali. From here take a left and start following state highway 34. After going for a good 70 km you'll enter Anshi National park from where you have to proceed on the straight road till the very end.
Netravali waterfalls is at the joining boundary of Anshi and Netravli National Park.
Things to carry:
1) Carry water bottles. You are definitely going to get any side shops once you enter the Anshi National Park and venture further towards Netravali.
2) Sandals are a must. Although there is a hike of 4 km but still it's advisable to go in Sandals as you'll be crossing the stream multiple times.
3) Carry some snacks for enjoying near the falls. As I mentioned before there are no shops after you enter Anshi National Park.
4) Carry spare batteries and a power bank.