Vijayawada- a place which translates to victory is a heritage delight in itself. To be honest, I never considered Vijayawada worthy enough as a tourist destination because I felt there is not much that can be done here. But my recent visit to this city left me surprised. Sharing my top 5 picks which I loved about Vijayawada
Undavalli Caves
One of the fine examples of Gupta Architecture, the first glance at Undavalli caves left me in awe because of its design. Carved out of solid sandstone on a hillside, this Indian monolithic architecture is build during the 4th and 5th century, originally believed to be Jain caves.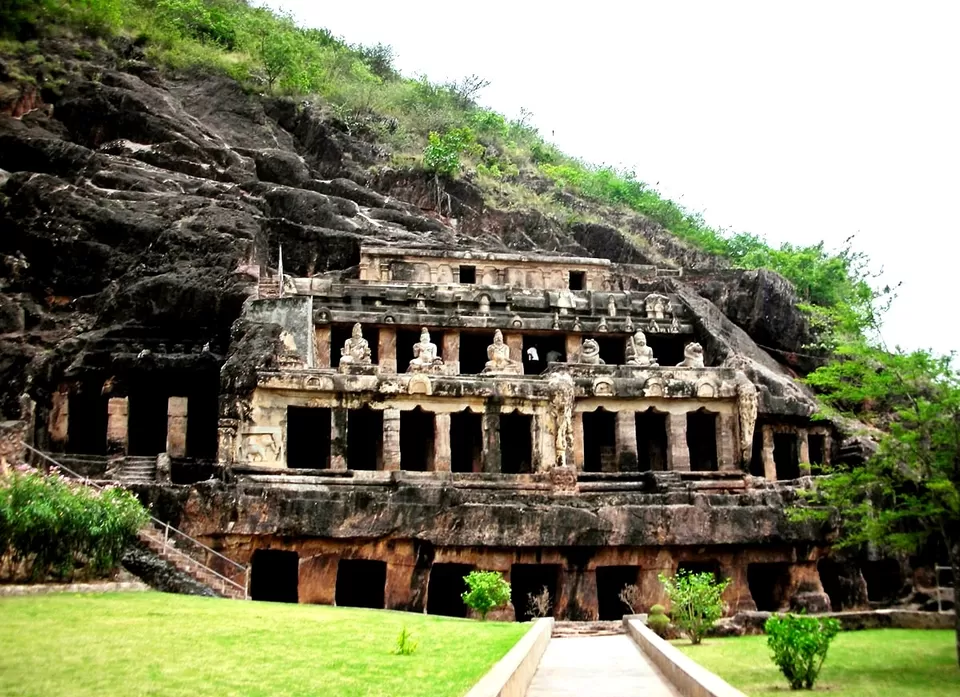 There are three levels in the cave. The lower level resembles the Jain abode with many chambers and Thirthankara sculptures. The second level has few statues and a huge reclining statue of Lord Vishnu, which according to me sums up the beauty of Undavalli caves.
Facade of the third floor is adorned with numerous sculptures, including depictions of lions and elephants. You can enjoy the view of whole green valley through these ancient sculptures from the third floor. An architectural and historical marvel, Undavalli Caves will surely impress you with its charm & grandeur.
Tip: Please don't miss out on the 5 m long reclining statue of Lord Vishnu made out of a single block of granite. It is placed in a small chamber on extreme right on the second floor. Over the statue you will see the canopy of multi-hooded Adi-Shesha, king of all nagas, and numerous other sculptures as well.
Kanaka Durga Temple
Kanaka Durga Temple is a famous shrine in Vijayawada located along the banks of River Krishna. Dedicated to Goddess Durga, this temple is one of the many Shaktipeethas that are situated in the country and is known for its astounding architecture built in Dravidian style.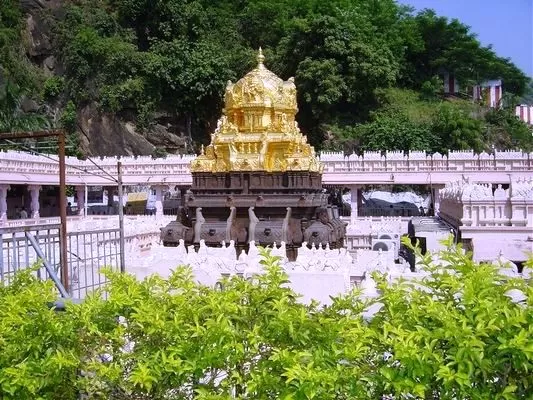 The main sanctum's construction of this temple is in the form of a pyramid, with the surface embellished with delicate stone carvings. The most impressive aspect of this temple is perhaps its golden crown, which can be spotted from miles away. Visit this destination for a soul-stirring experience
Tip: Avoid shorts, shirts, tanktops and dresses here. Use of mobiles and photography is restricted inside the Kanaka Durga Temple.
Kondapalli Fort
Perched at the top of a hill in Kondapalli Town is the ruined Kondapalli Fort, which was built as a center of recreation, business and trade. It served as a commercial hub in the olden days, as it lay on an important Machilipatanam-Golconda trade route.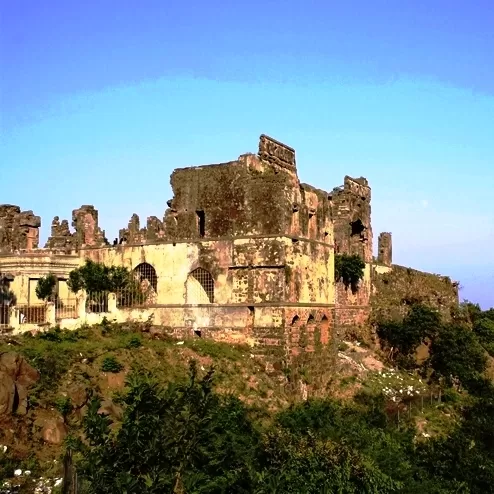 There have been claims by few historians that this fort is as old as the 7th century but nothing concrete as come to the sight. It is believed to be built by King Krishna Deva Raya, which got renovated later under the control of Qutub Shahis.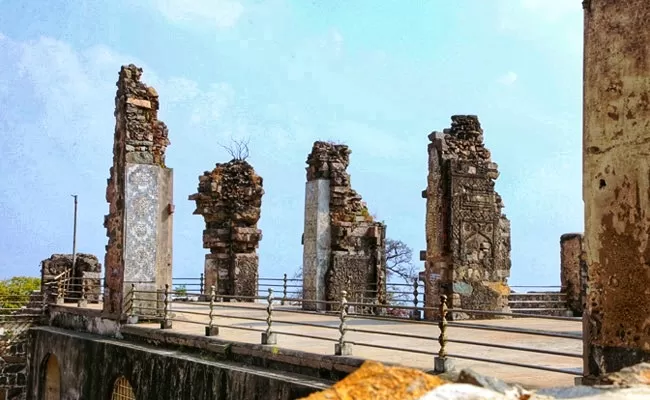 At present, it stands in complete ruins but still its appealing location amidst the forest area and past glories makes Kondapalli fort worth a visit
Tip: Don't forget to visit the wooden toy village of Andhra Pradesh- Kondapalli Village, which is around 3 kms from this fort
Mogalarajapuram Caves
A marvel in itself, Mogalarajapuram caves are the ancient rock cut sanctuary which dates back to 5th century and is one of the significant landmark of Vijayawada.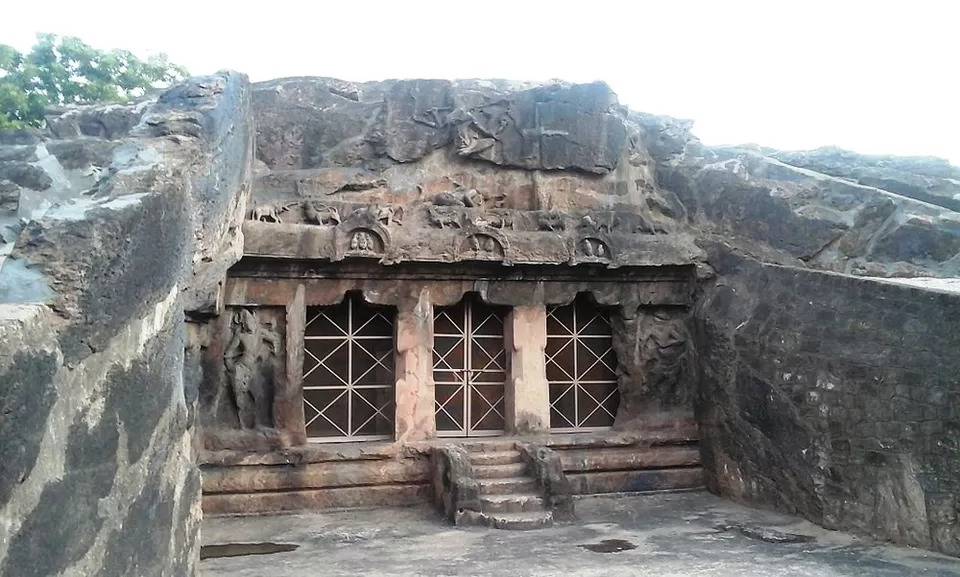 Though most of this place is in ruins now but what I specifically loved about this place is an Ardhanarisvara statue of Lord Shiva, which is also believed to be the best sculptural depiction of its time in South India.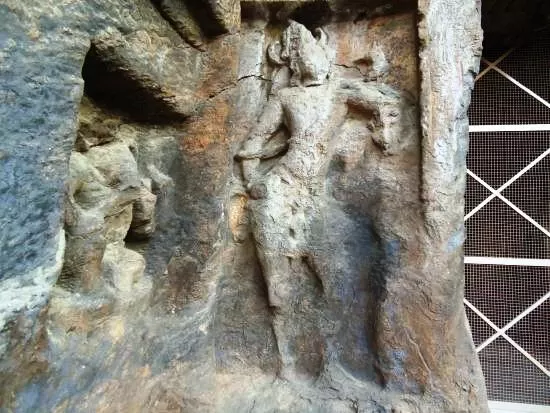 This sculpture of Lord Shiva represents the synthesis of masculine and feminine energies. The other idols of Lord Nataraja and Lord Vinayaka are also the prominent attraction of this place
Besant Road
If you want to experience the true spirit of this town, Besant Road is one of the most dynamic places to visit in Vijayawada.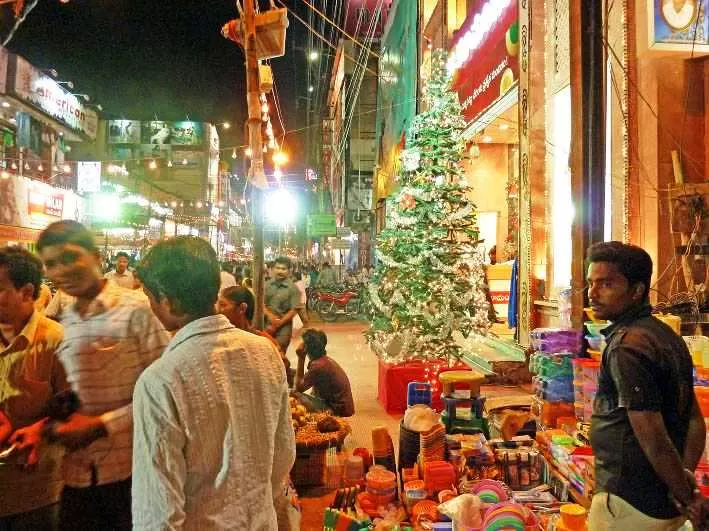 You can find some of the best multi cuisine restaurants here providing quality services along with other entertainment options like cinema halls showcasing the latest flicks in all languages. I found Besant to be one of the best option, if you want to spend quality time with your friends and family.
Travel Tips
• Best time to visit this city is from September to February, especially during Dasara Festival
• Club your visit with another upcoming town in the state- Amravati which is around 2 hours drive from Vijayawada
• For local transportation tourist taxis, metered taxis, auto rickshaws, and cycle rickshaws are available. Andhra Pradesh State Road Transport Corporation (APSRTC) offers bus services, connecting important places within the city and with each other.
How to Reach from Delhi
• Situated along the Chennai- Howrah and Chennai-Delhi rail route, Vijayawada is the largest railway junction of the South Central Railway. There are a number of express and super fast trains, connecting Vijayawada with almost all the important places of the country.
• The nearest airport is the domestic airport located at Gannavaram, about 20-km, from the city. It connects Vijayawada to Hyderabad and Vishakhapatnam. It is just a 30-minute flight away from Hyderabad.
So planning to visit Vijayawada ?
You can follow my work on my Blog: Buoyantfeet.com