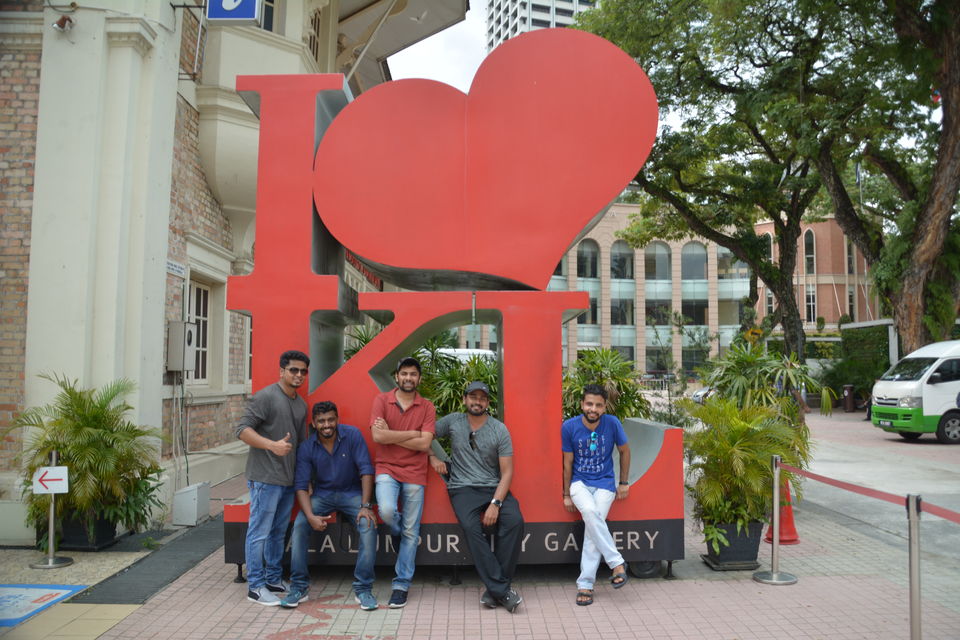 I always used to fancy how the world outside India would be like, which destination should I choose as my first International Backpacking trip. Being a travel addict, many questions like these revolved around my head all the time and that's when one of my friends suggested me about spending this year's New Year eve outside India and how perfect timing could that be. Though, I was skeptical whether I would get leave from the office or not but in the end I agreed. Soon, we started picking out places that could fit our budget and should also be one of the best places to travel to and Malaysia ticked all our requirements. The planning started almost 2 months in advance as we did all the necessary works from booking Airline tickets to getting E-Visa. And finally, the day we 5 were waiting for, arrived. We barely made it on time, since our flight was from Chennai and on the same day we went to work, caught up with the flight from Bengaluru to Chennai which seemed to get canceled. 3 others were already present at the Chennai Airport and we 2 caught up with them just 5 min before boarding. Phew!! Talk about being on time.
The flight time was 4 hours in total but due to time zone difference, we reached 2:30 hours ahead. I was half awake when I casually looked outside, the Sky was still dark and below it was the beautiful Kuala Lumpur gleaming with lights. As soon as the plane landed, we patiently waited and made our way out. We followed the signboards in order to reach the Immigration department.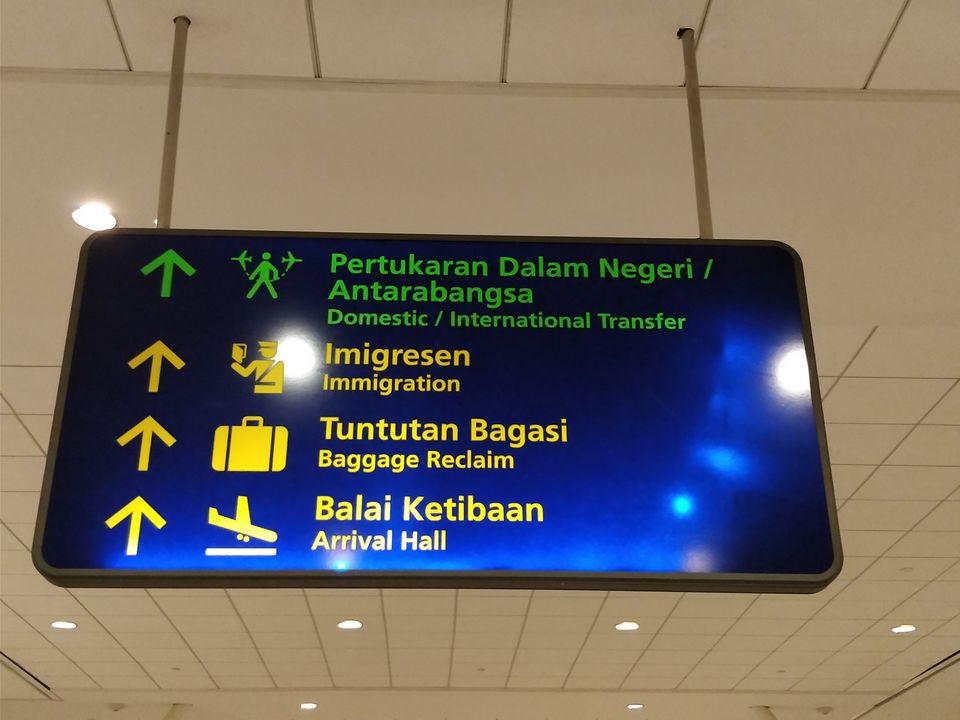 We had done our research well before coming to Malaysia by reading countless blogs, watching videos and so on. Therefore, we had a pretty good idea of what to expect where. It is funny to mention that one of the first Malay words we learned was "Tandas", well when nature calls, you need to be sure how to ask for Toilet from the locals. Clearing our immigration, we bought local SIMs and chased "PINTU" as in Way out in Malay. There were many Shuttle buses which were headed to different destinations in KL. We were searching for the one which in particular used to go Jalan Pudu. Conductors were trying to reach out to as many people as they could and in between those clamors, we heard one such conductor crying out loud, "Pudu Raya, China Town …" and it meant that finally, we had found the bus we were looking for. I was so much excited that I started recording all minor things. From us discussing random things to roadways leading to KL City Centre. I was mesmerized by the quality of road followed by greenery all around unlike what we see in India.
It was such a peaceful ride that almost all of us dozed off and my eyes got open with the view of us passing by KL tower. It was morning 8 when we reached our destination and I was imagining, whoa!! People back in India were still in their sweet dreams. Having breakfast at a local Street Side Restaurant, we navigated our way through the Savior of all travelers "Google Map". The multiple roadways surely tried to spin our heads even when we had the destination pinned on Google Maps but after having a brief conversation with our host about the exact location of Hotel, finding the way became a lot easier.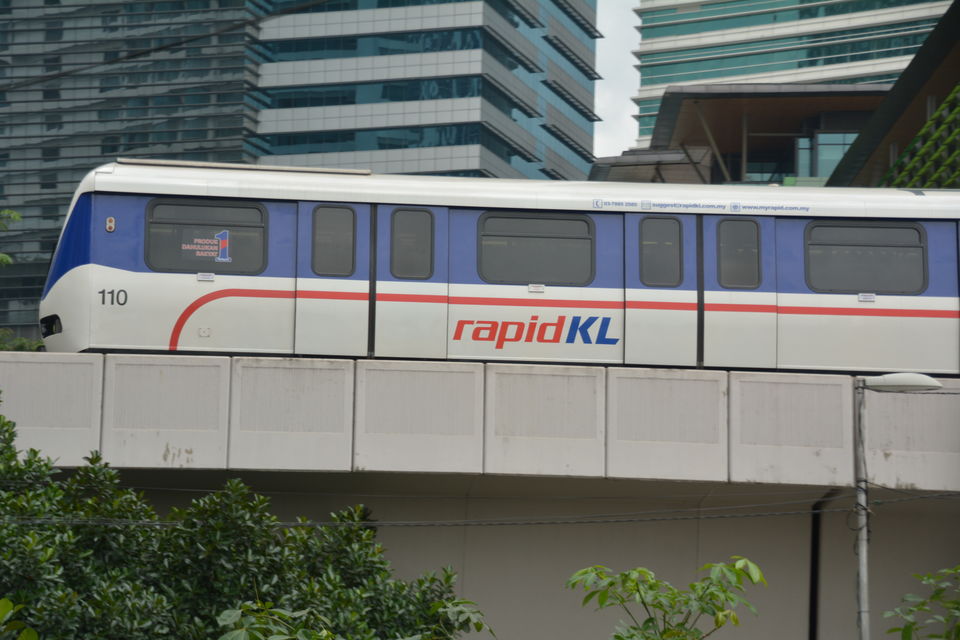 Storing our luggage and refreshing ourselves, we quickly got out. Our first priority was to look out for a Hop on – Hop off Bus which usually takes you to all the major attractions in KL. Strategically, we had booked the Hotel near to Bukit Bintang, one of the most happening places in KL, from where we were able to get the Bus sooner than we expected. Holding the City Map to guide us through the upcoming destinations, we hopped into the bus and based on our mutual interest, we picked National Palace as our First Stop. This is the place where Royal King of Malaysia lives.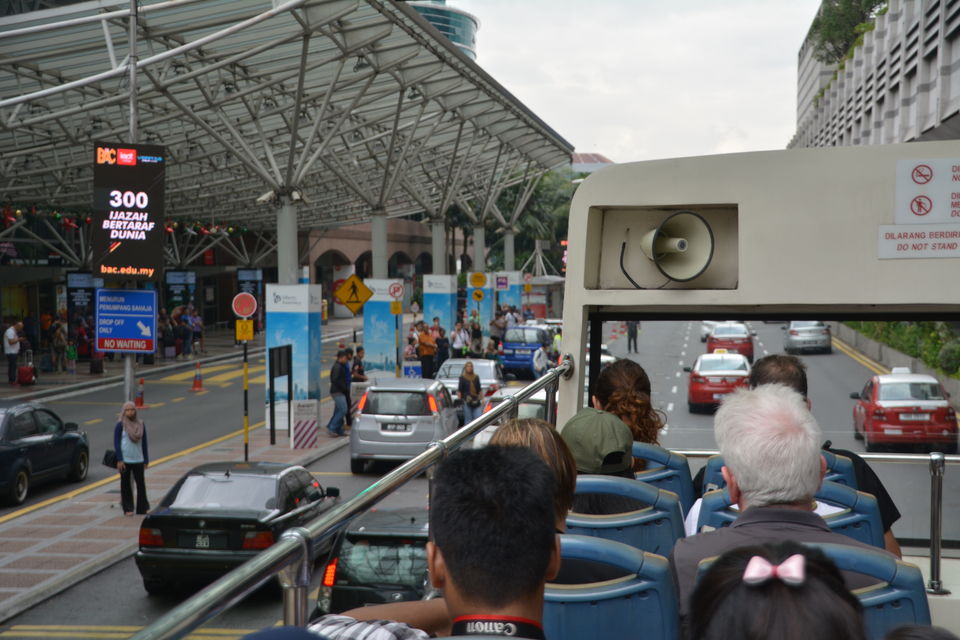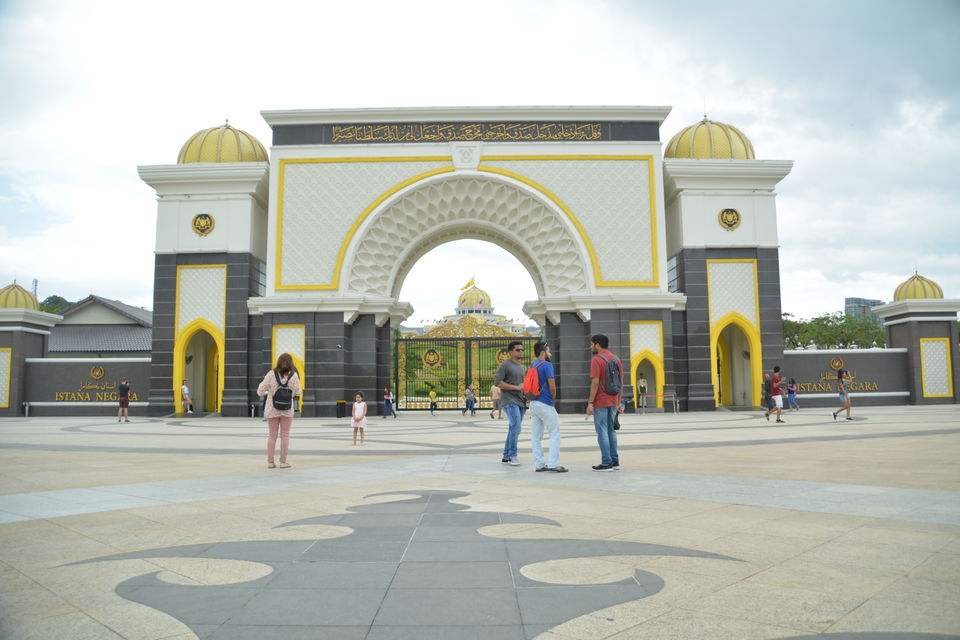 From there, our journey continued to Butterfly Park where we witnessed 100s of different butterfly species and truly it was worth visiting. From Giant to tiny ones, it has all. Next on our list was Merdeka Square. It kind of reminded me of how KL's history is blended with a touch of both Victorian and Muslim architecture. We did see all major attractions on the way but restricted ourselves only to some places where we would step down and take a closer look at that. As the HOHO Bus was passing through all the famous sites in KL, suddenly we all got hooked to that sight, it was one of the most beautiful buildings that I had ever seen, the Majestic, Petronas Twin Towers. I could feel how an ant felt like when put next to a Man. Such was the aura of it. We thought of making the most this wonderful sight by coming in the evening. Our next destination was Aquaria KLCC. The place is maintained beautifully and they have a huge variety of marine life. It took us more than 1 hour to see it all. The exit was from a different direction therefore, we almost lost our way and got puzzled of where we were heading to but eventually when we found out the exit, we realized that we were inside Petronas tower the whole time. Standing there and also when I visited other places, I realized that there is so much diversity within this city and so many people visit here every day from different parts of the world. It was like an amalgamation of citizens from different Asian Countries in one place.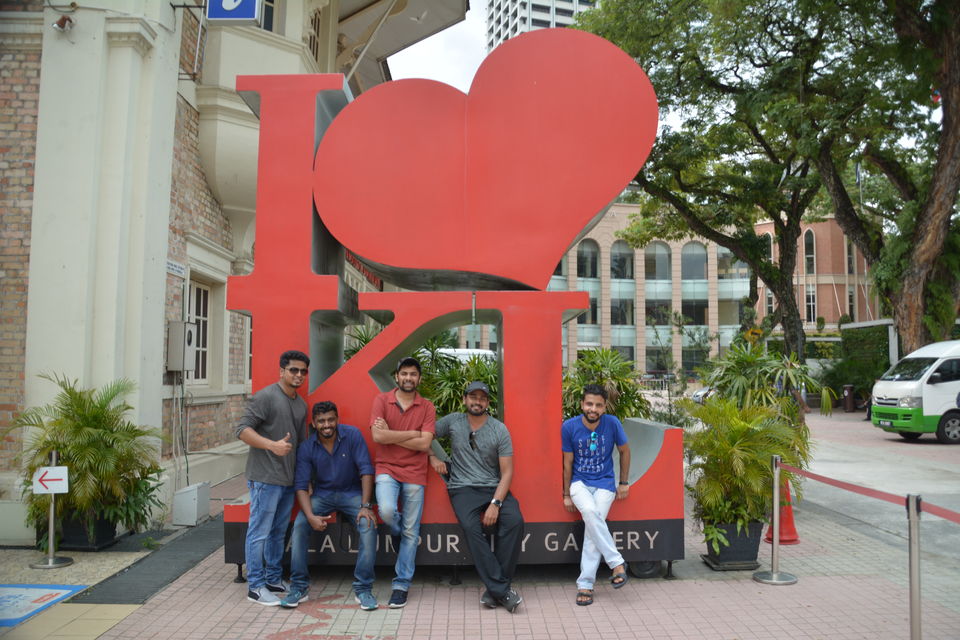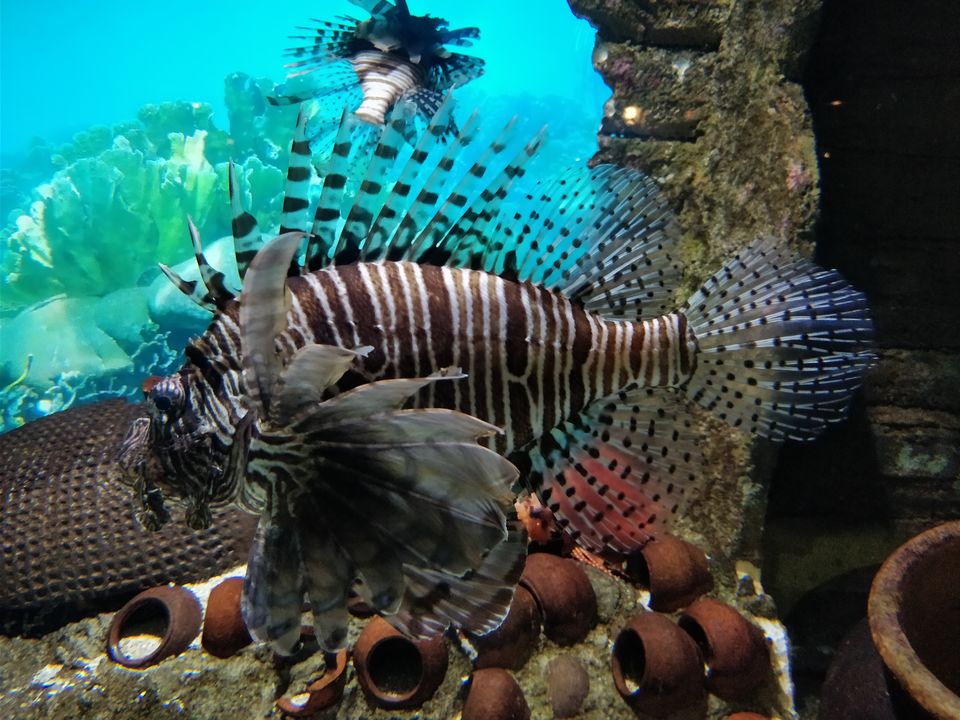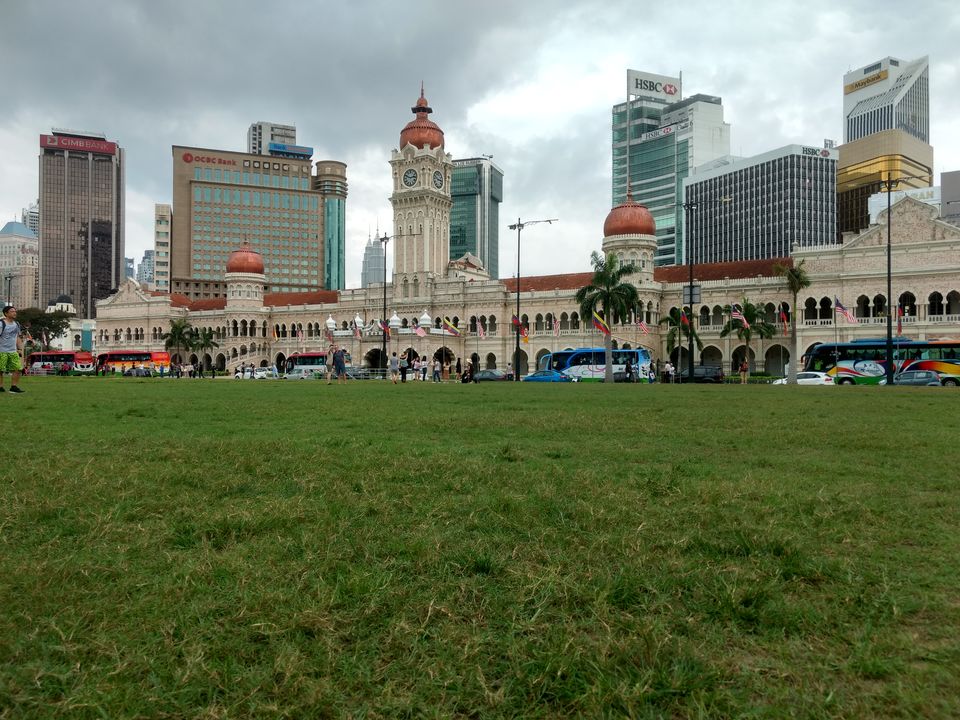 There is one more thing I want to point out is about the GO KL buses. These are the buses having different colours where each colour points to a specific route that it will ride through. You do not have to pay a dime to travel in it. Surely, a lifesaver for Budget Travelers. It was almost evening and we were totally tired to walk anymore but we thought of making out the most of our time rather than taking a quick nap. Quickly getting the shower from the hotel, we went to explore Bukit Bintang Street. This Street is filled with Little Shops on either side and is really the Food Heaven. But we had to stick with KFC for the night because some of us were a little hesitant to try out new cuisines. We also witnessed a band performing on the roadside which kept us glued there for a pretty long time. Then we casually strolled to Petronas tower that too in the midnight, clicked an obligatory selfie in front of it. The lights added more charm to it and looked more beautiful in the night. Our spirits were so high throughout the day that it took us 3 in the morning to realize that fatigue had caught us real hard and we were forced to hit ourselves to bed. And that's how our Day One ended in this Wonderful City.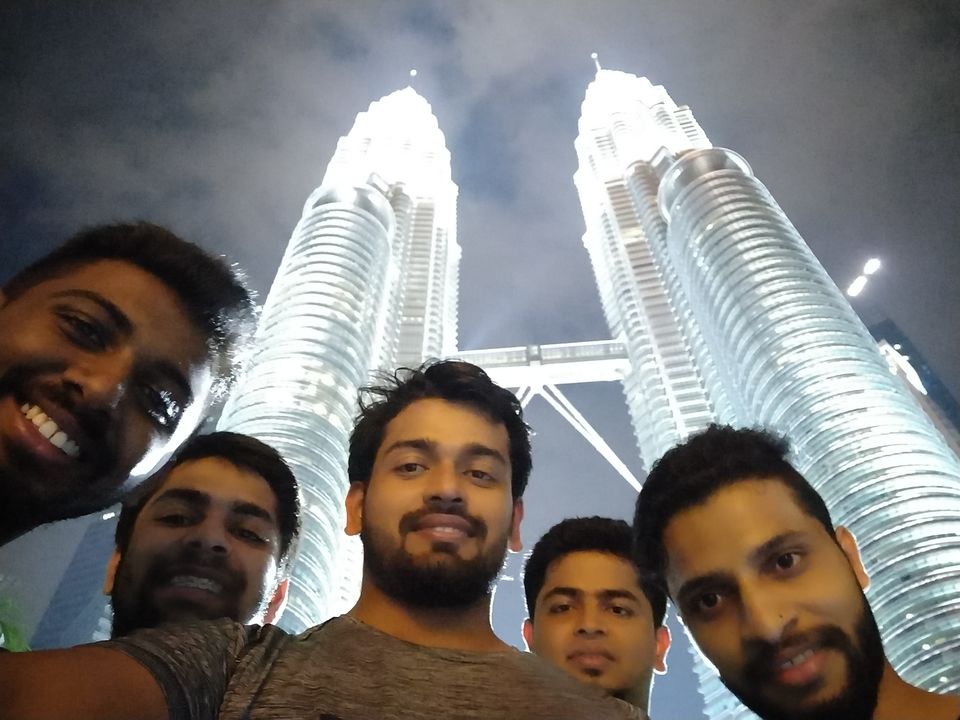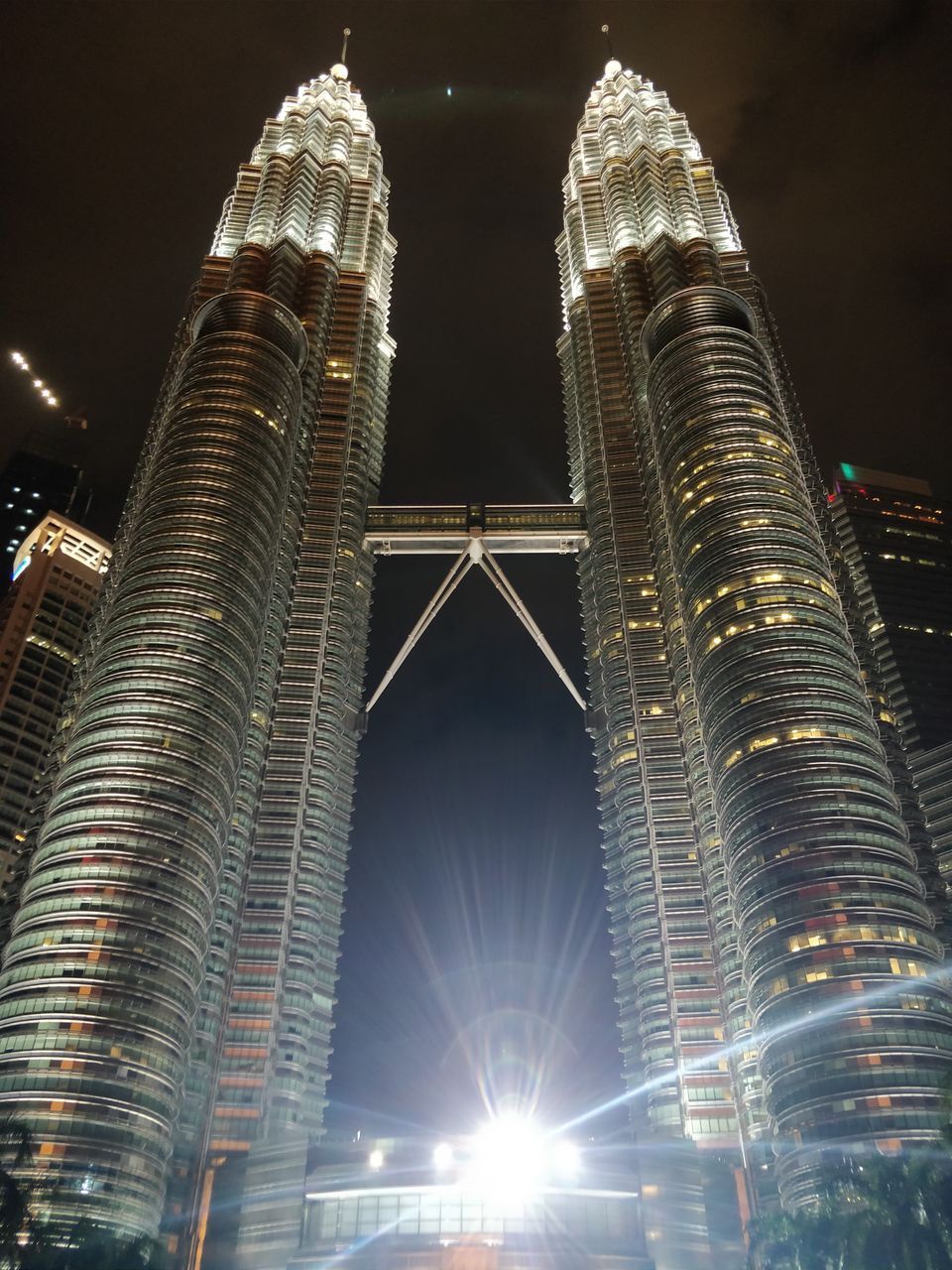 I want to share most of our experiences with you fellow travellers and for that I have decided to break down our trip to Malaysia in a series of 3 blogs. Can't wait to share one of our most memorable New Year Trip. Till then Stay tuned!! :)