With rainforests to mountains, skyscrapers to beaches, shopping malls to adventure activities, Malaysia certainly lives up to its slogan: "TRULY ASIA".
Malaysia consists of Chinese and Indians in considerable proportion apart from the Malay people (of course!) it is also known as the world cultural melting pots. Malaysia is where you will find a Chinese Joss house, Hindu temples and gold-domed mosques among the high rising skyscrapers.
You will find some women wearing hijab and some western the best part that everyone respects each other culture and mind their own business. Yes! It's a mix of culture like that J
Being Malaysia of 7% Indians (mostly south Indians migrated from India) and being very near to India, it's one of the most popular tourist country and increasing everyday considering the easy accessibility and relaxed Visa process.
Top Things to do in Malaysia
The list may go on and on and will never end because there is no dearth of things to in do in Malaysia.
To enjoy all of it, you have to travel slow and need a bunch of days in hand to experience all that Malaysia has to offer.
So in this blog post, I will list down things as per my own personal experience and
, which are in the bucket list for my next trip to Malaysia ????
to 'PETRONAS' Tower also popularly also known as Twin Tower - It goes beyond saying that any visit to Malaysia would be incomplete if you haven't had a closer look of the giant, magnificent and the beautifully built PETRONAS tower. It's also called Twin Tower because it has two identical towers, almost same in height, connected by a small bridge (called on 41st & 42nd floor)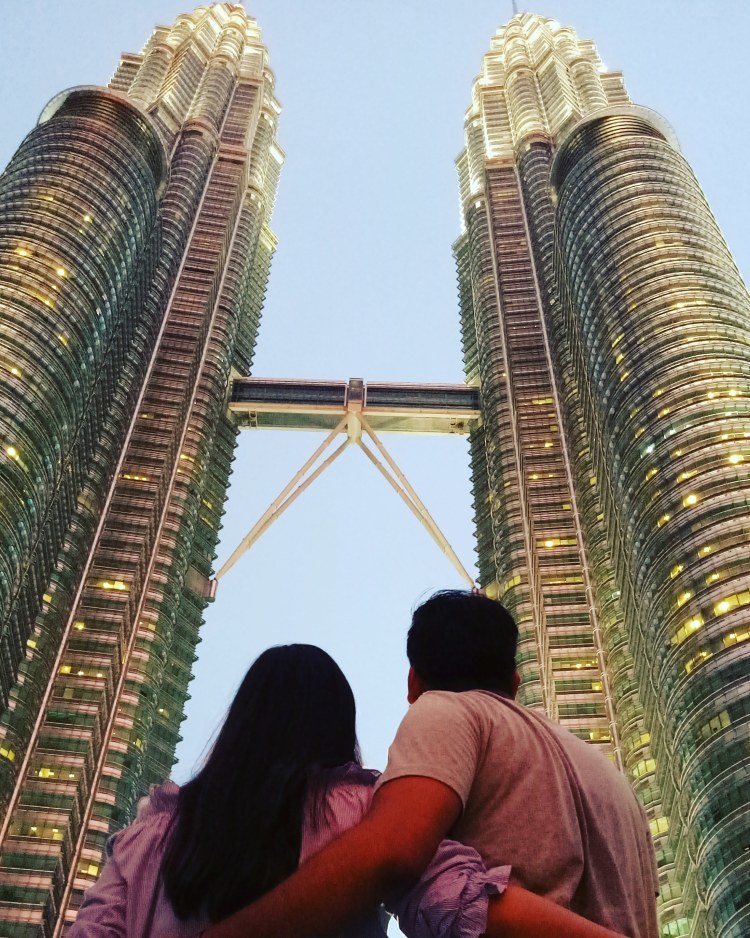 Its actually an office complex built in March 1993. It was built to house the headquarters of PETRONAS, the national petroleum company of Malaysia having a height of 451.9 meters consisting of 88-storeys.
Entry Fees - Though there are no fees to enter the PETRONAS TOWER Complex and you can view it from outside or visit the Surya KLCC mall inside the tower but to go to the top of the Tower i.e. The 41st, 42 and 86 floor you have to pay a fee of approx. INR 2k (get the tickets online or from itself, but make sure to reach early as the queue is often long & it on First Come First serve basis)
We were initially confused on whether to buy tickets for KL or PETRONAS but after comparing a lot, we decided to visit KL Tower.
You can get tickets from the KL Tower or Online. Approx. INR 1.8k). The best thing was that there was no time limit to stay in the Tower and you can witness both the day and night view of the city from KL Tower plus getting clicked inside the sky box is another altogether great experience.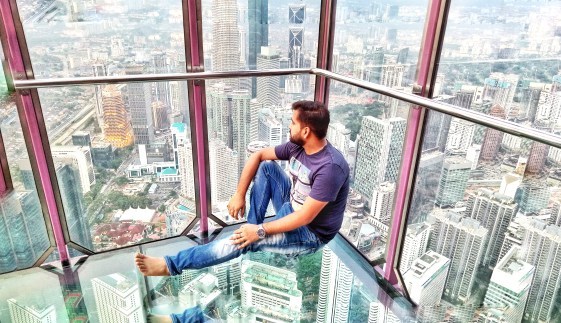 To watch our experience of visiting KL Tower & why we decided so, click here.
A Day visit to Melaka is ideal - walk along the Jonker street trying all the different and yummiest varieties of street food or shop from the shops alongside the street, visit Baba Nyonya Heritage Museum, Cheng Ho's Cultural Museum or take a short river cruise in Melaka.
One must try in Melaka is to ride in the theme rickshaws (at least a picture with it is highly recommended ;-))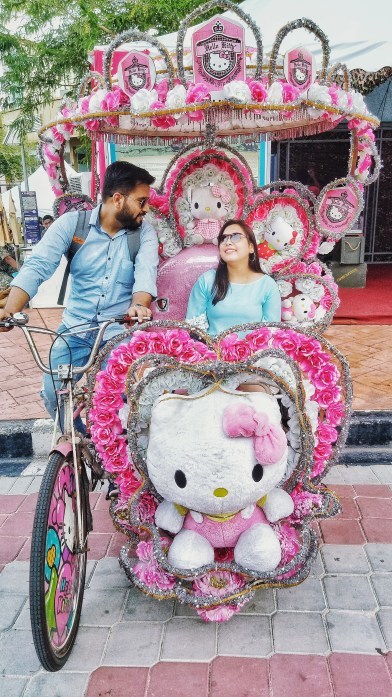 Pro tip - For all the information on how we reached Melaka, what we did & where we stayed, watch our YouTube videos and decide yourself.
You can easily reach Batu caves from KL via KL Train (KTM) and the temple is at a walking distance from the station.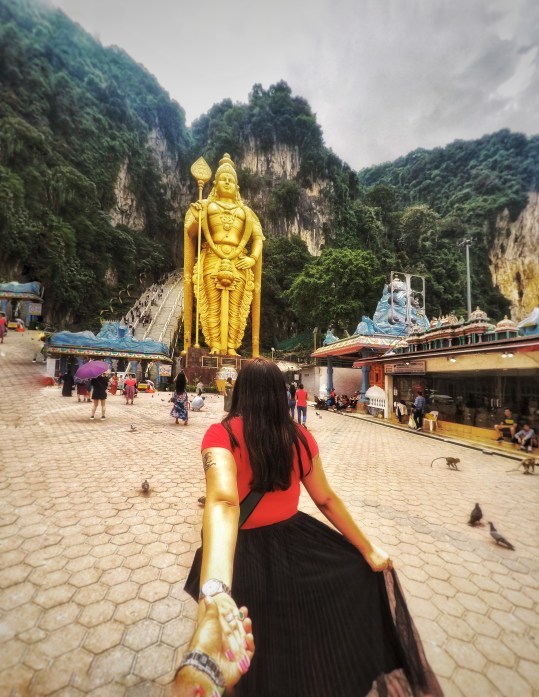 There are no entry fees to the temple and its open from 7am to 7p everyday.
It is located right in Independence Square. It's a must stop by everyone who wants to get all the information the city has to offer and miniature models of the major attractions.
The highlight of this place is the 'The Spectacular City Model Show', which showcases the city's past, present and future through a light and sound presentation (Highly Recommended!)
Entry Fees - The entry to the gallery is 10 RM out of which, 5RM you can redeem at the ARCH café gallery outlet located inside the city gallery.
So if you are up from some beaches and activities, then this is your place in Malaysia.
There are literally an infinite number of shops and food outlets in and near Bukit Bintang to choose from and its overall a very overwhelming place.
If you like to try street food in Malaysia plus are a fan of seafood and this is the place for you - 'Jalan Alor' (very near to Bukit Bintang) which is a famous street food lane comprising of a lot of restaurants over the sides of the street with their chairs and tables on the street, selling all kinds of local Malaysian dishes & seafood, you could ever imagine!
Tourist Sim Card
Of course you need a good network to access Google Maps if you are travelling by your own or is an Instagram addict like me ????
As soon as you are done with your Immigration formalities and reach the exit, you'll find many Sim card selling outlets of different companies.
Remember, always compare all the different prices before buying any because the price really varies and can even cost of double of another one.
We took the 'Digi Sim card', which had a really good network and affordable too.
We made a whole video talking about from why decided upon that, prices and how we bought our tourist Sim card, CLICK HERE and decide yourself.
Shopping in Kuala Lumpur
Shopping in Kuala Lumpur can really blow your mind because there are an infinite number of options...you can find all the international brands available in multiple places all over Kuala Lumpur.
Even at the KL Sentral (which is a hub of all the transportation system in Malaysia; bus or train) you will find a shopping mall and various food outlets.
I personally didn't shopped a lot from Malaysia because I found it to be overpriced than in India, but yes you could always check brands like H&M and Zara for any unique collection might they have.
Accommodation in Kuala Lumpur
Accommodation in KL is available in all budget range, so that part is quite sorted out.
You can find lots of hotels and Air BnB's near to city center and can choose according to your budget and preference.
We had personally booked an Air BnB in Melaka & in KL very near to PETRONAS in, we could infact see the tip of one of the tower from our room window ????
But try booking in advance as all the good options get sold out pretty soon and don't forget to the check the reviews and location before booking.
Transportation in Kuala Lumpur
Transportation is the last thing you need to think about while in KL because they are one of the best, & easiest in the world as per our own personal experience and not being very expensive is a plus point.
There are different routes and types of trains, which connect the entire KL and different parts of Malaysia to each other (called KTM, LRT, and MRT).
You can avail buses, which are again quite affordable and very comfortable to commute to different cities in Malaysia like we did for Melaka.
Plus, you have 'Monorails' to cover short distances within KL like from one bigger station to another.
In fact you can travel all over KL in free through 'GO KL bus' which are free of cost buses provided by the Malaysian Government and connects all the major tourist spots within KL but make sure you have done your research about the routes and timing of these buses and wear your most comfortable shoes.
But if you prefer private transportation, you have an option in this too. You can easily rent a car in Malaysia if you want to self-drive or use 'GRAB' App for booking cabs - they are cheap and quick.
Overall Budget
We spend around 25K INR pp. including flights, visa, entry ticket, hotels and meals for a 4 nights 5 days stay in Malaysia, having said that we could do in such budget because saved a lot in food as we mostly cooked our own meals in the AirBnB kitchen and walked a lot to save money on transportation and used other small travel saving hacks.
We also have written an entire post on 'How to get Malaysia Visa for Indians' in easy steps and also a video
So if you really plan to travel, you can too make your Malaysia trip on a budget and have fun at the same time. It's all depends on your choice and little smartness.
We have documented our entire journey through YouTube Videos.
So if you want to know our day-by-day itinerary and how you can plan your own budget trip - CLICK HERE.
Please leave comments below if you find it to be useful or have any other queries.
To see all our Malaysia Travel Photos, CLICK HERE and fetch few ideas to how can click your own awesome pictures ???? Write to us @travellusion2017@gmail.com Happy Travelling guys ! ????
Leaving you with this beautiful short Travel film we created out of our entire Malaysia Trip. Enjoy !