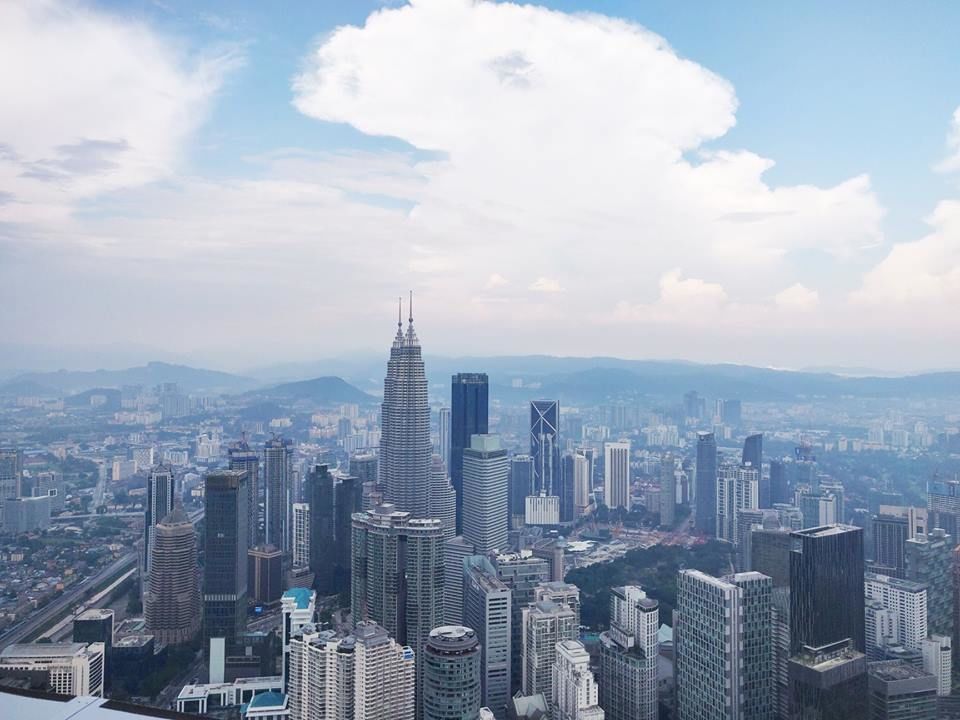 After an amazing trip to Thailand in March, 2018, the travel bugs inside us (me and my husband) were craving to explore a new south Asian country, mainly because these are cheaper to travel to, have a rich culture and offer amazing culinary experiences. After doing a fair amount of research online we zeroed onto – Malaysia and Vietnam. As our plan was on only for 9 days (22nd September, 2018 to 30th September, 2018), we decided to visit only 1 country. It was not easy for us to pick any one between these amazing countries, but finally chose Malaysia, a country with diverse amalgamation of cultures and chooses to call itself truly Asia. As for the itinerary, we decided to cover Kuala Lumpur, Malacca and Penang, and started looking for the accommodations accordingly.
After going through many apartments in Airbnb, we finalised the apartments for both KL and Penang. As Malacca can be covered in a day trip from Kuala Lumpur, we cancelled the plan of night stay in Malacca and decided for a day trip from Kuala Lumpur. In Kuala Lumpur, we booked a condominium apartment in Regalia Residence, Chow Kit and in Penang, we booked sea view apartment at Landmark Residence near George Town, 3 minutes away from Gurney. Both the places turned out to be amazing and I highly recommend these places to anyone who is planning to visit Malaysia.
Now, it was the time to apply the visa. Malaysia does not offer visa on arrival for Indians but offer a couple of different type of visas, more details can easily be found in the official website http://www.windowmalaysia.my/ or if you do a few quick Google searches on the same. The one we chose for, was the easiest and cheapest to apply for if you stay is less than 15 days and is called an eNTRI(Electronic Travel Registration & Information) note. There are a few restrictions though in terms of the entry and exit points to and from the country and it is valid on for single entry/exits eg. you cant go to another country, say Thailand or Singapore from Malaysia and again enter back to Malaysia but you can travel to another country and exit from there. For us it served the purpose well, please check for all the caveats before picking up one. For application you basically will need to upload all the required documents at http://www.windowmalaysia.my/ (photograph with white background, travel and stay documents) and pay the required fees(roughly around 1500 INR per person) and you get the note immediately. Don't fall for other websites that claim to do the same with a premium stating that the official website is not reliable. Of course there may be genuine websites but please use your own judgement.
The other things we booked before leaving for Malaysia were:
1) KL express train tickets from KL international airport to KL Sentral station via Klook app(website: https://www.klook.com) for about 1700 INR for 2 persons
2) Applied 2 SIM Cards (TuneTalk traveller SIM) again via Klook app which we collected in the airport arrival hall in the designated Tune Talk counter. It cost us about 761 INR for 2 SIM cards and gave 10GB data each plus some free call credits.
The applications you need to install in your mobile before you leave for Malaysia:
1) Grab – it is the Uber of South east Asia and is reliable/economic compared to other local cab providers. Uber is no more in Malaysia as on the date of writing this article and sold off/merged its business to/with Grab. It still works a few neighbouring countries though viz. Thailand, Singapore, etc.
2) Klook ( We booked the KL tower Sky Deck and Aquaria tickets via Klook during our stay in KL. The ticket prices in Klook are very budget friendly)
Now, the last thing we did before the trip was to collect a few Malaysian ringgits from local dealers in Mumbai. If you exchange in Airport they will almost always charge a huge premium. We carried about 2000 RM by exchanging about 36780 INR. Rupee was falling this time(about 72 INR ~ 1 USD) and we could have had a much better deal if done a few months before
Now, it was the time to wait for 22nd September and finally the day arrived.
Day 1
After visiting the Batu Caves, we went to the metro station nearby and booked 2 tickets to KL Sentral and within 15 minutes the train started. The KL Sentral station is the central hub that connects to different parts of the city via. the railway network and is like a mini mall housing a couple of stores and restaurants as well. Its here where we had our lunch at McDonalds(yes didnt go fancy here ;P). We had a plan of catching the next train to Shah Alam (station nearest to the Blue Mosque) but as we missed one train and the next train was after half an hour away, we directly booked a Grab cab to the blue Mosque.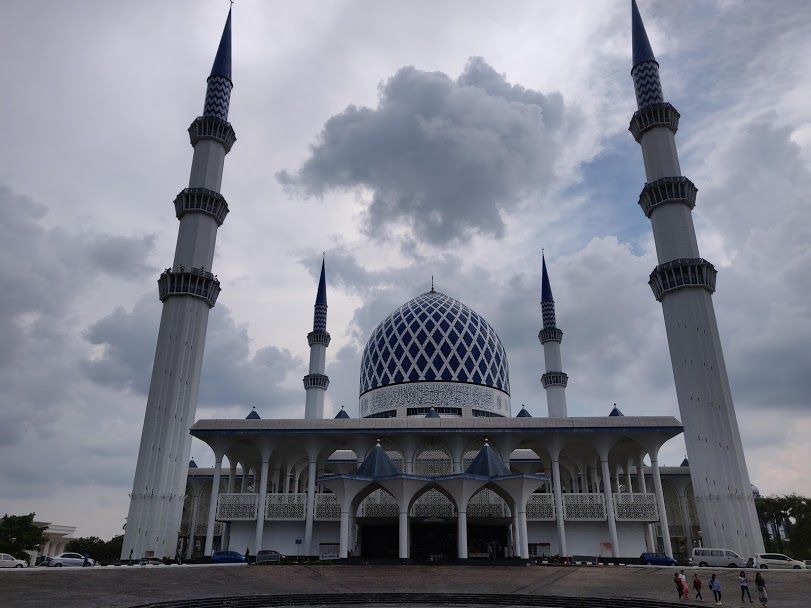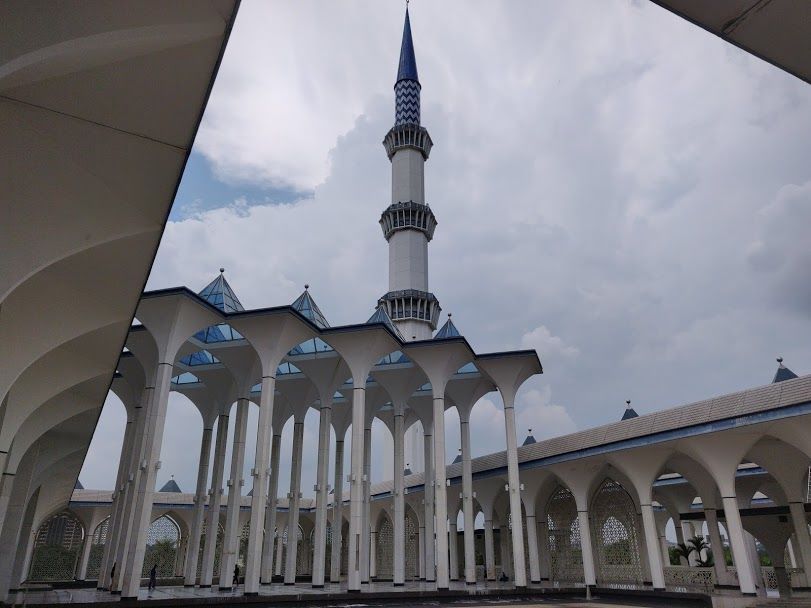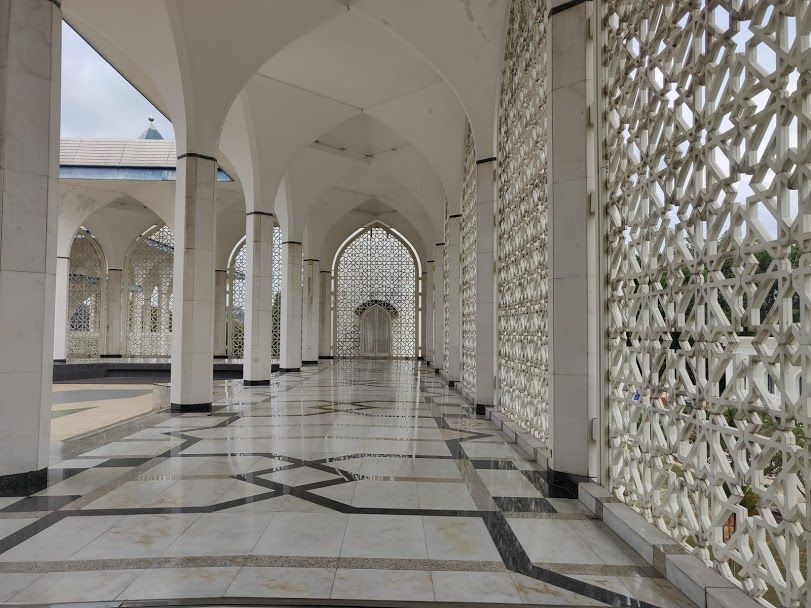 After spending almost 1 and half hours near the Petronas, we decided to visit Bukit Bintang, which is best known as the fashion and entertainment epicentre of Kuala Lumpur and also famous for delicious food.
This time we caught a GO KL bus to Bukit Bintang. GO KL's are free public air conditioned buses running in a fixed circular route and they mostly cover all the touristy places in the city. One can also catch rapidKL buses which are paid ones and will mostly be less crouded.
Bukit Bintang is perhaps the most lively place and the most happening place in KL and it looks amazing at night. There were some live performance going on the streets of Bukit Bintang and it was very much entertaining. After roaming around this area, we went to very popular food street Jalan Alor in Bukit Bintang for dinner.
Jalan Alor is called the cultural heart of the city's local cuisine It is basically a strip of atmospheric air-conditioned Chinese seafood restaurants, with a row of hawker stalls set up on the five-foot walkway on both sides and plastic tables and chairs spilling out onto the road. We tried different local dishes there and all of them were very delicious.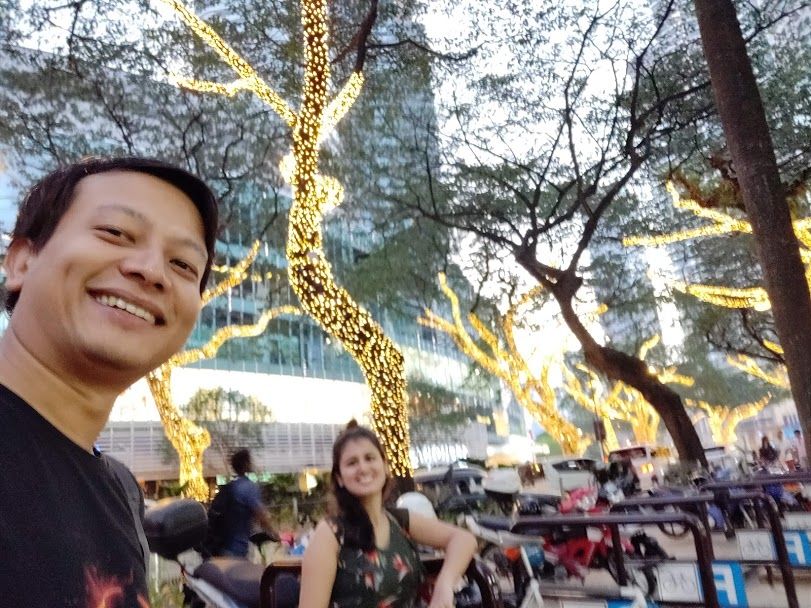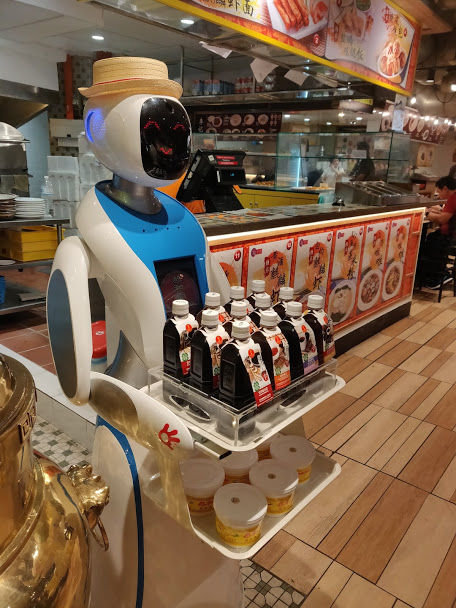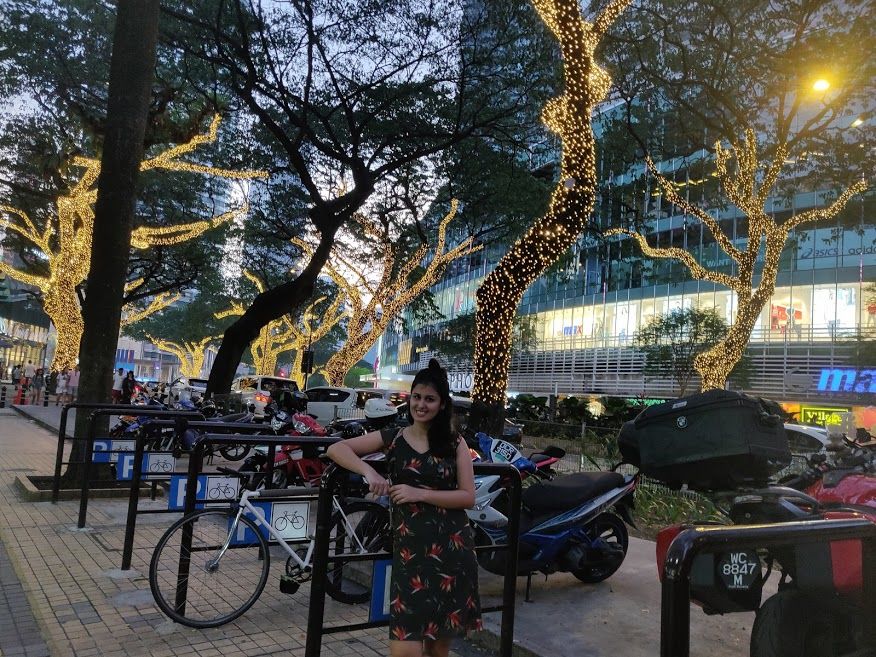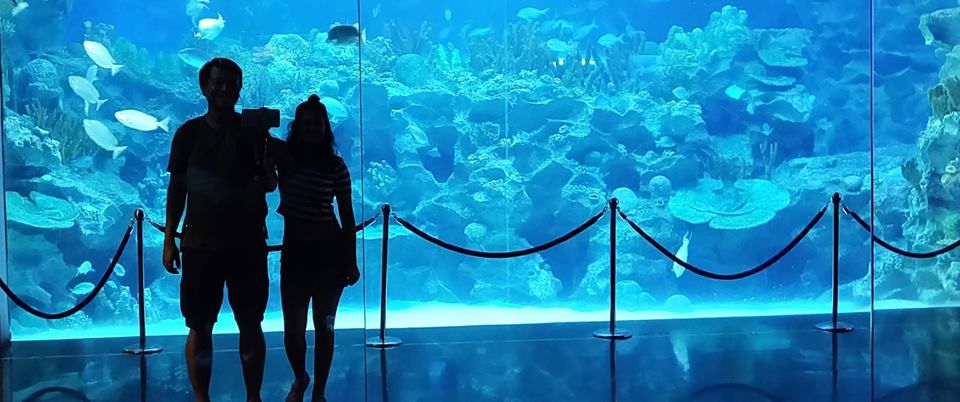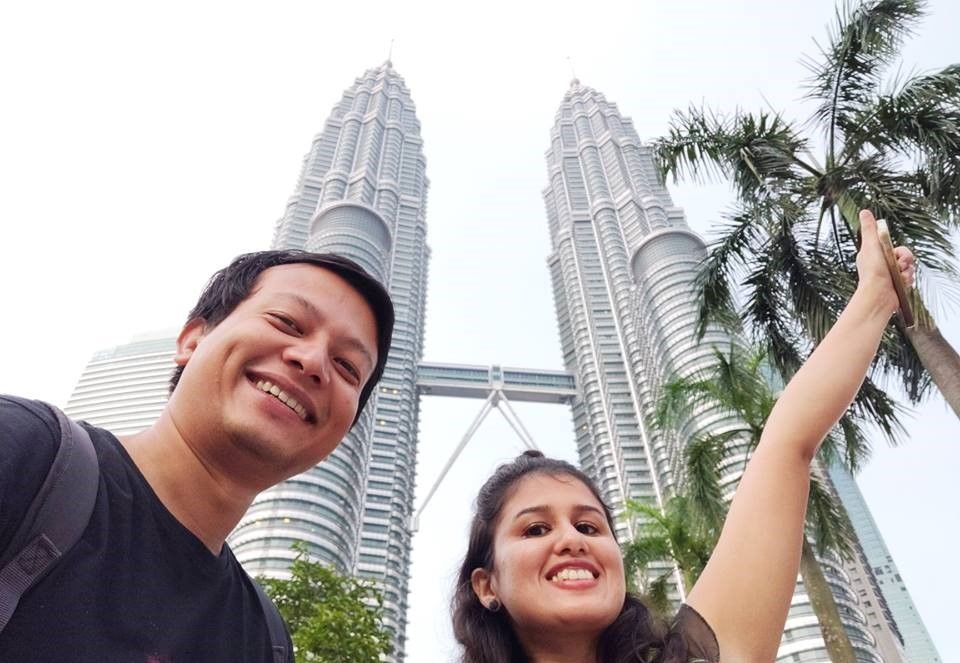 It was 22nd September, 2018 and our flight was at 1-15 pm Indian Standard Time and the flight duration was 5 hours. As the Malaysian standard time is 2 hours 30 minutes ahead of Indian Standard Time, we reached Kuala Lumpur around 8-45 pm (according to Malaysian standard time).
After immigration done, we collected our SIM cards ( which we applied via klook) at the Tune Talk outlet in the airport. From Airport, we caught the train KL express to KL Sentral station and from KL Sentral we booked a grab cab to our residence Regalia, Chow Kit. It was already around 11 pm and so, we ordered food from outside instead of going out and decided to spend some time at the sky garden with infinity pool at 41 th floor of the complex. The view from the infinity pool is absolutely jaw dropping, with a splendid view of the city with the tall and glittering Petronas twin towers and the KL tower.
DAY 2
It was almost 3-30 pm when we left the mosque and so without thinking about any other transportation, we quickly booked a grab and went to the KL tower.
The sky deck is 300 meter above the ground level and has a small glass box, probably like 10 feet wide and long with glass flooring as well hanging out of the deck. There is another observation deck which is 270 meter above the ground level and this deck also can be covered with the same ticket.
We were taken to the sky deck with the help of a lift. The view from the sky deck is totally mind blowing. The view of KL city and the Petronas twin towers were amazing. The best part was walking on the box with glass bottom. It was a great experience for lifetime and will always be treasured in my memories. After spending some time on the sky deck, we went down to the observation deck and spent some time there too.
We used our cellphones for photography as the charges they offer for photographs is absurdly high. And this is true for other locations in KL as well. If the location offers photographers like KL tower, Aquaria, etc. the prices would be nonsensically high(about 1000 INR per photograph if I recall)
After the KL tower is done, we booked a grab cab to Petronas twin towers.
It was already dusk and the entire city was looking amazing as it was all decorated with lights. We had a great time near the Petronas towers and enjoyed fully the spectacular view of Petronas tower and the beautiful lively city.
Around 9 am, we booked a grab cab for the Batu caves and it took almost 15-20 minutes to reach the destination. Batu Caves is a limestone hill that has a series of caves and cave temples. Concrete steps (272 steps) up to the Temple Cave are painted in an eye catching colourful scheme, with sets of steps painted in a different range of colours and they looked amazing. Climbing these colourful 272 steps was a little bit tiring, but the mesmerising beauty of the caves and the temples inside were totally worth it.
The Blue Mosque is the largest mosque in Malaysia and was built from 1982 - 1988. When it was finished the minarets were the tallest in the world at 142m, now they have been surpassed by the Hanssan Il Mosque in Casablanca, Marocco. The height of the dome is 107m.
The mosque is open for visitors and a guide explained the things inside the mosque for free. There is a strict dress code inside the mosque and the outfits are provided at the mosque for free as well. We were amazed by the beautiful architecture and the calmness of the mosque and it was a very nice experience for us.
Sky deck Ticket price (via klook) : 1538 INR per person. There is a cheaper one for just the observation deck but probably not worth it, as view from there is mostly blocked by huge metal pillars.
It was 24th September and our plan was a day trip to Malacca. After having breakfast ,we went to the Terminal Bersepadu Selatan by a grab cab. Terminal Bersepadu Selatan is the main long distance bus terminal in Kuala Lumpur, Malaysia. TBS is located approximately 10km south of KL city centre relieving and bypassing road congestion in the city centre. The terminal has 60 bus platforms, 150 taxi bays and 1,000 parking bays. The terminal is fully accessible and equipped with amenities such as ATMs, baby care rooms, luggage trolleys and luggage storage. Shopping and dining options are also available.
We reached TBS around 10-35 and got the ticket for the next bus to Malacca which was on 11 am. The ticket price was 11 RM per head and the time duration was 2 hours. We reached Malacca Sentral around 1 pm and immediately hopped on a public bus to the Dutch square which is one of the most popular and most beautiful tourist attraction of Malacca . Almost all the tourist attractions in Malacca are nestled at walking distance from Dutch square. We reached Dutch square around 1-20/1-30 pm. Malacca is definitely one of the most vibrant and colourful place I have seen till date.
The Dutch square, one of the most picturesque place in Malacca is surrounded by spectacular red painted buildings. It reflects the history of Malacca , the Dutch administration. Dutch square is the pickup point of the vibrant colorful rickshaws enticing tourists with blaring hit songs. This area is extremely photogenic so make sure your camera battery is fully charged.
After Dutch square, we covered the following tourist attractions in Malacca one by one on foot:
- Chirst Church
- A Famosa
- Stadthuys
- Church of St. Francis Xavier
- Malacca river
It was almost 3 pm and we decided to have our lunch at the famous River view cafe which is situated by the Malacca River. We had to walk along the banks of the Malacca river to reach this cafe and this walk was one of the best experience of this trip. The beautiful houses on the bank of the river are painted very beautifully and these street arts has made Malacca even more colorful and vibrant.
After spending a beautiful day at this vibrant City, we came back to Malacca Sentral bus station around 6pm and got tickets for the 6-30 pm bus to TBS, Kuala Lumpur.
We reached TBS, Kuala Lumpur around 8-30 pm and from TBS, we took a grab cab to one of the most popular food outlet in KL , Nasi Kandar Pelita . Nasi Kandar Pelita is situated at a walking distance from the KLCC twin towers. So, in dinner we had the famous Nasi Kandar of Malaysia and it was extremely delicious. I highly recommend this place to everyone who wants to experience Nasi Kandar in Malaysia.After dinner, we roamed around for some time and around 11 pm came back to our residence, Regalia.
DAY 4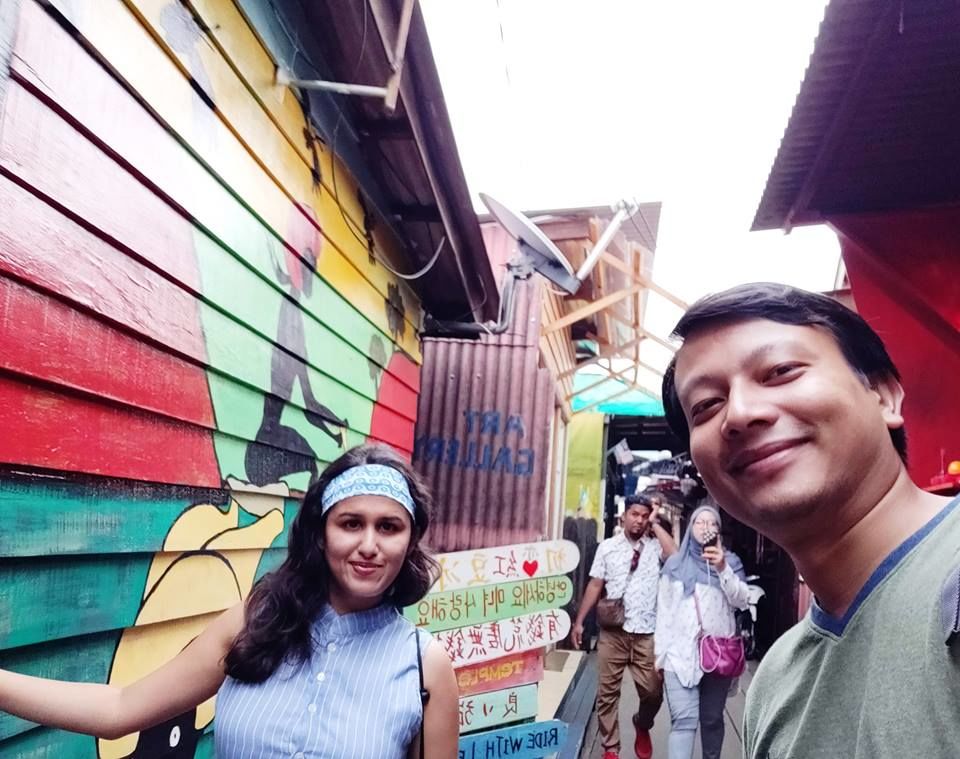 This was the day to say bye to Kuala Lumpur and to say hi to amazing Penang.
We had booked bus tickets to Penang via https://www.aeroline.com.my 2 days ago. The Aero line bus is the best bus from KL to Penang with many facilities like breakfast, toilets etc. Aero line coaches are truly executive coaches with their cabin crew on board to serve meals, hot drinks, blankets and pillows. One can truly relax in their modern coach that offers on board entertainment via their touchscreen pad that serves the latest selection of movies, music and games.
Ticket price per person: 60RM per person
We reached the Corus Hotel near Petronas Towers around 8-30am in the morning and the bus departed at 9am. This journey was a very nice experience for me as before this, I had never travelled in a bus with so much comfort. It took 5 hours to reach Penang and around 2pm, we reached Sg. Nibong Bus Terminal, Penang. From there, we booked a grab cab to our residence, which is located right in the heart of Tanjung Tokong, Georgetown Penang.
Our apartment was on the 38th floor of the beautiful complex The Landmark. The apartment was very nicely decorated, neat and clean place with a jaw dropping sea view from the balcony.
After a refreshing shower, we decided to roam around the beautiful streets of George Town and to cover the following attractions in Georgetown one by one:
1) Chew Jetty
2) Blue Mansion
3) Red Garden Food Paradise
With a fascinating fusion of eastern and western influences, Penang is Malaysia's one of the most tourist-visited destination. The island manages to embrace modernity while retaining its colonial traditions; due to its well-preserved heritage buildings Penang's capital, Georgetown, has been accorded a listing as a UNESCO World Cultural Heritage Site
Chew Jetty :
Chew Jetty is a cute little tourist spot in George Town with lots of houses with shopfronts alongside the jetty. We enjoyed the sunset at the Jetty and it was a nice experience.
Blue Mansion :
As the blue mansion was only 2.1 km away from the Chew Jetty, to decided to walk to this place. On the way, we came across various amazing street arts. When we reached the Blue Mansion, it was almost dusk and therefore, we could not go inside the mansion. We clicked some pictures of the mansion from outside and went out for the next stop, Red Garden Food Paradise which is situated at a walking distance from the Blue Mansion.
Red Garden Food Paradise :
As the name say it all, this place is a paradise for the food lovers. Both me and my husband are foodies and love to explore new cuisines. We tried many popular Asian dishes here and the experience was just amazing. This place is very lively with continuous live performances and lots of delicious food options. After having dinner and spending some quality time at this place, we headed back to our residence, The Landmark.
DAY 5
This day was one of the best day of our trip, because this day we visited the beach paradise of Penang, Pantai Kerachut and the monkey beach. I am a sea kind of person and the blue saline water always drives me crazy. Pantai Kerachut is definitely a heaven on earth away from the hustle and bustle of the City.
Pantai Kerachut or Kerachut Beach is a lovely stretch of white sandy beach located in the Penang National Park on Penang Island and is home to the Penang Turtle Sanctuary, which is located just behind the beach. There are 2 options to reach the beach:
1) Hire a boat at the entrance of the Penang national park
2) you can hike in through the park which takes almost 1 hour.
We decided to hike through the park to reach The Pantai Kerachut beach and a pre booked a boat at the entrance of the park to pick us up from Pantai Kerachut by 2pm (that book took us to Monkey beach from Pantai Kerachut and back to Penang national park from Monkey beach).
Boat ticket price : 100RM
So, around 10-45/10-50 am, we started the trekking. It was not easy at all but was a great experience for us. After almost one hour we reached the beautiful Pantai Kerachut and the mesmerising beauty of that pristine scenery almost took my breath away. If you decide to hike to this beach as we did, please bring enough water with you and wear shoes instead of flip flops. We wore flip flops and that is why we had be extra careful during the trekking as the path was slippery at some points.
After spending a quality time at Pantai Kerachut, we visited the Penang Turtle Sanctuary which is situated just behind the beach. There is no option of food at Paintai Kerachut, so you can bring some food along with you.
Around 2pm , the boat arrived to pick us up and it took us to the Monkey beach. Monkey beach has restaurants and all the other amenities like washrooms and changing rooms and a nice place to swim. In Pantai Kerachut, swimming is prohibited due to Big Jellyfish.
First, we had lunch at the monkey beach and spent rest of the time swimming and relaxing at the beach.
Around 5pm, we came back to Penang National Park by our boat and booked a grab to go back to our shelter. Everyone suggested us to visit the butterfly park near the Penang national park, but we were too tired and decided to skip that place.
After taking some rest in our residence, we went to Georgetown again to explore the street foods to Penang. Penang is a street food paradise and we had many yummy dishes for dinner which includes Malaysian Laksa, Chicken Satay, Lokolok, fish cakes and many more.
Day 6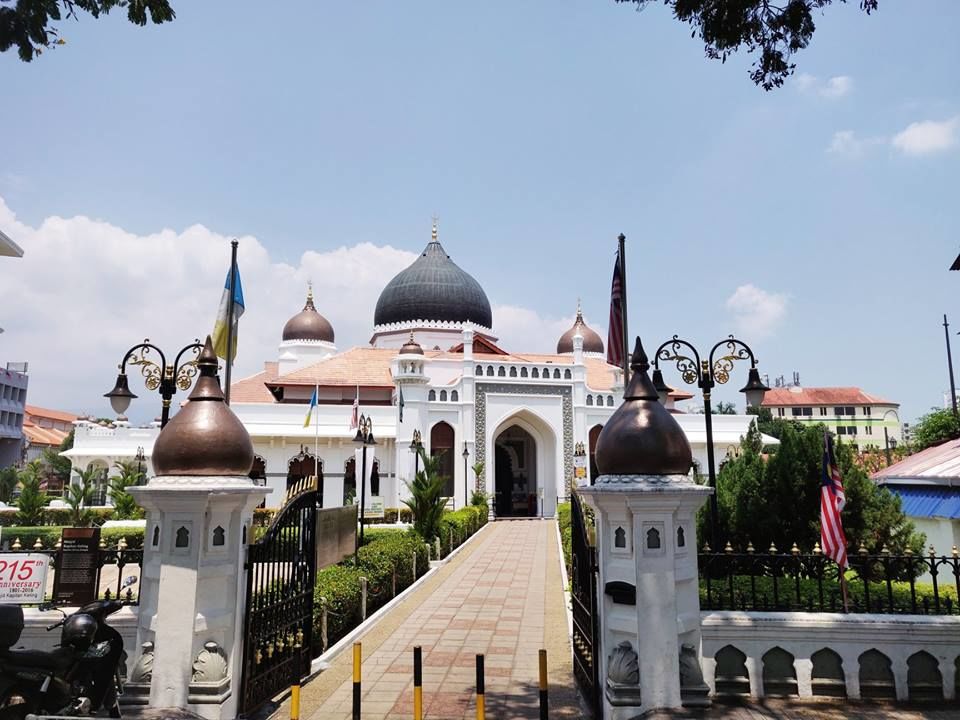 This day, our agenda was to explore the street arts of Penang and to visit the famous Kek Lok Si Temple near the Penang Hill.
So, after breakfast we went to George Town and roamed around all the alleys of George Town with mind blowing street arts. We had our lunch at a Chinese cafe in George Town. The food of this cafe was awesome and the interior was totally unique and very attractive.
The google map is always helpful and it really helped us a lot to explore the famous street arts of Penang.
After the street arts, we went back to our residence for a shower as it was a very sunny day. After taking some rest, we booked a grab cab to Kek Lok Si temple, Penang.
Kek Lok Si temple is situated near the Penang hill and offers a magnificent view of the Penang hill. After exploring this beautiful place we decided to explore the street food near Kek Lok Si.
It was already dusk, most of the famous food outlets at that area were shut down. Then, we saw one food court with self service facility and this place turned to be amazing with mouth watering foods. We decided to go back to our residence by public bus instead of taking cab and hopped on a Rapid Penang bus back to our residence.
Finally, the day arrived when we had to say bye to this beautiful place called Penang. We had booked tickets at the same aero line bus via https://www.aeroline.com.my
The bus started from Penang at 8-30 am and we reached KL around 1-30 pm. After having lunch near Corus Hotel in Kuala Lumpur, we booked a grab cab to our residence Regalia. After taking some rest, we decided to visit the world-class aquarium in Kuala Lumpur, Aquaria. We booked the tickets via the klook app and the ticket price was: 762 INR per person
Aquaria is very well maintained aquariam with a huge 90 meters long underwater walkway tunnel where fish and live sharks surround you. It is an oceanarium showcasing over 5,000 different exhibits of aquatic and land-bound creatures over a sprawling 60,000 square foot space right in the heart of Kuala Lumpur's city centre.
After having a great experience in Aquaria, we visited one of the biggest mall in Kuala Lumpur : Suria mall.
After spending some quality time at Suria mall, we went to famous Petaling Street, which is a Chinatown located in Kuala Lumpur, Malaysia. This place is great for street shopping and is known as Shopper's Haven & Foodie's Galore.
I love shopping and hence, I loved this place. After shopping, we explored the food of Chinatown and had some delicious dishes. Petaling Street is filled with opportunities to sample a delightful array of local cuisine.
Day 8
It was our last day in Malaysia and we decided to spend this day in a relaxed way.
We spent the first half of the day at the infinity Pool of Regalia. The infinity pool nestled at the 41 th floor of Regalia Residence is an amazing place to chill out with a great view of Kuala Lumpur beautiful city (which includes the Petronas twin towers and the KL tower).
After spending a quality time at the pool, we went to the biggest IT mall of Kuala Lumpur : Low Yat plaza and had delicious lunch at the food court of this mall. My husband is a huge gadget lover and this place turned out to be a paradise for him. After spending almost 3 hours in this place, we decided to visit the most happening place in KL, Bukit Bintang again.
We spent the last evening in KL roaming around the streets of amazing Bukit Bintang and had dinner at the famous food paradise of Bukit Bintang : Jalan Alor.
Day 9
After spending 8 amazing days in Malaysia, it was the time to say goodbye to this beautiful land. We had flight at 9-15 am back to Mumbai, so around 5-30 am , we left Regalia and booked a grab cab to the airport with a heavy heart and a with a hope to visit this country once again.