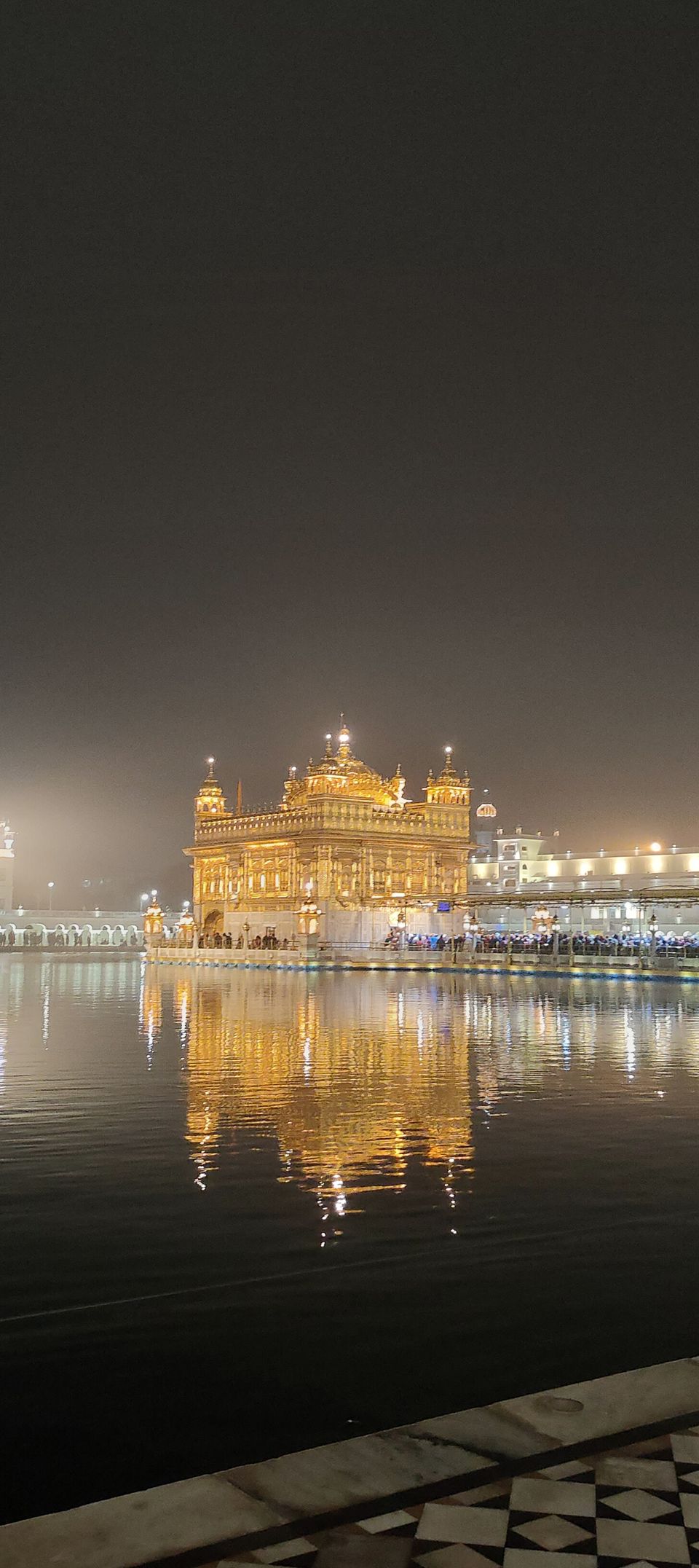 LET'S EXPLORE
The trip starts when we leave home at 7:30 PM on 22nd December, 2022 to reach New Delhi railway station by metro. Our train departure time was 9:25 PM. The night we spent sleeping on the train.
🔹DAY 1🔹
We reached Amritsar the next day at 8 PM. After reaching the station, we waited in a queue for 20-25 minutes for a bus to arrive that could drop us near Golden Temple. (This bus service was free of cost which was provided by Golden Temple).
After reaching our destination, we checked into our hotel, freshened up and straight headed to Golden Temple.
The first view of the shining Golden Temple in between the fog was so mesmerizing. It took us 1.5 hours to reach inside the Temple and for Darshan. (Since it was the holiday season, there was more crowd).
One thing I really have to mention is there was no rush or push and shove inside the temple. All the people have taken their own time to bow their head in front of Waheguru Ji. There was a different kind of peace and calmness inside the Temple which one can really feel and absorb.
After Darshan, we had Kadha Prasad (It is made up of whole wheat flour, ghee, sugar and water). Then we headed towards the Langar Section. The Golden Temple langar, which is always a delicious and fulfilling meal, is served at all times of the day and the service is done mostly by volunteers who do it of their own free will as part of Sewa, keeping the kitchen and service running 24 hours a day.
We then take a stroll around all the shops situated near Golden Temple. There were many different food shops ( Amritsari Kulcha, Aloo tikki, different types of chats, Kulhad dhud and many more).
After dinner, we decided to visit Golden Temple again to get a glimpse of the night view. All the lights were lit up and the Golden Temple is shining bright.
We then came back to our hotel and that's how Day 1 in Amritsar ended.
🔹DAY 2🔹
On our 2nd day, we decided to go sightseeing. For the day, we booked a private car that took us to all the places.
Our first stop was Sri Durgiana Temple. The temple derived its name from Goddess Durga, which is mainly worshipped here. The architecture of the temple is similar to Singh Harminder Sahib. The temple was of golden colour with big silver doors and surrounded by a sarovar. It was a calm and peaceful place.
Next we went to Mata Lal Devi Mandir. This temple has idols from all over the holy places in India. From Vaishno devi in Jammu, Kamakhya in Guwahati, Tirupati Balaji and many more.
Our next stop was Punjab State war Memorial and Museums. The place has all the histories related to Punjab and many more.
Then we headed to Jain Temple. The architecture of the temple fascinates me alot. Since we headed there around 4:00-4:30 PM, the temple was shining differently when the sunlight was falling on it.
Last we went to the Wagah border. The vibe there was so amazing. The show went on for nearly 1.5 hours, the parade and everything was so wonderful. All the crowds shouting "Jai Hind" was one of the most memorable experiences of mine.
That's our Day 2 ended in Amritsar.
🔹DAY 3
This was our last day in Amritsar. Early off , we decided to visit Jalianwala Bagh. We spent around an hour there. Then we visited the partition museum.
After covering all the places, we went shopping and tried all the delicious street foods. Later, we have our train from Amritsar Railway station to Delhi. We reached Delhi at 7:30 AM on 25 December.
Thank you for reading it. :)