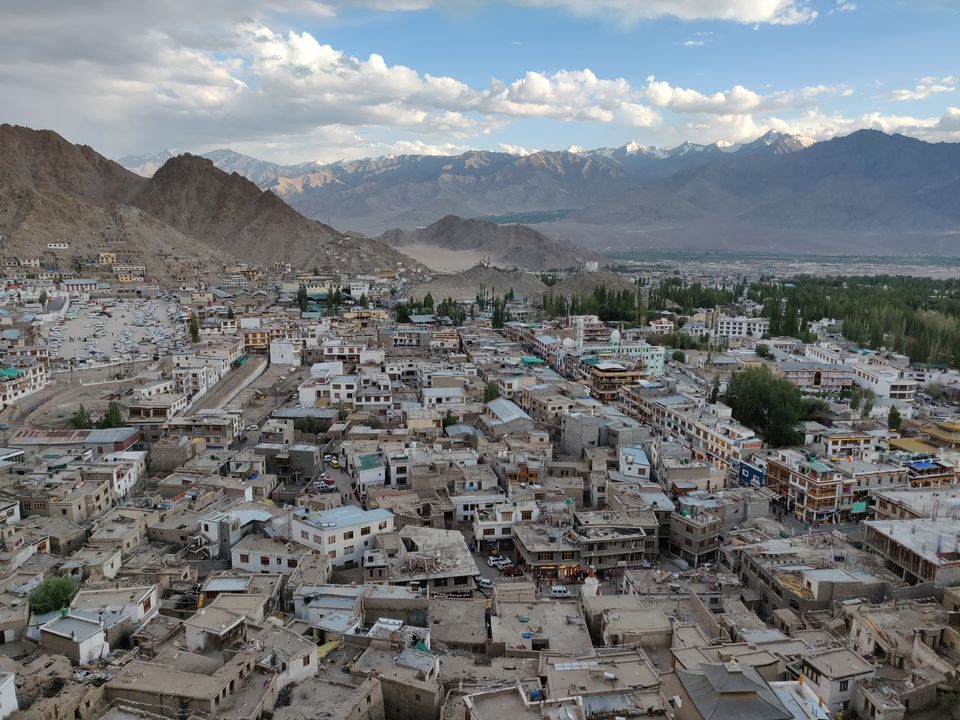 As the phrase 'Getting Leh'd' gains a lot of popularity as one visits Ladakh region, I too thought of using the same. Whereas in most Tshirts they show the entire circuit that is usually taken to reach Leh from Delhi and back, I would like to tell how I spent my only day in Leh.
Woke up early in the morning and yet not so early as it was a tiring drive the previous evwning. By 8 am I was ready and set off for some breakfast at Gesmo's. Somewhere I lost my way walking and realized I'm heading towards Zorawar Fort and there was no looking back from there. Reached Zorawar Fort after walking a couple of Kms only to realize that I'm the sole tourist out there. It's a beautiful fort and must visit for any history loved even though the government seems to be quite apathetic towards it.
From Zorawar Fort I went to my original intented destination that is to Gesmo and guess what I ended up eating Gesmo's Special Breakfast. It was a perfect filling Breakfast for the long day ahead. From there I went to our hostel - Raybo's where we were putting up - to find that the rest of the gang was not still ready.
Finally as all of us got ready, we went to Hall of Fame and lucky to reach there on time as they shut down for couple of hours for lunch. Hall of Fame is a museum built by Indian army and showcases the rich history, sacrifice and heroics of army to the common public. Its a must visit for all Indians to feel that sense of patriotism that we often lose somewhere. From there we headed to the Amusement Park behind the Hall of Fame where did a few antics, posed around and got ourselves clicked.
The Big Question was where to go next and we ended up reaching a consensus on Confluence of Indus and Zanskar River (or Sangam). It looked beautiful from the view point with the difference between the muddy water of Zanskar and the blue water of Indus clearly visible and demarcating the two Rivers. We went down and the flow was quite fast and the water chilly. Dipping our feet in it was so soothing in the heat. They also provide rafting service out there but the one which starts at this point is very basic and without any rapids and can be totally avoided if you have had an experience before. The price was roughly Rs 700.
We went back toward Leh from there and on the way stopped at Magnetic Hills to witness this phenomenon of the vehicle defying gravity and moving uphill. Unfortunately, we were in a commerical vehicle and they are not allowed to perform this stunt. They also have ATS parked out there and for Rs 1600 the experience is worth the money spent.
Closeby is Pathar Sahib which was our next destinaton. The Gurudwara is revered deeply by the Sikhs and has a story that is associated with Guru Nanak. It was really peaceful inside and we sat down for Langar to have some tea and rusks. Accross the road and a climb of 400 steps, there is Vantage Point from where one gets a beautiful view. That fine day we were the only enthusiasts who climbed those steps and at that altitude it did make us grasping for breath.
The day had begun late and so we sacrificed lunch and headed straight to Shanti Stupa from there atop a hilltop in Chanspa. Built in 1991 e most Buddist Peace Stupas built by the Japanese, this was similar but being in Ladakh surrounded the barren hills added to a different beauty altogether. We spent around half an hour here and wanted to reach Leh Palace before it closed down for the day.
We were probably the last people who were allowed entry into Leh Palace that day as the gates were about to shut. The tickets purchased at Hall Of Fame came in handy here as well. The 17th century Palace which is modelled on Potala Palace, Lhasa is a must visit for anyone visiting Leh. It gives a bird's eye view of the entire city of Leh and to go through the various staircases and reaching different floors is a sheet delight. We spent good amount of time here - it being the last destination for the day. I was quite enthusiastic about climbing up further to the Namagyal Tsemo Fort which towers the Leh Palace and was once a royal residence of Namgyal dynasty. If one has more time in hand, one should go for this as well and the view of sunset from the top should be a sight to behold.
Down but still not out we went to Leh Main Market from there to do some window shopping as well as buy some souvenirs. Leh has plentiful of shops and so it's quite tricky to chose where to buy from. It seemed an endless quest and in the process we found some Kashmiri vendor selling Mutton Seekh Kebabs and Chicken Tikka. The aroma was so good and they tasted equally yum was acted as an appetizer for us.
We had all decided to assemble for dinner at Tibetan Kitchen which is probably one of the best places to dine in Leh and was jam packed when we arrived. We were lucky to find tables for ourselves and they served some great Tibetan, Chinese and Indian meal as we happened to explore all options being a group of 10. It was a perfect ending to a long day and was a 15 minute walk from there to Raybo Hostel which helped us in digesting our food.