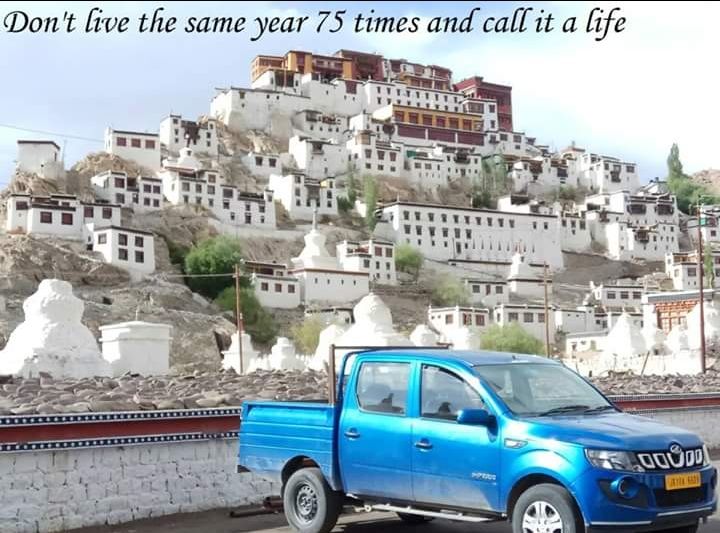 Hi,
Greetings from Mallikapil!
We hope you all are doing great.
In the previous blog, we shared about water crossings and tough terrains and how safety during this trip is a major issue and things to keep in mind and how to tackle them.
Now taking it forward where we left crossing Tanglang-La & reaching Leh by 2100 hrs. Pre-booking of the hotel room is quite essential. We stayed at the Enlightened Guest house, fort road, Leh. The location of the hotel was amazing and it was in the downtown. Here is the link:https://www.goibibo.com/hotels/enlightened-guest-house-hotel-in-leh-4714092205033574819/
District Leh with an area of 45100 Sqs Kms makes it 2nd largest district in the country. The District is famous for its rich cultural heritage and Honesty. It is popularly known as the land of monks and monasteries. People of all the communities live here in complete harmony, free from any prejudice. Buddhist is the dominant religion in the district followed by Muslim. The district has also a thin population of Christian and Hindus.
The district combines the condition of both arctic and desert climate.
Therefore Ladakh is often called "COLD DESERT".
There are two Airports in the district namely K.G Bakula Airport at Leh and army Airport at Thoise Nubra. Leh airport connects the national capital of Delhi and state capital of
Srinagar and Jammu. The District is bounded by Pakistan occupied Kashmir in the west and China in the North and eastern part and Lahul Spiti of Himachal Pradesh in the south-east. It is at a distance of 434 Kms from State capital ( Summer) Srinagar and 474 Kms from Manali (HP). The whole of the district is mountainous with three parallel ranges of the Himalayas, the Zanskar, the Ladakh and the Karakoram. Between these ranges, the Shayok, Indus and Zanskar rivers flow. Indus River in the image:
The day was totally dedicated to rest as it was a very long drive & we and our bike got tired. We Slept almost till afternoon then after wonderful lunch at The Tibetan Kitchen restaurant & decided to discover the city. But Before that one thing is crucial to share.
When you are in The Himalayas one should know about very crucial thing AMS ( Acute Mountain Sickness ): AMS is the very common type of altitude sickness. due to reduced air pressure and lower oxygen levels. It might cause sleeping, dizziness, nausea or vomiting & short of breath. One of the guests in our hotel got seriously ill and had to admit in hospital at night. He was driving his bike from Delhi to Leh via Manali. So one shouldn't hurry as the altitude changes and put the relevant impact on one's body.
So Leh Palace & Hall of fame & local market was on our target. First, we went to Leh Palace:
Leh Palace is a former royal palace and it gives you complete view from the top. There on top, we met one traveler from Kerala and he was on his bike riding all the way to Leh Ladakh, a teacher by profession and seeking spiritual happiness with his motorbike. He is a total inspiration to everyone who just thinks that it is quite a difficult thing to do in life.
Then we went to HALL OF FAME, Leh. It is a museum made by the Indian Army in memory of the brave Indian soldiers, who lost their lives defending our country in the India-Pakistan wars. It is a reminder of the great sacrifices made by our soldiers and teaches us to be a responsible citizen and value their gift to us because we are alive because of them. We read Letters of soldiers of both of the countries and trust us that you will not be able to control your emotions.
The Hall of Fame museum is located on the Leh-Kargil Road, about 4km from the city of Leh. The Hall of Fame museum remains open from 9 A.M to 1 P.M. and from 2 P.M. to 7 P.M. This was our day 4 in Leh. Both of the attractions are within reach of 5 km only from downtown.
Now some useful information for all of our readers who are eager & will plan in the upcoming season to do a bike trip in The Himalayas.
Please do your hotel bookings in advance.
Do not try to push time and give your body some time to get adjusted to altitudes.
Do not eat heavy food and make sure you keep yourself hydrated.
Weather will be rough sometimes, so just be prepared.
These are some of the contact details, it might help you.
In next blog, we will be sharing information and travel journey to Leh part-2 day 5.
I hope you find this information valuable. Please give your valuable feedback.
We thanked God for the strength and B.R.O again for the wonderful maintenance of roads on the highways.
You can email us with any suggestions, doubts, questions, please email us at mrmrsonholiday@gmail.com.
You can share your experiences and your stories as well and stay connected with us through Facebook & Instagram.
We will be more than happy to give insight to readers so that they can plan the journey of their lifetime.
Have a safe journey and enjoy the beauty of nature.
See you soon.
Regards,
Mallikapil – An Indian couple