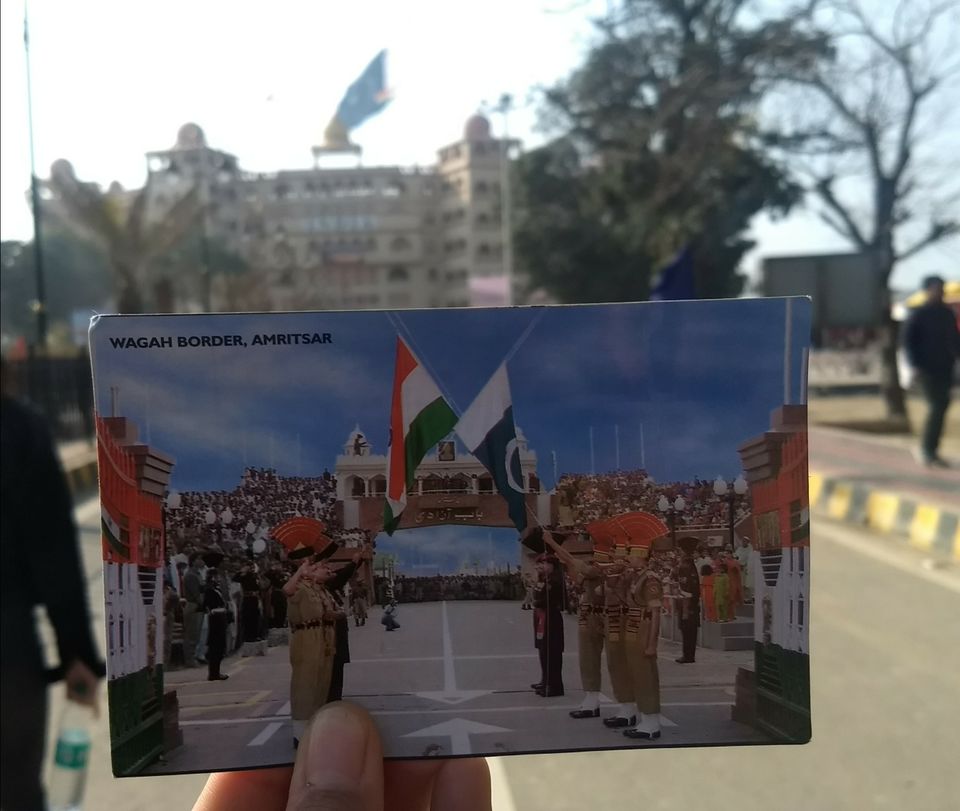 To witness the Beating Retreat ceremony on the Republic day was once my bucket list and this 26 January 2019 , I ticked it off.
I didn't know about the VIP bookings and therefore had to go through the General line.
* Suggestions .
1. To get a better view of the ceremony VIP passes can be obtained from KHASA village which is 19 km from Amritsar , on the way to Wagah Border .
2. Pick up and drop services will be available via auto (150) , taxi and Double Decker buses.
3. Earphones , chargers , power bank and bags are not allowed inside. There is locker service at the gate.
.... I am from LADAKH and my Roommate is from SIKKIM and our features are somewhat like South Asians . Most of the times people think that we are foriegners like from China or Thailand . So the shopkeepers and drivers charges us way more than the normal fare and we have to haggle a lot . So we always book things which have written fixed price. So this time we finally settled for Double Decker bus ( hop off hop on bus ) which charges us 250 per person ( pick up and drop) .
We boarded the bus at 1:00 pm and took seat at the rooftop . I had such an amazing ride , with winds swinging my hair with a view of Mustard fields everywhere.
After 34km we reached and the first view was Indian and Pakistani Flags standing side to side . I was already having goosebumps.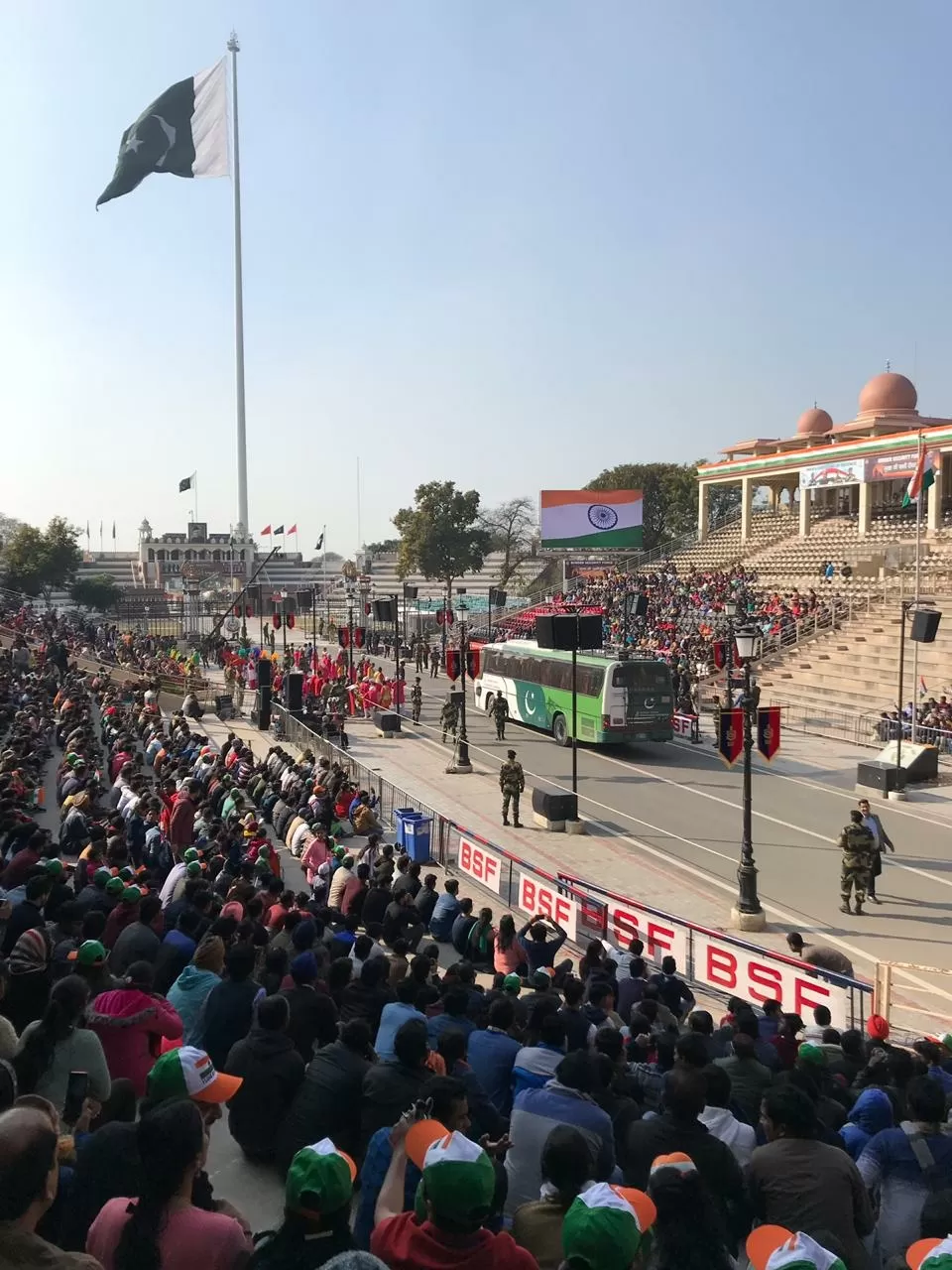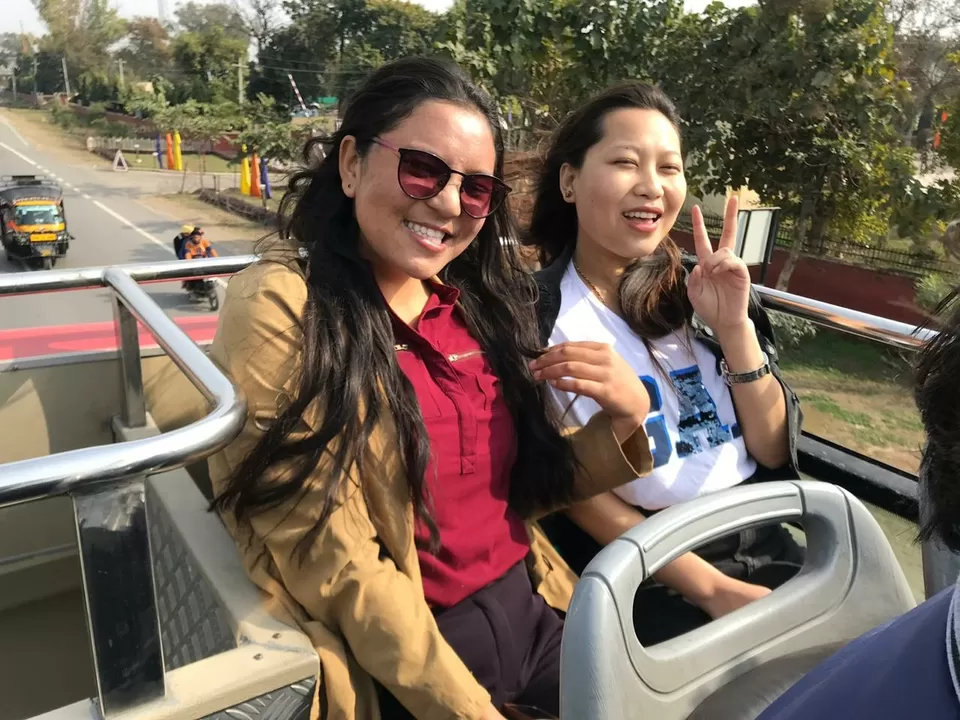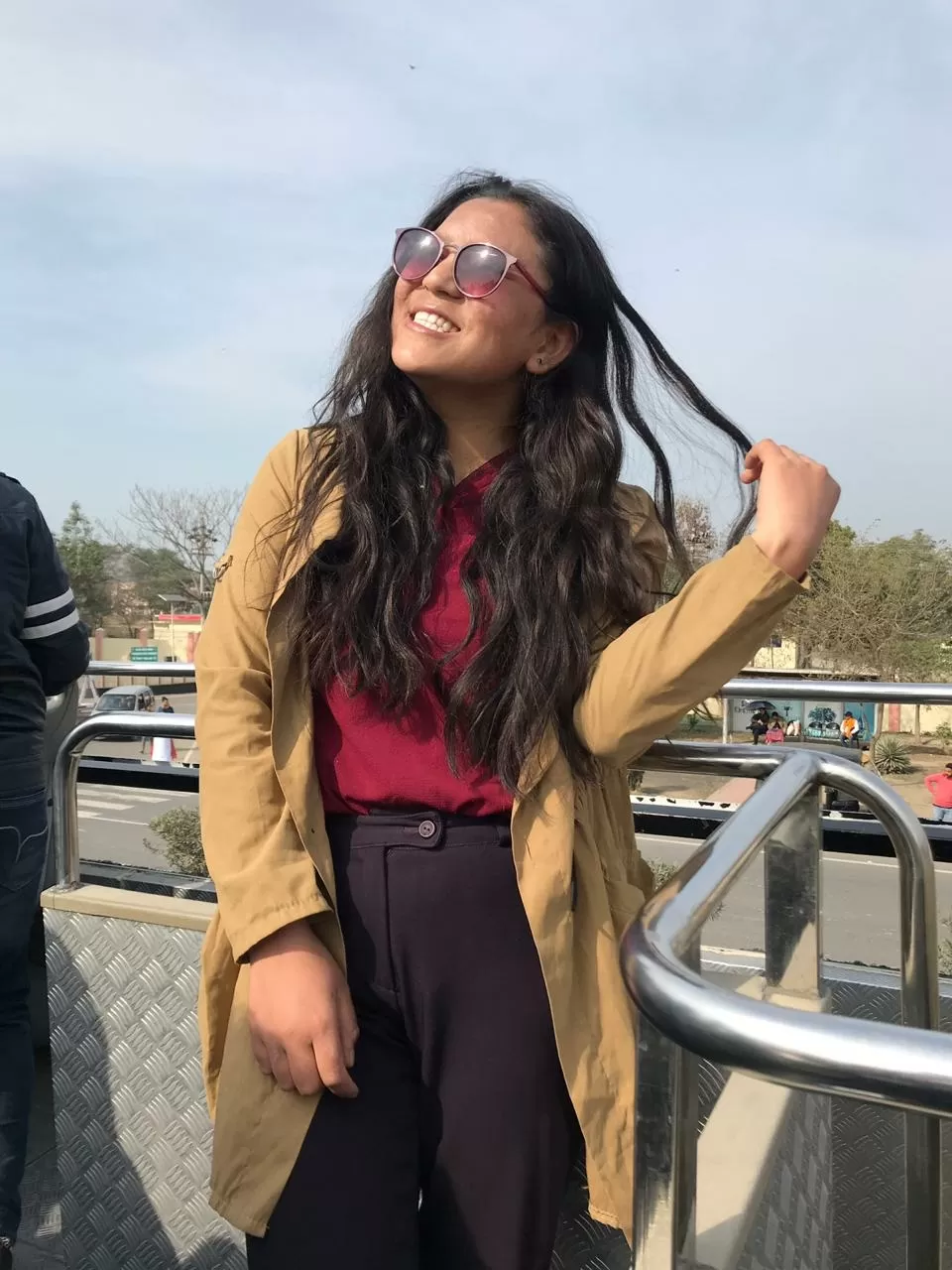 I was very upset since we didn't have VIP passes and was struggling among the congested crowd to get in fast . BSF had security checks at every corner and Barricades were everywhere to control the crowd.
For a minute I thought of going in the foriegner line and get front seats but what if they ask for my passport .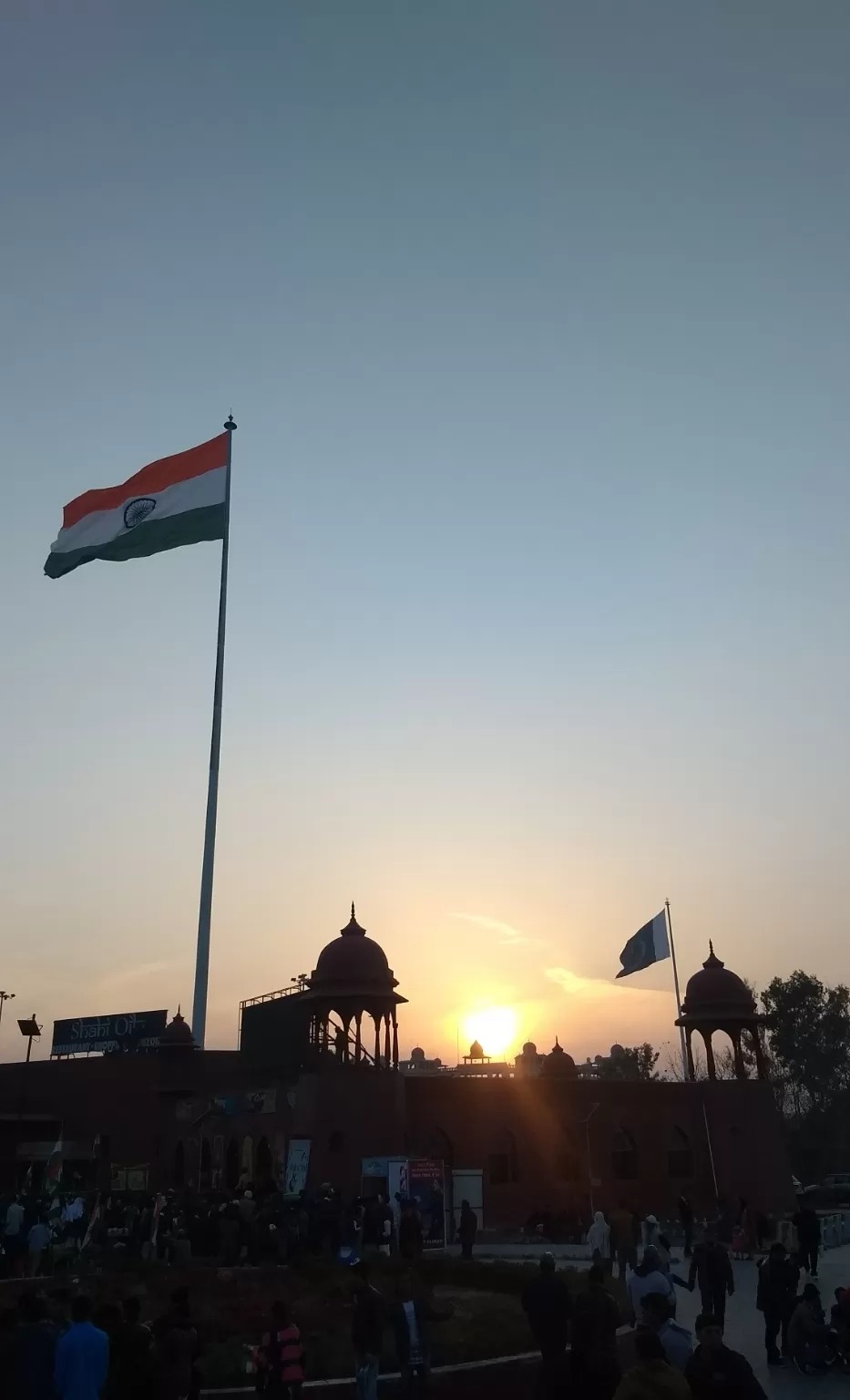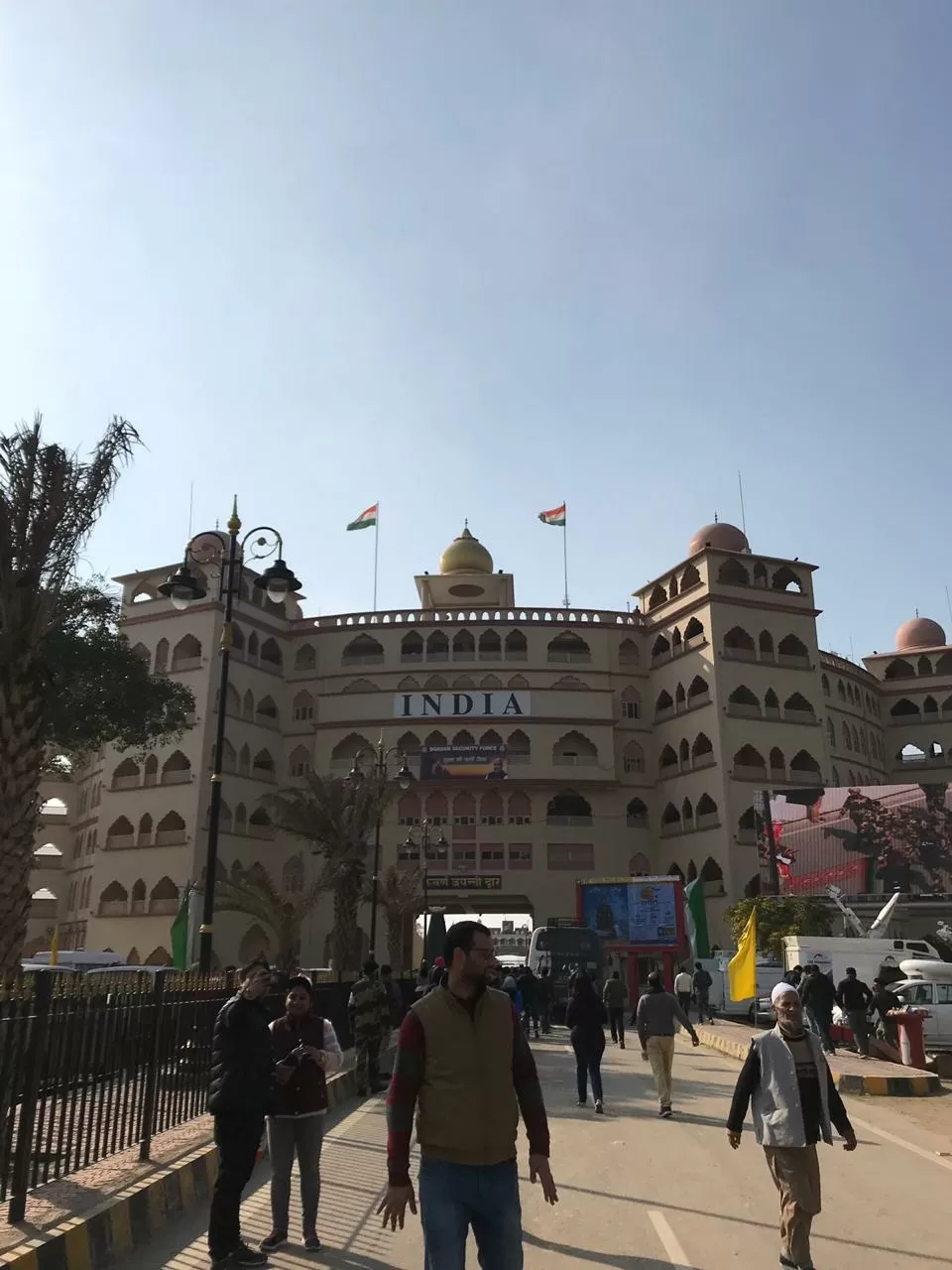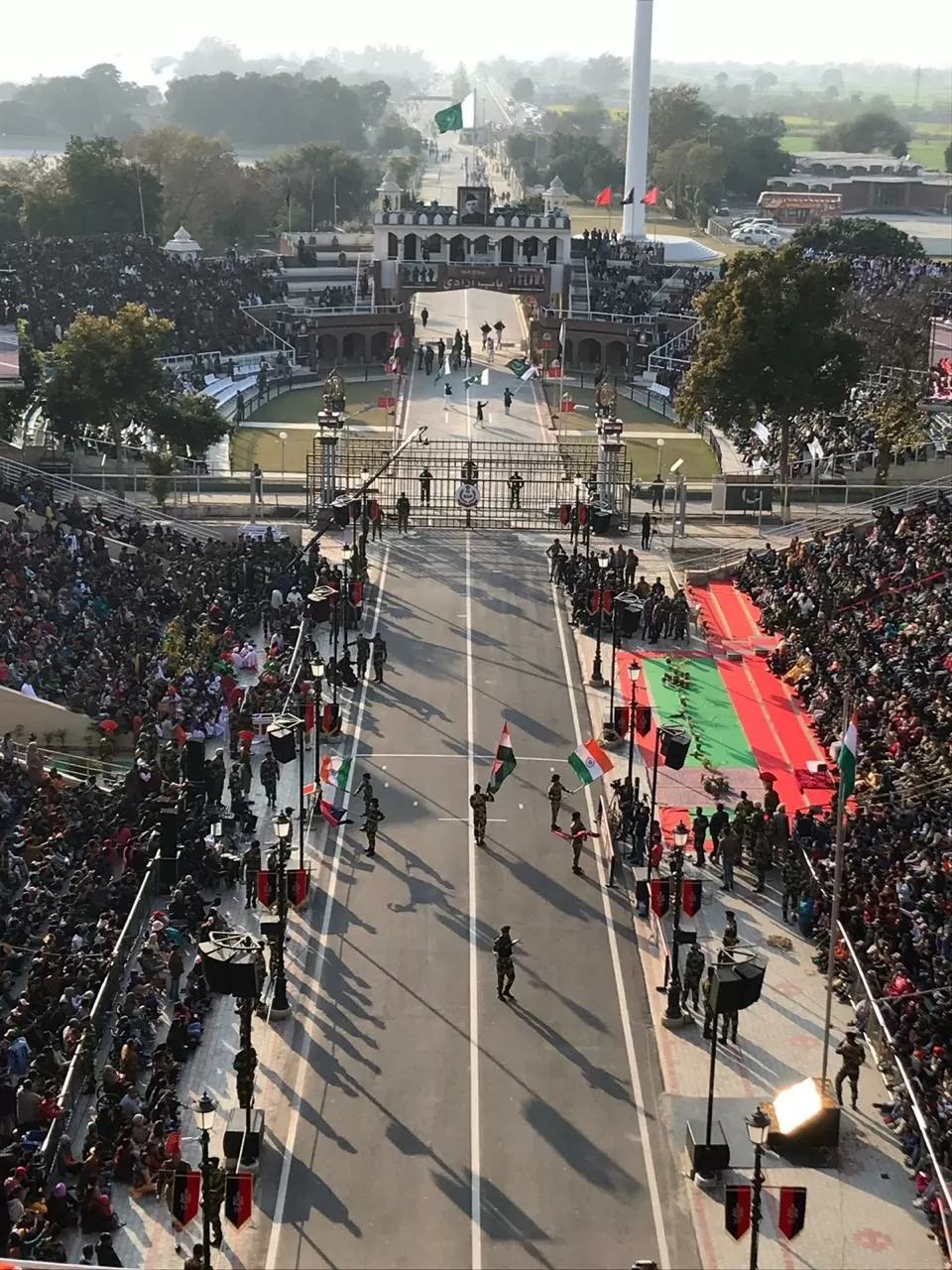 We dropped the idea and I had to play smart to get a front row seat. I saw some people slipping from the corner of Barricade and we followed them. We thought that they were VIPs .
We reached into a hall and I what I saw left me spellbounded. I didn't believe my eyes. VARUN DHAWAN was practicing dance with dancers and REMO D'SOUZA was choreographing it. I was shocked. I couldn't believe it. We were in the same room at few centimeters distance away. I was too shocked to take photos or ask for autograph. My mind didn't work only. My roommate was so scared that we are in a wrong Place and she was afraid about that fact that they might kick us out. so we left the place to get a seat for the ceremony.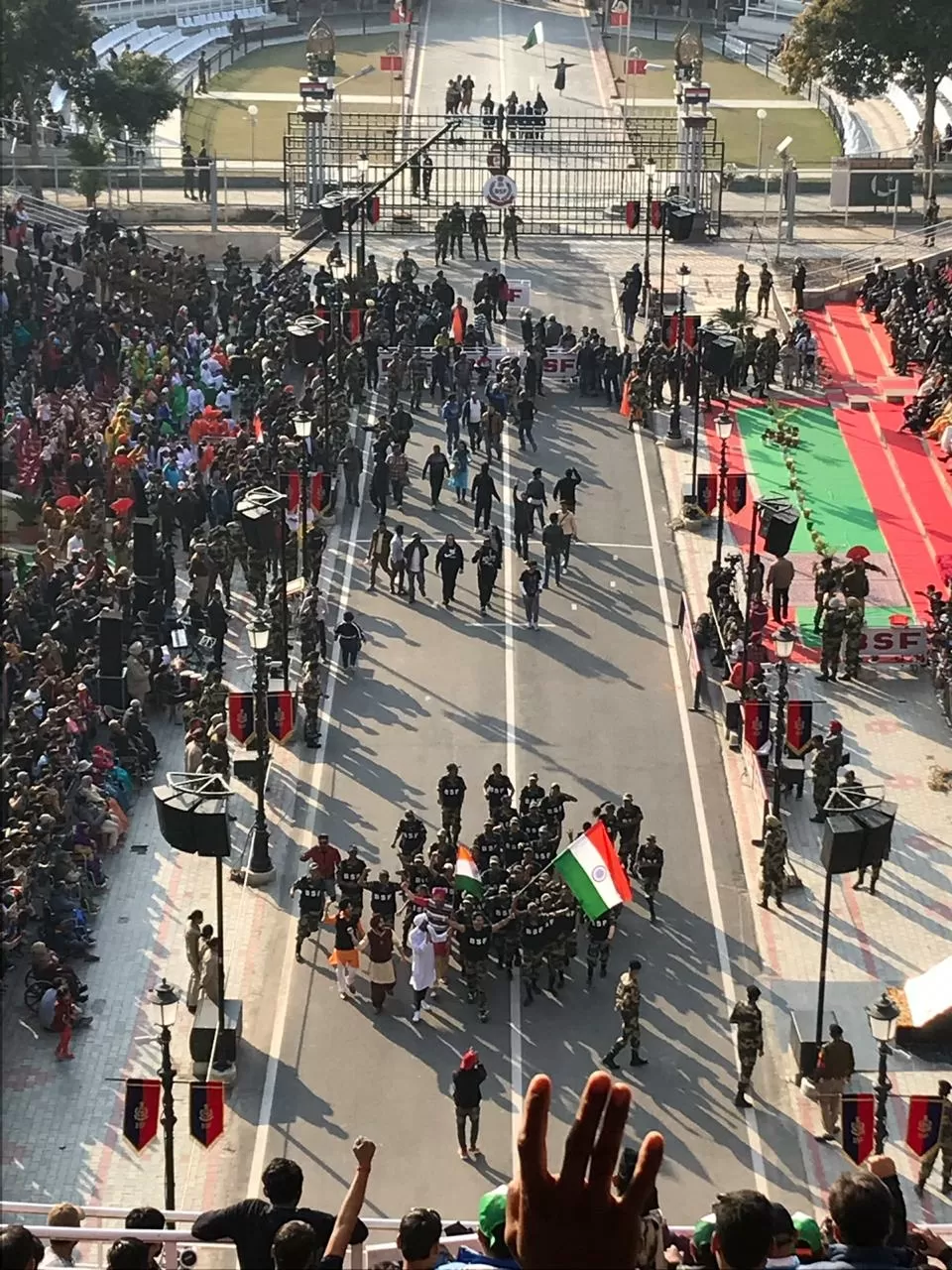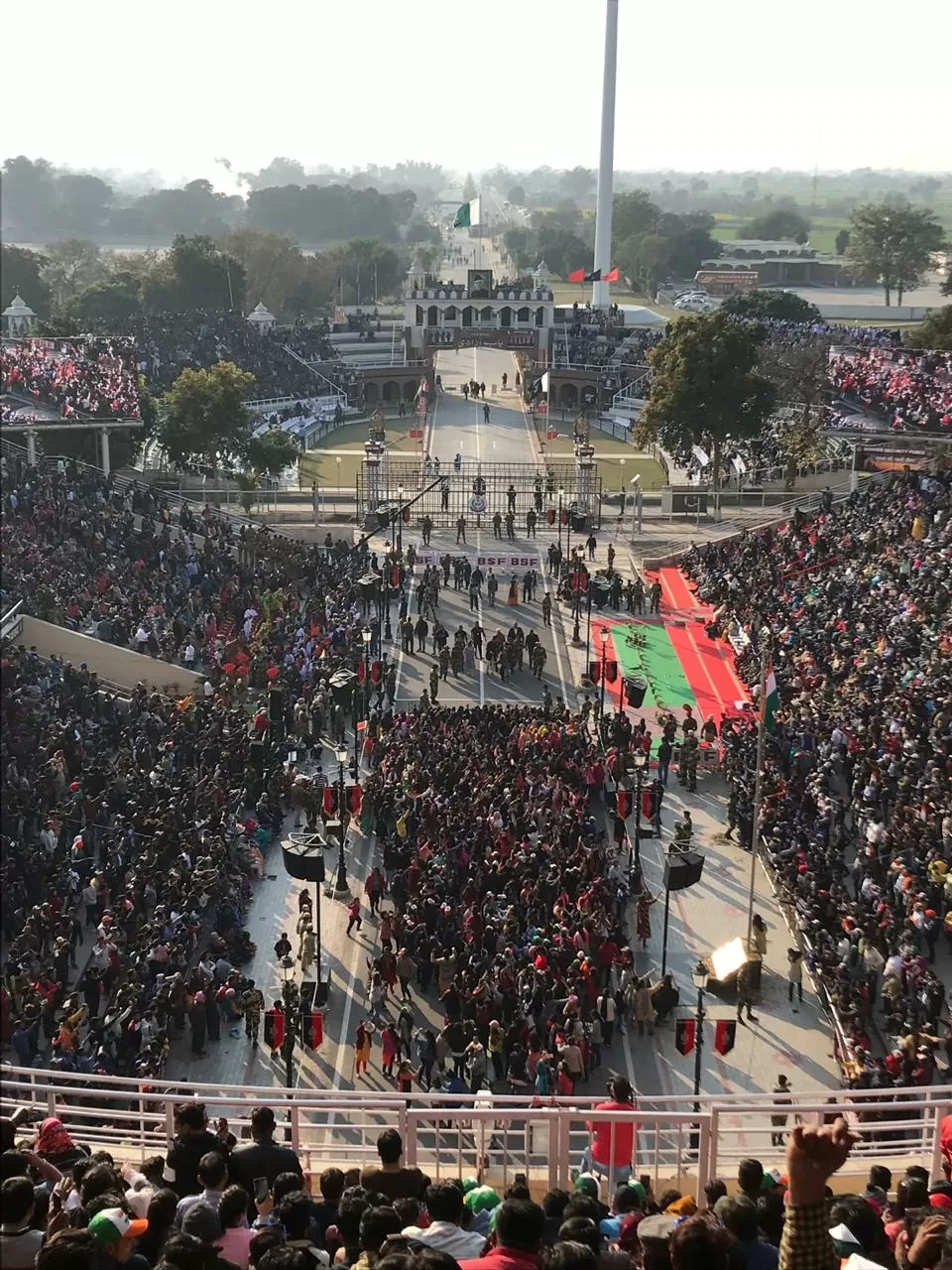 we didn't get seats as expected so we stood up all the time and trust me , we didn't realize when we finished the programme.
The crowd was huge as today was INDIA'S 70th REPUBLIC DAY. The programme started with some banghras and gitta which was too colorful and followed by Varun Dhawan and crew dancing for ABCD 3 . This was a surprise for everyone and people were hooting and shouting .
The crowd got crazier as people saw VICKY KAUSHAL and YAMI GAUTAMI. They had a successful collection of URI : the surgical strike movie and I was fallen for him. I shouted at the top of my voice . And got goosebumps all over when he asked" How's the JOSH" ? .The crowd replied "High sir ". It was too overwhelming and we are die hard fans of Vicky after his movie Raazi. He is not as much famous among the old generation therefore from our balcony only two of us were shouting his name and were going crazy and there were many stares and glares.
Later the Beating Retreat ceremony begins and I must say , I am a proud Indian . My heartbeats grew louder with pride when the BSF armymen marched with glory and pride and the crowd encouraged them by cheering. At a time I was too tired from shouting and my throat was giving up. We sang Chak de INDIA , BHARAT MATA KI JAI , VANDE MATARAM and people who mistook us as foriegners they were really surprised.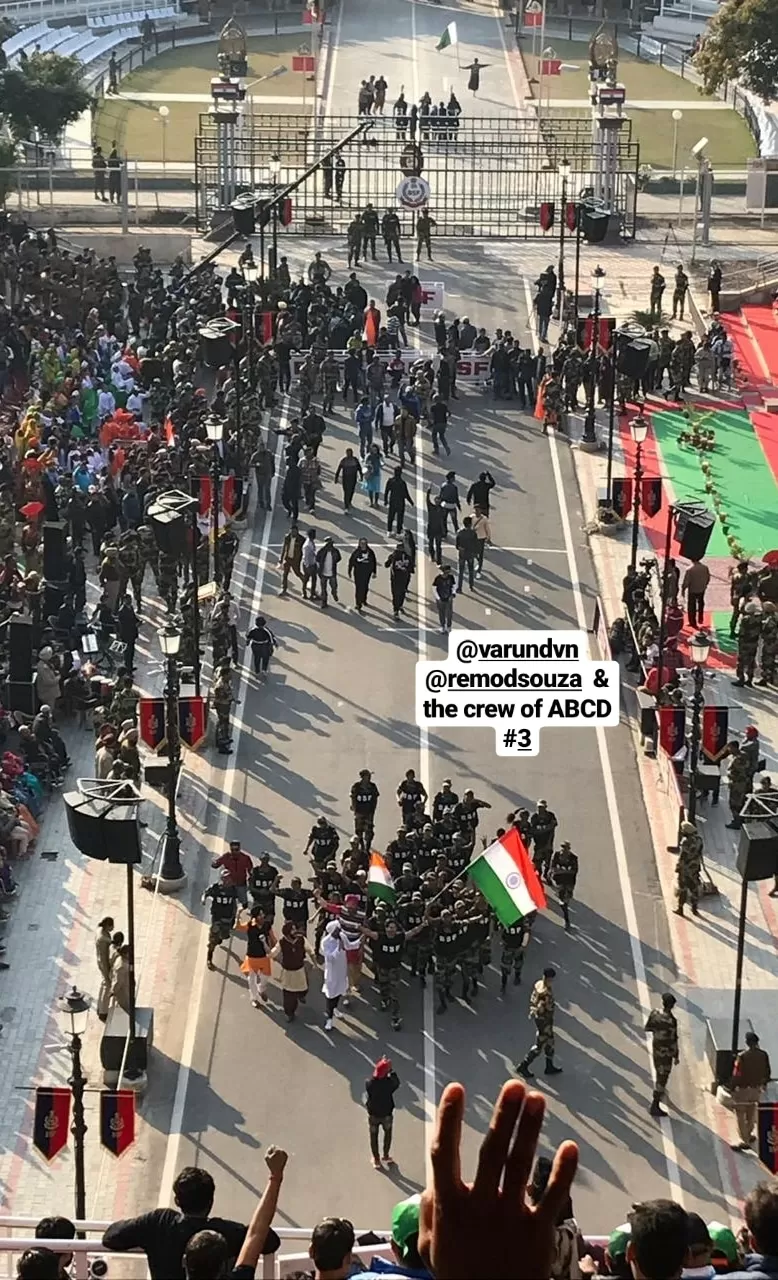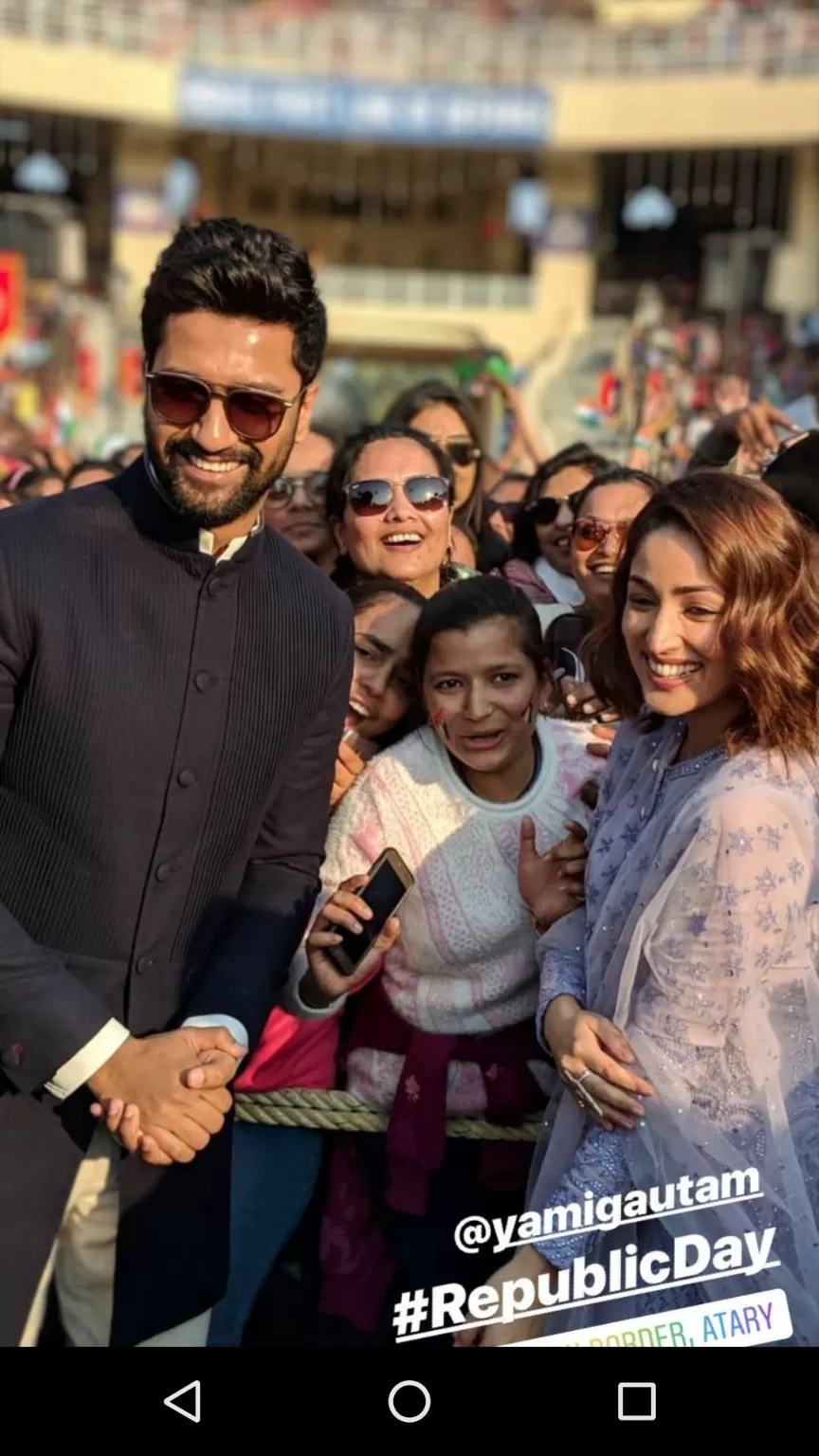 We had clear view of the parade and Pakistan border. From that side of the border we can also hear cheers for their army and on the outcast of sunset the flag lowering ceremony happened and People cheered " BHARAT MATA KI JAI " .
After the ceremony , near Shahi Kila we had some snacks and there was a band playing songs. It was a beautiful ending to the trip !!
And I am grateful for my stars for so many good things .
Your's truly
Urgan spaldon . 💓