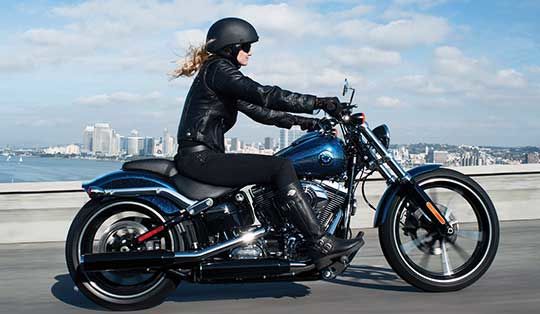 You ought to raise eyebrows of society, family and prejudices with the idea of off-road female biking on Indian roads but what's a road without potholes?
Many engineers, doctors, homemakers and fashion designers are set to become the next-gen pioneers of Female Bikers in India. They are conquering new heights and motivating hundreds every single day.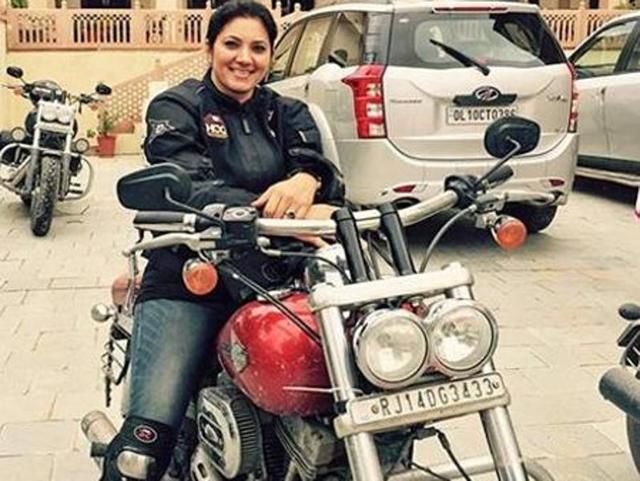 She is India's first woman biker and has inspired women to go from a pillion to becoming a rider. Paliwal was the first woman in India to ride a Harley at 180 km/hr and other super bikes over 250 km/hr. That was how she got the name "HOG Rani (Queen) or "SPEED Rani (Queen)". The recorded top speed Veenu ever achieved is 330 km/hour on a "tuned" Suzuki Hyabusa, a feat never achieved before by any Indian female biker. Unfortunately, she died in a road accident near Gyaraspur on April 11, 2016.
Born in Iran, she moved to India in 2004, pursued MBA, then a PhD in Marketing and now owns an independent fashion brand "Maral Yazarloo". She is the first lady owner of a Ducati Diavel and a BMW GS in India. Dr. Maral has gone on rides to Dubai, Qatar, Egypt, Italy and Swiss Alps covering 120000 km. She did a solo 1000-km journey from Italy up to the Swiss Alps on a 1600 cc Harley Fat Boy. Famously known as The Doctor, she is India's first and only female rider who was a part of the international HOG ride 2014 from Pune to Bhutan. Yazarloo is among the earliest female buyers of a Harley in India and owns the powerful Night Rod. In 2016, she founded Lady Riders of India for women riders who love riding bikes above 650 cc.
Instagram : @maralyazarloo
Urvashi Patole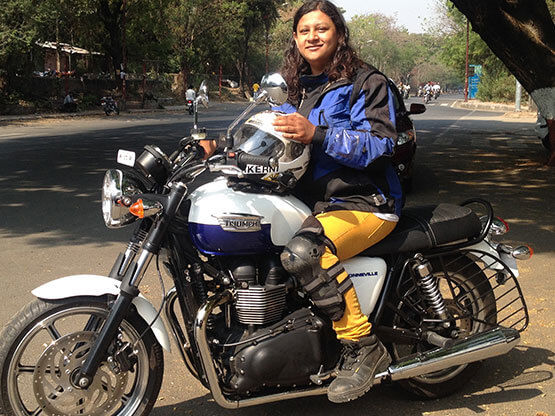 She started following her passion for biking from the age of 14. However, at 17 she fractured her wrist in an accident and in 2012 she suffered major head injury in another accident where the doctors strictly suggested her to give up on biking. She didn't stop and in 2011 founded The Bikerni, currently a 500 member group who have covered a staggering 400000 km. The high point came in 2013 when this largest all women group rode to Khardung-La, the highest motorable pass in the world, and got featured in the Limca book of Records.
Motto "I like mud for make-up and petrol for perfume"
Instagram: @alphabikerni
Anjaly Rajan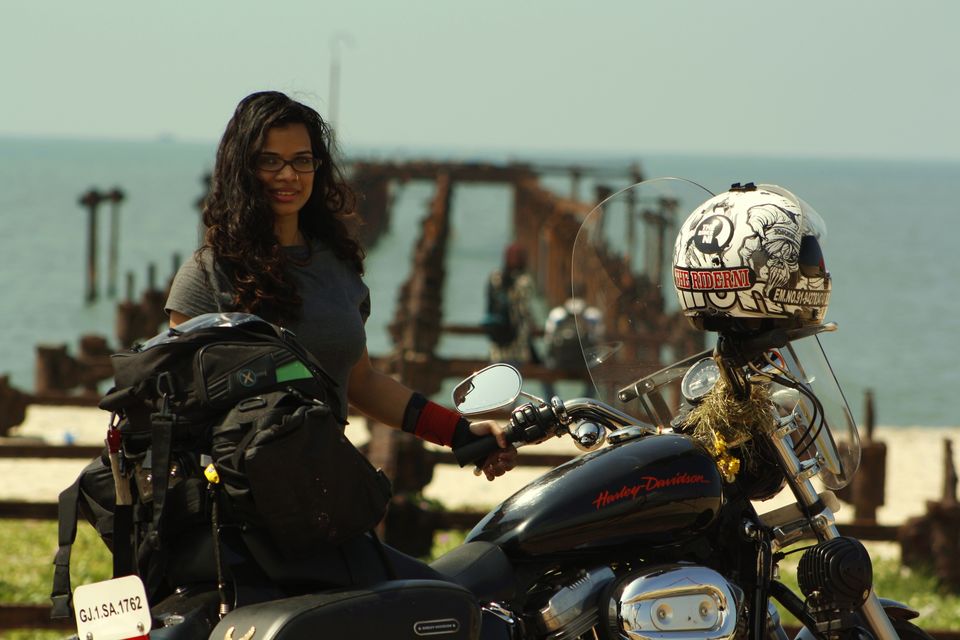 Anjaly Rajan "Riderni" was interested in riding a truck initially but soon moved on to biking in twelfth grade. She started from a Hero Honda Splender and now owns an Avenger ( Bajaj ) and an Aura ( Harley Davidson ). She knows how to repair a puncture, to fix a clutch wire and to repair her bike as well. She founded "Riderni" in 2012 to rope in more female biker enthusiasts and the group has more than 20 members now. 3000 km ride to Kerala from Ahmedabad, a solo ride from Trivandrum to Ahmedabad on Harley Davidson SuperLow are some of her acheivements.
Instagram: @anjalyrajan
Sarika Mehta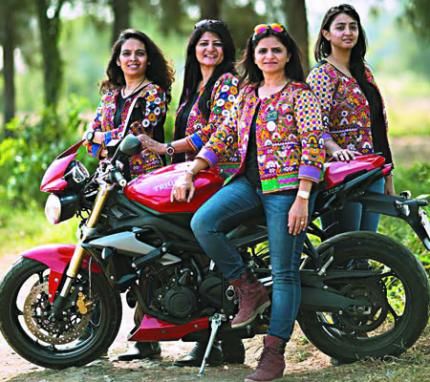 Taking bike riding as a challenge, the 38-year-old doctor loves mountaineering and anything that has the word adventure in it. Dr. Sarika Mehta established a new record as the First female bikers to cover 10 countries which included Nepal, India, Bhutan, Myanmar, Thailand, Laos, Cambodia, Vietnam, Malaysia and Singapore. Dr. Sarika Mehta is the founder of Biking Queen and proudly dons the tag of a Queen.
Instagram: @sarikamehta36
Sindy Soundari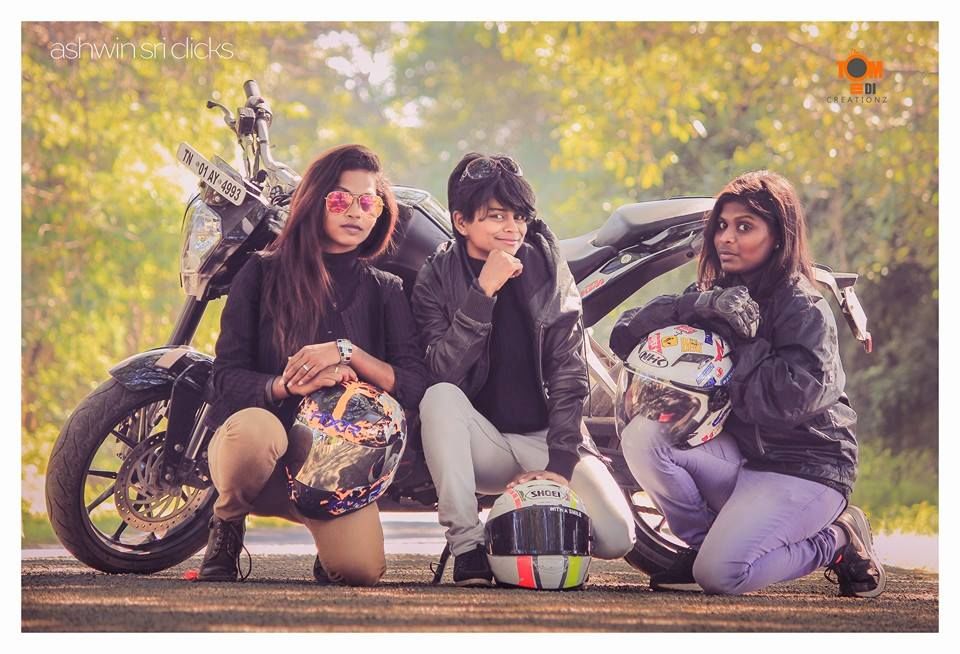 Soundari A., known as Sindy in the racing circuit founded the Riding Group called Biker Babez in 2013 with just two girls. With her gear on, you might actually mistake her for a boy. She used her own story to motivate and inspire herself to create a group of women riders. Biker Babez is now a strong headed team of 10 girls. They define their group as women who ride "Safe and Smart".

Instagram: @soundarisindy
Roshni Sharma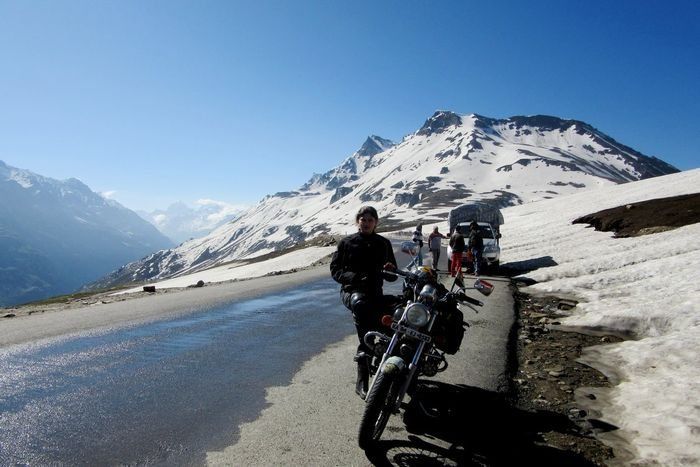 She started to follow her passion at the age of 16 and is the first female biker to ride from Kanyakumari to Kashmir. Currently, Roshmi Sharma is ready to lead a women-only, five-day long biking trip through the beautiful landscape of Thailand. 'I want to do a Euro trip next!' says the enthralled biker.
Shirin Shaikh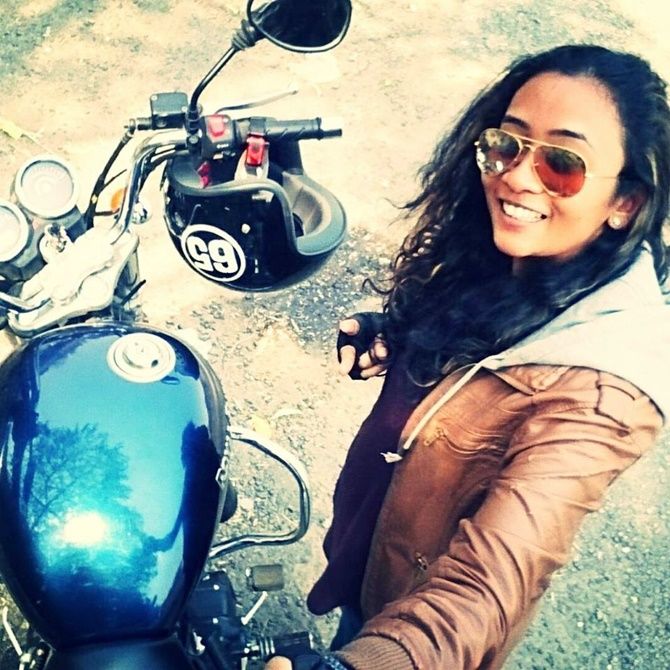 A National Cadet Corps cadet in college (2006-2009) and a part of the Maharashtra Air Squadron, Shirin is a single mom and a hard core biker. She loves driving through beaches and coastal routes; Dapoli (in Maharashtra) being her favorite for its amazing weather, bendings on the ghats and obviously the view!
Instagram: @shirinfreespirit
God Bless these high-spirited Souls to pave way for the millions to follow.
Ride and Shine......