On 3rd January 22, after breakfast by Suhana Safar Travel's desire car we started for Katra from Shrinagar at 9AM, as our Kashmir package is Katra to Katra. Shrinagar to Katra distance is approximately 250 KM. On the way we had lunch and coffee. We reached Katra by 5 PM. Checked in hotel Jagdamba and rested.
On 4th January 22 morning at 10 we checked out hotel Jagdamba (As Mr.Panditji requested us to check out early as there were many guests who are checking in early morning in Jagdamba hotel on that day) We were putting luggage in our car, my daughter started shouting car broken, car broken. We shouted her, don't say like this and started our journey for Amritsar, Punjab. Just came 200 mtrs ahead till main road and suddenly car gears stop operating. We pushed and parked car at roadside and called our mechanic in Pune as well as skoda garage in Jammu. They both asked for video. After seeing video both said that a part called Mechatronics which is in gear box has to be changed. And it costs Rs. 90000/- + labour charges. Someone at Katra suggested us that leave your vehicle here and go to Pune by train. Come after some days as per your convenience, repair car and take it with you. We didn't like this option. We searched on Google and found one garage at Katra named Ganga Automobile and called there. After some time mechanic came with laptop, he saw on machine and said that there might not be major problem, I will take your car to garage and will repair within 1-2 hours. As we were traveling since 5 months, we have too much luggage in our car, we took out all luggage. Then garage guy called crane and towed our car to his garage. Me and Papa went with them. After reaching garage, car mechanic did something, changed spark plugs but no results. Meanwhile we checked in hotel Ma Saraswati, Katra. After coming to hotel we discussed with our relatives, some suggested that load your car in truck and send to Pune and then repair car at Pune. Then we enquired about truck and finalised one Pappu Transport at Rs. 50000/- to take our car to Pune. We sent Rs.10000/- advance through google pay.
Next day on 5th January 22 at 1 PM truck came to Ganga Automobiles to load our car. It was raining heavily. Me, Mom, Dad went to Ganga Automobiles with the luggage, which is not necessary to us. We decided to put small luggage with us which we can carry while traveling by train. All extra luggage e g. Extra clothes, sweaters, jackets, shoes, chappals, newly purchased things, toys etc we packed neatly and thaught to load in car, so that will go to Pune with car. But our bad luck that we couldn't load our car in truck. No one cooperated with us to load the car in the truck. Truck driver, cleaner or garage guys not helped us. On the other hand owner asked us to sale car at Rs.50000/- to him. When we said we are not ready to sale he said that I will call hydraulic crane which will lift your car and put it in the truck. We said ok and as there was 2-3 hours time to reach hydraulic crane, we requested truck driver to wait and we came back to hotel. As we came, truck driver went back without informing us. So we cancelled idea of sending car and decided to repair it in Jammu. We contacted Mr Mahavir, Suhana Safar Travel's, he said that he will arrange for crane and lift our car to Jammu and will repair our car at a garage in Jammu.
On 6th January we checked out hotel Ma Saraswati from where Mr. Ajay Sharma picked us and took us to Ganga Automobiles. At 12 noon crane of Dubai Motors came and loaded our skoda superb and took to their garage in Jammu. Then Mr Ajay Sharma took us to Amrita Hotel, Jammu where we checked in and then with him I went to Dubai Motors Garage Jammu. Mr.Sharma charged Rs. 2000/- for whole day. In the morning I called Pappu Transport and asked to refund my money Rs 10000/- as there was not fault from my side, driver went return with truck without informing us and didn't wait till hydraulic crane come to load our car in the truck. But Pappu Transport refunded only 4000/- out of my 10000/-.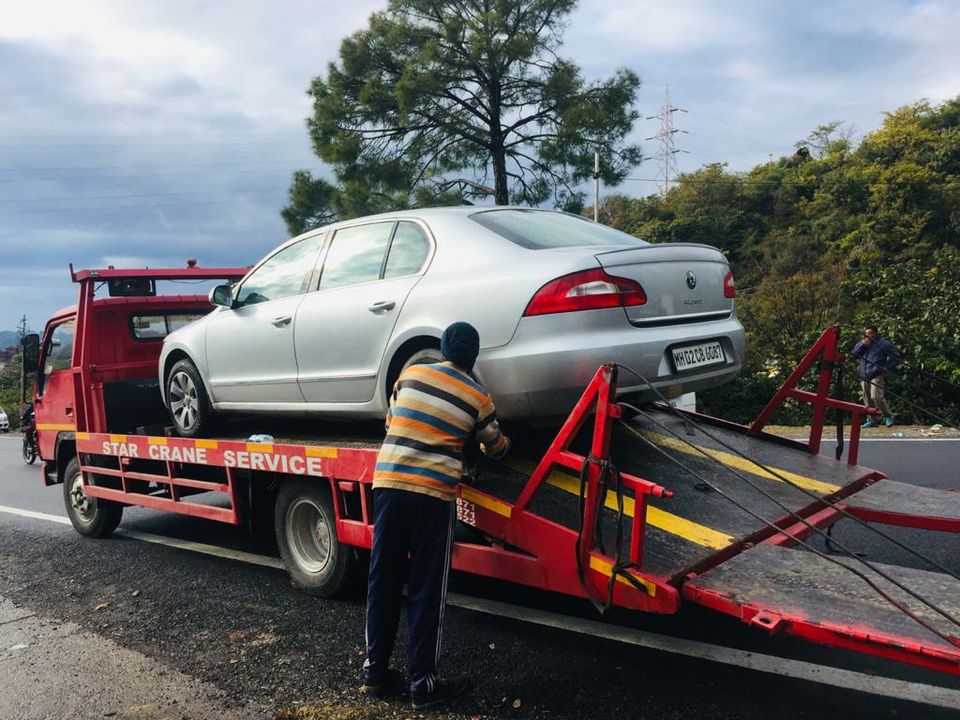 On 7th January 22 Dubai Motors, Jammu examined what is wrong with car and at the end of the day told us that Mechatronics should be changed and gave quotation 80-90k verbally. I told him that search for second hand part as I can't afford new part right now. Garage owner said that part can be searched in Delhi only but on 8th and 9th there is Saturday and Sunday and strict lockdown in Delhi due to rising cases of COVID-19.
In the evening we went to Raghunath Temple which is at walking distance of our hotel Amrita.
Raghunath Temple, with seven shrines each with its own `Shikhara`, is one of the largest temple complexes of north India, located in Jammu city. Maharaja Gulab Singh and his son Maharaj Ranbir Singh built the temple, during the period of 1853-1860. The temple has many gods enshrined, but the presiding deity is Lord Ram, an avatar of Lord Vishnu.
The gigantic Raghunath temple has seven lofty `shikharas`, where every shrine has its own shikhar. On the very entrance to the temple, a portrait of Maharana Ranbir Singh and an image of Lord Hanuman exaggerate the site. The central shrine is dedicated to Lord Ram/Raghunath, who is the commanding deity. Apart from the main shrine, the other shrines encompass various incarnations of Lord Vishnu. There is another remarkable shrine of Lord Surya (Sun God), which houses different forms of the Lord. Inside the temple there are other shrines that house colossal statues of the Hindu gods and goddesses. It is notable to mention here that gold sheets envelop the interior walls on three sides of the temple. It also has a gallery, where various `lingams` (phallic form of Lord Shiva) and `saligrams` are placed. Raghunath temple comprises almost all the images of the Hindu Pantheon, an unusual embodiment in temple architecture. Sermons and rituals of the temple include both morning and evening aarti. Camera, mobile, bags, purses strictly not allowed in temple premises. It is to be put at locker. This evening we felt blessed with a divine experience.
On 8th Jan 22 we thaught that on Monday garage mechanic will search for part, then next day it will be delivered from Delhi to Jammu, next day fitting, then company coding, all this would take at least 4-5 days. Till then we have to stay in Jammu doing nothing. So we decided to go Varanasi for Kashi Vishwanath darshan and reserved train tickets for it.
On 9th January 22 at 12 noon we checked out hotel Amrita, Jammu and at 2 PM we boarded Begampura Express (Jammu to Varanasi) and reached next day 10th January to Varanasi at 12.30 PM. On 11/1/22, Rs.30000/- google pay done to Dubai Motors Jammu as a advance for car work.
10/01/2022 to 13/01/2022 we spent time in Varanasi. On 14/01/2022 again we boarded Begampura Express from Varanasi at 12.40PM for Jammu. But on 15th January 22 early morning, we called Dubai Motors Jammu to ask whether car is ready, he said he changed Mechatronics, sent car to company for coding but it didn't match so you have to change full gear box. We thought again it would take 2-3 days, yet Jalandhar station has to come, we immediately decided to get down at Jalandhar and go to Amritsar and we did it. After getting down to Jalandhar at 9.30 AM we came to know that next train to Amritsar is at 13.40. So we went to bus station and went to Amritsar by govt. bus. Bus started at 11.30 AM and reached Amritsar at 2PM. By auto went to Hotel M M Paradise. After fresh n up went to Golden Temple, Amritsar which is at walking distance from our stay. On 16th January 22 morning we went to Jahajghar ( a huge market where you can get all second hand parts of scrap, abandoned, accidental cars in cheaper, reasonable rate) for enquiry of gearbox. Here we met a guy Mr.Kamal who, after hearing our car problem promised us to buy our car at 80K and will lift the car from Jammu. Afternoon we went to Jallianwala bagh, in the evening did shopping, booked tickets of 17th January 22 for Jammu. Per head ticket was Rs.550/- Bus started 5.45 AM for Jammu. Reached Jammu on 17/1/22 at 10.30 AM. Again checked in hotel Amrita, had nonveg lunch at nearby hotel which we did not like, went to railway station enquired about parcel service, charges, timing etc., went to garage with Mr.Mahavir, talked to garage owner, asked him about refund and also asked him to search a customer for our car and came back to Amrita hotel.
On 18th January 22 morning after having breakfast me, Papa and Mom went to Dubai Motors Garage Jammu by auto, asked auto driver to wait for 10-15 minutes, took out all our luggage from car, loaded it in auto and me, Mom went to railway station to parcel it to Pune. One guy near railway parcel office packed all our luggage in 3 big bags, charged Rs.500/- for this. Then we weighed it, it was 73 kg, we handed over our 3 parcels to railway authorities, we were charged Rs. 760/- to deliver parcels at Pune. After taking receipt we called Dubai Motors for refund and asked him for customer for our car, he said I will refund 20k out of 30K as 10K is my crane rent and repair charges and a customer is coming for your car within an hour, so we again went to Dubai Motors Garage by auto. After half an hour 2 guys came, saw our car and gave us Rs. 1.25 L (50K cash and 75K online payment but Dubai Motors owner didn't refund our 20K), we handed over documents and car key to them, signed a document regarding sale-buy and left garage by 4.30PM with disappointed mood saying bye bye to our Skoda Superb in which we travelled Maharashtra to Kanyakumari and from Kanyakumari to Kashmir. We immediately booked our tickets for Jaipur. Came to Amrita hotel at 5PM. requested manager not to charge for today but he didn't listen, we paid charges for 2 days and checked out immediately, boarded train at 6 PM for Jaipur and reached Jaipur on 19/01/22 at 10 AM. Checked in hotel Gandharv.