Australia, the 'Land Down Under' is home to some of the most rare and diverse treasures that lie enveloped within our planet. One of Australia's major cities, Sydney, is all about offering magnanimous experiences – grand music concerts inside the Sydney Opera House and surfing across Bondi Beach. While these iconic destinations attract swarms of tourists, a major part of New South Wales still awaits exploration. So if you're looking to explore more than what just the mainstream has to offer, visit New South wales and enjoy a variety of experiences.
Reaching New South Wales:
The best way to travel from India to New South Wales, Australia is taking a Malaysia Airlines flight. The airline offers affordable flights that provide seamless connectivity between Indian cities and Sydney in New South Wales. Apart from the fact that the seats of Malaysia Airlines are extremely spacious and comfortable, it is the in-flight service that will truly leave you surprised. The staff on board is caring and sympathetic and ensure that all your needs are met. The airline also offers services such an in-flight shopping, choosing seats in advance, as well as travel protection. If you're someone who likes to travel heavy, you don't have to worry about spending a fortune on extra baggage. Simply pre-purchase extra baggage on nominal rates and you're good to go.
With impeccable service that Malaysia Airlines provides, your journey will become as joyous as your destination.
Enjoy a plethora of activities in New South Wales
Sydney, the capital of New South Wales, is one of Australia's largest cities! With its spectacular harbour-front and glorious beaches, Sydney offers a visual impact like few other places in the world. Visit the Sydney Opera House for its distinctive sail-like design, the massive Darling Harbour and the smaller Circular Quay port to experience waterside life, and Sydney Tower to get a 360-degree view of the city and suburbs. You can dine at the revolving restaurant here. If you go around May-June, you might be able to witness Vivid Sydney, a spectacular annual festival showcasing music, lights and ideas!
Located west of Sydney, Blue Mountains is a destination where you'll see the best of the most fascinating natural wonders. With steep cliffs, waterfalls, gardens and thick forests, Blue Mountains makes for a great day trip.
Where to go: The Glow Worm Cave is yet another once in a lifetime experience where you can witness hundreds of glow worms lighting up a cave! These are short, guided tours where you'll be taken through caves blanketed with a shimmering web of worms. This is a walk that you must take if you want to experience something that is outlandish yet beautiful at the same time.
This is the best way to explore the beauty of Blue Mountain. Scenic World offers numerous rides that can be set at different inclines to explore the area from a bird's eye view. These rides give you a chance to explore Three Sisters, Katoomba Falls and Jamison Valley. One can choose from cable ways, sky ways, rail ways and walk ways to explore the landscape.
These super-fascinating caves are the oldest in the entire world. And thus, must be on top of your list during your trip to New South Wales. To make the experience even more exciting than it already is, there are night tours, ghost tours and even caving on offer here. Jenolan Caves also has numerous food and lodging accommodation available in the areas surrounding it.
Situated in the Hunter region of New South Wales, Port Stephens is a breathtaking beach town that boasts of a stunning landscape and views you will not find anywhere else. From lounging on picturesque beaches to hiking on the mountains, the town offers numerous recreational activities for international tourists. Moreover, the town is not as crowded as Sydney, so one can truly immerse into its pristine environs and adventure activities as you experience the best of Australia.
Where to go: trip to Port Stephens is incomplete without trying an exciting hike to Mount Tomaree. The mountain towers over Port Stephens and its coastline, from where you can enjoy stunning views the faraway Cabbage Tree, Boondelbah and Broughton islands. Once at the summit, you can have a lovely picnic overlooking Port Stephen's resplendent beauty.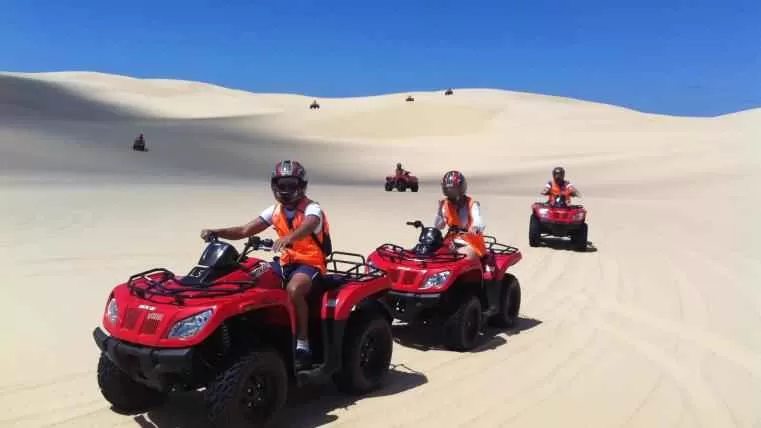 What to do: Go on a dolphin-watching cruise, a sand-dune safari or a quad bike drive across Port Stephens for the ultimate adrenaline rush!
Where to shop: Don't forget to visit the Sacred Tree night market at Nelson Bay. Imagine swaying to music and shopping by a beach! Held during spring and summer, the Sacred Tree Night Market is a festive event that combines culture, handicrafts, music, art, dance and food of Australia all in one place! You can enjoy the company of local artists and shop from local designers here.
This is a crescent, white sand beach where you can spend a day of splash and fun! Its minty blue waters and cotton-soft sand make for an ideal spot for swimming and snorkelling. In fact, in some spots of the beach, you can hand-feed beautiful fish like mullets, garfish and silver drummer. Especially if you're with kids, this is a standout experience.
Where to go: Make sure you visit Coffs Harbour when near Neds Beach. Coffs Harbour is yet another precious gem that demands your kind attention. This is an off-beat, laid back destination that offers an escape from the swarms of tourists in Sydney. Home to a number of islands, marine parks and botanical gardens, a trip to Coffs Harbour will leave you in love with Australia.
This is the star highlight of Coffs Harbour as it is the sacred abode of a local aboriginal community. The island offers pristine view of endless blue seas and Solitary Island; if you're lucky, you may even spot a pod of whales.
What to do: Want to spot dolphins, seals and penguins? Then visit Dolphin Marine Magic that serves as a rehabilitation centre for these animals. The good thing about the centre is that it does not offer animals for show or entertainment, but gives you a chance to observe them as they go about their day. Of course, you can play with them and kiss them if you like!
Situated north of Sydney, Hunter Valley is known for its spectacular gardens and being home to major wineries in Australia. From global wine brands to local, boutique brands, Hunter Valley is ideal if every hour is wine o'clock for you. The gorgeously landscaped gardens house more than 6,000 trees and shrubs. While you can spend your day appreciating the garden's beauty, you can also opt for custom-built rides in the park. In addition, there is a shopping village that features bespoke shops that sell glassware, handicrafts, wines and coffees. If you're going during the weekend, you can enjoy live music along with amazing food. In fact, the gardens are at their best during the night.
Wine tours: If you're in the wine capital of Australia, you simply have to take wine tours across the region. If you're visiting during May or June, you can attend the Hunter Valley Wine and Food Festival where you can taste some great wines!
So get on board Malaysia Airlines and explore the treasure of Australia like never before!
In association with Malaysia Airlines.
Have you been to Australia? Create a blog on Tripoto and tell travellers all about your experience!
Frequent Searches Leading To This Page:-
Top places to visit in Australia, weekend getaways from Melbourne Australia, weekend trips from Melbourne Australia, best place to stay in Australia, Australia tour package cost from India