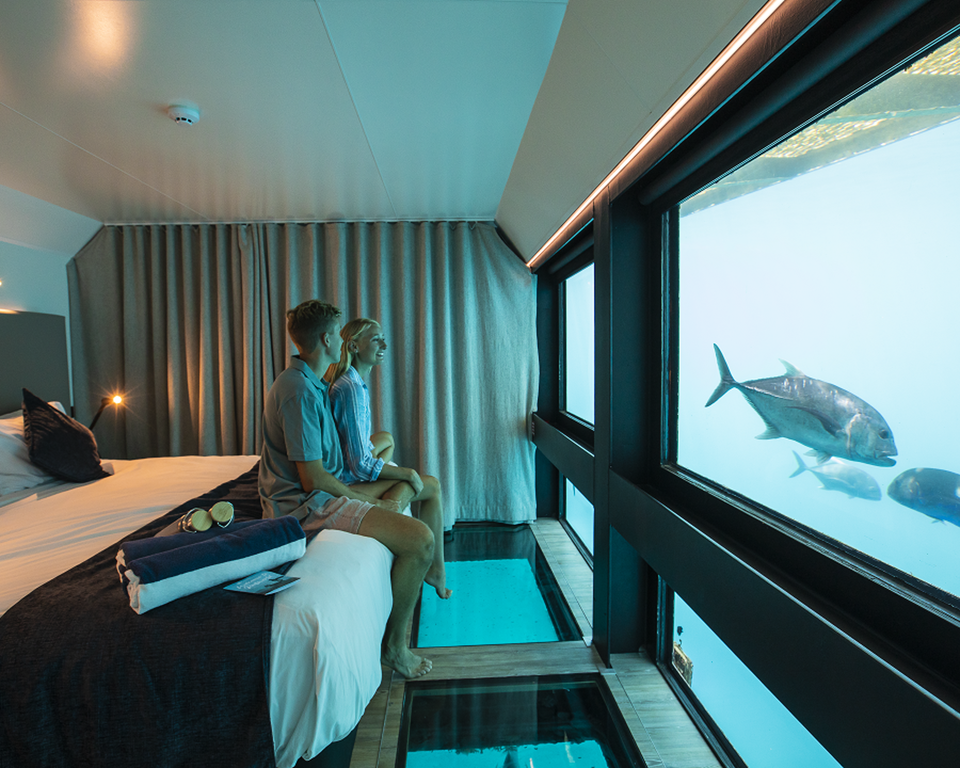 After a whole day of exploring Australia's wonders, you come back to a stay that not only feels like a home away from home, but is an exquisite attraction in itself. In Australia, your accommodation can be one of the highlights of your trip. You can experience the ocean like never before in underwater suites, laze in the lap of the world's oldest rainforest, or surround yourself with World Heritage-listed mountains in a treetop utopia. Check out these eight exceptional hotels for your next Australian getaway.
Reefsuites, Great Barrier Reef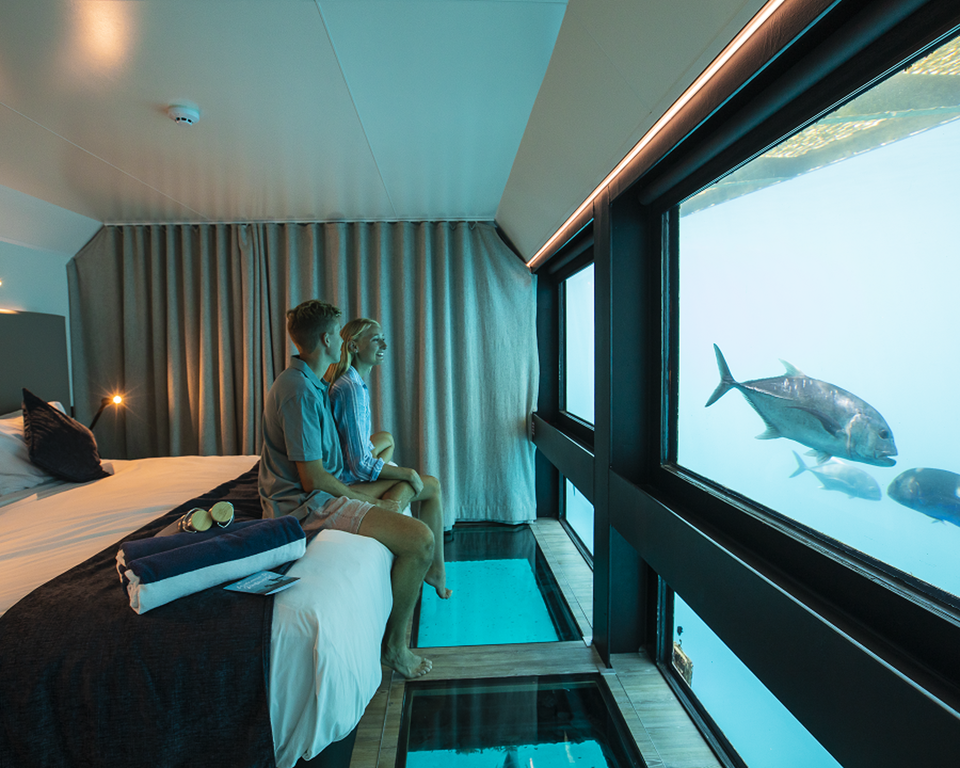 Indulge in an unrivalled perspective of the stunning Great Barrier Reef—the planet's largest coral reef system—at Reefsuites. This remarkable underwater accommodation is moored offshore at a pontoon in Hardy Reef, 74 kilometres from Airlie Beach & Hamilton Island. Guests can awake to the sight of mesmerising marine life swimming past the lavish king suite surrounded by the reef. Getting to the destination is a breeze with many flights available. Proserpine Airport (Airlie beach) and the Hamilton Island Airport (Hamilton Island) are the nearest arrival points. From there, a cruise to Hardy Reef pontoon completes the journey.
Reefsleep, Great Barrier Reef
Embrace another unforgettable experience at Hardy Reef with Reefsleep—a rare two-day and one-night opportunity to sleep under the stars and above the Great Barrier Reef. Take a plunge from the permanently anchored pontoon into crystal-clear waters and explore this natural ecosystem through swimming, snorkelling, and diving. Don't miss out on the chance to spot Humpback Whales that annually migrate between July and September.
Daintree Ecolodge, Daintree Rainforest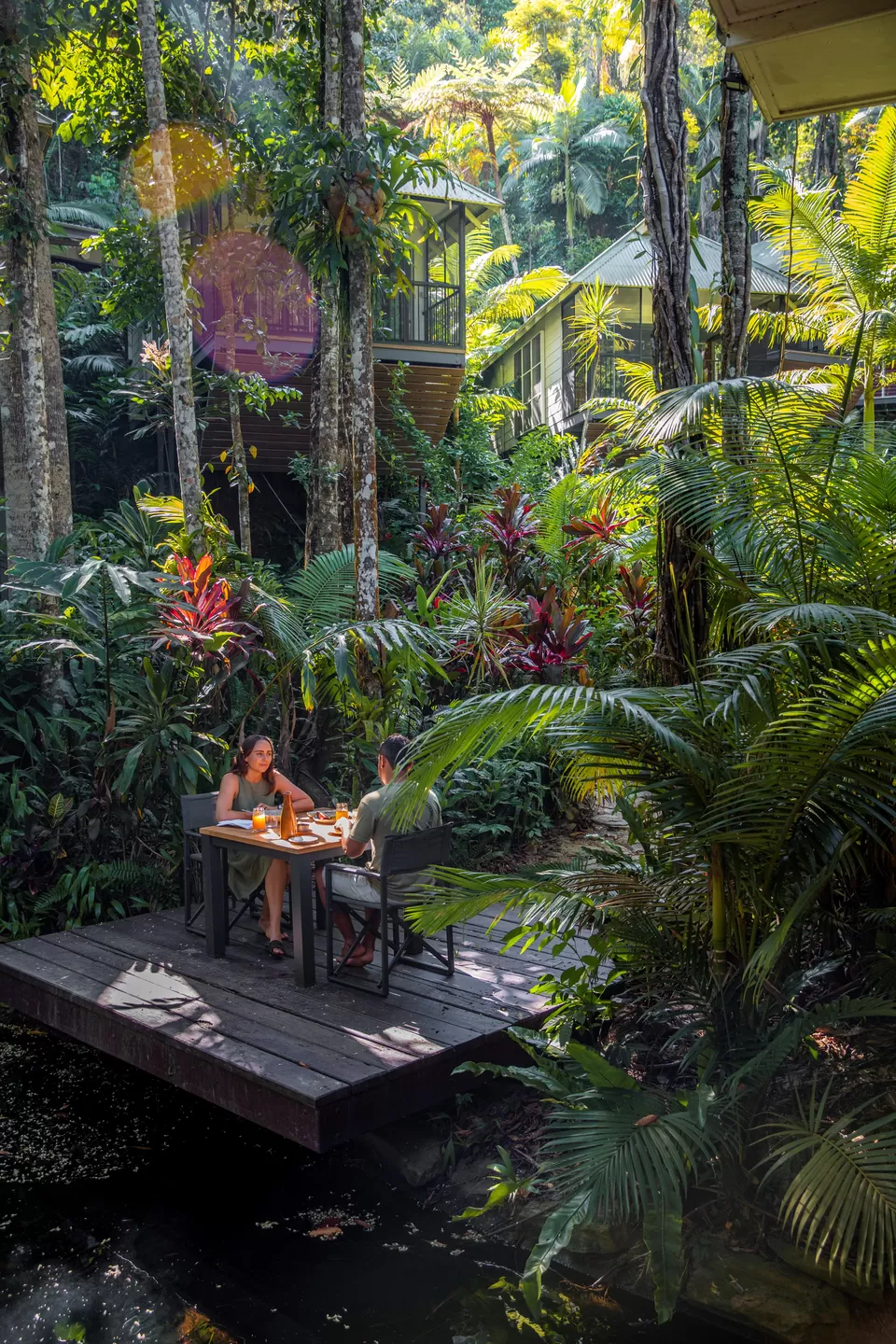 Escape to the sustainable luxury of Daintree Ecolodge, the only boutique accommodation in the World-Heritage listed Daintree Rainforest. Despite being just 90 minutes from Cairns and 40 minutes from Port Douglas, this tropical haven offers unbelievable seclusion. Relax in eco-friendly bayans (treehouses) high in the rainforest canopy, wake up to birdsong, and discover a private waterfall on a rainforest walk. Savour native cuisine, immerse yourself in Aboriginal culture, and indulge in world-renowned spa treatments infused with Australian botanical ingredients.
Secret Treehouse, Blue Mountains near Sydney
Step into a magical world at Secret Treehouse, where you can live among birds, nestled high in the forest canopy. A mere hour and a half's drive from Sydney, this nature-filled retreat boasts stunning floor-to-ceiling glass windows that provide 360-degree views of the magnificent Bowen's Creek Gorge and Blue Mountains rainforest. For an indulgent experience, guests can request in-cabin massages, twilight glow worm tours, and gourmet catering at an additional cost.
Roar and Snore, Sydney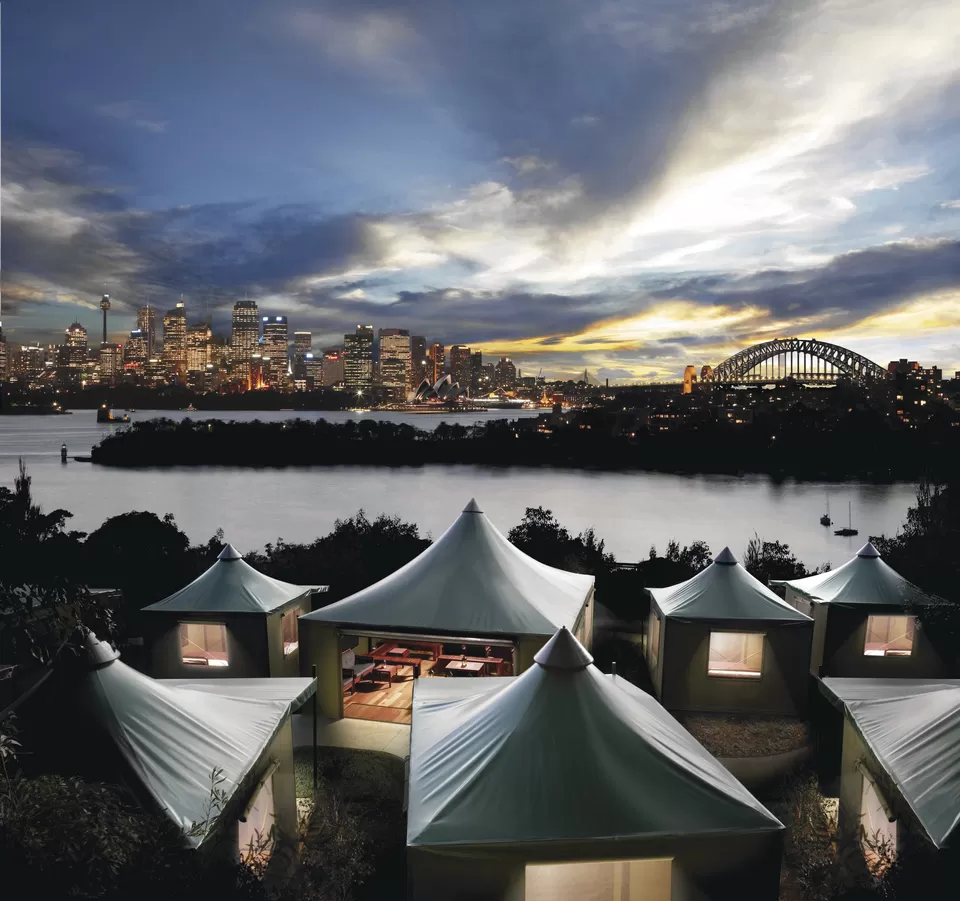 This safari-style accommodation guarantees to bring you closer to nature. Located in Taronga Zoo, just a 12-minute ferry ride from Circular Quay ferry wharf near the Sydney Opera House, Roar and Snore offers an unconventional glamping experience where you can enjoy stunning Sydney Harbour Bridge views and listen to the sounds of wildlife at night. The animals are placed in protective enclosures to avoid direct human contact. This overnight stay is as unforgettable as it is educational.
Hotel NO, Melbourne
Tucked in Melbourne's thriving CBD is Hotel NO, an out-of-the-box accommodation experience. This quirky hotel dazzles with six shiny chrome airstream trailers, ingeniously transformed into designer urban accommodations, positioned atop a car park. Enjoy rooftop bedrooms, retro Airstreams, and a complimentary mini-bar in each room. For an extra luxurious stay, select trailers that feature a private hot tub with awe-inspiring views of the cityscape.
YHA Fremantle Prison, Fremantle near Perth
Stay in a unique hostel within the walls of the World Heritage-listed Fremantle Gaol, a former prison built in the 1850s! Sleep in a real cell and explore the history of the inmates. Choose from a variety of accommodations, including twin share and multi-share rooms in historic buildings or private ensuite and family rooms in a newly-built section. Start your Fremantle adventure with a tour of the historic gaol before discovering the town's popular bars and restaurants.
Jamala Wildlife Lodge, Canberra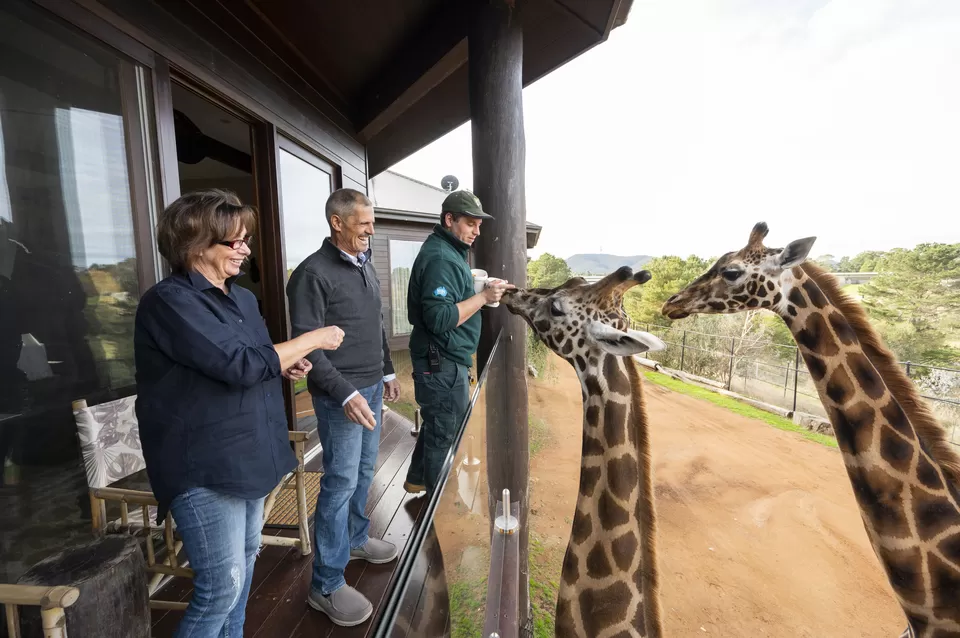 Jamala Wildlife Lodge is where man meets the wild. Here's your chance to not only get up close with wildlife, but also learn about the importance of conservation. You'll have the unique opportunity to stay in Giraffe Tree Houses—where you can look at giraffes from your windows—and Jungle Bungalows, where a glass wall is all that separates you from a pride of lions, a cheetah, tigers or a pair of Malayan sun bears!
Australia offers a plethora of unique accommodations that elevate the concept of luxury and redefine the art of hospitality. From remote wilderness retreats nestled amidst untouched natural beauty to extravagant eco-friendly resorts that seamlessly blend with the environment, the country caters to every traveller's dream. Whether you prefer sleeping under a blanket of stars in a luxurious swag, experiencing the charm of heritage-listed lighthouses, or waking up to panoramic views from a treetop canopy, Australia's diverse range of accommodations guarantees an unforgettable stay.
In association with Tourism Australia