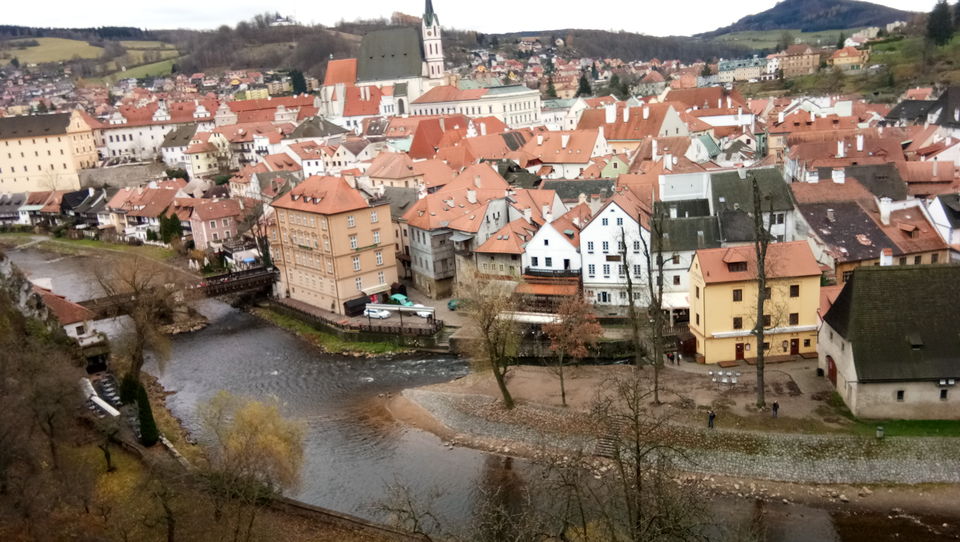 We have traveled to vienna, salzburg and prague (8 nights 9 days total) in Nov-2017. I will share my experience, which may help other people (particularly indian and vegetarian people) to plan their tour. I will share my experience and info on hotels, transport, restaurant and must visit places and must do tours..
We booked through company named pickyourtrail which is based in chennai through traveltriangle app. I would also share some comments on my tour operator. Their service is amazing, they provide 24*7 support while on tour even from India and work really harder to guide you for whtever help you need. Rates they provided was also reasonable. If you book same tour yourselves, it will amost cost same or 10-15K more or less, but all your headache goes with them, they took care of everything. Flight tickets, Hotel (all 4*), Visa assistance, Travel insurance, Sightseeing tours, Airport transfer – these all were included, around 2,03,000/- for two people for 8 nights and 9 days. Agni, Jaideep & Sunil – these three guys assisted throughout, Jaideep assisted throughout tour, these guys worked really harder, hats off to their dedication!!
Only thing they can improve is providing local tour guide or providing details about itinerary, explaining places, where to go, how, timing, guide for metro/tram/public bus transportation from and to hotel, train station and sightseeing places, Better communication to hotel regarding room with special view desired, better seat selection in flight (by mistake they selected seat beside emergency exit on flight so it was non-reclining, thankfully that was 2 hour flight from Prague to Paris) etc etc.
Jaideep(Pickyourtrail tour) – Phone no : +91-9444705704
Agni (Pickyourtrail tour) – +919884704878
Seat selection in flight:
Select seats yourself in flight, if you are a couple, there are some rows having only two seats in those rows. Most of the rows have three seats left and right side and four seats in middle, if you r couple, I suggest to select row having two seats in left or right side (one window seat). Also check premium economy fare, if it is not much higher, I recommend premium economy over economy for flights lengthy than 8 hours duration.
Travel card :
You can either buy travel card from your bank (ICICI or axis or HDFC preferably) or One currency card from Thomus cook. If you are traveling to single country, Multicurrency card by your bank would be good , if you are traveling to multiple countries, single currency (USD) card from Thomas cook would be best as it would not have any cross currency charge in any country . Benefit of card from bank over Thomas cook is that you can recharge your travel card even online if you need.more money , while in Thomas cook, you can't recharge it online or offline after getting it while outside India.
I got travel card from ICICI bank loaded with EURO, which was very convenient and worked everywhere.
Sim card:
If you buy matrix or any sim card from airport, it would cost more than 2500-3500/-. I bought b-free sim card for 10euro from post store in Vienna, (it is available in any store in Vienna), and activated b-free large package, which gave 1000 min, 1000 sms and 7-8 gb data for 30 days and work in any european country without extra roaming charges.
Hotels:
In general, i feel that spending money in any european hotels (Atleast in Vienna, Salzburg, Prague) is not worth irrespective of their brand and star, as none of them offers 4 star hospitality, service & facilities like International 4 star hotels. They don't accompany you to your room and showing amenities, don't send someone to assist for your luggage to your room. They charge for everything (Water, adapter for charger, 50-100 euro security deposit extra , No room service, you need to go to reception if you need anything, no complimentary water bottles, and for vegetarian – no veg food in breakfast except bread butter and fruits). So i feel booking AirBnB or if you are alone, booking in hostel is fun as well as affordable and in Airbnb apartments you can have kitchen as well so you can cook Ur food urself, or if you are booking hotel, then book any cheap hotel with good review with superior category of room rather than going for 4 star hotels only..
So while booking hotels, keep following things in mind :
Distance from City center, if far, if they provide free shuttle service or not. Unless it is quite unique hotel/room, prefer hotels nearby city center, as all sightseeing places and good restaurants are usually near city center/main train station.
If you are vegetarian, inquire if they prepare vegetarian food for you in breakfast, or vegetarian restaurant nearby. (Book hotels where more vegetarian/Indians usually go, they might prepare Indian food for you)
Make sure of mentioning about double bed room if you are couple else you might get room with two single beds. Make sure about specific room view you want while booking – Garden facing, city facing etc depending on hotels, check review and room tips on tripadvisor
Check for nearby vegetarian or indian restaurant while selecting hotel/Airbnb.
Confirm security deposit charge of hotel before booking, some hotel charge per day basis, 50euro per day. And don't give debit card for it, give cash so while checkout you get it back. It has been 6 days but I haven't received 100 euro security deposit back from grand Wyndham hotel , Salzburg yet which was charged from my debited card, they told it would be refunded back in 24 hours of checkout. So don't give Ur card, give cash only..
I stayed in Following hotels (All are 4 star) :
Vienna :
Hotel Hilton Garden inn (3.5/5)
Salzburg :
Hotel Wyndham Grand conference center (2.5/5)
Prague :
NH Hotel Prague city (Upper building, mainly due to cable car and city view) (4/5)
Airport Transport:
For airport to Hotel transfer, you can either prebook taxi in advance or if you have already got international sim card with data, can book with good rates from uber on arrival. Our tour operator booked cab with suntransffer.com , for pickup , we got luxurious Mercedes car , it was awesome. For drop, regular sedan.
Sightseeing
You have three options everywhere, 1. guided tour 2. hop on hop off 3. public transport, i recommended either public transport and roam on your own after research or do guided tour + public transport, hop on hop off isnt much good unless you have done good research, and if you have done research, better to use public transport than wasting money in hop on hop off. For certain places, guided tour is must (e.g. Salt mine tour, salzburg, PRague castle tour, Ceske Krumlov tour, Walking tours etc)
Vienna :
Days : Atleast 2-3 days recommended
Mode of transport : Public transport is great if you research about directions, pickup and drop points, bus/tram/metro routes and numbers from and to hotel etc.. Can easily get from google maps. You need to reach opera house (city center) from anywhere and visit all places from there..
Else you can book 48 hours hop on hop off (with audio guide) or guided our for one day and second day public transport.
Our tour operator booked Hop on hop off from Vienna sightseeing company , it was good, had audio guide inside bus and wifi also inside the bus. It has four lines (Red, Green, Yellow, Blue) , so you need to do proper research where to go and where to change bus etc etc.. Big bus is another company, which has two lines only, you can check reviews of that and try it as well.
Also do guided walking tour if available when you visit. Check for timings of same.
Places:
Redline:
-Area nearby opera house (Nice streets, Many shops, must visit in evening)
-St.Stephan Cathedral near opera house
-Various palaces nearby opera house/Heros square
Blue line :
-Giant Ferris Wheel & Madame Tussaud's Wax museum (Must visit , buy combined ticket, it would be around 26.10 euro for one for combined ticket)
-Daube tower
Yellow line :
Schönbrunn Palace (Must visit, we could not visit from inside, but everyone recommends to visit it)
Green line :
We didnt get time to visit green line and nothing much particular in green line, but you should definitely visit from inside bus if you book hop on hop off and have time.
Restaurants :
Many vegeterian and indian restaurents near opera house and city center, google it or check on trip advisor.
Salzburg :
Duration : 2 days minimum, if you have time, 3-4 days.
One day for city tour, one day for old city tour including fortress, one day for baverian mountain and saltmines tour (Takes you to Germany) – eagle nest also if you have time and it is available (not available in winter )and lakes and mountain tour and one day for Hallstatt.
We booked hop on hop off city tour one day and Bavarian mountains and salt mines tour next day.
Hop on Hop off city tour is useless, don't book it. Public transport is better. Sound of music tour has good review than hop on hop off for city tour, we booked salt mine tour with same company which provide sound of music tour.
Places to visit :
Fortress : 5/5 (Must visit, 15.20 euro per person for standard ticket, 12-13 euro for basic ticket) need atleast 5 hours. Can spend almost whole day..
Old town, on the way to fortress, you will see one great street, just roam around there..
Mirabell garden (Awesome)
Mozart bridge
Area nearby train station, just walk around and you will enjoy it.
Bavarian mountain and salt mine tour : 5/5 ( Must do this tour if you are visiting saltmines, our tour operator booked with panoramatour, it was great.
Free guided walking tour also you can do if available, check timings of same when u start your sightseeing and schedule accordingly.
Restaurant :
-Spicy spices (Must visit if you are indian/pure vegeterian)
-Organic pizza (Serves vegan pizza) , nearby above restaurent
-Lucky food truck near mirabell palace, just next to church
-Many other indian restaurents you can find on tirpadvisor
Prague :
Duration : 3 days
We had Hop on Hop off tour by city sightseeing tour prague which included 1.5 hour prague castle tour, 1 hour jewish quarter tour and 1 hour Vltava river cruise. These 3 tours were best but hop on hop off city tour was useless. I recommend to book guided tour one day and then public transport, must include prague castle guided tour. Experience cruise either in vienna or in prague, no need to book at both cities.
Places :
-Old town square and nearby streets
-Prague castle (Must do guided tour and must visit place) – need atleast 2-3 hours.
-Charles bridge (Awesome place)
-Ceske-krumlov tour – Must do (180km from rague, 9-10 hour guided tour by company – praguebustours which includes lunch and pickup drop from hotel, and it was best)
Restaurant:
-Taj Mahal Express (It was just beside our hotel – NH Hotel prague city, delicious indian food, aloo paratha was awesome)
-Many other indian/vegeterian restaurents you can find on zomato/tripadvisor (Dhaba beas, Indian jewel, loving hut etc)
Certain things to keep in mind while travelling in Europe :
1. They charge for water (Tap water is free) everywhere, you don't get water for free even in most of the restaurant. So keep water bottle with you all the time. (In Prague, variety of water bottles available ranging from 5CZK to 150-200CZK)
2. Toilets are paid almost every where in Europe , so keep small currency or coins with you all the time while outside Ur hotel. 0.50 euro in Austria , 10-12 CZK on Prague. It is free inside hotel and restaurants but paid almost at public places and perheps at train stations as well.
3. If you are vegetarian, make sure you either ask for vegan food or ask for vegeterian food mentioning without eggs and fish, as they may not understand vegetarian & may consider eggs and fish in vegeterian.
4. For bus and tram tickets & At metro station also, you may need coins for ticket, so always keep sufficient coins with you.
5. Don't exchange Ur currency at airport or train station unless emergency. As they don't give better rate and take service charge extra.
6. Book cab from uber directly from Google map (uber x) , it is cheaper than private cab and even cheaper sometimes than booking directly from uber app.
7. Carry gloves and cap / muffler also along with jackets in winter, else you will be freezed. ????
8. You can buy 24/48 hours pass for metro/ other public transport also, which will give unlimited access to it and reasonable as well. Some buses are even free absolutely and every 3-5 min usually, you get buses or tram.or metro , use Google map for route, nearest station and number of stops in between and number of tram/bus/metro.
9. Do research about sightseeing places and mode of transport if you haven't booked guided tour, else you will be much confused during travel and will miss some places and won't be able to manage in time.
Frequent searches leading to this page:-
Europe tour packages for family from Delhi, Europe tour packages for family from India, Europe tour packages for family from Mumbai, Europe tour package from India, best things to do in Europe during winter, best things to do in Europe, unusual things to do in Europe, extreme things to do in Europe