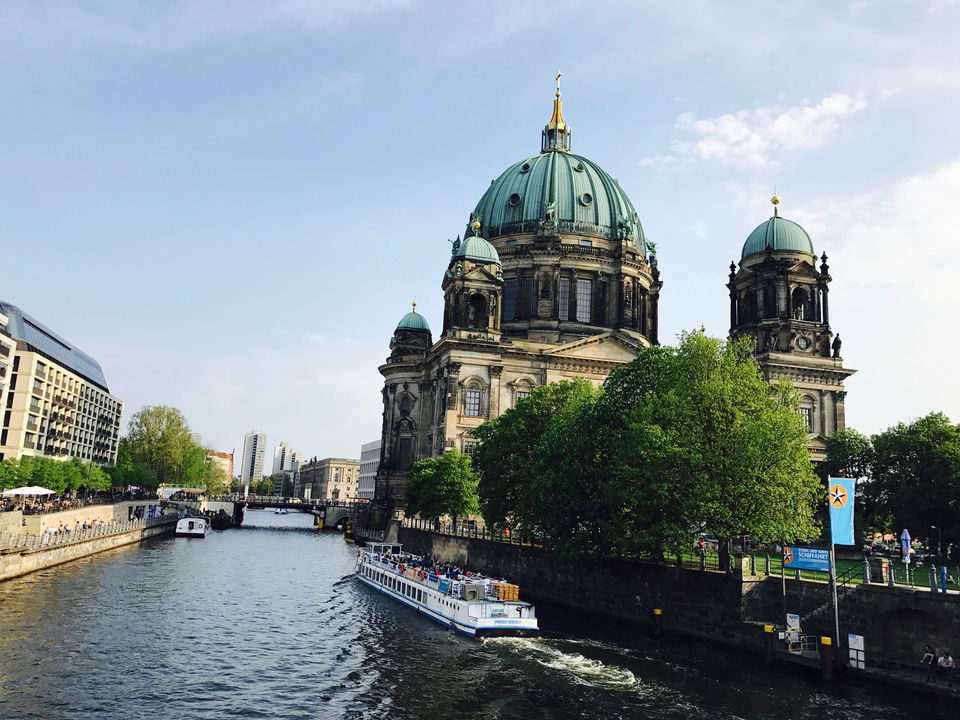 The travel itchy feet syndrome is one where you cant wait to take off on another adventure and I had this for more than a year. After 2017 being the year of leg injuries I was itching to take a vacay. Having travelled across most of SE Asia, Europe was top on my list. The Husband was unable to take leaves, yes, it gets difficult to coordinate calendars, and since I had some friends scrattered across Europe, I decided to do a somewhat SOLO trip. After a lot of additions and deletions I picked to do Central/Eastern Europe on this trip starting in Germany. What started as an ambitious plan of covering 9 cities from Brugges to Budapest was shortened to 7 cities thanks to reality and ofcourse limited number of leaves. After I received a "3 weeks holiday!" exclamation from my boss who then agreed with a Ja Simran Ja dialogue, I said a big thank you to him and started planning it.
Now when you try to do a Euro trip on your own (without using a travel agency), its almost like a full fledged project planning and execution for close to 3 months! With my birthday falling in May I chose 3 weeks around that timeline (flight ticket costs were also a factor) narrowing down on 3rd week April until 2nd week of May (I wanted to avoid the peak touristy season which is June onwards). Its really really hard to pick areas and regions to cover in Europe cuz there is so much to see! I also wanted to spend atleast 2-3 days in each city to not make it a whirlwind trip. Hence started the planning of my budget Euro somewhat solo trip.
So next.. decision points & bookings - cities to go to, route to take, booking of tickets, inter city travel tickets, accommodation, giving enough time for visa documents prep and submission (takes about 2weeks or so) and ofcourse Itinerary in each city. Thank god for excel sheets!
1. Cities - I narrowed down basis my interests in history, culture and adventure and also basis calendar availability of my friends. I had to do some permutations & combinations to arrive at the apt duration that I would stay in these cities and the route to follow - to ensure its optimal so that it isn't too much back and forth, it coincides with weekends for my friends and not too expensive. The final route I chose was to do a round robin.. easy peasy.. Frankfurt-Berlin-Prague-Vienna-Budapest-Salzburg-Munich-Interlaken-Frankfurt. Since I had a direct flight in and out of Frankfurt, I chose that as my entry and exit points. Booking flights 2 months in advance helps in managing costs - point to note my lord. My friend in Frankfurt decided to join me in Berlin, another friend in Budapest and one in Munich. So weekdays were solo travel. Weekends were with friends!
2. Inter-city travel and Acco - the travel and acco have to be booked in advance as the proofs need to be given for visa application. More so if you are a solo woman traveller. That means planning or rather a birds eye view of your itinerary as well. I had started my research on this by reading up on what to do in the cities, watching Rick Steve's Europe videos on Youtube (they are quite good) and speaking to my friends. I picked spending an average of 2 nights in each city (some had 3 as well) basis what all I wanted to cover. Air B&B was my first option for acco and I scouted for them in each of the city. Pick the location appropriately, preferably city center as it helps in commuting/walking to all the sights. I found some great studio apartments in Prague, Vienna and Budapest. In Berlin, since we were late in booking, we had to pick a hotel. An Euro trip isn't complete if you haven't experienced the youth hostels. I picked those in Salzburg and Interlaken (in Swiss even Air B&Bs are expensive!) In Munich, I had a friend's place to crash at.
I then booked my inter-city travel via trains and buses individually. My first thought was, why not Eurail pass. However, when I did the maths, it worked out to be more expensive and time consuming as connections weren't great. Buses were booked via Flixbus, that's the most widely used network. Trains through Go Euro. Flights - no way! Buses and trains also give you a feel of travelling like a backpacker, enjoying the lush countryside of Europe. With the multiple iterations around the cities and travel I did make a mistake in my dates for one of the journeys. #panic. Thankfully realized it early on and was able to cancel and re-book the train. Phew! #Facepalm. P.S. take print outs as not all places are digital friendly.
3. Visa!! - the biggest task at hand was to collect documents for the tourist visa. Schengen visa document requirements is a big turn off! You need to provide proofs of everything - flight, stay, travel, proof of profession and income, whether you have enough money to survive the trip, covering letter with detailed itinerary, Travel Insurance, and ofcourse passport and civil status - eg: marriage certificate etc. Someone had even asked me to keep a NOC from my husband or father handy incase they ask!! Talk about gender equality!
Visa needs to be applied in the country which has the maximum stay, which was Germany in my case. I booked my appointement through the VFS site (all forms can be downloaded there) and went and submitted the docs along with biometrics. Visa came in about 2weeks time.. Yay!!
4. Shopping and Packing - I now had a lot of things to buy.. to pack for a Euro trip, one needs to be prepared for all seasons - summer, winter and rain! I had no winter clothes so that meant investing in a good jacket! I initially wanted to carry a backpack all through, but thanks to a shoulder ailment, I decided to carry a small trolley (10 kg, cabin luggage of sorts) and a medium backpack. Wondering how did I fit 3 weeks of stuff in it? Trust me, the idea is to pack light and travel with delight. You will realize this when you have to lug your luggage through cobbled streets, up and down flights of stairs, lift it over your head to store it in the train baggage compartment and of course run with it when you are late for your bus or train :)
I picked very light weight clothes - about 16 tops, 3 trousers, 2 shoes (most important as you need to walk a lot!) 1 slipper, 1 good jacket, light cardigan, a couple of stoles, other winter wear, toiletries (very expensive to buy there), 10 pairs of socks, towel, raincoat, umbrella, medicines, chargers & power bank and some ready to eat food since I'm vegeterian. However, I didnt really have a problem in Europe for food.
P.S. I even had some space for the knick knack shopping I wanted to do :)
Tip: roll your clothes while packing them in your suitcase. It saves space.
5. Itinerary - thanks to the research that I was doing I had a fair idea of what all I wanted to see. But who is going to remember all of that! Then I discovered Visit A City app. Its been a blessing! The app/site recommends and allows you to create 1-4 day plans of sights to visit, the opening timings of those sights, the distance between them, some tours that you may want to take etc. I also wanted to attend some music concerts in Vienna and Salzburg so I pre-booked them online. But yet, left a lot of room to get to the city and then figure out what I wanted to do.
6. Lastly, Money - I had taken some currency and a Forex card. Found the card to be very useful as most places were card friendly....
Alright! I was now all set for my first Europe adventure!
Follow me: https://instagram.com/curiousboho