Snow-clad peaks, emerald-turquoise crystal clear water gushing through the round cut rocks by the force of the flowing water since ages, the various shades of green, dense forests with rich flora and fauna and I found myself trekking amidst heavenly picturesque landscape. I woke up to the call of my alarm, 'Dreams, so fancy?'
It has been quite a while since I have been dreaming about the hills, may be I thought too much about it or may be I miss them. Not pondering much about why these dreams occur to me every now and then lately, I packed my bags for Dehradun, I had an interview to attend. But somewhere in my mind, the plans were in the making. I decided to leave for Pindari. And rest is awesomeness!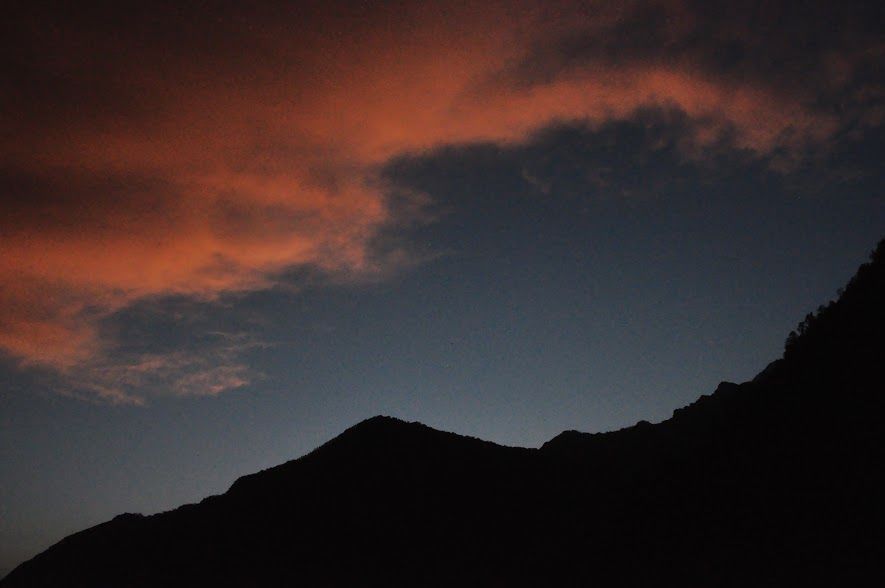 20th April 2017
Boarded from Dehradun at 6.00pm to Almora via Uttarakhand Transport Corporation (UTC) bus. All my way, I had threads of thoughts weaving in my mind, 'How would it be? What if I miss something important while I am on this trip?'
Nature seemed to welcome me with open arms.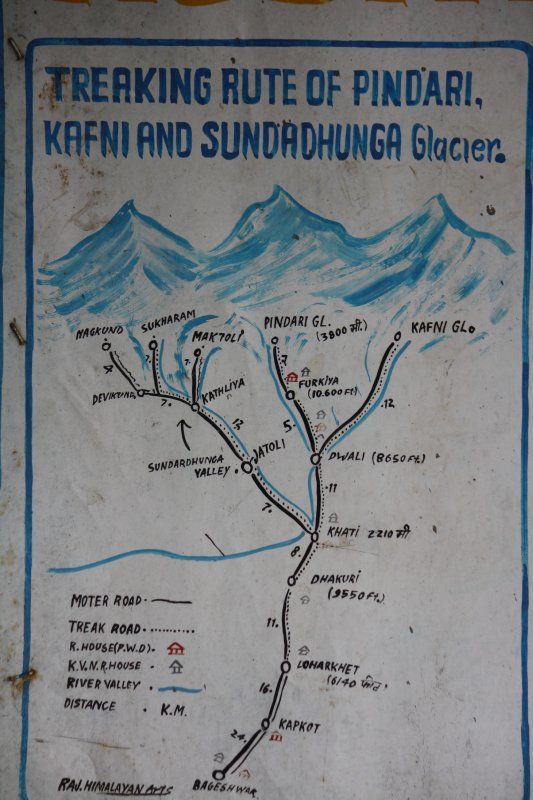 21st April 2017
Early morning, I was to reach Almora. When I woke up with people chattering around about why the bus wouldn't move for another two hours. Patiently, I kept waiting for the roads to be cleared off the debris. Watching the birds land perfectly on a palm tree and relishing its fruits, and the notes the river creates as it sprung over the large rocks. Finally, the conductor called everyone and I could hear the engine start. I looked down from the window and I could see river Kosi many meters below, the bus moving within inches of the edge on the rough road. But the babbling river, the beauty of the valley and the songs of the birds soothed me. It was after August 2016, that I was on this route. I reached Almora at 8.30am. Mohd. Tariq & Swati Naidu helped me get the basic necessities for the trip as this was my first time. I took a shared taxi to Bageshwar. As I travel in this cab, seated in the front, I see the Sun trying to peep in, casting intermittent shadows of canopy falling on the windshield, I smell leaves and resin (lhisa). Bunches of wild roses defining scarlet red in sublimity, silver oak blooms in golden-orange, bottle-brush like blooms, senesced Pine needles (Perul) covered the ground entirely & a lot of cones too, the new parrot green coloured pine needles emerging and tiny little cones in a bunch of 2-3 hanging like decorative pieces, some white flowered plants probably Rosacea members were numerous along roadside, tiny albino asters lined the walls of the edges and embankments. Basauli, Dautiyal, Takula are a few villages en route Bageshwar.
At Bageshwar, I took a shared taxi to Bharari (15-20 km from Bageshwar). The turns of the roads are so sharp, it meanders like a river and I swing on my right & left sides pretty often, a somewhat similar experience as in a roller coaster ride. There is a place called 'Do-faad' (partitioned in two) which is probably named after the confluence of two tributaries, as you travel from Bageshwar, you get to see one river parting ways. The vegetation has changed, pines are not to be seen and as we leave the people and urban things past us, the fresher it gets. Slender trunk and fully bloomed lilac-lavender blossoms and delicate leaves, Jacaranda left a long lasting impression, something I can not forget, splendid it was! Blooming Cacti, the flowers of this succulent though rare is a treat to eyes, the flowers yellow-orange-pink were not fully open, may be they bloom at night being a xerophyte.
Bharari, Bageshwar 2.55pm
I am seated in the middle and the right window pane is half open, framing the wheat fields at the foothills of the mountains. The golden fields of grains sway along the wind, I can hear the rustling of the leaves. There are mountains in front of me, which to me appear like an army officer. The driver is loading wheat husk for his cattle and the wind is so dynamic that the husk has poured on all of us. There are two birds I hear, which I cannot name. One is pleasant and constant and the other is intermittent and striking. The welcome hoarding says "Welcome to Pindari Glacier (Bageshwar)"
The driver said there has been a severe hailstorm three days back with hailstones as heavy as half or one kg wiped off the produce. This is probably why he is loading the ration in bulk for his house and neighborhood. The weather is unpredictable, its only 3 pm and it already seems like dusk. We have to reach the venue safely. After a certain point (probably Karmi), the road is made up of rocks and is rugged. The drivers are experienced but the roads seem to be unfriendly. Terrace farms, shades of green-dark green-yellow-golden, the variations due to wheat, the younger plants-green, further dark green and the ones ready for harvest are yellow-golden. We came across many small bridges to cross the rivers.
As we cross small villages, there are trees of Rhododendron (Buransh) with bright red clusters of flowers mounted on clusters of leaves, I once thought it looked like roses of forests, but roses despite being beautiful fail to describe the uniqueness the clusters of Rhododendron flowers possess. Further up the mountains, habitations were limited, only a few houses at a few places, houses painted blue, green and pale yellow, sloped roofs made up of stones cut from mountains.
I was wondering where the glacier could be, since in whichever direction I saw, it was mountainous. The dirt filled roads and the freshly cut mountains, I caught a glimpse of the dove white peaks for the first time and I sensed butterflies in my stomach after such a long time (As adults, we don't usually feel this kind of excitement. Exactly like the sleepless night before the picnic day). All of a sudden, all the tiredness vanished into the valley somewhere. Finally the driver stopped the taxi and told us to head to Khati, which was a 5km trek from Kharkia. It was already 5 pm and we had to cross the forest area. Forest! After so long, finally!! The smell of damp moist earth, senescent leaves on the ground, the streams, the trees all at once. Can I ever have enough of it? I was taking long deep breaths to make sure I inhale the invigorating air to the fullest.
We began our trek to Khati, it was nothing like I have been traveling for almost 23 hours. We kept walking and found no one on our way. It is said that Pahari people usually avoid travelling after dusk because they believe one can come across fairies which take the people with them. But I guess, it's the wild animals which create the actual problem. We could not make it to Khati that day but stayed at Jaikuni (3km) from Khati. We were told that electricity in their village is a rarity and that it was not there that day. Tired we just had dinner and dozed off.
22nd April 2017, Jaikuni 5.30 am
What I see is the most picturesque landscape. In the front of the guesthouse is Sundardoonga peak with the golden Sun rays falling at its peak. It seems as though the Sun proposing the snow clad mountain peak is a daily affair. As we humans blush in shades of pink, the mountain blushed in golden orange. The white huge sheets is nothing like what I dreamed about. It is serene and tranquil. The sun will gradually rise, energizing the entire World with its much needed rays. River Sundardoonga is in great mood to dance on its own compositions. On my right is the way to Khati and birds of various kinds have their melodies on. The dogs seem to communicate a message. I see snow- capped mountains all around me.
In a little tin and mud shade, a big chulha with two stoves and burning wood and an LPG cylinder which I am sure, would've been a herculean task to get till here. Our phones are not charged. Little kettles with their spouts are releasing steam, while we try to keep ourselves warm. The guesthouse is at a good location, the water is ice-cold and my teeth almost froze when I rinsed my mouth after brushing my teeth. I told them to get me some hot water so that I start afresh.
I have only seen the snow-capped mountains either in pictures or from a distance where it was difficult to say whether it is the colossal mountains or the fluffy white clouds that I am mistaking for mountains. A small tea shop with paintings of avians found here (leafbird foundation) such an important piece of information, unlike cities who have advertisement hoardings and paintings all around creating a mess of the beauty. The bird paintings with some beauties in its frame were Red billed blue Magpie, Red Rumped Swallow, White-Capped Redstart, Snowy Browed Flycatcher, Grandala, Grey-headed Flycatcher, Scarlet Minivet, Rose Finch, Himalayan Flameback Woodpecker, Great Himalayan Barbet, Eurasian Eagle Owl, and Monal.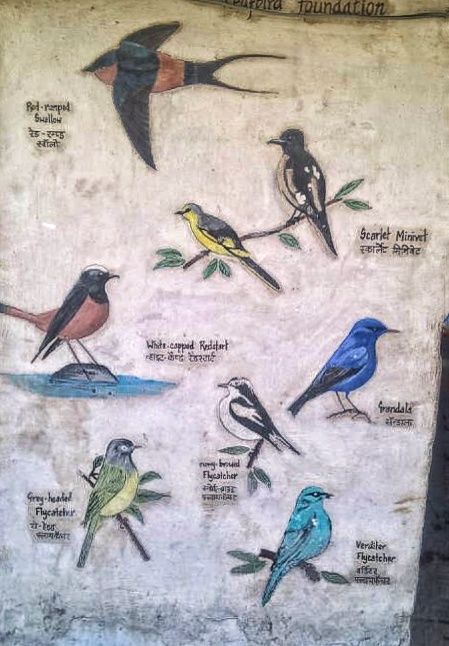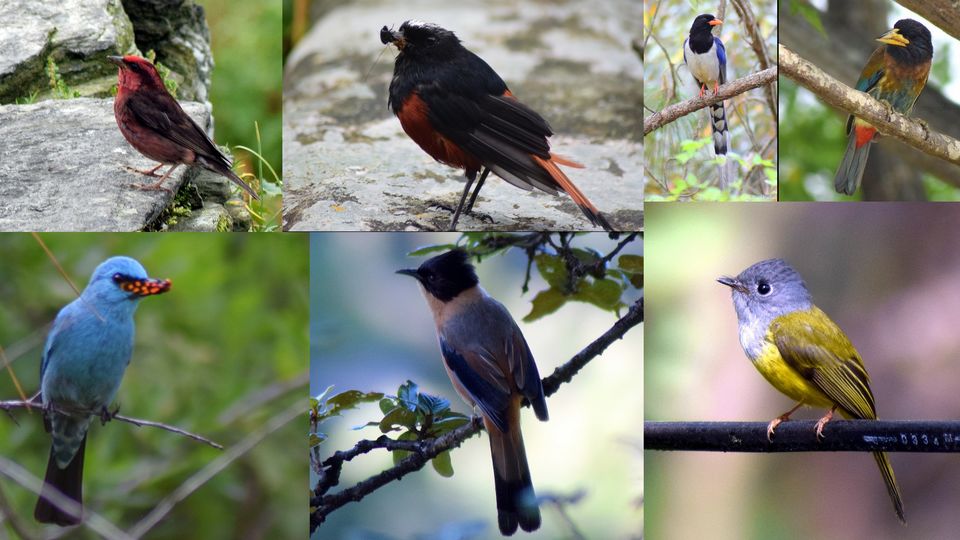 Khati 8.00am
We stopped for breakfast and some tea. Beautiful Himalayan sheepdogs, basking in Sun, welcoming at first and then really not caring who has come to their land, playful and friendly. I hear the Pindar river splashing and blabbing. Hens pecking around and mules with colourful bells tied around their neck to keep a track of them. Mules are the vehicles of the mountains, they are the carriers of the goods. I wonder there are places untouched by transportation and the world too was initially devoid of these advancements where it was a much better place then. Life is tough no wonder but it is healthier and much peaceful. Aesculus indica (Pangar), Ulnus nepalensis (utis), Abies pindrow, Lyonia ovilifolia, Taxus bacata, Prunus sp. , Salix, Sorbus were some of the commonly spotted trees. Bhawana, Arti, Ravi, Kunal and Khilda helped me identify these trees.
En route Dwali: The most tiring 12 km stretch. It is only said 12 km I am sure it is somewhat 16-19 km. The trails passing through the forest are well-trodden since that is the only way locals use for their journey. Amidst dense forests, chirps, trills of hidden birds, large tree trunks en-sheathed by mosses, roaring Pindar river, sun flecks, kicking off the leaf litter in joy, we kept trekking. Local inhabitants say there are leopards and wild bears in the jungle, we were lucky we didn't spot any of them. Mid-way we find a tea shop beautifully made of wood and thatched roof. It served maggi, biscuits, chips, snacks and tea of course! It had a chulha made up of mud and always had a pan over it, they used milk powder to make tea, which at that moment worked like an energy drink.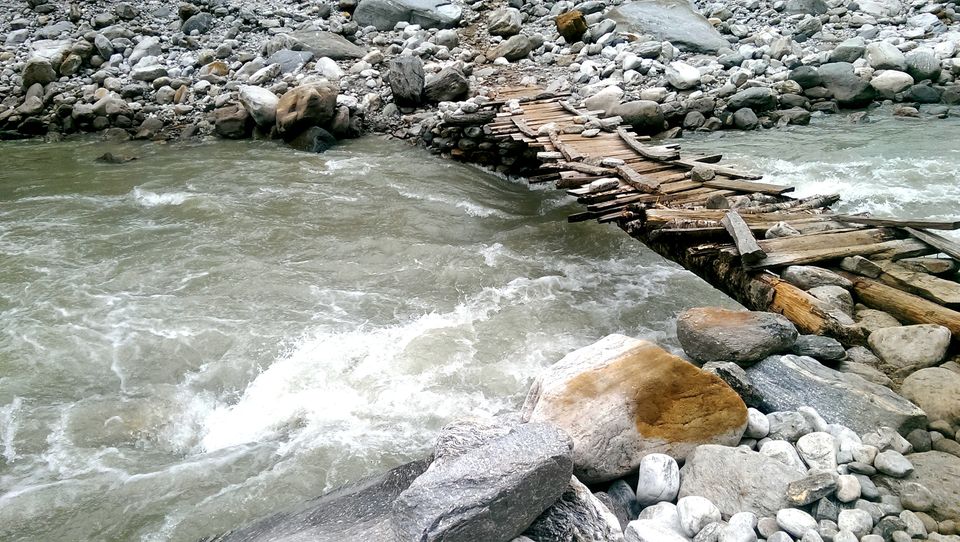 We then move along the river (said to be a short cut, but no one told us it would deprive you of all your energy), its fresh and energetic, crossed some wood plank made bridges, I can feel the vibrations as I carefully step ahead. Sometimes, I accidentally see the waters swirling depths and it scares me, I could hear my heart throbbing loudly. The hues of smooth pebbles are no less than precious jewels lying unnoticed. The river water and the Sun create the twinkles of millions of stars during the day when it longs for the starry night. Sand rich banks, gravel, pebbles and huge rocks, river movements slow and clear, also swift and turbid of the soil it eroded. I cupped my hands and took some cool water from, quenched my thirst and it was refreshing. PWD workers were busy with some construction work, chiseling rocks into small pieces and placing them accordingly to make a less tiring pedestrian walkway. The local people have placed rocks, on both sides of the well-trodden paths so that people follow the way and if in some case you deviate from your path, you can look for mule droppings and foot marks of people. The sand, the strong reflection and the uneven rocky path drains all the energy you have, glucose was of great help and the company of course. Perspiring and panting, we finally reached Dwali. We halted for lunch and some tea.
Dwali to Phurkia (6-7 km)
The trek was lined by various species of Rhododendrons. Rhododendron companulatum (Shrubby species with light purple flowers, abaxial surface dark and velvet), Rhododendron arboreum (Pink clusters of flowers, variation in flower colours, abaxial surface white), Rhododendron barbatum (Red clusters of flowers and leaves green on both sides), fresh blooms of bright red floral clusters lined on inside by freckles of beauty. Another species bearing pink clusters. Various kinds of lichen, some with fruiting bodies. The streams of sparkling water carving its way out from the rocks, coming straight from the Glaciers.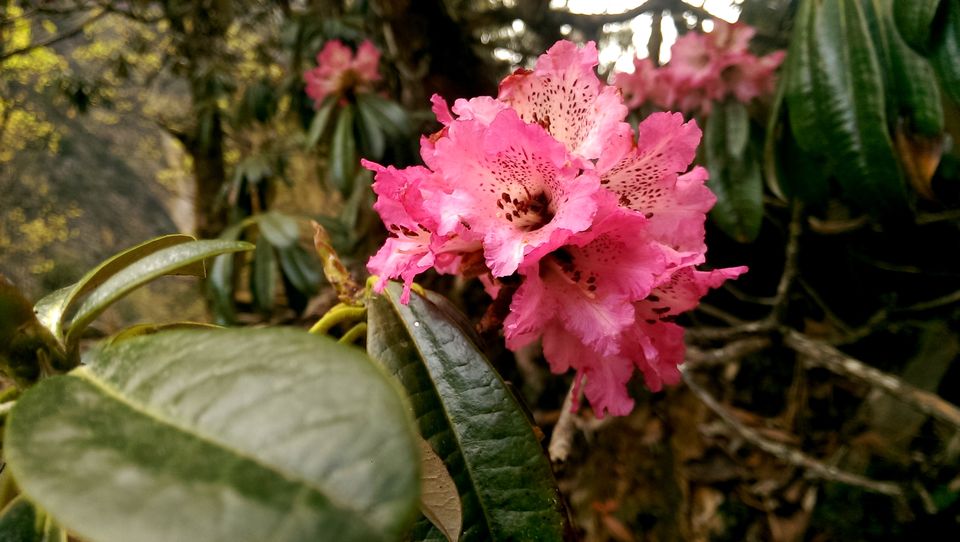 Small cemented bridges to make the ways easier for hikers was a common view. When you are here, there is no contact with the outside world. Phones are useless gadgets here. Langoors and various kinds of birds whistled along the way. Ferns of all kinds, beauty undefined. The dead ferns with brown pigments and some whose tissues have been shed and only the veins remained showed intricate vein patterns. So many of these kinds hung from huge trees.
Kharkia ----> Jaikuni ----> Khati ----> Dwali ----> Phurkia ----> Pindari
23rd April 2017, Phurkia
On finally reaching Phurkia (3120m asl), we relaxed our muscles. I sat outside the kitchen, talking to a few people who were already there for the trek, they were from Bengal. One of the workers from KMVN (Kumaon Mandal Vikas Nigam) asked me if I needed tea, I felt more than lucky to have tea at 3120m asl, in the foot of Himalayas.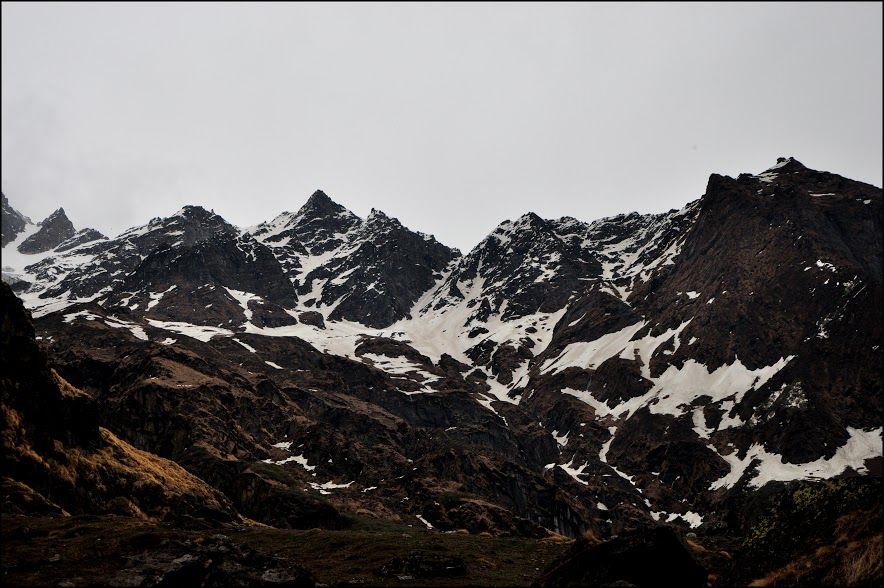 I went inside the kitchen and talked to people working there, my hands glowing orange in the flame. They said life is good here and that they work hard. They also talked about a special and divine tree called Bhojpatra (Betula utilis), which sheds its papery bark, on which the epic Ramayana was written. Yasha-gamphu or keeda-jadi or Cordyceps is something that sustains livelihood of people of nearly all the nearby villages. When the ice melts, there is a certain plant that grows on which there is a certain caterpillar that feeds, which is fed up on by a fungus! Yes, you read that right, a fungus from the genus Cordyceps. The fungus germinates in the living larva, kills and mummifies it, and then the stalk-like fruiting body emerges from the corpse. In summer time (15th May to 15th June), the villagers will go for collection of this mummified caterpillar and the fungal hyphae, which will fetch them good money.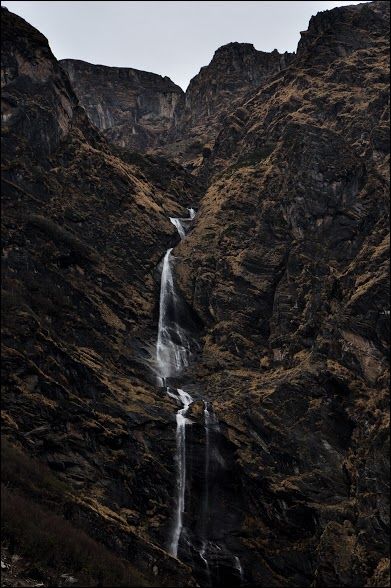 Its night time, Bright stars, a silhouette of mountains-black arêtes against millions of twinkling stars. Millions, literally millions!!
"In places they were birthstone-blue and beautiful, all a-glitter in their heavenly finery. The ones furthest away, almost outside the span of human comprehension, were like flashing pinpricks in a veil of darkness. They had a faint, silver tint and they looked like they were the distant, glittering sparks from angel fire. All of them were beacons of hope for all the lost souls of the world, or so I thought. It seemed to me that there was a snowfall sparkling in outer space and I felt privileged to witness it" -Liam O Flynn (Writing with Stardust)
Awestruck & tired, we went inside the room. The room had the floor made up of wooden planks, it seemed ancient to me, and it gave me a sense of British era in India. We could hear tail-less mice wandering around in freedom unless we walked in. We played cards in torch light and after number of rounds someone came up with the idea of a pillow fight but whoever did, had an amazing timing. I don't know when was the last time I had so much fun. We laughed our hearts out and enjoyed ourselves as much as we could, just a 20-25 minute game. The laughs and the giggles, made my day!
24th April 2017
Could hear the cascading waterfall all night long. With half closed eyes, looked across the window pane, the snow and the mountains with serene blue like the finest strokes of a paint brush of an artist who is in love with the creations of God. Woke up at 5am, left for the trek to Pindari (7 km) from Phurkia. The Pindari river and the waterfalls were a moment to behold in your eyes forever. Buransh flowers trying to add some colour to the frame of brown and white patches. We crossed various tributary glaciers on our way to Pindari. It was tough and slippery, has been accumulated from quite long it seemed. On our way, on the mountains running parallel to where we were trekking, we witnessed some mountain goats/rams which were difficult to identify from such a long distance but they were comfortable with snow as they walked in ease. Meadows of Primula and yellow flowers. Different kinds of mosses, I saw for the first time. Some very important herbs and medicinal plants like Vajradanti, isabgol are found here. 2 green gorges lined by green mosses which is unusual because the temporary streams were lined by brown and dark black mosses. The mountains stood magnificent, the furthest Himalayas, striding away into an immensity of sky.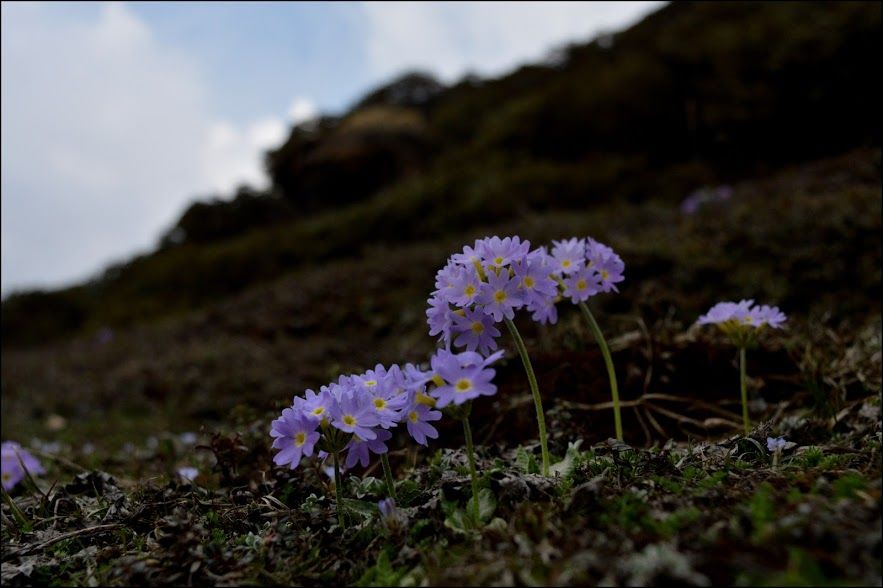 Catching a glimpse of state bird Monal was an altogether different experience. We tried to capture Grandala bird but it was far off and the picture quality would drop every time we tried to zoom in the maximum. Bugyals are a common view too. I believe the last step to your destination is always the most tiresome, I was able to conclude this since I was exhausted to death and could hardly walk any step further.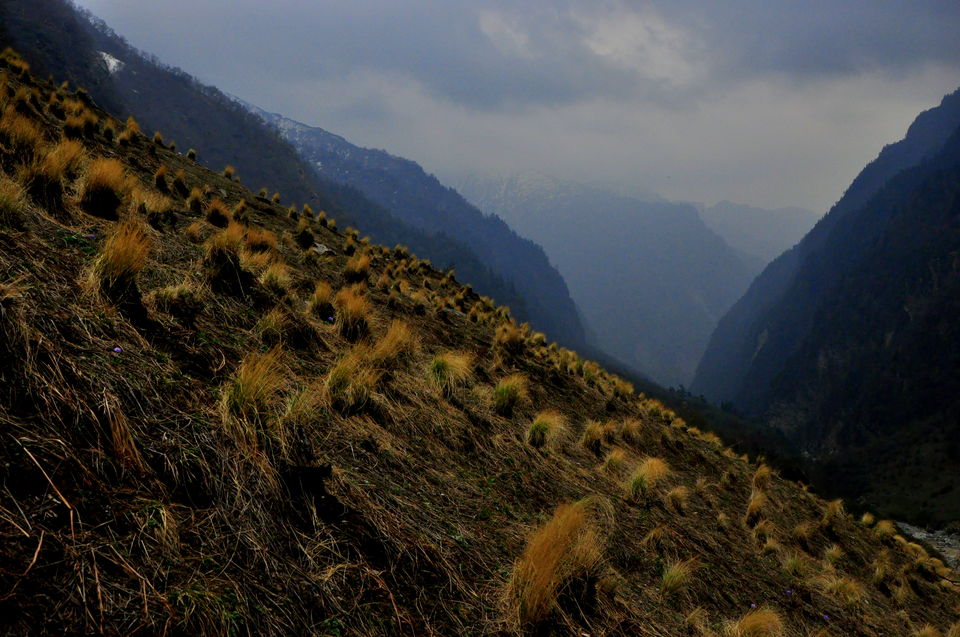 Before zero point, there was a beautiful house commonly called 'Kutiya'(Hut). People say Pindari baba lives here who has provided teaching faculty to nearby schools of 50 villages, people wonder where the money comes from. At Zero point, you could view around 280-300 degree snow caps as you turn your head around. Watching the water source for millions, was a spectacular view. Baljuri Kaul, Panwali Dwar, Nanda Khat, Trail Pass, Chaanguch, Nanda Kot were a few peaks to be seen.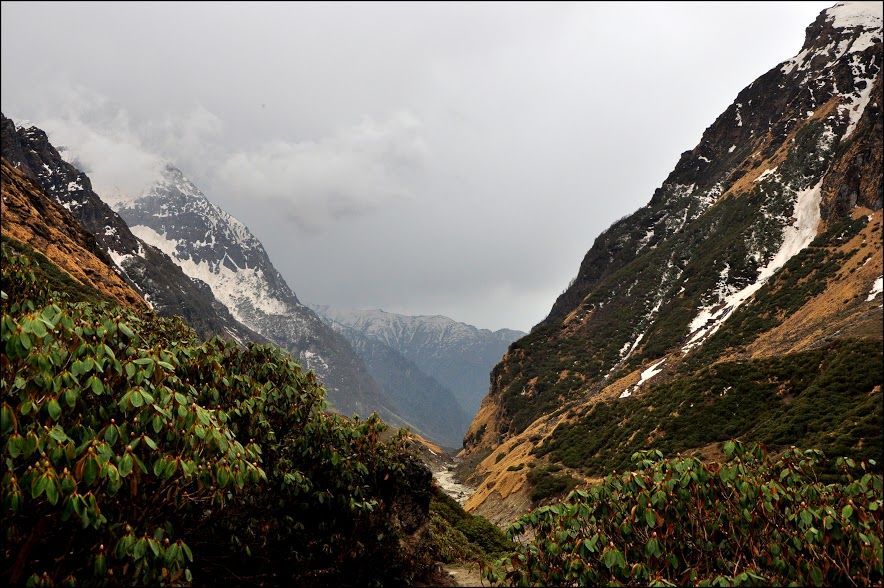 Zero Point, Pindari
3660m asl, I want to describe this breath taking view, but I seem to fall short of adjectives. What should I call it - splendid, majestic, serene, pure white, magical, mesmerizing? No word in the dictionary seems to justify its beauty. Some form of positive energy is to be felt. The tree line was a few meters after Phurkia and the other plant forms exist only up to this point. Beyond this, there are huge blocks of ice. HUGE! A view that makes me feel like a grain of sand, tiny. Boundaries don't make sense here.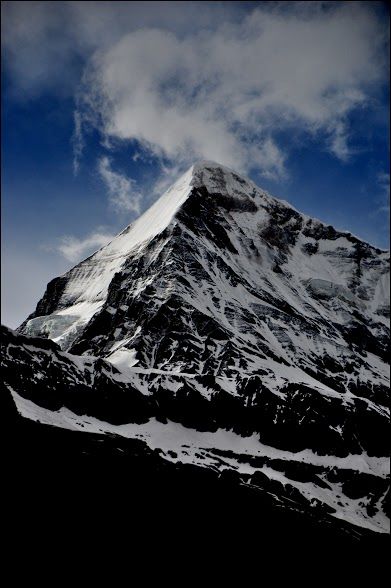 The trip has come to an end. Career-driven adults. Find time, Trek.
Special Thanks to Mohd. Tariq, Swati Naidu, Ravi Pathak and Kunal Joshi.
TIPS
1. Respect their culture.
2. Trek during the day preferably.
3. Carry torch, sunscreen, powerbanks, basic medicines, trekking stick, glucose.
4. DO NOT LITTER!
5. Enjoy!!