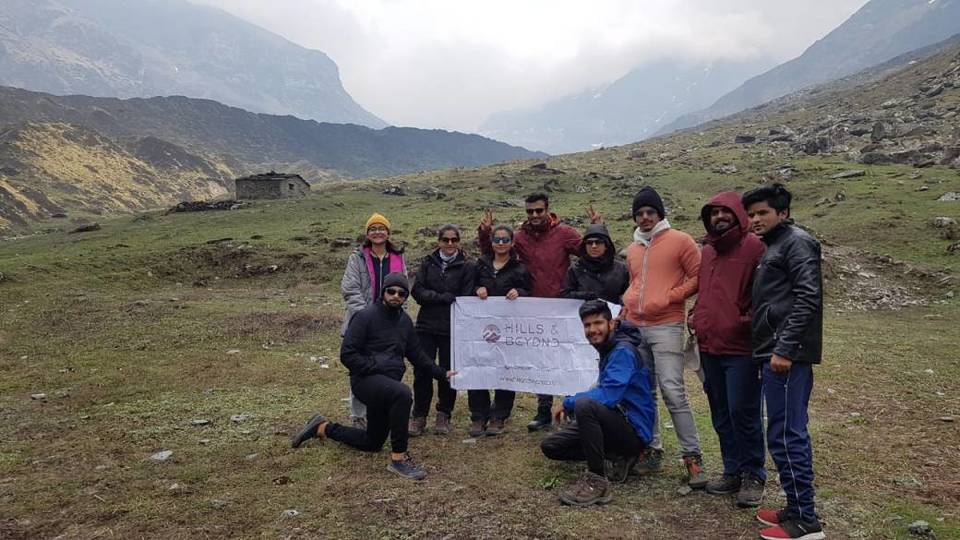 Pindari Glacier trek is an off beaten trek in the Kumaon Himalayas in Uttarakhand. This easy trek takes you to a height of 3700 m in just 6 days of trekking time. This trek is so untouched that apart from our group there were only two more groups trekking this route. The reason behind this is, when floods came in 2013, people stopped trekking in this region and were more interested in doing Roopkund trek. The best thing about this trek was, from day one onward there was no connectivity and no electricity. So we were completely cut off from outside world, still we found better connectivity among ourselves. Here's a brief description about day to day itinerary:
Haldwani - Bhimtal - Bageshwar : After arriving in haldwani, we drove towards Bhimtal to have breakfast. Haldwani being soaking hot, Bhimtal just an hour away was quite cold. Bhimtal has a huge lake just as Nainital and is very less crowded than its sister town. Having breakfast in Bhimtal, we started our long journey towards Bageshwar, which is a small holy town with three temples and a river flowing through it. Having lunch at Bageshwar we set out to explore the town. The Holy town has a lot of monuments made in 2 nd century by the Pandavas. After exploring the city, we went back to the Hotel to rest, as tomorrow after a three hour drive, our trek starts.
Bageshwar - Kharkiya - Khati (2250 m) : We started our journey early in the morning, having breakfast on the way and reaching Kharkiya by lunch time. The drive was more off road, but the mountains around us was worth everything. I started feeling positive without even starting the trek, that something good is about to happen. Reaching Kharkiya, we started our trek towards Khati, the first destination among the mountains. It was a small an hour trek and we were amazed to see the view, although almost everything was covered with fog. Checking in into our guest house and resting for a while, we started a short hike towards the helipad and to a place from where we could see Mt. Nandakot and Mt. Nandakhat clearly. Coming back to our stay, our guide Mr. Ratan started bonfire and we had good time at night. We knew that we have to walk 14 k tomorrow to reach Dwali, our next destination.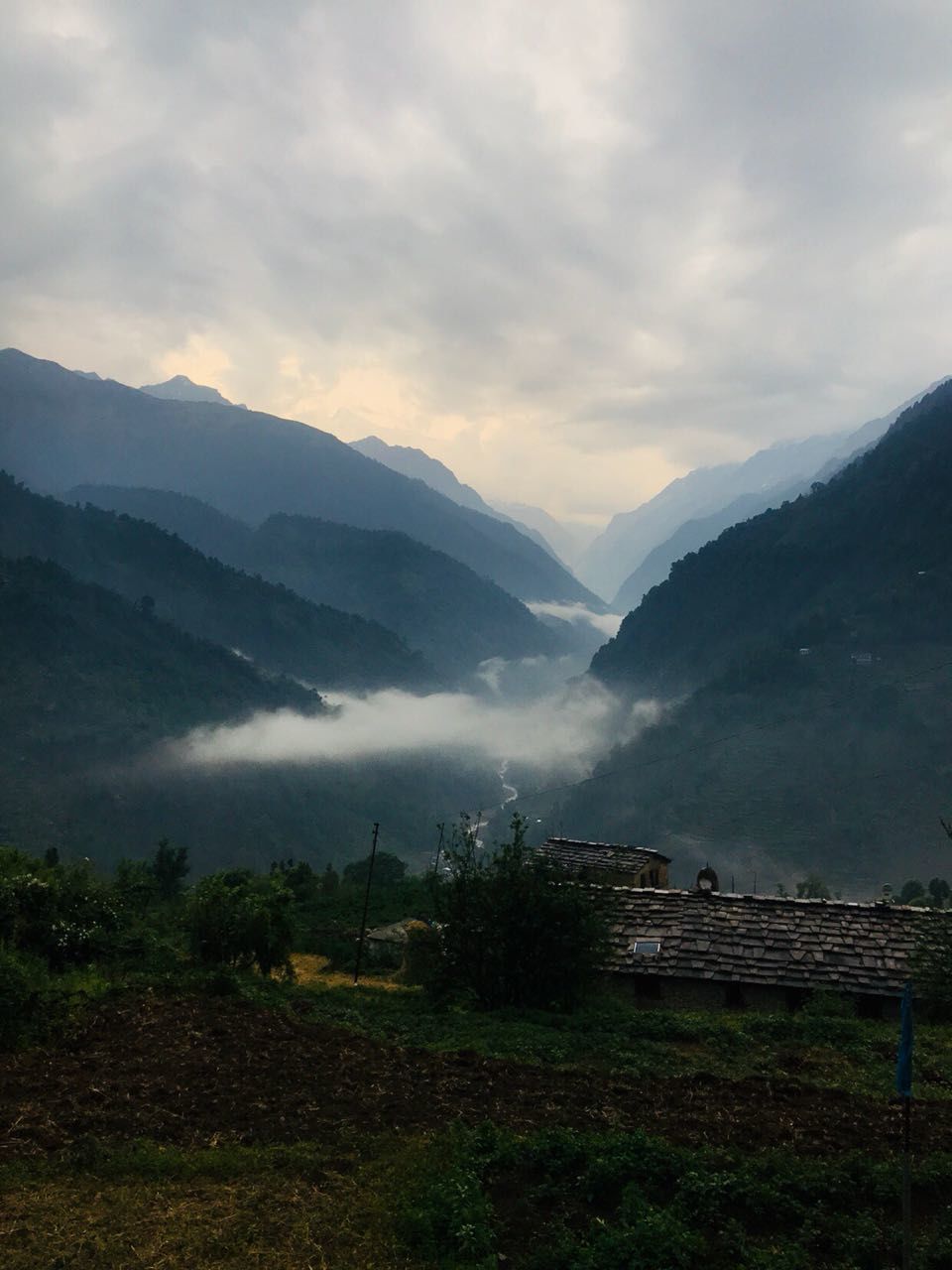 Khati - Dwali (2750 m): It was a cloudy day, we started at around 8:30 in the morning as we have to cover a long distance today, around 14k. As we were walking, we could see bird's eye view of Khati village, it was one of the most beautiful landscapes I have ever seen. Crossing Khati we had to descend a lot to reach kafni river from where the ascent started. The ascent was quite long and we had our lunch on the way. We were not taking many breaks as the weather was about to go bad. After trekking for a total of 6 hours we could see Dwali at the other side of confluence of Pindar and Kafni river. It was a small village with not more than 10 houses. There were two small restaurants which provided basic food and necessities. Our tents were pitched before we reached and for the group the experience of staying in the tents with the sleeping bags was amazing. Everyone was doing this for the first time and they had this adrenaline rush about it. Staying in the tents was cold, but cozy though, it was a brilliant experience above 2750 m of sea level. Tomorrow is a small day now, we need to walk just 5 k to reach our last destination- Phurkiya before reaching Zero point at Pindari Glacier.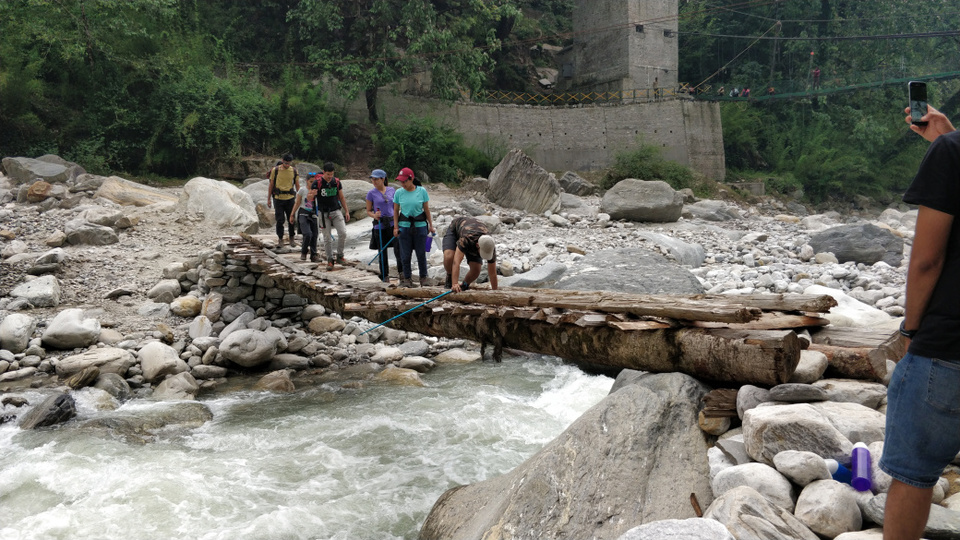 Dwali to Phurkiya: The day was clear today, we could see snow capped mountains around us. The walk for today is small 5 k trail. The trail started with gradual decline to reach Pindar River, we could see Nanda Khat and Mactoli peak along the way. The forest started to decline because of the altitude and thin air. There was grass and bushes around us, we could also feel the lack of oxygen while walking as we were getting tired more frequently than before. Phurkiya is a small village at a height of 3200 m above sea level with not more than 5 houses to stay. We stayed in a permanent domb tent type structure overlooking a cliff and multiple waterfalls. This is an ideal stay, a person like me would like to stay here for a couple of days and practice high altitude running. After having lunch we descended to the river beside our stay and spent some time there in pure serendipity. Everyone was excited as tomorrow is the day we all have been waiting for, when we reach Pindari Glacier at a height of 3700 m. We went off to sleep early today as it's gonna be a long day tomorrow.
Phurkiya - Pindari Glacier - Dwali : We were woken up by a knock on our door at 4 am by our guide, it was our wake up call. Guide brought us black tea and asked us to get ready, we need to leave today by 4:30 am as the weather in the morning is clear and we could see perfect view from our journey and Pindari Glacier today. We were super cold when we started, it is always very difficult to walk in the morning as the body is lazy and cold till the time it gets warmed up. In order to reach Zero point we had to trek for 8 k today. There is a temple a kilometer before Zero point where stays Pindar Baba, this guys is from Odisha and had been staying here since years, leaving his wealth behind, he gives blessings to the people who trek on this route. After seeking his blessings and having tea, we resumed our journey to reach Zero point. Now this is a risky route, you hike up a mountain and to your right is a cliff hundreds of feet deep, as it was early morning, the wind speeds were not very high and we could move at our comfortable pace. There was a small patch which was quite narrow and we had to cross that in order to reach Zero point. After ten minutes or so we reached Zero Point and were mesmerized by the view we saw of the glacier. Surrounded by snow capped mountains all around us, with Pindar river flowing from our left coming down from the glacier, and the beautiful Holy glacier. It was very scary to stand also on the top of the ridge because the wind speeds were high and it was very narrow, the sand of the ridge was quite loose and the area was prone to calamities. Spending some peaceful time at Zero point, we started our way back towards Dwali. We had to start early as the weather might turn bad any time and we had to cover a lot of distance in order to reach Dwali. After doing some yoga poses along the way, we managed to reach Phurkiya where we had our lunch. We again started trekking towards Dwali after having lunch and finally it started pouring, so we had to rush to reach our stay.
After the rain, the night was very calm and we could finally see stars and moon shining upon us and moonlight stuck mountains upon us. Tomorrow again is a long day, as we have to cover 14 k in order to reach Khati.
Dwali - Khati : The day started slightly late, we all were tired after last day's trek and also over confident about the amount of distance we were about to scale today thinking we have already done 20 k yesterday, this will be a kid's job in front of yesterday. After trekking for around 3 three hours, it started raining, and It rained like cats and dogs. The rain went down after sometime and we were happy that we will now walk freely, but much to our excitement, there were hail storms and we had to make our way as fast as possible to reach Khati. Today is the last day which is difficult, tomorrow the trek ends after reaching Kharkiya. After getting drenched in the rain for about three hours, we could see Khati which was another hour's distance. But being excited we forgot about the rain and concentrated on reaching Khati. Reaching Khati was a blessing, unlike the first day which was foggy, today we could see each and every mountain around us. Today we got to know that there was a valley right outside our window and it was mesmerizing, like countless mountains on our left and right and in front of us was Mt. Maiktoli (6803 m), we could see the thin ridge of the mountain and could put ourselves in the shoes of the climbers who attempted to climb this peak, such a beautiful experience. On our right we could see Mt. Nanda Devi (7816 m) which is the second highest mountain in India after Kanchenjunga, (Mt Nanda Devi is not allowed to climb by the Uttarakhand government because of sacred reasons) and Mt. Nanda Kot. We spent the evening tripping on these mesmerizing views and hoped to come back soon in winters and experience the trek when there is snow everywhere.
Khati to Kharkiya - Haldwani: Today is the last day, we have mixed feelings. Nobody wants to leave the mountains but everyone wants network. It was a small an hour trek to reach Kharkiya and a long long drive from Kharkiya to Haldwani. We started as strangers and now it was like everyone knew each other since ages, we already started thinking about our next adventure in the mountains and decided to party reaching Haldwani.
The Pindari Glacier trek is ideal for first timers and photography enthusiasts. Photographers will find different kinds of flora, fauna, species and most especially MOUNTAINS, beautiful mountains all along the way. Hills and Beyond has this trek thrice each year.