The route for the trek to Pindari glacier in the upper Kumaon region starts from Khati Village now. The road has finally reached nearby Kharkiya Village which is 5 km away from Khati. For the 75 people who live in Khati, problem of road accessibility has been improved not resolved. The old trek route has now been altered and Khati serves as a base point for the trek making this village a more noticeable destination than before.
Recently the village just got quite a face-lift by a group of artists who arrived here on a project initiated by Project FUEL and Hans Foundation. Now when the trekkers land up here on their way to Pindari or Kafni Glacier trek, the bright and dreamy walls of the village shine out bright at their first glimpse from the ridge of Dau, 2 km before Khati.
The Wise Wall Project, Khati
The team of artists invited to this village by Project Fuel aimed to document rural wisdom through a community art project. The celebration of the local culture on its walls also aims to enhance the social visibility of the village. They have painted the life lessons given by the residents outside their houses, showcasing the inherent wisdom of the people of this remote village.
Walls in Khati are now replete with illustrations that are based on the social issues that are the immediate concerns of the people who live here. There's emphasis on problems like education of girl child and on-going problem of migration in Uttarakhand. It's heartwarming to see a painting of a 6 year old school girl outside her house on the wall or portrait of an old couple who live alone in their house where others have moved out over the years in search of better prospects in the cities. There's also a caricature of the postmaster of the village outside his house that often brings a smile to the crossing the spot.
On the hike to Khati from Kharkiya, we were shown a brook under an old bridge which was the only water source in the village allotted to women on their periods. Women are also not allowed in the inner quarters of the house during their periods and the list of these unsettling practices increases as you talk more to the people about it. But now once you reach this village, it's heartening to see a brightly painted messages in hindi and kumaoni educating people about the taboos around menstrual hygiene on the main village street. In these remote villages that have waited for so long for the changes to arrive, even the hint of progress, be it through a painting, is comforting.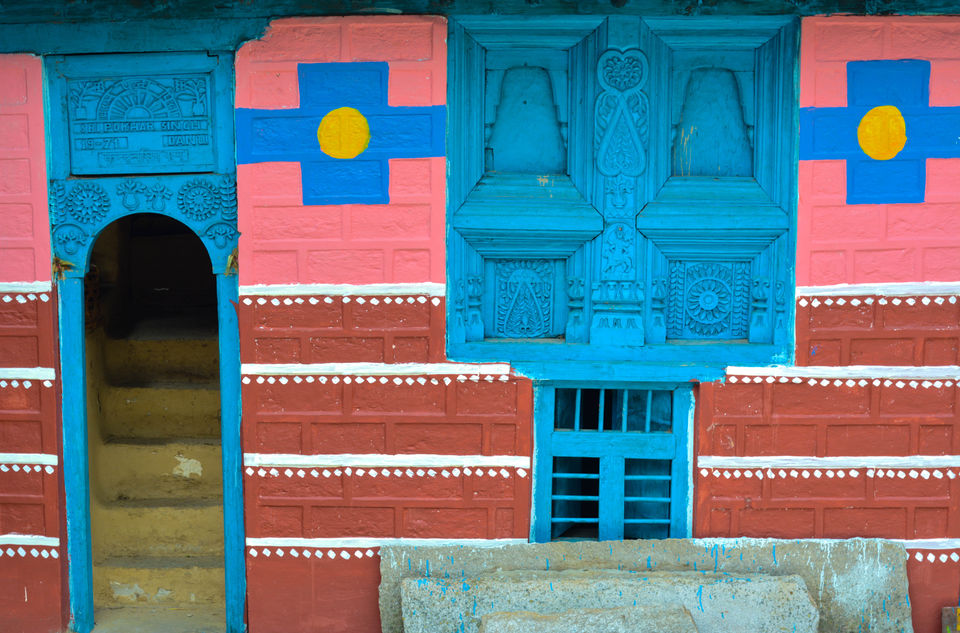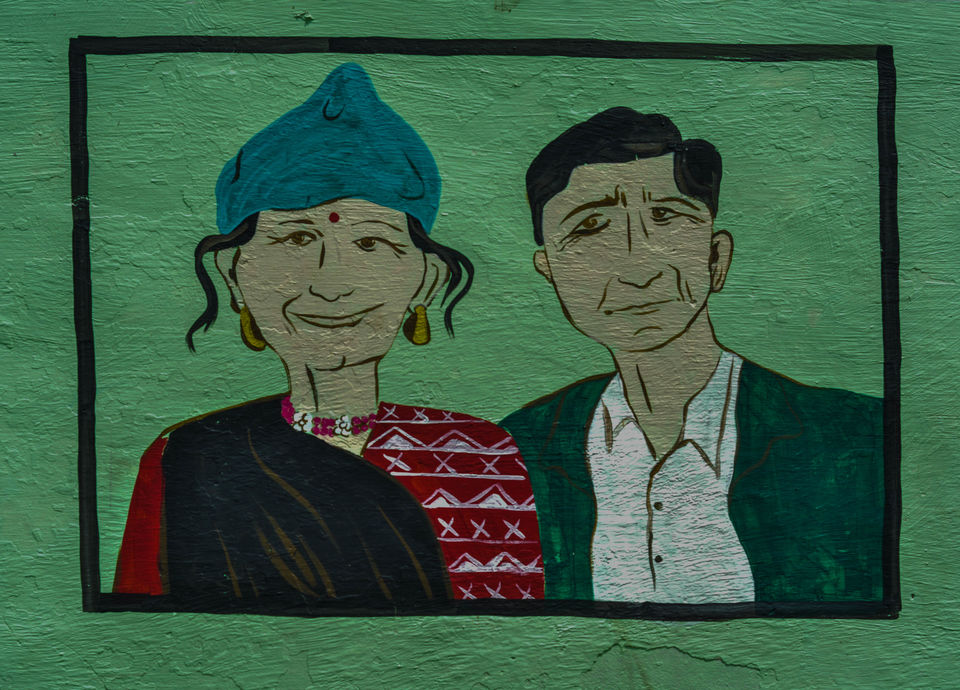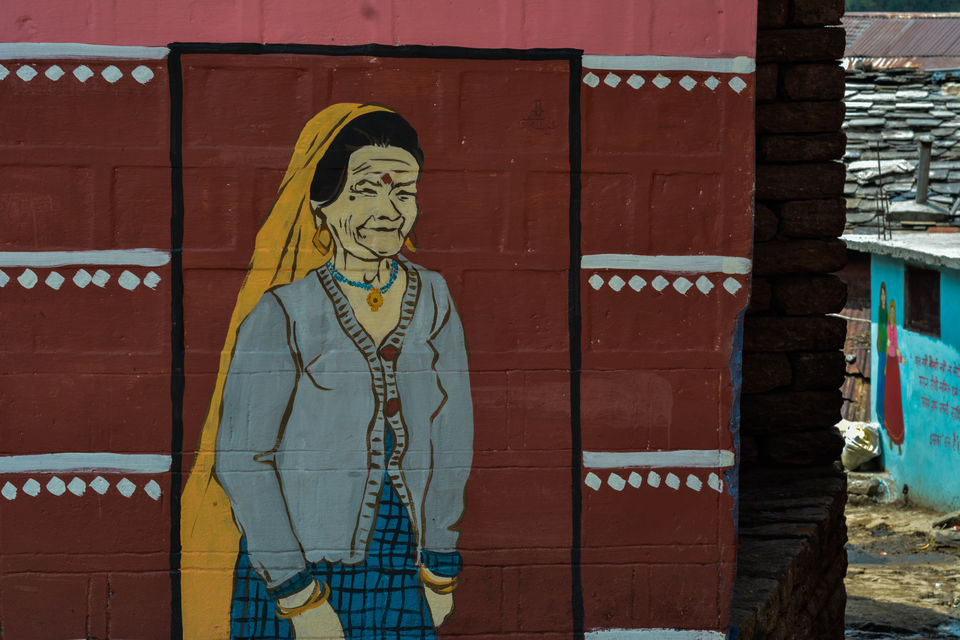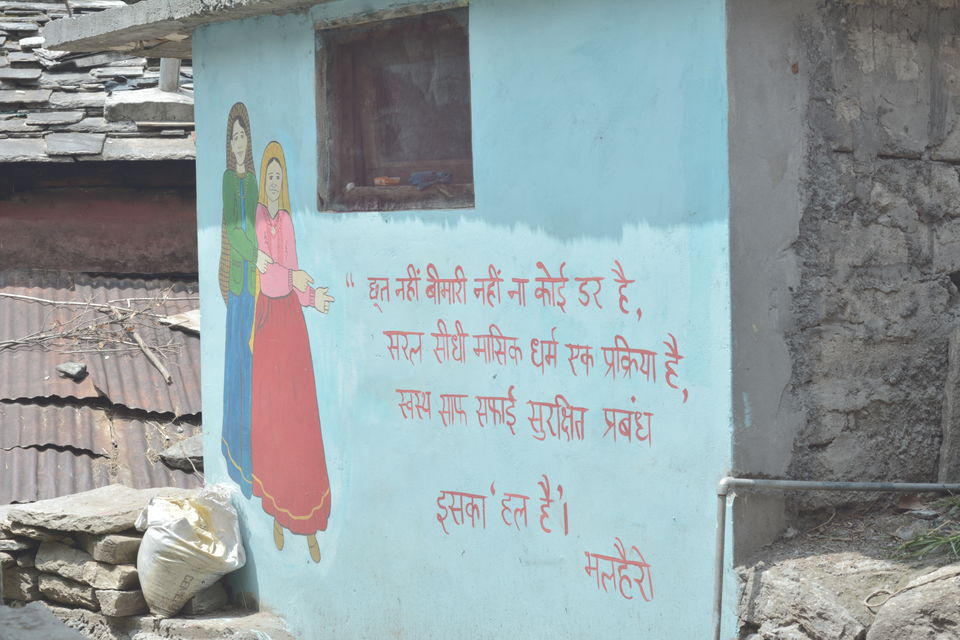 Khati Village, A New Destination On Travel Map.
On my trek to Pindari, I was told by a fellow trekker that Khati village finds it's mention in the Mahabharata as a place where Pandavas were won over by the hospitality of the locals and chose to spend a few days with the welcoming folks of Khati on their way to the mythical ascent to heaven.
The colored walls of this village surely make this beautiful village more inviting now than ever. On the way to Pindari and Kafni Glacier, this village can be an extended pitstop for trekkers and travellers can even visit it as a remote destination too. It's incredible to see that how a small initiative can change the destiny of people who still live in these remote places where nothing but challenge of survival is the priority and tourism comes as a welcomed change.
Where to stay?
When in Khati, you can plan your stay at Annapoorna Homestay which is a short a walk away from Khati at Jaikuni and is located at a perfect location facing endless terraced field, mountain ridges and blue sky. This is a simple village home with a minimal clean and hygienic set up
Phone number: 7579454213, 7830125563
Room tariff: 300 per person
Other facilities: Trekking packages to Pindari and Sunderdunga can be booked from here. The package includes tent facility, food and guides.
Last ATM point is Bageshwar. Although ATMS are available on Bharadi and Kapkot but the service is unreliable.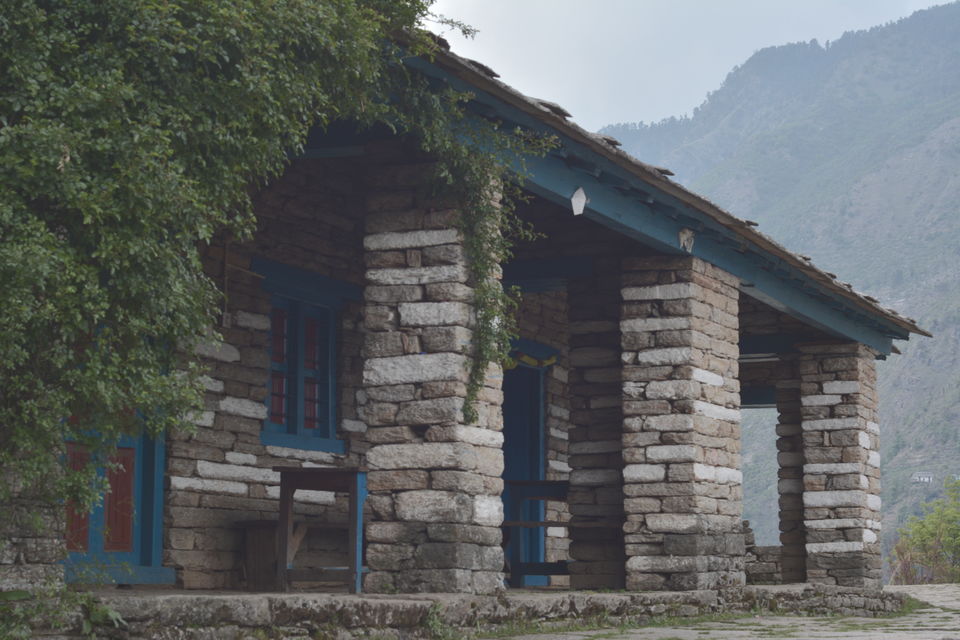 How to reach?
In Uttarakhand the gateway to Kumaon region is Kathgodam, the closest railway station to get to the Kumaon Hills. Overnight buses are also available from Delhi to Kathgodam from Anand Vihar ISBT. Taxis are available from outside the Kathgodam railway station to Bageshwar which the nearest city to Khati.
Direct taxis are available from Bageshwar Taxi stand to Kharkiya early in the morning or you can take a taxi to Bharadi and hitch another ride to Kharkiya from there. From Kharkiya, a 5 km hike starts to Khati through oak and rhododendron forest.
Check out more photos from this trip to Pindari Glacier via Khati on Instagram. Wish to know more about this village? Or planning a visit? Leave your questions in the comments section below.
Frequent Searches Leading To This Page:-
khati village bageshwar uttarakhand, khati khera village, khati roti village, odia khati village, delhi to khati village, delhi to khati village distance, how to reach khati village uttarakhand