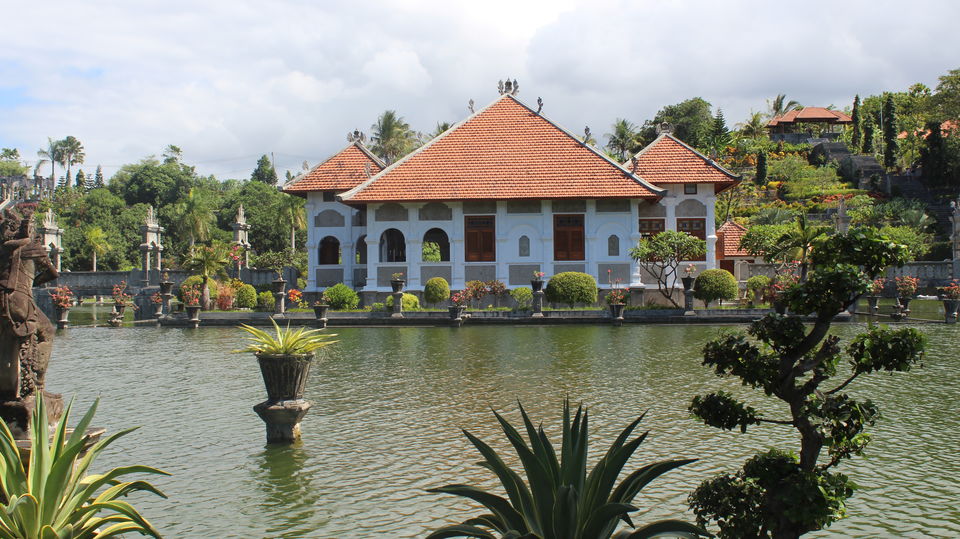 Second of July, 4.30 pm
Me to my wife: Good news dear ( pun intended)!!
Wife: Oh god! Did they cancel our flight again??
Me: No yaar. Its actually been rescheduled and is 10 hours later.
Wife: Shit yaar! Is it Mt. Aguang again? It doesn't want us to visit Bali!! Our Bali trip is jinxed , I won't go to Bali ever again and blah, blah, blah...
Comments poured in like the thunderous rains reluctant to cease, soaked in the cloak of sadness, after all we had in last few day devoted each second of our times in own ways to brace ourselves for the trip to Bali. I had engrossed myself with thousands hours of research and my wife the same in packing and shopping and managing everything. Still in grief ,we decided to look up the cause and dear, indeed it was the Mt. Aguang erupting again ( for intrepid travellers and people ignorant of Bali it is the most active volcano of Indonesia and nature's way of showing how puny we are. The summit rises above the clouds into the yonder. It attracts many tourists but lately has become very active).
They say the volcanic ash can bring down planes, shatter your dreams and crush your owns, so every time it erupts a bunch of flights is cancelled or rescheduled. We were devastated, after all it was the third time we could see our trip to the surreal island vanish into oblivion. Volcanoes, earthquakes, oceans, islands. Does it ring a bell? Yes!!! Of course. A combination of these could mean only one word, "TSUNAMI". The word spiked an emotion of fear, far beyond any measure in me. Fear of life and fear of segregation, tantamount to the dreadness and deadliness of tsunami gripped me hard and left me cold. Instantly I said "No!!! We are not going there anymore "(obfuscating the pile of churning emotions in me and sounding nonchalant so as not to instill the same fear in my wife's heart).
Our airlines Air Asia gave us an option for rescheduling or a full refund ( for which I am obliged to their big hearts). After a lot of discussions with friends and family we decided to cancel the trip having safety issues in our mind. Though both of us wanted to go there badly, but I guess that wasn't enough of a reason to pull the gates of destiny in our favor. I sat on my desktop with a heavy heart and a trembling hand, subdued by the innumerous hours of thinking and eventually succumbing to it to apply for a cancellation.
But BARONG , the god of good spirit in Bali had something else in the closet for us. Seemingly, the cancellation process could not be processed. And there I was once again, teeming with joy amidst bewilderedness. This was a calling, from the gods themselves ,thumping louder and louder with each passing moment, I thought, and in the blink of the eye cancelled the cancellation request.
Yes!!! Finally I had the tickets to BALI and heavy speculations going on in my mind as to what now?? Should I have heeded to the safety concerns my one half was yelling at me or should I lurch towards an impeccably astonishing journey belittling all other fears and anxiety. The avid and indefatigable wanderer in me inevitably won. First I broke the news to my wife who was on the zenith of ecstasy, after all , she had worked around the clock for putting things together and shopping. So in the night after a fulfilling dinner and blessings from our parents, we embarked on the journey of our lifetime. We set for Kolkata international airport for we had our flight at 1 am. I always share my location with family which can be easily done by Google maps, download an offline map of the place I am visiting, carry sufficient foreign currency preferably exchanged at my home place and carry two copies of our flight tickets and passports (one copy with each of us). Finally we checked in, cleared immigration, and boarded our flight. It was lot of relief seeing so many co passengers flying to Bali. Air Asia has only cabin baggage allowance, for checked in luggage you need to pay and additional 4ooo rupees per person.
My wife slept early. I couldn't. I have this uneasiness on flights for the fear of crashing or turbulence, so I constantly gaze at the infinite horizons out of the window, be it day or night, constantly speculating about the weather, as my heart keeps thudding at the very trivial sense of turbulence. The flight was dark, almost every soul was on the brink of somnolence, getting lost in their own dreams, when suddenly a flash outside catches my sight in the yonder. My worst fear was staring straight at me, as I trembled in fear. Will the lightning strike the plane, and if it does we all will drown somewhere in theIindian ocean in the darkness of the night and in bosom of the stormy ocean. The nerve retching thought crippled me as I was only left to the grace of god. In an instant I grew restless, helpless and forlorn with the shadow of death hovering in my mind and its fear escalating to new heights and rapidly engulfing me. So I thought, this is it!!! This is the doomsday and I spontaneously started uttering Hanuman Chalisa, my best getaway in these situations and it indeed helps a lot. But even at that juncture of time I was astonished by the sleeping passengers, their nonchalance kept me afloat in the real world, preventing me from sinking into the vast ocean of fear and anticipation. It was only later that I came to know that lightning infact does very little damage to the crafts most of the time. But as we closed down on Kuala Lampur after a 4 hour flight the things got better and with an amazing effort of our pilots we managed to land safely at the KLIA 2 international airport of Malaysia. Immigration and security check ups followed again and we headed for our boarding gates. This part was quite hectic and we somehow managed to grab a bite. I was sleepless the whole night, but the joy of getting to Bali somehow pushed me and now the pleasant weather was also on our side.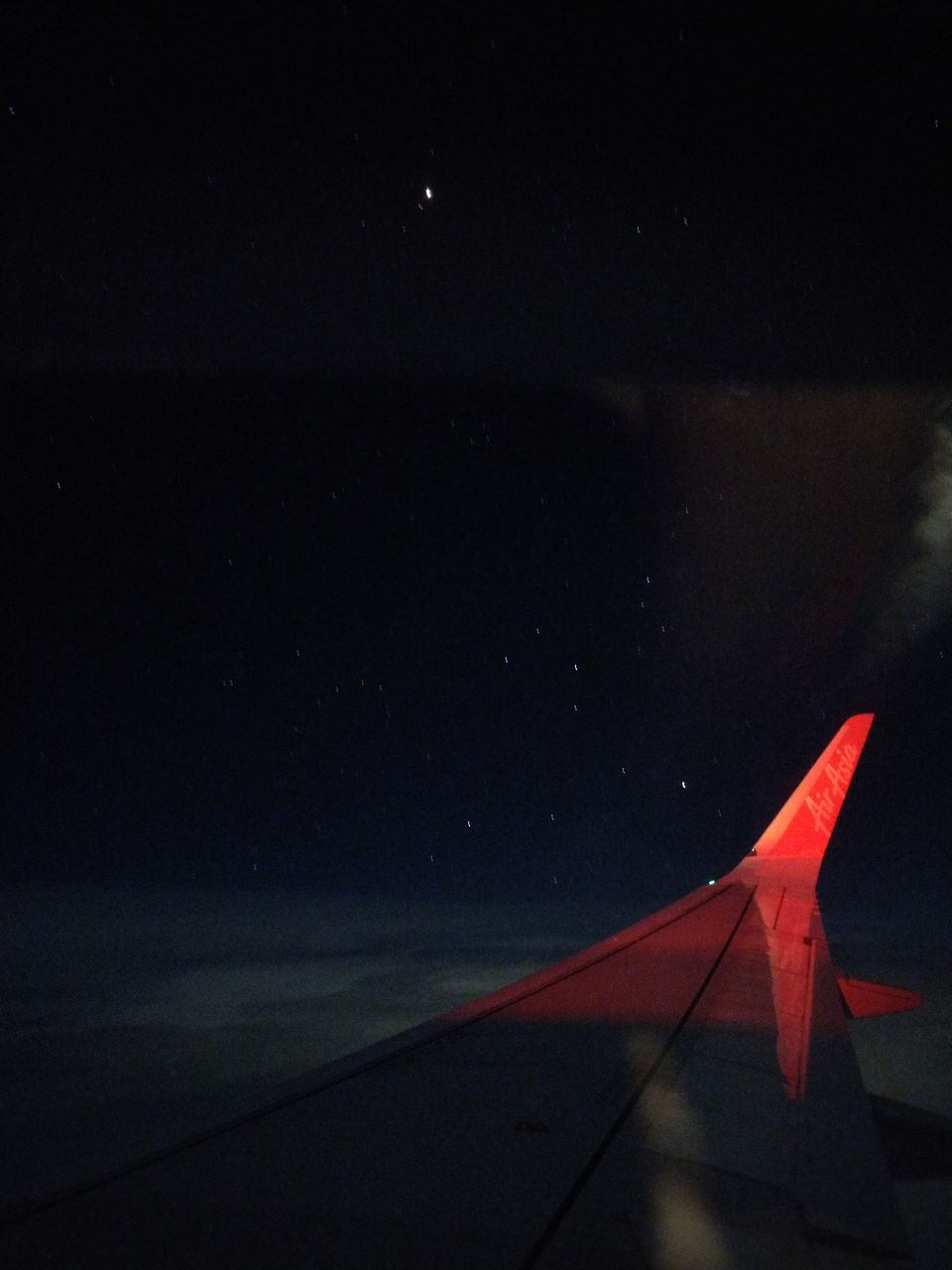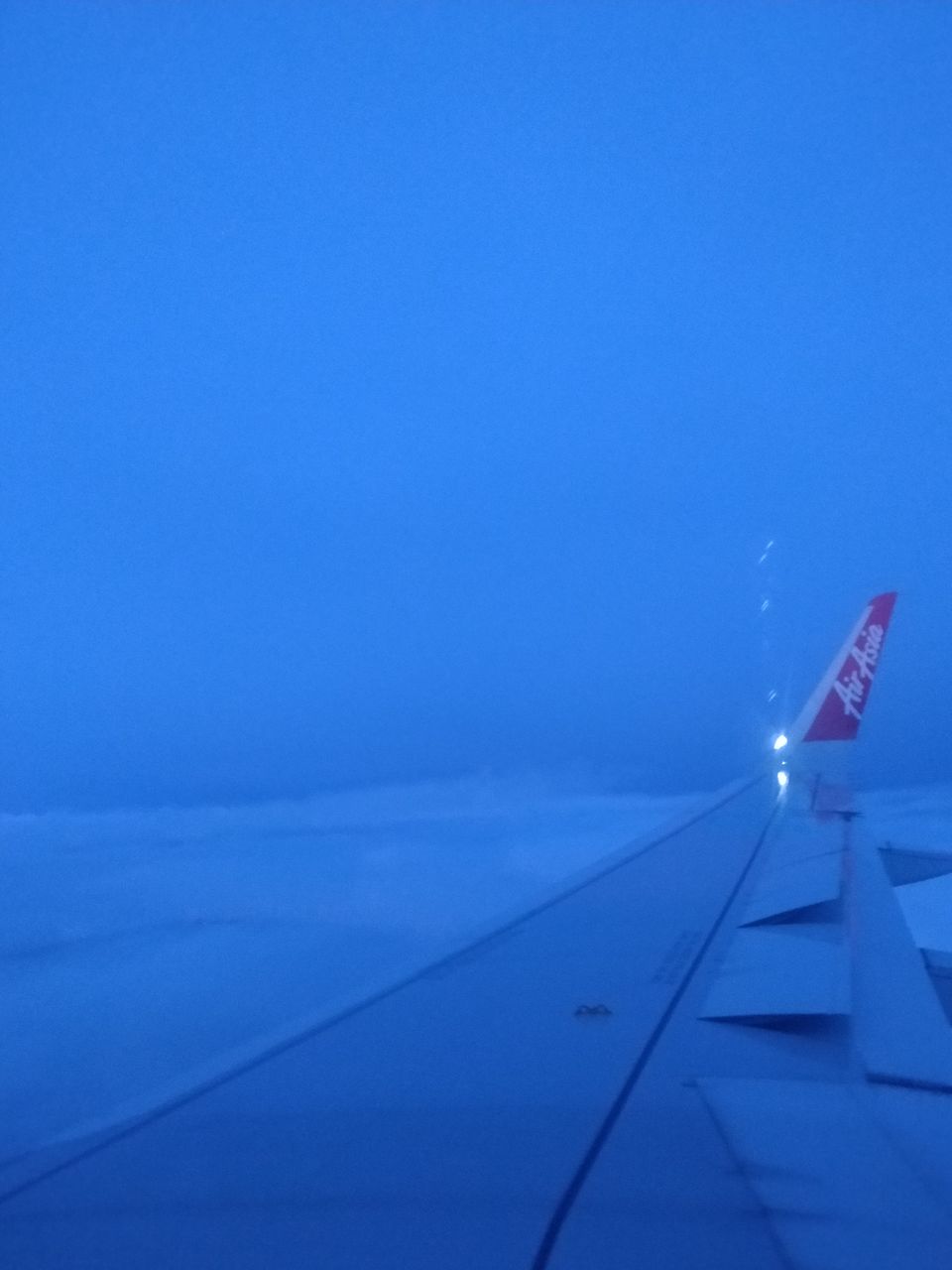 As we flew, we began to see turquoise blue water and an archipelago of islands. Everyone was left gasping at its beauty in the backdrop of a perfectly blue sky. We landed at the NGURAI airport in Bali at around 12 pm. It was afternoon but the cool breeze abreast made us feel rejuvenated and the sight of sea just beside the airport accentuated it. We entered the airport and were left in frenzy. Huge , beautiful, spotlessly clean and magnificent architectural artifacts scattered all over the place. Camera on a roll!!! And we got busy in clicking as many pictures as possible till we realized that the queue at the immigration counter was growing longer and longer. In a jiffy, we left everything and got into the queue for we were all eager to get to our villa in Candidasa. We, Indians have a free visa on arrival in bali for 30 days and that's a gateway to the insurmountable excitement. On the way out there were quite a lot of money exchangers and sim card outlets. The sim at the airports is costly and we eventually dropped the plan of buying a sim as the Wi-Fi here is almost ubiquitous for us to connect using internet calls. If you only have to buy it, go for TELKOMSEL and nothing else. Once again, one Indian rupee values at 200 Indonesian rupees. The airport exit had a typical Balinese architecture with a huge statue of some god and sculptured stone carved gates (these gates are also common to all the temples and most of the houses).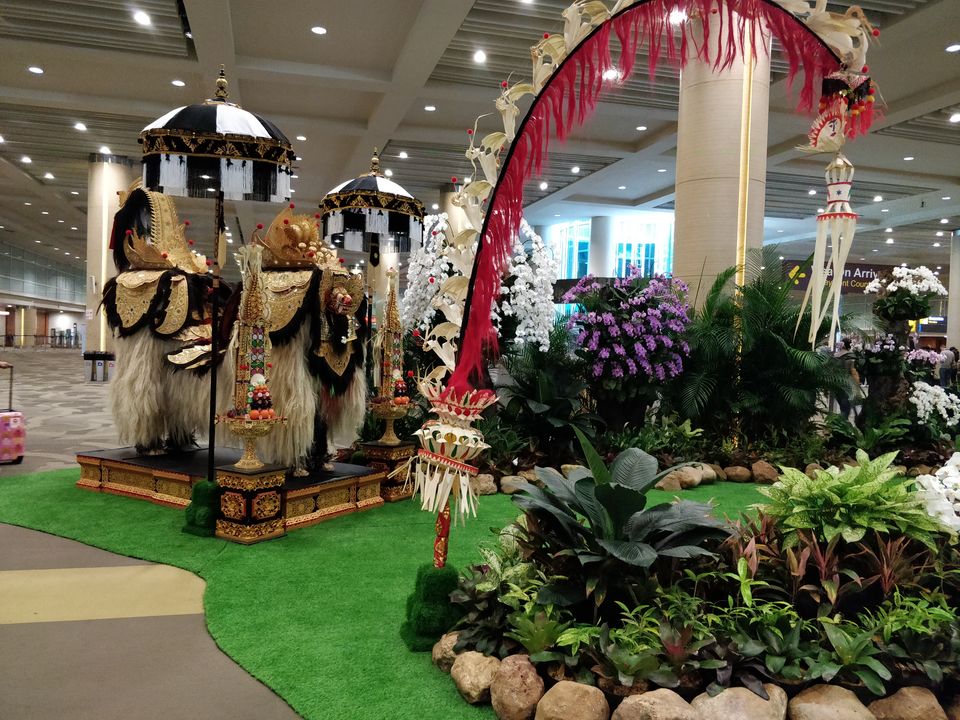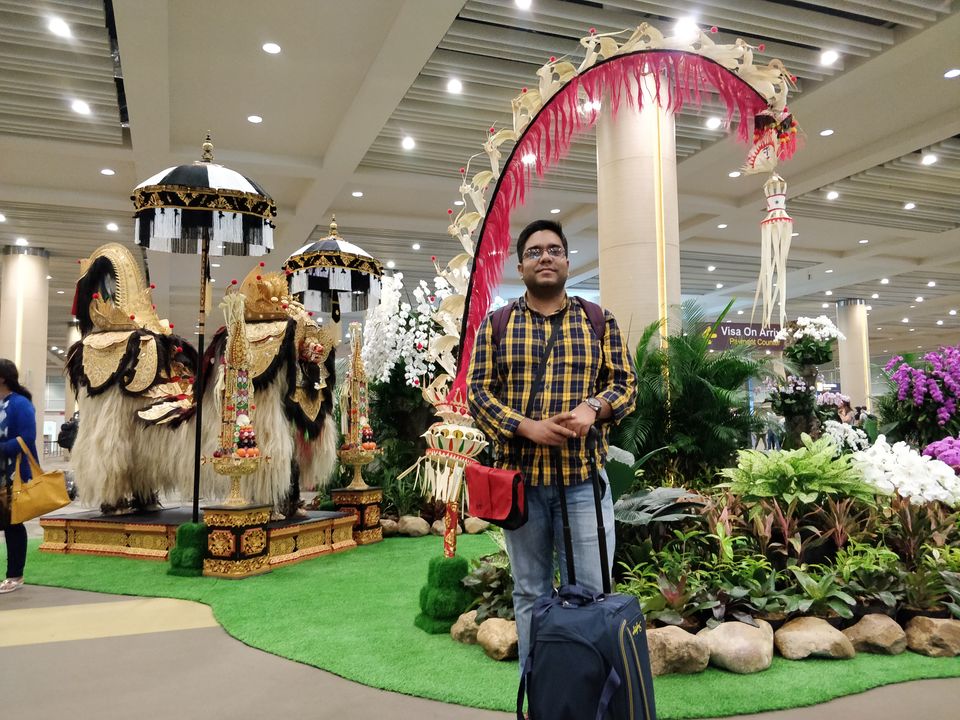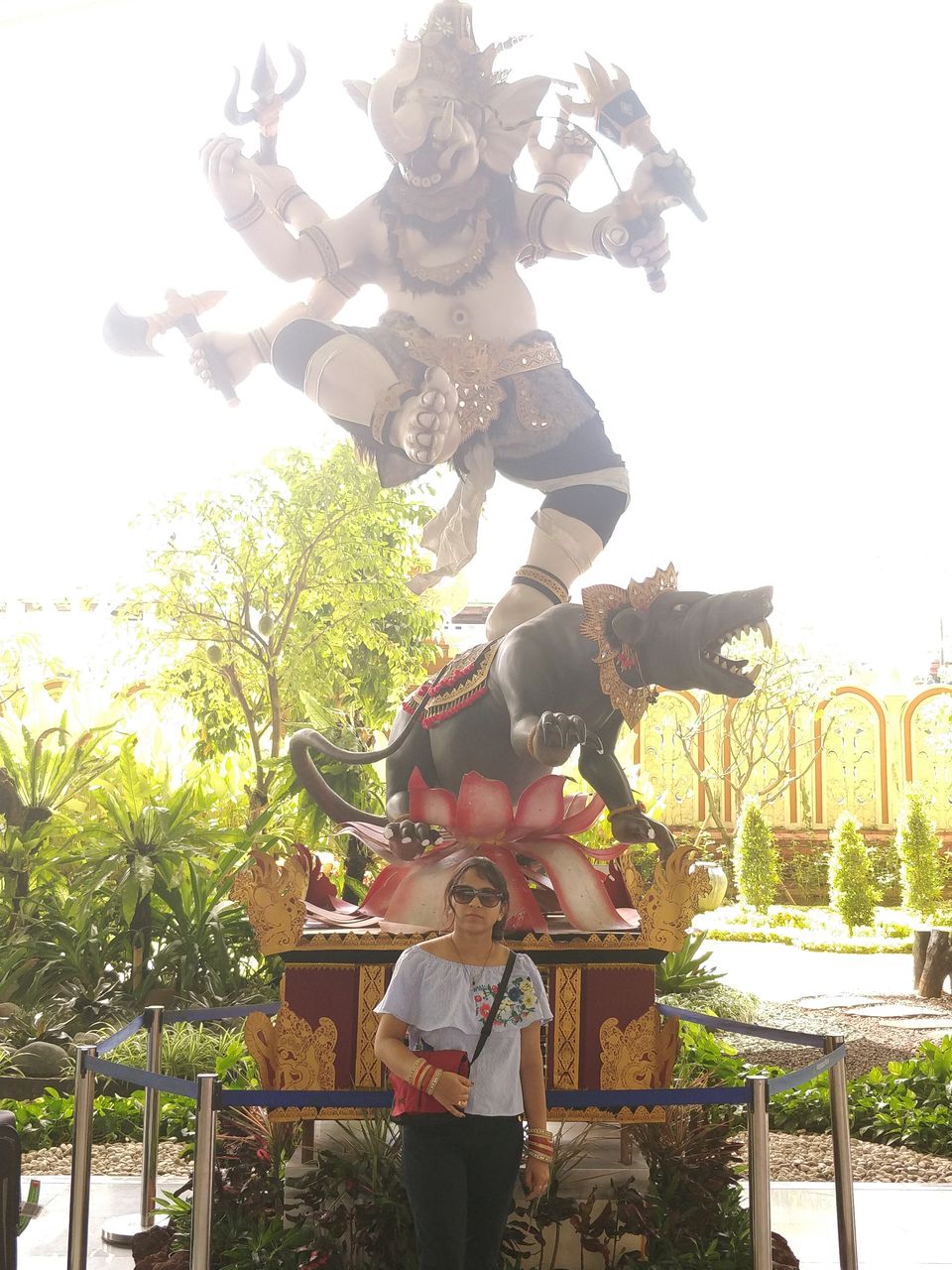 There are several taxi operators, but the Blue bird is the most reliable one (like Uber in our place). As we were at the exit a hell lot of taxi operators flocked to us, but we, already aware of their malicious tariffs,ignored them blatantly and booked our Blue bird taxi. Finally our cab arrived and we hopped in. Surprise!!! Surprise!!! Our driver not only knew a lot of Hindi, but was also a staunch fan of Hindi serials and of course, of the glittering Bollywood. At least a thousand times he must have uttered Amitabh Bacchan and Sharukh Khan. And there we were, humming to the Hindi tunes, sometimes catching on the Hindi serials he would play on his phone with great vigor and enthusiasm, heads stuck out of the windows, staring at everything in amusement, like an innocent child in the wonderland. The whole journey to Candidasa was like a dream. It was a 2 hours ride and we were hell tired but the ride made us feel like. Wow!!! The resplendent shoreline running by us , whole of the time, was something we never could have envisaged. The sheer beauty of the nature leaves you really emblazoned and we were ready to soak it in, after all we had all the time in the world. After a 2 hours ride, at about 4 pm, we reached Villa Barong in Candidasa. Candidasa is rather a laid back place with few spread out villas offering utmost luxury, beautiful scanty restaurants, few art shops and a beautiful shoreline. As it is far from the airport and the main center, Kuta, it is generally home to very few tourists, mostly families with kids longing for some quality, peaceful time. On arrival we were greeted by our local care takers, and were showed the whole place. It was huge, the pool was sparkling clean and the amenities were just enough to leave you tainted and tempted. We ordered a chicken fried rice which my wife found very dismal ( Balinese food can be very awkward for a lot of Indians the first time, so we carried a lot of noodles and soups with us) and had away with fruits ( she is anyways very fond of fruits) but me, on the contrary , always have a knack for gluttony and by the time she was done peeling off the fruits , I was done with my fried rice and she was startled and said" kitna khate ho yaar" ( what a glutton you are). We finished eating under the porch by the pool and then just sat for hours listening the calm in the air, the rustling of leaves, the chirping of birds and the splashing of the waves in the distance. The moment was surreal and we were having the best times of our lives. Then we talked to our parents ( whatsapp and the wifi saved us, as we didn't have the sim) and went on to the slumbers of the sleep after having dinner. The next day was going to be an exciting one for what we were upto was still an adventure!! I never book any packages, they limit me. I rather plan my own itinerary after a lot of research using different portals. So we slept and slept….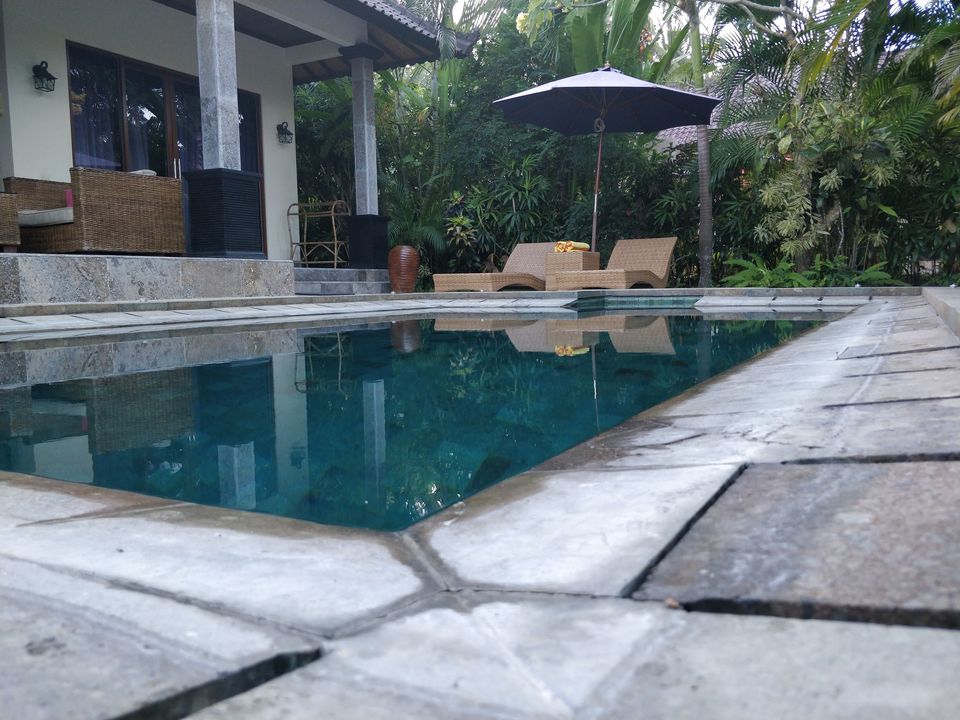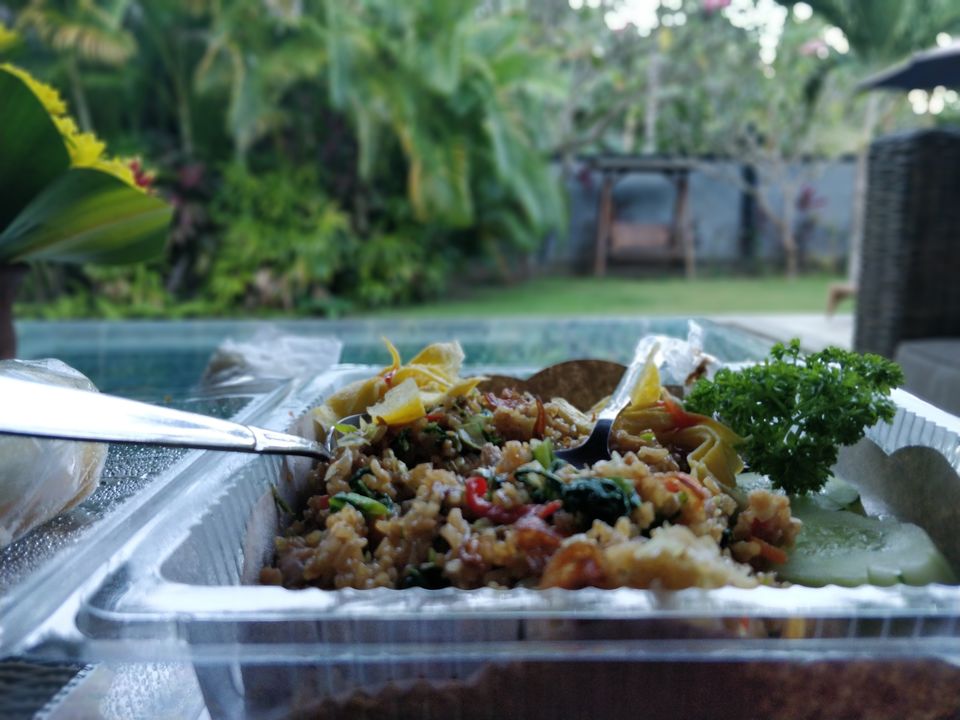 Day2
It was our first morning in Bali, and a beautiful one it was. We felt so rejuvenated after the long nap. While my wife got ready, I was busy planning the day and somehow managed to click the perfect program. I had only one thing in mind, to live these moments to the full, for you don't visit Bali every other day, and also not to tire ourselves. So we limited our visit to mostly two to three places a day. This day we were going to Taman Ujung water palace. So we got ready, cooked some maggi for ourselves, took my camera and tripod (a new one exclusively for this trip, for the photographer inside me was surging for opportunity), stuffed our bags with eateries and water bottles and left to explore the island. You can find bike rentals easily. They are omnipresent and quite reasonable, but you need an international driving license for the same (more so in centers like Kuta an Ubud), in Candidasa you can do away with your own driving license. So we completed the formalities and hopped on the scooty without wasting a moment. It was around 12 o clock by the time we left. The feeling can't be expressed in words, for, driving in a foreign countryside on hilly roads with sparse people is so awe inspiring and god damn adventurous. The scenic drive of almost 40 minutes took us to the Taman Ujung water palace. The entry gates were beautiful which was even more augmented by the solitude of the place from the other establishments. It rose into the sky from nowhere. We rode in, parked our bike at a nominal fee of ten Indian rupees and bought the tickets at 250 Indian rupees for a person. There's this moat around the palace, now mostly covered in cultivation interspersed with water at a few places. After buying the tickets we had cross the moat over a footbridge which was elegantly decorated with red flowers and hanging slender, serpentine like boughs. We had a good time over that, clicking photos. Then, as we set off the bridge, lay in front of us the actual palace surrounded by a pool all around. There was a garden on the other side, spread out to as far as our sight could go, full of blossoming flowers and so many vibrant colors we could only gasp at. The garden was flanked on both the sides by viewpoints which we reached after climbing a lot of stairs and the view, let me tell you, and was heavenly!!! We were completely bedazzled by the magnanimity of the nature!! We spent some time there, walked across the palace and garden and sat in the shade beside the pool under the trees. Time flew by , and it was evening, we had to leave but we didn't want to. Reluctantly we left after having few snacks in one of the eateries beside the parking area. We then came back to the villa, spent some time going around the local place, art shop, had dinner and went to rest ..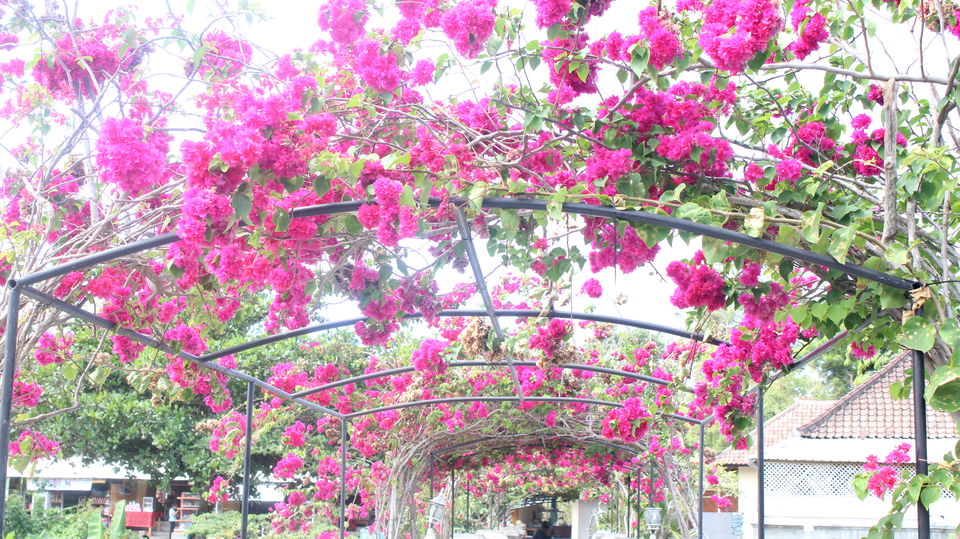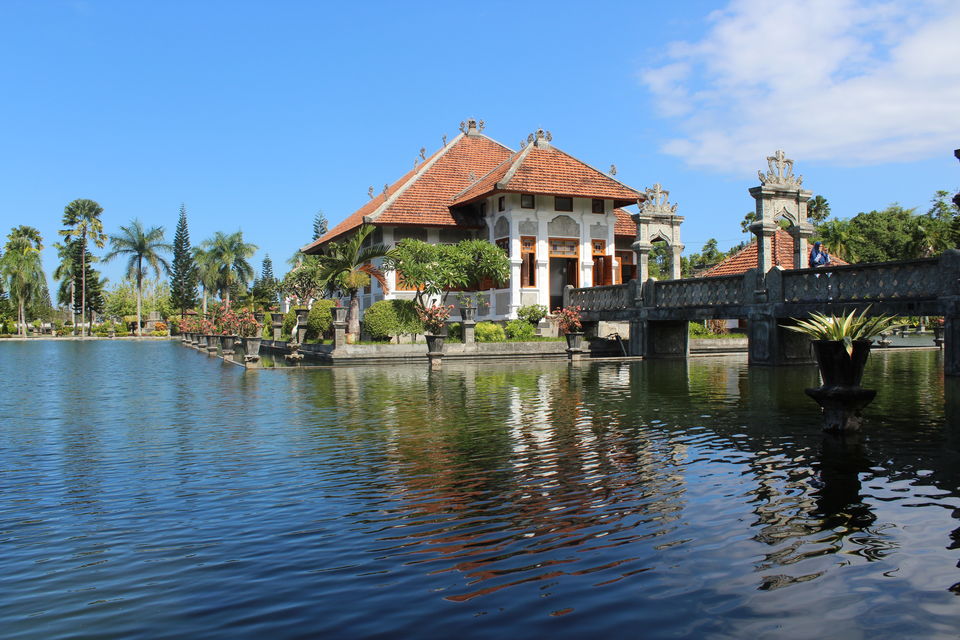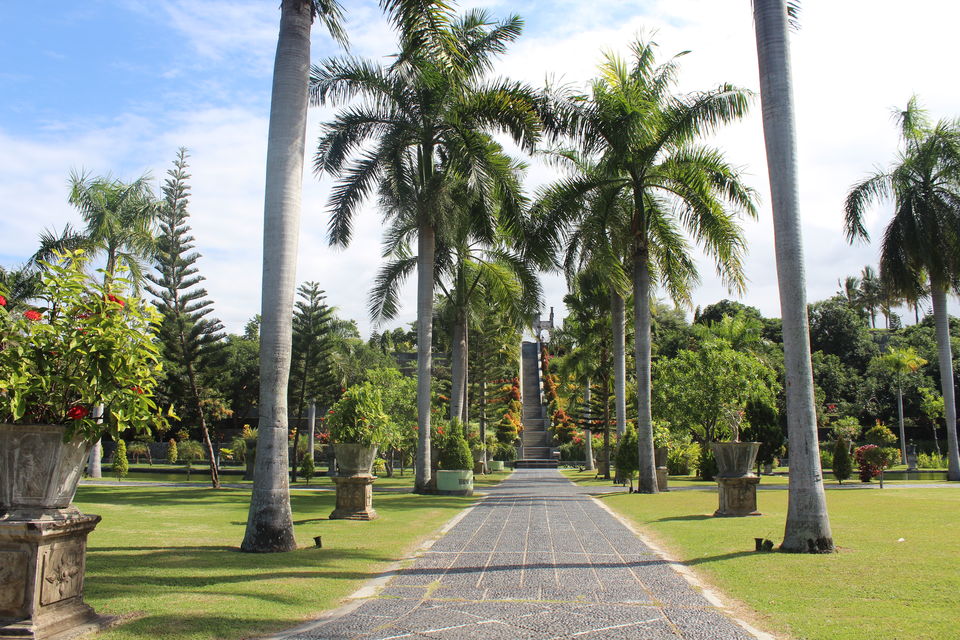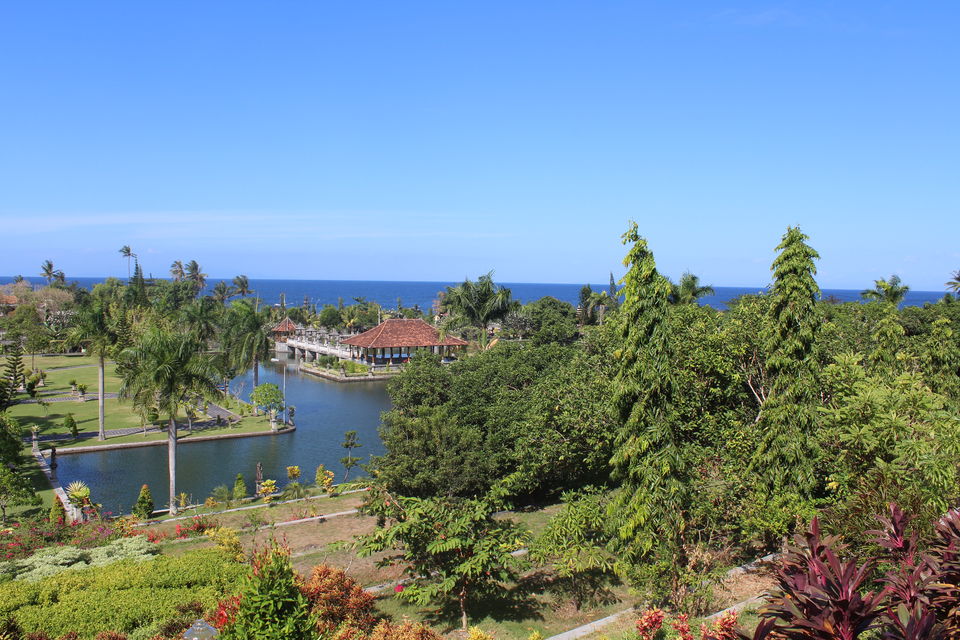 Day3
Today we decided to do three places, the Tirtha Ganga, Puri Lempyuang temple and the Virgin or the White sand beach. We cut off a nice deal with an agent beside our villa and set off early morning. The first place on the list was Tirtha Ganga. We drove through the villages (which were way cleaner than ours) and after an hour reached the place. Then we decided our rendezvous point with the driver and went in. We had to buy tickets first. It was kind of like Taman Ujung, only that there were a lot of tourists. All our tiredness was dispelled and we were left admiring the place. It had a maze of pools on both sides of a huge corridor at the end of which was a traditional community hall, where local musicians were tuning the string of melody. We thought decided to stay by the pools like many other tourists. The pools had columns to move on and awesome orange colored fishes which you could feed, so that the whole school of fishes is right in front of you, such a view it was!!!(The fish feed can be bought from outside, which is also lined up with many eateries). There were these amazing stone sculptures in and around the pool. We carried our own food and so didn't dine in any one of the eateries. Spent some time in this place and then head out for the temple.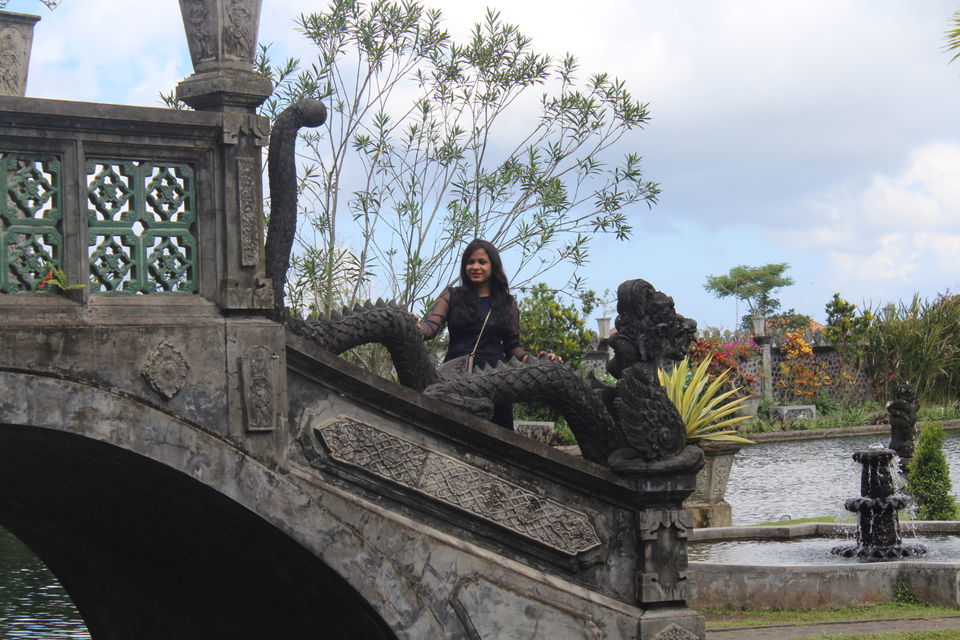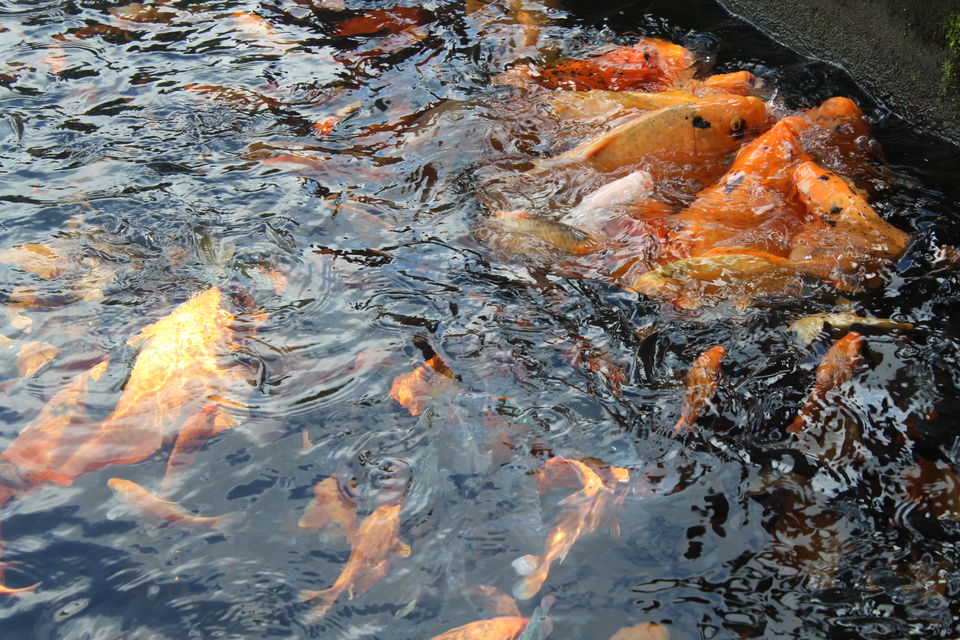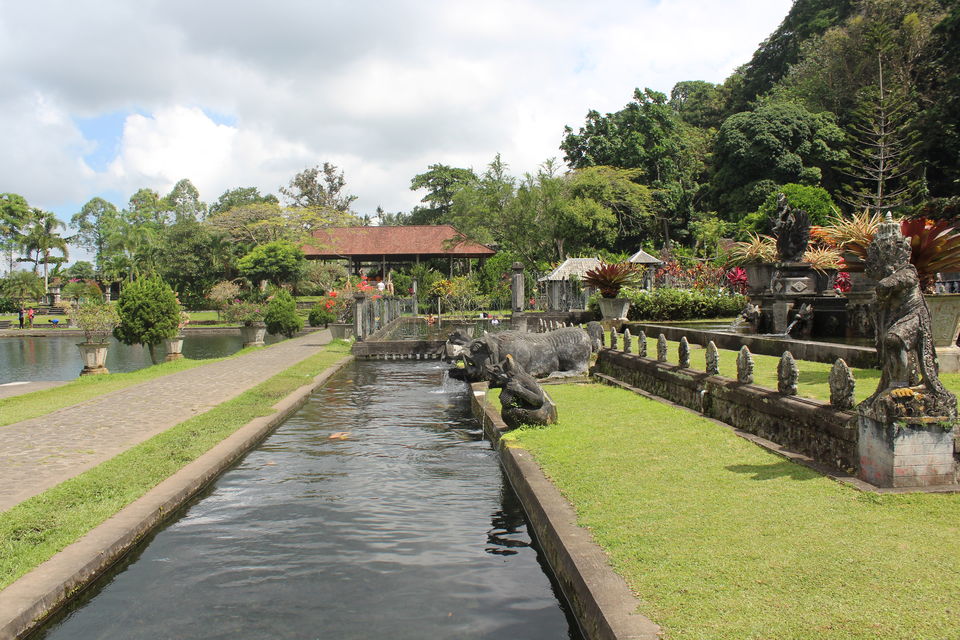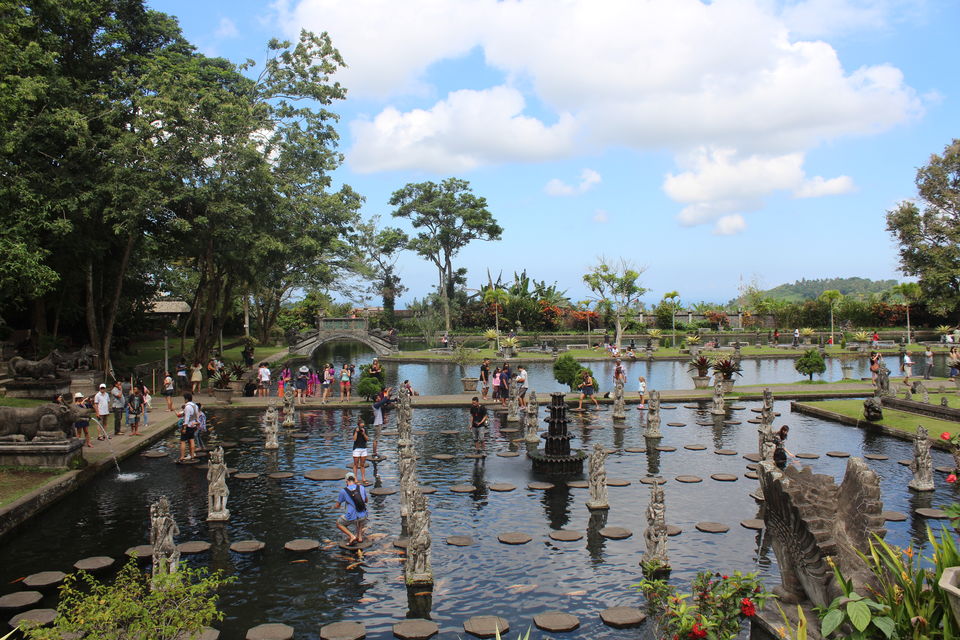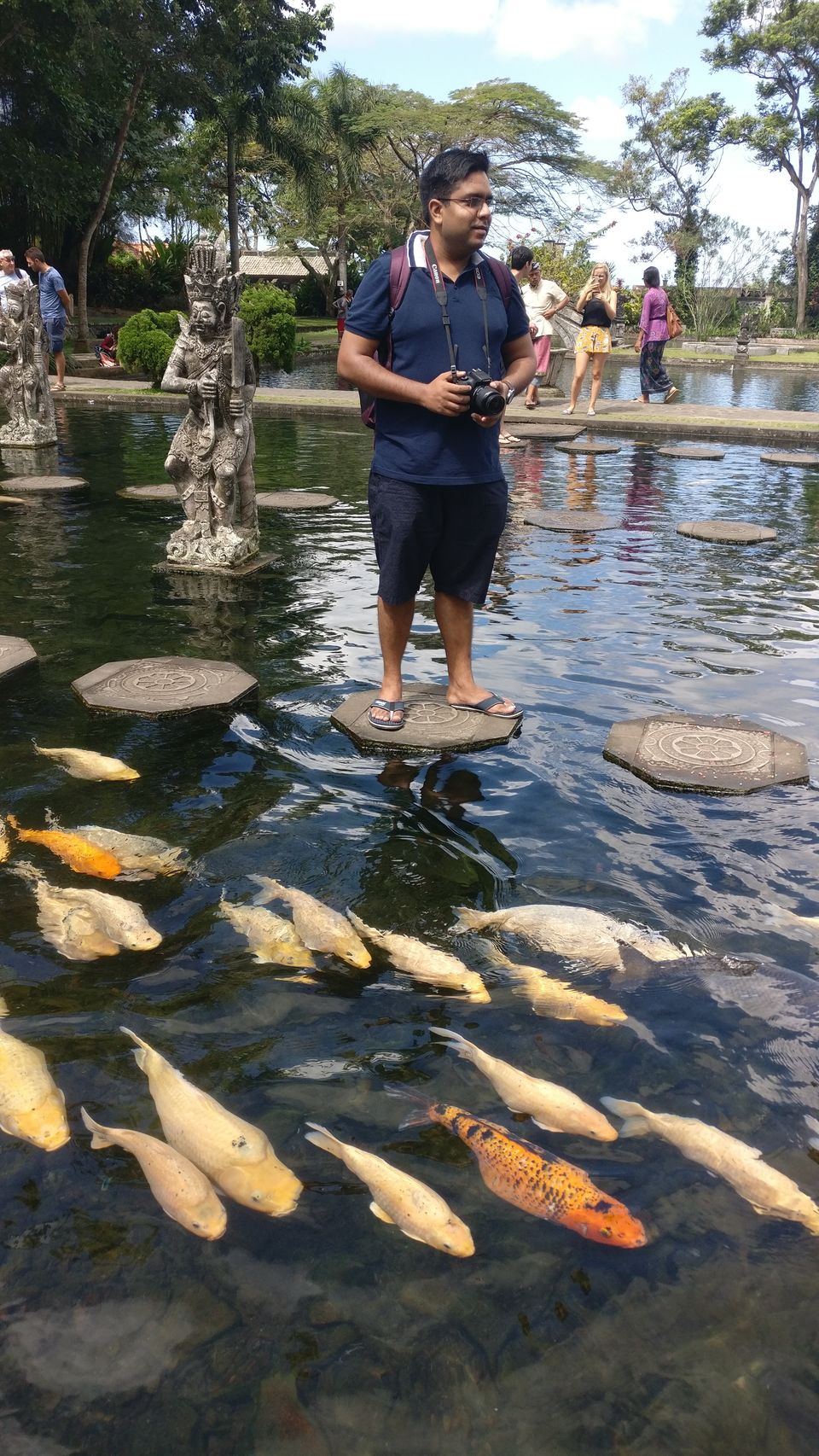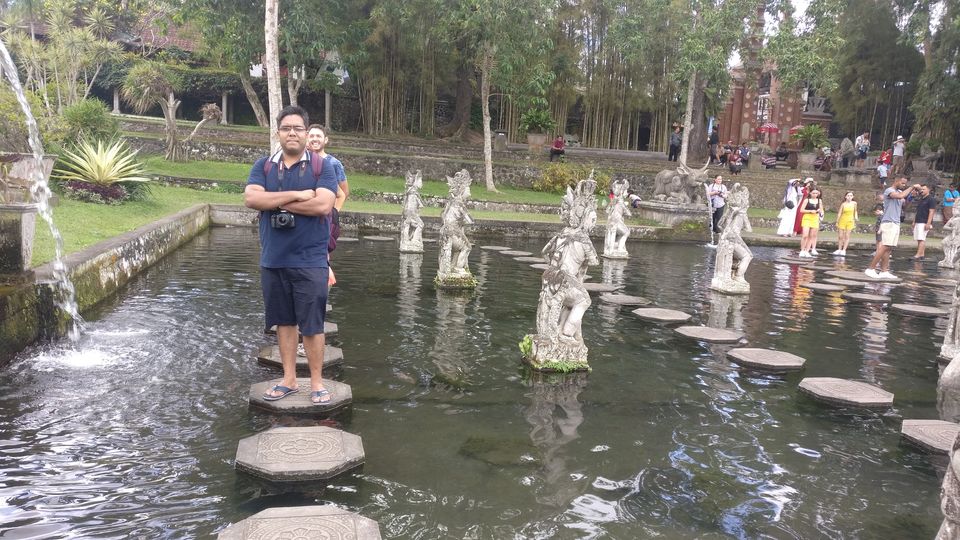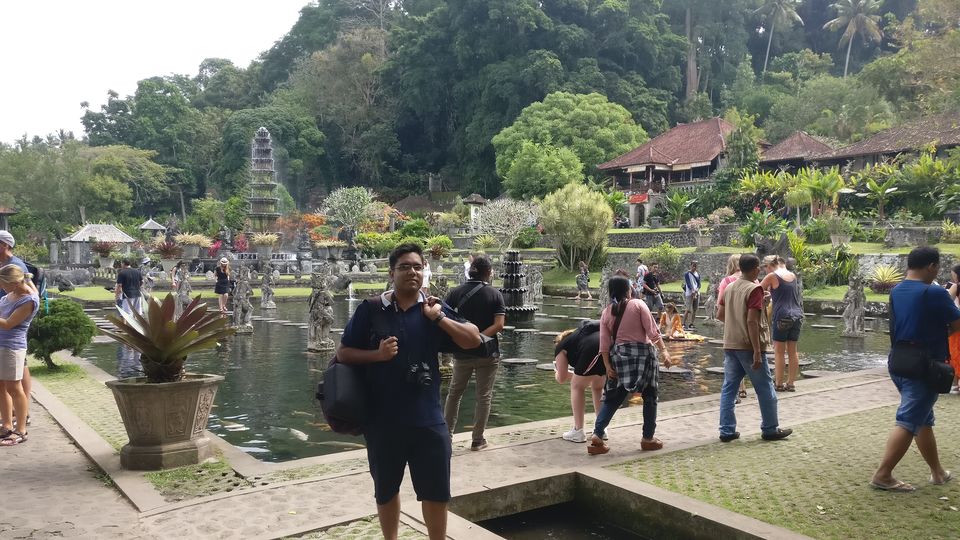 The journey to the temple was equally adventurous as the temple itself. We rode through hilly, spiraling roads with quick ascension to a steep height. After driving for about 40 minutes we reached the parking of the temple. The road was actually quite steep at most of the places with sharp hair pin bends, so bikes not advised, prefer a car.
We were helped at the entrance with the sarong (sarong is actually a piece of cloth which has to be worn at all times to cover your knees as a sign of respect in the sacred places). We gave a voluntary donation of 10000 IDR( about 50 INR) and began climbing the stairs, a lot actually!! Oh!! It was really tiring, but the spirit of the temple and the promise of jaw dropping, spectacular view pushed us till we reached the top, the main area of the temple. We gathered our breath for a second and stood still, stunned by the architectural marvellousness and the indomitable Mt. Aguang in the backdrop, its summit lost among the clouds and its slope merging with the shoreline. The view was unparalleled, divine, soothing and just left us admiring the opulence of nature. It was possibly the quaintest, serene, and majestic places in Bali. The fewer tourists added to the charisma. Then we clicked some random pictures, had our snacks , spent about an hour and half and left for the Virgin beach which was enroute our villa.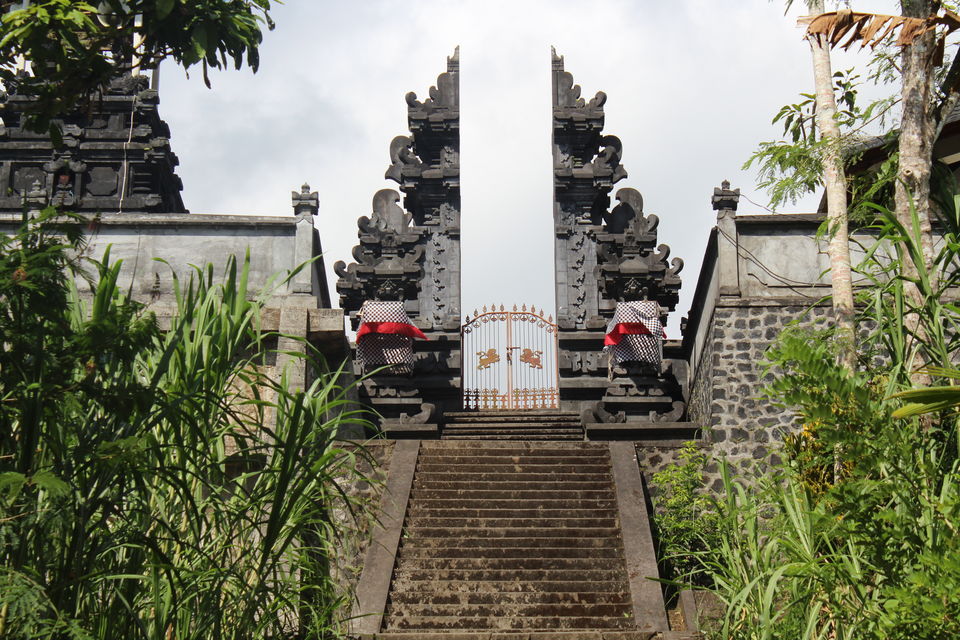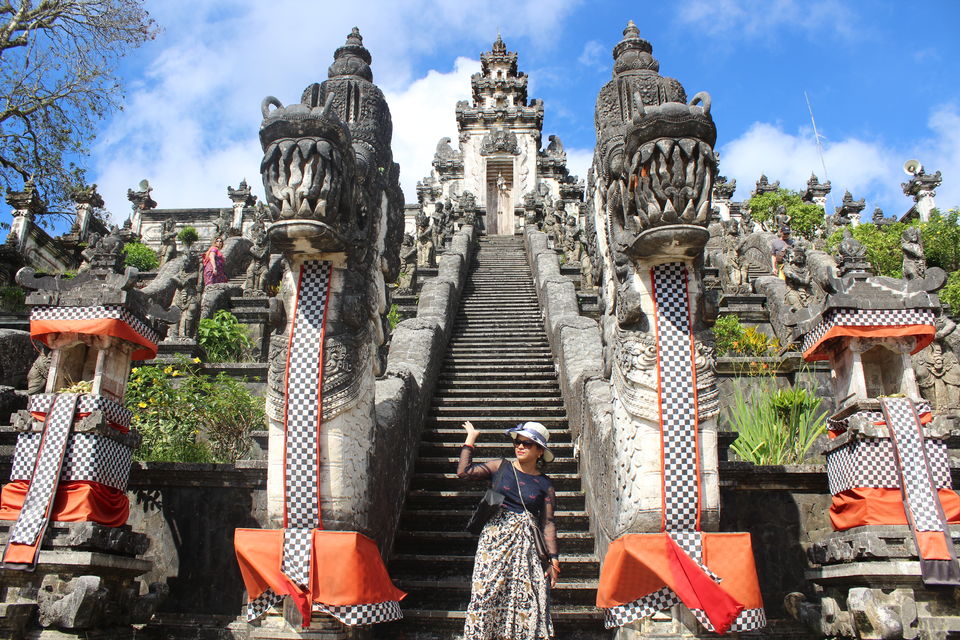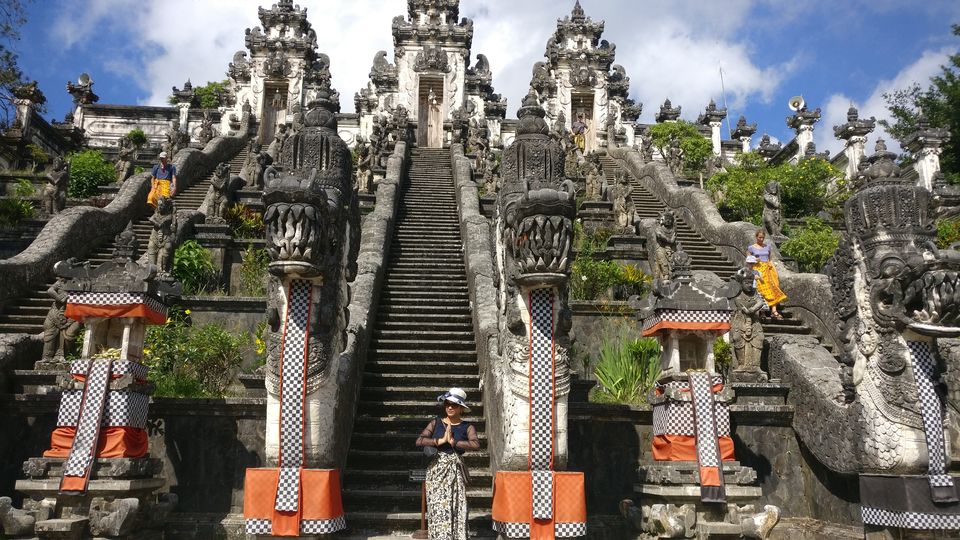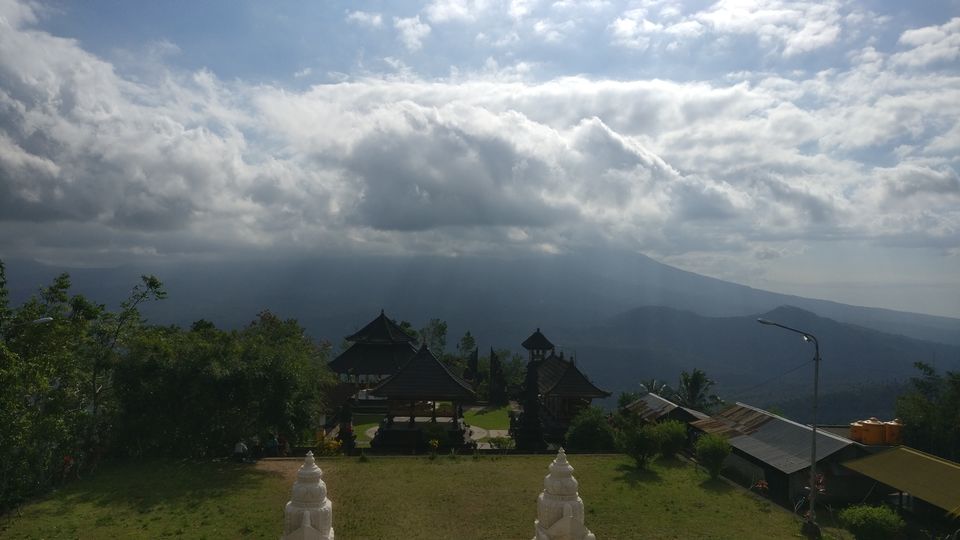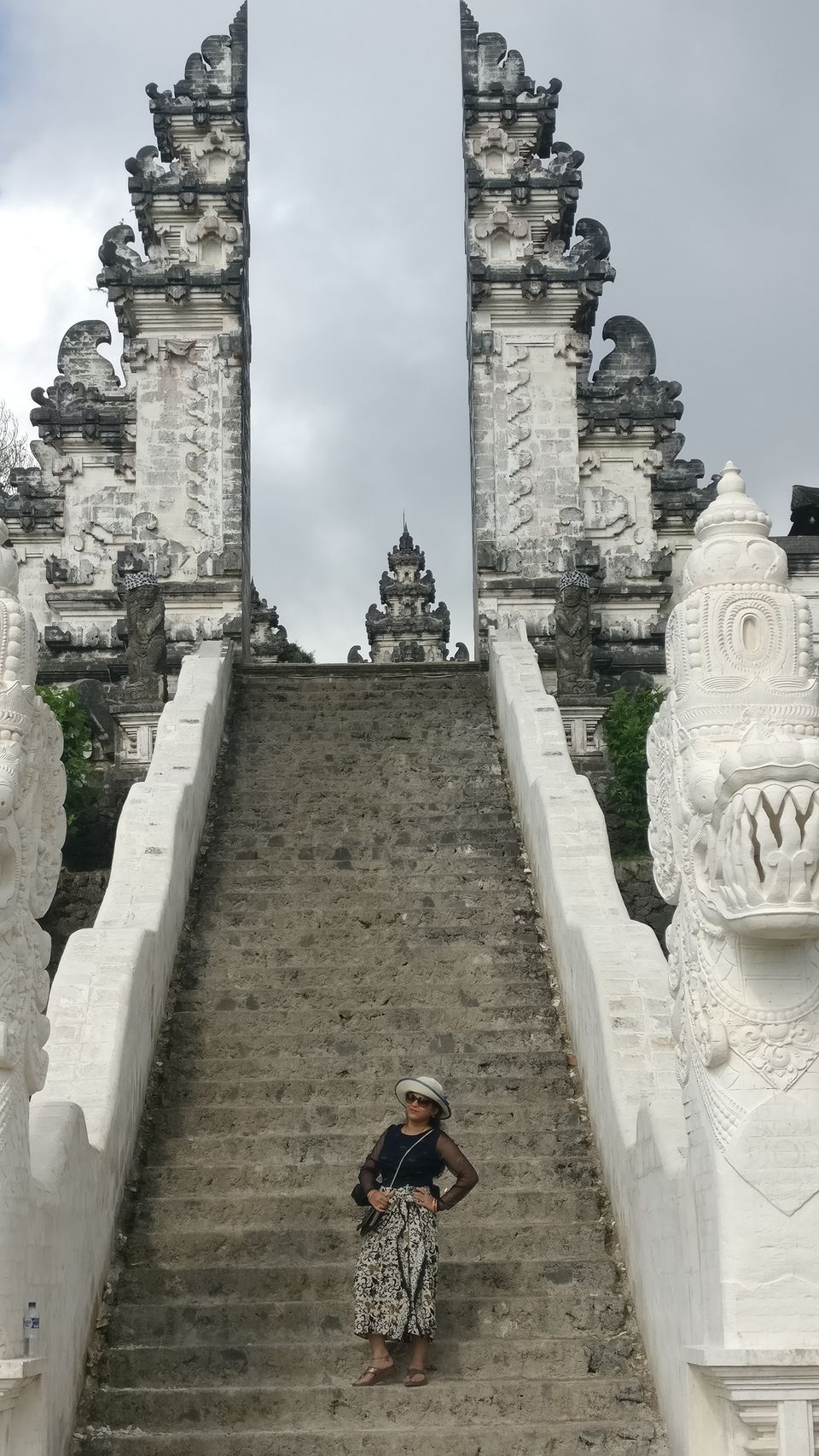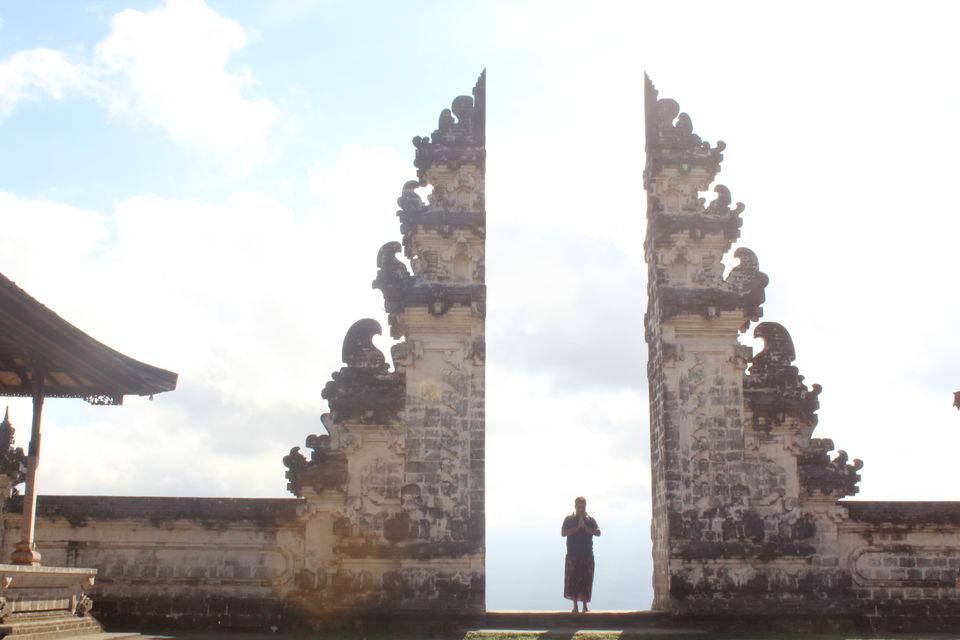 Yes!!! You heard it right. But don't get any second thoughts. It's just a name. ( haha). After about an hour drive from the temple towards our villa, we took off the main road onto a steep , uphill narrow road for the beach. At the helm we were asked for some kind of donation. So we paid 10000 IDR( 50 INR) and continued our travel to the beach. Another 20 minutes and we were at the beach. Perfectly sparkling blue water and brown sand nestled between two cliffs on either side , waves splashing onto them and creating a mirage. There were very few people , both locals and the tourists. There were many eateries too offering fresh sea food. We had fish fillet which was delicious. Though you don't get a five star ambience, but splashing waves and the cool breeze just adds up perfectly to render a flawless moment of togetherness. We spent some time on the beach and as it grew dark we left for our villa which was a further 30 minutes' drive from here.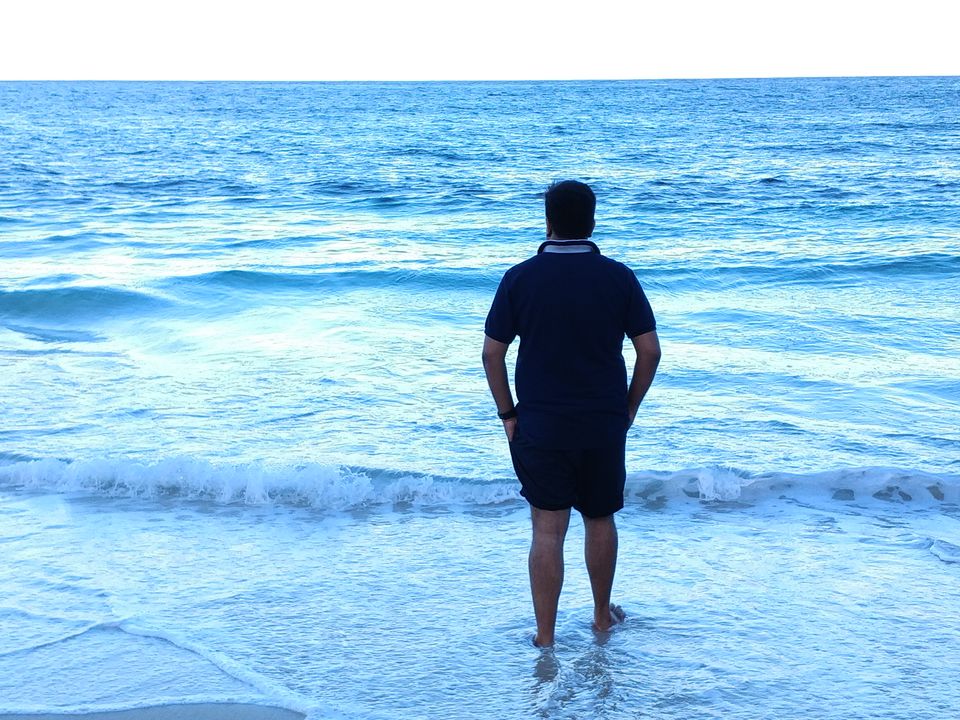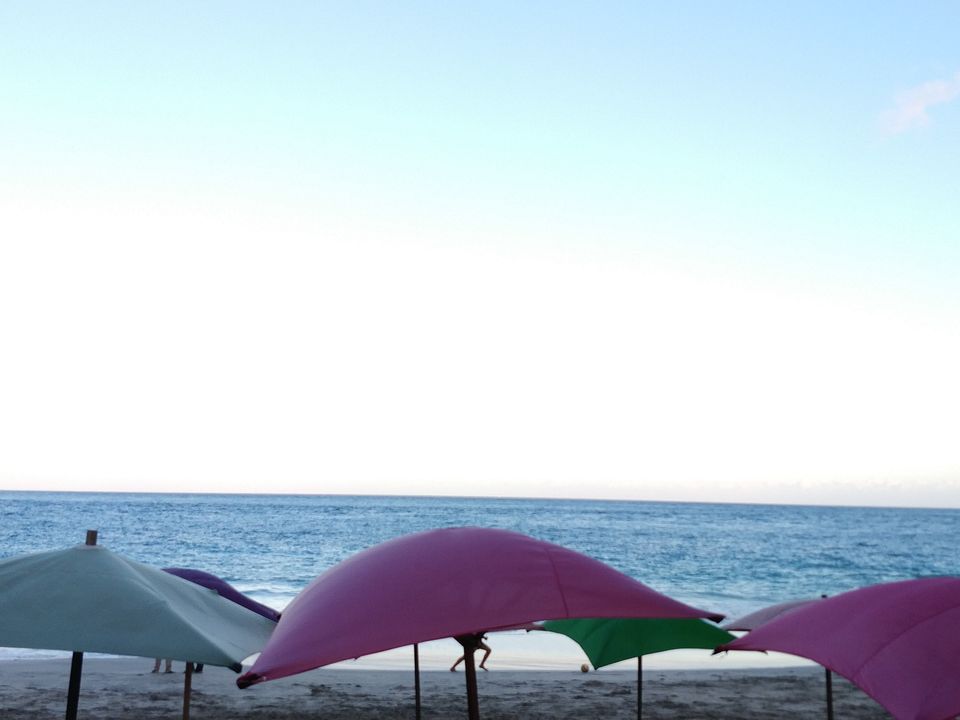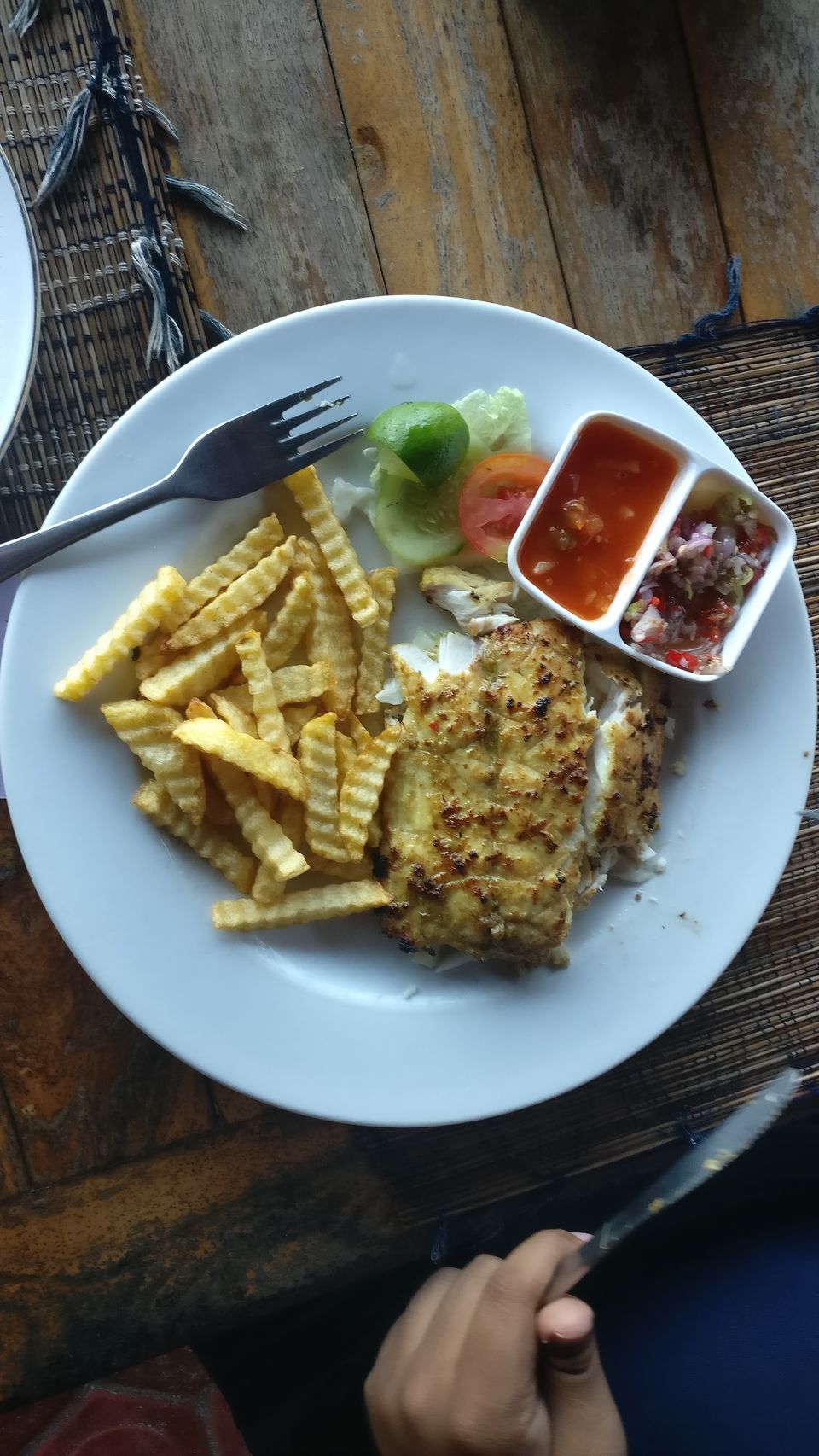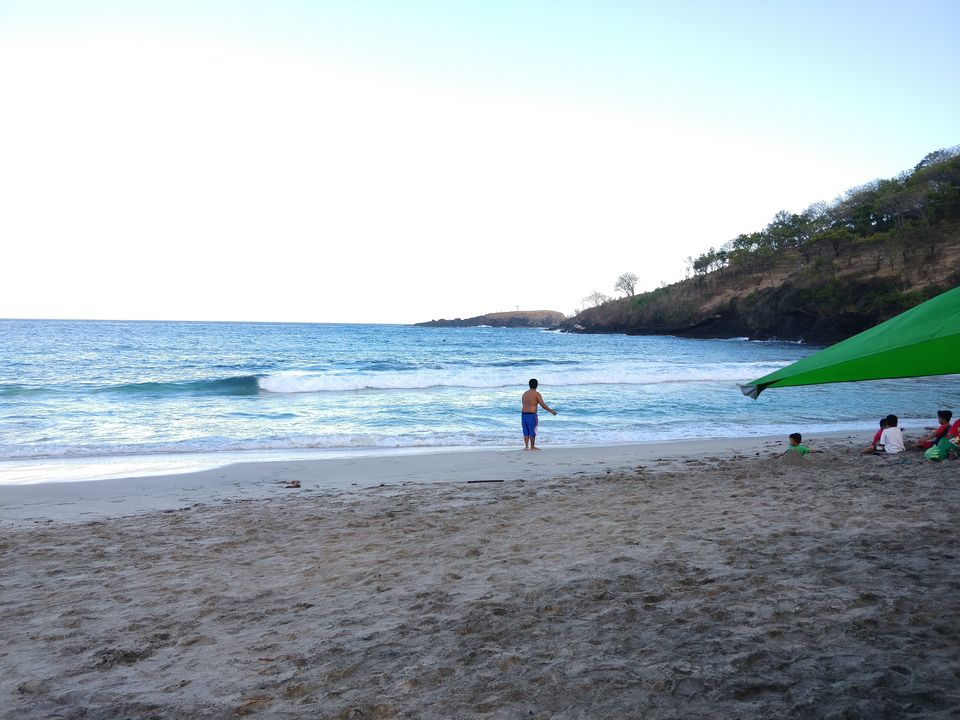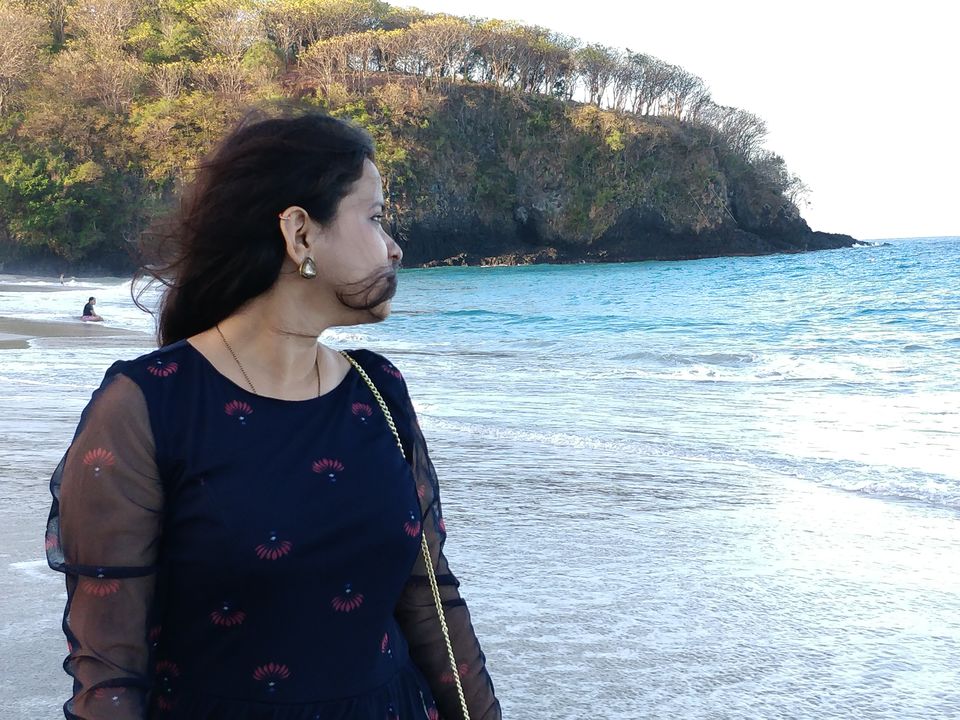 Evening was spent at leisure, chit chatting with the staffs, plunging in the pool, going out for dinner and enjoying a beautiful guitar session during the same. Then we summed up the day as we had to go to Ubud, the next morning.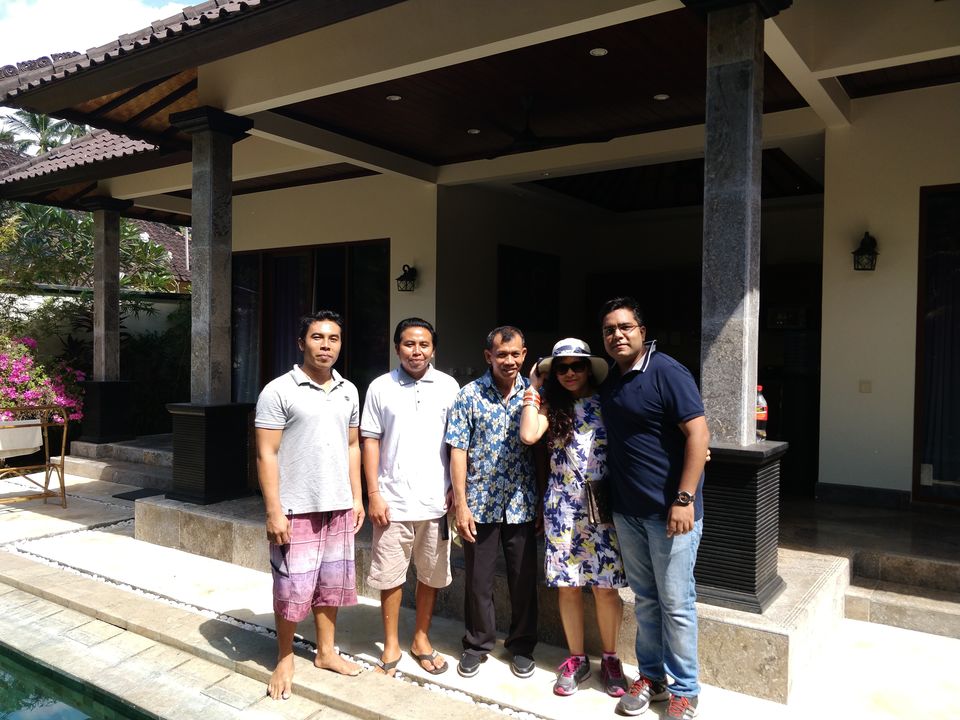 Day 4
Candidasa to Ubud is a 3 hours ride. Ubud is kind of a hill station, though at a much less altitude. Restaurants, bars and art shops teeming with tourists define Ubud. Ubud palace, Monkey forest and Ubud art market add to the attraction. We unpacked ourselves at our hotel which was kind of a spooky one ( reminiscent of those houses in old Bollywood movies) and set out for the Monkey forest. After a 30 minutes' walk we were there. It was amazing, enshrining beautiful landscapes and a lot of monkeys some of who would even come to you, but nothing to be afraid of as there are these forest guides almost everywhere to take you out of any dire situations. We had a beautiful time at the forest, took a lot of pictures and then head out to explore the local market place. We bought some beautiful wooden Lord Ganesha Statues and found out an Indian restaurant, " Ganesha- Ek Sanskriti", where we had sumptuous meals and then continued our shopping spree. As the night donned upon us we were headed back to our cottage when we found another Indian restaurant " Queens of India", not surprisingly full of our fellow citizens. We had a nice dinner over there and then head out for our cottage to get some rest.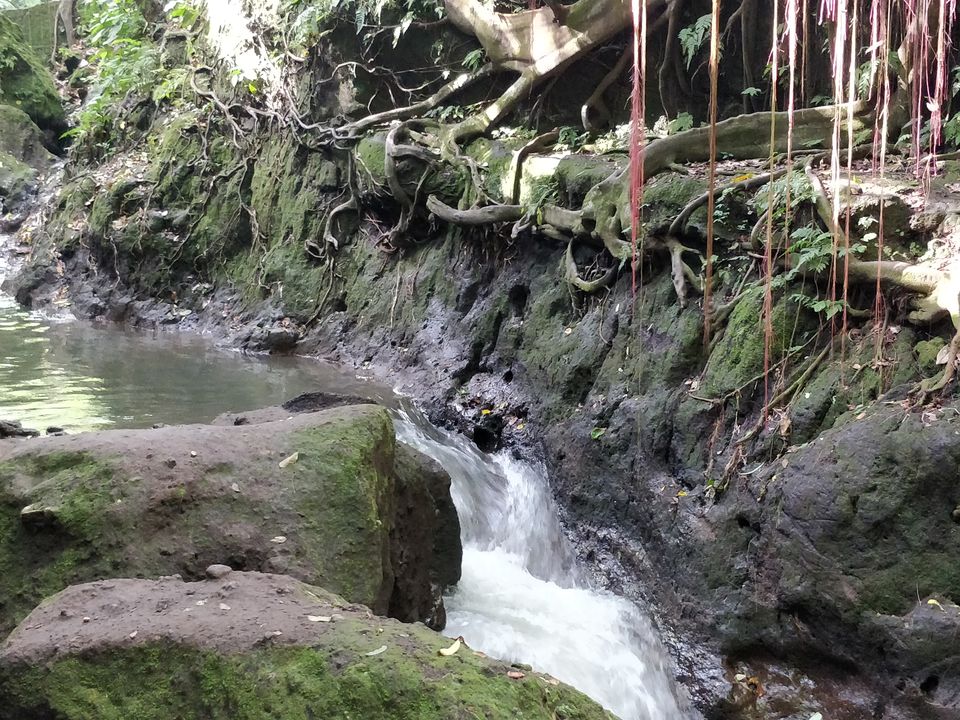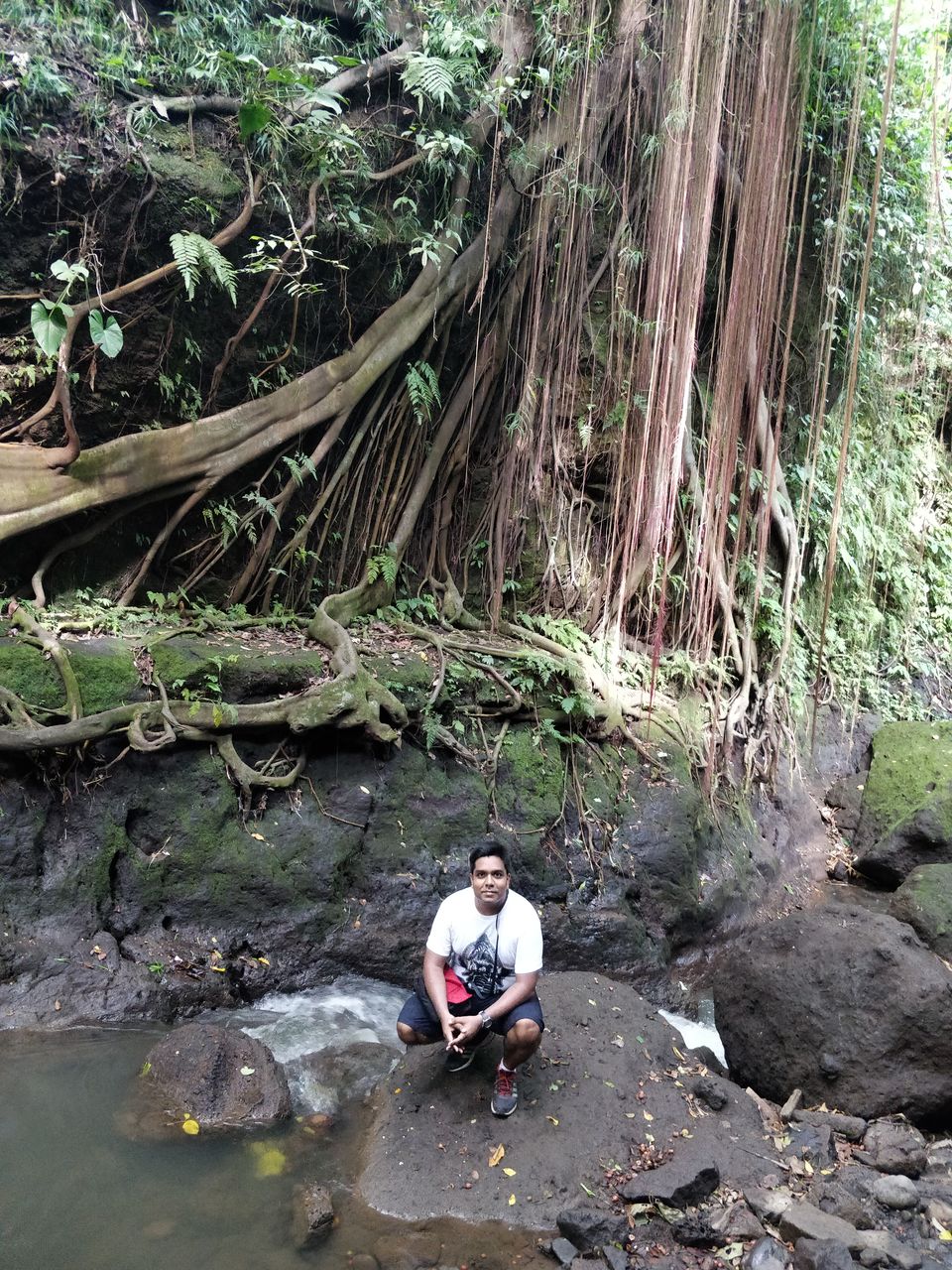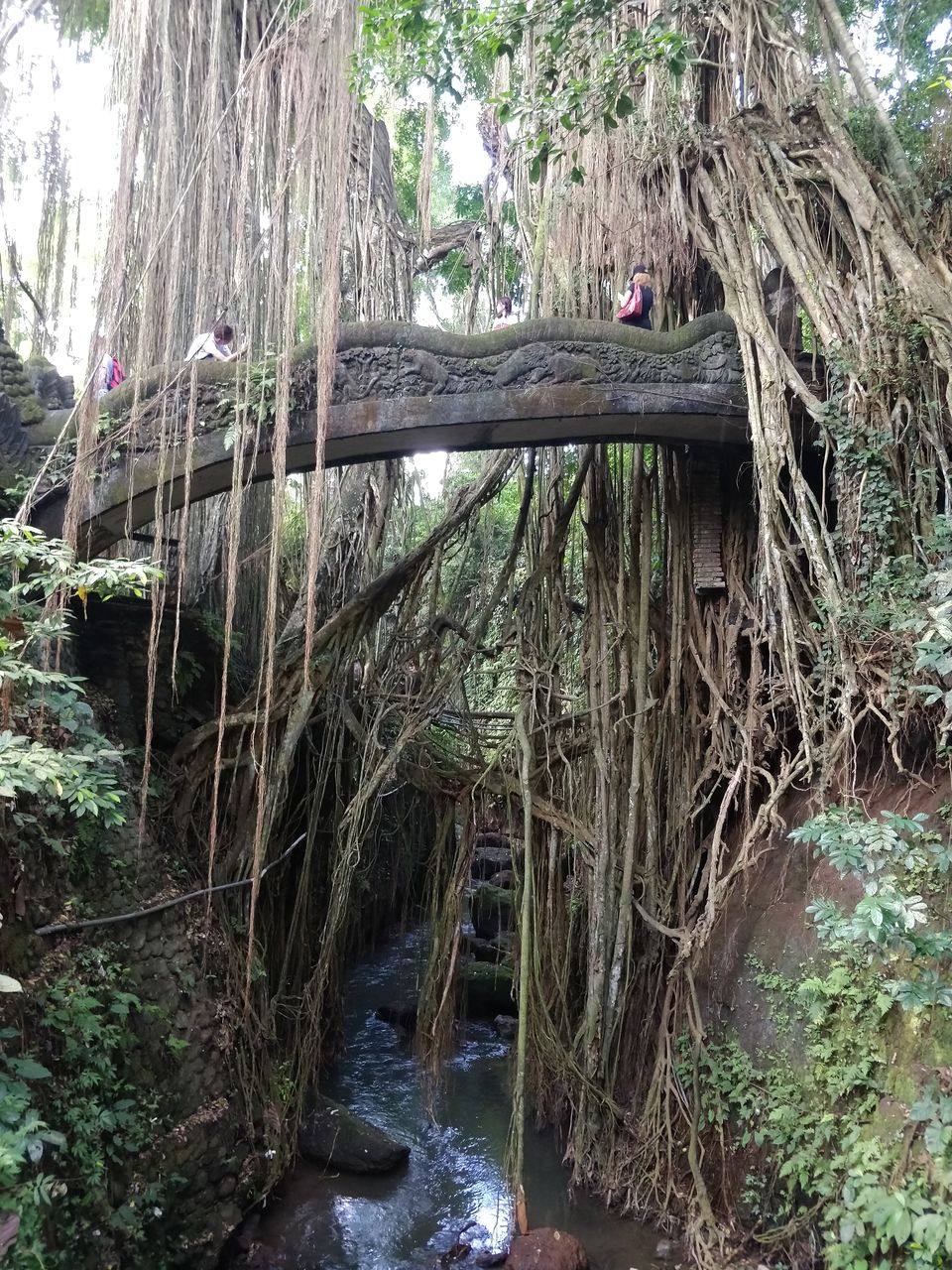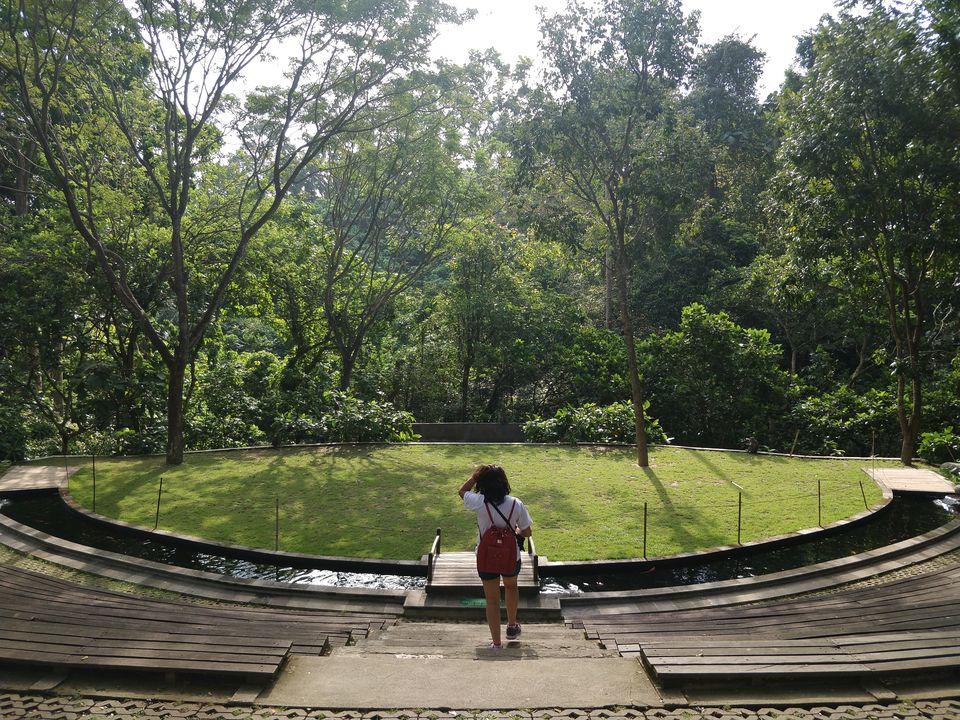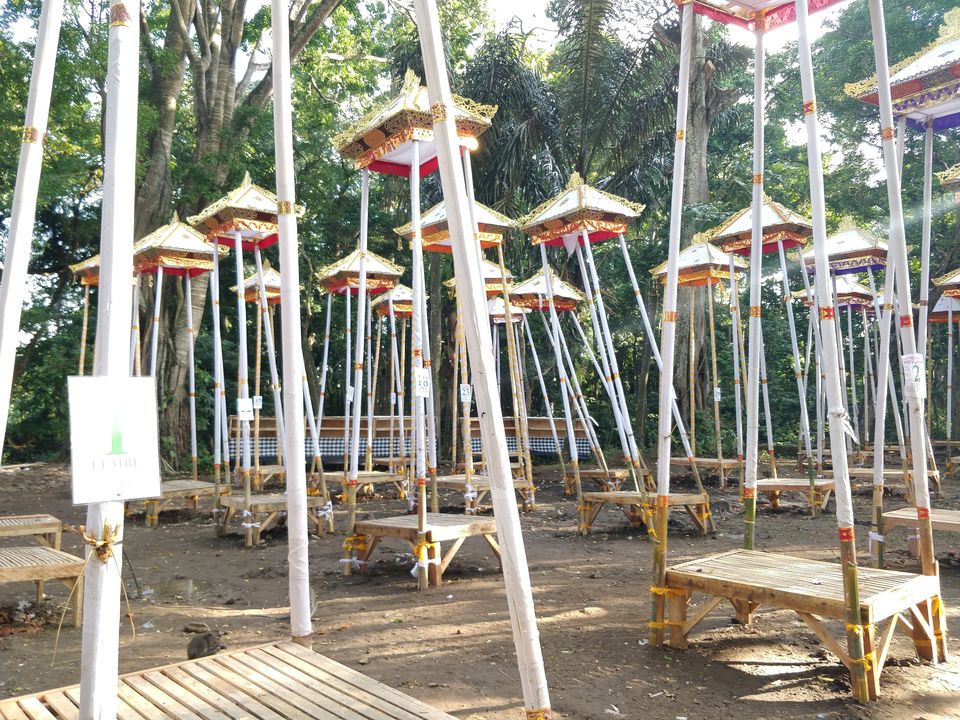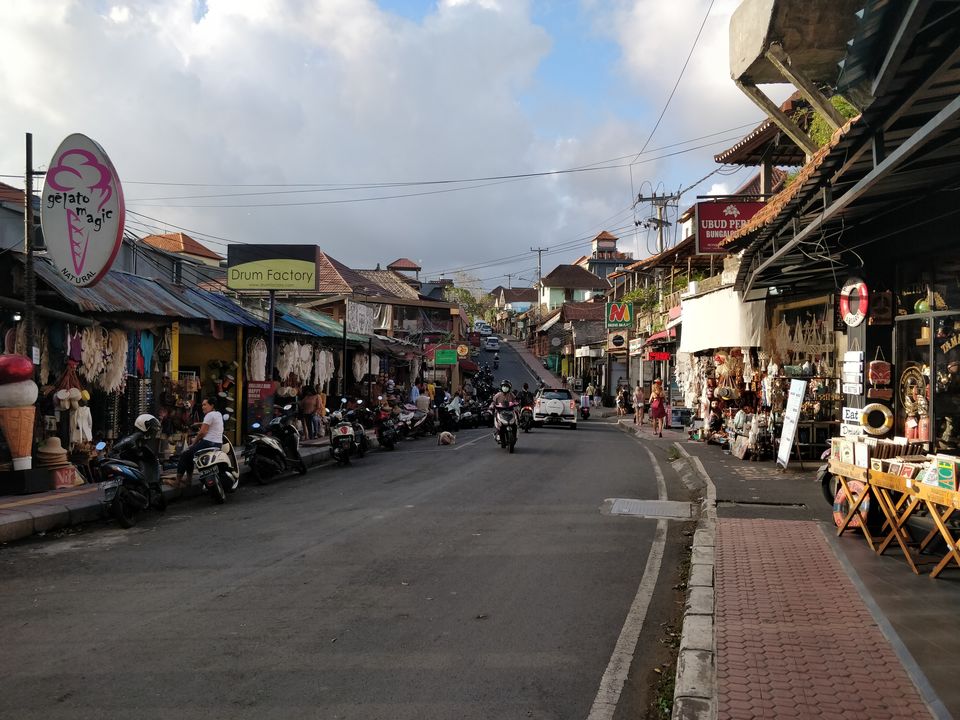 Day5
We started the day early as we had to move to Kuta in afternoon. We visited the Ubud palace, about 15 minutes' walk from our place. Its rather a small place. The palace was beautifully decorated and had an arena where every evening Balinese dance would be performed by artists.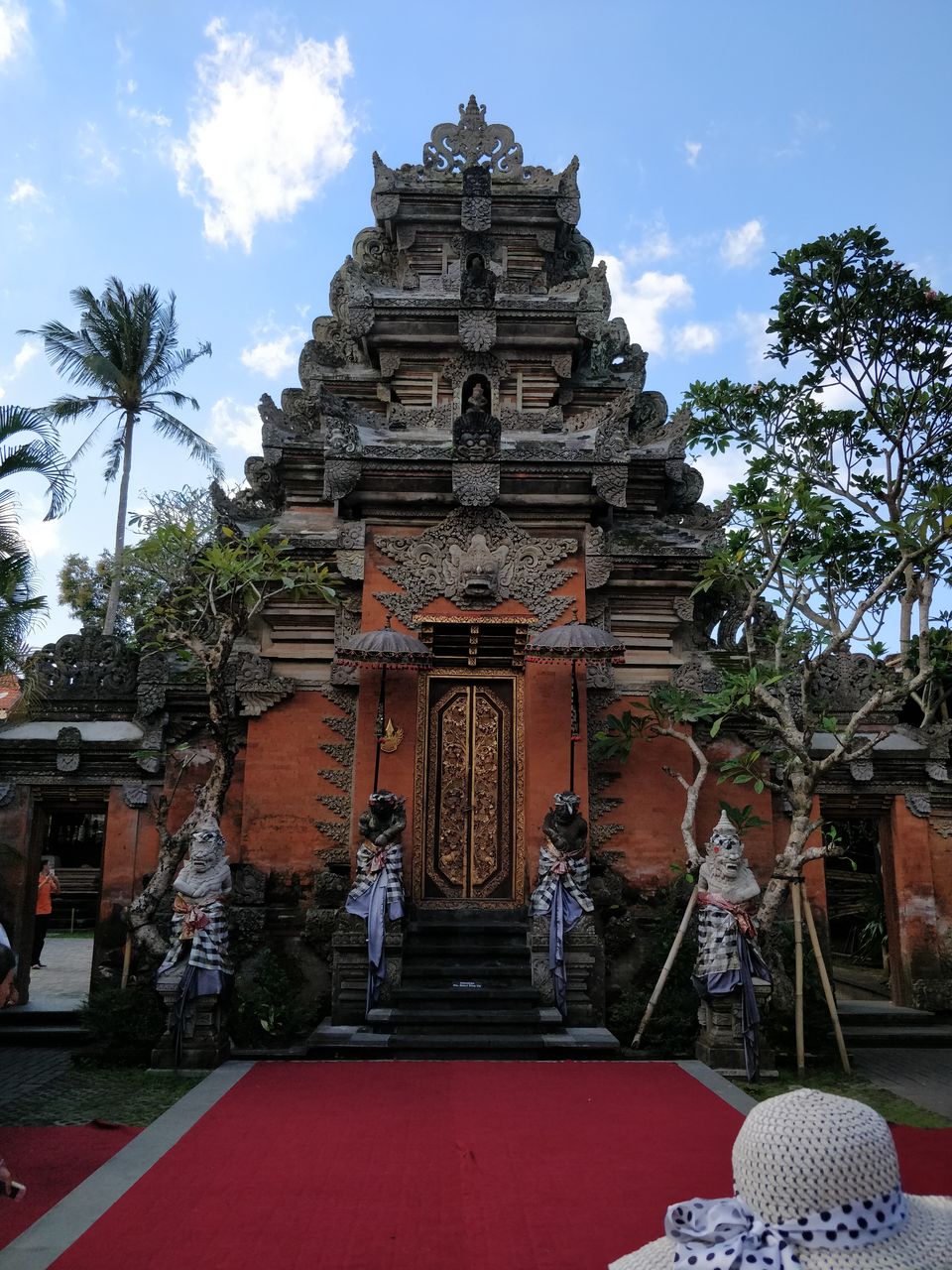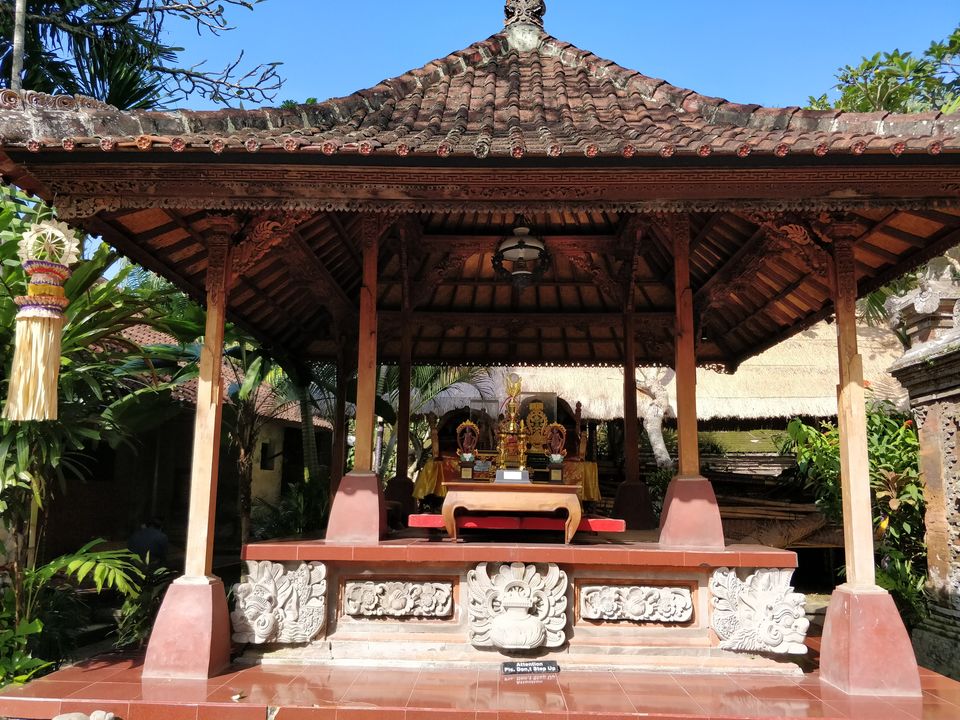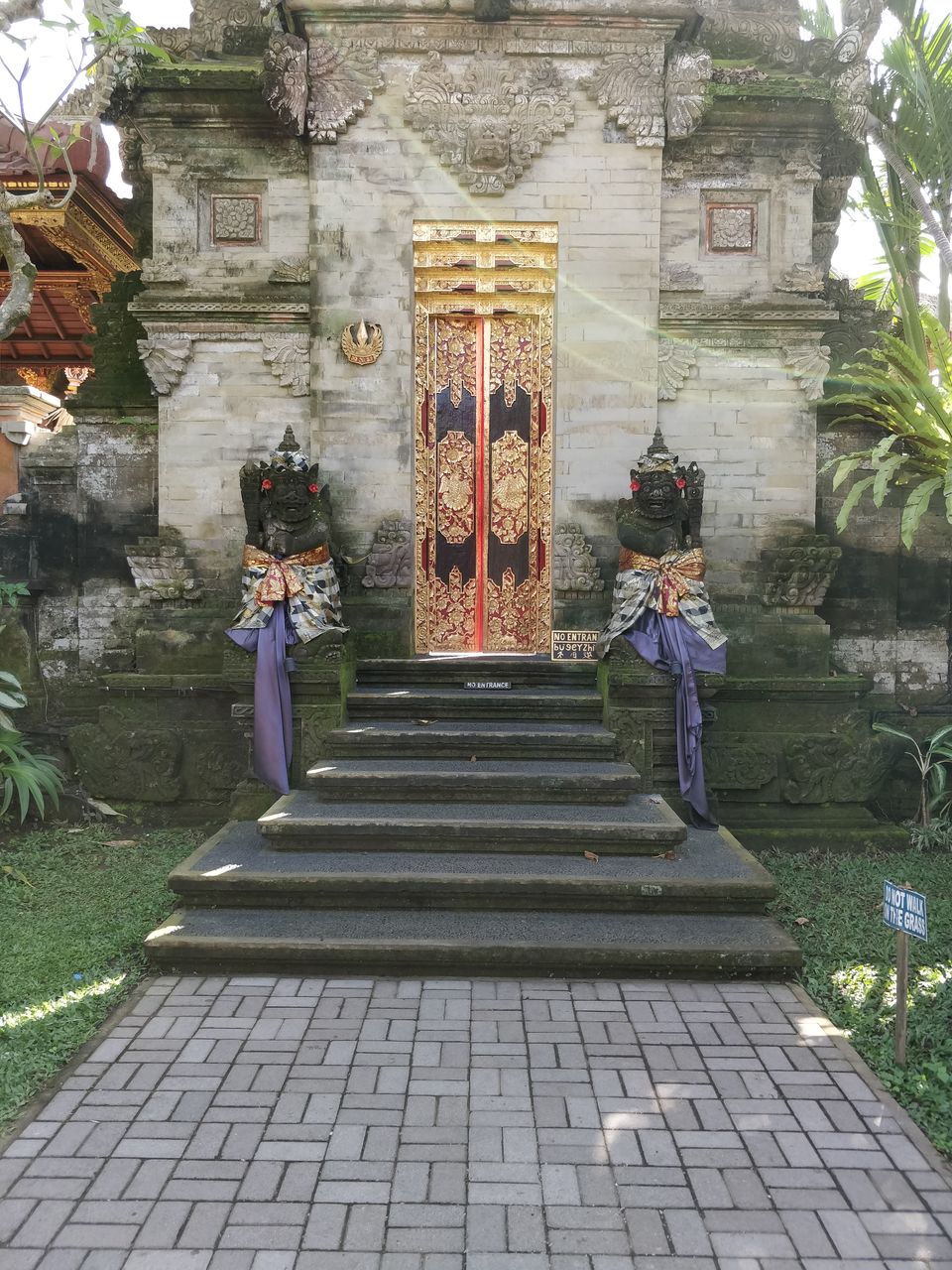 We spent about an hour over there and then went to the Ubud Art Market. Indeed the place for Indian well versed in bargaining. Huge collection of clothes and wooden artwork, bargain enough and it,s yours. We bought few souvenirs and head back to the hotel to pack as we had to leave for Kuta. As we drove to the outskirts of Ubud, vast lush green rice fields gathered our attention. On way we also saw many ' Café Luwak " outlets( Luwak is special kind of coffee made from coffee beans excreted by an animal which feeds on plants, people say it's amazing, none of us were though so inclined to have it). Wide clean roads, speeding traffics and high end outlets, yes, we were in Kuta. This place had a charm to it. We rested for a while in Grandmas Airport Hotel (we booked this because of its close proximity to the airport and excellent reviews). Without wasting any time we booked the bluebird cab for Kuta beach. Spirit of the place was mind boggling and was on the rise as the evening donned, as if festivities are in place. Thousands Of tourists, young, old, kids, all over the place, innumerous shops and eateries, and the famous Bali massage outlets. Eyes wide open still perceiving the essence of the place, we strolled towards the beach. And what we had in the closet?? A spectacular sunset as the reviews had promised. The place was utopian, surreal and worth visiting a thousand times. We went into the sea, drenched ourselves and had fun for quite a long time until we were cold. Then we walked along the beach, hand in hand, with plush Seminyak beach, ahead of us, simmering in the distance and the DJ which was coming to life as the darkness donned, behind us at a distance. After spending some time at the DJ, we went to the Kuta market, got ourselves the famous Balinese massage, did some window shopping and had dinner at one of the restaurants. Then we walked to the hotel with a heavy heart.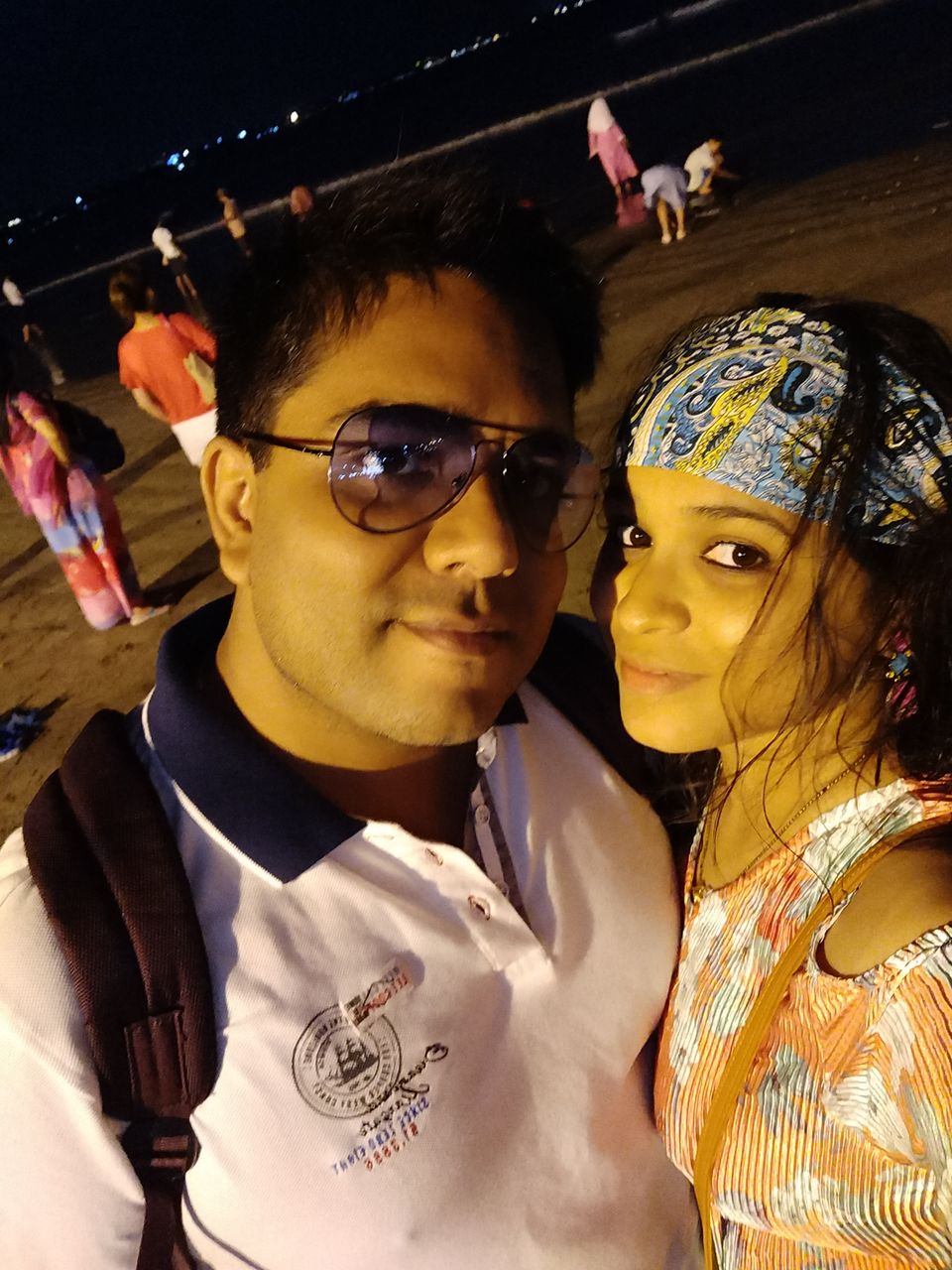 The feeling that this was our last day in Bali was so crushing and undermining. Wish we could have stayed on this beautiful island a little more.
The next day with beautiful memories, we promised to return back some day to this awesome place. We boarded our flight at 4 pm , reached Kuala Lampur at 7 pm , had a lay over there of about 3 hours. Finally we landed at Kolkata airport safely and gave a huge sigh of relief!!!
After all home is sweet home!!!
Frequent searches leading to this page:-
Bali honeymoon package cost from India, Bali honeymoon packages with private pool, 4 days 3 nights Bali honeymoon package, best places to visit in Bali Indonesia for honeymoon