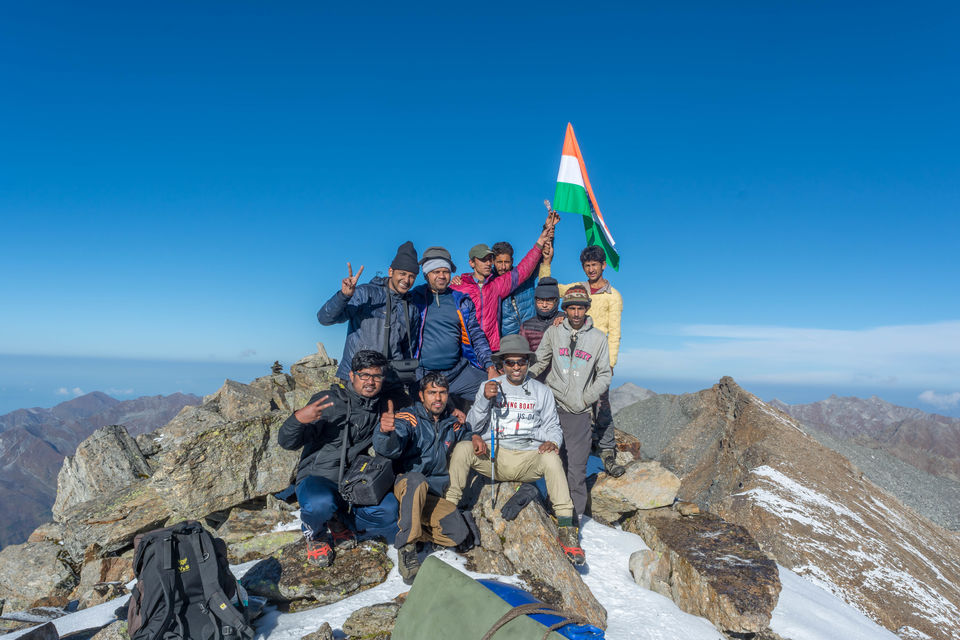 By virtue of being an adventure travel blogger, I try to experience all spectrums, I have trekked without any organized player (with 3-4 friends), many organized groups having more than 20 – 25 participants, and some other organized groups of size 10 – 12. I have had a range of experiences that have made me think over this particular aspect of trekking – group size but in the last trek to Bali Pass with Bikat Adventures, I was motivated to compile my thoughts and write about this aspect.
"We the hill people have always worshiped the mountains…my overpowering emotion at this awe-inspiring spectacle was, therefore, devotional" said Bachendri Pal on her first glimpse of Everest, moments before becoming the first woman summiteer on May 23, 1984.
Exhilaration can only define the emotional intensity of such a moment. Trekking to a mountain top at 15000 feet does that and so much more to you. When cradled in nature's lap, unplugged from the digital intrusion and city mayhem, you find time for your core. Self-discovery and spiritual awareness en-route help you introspect. The process sets in as you go on meeting the challenges different terrains throw. Physical, mental, emotional, Mother Nature tests you on all turfs. And then you have random company enhancing or diluting the situations. We are talking here of the trekking groups of strangers. Let's see how the terrain and the unacquainted companionship translate overwhelmingly for you.
The Individuality in a Trek Group
Beyond the nature's rounded, warm hug, human character also affects a journey's flavor. Trekking or any adventure is best experienced through your tangible and intangible interpretations of achievement. Each team member is alone that way. Joys, sorrow, success, failure, ups, downs, falls, rises, the gains or losses may be physical or emotional, but they all are individual and personal. Then you parallely have a 'group experience' for the same situations. All along, you find a mix of 'no strings attached' human company and the moments of quiet bliss called solitude. Towards the end, you will get to understand the implications of human behavior and the value of personal space. But how much the ideal group size should be for optimal takeaway? How does the number of people affect the trekking experience?
The Impact of Group Size on Team Philosophy
Sole trekking benefits spiritual health and confidence level since you conquer challenges unassisted. However, it cannot refute the fact that group trekking is similarly rewarding, while also being easier due to the help around. Also, lets face it, the larger the group the cheaper it becomes because of shared logistics. However, this all works out the best when the bunch proceeds smoothly and together. And that happens when the team has a manageable strength not exceeding an optimal number.
When it comes to athletics, sports teams have a specific number of team players: A basketball team needs five, cricket 11, hockey 11, and soccer 11. Have you ever see a sport payed by a team of 25 members? These numbers cannot be baseless, there must be some learning based on experience that they do not have very large groups playing for one cause (with one target). Deriving a similar number for trekking should be a curious research exercise but one thing is sure that the number cannot be too far from the tried and tested numbers 11 – 12.
The difficulties, failures, and joys are shared here because each member impacts the group's progress. This instills a sense of individual responsibility and attaches accountability. Every person feels important and motivated.
A small group's preparation, planning, and punctuality are its strength. The members become mentally and emotionally equipped with hands on skills in an unfamiliar environment. With a collective faith that instigates bonding among the members, a bunch of strangers transforms into a reliably performing team. While such crowd size pulls off the challenges better, the members in a bigger group may come up with individual problems, as they may feel lost, disinterested, and incapable of dealing coherently. It may be difficult to communicate and convince 'each' member about the gravity of following the rules during trekking.
Large Groups Means More Conflict
A large trekking group results in a variety of mindsets and opinions. The goals can turn vague and the responsibilities may deem diluted. The members may take things for granted presuming responsibilities on others. Congenial companionship creates shallow bonds with no real camaraderie. Collective entertainment fails to breed the 'understanding' of personal likes & dislikes and strengths & weaknesses. Personal input and experience is suppressed for the fear of embarrassment. A large crowd can be psychologically intimidating for some. Therefore, trust is not cultivated and the co-ordination is often missing. Eventually, an initially organized group steps down to a scattered crowd.
The Lost Paradise in Large Groups
Each Trekking memory lasts for a lifetime. Spectacular terrain, flower meadows, stony pathways and lush mountain forests, nature though wild, but is ethereal. You may even cross mountain streams, strawberry strewn pathways, and little waterfalls that unravel before you, a life brimming with pleasure. You have fun, laughter, holding & extending helping hands, campfire, sharing moments with your group members. You even find out time to pursue what you love – reading, writing, photography, and sketching/painting. Ironically, this happiness surfaces mainly when it is concentrated in a small group. Visualize the scenario of a noisy bunch of some twenty five-thirty odd people in a similar setting, all scampering up the path in a bid to outdo each other. The treks may be thrown off the schedule converting a 'could be enthralling' experience to a plain task, as you normally have in life. Like a routine, you cover distances, eat fast, and sleep soon to get up early. After all, you need to combat the delays that will happen during the day. Too much of crowd also kills peace. Excessive chit-chat, stopping for extended period, detouring for fun, argument, and more, a large group can suppress the inspiration, joy, and most takeaways of trekking. Solitude is a rare luxury you are seeking here.
How A Small Group Leverages Trekking Experience?
• It cultivates trust because of limited resources and help availability
• Builds strong relationships, which sometimes continue post-trek as well
• Encourages camaraderie through familiarity
• Develops better understanding and tolerance for peoples' strengths and weaknesses
• Helps in self-discovery
• Facilitates faster decisions
• Encounters less conflicts
• Allows better control of the trek pace
• Learning trek technicality
• Instills improved team management & collaboration skills
• Polishes group conflict management
Because of just a few hands and the absence of any alternative to surviving, limited resources – time, medical supplies, food, & water particularly, small groups are 'sharply' goal oriented. Consensus and delegation is easily achieved on major decisions, such as camp location, water points, pitching tents, digging waste pits, or the quantity & nature of provisions. A small group is efficient in negotiating steep & tiring terrain, due to collaborative efforts, smooth & fast communication, and less time taken because of low number of people. On the other hand, a larger group mostly impedes progress. Even if everything goes fine (which is quite improbable), every goal takes longer to meet because of sheer numbers. With the uncertainty of weather in alpine, each delay can prove costly. Punctuality has to be sacrosanct. And despite the necessity, it is tragically compromised in a big group.
There is only one way to manage large groups, excessive help! Now that is another danger which can turn the whole exercise into farce. When you are part of a crown (not a team), you find it very difficult to get motivated. So, you start giving up, first by handing over your bags to mules, then by reducing your targets (compared to the original), and in fact in many cases completely giving up!
Off course, mountaineering is much more complicated than trekking and some liberties can be taken but one can understand why climbing Everest has turned farce since huge groups started climbing in queues. The success stories from mountaineering largely back small groups. Many of the celebrated mountaineers like Reinhold Messner would completely refuse to climb in large teams.
Conclusion
Energy is channelized at the high points when you trek in a small group because it can be turned into team! Each member understands the responsibility and gains confidence in countering the individual fears head on. You embrace the nature in its entirety. You grow stronger in character with the ability to rise above human failing. You develop clarity, skills, and an intense desire to succeed – individually as well as a team player. Why deliberate with failure? Pursue quality. Of course it comes for a price, but it just never disappoints!