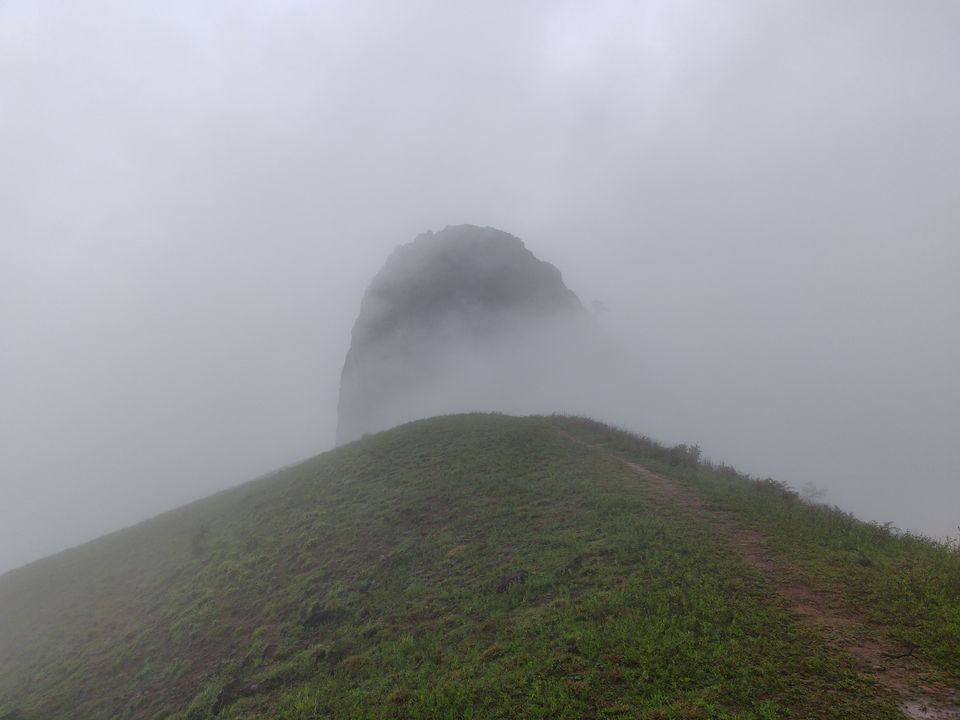 Refer Part - 1 to know about the Planning and Homestay Booking

Journey Starts:
After finishing the hustle and bustle of Friday, everyone gathered at a common place from where we were supposed to start. Loaded the boot space with our backpacks and embarked on this most awaited trip at around 12:00 in the night.
We followed the below route suggested by Google Aunty as it was a complete highway with small stretches of single lane roads in between. Distance to reach the Homestay is 262 Kms.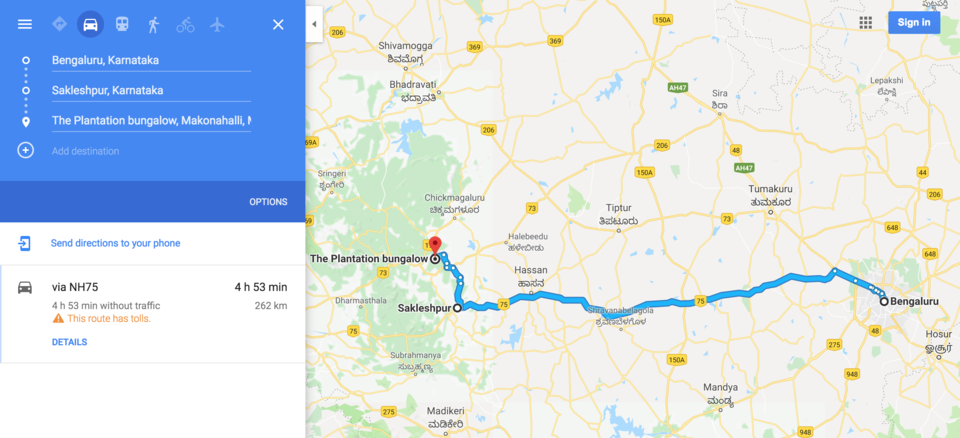 Condition of the car was pretty good. It was quite new and was delivering more power than its other counterparts. Leg Space is more than enough for people taking the back seat. Handling of the car is something for which Toyota needs to be appreciated. Ground Clearance is again an important factor to consider if you are taking this SUV for off roading and boy-oh-boy it will serve the purpose effortlessly with its humongous tyres. Each one of us drove the mighty Fortuner and felt the power of the beast.
We took multiple stops on our way out of which one was just after a Toll Naka(Unable to recollect the name) where we saw fresh and hot Idlis getting prepared at night 3 AM. We took the opportunity to refuel our stomach and continued our journey thereafter. We reached Sakhleshpur around 6:30 AM in the morning.
Abbe - Gundi Falls:
We were supposed to check-in at the homestay which is in Mudigere after 8 AM, so we decided to explore Abbe-Gundi Falls which is around 22 Kms from Sakhleshpur and 27 Kms from our homestay.
We never had any expectations but, when we reached, to our good luck the view of the fall was surprising and made us cheerful. Map will take you till the point located on the road. There will be a signage which is written in regional language. Then there is a small stretch of slippery route alongside the road going downwards that will take you to the falls.
Note: You can dive in to the water as it is safe and only knee deep. Although, water is very cold. We refrained from taking plunge at that point because we were tired.
After sometime it started drizzling and we had to go back to the car. We headed towards the homestay without any further delay. We reached at 9 AM and completed all the formalities. Our host(Prarthana) advised us to wait for sometime until the rooms are ready and meanwhile have breakfast. We finished that and then went straight to our rooms and dozed off given the fact that we didn't sleep the entire night.
Coffee Estate Tour:
We woke up at 1 PM and got ready by 2 PM. By that time, lunch was served. We had a discussion with Prarthana and got to know about the places to explore. She provided name of the places and explained the route.
Now, it was time for the guided tour of the coffee estate which was owned by the hosts of the homestay and our guide was none other than the husband of Prarthana. A narrow road just outside from the homestay will lead you to their estate. He was on his Alto and we were on our car.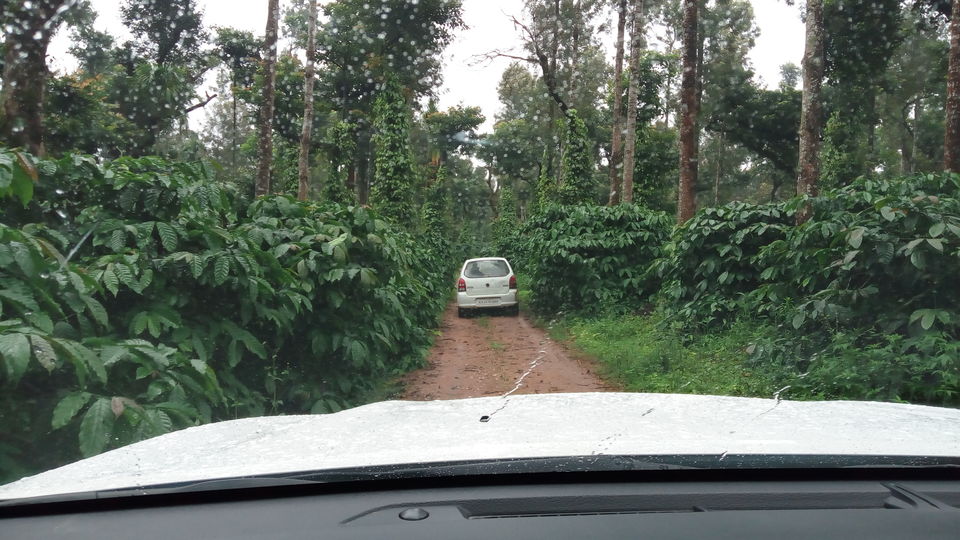 The estate was full of lush green tress and coffee plants. There was a small pond in the middle which acted as a water source. He was explaining about how they cultivate coffee and where it is sent for further processing. Also, the other type of crops that are being cultivated around, weather which is always fantastic and how life is so simple for them.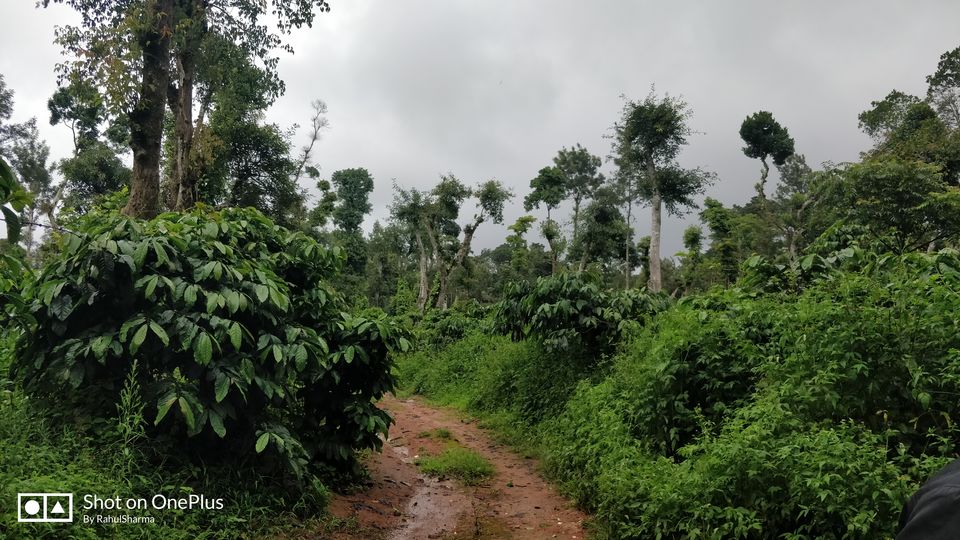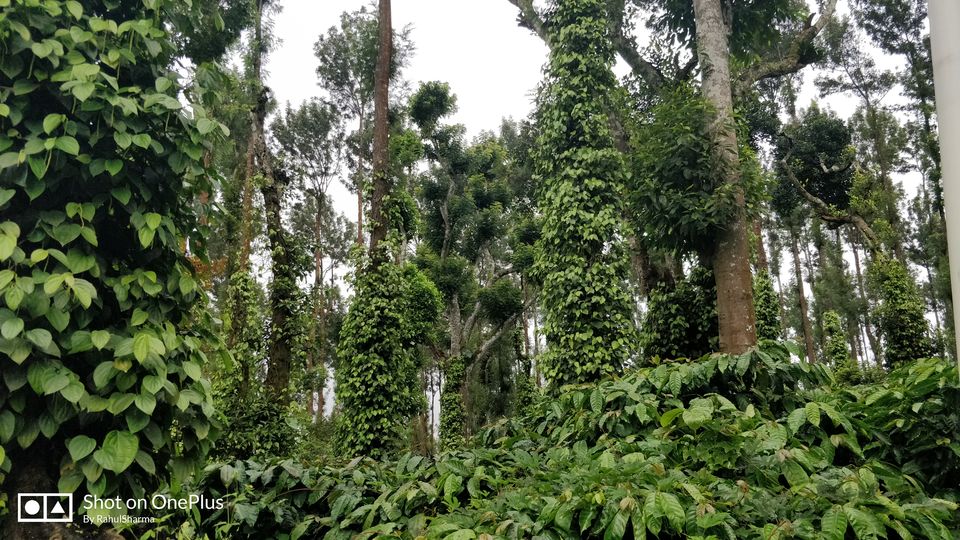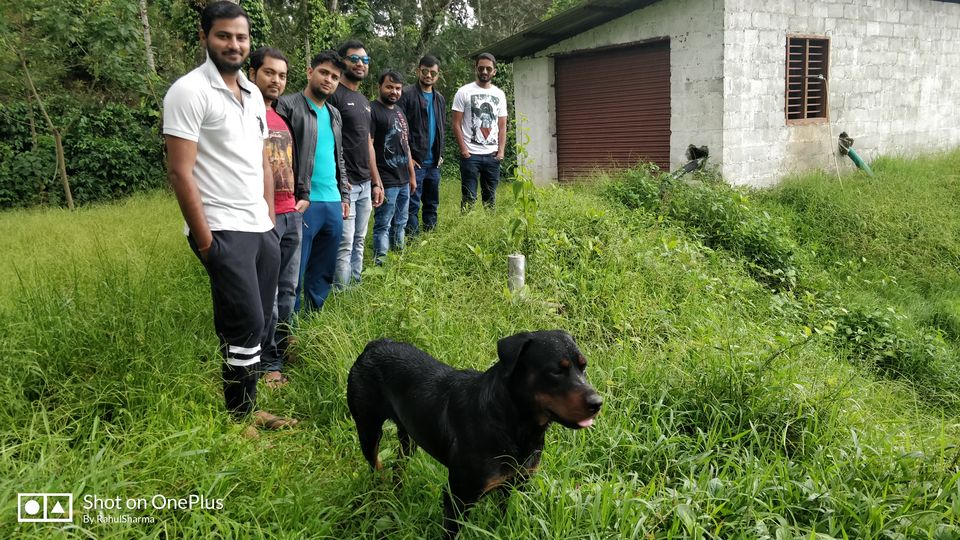 Devaramane Sight Seeing Spot:
A trekker climbs the peaks, walks across the grasslands, crosses gurgling streams, and views magnificent waterfalls. Devaramane brings you close to the nature and its an exhilarating experience. The area is lush green even in summers. We could not see much because of the fog and when you ascend, visibility reduces further.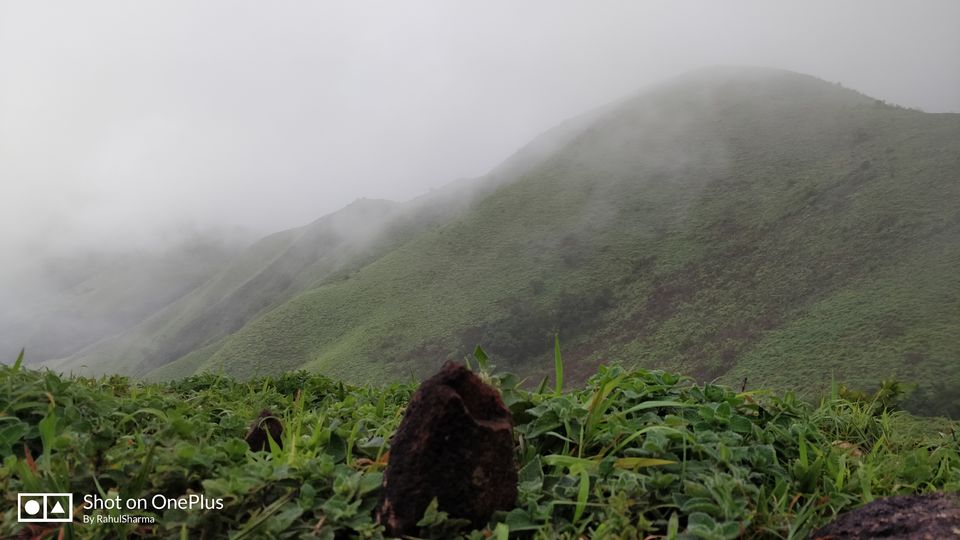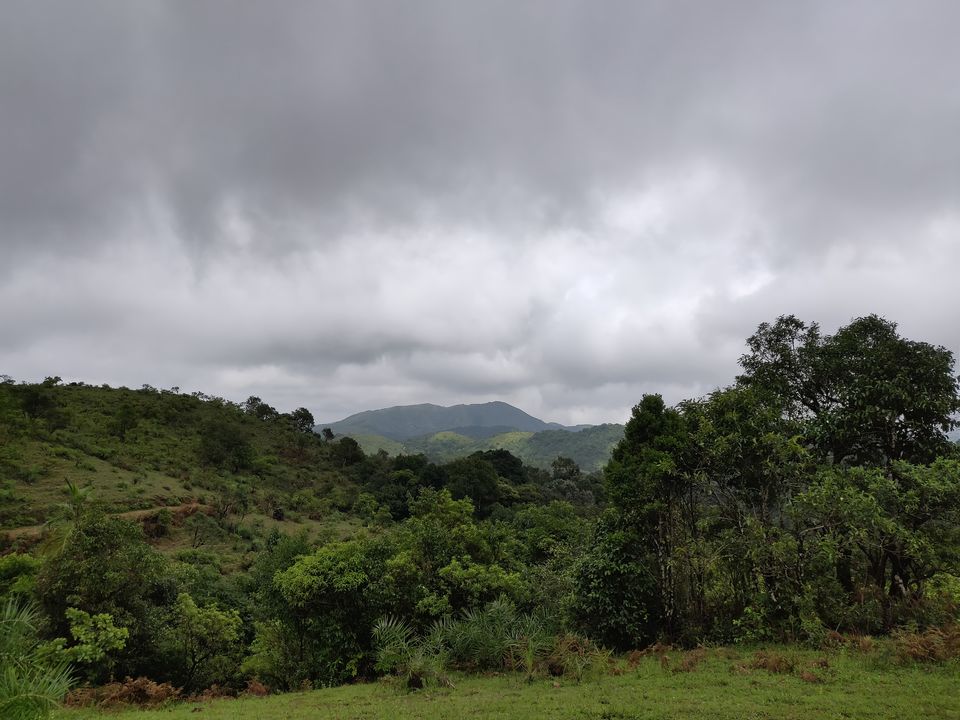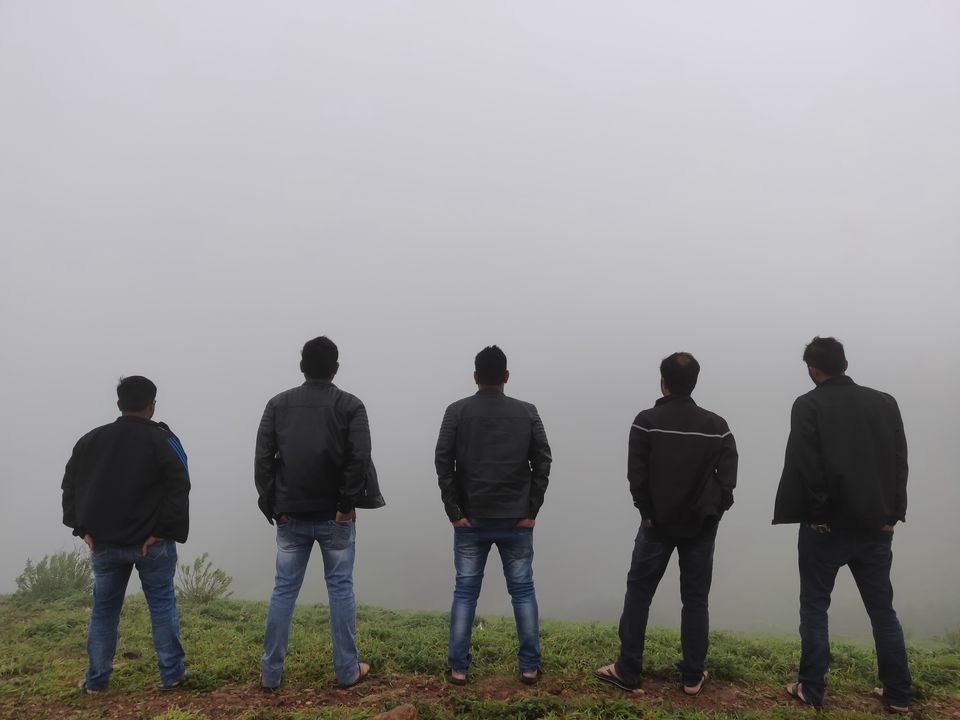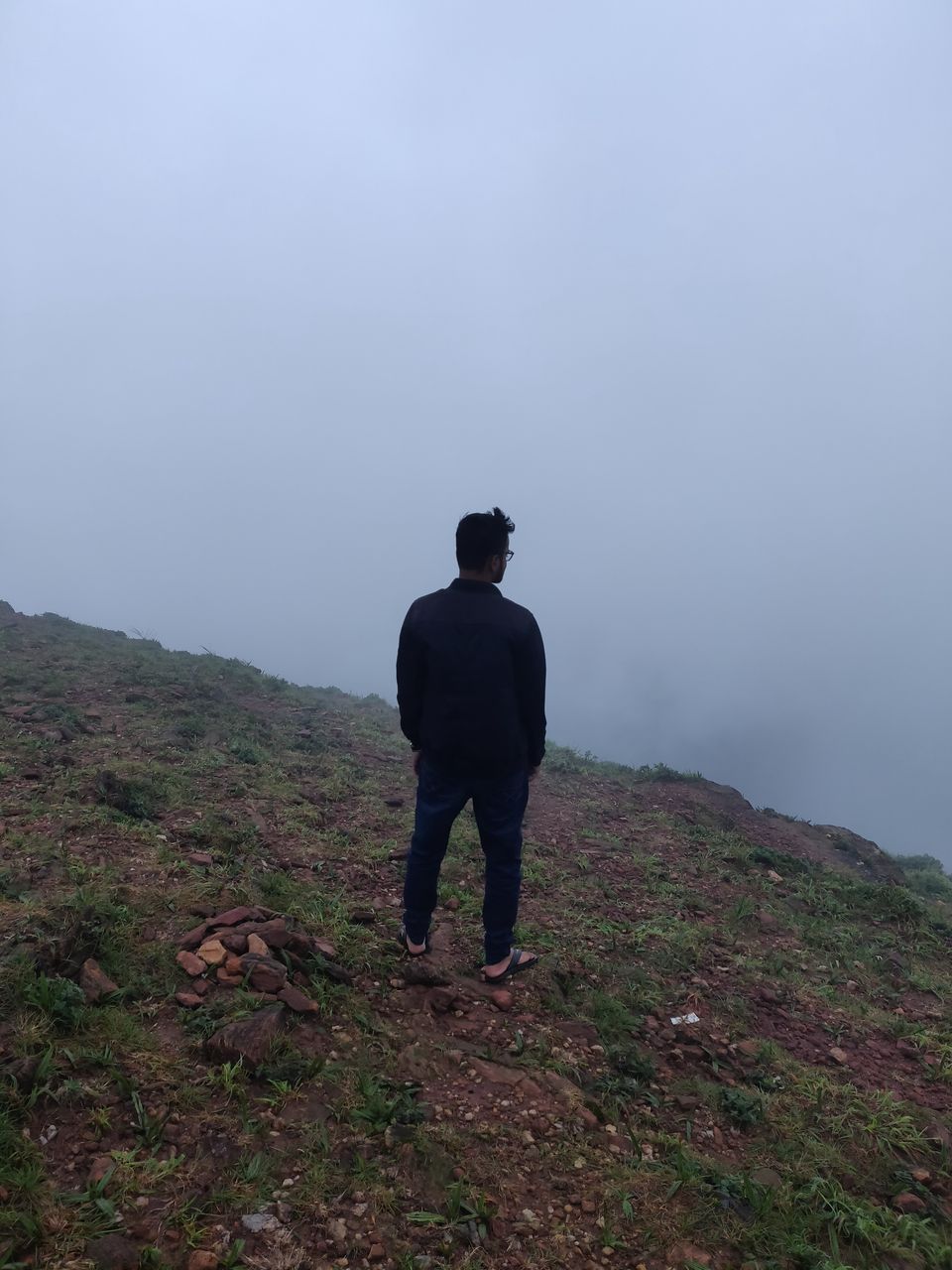 We came down around 7 PM and started back towards homestay. We finished dinner and then enjoyed the night near the fireplace. After midnight, we called it a day and went to sleep.
Ettina Bhuja Peak Trekking:
Day 2 started with refreshing tea, coffee and delicious breakfast. Prarthana provided us with contact number of a person(Vasuki) who was supposed to guide us and help us reach the top of this peak. We wrapped up all our belongings and checked out from the Homestay around 10 AM.
We met the person at Mudigere town at 12 PM and arranged food, water and all other items required(Discussed in Part - 1) and then headed towards the peak. He agreed for Rs. 150 per head after negotiations. It took almost an hour to reach there.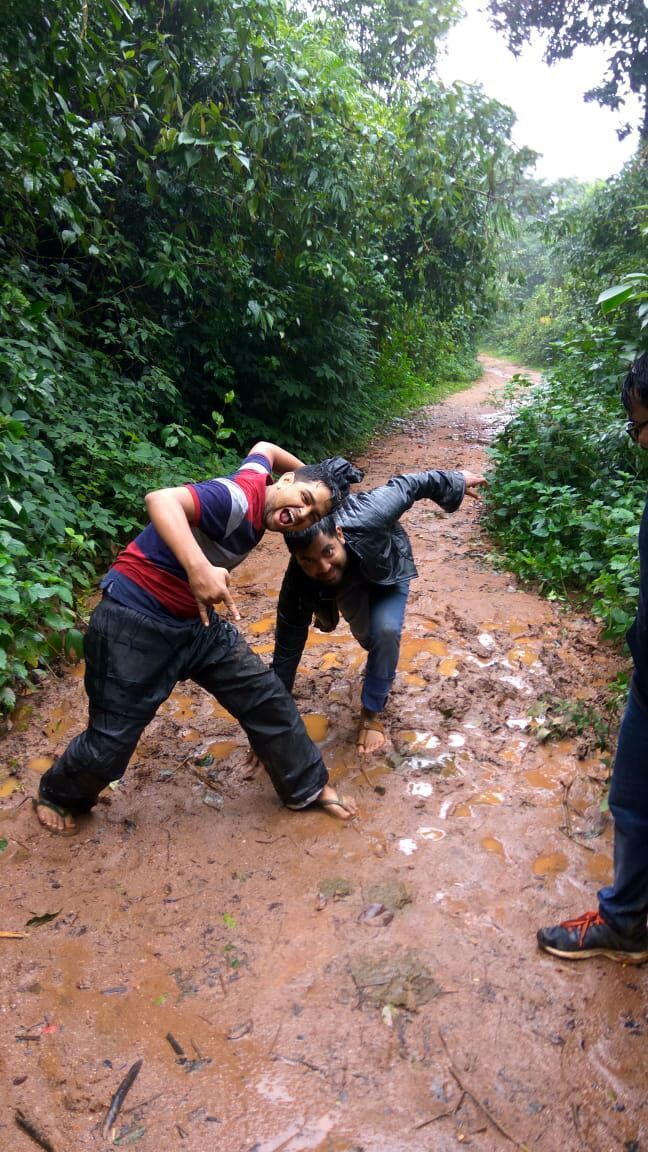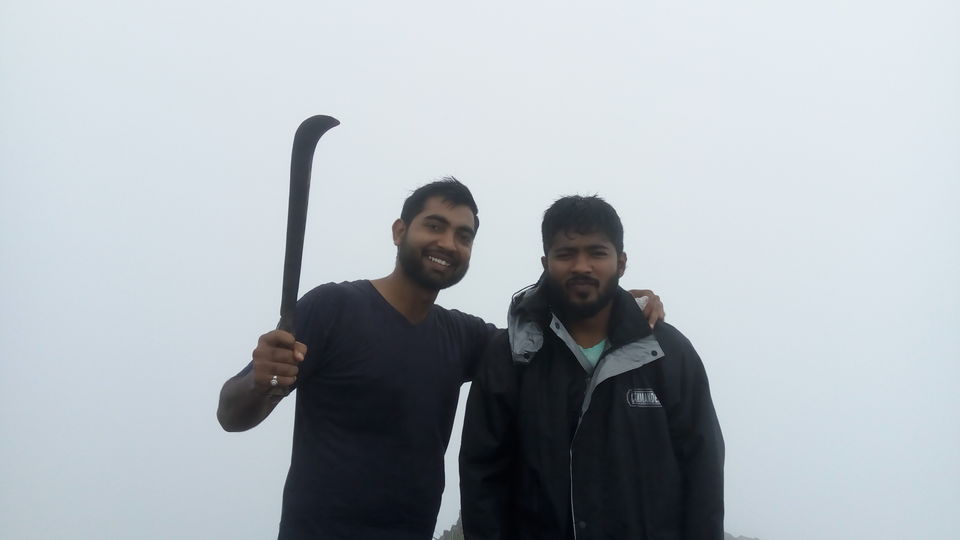 Note: Once we reached the place, we saw a signage stating that it is a restricted area. We anticipated this as the reason there were few people and forest rangers. Common People are not allowed. Our guide(Local) was having all the necessary permissions, so it was safe.
Therefore, it is advised to take along a person who knows about the area especially when you are venturing in to a forest.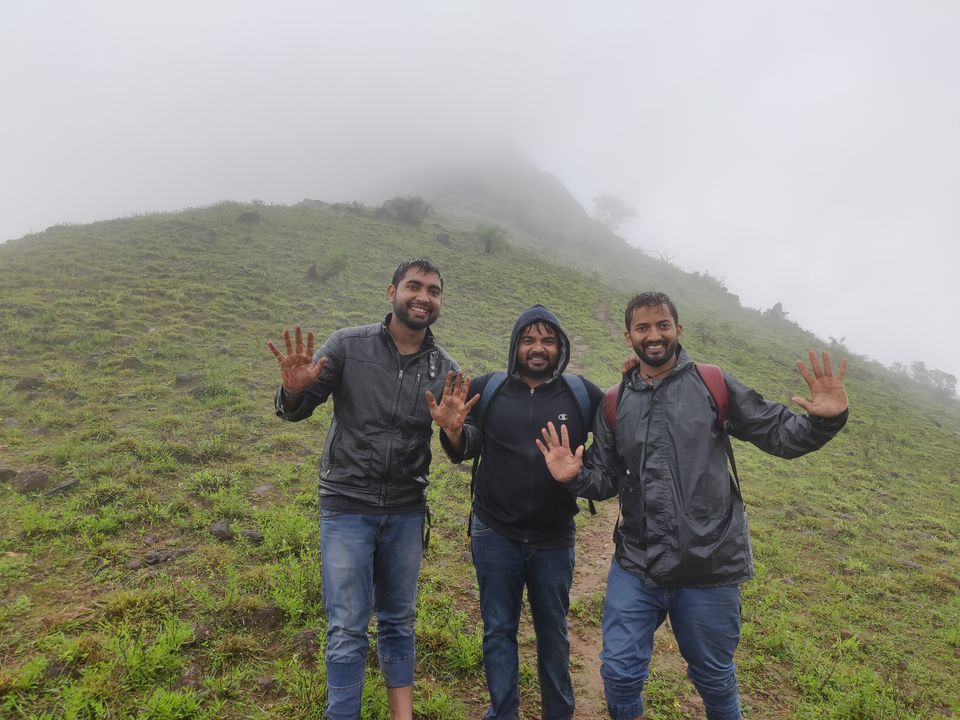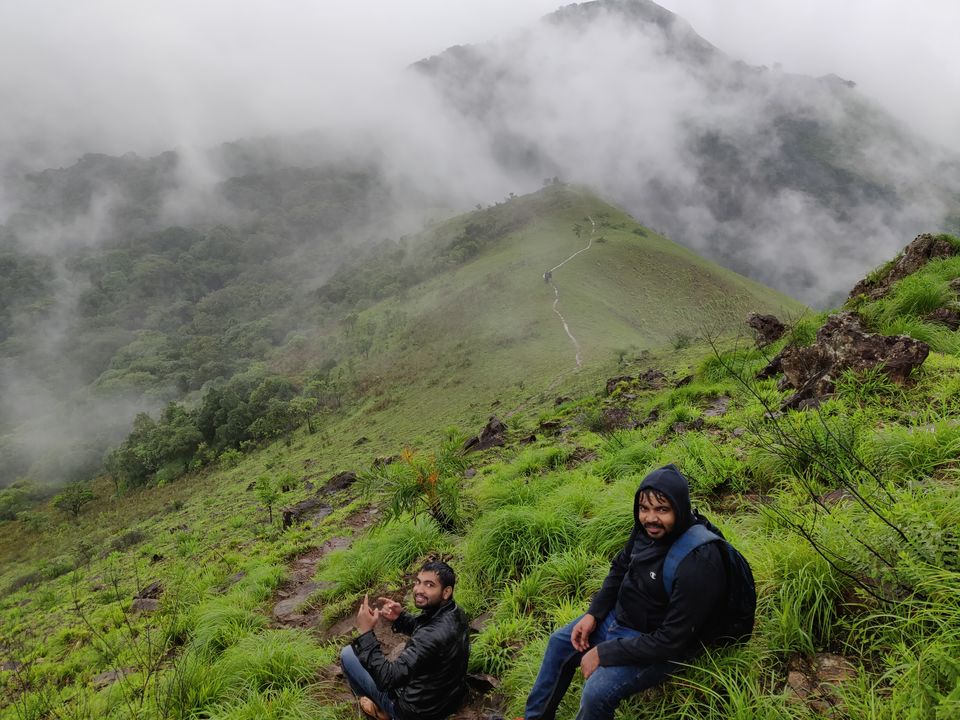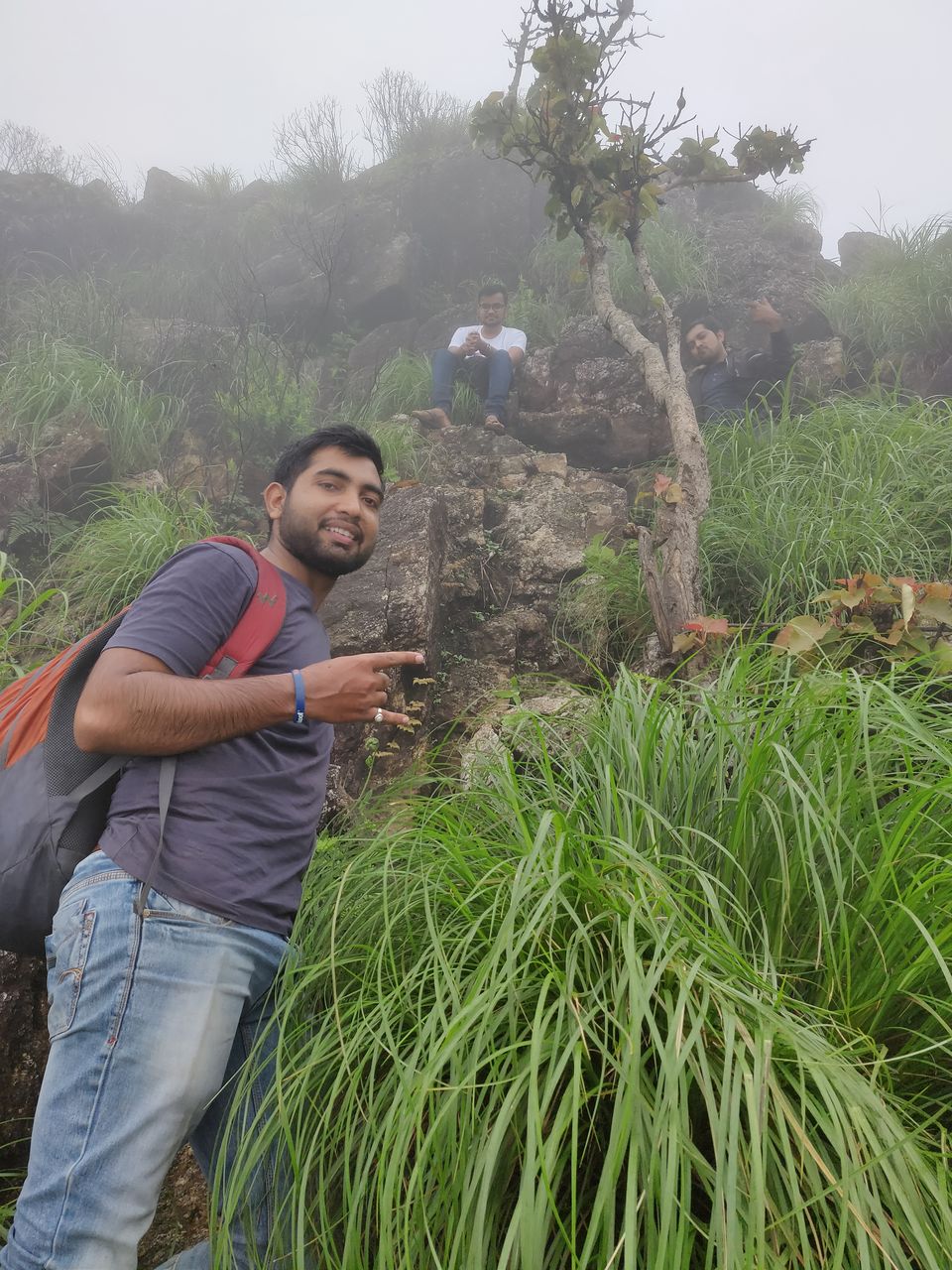 Total To and Fro distance was about 10 Kms. Half of the route include dense forest and the other half is steep climbing. Enormous forest cover, lush green trees and foggy weather, huge mountains took our excitement to a whole new level.
After reaching the top and taking a 360 degree view, I skipped a beat. We started dancing on the top out of happiness. We decided to stay there for an hour. In between, it started raining cats and dogs with tremendous wind speed. This time Raincoats actually saved us.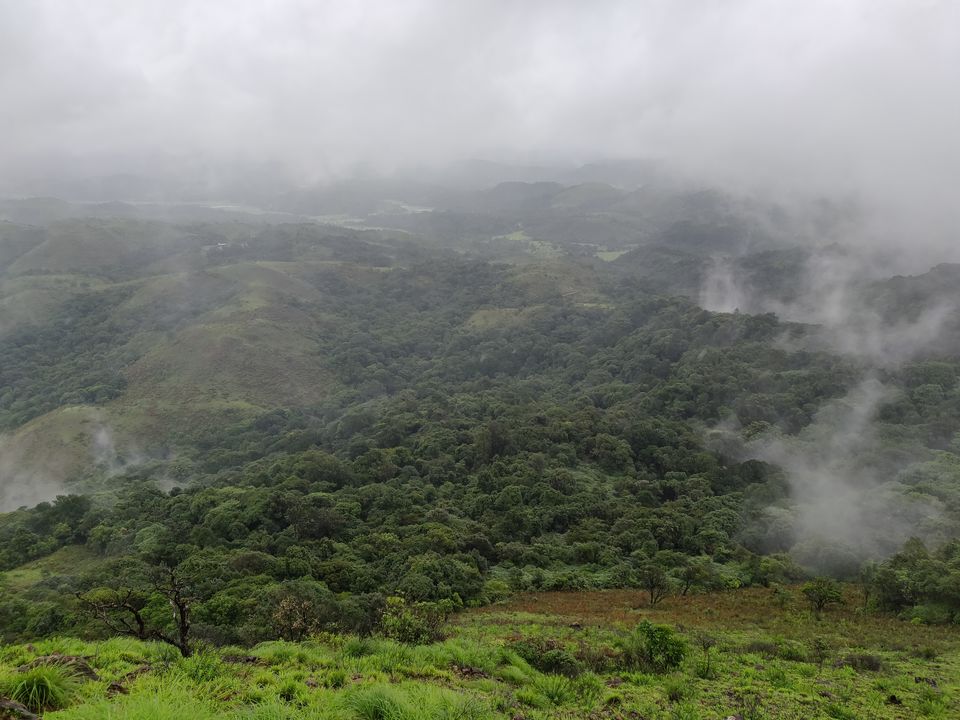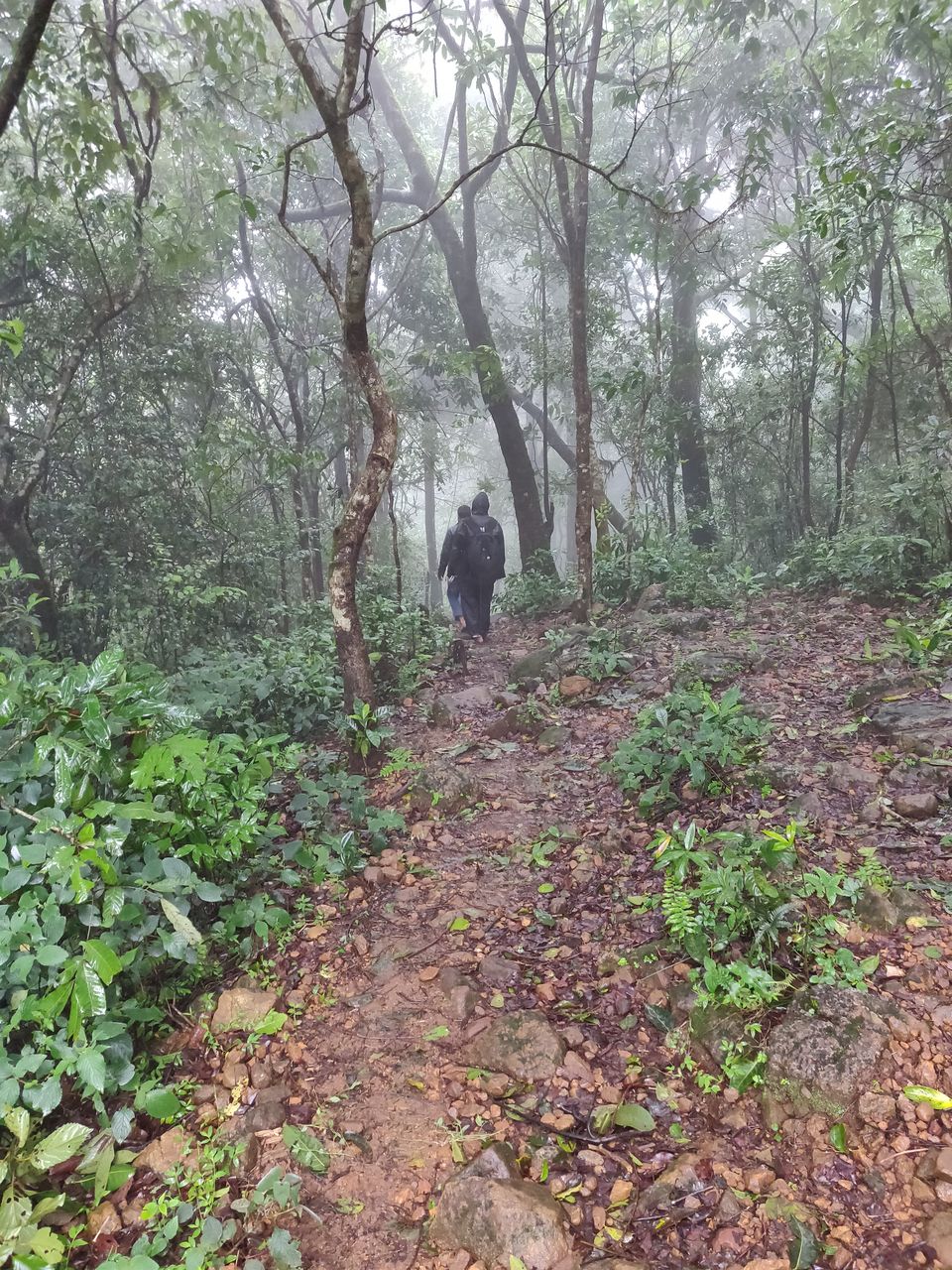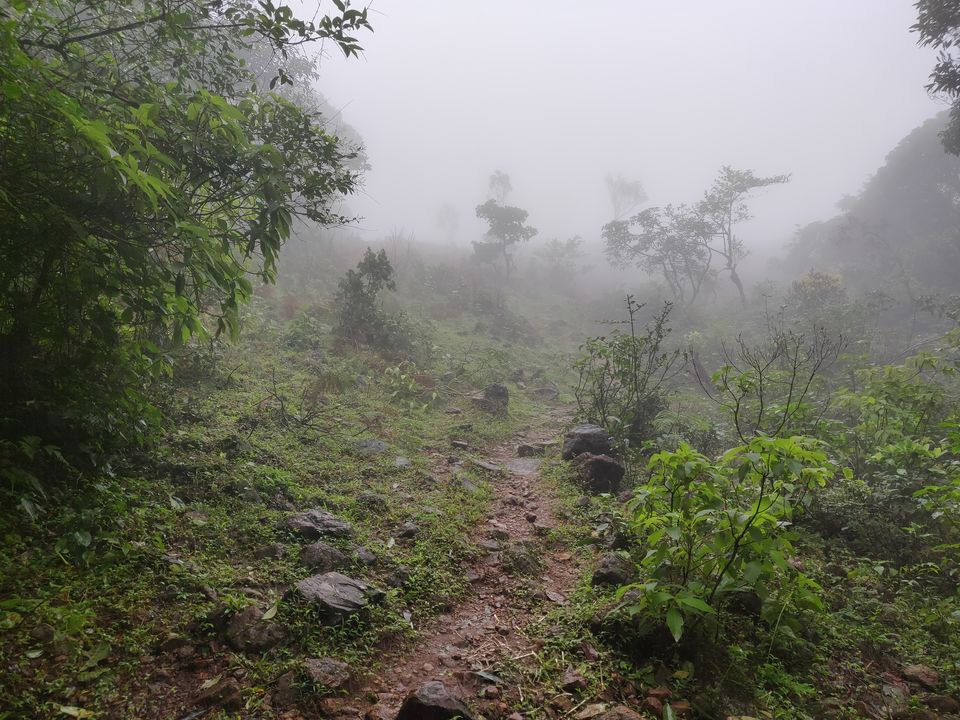 After this we were also destined to go and check out a waterfall nearby. However, lack of time killed that plan we had to start our journey back to Bangalore and reached here by 12 AM and returned the car.
This trip instilled memories in our mind. Gave us the confidence and courage to go on more trekking trips and venture into more difficult terrains to witness the unmatched beauty of nature.
I am planning for few more trips like this which involves waterfall and trekking. After finishing will surely write about them. Till then happy reading.
Comment down if you have some good destinations to explore in and around Karnataka.