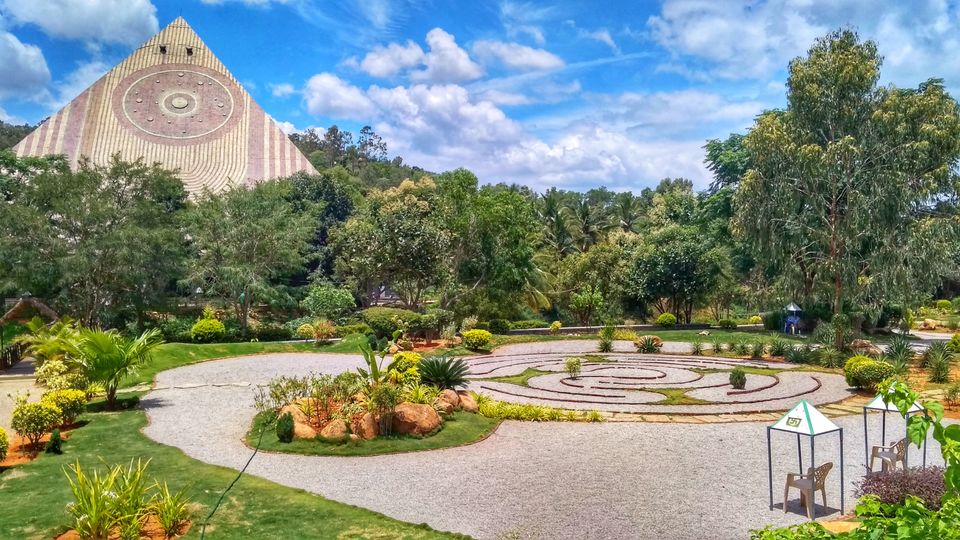 Pyramid valley international is one of the largest meditation centres in Asia. It is situated in the outskirts of Bangalore around 50-60 Kms away, 30 Kms away from Banshankari and around 5  Kms from harohalli. Even though the whole point of this place is meditation but It's not just a meditation place. You can spend your time doing other things as well here. It's perfect for a soul which wants to disconnect from the hustle bustle city life for a day or two and spend time relaxing and rejuvenating life. Along with a pyramid where you can meditate from 4 AM to 10 PM without any disturbances there are various view points and meditation huts where you can enjoy the nature and meditate without any Interruptions for hours together.
Let's talk about other things than meditation. It's a vast garden to walk and relax and has few small lakes where you can hangout enjoying the solitude or along with friends. There are various hillsides and trekking spots you can get around lost in the nature and have some adventure and fun. In my view this is one of the most underrated places in bangalore considering the amount of crowd it gets even on weekends.
Way to pyramid valley
It's pretty easy if you have a vehicle with you. Just take highway which goes towards Mysore all the way to harohalli. Just 5 Kms before reaching harohalli take left after kembepallya and follow way to pyramid valley which passes through a small village with unique homes and small roads.
If you are like me who travels most of the time by public transport then get ready for a challenging ride. Take a bus to reach K.R marker or Banshankari and then take bus to harohalli and get take ticket for pyramid valley. You will get down about 2 Kms away from pyramid from where you can take an auto which costs you around 50 rupees or walk your way through the village and crops and a lotus pond to reach the valley.
After reaching pyramid valley you have to go to the reception where you should take a free entry pass for pyramid valley without which you can't enter the pyramid. You can and have to take accomodation receipt from here. And also collect free food coupons for lunch and dinner if you are planning to spend the whole day.
First up get this point before you enter pyramid valley. It's strictly a meditation center before anything. So respect and follow the rules so that you can enjoy the visit.
For meditation experts, welcome to your dream land. You can meditate in the pyramid, in the view points, in the many gardens or anywhere you would feel like meditating. There will be no one disturbing you for anything. You can meditate for hours together sitting in the king's chamber in the pyramid from 4 in the morning to 10 at night.
For meditation enthusiasts, get to pyramid valley and learn as much as you want about meditation for free of cost and get guidance from experts and a special class for first time meditators before entering pyramid.
Your trip is incomplete if you don't stay at pyramid for a night and enjoy darkness and early morning freshness of the valley. So get yourself a room or cottage if you have a family with you or stay in a dormitory at reasonable prices and enjoy the night's sleep.
A single bed in a shared dormitory costs you a mere 150/- for 24 hours i.e., a day from when you get into the room.
There are rooms and pagodas available as well for families who are looking for comfort and privacy. You can either get a luxury room or a pagoda depending upon your budget and enjoy a cozy stay at pyramid valley.
When you book your stay at pyramid valley you will be given coupons for lunch and dinner for the days you stay there. Even though the menu is small do try to eat the food as it's delicious and feels good to sit and eat with strangers. If you have come for a day out then depending upon whether you stay for lunch or dinner take coupon and try the food. If you are not sure then it's better to pass the coupon and have snacks at the small restaurant available inside pyramid valley.
One thing you will get when you stay or visit pyramid valley is the much needed solitude and peaceful state of mind. Either you visit solo or you come with your family and friends you'll surely have a great time here if you are looking for some peace and solitude.
There is a book library near the pyramid which has various books related meditation and self help which you can read in the library for free of cost. Just have some water and enjoy the adventure ride of reading a book in one go. It's one of the best thing you can do here. Or take a book where you stay by depositing 500/- rs and enjoy reading at your own comfort. There is a book stall where you can buy books, posters and other items related to mediation and take a bit of pyramid valley with you.
For nature enthusiasts and trekking stars there are various trekking spots you can take early in the morning and the day out climbing hills and meditating at various spots and view points inside pyramid valley. You can get to the top of tapasthali view point and be amazed to see pyramid as a small structure and compare yourself with the pyramid and how your thoughts and worries are useless infront of that gigantic pyramid and be at peace.
The whole valley is like a big park with trees and gardens all around. Just walking and being inside the valley will give you a pleasant feel and mindfulness. There are various view points situated all across the valley where one can meditate without any disturbance early in the morning. Or take a walk around all the view points and enjoy the morning breeze and freshness. View points are named after tapasthali, osho to name a few. Along with meditation these spots are also famous for sunset and sunrise view points.
The main attraction of the pyramid valley is the world's biggest mega pyramid built solely for meditation. If you are meditating for the first time or for those who would like to know more about meditation then you can take guided meditation class before entering the pyramid. Why pyramid for meditation? A geometrically symmetrical structure like Pyramid has more inherent energy than an asymmetrical structure. They are called as storehouses of energy. The pulsating life force in all matter, in physical or non physical form is energy. Pyramids are catalysts that enhance this energy Sothis they enable us to be more connected with ourselves. Meditating in pyramid has various benefits like healing, preservation, higher concentration levels and deep meditative states etc. King's chamber is a structure built inside the pyramid which stands at a height of 1/3rd from base of the pyramid at the center. It is the focal point where maximum energy is received inside a pyramid.
This place around bangalore is a great getaway for a day or two for individuals as well as families if they are seeking some time away from hustle bustle daily life. It's a bit disappointing to see it empty most of the time and only few visitors passing by on their way to and fro bangalore. Try to reach in the friday evening, spend a night and enjoy the morning freshness either by meditating or by trekking and feeling the freshness of nature all around you. Visit all the view points and try mediating in the pyramid or visit the library and read a book and enjoy the day out from normal routine. Enjoy another night staying amidst the nature enjoying the darkness and sounds coming out from trees. Get up early on Sunday morning and take a ride to bannerghatta national park which is about 25 Kms away from pyramid valley to end the weekend and get back home with memories and experience to share with others and continue your daily routine.