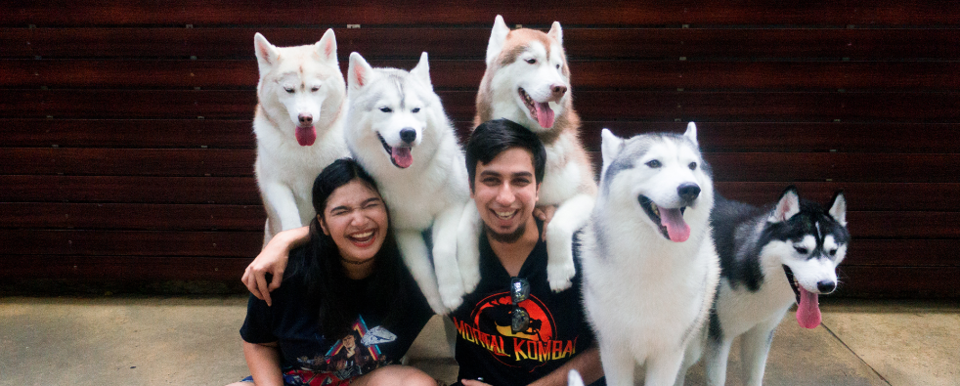 After a breakfast of champions, we left for True Love at Neverland.
Now, you've gotta be wary of the stupid prices taxi drivers throw at you in Bangkok. They see tourists, in our case Tourists, and yell the first amount off the top of their heads. Make sure to tell your taxi driver to go by the meter and then tip him around 20-30 Baht. If they don't agree to it, just ask another.
Fortunately, our taxi driver was a stellar guy and got us to where we wanted to go in half the time! He also taught us a few basic Thai words so we could explain exactly where we wanted to go.
Left - Saiy (phonetically)
Right - Khwaa (phonetically)
Straight - Khong Khwaa (phonetically)
Stop = Hyud
As soon as we found the cafe, we also saw the massive crowd that, like us, had come extra early to get a spot on the slot. It was extremely hot, but we waited long in the sun for a few minutes of fun in paradise.
True Love at Neverland is a dog cafe with 25 Huskies and 1 Shih-Tzu. There are two slots on a day to play and take pictures with these dogs! People recommended going super early and getting the morning slot because the dogs are extremely energetic in the a.m.
It's very much possible that by the time you reach, all the spots for the morning slot are full. That would mean you'd have to turn back and go home or wait a few hours for the afternoon play time.
The ticket counters open at 10:30 but if you think 10:15 is a good time to reach there, think again.
We paid for our tickets, got our coupon number and proceeded to stand in the heat for the next 45 minutes. Our numbers were 51-52 and our chances of getting in were slim to none. The queue was extremely long and they lined us up according to our ticket numbers. The staff let about 5-7 people go inside the cafe in one go and then waited for another 5 minutes before letting the next group in. We still didn't know if we would go through when a lady from the cafe announced that everybody after the number 55 will either have to come back later or the next day! No refunds!
We'd made it just by a hair!
Finally, it was our turn to see what the fuss on the internet was about! We entered the cafe and were handed a pair of disposable plastic socks. The entrance itself was the kitchen and gift shop with massive coffee machines and loads of super cute stuffed toys. We were assigned our tables and given a pre-set menu.We'd read that the ice-cream cake was the best thing there, so we got a couple of those as well as two slushy drinks. These were inclusive in the 500 baht (per person) ticket.
The cafe itself was quaint and looked like it was designed by a child (in a good way, of course). Round tables, posters of dogs and a TV showing videos about the do's and don'ts while playing with the dogs.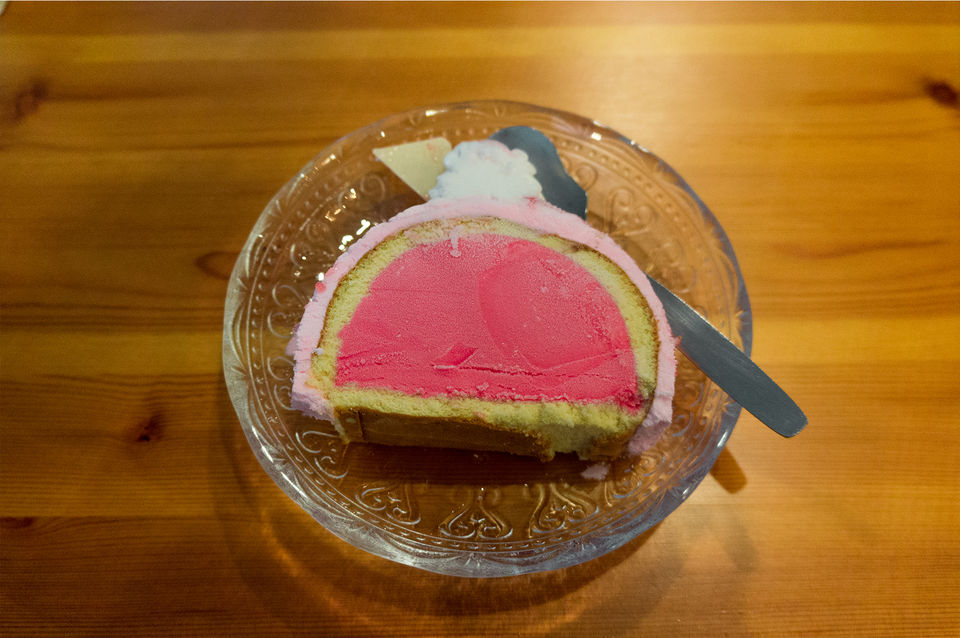 We gobbled up our cakes and drinks while the main information video started playing. They introduced us to every dog by name and nature, showed us how they take care of the dogs and played small skits where the dogs had dialogues. It was quite funny.
Finally, it was time to meet our furry friends. We put on our plastic socks and headed to the sanitation area. We were made to wash and sanitise our hands for the safety of the dog and lined up to enter in groups.
At first, we were overwhelmed! We didn't know where to start! We walked to the calmest dog we could see and sat down to pet him. We don't remember his name but he was super chill. Within two minutes, groups of people swarmed each dog trying to take pictures hugging and petting them. A lot of times we got up and left because of the sweeping amounts of people elbowing us out of their frames.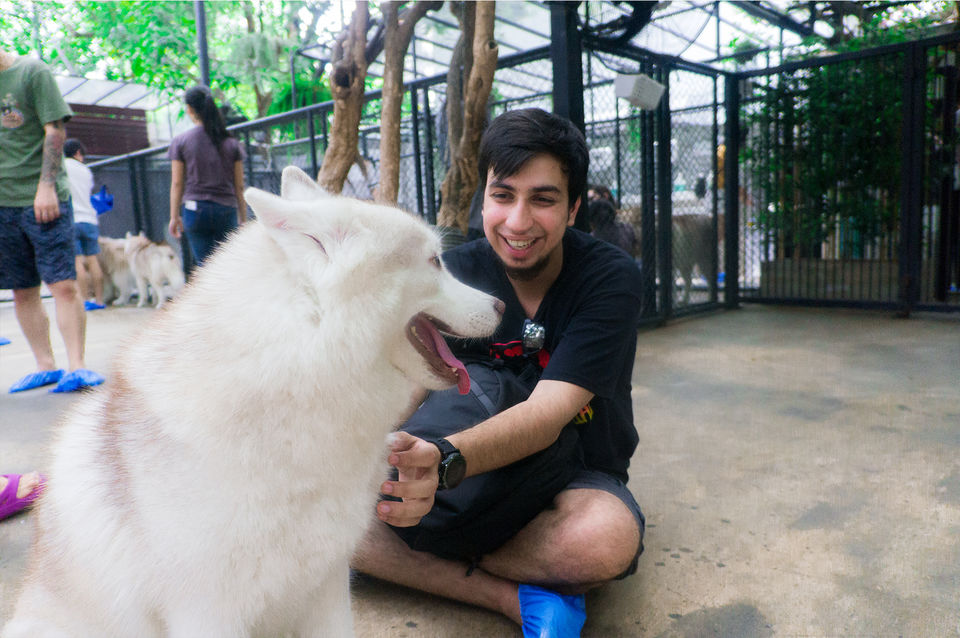 As the hour progressed, we knew that most of the dogs were treating this as routine. You see, for most dogs, meeting new people could mean good or terrible. If you subject 25 dogs to 55 people twice a day, it's just something they have to endure before they can go back into their air conditioned homes.
Still, we tried to make the most of it by just filming the dogs playing with each other and talking to and petting the ones cooling off under the massive fans.
It's bittersweet, when I think about it in retrospect. It was obviously amazing being around doggos but the way everybody just wanted an Instagram-worthy picture with the dogs, by force, tainted the overall experience.
As the half hour bell struck, there was a visible change in all of the dogs! Suddenly, they were jumping, howling and running in circles around the staff members. The air of confusion was thick but was soon cleared off when massive bowls full of ice was brought into the picture. Yes, ice! The fur babies chomped on chunks of ice to help them cool off a little more. Huskies, ideally, should not be kept in hotter areas but here they were having a tropical vacation in the hot sun. We spoke to their very sweet owner and know for a fact that they're extremely well taken care of.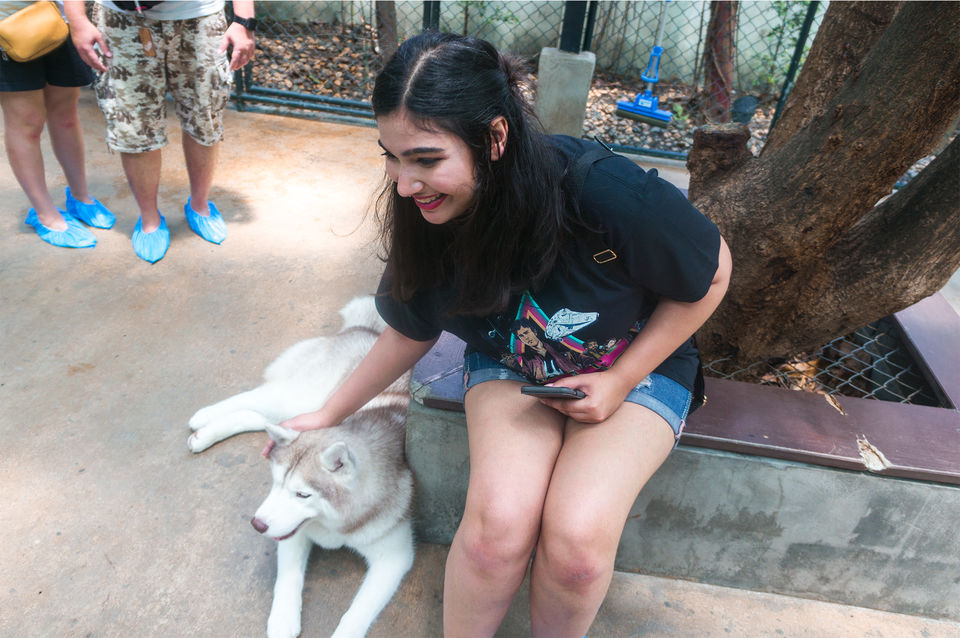 With not much left to do, we started to leave when one of the staff members we befriended called us to a separate area. This part was the most natural of all. To get your hallmark photograph, you need to give your camera/phone to the photographer and they have the dogs surround you and climb on your shoulders! All of the dogs were called to formation by names and got treats after each picture. It was absolutely delightful! We couldn't stop laughing as they wrestled next to us. It was like a pillow fight had broken out and we got softly whacked with some extremely soft fur plushies.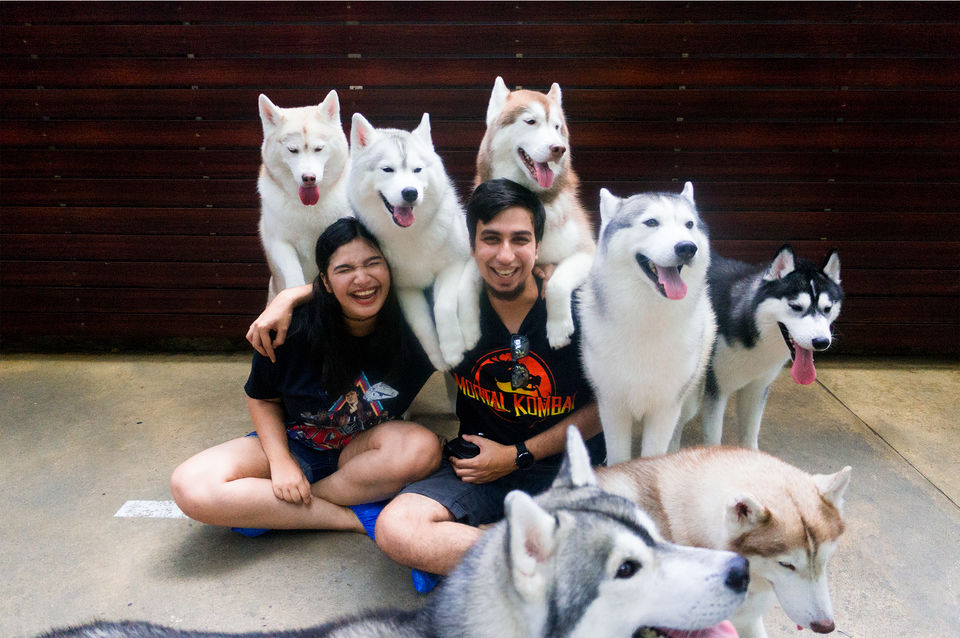 At the one hour mark all the dogs went crazy! It was time to go back to their 5-star kennels! The staff made us all stand by the door and encouraged everybody to whip out their phones and capture the dog race in slow motion. What a sight! 25 dogs shooting like bullets, whirring past us like finding an oasis in the middle of a desert.
After an hour of mostly fun and frolic, we picked up a couple souvenirs at the store and left for our next adventure:
Beer and sandwiches by the pool.
We truly cherish our experience at True Love Cafe and hope for the best for all the beautiful doggos there.
Happy Travels! Until next time!
Two Metal Tourists.
Travel Tips:
- Make sure that you're super early to the cafe to get a guaranteed spot!
- Carry cold water or refreshments, the wait is long and the water there is chargeable (and expensive).
- Again, caps and sunglasses are your friends.
- Make sure you have a filling breakfast, you'll be waiting for a long time.
- If you're into small souvenirs or trinkets, make sure to buy something from the cafe. All the proceedings go directly into their own dog shelter.
- Don't carry your Instant cameras/Polaroids as they discourage cameras with flash.
- Remember to be gentle with the dogs!