Though the Great Himalayas lie just within 100 kilometers, the hobby or passion for mountaineering or trekking didn't grow among us, the 'Lazy' Bangladeshis at all. In fact, it took almost half a century for us to step into the Himalayas, after it was first conquered by Hillary-Tenjing in 1953. But thanks to our latest Everest-trio Muhit, Nishat and Wasfia, mountaineering and hiking is becoming increasingly popular among the new generation.
Breathtaking view from top of a 'desi' peak
The great natural treasures were hidden for many many years in Bandraban, the amazing hills and mountains of Bangladesh. May be for lack of interest, or the armed political conflict caused the travellers to ignore the hill tracts. But things are changing now, as the keen and brave fellows are penetrating deep inside those hills to see the unseen, the sublime and heavenly beauties are being unfolded. Unfortunately, all those efforts are being taken by private teams or even by solo efforts. The Govt. is quite unaware or unwilling (?!) to conduct a geographical survey, or even taking steps for the betterment of Tourist facilities up there. We don't even know which one is our highest peak!!! Is it Keokradong, or ThajinDong or anything else that we don't generally know? Let's explore some of the most amazing peaks of Bangladesh, that can be ideal for trekkers and adventure seekers, or even for those who loves to feed his mind the heavenly beauties of nature.
Before that, a curiosity may arise in our mind, what is a mountain? We don't have any peak with snow cap or ice on top, so all we got are Hills, no mountains? Basically, the peaks which got a height over 3000 feet (900 meters) is generally called Mountain. Lucky for us, we got a few of them in Bangladesh;
Saka Hafong – The highest peak of Bangladesh?
The peak is situated in the district of Bandarban. Saka Hafong is also known as Mowdok Taung and Tlang Moy (Taung and Tlang – both of these words means Peak, in Tribal language). It situated at the border of Bangladesh and Myanmar. Though it is not officially the highest peak but some topological map and GPS (Global Positioning System) based survey suggested it is the possible highest peak of Bangladesh. "Saka Hafong" means "the peak of the East" in Tripura tribal language. This name is first published by Nature Adventure Club Bangladesh in 2007.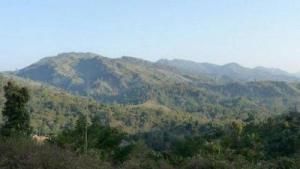 Saka Hafong
However, first information was about the published at In February 2006, when British Explorer Ginge Fullen summitted the peak. (Even we can't get to our own highest peak first, unfortunate right?) He scaled this peak as 1,064 meters (3,486 feet). However, after several GPS surveys conducted by various solo and private teams, the height is considered as 1063 meters, and this is definitely the highest point of Bangladesh.
Trails to summit to this peak start from both Ruma and Thanchi of Bandarban. You can meet wild Murong tribes (the most savage tribe of our country) who may be seen roasting a Cheetah for eating!
The Good old Keokradong 
Keokradong is the most popular peak of Bangladesh and become one of the most popular tourist attractions as well. It is also counted as the most popular trekking destination of Bangladesh. Sometimes officially it claimed as the highest peak of Bangladesh. Though the official height of the peak is 1230 meter or 4035 feet, but a stone put up on the top of the peak by the Bangladeshi military proclaiming the altitude to be 3172 feet, and it might be the 5th highest peak among the all!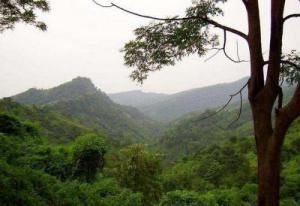 Keokradong
The peak is situated in Ruma Thana in Bandarban. As the Hill Tracts is the heaven for Bangladeshi trekkers, most of the time this route become the first trekking experience for them (at least for me). It can be said as the birth place of outdoor activity in Bangladesh for most of the people in Bangladesh.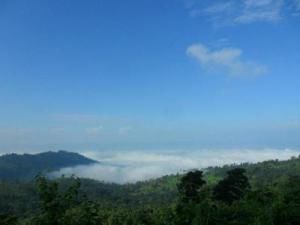 Clouds – from the Top of Keokradong
Although it is widely reported to be the last highest point in Bangladesh at 1230 metres, recent data and GPS readings and Russian topographic mapping show that its true height is less than 1,000 meters. Garmin GPS recorded 974 meters (3196 feet) at this location, a different team measured 986m.
Trail for this peak starts from Ruma bazar, and it goes through mind blowing Boga Lake, the highest lake of Bangladesh.
ThajingDong – Highest peak, or controversial mistake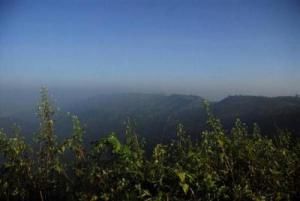 ThajingDong
This is claimed to be the highest peak of Bangladesh is nearby ThajingDong (also known as Bijoy). It has been claimed to be 1,280 metres. Its exact location is unclear but neither Russian topographic mappingnor Satellite data show anything in the area exceeding 1,000 meters. There are three peaks in that area known as ThajingDong (Lungphe Tuang, Tajin Dong and Chinchirmoy). The peaks were all measured and found the middle one is 871m (2,856 feet), it doesn't even fall in a Mountain class.
It stands almost 12.5 km far from Thanchi Bazar of Bandarban from where the Trail starts.
Kapital – the forbidden Capital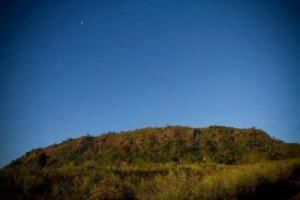 Kapital
Commonly known as the Kapital (Capital) is one of the unique and fascinating peak on the Keokradong range. This massive 3000 ft mountain top once used as a hide out place by separatist group from Mizoram. They declared this mountain top as their temporary capital of free and independent Mizoram. Still the locals called this mountain top as Kapital. It's height is measured as 939 meters (3,016 feet)
Trail starts from Ruma bazaar for this peak, you need to pass through Keokradong during this trail.
Tin Matha – Where three nations collides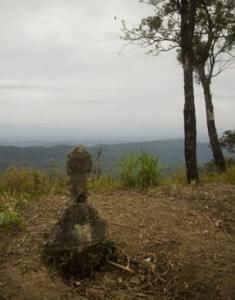 Border piller on top of Tin Matha
Tin Matha, also known as Tin Mukh or Border Taung (among locals, Tripura Tribe) is a peak with a border pillar on top, which marks the meeting point of the borders of Bangladesh, Myanmar and India. This is an amazing place with a height of 935 meters (3060 feet).
Though this peak is situated in Rangamati district, the trail starts from Ruma bazaar, and you need to pass Keokradong and Passing Para, the most developed tribal village of Bandarban.
Sippi Arsuang – Truly wild
The peak is situated in the Roangchhori Thana of Bandarban. The peak is known as Ramjhum in Tanchanga or Chakma tribal language. Also it is call Sippi Arsuang by Boam Tribe. This is one of the new discovered and small number of trekkers of the Bangladesh was on the top of the peak. In February, 2008 a trekking club of Bangladesh named "Nature Adventure Club" climbed over it and measured the peak. They claimed the height is 923 meters, 3028 feet.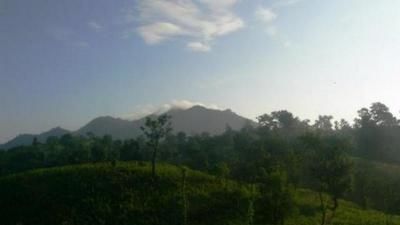 Sippi Arsuang
The trail starts from Roangchhori. This peak is covered with thick and dense bamboo and other trees, and if you are lucky enough (?!) you can meet a wild bear face to face during this trek.
How to go……. When to go
As a beginner trekker, one must start from Keokradong. This trail is much easier, and it will boost the confidence inside you. However, most adventurous trails requires physical stamina, walking capacity and of course, a fresh mind to accept everything! (You won't get a toilet up in the hills, any restaurants or hotels whatsoever) Besides, a traveler or trekker must respect the local tribal cultures. Environment is another big issue, littering must be prohibited.
A well equipped but light backpack is enough for your trek. A medical kit bag with all sorts of emergency medicines is a must. Dry foods like instant noodles and soup would be real handy. Though these trails and peaks are a new experience for us, tribal people live there for centuries. Ask their help if required, they are very friendly. During trekking, a walking stick is always useful, you need not to take a trekking pole, perfectly sized bamboo stick will b enough for a single trek.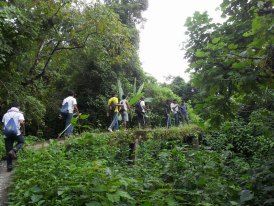 Trekking in a Team is always the best option
Winter is the best and safest season to trek, but in high altitude it will be extremely cold (temperature may fall down to single digit….7, 8!). Rainy season is ideal for adventurers as the trails become dangerously slippery, and flash floods or land slides are not uncommon. However, you can use mountaineering boots for trekking but it won't be that good in our hill tracts. Plastic sandals are perfect for trekking in Jhiripath trails (water streams), you'll find them easily at Ruma bazaar, Thanchi bazaar and they are surprisingly cheap. Most importantly, don't panic if you are attacked by tiny brown leeches during trekking. If you don't donate some blood for them, you are not a trekker at all!
Let's have a time for trek, let's explore and love our beautiful motherland.
This trip was first published on https://skmahdi.wordpress.com/.