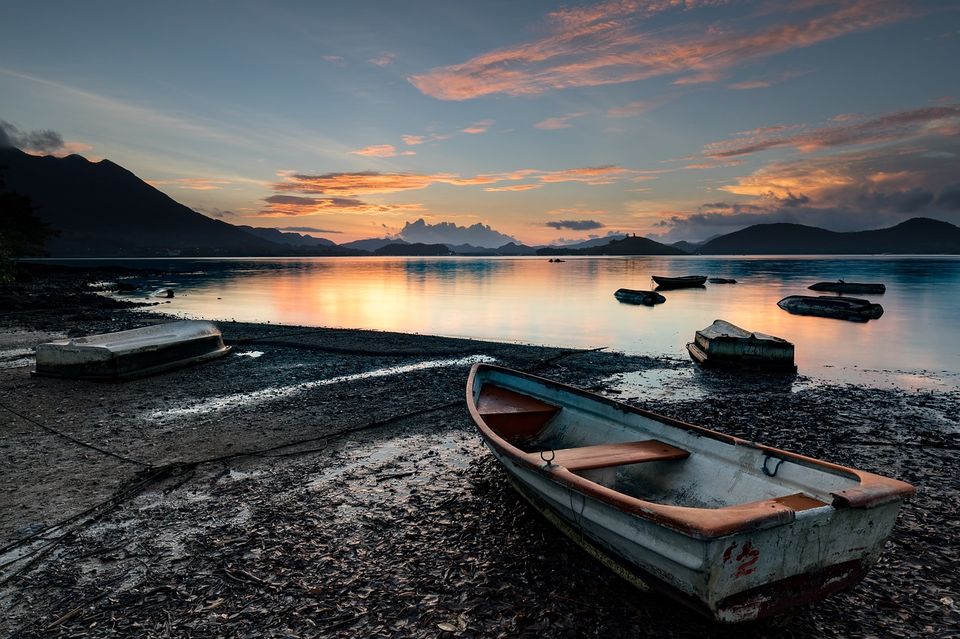 I asked a local, "What is the best part of Hong Kong for you?"
"Nature," he replied after taking a sip of green tea.
"Nature?" I was surprised given the glitzy and glamorous nature of Hong Kong. I didn't see any room for nature to supplant the concrete jungle.
"Yes. Far from the hustle bustle of this city life, there are mountains, volcanoes, deserted beaches and idyllic villages," his eyes shined with surreal joy.
"Can you tell me about these places?"
"Yes," he put his teacup aside and started describing these places with his hands moving joyously.
I hurriedly took out my diary and a pen.
In this part of the world, we must begin with a dragon, a good omen. This moderate hike begins from Shek O Road close to the city and commences on the Shek O Peak via Tei Wan Village. Shek O Peak provides you wondrous vistas of Shek O, Tai Long Wan and Tung Lung Island. The view will make you believe the words of the tea-drinking old man. As if the view isn't enough, you can paraglide off the peak. If you want to go the extra mile then make your way to Tai Long Wan Village via Pottinger's Gap. Your reward? Big Wave Bay Beach and its outdoor cafes serving mouthwatering seafood.
Difficulty: Moderate
Duration: 4 hours
Base Camp: Shek O Road
Best Time: October to May
If the dragon is around, can the lion be far behind? Lion Rock Peak, the vantage point of Maclehose Trail, is the Dragon's Back Trail's lesser-known cousin. This four hours hike requires a bit more effort but the rewards are far greater with breathtaking views of Hong Kong and Kowloon. Go around and sunset and click photos of Hong Kong's buildings coming life in the night. The trail has many exit routes along the way in case you get tired. But, the views up top await you so push on.
Difficulty: Moderate
Duration: 4 hours
Base Camp: Wong Tai Sin MTR Station
Best Time: October to May
Before the advent of the internet, Tai Long Wan didn't exist for the outsiders. Even today, in the heyday of technology, Tai Long Wan Hiking Trail is Hong Kong's best-kept secret. This 12 kilometres long trail hides heavenly coves, soft sand beaches and jade blue waters. You can pick any one of the four beach paradises as your final destination - Sai Wan, Ham Tin, Tai Wan and Tung Wan. Sai Wan and Ham Tin have good infrastructure with decent hotels and homely restaurants serving fresh seafood. But, the remoter Tai Wan and Tung Wan give you the opportunity to turn off the lights on the world and camp under the stars. Camping gear can be rented at restaurants in Tai Wan and Tung Wan.
Difficulty: Easy
Duration: 2 days
Base Camp: Sai Wan Ting
Best Time: October to May
Adventure enthusiasts and nature lovers shouldn't leave Hong Kong without visiting its crown jewel - Tai Mo Shan. Hong Kong's highest peak, Tai Mo Shan (957 m/3140 ft) is an extinct volcano. Covered in clouds, the slopes of these hills once harvested a unique type of green tea called mist tea. Today, you can catch panoramic views of Kowloon Reservoirs and Tsuen Wan Skyline from the highest point in Hong Kong. On clear days, you can even catch glimpses of mainland China. On not so clear days, you will get the surreal feeling of being surrounded by clouds.
Difficulty: Moderate
Duration: 5 hours
Base Camp: Lead Mine Pass
Best Time: February to March
The island of Lantau has two peaks that demand your attention - Sunset Peak and Lantau Peak. Sunset Peak is Lantau Island's second highest peak and is known for, well, picturesque sunsets. The colours that the sky dresses in will make you rub your eyes. The golden hour provides plenty of opportunity for clicking Insta-worthy photos of nearby hills. Lantau Peak (934 m/3064 ft) is the highest peak of Lantau Island. In contrast to the Sunset Peak, Lantau Peak is known for its sunrises. Make sure you start a couple of hours before the sunrise to make it to the top just in time for the splendid sunrise. You can add Tian Tan Buddha and Po Lin Monastery to your trail and visit them on your way down.
Difficulty: Moderate
Duration: 4 hours each for both the peaks
Base Camp: Pak Kung Au
Best Time: December to February
Have you ventured beyond the concrete jungle of Hong Kong? Or, do you have trekking tales to share with other travellers and trekkers Write your own travelogue and share it with millions of other travellers. And subscribe to Tripoto Youtube Channel for stunning videos.