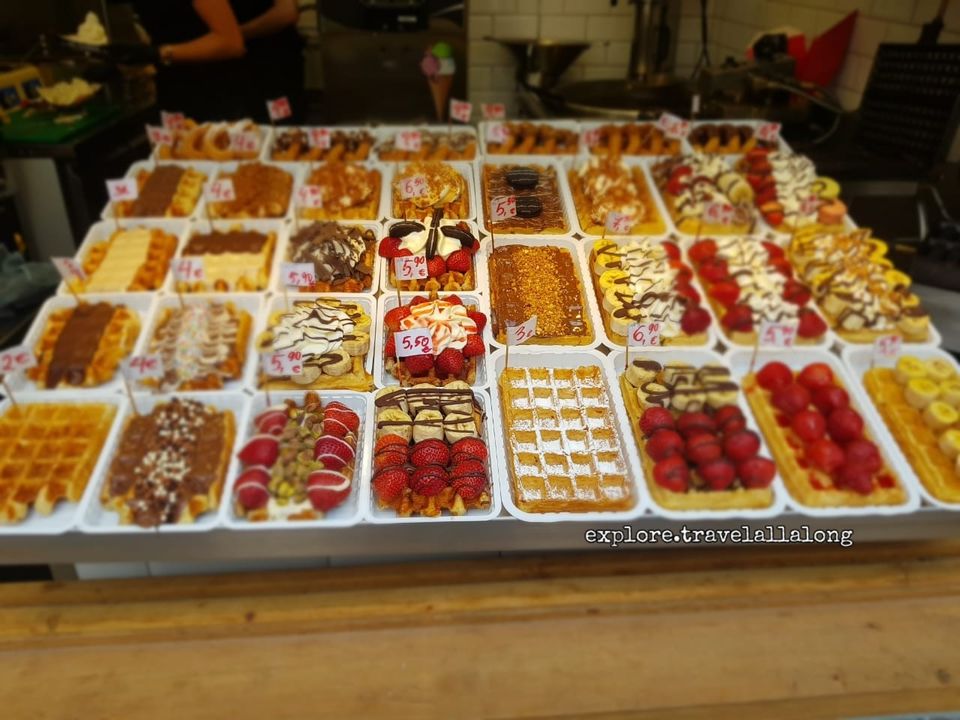 Brugge is a historic city which is distinguished by number of canals, bridges and cobbled stone. Brugge is often referred to as venice of north. Some of the bridges, monuments are around 80 years old. This beautiful historic cobbled stone is surrounded by more than 450 castles.
This place has some of the most scenic views, lush greenery and best places for waffles, chocolate and fries.
According to me anyone who is traveling to brugge should do the following
1. Eat the best waffle
This is a paradise for all who loves waffle. Each and every corner/lane has waffle which smells amazing. They have each and every combination possible which will make you fall in love with waffle.
Cost from €3 to €6
2. Go for a boat ride.
I feel this is the best way to see any city from a different perspective. Bruges is full of history with unique and beautiful architecture. In 30 mins you will see the city and expand your knowledge.
Cost € 10 per person
3. See amazing and unique chocolate statues
Belgium is famous for being the best chocolates in the world. When I saw chocolates all around me in so many shape,size and beautiful unique structures just forced me to eat.
Chocolate start from€2-4.
4. Explore the city on a horse carriage
Brudge has so many historical site and also for me this place gave me a princess vibe. Then why not opt for 35mins horse carriage and feel like royalty .
Cost starts from €25 to 30
5. Have beer
Visit to the beer wall where you will find the best beers in the world along with the matching glasses. Enjoy beer from all around the world.
Cost staring from €25 or €30
6. Have the famous fries with your favorite sauce
If you are in Belgium then its must to have fries. What makes it special are the sauces that accompany it.
Cost €5 -10
I am totally in love with brugge and its culture. I am really looking forward for more interesting trips.