The city of Bruges (or Brugge in Dutch) is truly a fairytale land because of its medieval architecture, horse drawn carriages, colorful conical houses, cobbled streets and meandering canals. Due to the canals that weave through, this magical city is often referred to as the "Venice of the North."
The compact historic city center of barely four square kilometers is designated as UNESCO World Heritage Site. The small size of the town makes it very simple to see all the main attractions, even if you have a time limit of 24 hours in Bruges. This charming city should definitely be included in your 'must see' bucket list of European cities.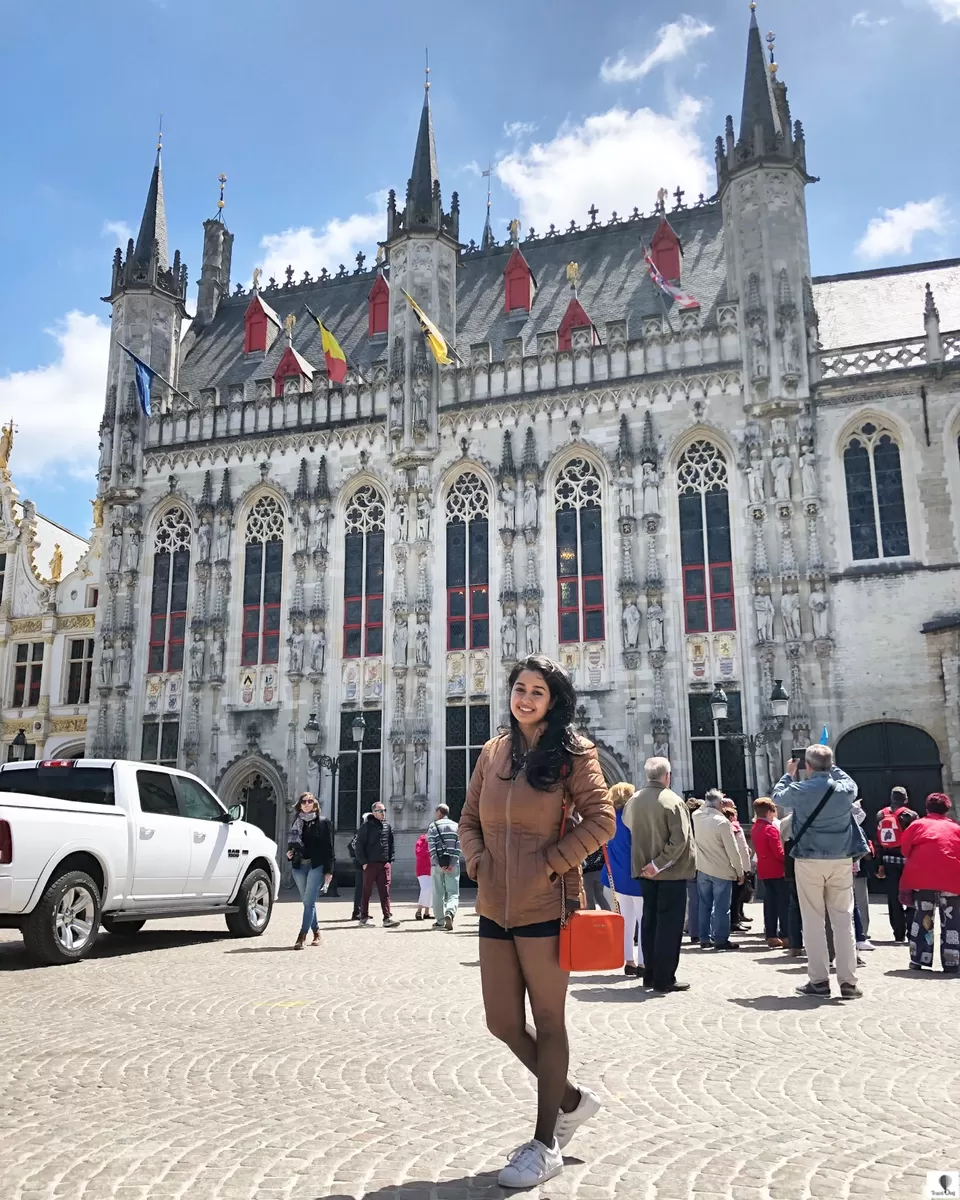 Here is what to do to make the best of 24 hours in Bruges
9 am – Head out of the train station and walk towards the Minnewater Park, one of the most beautiful parks of Bruges. At the center of the park is the scenic Minnewater Lake also known as "The Lake of Love." Start your day
Rozenhoedkaai and take a Canal Tour
11 am – Reach this magical corner and experience the delight of the picturesque canals along with the background of Belfry Tower, this is known to be the most photographed area of Bruges. Enjoy experimenting with your photography skills and capture some postcard shots.
P.S - Ten points if you can pronounce this word!
Afterwards, take a canal tour for a unique perspective of the city and get an admirable view of all the neighborhoods from the waterways. You can learn great details of the city from the guide and relax at the same time. The tour costs less than €10 (Rs. 800) and lasts for around half an hour. Note - Boat tours run from the month of March until November every year.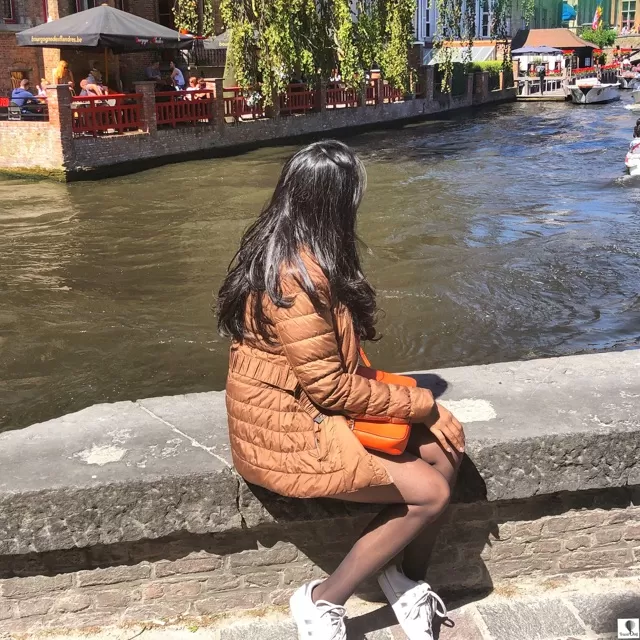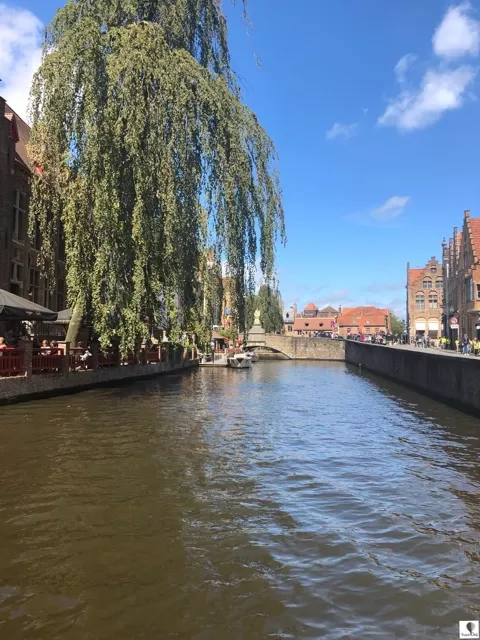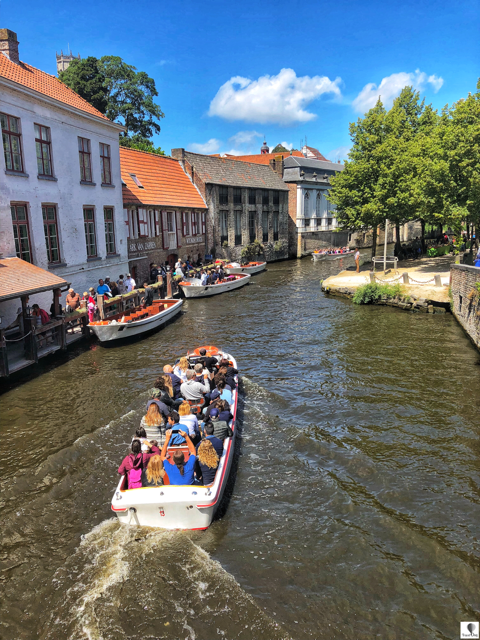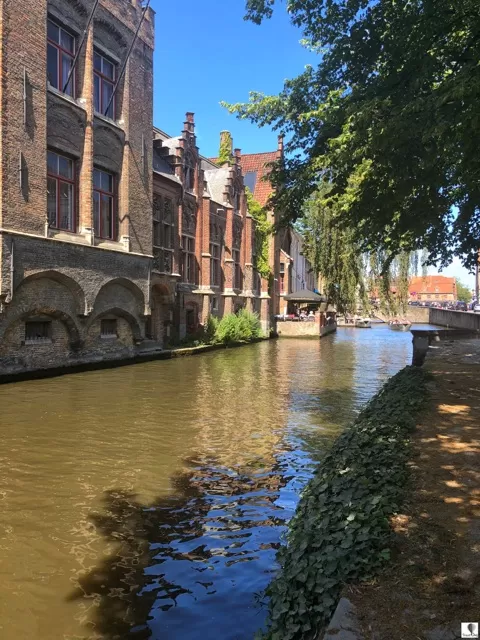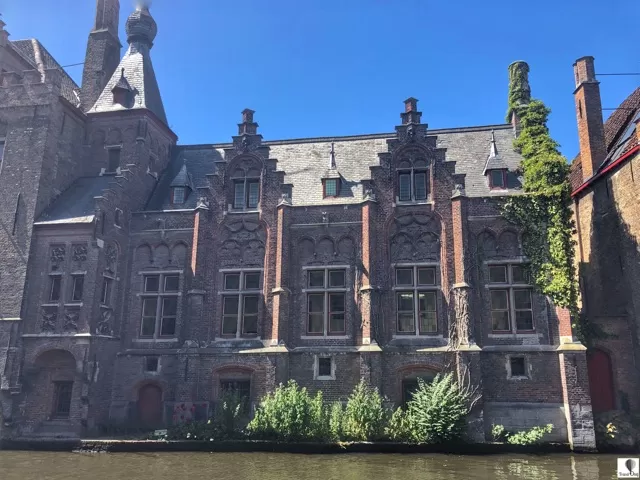 1 pm - Reach the beautiful Bruges Square also known as the Grote Markt to have your lunch. This Square is surrounded by a number of restaurants, shops, the Town Hall, the Old Court House Basilica of the Holy Blood and the Old Civil Registry. The vans serving fries and burgers had huge waiting lines and I decided to have a mouth watering chicken burger from one of the street food stalls. I was obsessed by the vibrant buildings and the happy atmosphere of this place. I wish I could pause the time to stay in that moment for longer. Another option for lunch is to sit outside in one of the cafes in the main square and enjoy your meal with the vibrant vibe of this city at Le Panier D'OR, Sint Jorris or Grnad Café Central Brasserie.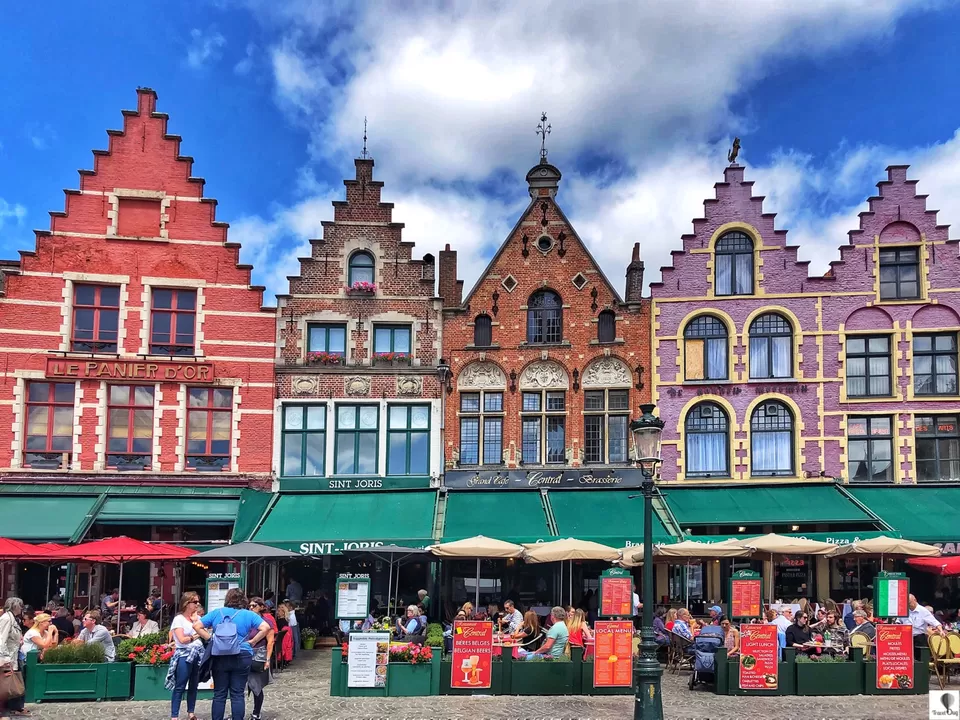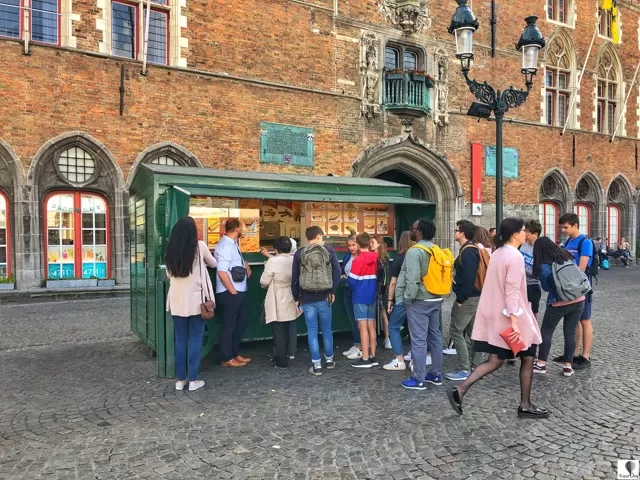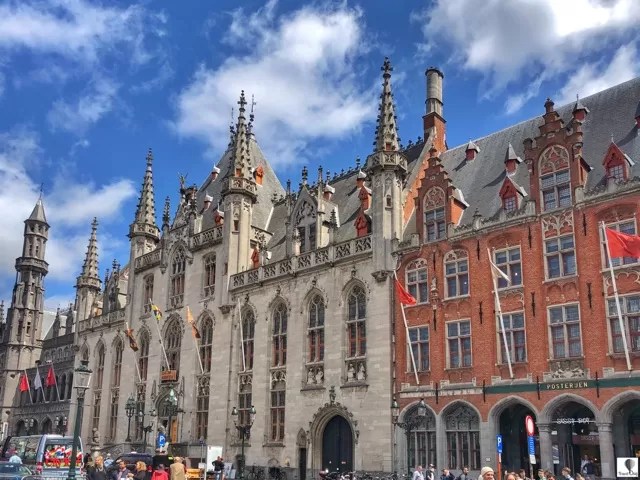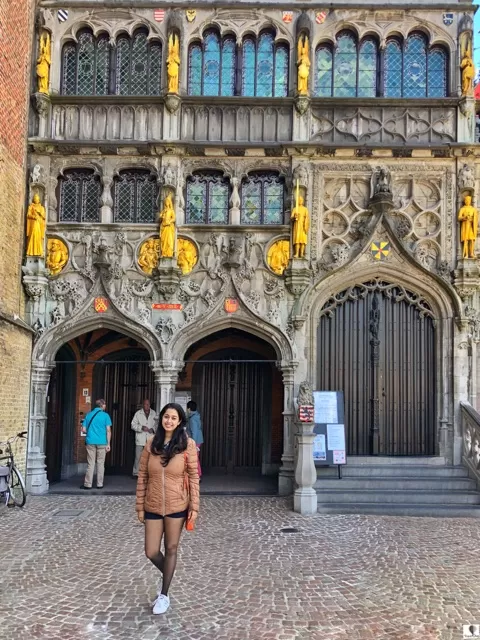 2pm - This iconic 83-meter tall tower is located in the square itself 'the heart of Bruges'. This medieval bell tower is the most prominent symbol of Bruges consisting of 47 bells and will definitely catch your eyes. You can pay an entrance fee of €12 (Rs. 960) and climb about 366 steps (burning your lunch calories) to reach the top, for a spectacular view of the city. On the day I visited, I wasn't aware about the climb earlier, and by the time I discovered about the same, it was too late with little time on my hands. So eventually I had to skip climbing up. It was also super crowded, make sure you book your tickets in advance to skip the queues.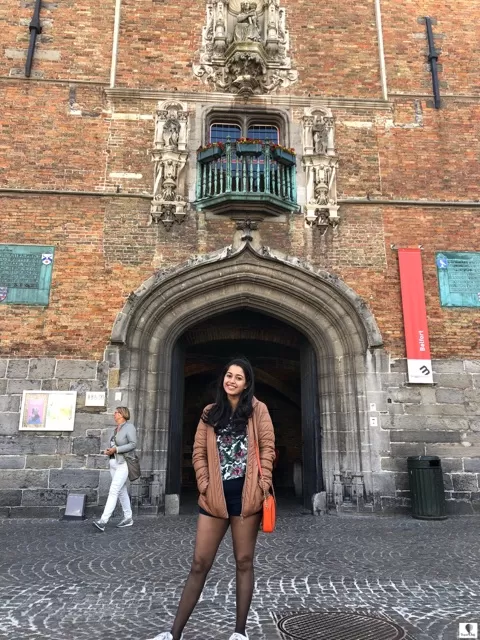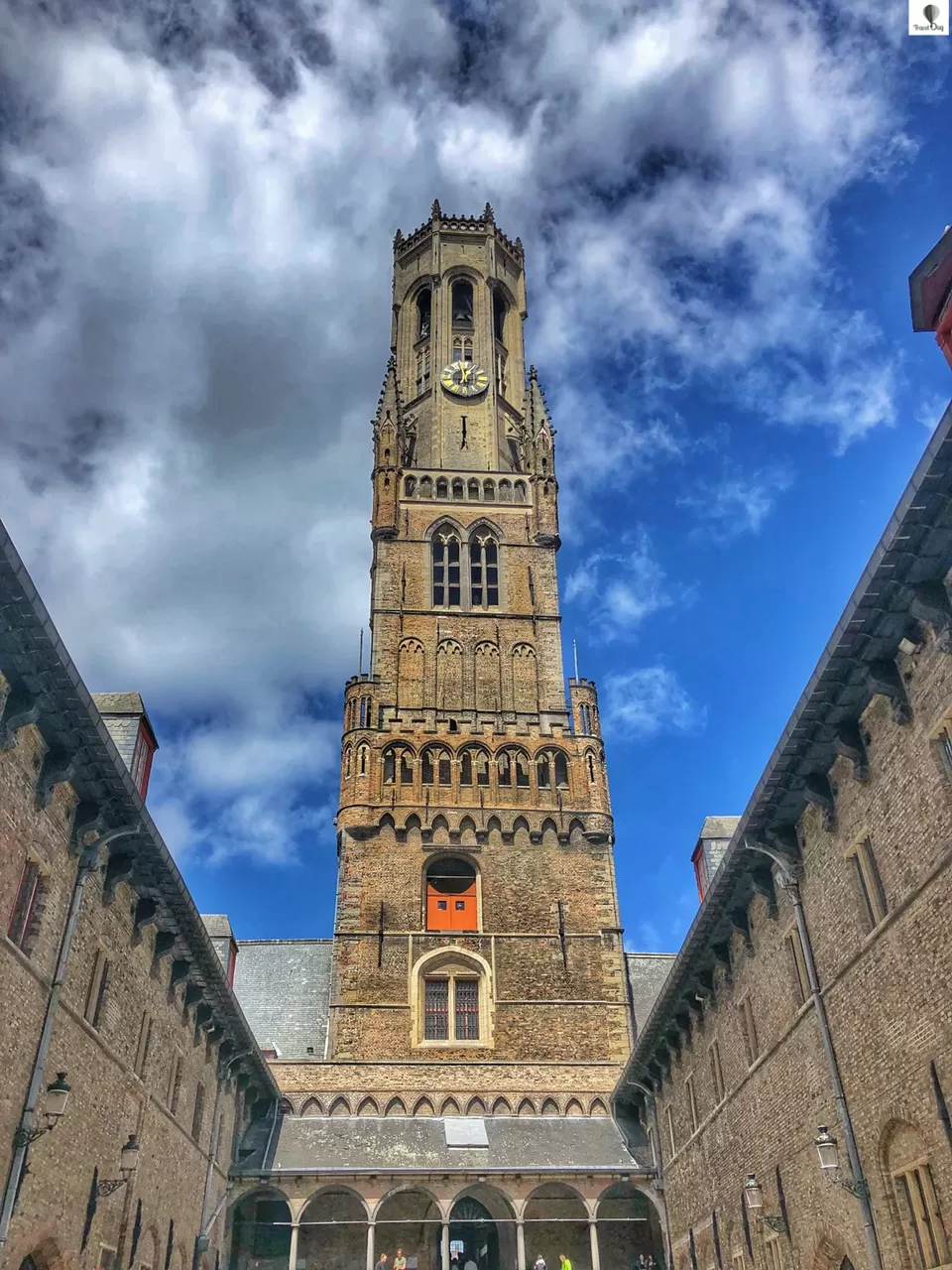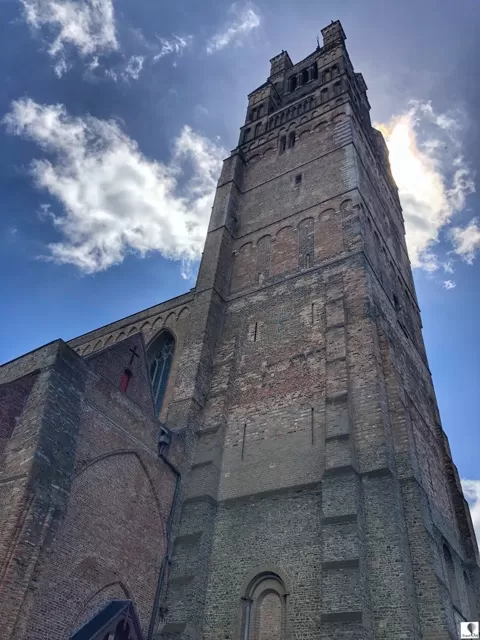 Choco-Story Museum & Choco Jungle Bar
3pm- The museum explained the history of cocoa and chocolate in great depth. It also explains why Belgian chocolate is so famous around the world. The end of the museum tour was quite engaging with an excellent chocolate making demonstration from the chocolatier who also offered us free exquisite chocolates. The price of the entrance was €8(Rs.800) with an additional €2 (Rs. 260) for the hot chocolate at the Choco Jungle Bar, which was located just 5 minutes away. This cafe is a super cute jungle themed cafe with very pleasant employees, and served some yummy hot chocolate. You can also choose from other ticket combinations such as one with Frietmuseum; Lumina Domestica; or Frietmuseum and Lumina Domestica together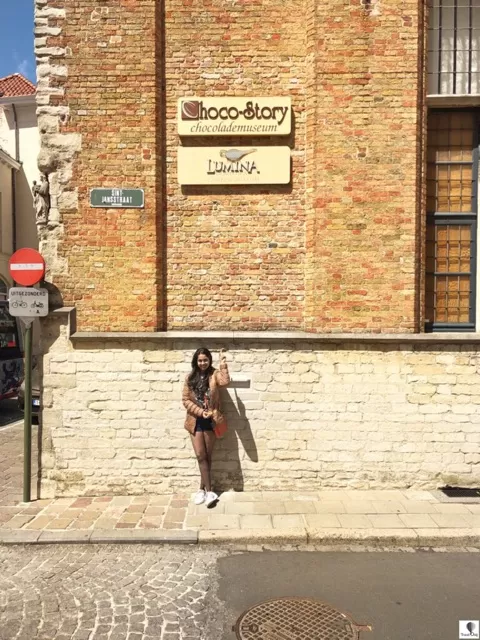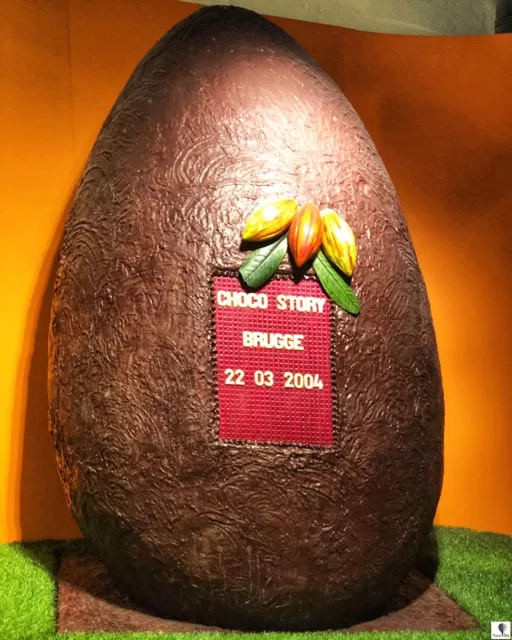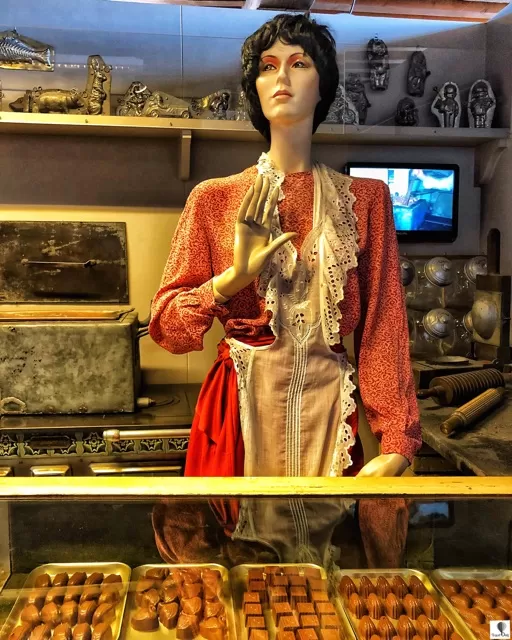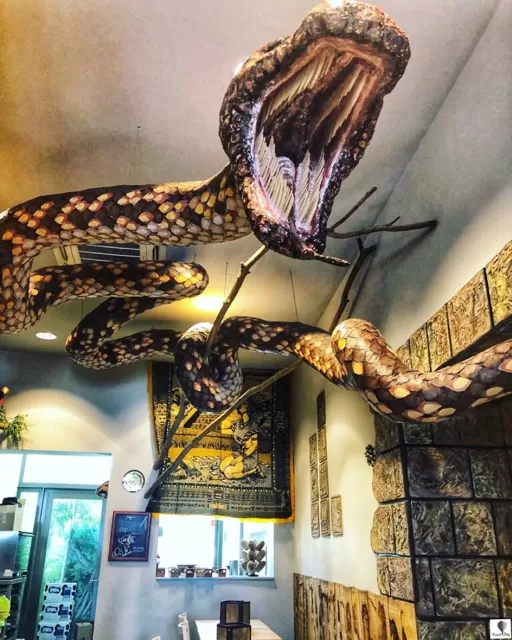 Walk in the Streets of Bruges
6pm - Wander in the charming streets of Bruges adorned with the beautiful buildings, houses and cafes. Every street is magical - I'll let the photos speak for themselves.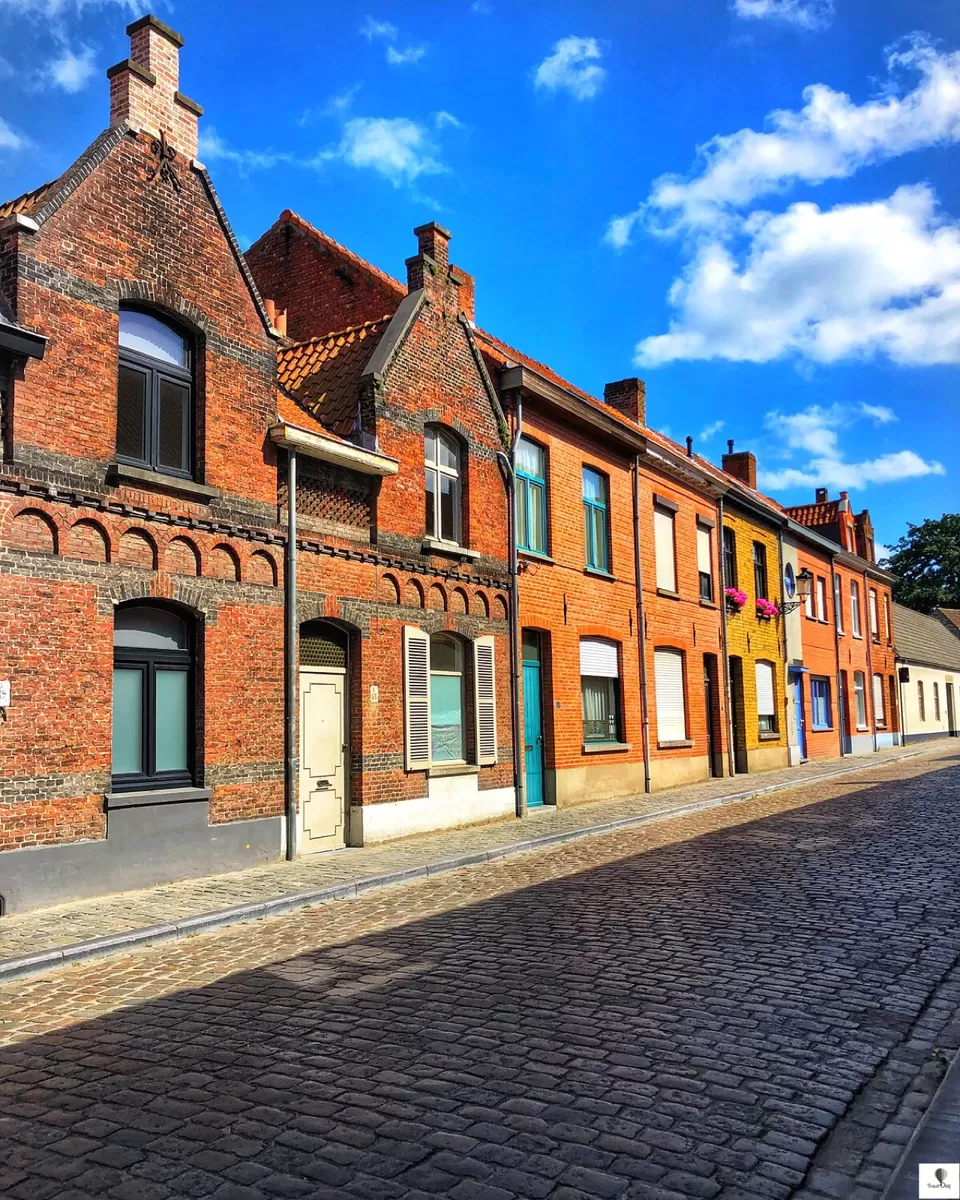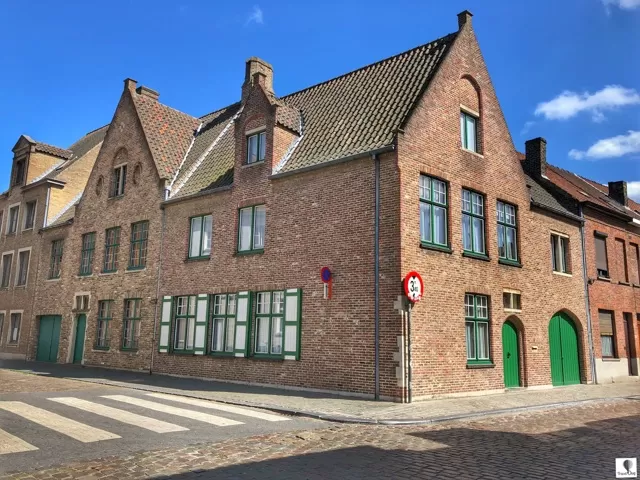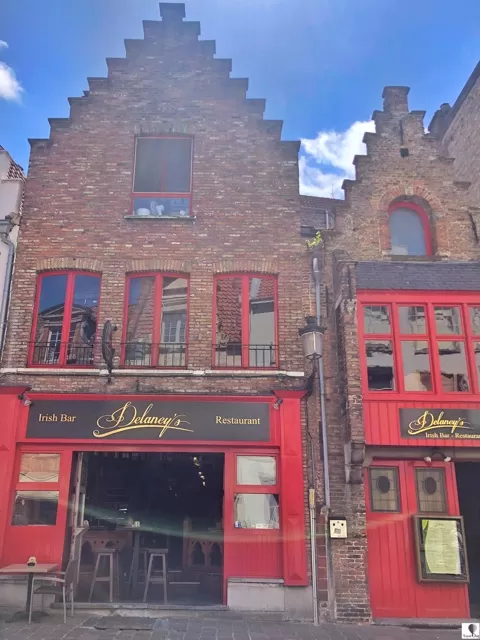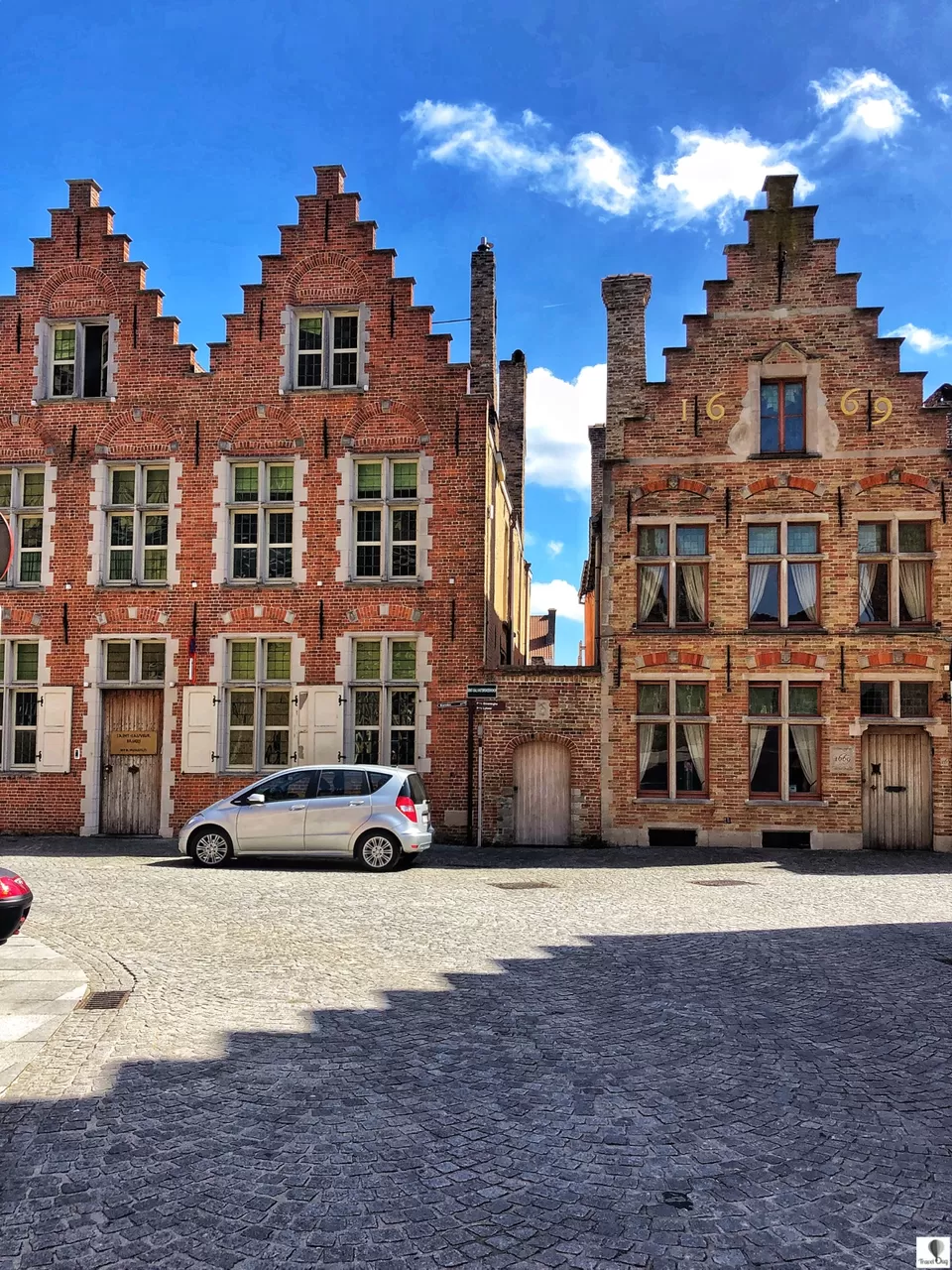 Dinner & Beer
7pm – Head to The Olive Tree for a sit-down dinner and relish appetizing Greek cuisine. The restaurant is super cozy and has an outstanding service with some delicious food for about €17(Rs.1360) per person.
After your dinner, walk ahead to 'T Poatersgat to experience the city's thriving nightlife. It's an underground bar with tiny entrance but has a huge list of local beers and great music pump to up your night.
Planning to spend additional time in Bruges? Here's a list of things you can do and see.
What to do
-Take a tour of Haalve Maan Brewery – local brewery
-Take a horse carriage tour
- Shopping around Zuidandstraat and Steenstraat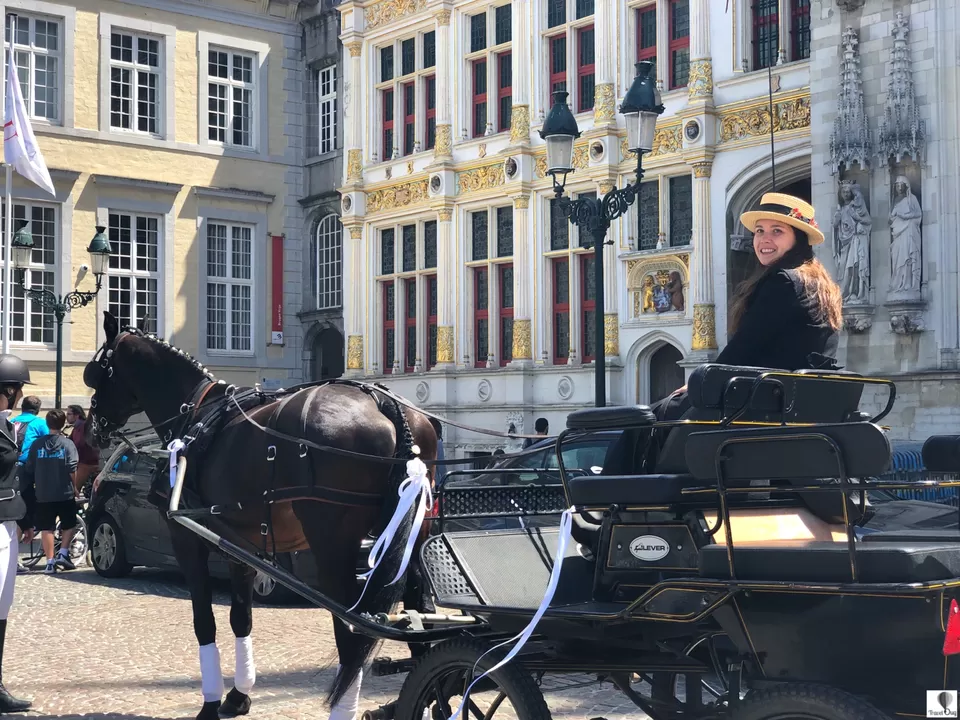 What to see
-Kruisvest windmills
-Friet Museum
-Church of Our Lady & Sint-Janshospital
-Beer Museum
-Church of Our Lady
Cuisine on offer
Any guesses? Too cliché I am sure - Fries, Waffles and chocolates. Indulge guilt free in the amazing waffles, different brands of Belgian chocolates and some scrumptious fries that you only get in Belgian.
When to Visit
Bruges will charm you no matter whatever time of the year you plan to visit this fantastic city. Highly recommended seasons would be summer, spring and fall, when you can explore this city with warm weather on foot. If you're a winter person then definitely visit this city during winter time as the touristy crowd will be comparatively low. Also, avoid traveling during the public holidays as it is busiest time.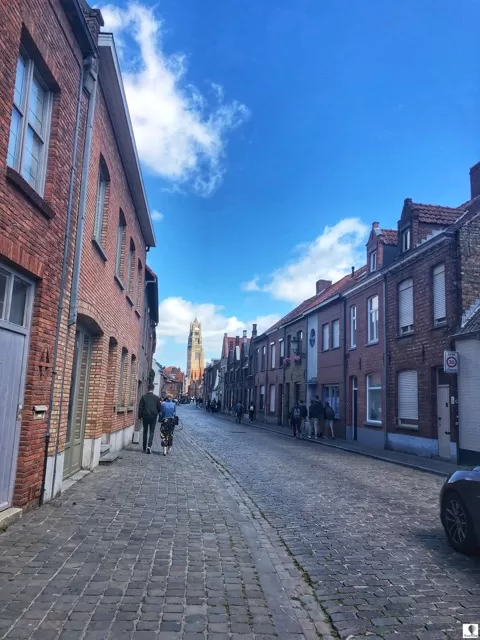 Getting to Bruges
The easiest and fastest mode of transportation from Brussels is an hour long train that costs about €26 (Rs.2080) for a return trip. Intercity links from other cities such as Ghent, Antwerp has also train facility with fastest options – 25 minutes and 2 hours respectively. The railway is very well connected from neighbouring cities such as Paris and Amsterdam.
Getting Around
Brugge is a fairly small city, making it very walkable. You may find the street layout a bit confusing initially, so keep the map handy and plan main destinations in advance. I would also suggest you to activate an internet plan to use the gmaps, as covering all the places can be easier and time saving. You can also explore the city by hiring a bicycle as its safe and cycle friendly. If you want to drop off your heavy luggage first you can use the bus transport, which goes to all parts of the city from the main train station for around €3 (Rs. 240).
Where to Stay
Being such a touristy city, stay can be pricy and not easily available so make sure you book in advance. I personally prefer staying near the city centre as everything is close by and would suggest you the same. A few hostel options for affordable stays are: Snuffel Hostel, St. Christopher's Inn-Bauhaus Hostel and Inn Brugas B&B. Mid ranged hotels options include
Hotel Ibis Brugge Centrum and Martin's Brugge. For travelers wanting to experience extravagant stays check out Hotel Dukes' Palace 5, Hotel de Orangerie, Hotel Heritage Relais and Chateaux, Hotel Heritage, Hotel Navarra and Relais & Châteaux Hotel Heritage.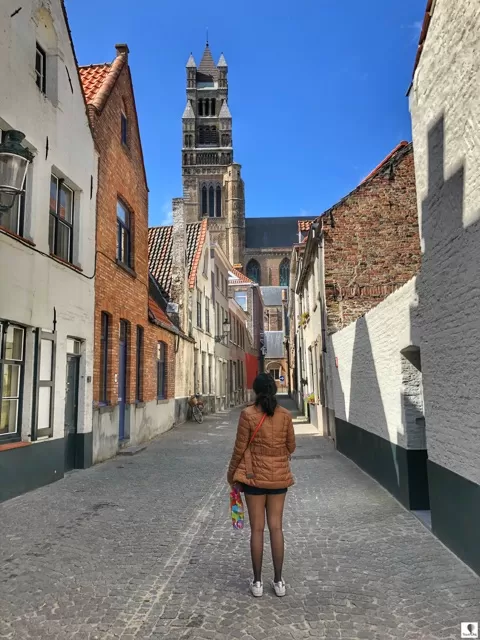 Good bye to this adorable and charming village was a definitely tough one and I can't wait to be back for a longer vacation just to take it all in. This city is a great combination of Belgians rich history and culture.