Think Belgium and the mind conjures up images of bubbly beer, decadent chocolate and crisp waffles. Yes, Belgium is every food-and-drink connoisseur's ultimate dream, for the Belgians are known to start their days with a large swig and a calorie-laden yummilicious indulgence. Where better to experience this foodgasm than in the heart of Belgium's traditional ways- in Brugge. Tucked away in historical oblivion, this now UNESCO World Heritage Site-City is like stepping back in time with a time machine. Narrow cobbled alleys, charming old-style plazas and waffles being sold by the dozen on the streets. But what catches one's attention, and especially if you are the forever beer-lover, is one of the oldest breweries of the country, the De Halve Maan brewery.
A Beer Revolution Begins
The story of the now-modern brewery dates back not several decades, but several centuries. The brewery existed under the name of 'Die Maene' in the town register of Brugge, way back in 1564. It was only in the 19th century that the Maes family took over ownership, and still continue to rule the roost when it comes to beer indulgence. Leon Maes, also referred to as Henri I, along with his uncle started making the first brews, a bit sour, a bit hazy. In was only in 1867 that the family decided to expand their offerings by building a new malt house, hop kiln and modern boiler. Soon stout and pale ale were on the cards. The brewery emerged through the trials and tribulations of the First World War, and in the 1930s, Hendri III took over, producing the first bock beer. But times were a changing, and the American influence post the World War II was becoming stronger. The Maes were embracers of change, and Henri III started home distribution of water, lemonade and cola, in addition to their traditional beer offerings. Thereafter, a series of changes were initiated by Henri IV and his daughter, Véronique Maes- the renovation of the original brewery in 1997. Today the grand structure that appeals to one and all is the result of this foresight. Véronique was also the pioneer of the 'Straffe Hendrik' strong beer, which received world-wide appreciation and today stands as a signature role model for other beers! Today, the family business is being led to an even more glorious future by the fourth generation- the creative and compelling Xavier Vanneste, son of Véronique Maes.
What has made De Halve Maan stand apart is its unique way of reaching out to its loyal customers. In the 20th century, it was a common sight to see horse-and-cart lugging around barrels of beer, to deliver the refreshing lager to eager consumers' doorsteps. Branding was the Maes' forte, they soon replaced this archaic transportation means with readily recognizable "yellow and green" trucks. And now we have an ultra-modern pipeline doing doorstep-deliveries throughout Bruges!
Embracing Modern Ways
"Relish the Old, Ring in the New" seems to be central to the Maes' approach, as they effectively blend their traditional ways with modern advancements. A walk through the brewery is an eye-opener to this unique blend of old and new. From incorporating new brewing apparatus, to introducing the now popular concept of "home delivery" back then, De Halve Maan has been ahead of its times. Some of its key milestones are first-time production of a bottom-fermented beer, set up of a new bottling plant, and the use of an Ammonia Compressor that allows brewing throughout the year. The Maes have gone as far as to set up a 3.2 km long underground beer-pipeline that connects the brewery in the inner city to the bottling plant outside the city. The pipeline took 4 million Euros to build! Imagine the refreshing beverage flowing through your city pipelines and directly reaching your homes for your daily tipple! What makes it even more interesting is that, people who made donations towards the pipeline construction have been promised a certain beer-delivery on their special occasions like birthdays!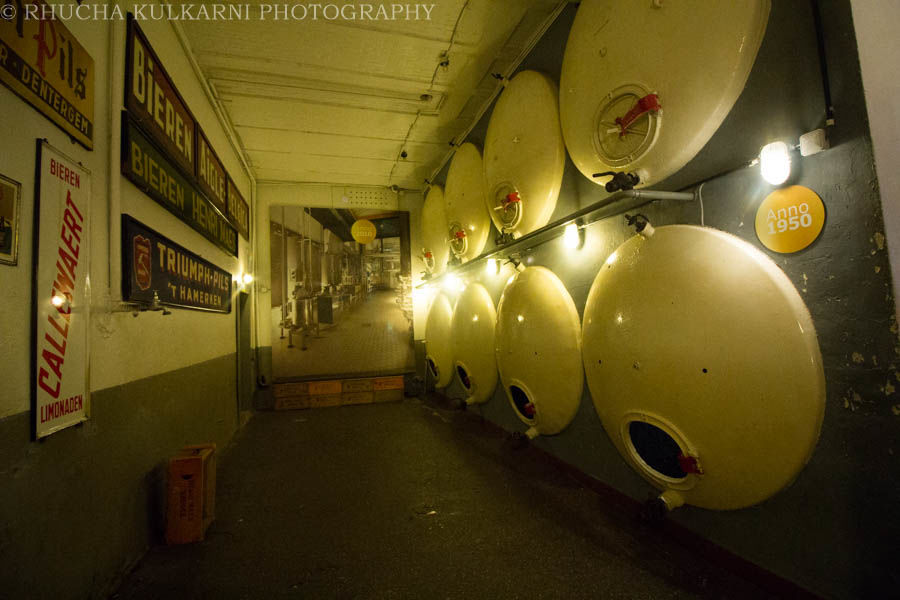 A Walk Through Beer-Bliss
A guided tour through the brewery is a great way to understand the complexities of beer-brewing- a series of fermentation stages go into making the perfect lip-smacking lager. A muddly mix of water, barley malt, yeast and hops is fermented at an optimum temperature for an entire week; this is the first fermentation. This is then filtered and bottled and carried forward to the second fermentation, where the beer is further processed. The third fermentation is temperature-differentiated, depending on whether it is to be a light beer or a dark beer. The beer reaches its final alcohol content i.e. up to 5% for lagers and up to 14% for special beer. Thereafter, storage happens in oak casket keepers, in the famous room of Coopers. This walk is a must for those who wish to see interesting snippets from the past- barrels coated with tar to prevent infection, room-size spaces for barley drying and sprouting, and the huge kiln for drying of the mix. One cannot help but wonder at the the scale and reach of beer-brewing in those previous times, which created some of these world's best beer:
 Brugse Zot: Available in Blond, Dubbel and Bok. The golden glow of the blond is sure to make you happy-high just on sight, while the deep tones of the dubbel indicates its rich heaviness and slightly bitter taste. The Bok is a seasonal beer with a rich, malty aroma.
 Straffe Hendrik: This family is one that won accolades like no other, the Straffe is loved by one and all in Brugge. The family consists of a golden tripel, a brown quadrupel and the limited editions of Heritage and Wild. Each one of these exudes power with its rich flavours of malt and hop. A glass of Straffe stands tall and proud as the last authentic triple beer of Brugge.
Both these beers are the only ones brewed in the historical town centre of Bruges.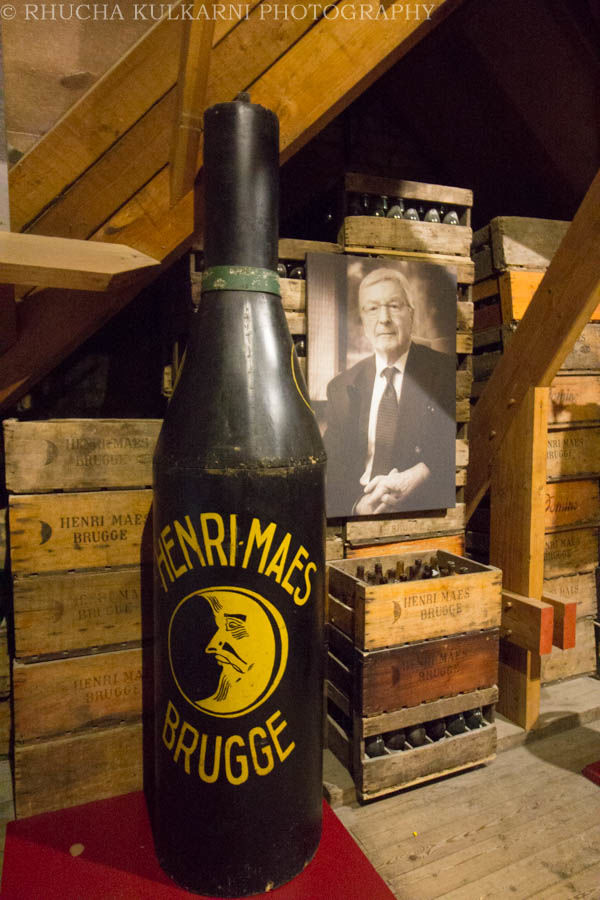 Brugge: Not just about beer
The brewery walk is sure to leave you mesmerized by Belgian's beer traditions, but Brugge is not just for those who enjoy a tipple. There's so much more to this quaint city, which in entirety is a UNESCO World Heritage Site. For the art aficionado, a visit to the Groeningemuseum can unfold the secrets of Flemish and Renaissance-time masterpieces. The Belfort tower in the main square towers 83 metres high, and is a landmark of this eclectic city. Or simply settle in a horse-carriage and spend some quality time with your loved ones as the town-scapes fly by. Brugge is both lively and laidback, exciting and relaxing, intellectual and casual. It is the perfect piece of fairy-tale in a modern world where quietude may have lost its appeal.
Why you should visit?
If you love beer and more so, volumes of beer, this is the place to be. 6000 litres of ferment-mix being churned every 2 hours- that's sure to make you beer-happy! This translates to almost 5 million litres of beer production, with 45% going into exports! Now, that's some phenomenal achievement!
Today we speak about innovation and "thinking out of the box", but the Maes have been thinking out of the beer-box since times immemorial. From special tanks and cooling systems to new techniques of brewing (such as bottom-brewing), you get to see it all! What's more, De Halve Maan is the last brewery still operating in the old city centre and that in itself makes it a must-see!
What to do?
 Take a guided tour through the facility. Tours are conducted everyday between 11 a.m. and 4 p.m. for 45 minutes and are priced at 9 € per person
 If you want to experience beer-tasting in traditional style, opt for the XL tour- professional beer tasting in the cellars of the brewery with three different beer to be tasted. Priced at 19€ per person, it lasts for about 90 minutes.
 Take a chill pill the Belgian way: The basic tour includes a tasting of the world-famous Brugse Zot Blond, but who said you have to stop at that? Enjoy the crisp air with a smooth beer in the beautiful courtyard and restaurant, and cool off, the Belgian way!
 Get on top of the terrace and enjoy the red-roofed view for miles together- a typical European charm unfolds with this panoramic view from this vantage point.