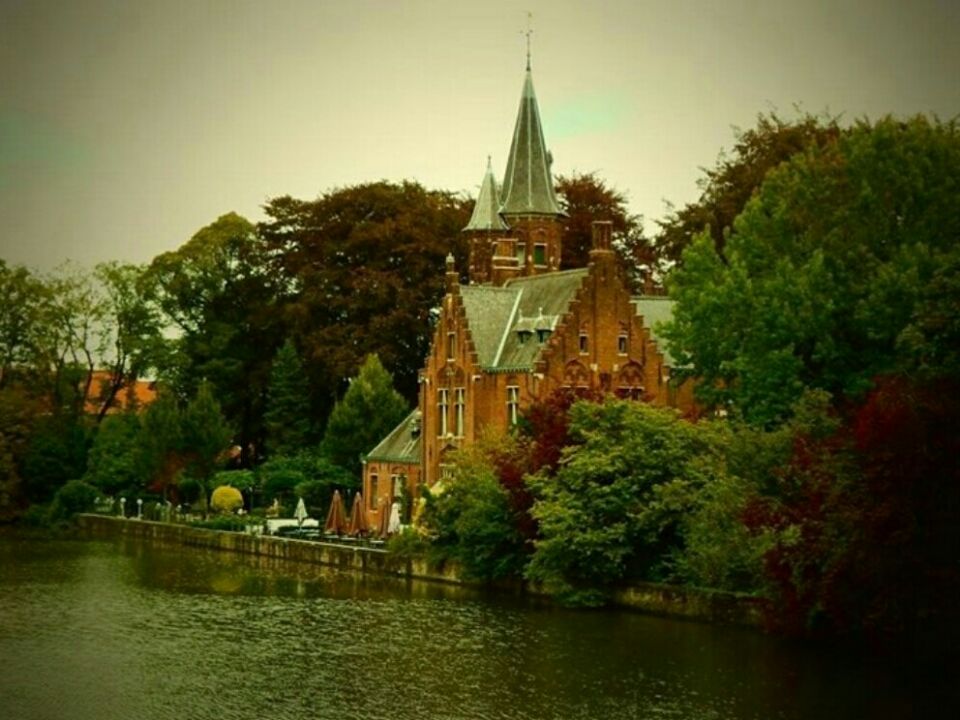 This 5 part series on "The Unconventional Honeymoon" talks about our first self-planned and self-arranged Euro Trip. In our short-but-sweet trip of about 7 days we covered Paris, Brussels, Bruges, Amsterdam and Rome. This was about 4 months after our wedding when my husband had to visit Toulouse, France for work. We happily jumped at the opportunity of converting this business trip to our Its-Never-Too-Late Honeymoon.

As it involved staying at Airbnb accommodations, walking tours around city centres, city travel by local transport like trams, buses and trains, boat tours and cycling around perfect landscapes, this was indeed an unconventional honeymoon, but definitely the perfect one for us.
This is Part 3/5 of this series. For the other parts check out the following links:
My brother who is a big fan of the movie 'In Bruges', planted the idea of visiting this charming city into my mind. Bruges is a 2 hour train ride away from Brussels and is the perfect place to unwind and relax.
We reached Bruges in the evening and booked our stay next to the railway station and bus station which is less than 2 km from the Markt at the centre of the town. We took a bus to reach the Markt since it was raining when we headed out. We were smitten by the lovely old-world charm of Bruges with its canal waterways and historic brick houses and fairy-tale-ish cobbled streets. As it got dark soon, we went on to have dinner at the cutest little cafe in the basement with a fire place and homely ambiance. We had the usual beer and frites and tried Flemish Stew based on the Chef's recommendation. After our delectable meal we headed back to our hotel. It was around 9 pm and it was still drizzling but we preferred walking back. There were hardly any people on the roads and that peaceful 20 minute stroll (with me humming "Chaar Kadam" which was filmed in this town) was a heavenly experience for us.
The next day we had half a day to explore the best of Bruges as we were heading to Amsterdam in the evening. It was pleasant and sunny and we thanked our stars for a rain less day. We decided to walk to the city instead of taking the bus. We crossed through the breathtaking Minnewaterpark which was mind-numb-ing-ly awesome. I'm actually out of words while describing the beauty of this place so I'll let the pictures do the talking. We went to the Begijnhof which dates back to the 13th Century. In the town, there were horse chariots running around, ice cream and waffle trucks doing rounds, canals filled with white swans and colourful houses lining the streets. It was a scene right out of a fairy tale.
The day involved a lot of walking around places such as The Markt, Belfry, Church of Our Lady and Basilica of Holy Blood. We also enjoyed a 30 minute canal boat ride around the town.
Being a self proclaimed beer enthusiast and a big fan of brewed beers, my husband booked us on a tour of a family-owned brewery 'De Halve Maan' or The Half Moon Brewery. The tour was informative and our guide explained the entire process of in-house brewing. By the end of it we were on the rooftop with panoramic view of the entire town. The 45 minute tour ended with a complementary glass of their famous Brugge Zot beer.
We bought souvenirs and loads of chocolates from the market (which are cheaper here as compared to Brussels) and had our last Belgian and Brussel waffles as we bid farewell to Belgium.

Bruges surpassed our expectation and won us over with its magical historic charm. It is a must visit heritage town which must be explored on foot.

Our must-not-miss list for Bruges :

1) Walking around the town

2) Canal boat ride

3) Walking through Minnewaterpark

4) De Haalve Maan Brewery Tour