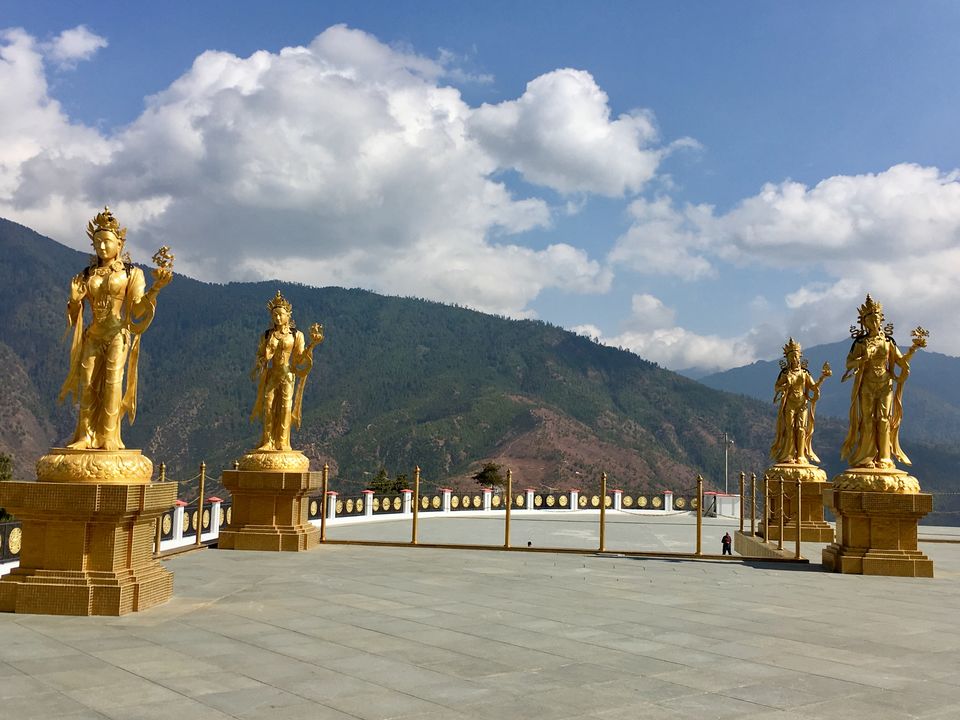 So it all started with a two month advance planning with the very trusted and recommend Druk Air to arrange this family winter vacay, 2018. [Pl consider Druk Air whenever you plan a trip to Bhutan.]
We were five of us (the trip cost above is a per head cost) , all working and had a good 7 day window post diwali to spend time in this landlocked country named Bhutan.
Let me first tell you that Bhutan Airlines fly out on only certain dates as the country has a restriction in the number of tourists that it can welcome (one of the first reasons for the country to be what it is :) read on). So, it is important and peaceful to be planning a Bhutan trip in advance.
Owing to the dates we could spare, the flight was only available from Mumbai. So we had to travel from two different cities - Dehra Dun and Nagpur to fly out of Mumbai. (No no, it was totally worth it!)
Off we took into the sky for a 5 hour flight to the mighty Himalayas. All was well till the pilot took us over the mountains which were of course covered with the whitest of clouds, and the tallest peak on this planet popped up! (pl note, the phone camera couldn't capture it, the peak was only visible through naked eyes).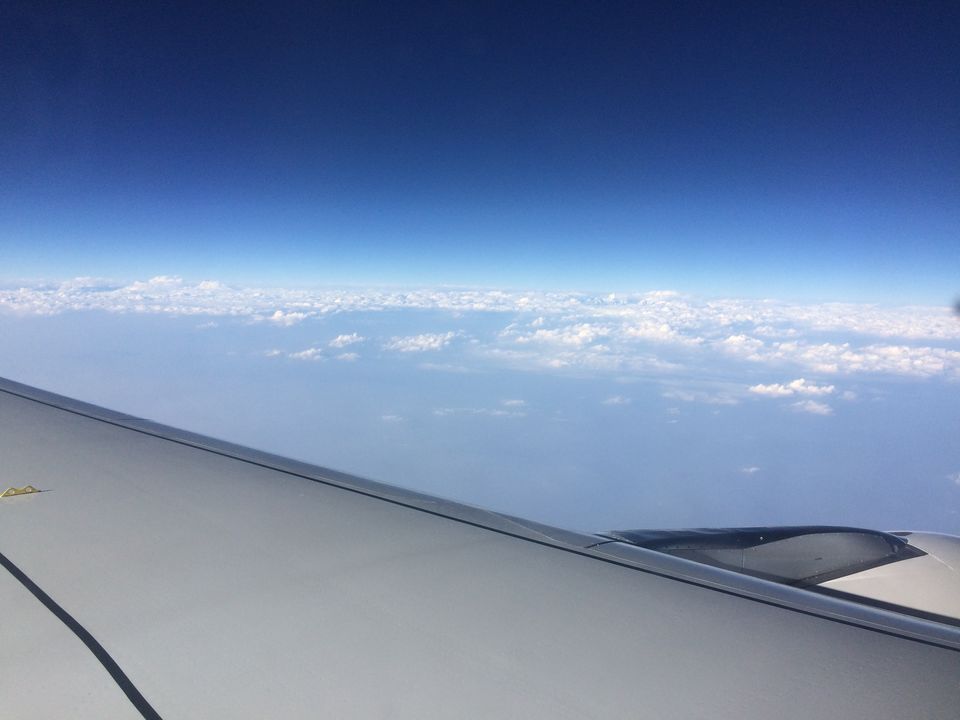 The flight itself was adventurous enough - its not over yet. Just while we all were mesmerized and adjusting the focus of our eyes to find more and more peaks our plane entered into the thick clouds where all you could do is, sense the kind of air speed that we were at. Added with, of course, the turbulence where with every dip almost all of us were missing our heartbeats. (Don't worry, it was more about the setting. Turbulence is normal)
And now the best comes. Just as some people (Indians) thought that remembering Gods and Goddesses might help we came buff! out of the fluffy clouds and there it was - amongst the tall, natural walls was this pretty looking valley called Paro.
The plane circles above it some two odd times with I don't know how many calculations the best pilots on this earth do to make us, the tourists, land safely. Yes, the best pilots - because the Paro airstrip is one of the most difficult airstrips in the world and there are only some 7 pilots who are qualified to land a plane on it.
And thereafter the awakening trailer we had, there we landed on the happiest country on earth.
A cute little airport and hell lot of chill! The above click is when we could still ourselves in that cold wind and smile to the camera, at the airport.
So much thrill and happiness had already hit us even before we technically entered the country. And what it had more for us was completely elating.
With our luggage with hand written tags we walked out to be greeted with the ever smiling Sonam, no, not me..... Sonam Dorji our super talented guide and our personal and conscious driver Tenzin. (Sonam is a name for guys in Bhutan)
As he wrapped a white silk scarf around our necks, we immediately got introduced to the warmth that country had in stock for us.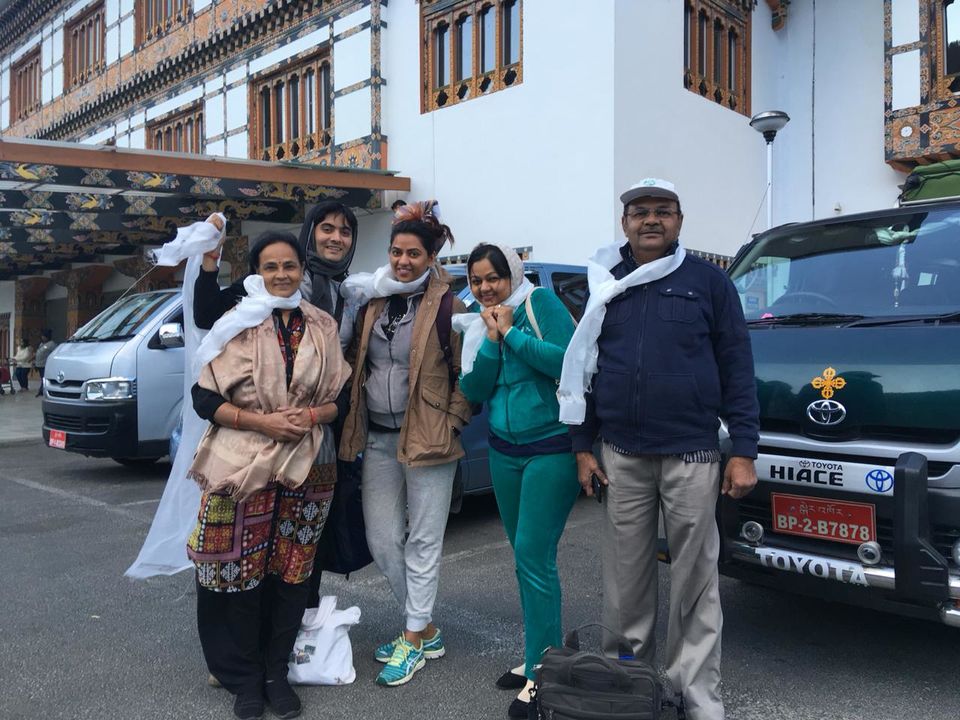 THIMPHU - Day 1, 2 and 3
Though we landed in Paro, Thimpu was our first stay. It took around 2 hours drive for us to reach Thimpu. Druk Air had arranged our stay right in the city centre. Hotel Phuntsho Pelri - a homely stay with good sized rooms. All have heaters. Though they have wifi facility but it best works in their lobby, not as much in the room.
Settling in the hotel and a walk around in the market was the agenda till we crashed into our beds.
Next day morning we started with the Memorial Chorten: The stupa built in the memory of Bhutan's third King, His Late Majesty, King Jigme Dorji Wangchuk, who is popularly regarded as Father of modern Bhutan.
The Royal family was having a function there, but we and all other tourists and even localities were allowed in there. No high level security, no stampede, no caravan of cars outside - it was as peaceful as a stupa could be.
The vehicles there that belong to the Royal family have BHUTAN written on their number plates. Just BHUTAN....what pride!
We then went to Kuensel Phodrang (The Buddha Point). A tranquil place on one of the hills around Thimphu. The statue is that of a "present Buddha" - that is depicted through the way Buddha's hands are - 54 meters high, seated against the cypress backdrop.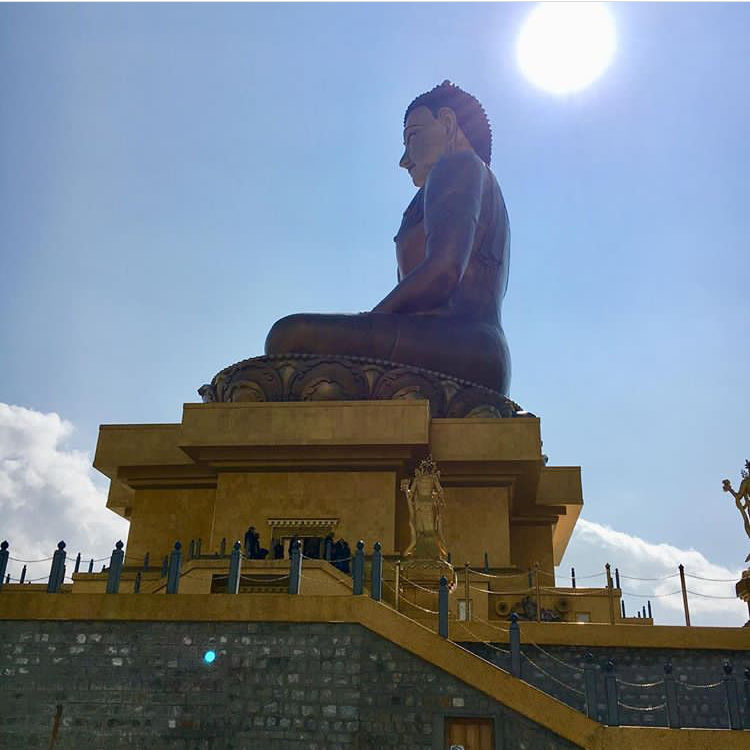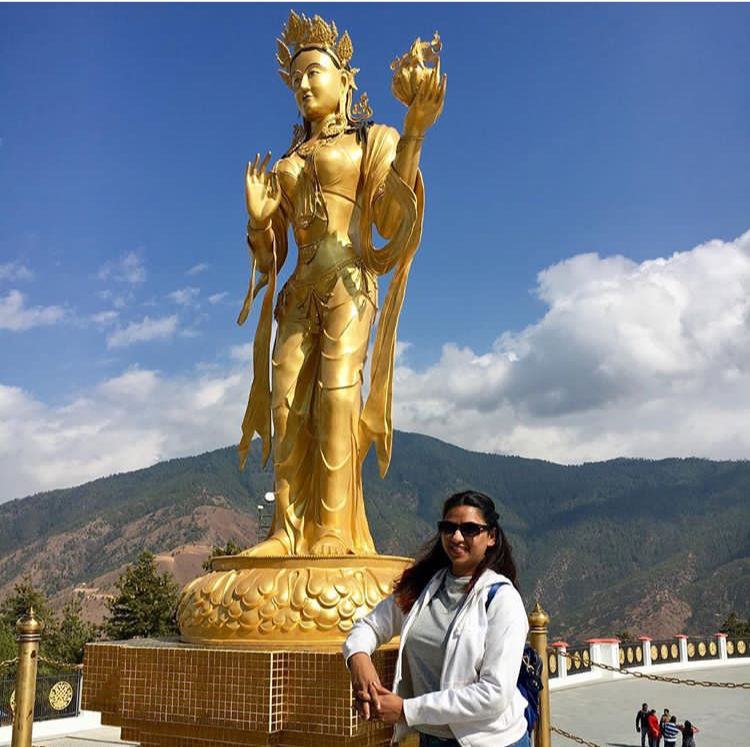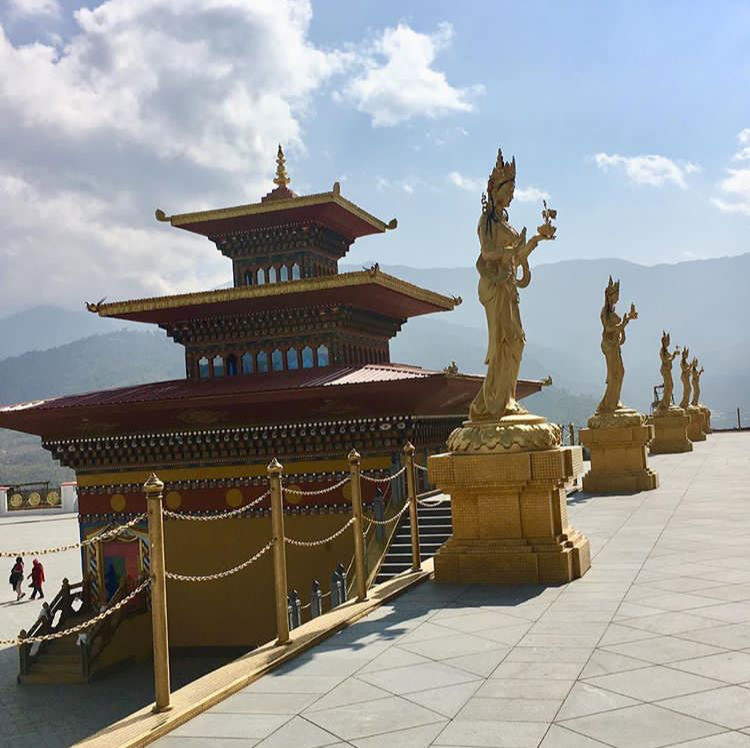 Our lunch was arranged at Glory Restaurant.
Do note, Bhutan is no problem for pure vegetarians or even jains. You get all and everything there as per your choice. Do try the cheese-chilli veggie that they prepare.
Having three women in the group, can there be a day of no shopping - okay window shopping atleast?? After hogging, we headed to the Thimphu Craft Bazaar. It has been recently established under patronage of Department of Cottage & Small industry and in collaboration with the Department of Culture, Tourism Council and the Department of Agriculture Marketing and Cooperatives and it encourages and contributes in promoting, protecting and preserving of traditional Bhutanese arts & crafts.
There is a zoo that we went to and was lucky to see their national animal Takin, Reindeer and the gorgeous looking Himalayan Monal.
Thimphu to Punakha - Day 3, 4 & 5
Approx. 3 hours drive.
After a relaxing stay at Thimphu we left the capital and the largest city of the Kingdom of Bhutan to reach to a town named Punakha.
But, by nature, Bhutan's itinerary always has stops that mesmerize you. To start with, this was a stop that gave us a high! On way to Punakha, we halted at Dochula Pass, 3080m above sea level.
In Bhutan, all passes are highlighted with flags and Bhutanese Chortens. And if one is lucky, you can witness the snow peaks of the eastern Himalayas....unfortunately, we weren't.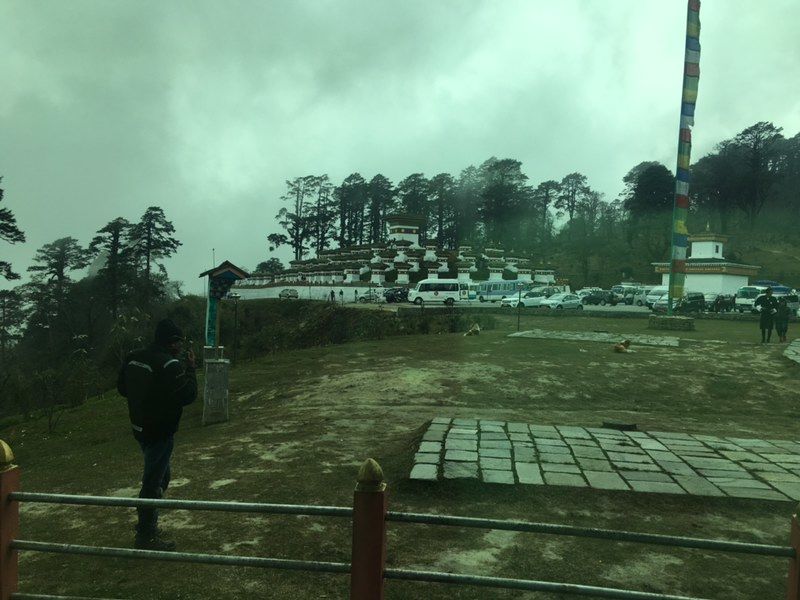 The Pass has 108 of these Bhutanese Chortens beautifully placed on a hillock opposite the cafeteria.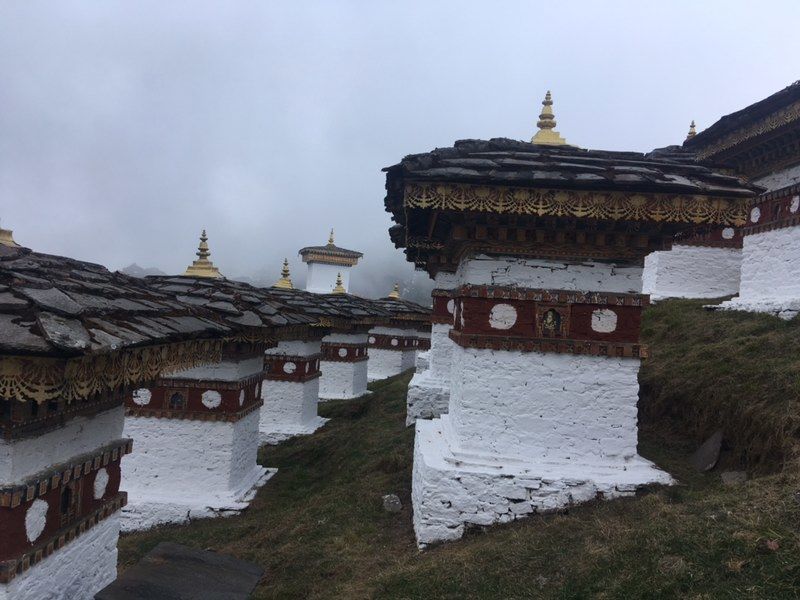 The cafeteria there is a savior when the mercury hits 0 degrees. Tourists can take a good break with food and hot beverages, get fresh and embark to respective destinations.
Ours was Punakha.
After a break of about 45 minutes, we left for the town.
Little did we know that a heaven called Damchen Resort by the river would be waiting for us to absolutely awe us!
Take my word - when you are in Punakha stay at Damchen, else make a plan to go to Punakha and stay at Damchen.
And I am not exaggerating. It is a picture-postcard resort with picture-postcard rooms with a picture-postcard view.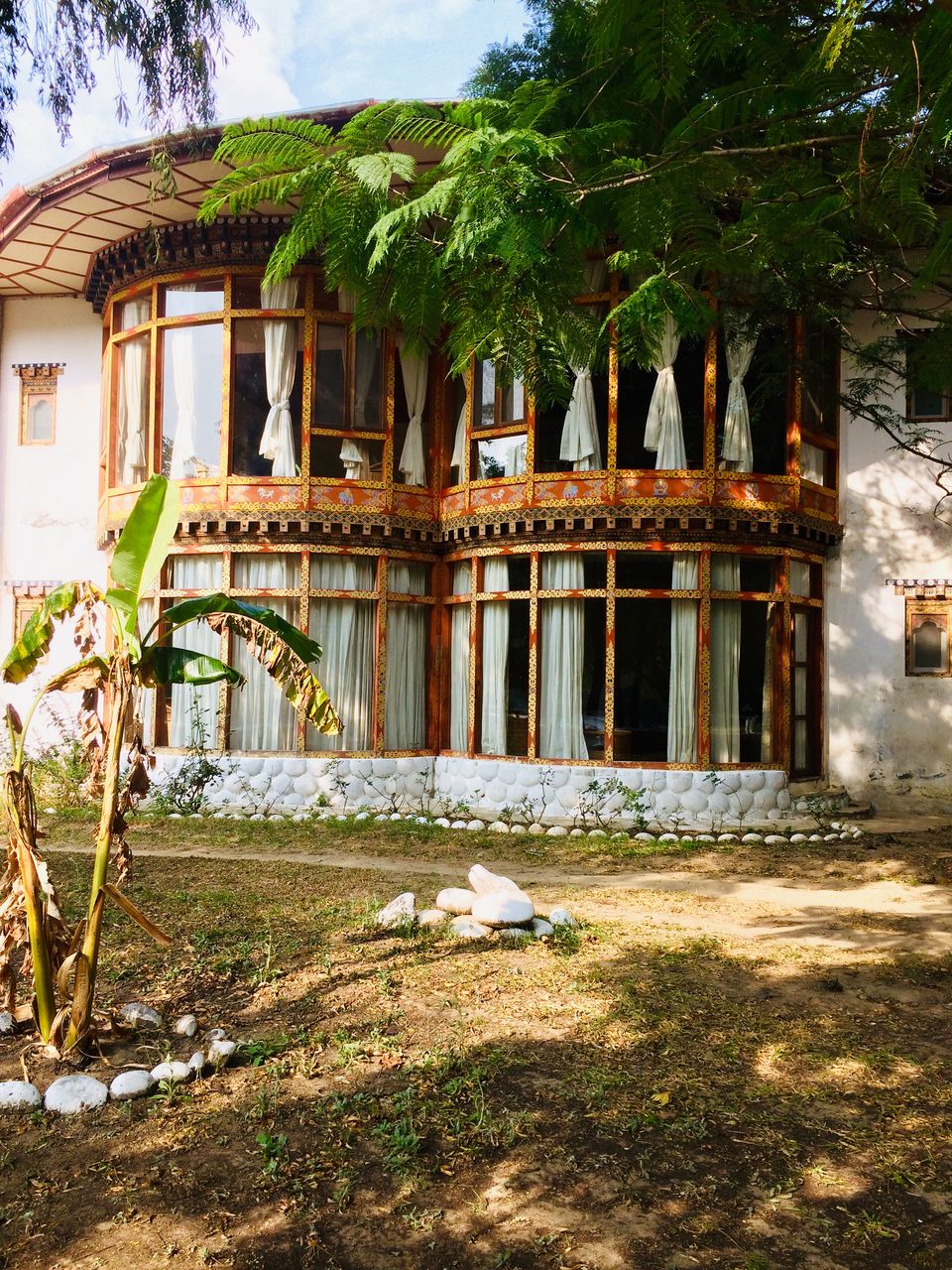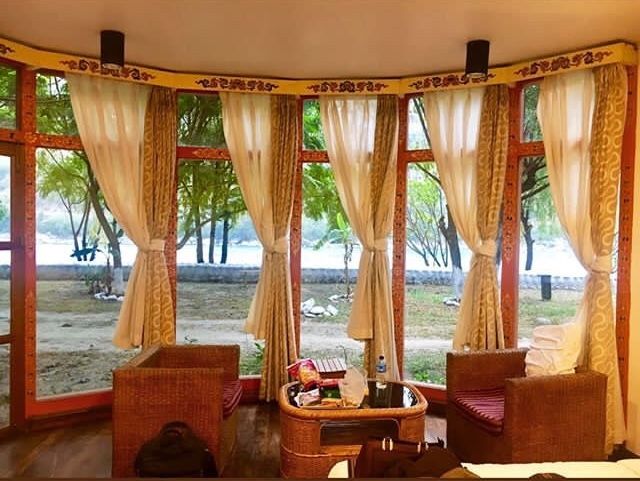 Punakha is a tiny little town but thats the beauty of it. Peaceful, it brings back all the energy for you to spring up for the hikes that await you further ahead.
One of which we had already done when on way to Punakha, to the Divine Mad-Men's temple called Chimi Lhakhang. It was built this temple to celebrate his victory over the demoness of the Dochu La. A short one though, it was an experience walking through the fields, waving at the busy farmers. The hike is not much with only the last lap with a little gradient, but slowly and steadily that will just pass.
Day 3 started with another exciting hike from the banks of Mo Chhu river to the Khamsum Yuelley Namgyal Chorten. Through the fields of cabbages, chillies and tomatoes we walked up to the symbolic structure created to fight negative forces, create peace and stability. It commands a dominating view of the valley with patterned terraced fields and the free flowing river.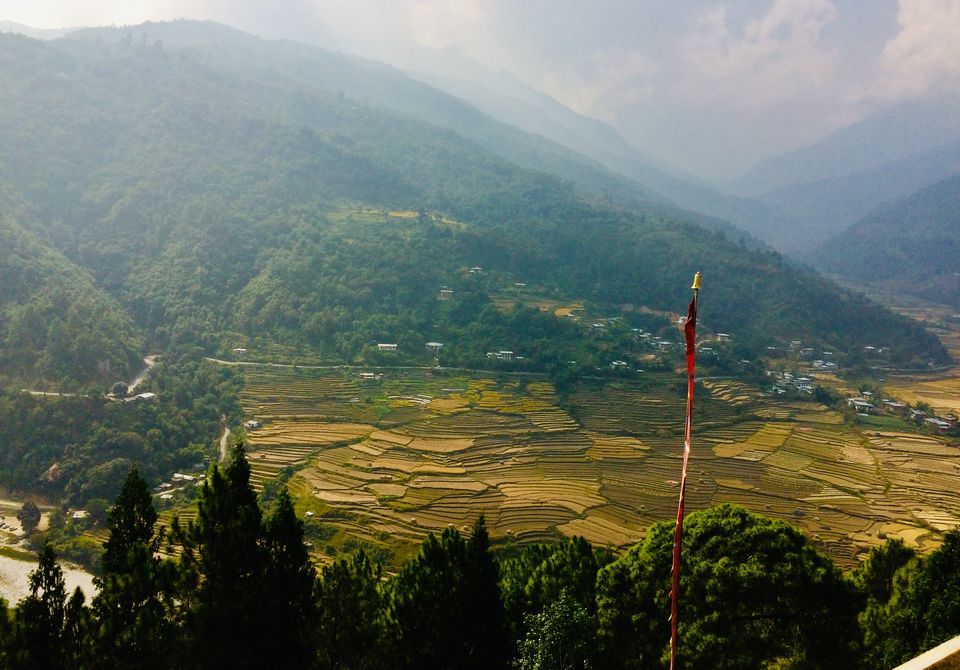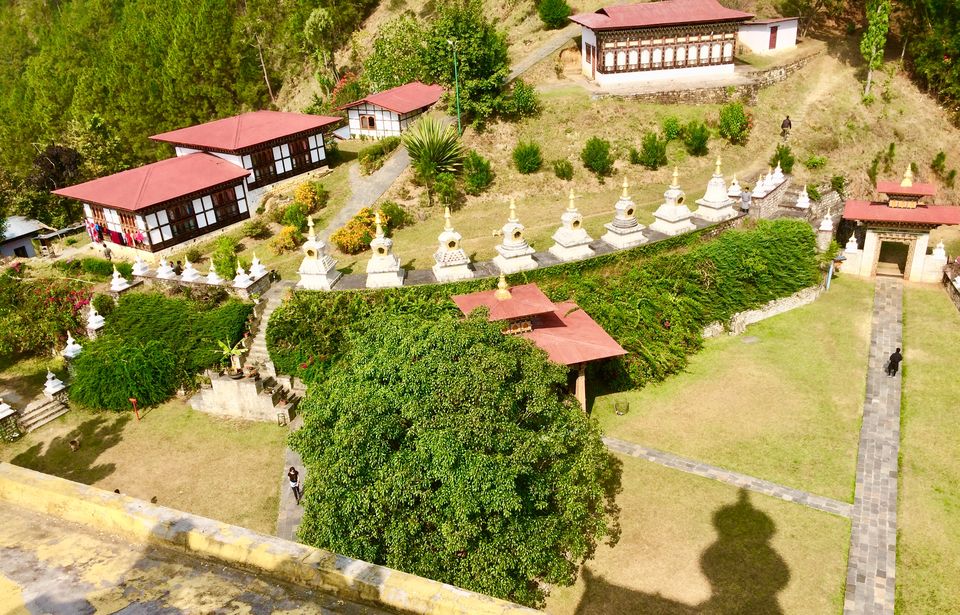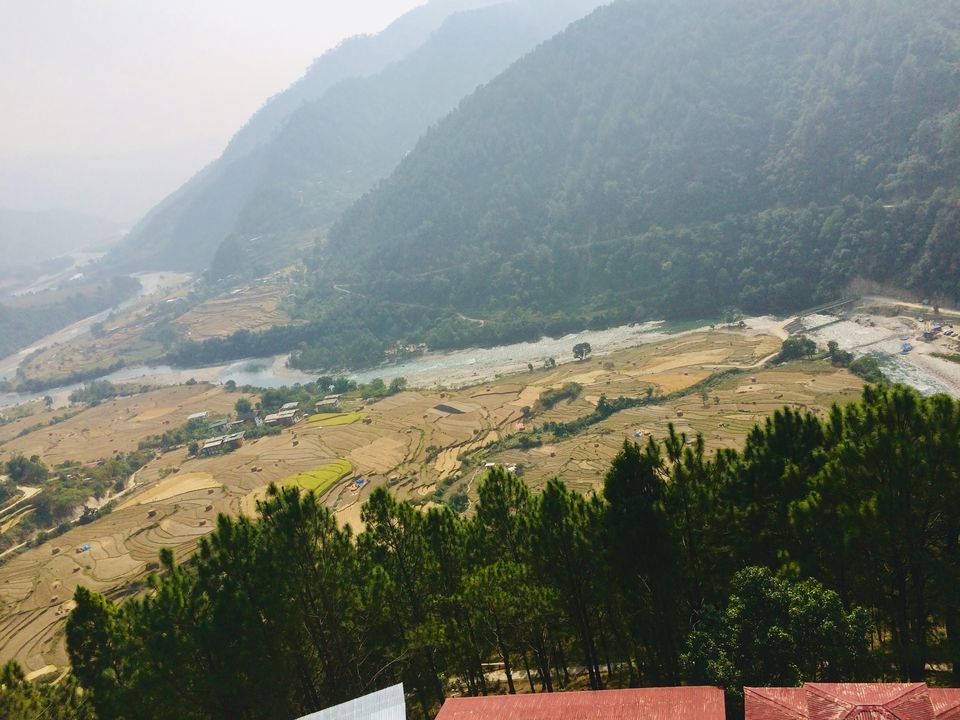 This hike takes about 1.5 hours. Not as much in the first half, the hike grades slightly difficult in the second half.
While we rolled down, we all had already made up our minds to raft in the chilling water. And we did. Down from the top, we were into the raft learning and memorizing and practicing the rafting instructions of our guide. For about an hour we were rafting, lucky to have sighted some mountain birds and all the more luckily to undergo a wishing-bridge.
The next day we visited Punakha Dzong, an architecture marvel built strategically at the junction of Pho Chhu and Mo Chhu rivers in 1637, by Shabdrung Ngawang Namgyal which serves as the religious and administrative centre of the region.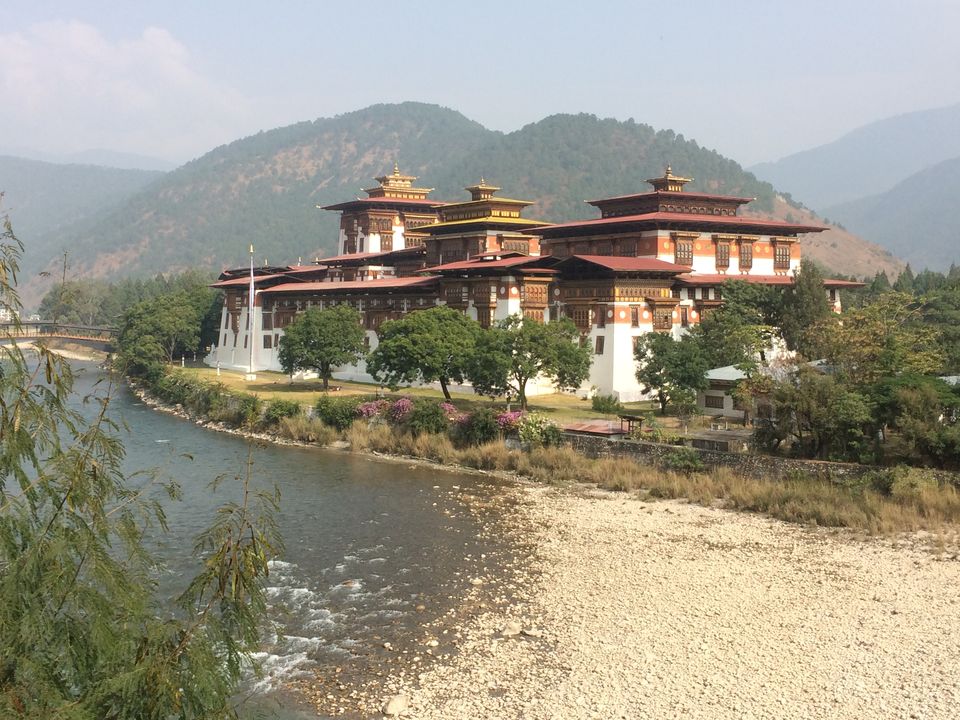 After all the adventure and sight seeing we had, coming back to the resort was the equally exciting. :)
Grabbed a good night sleep, to wake up to a quiet walk by the river with hot cup of tea.
It was after that, that we had to leave for our last destination, Paro.
Punakha to Paro - Day 5, 6 & 7
Paro is about 125 Km from Punakha, a drive of about 4 hours. Gazing at the view all along, the journey doesn't seem as much.
Our encounter with the city started with a stroll around in the market, a perfect place to shop bags full of souvenirs and much more.
After which we headed to our stay facility, the iconic Tiger's Nest Resort.
An old built, the resort gives a perfect view of the one missions many go to Paro for - the Tiger's Nest Hike.
For us, it was scheduled on the third day.
With two peck of glowing yellows, the Tiger's Nest over looked us, as we dozed inside our heated beds.
Next day, our guide had a wonderful plan for us. A picnic in the Haa Valley. And the picnic was a real picnic, read ahead.
Haa Valley is about 70 km from Paro. But like the Punakha drive, this drive also had an exclusive interruption by the Chele La.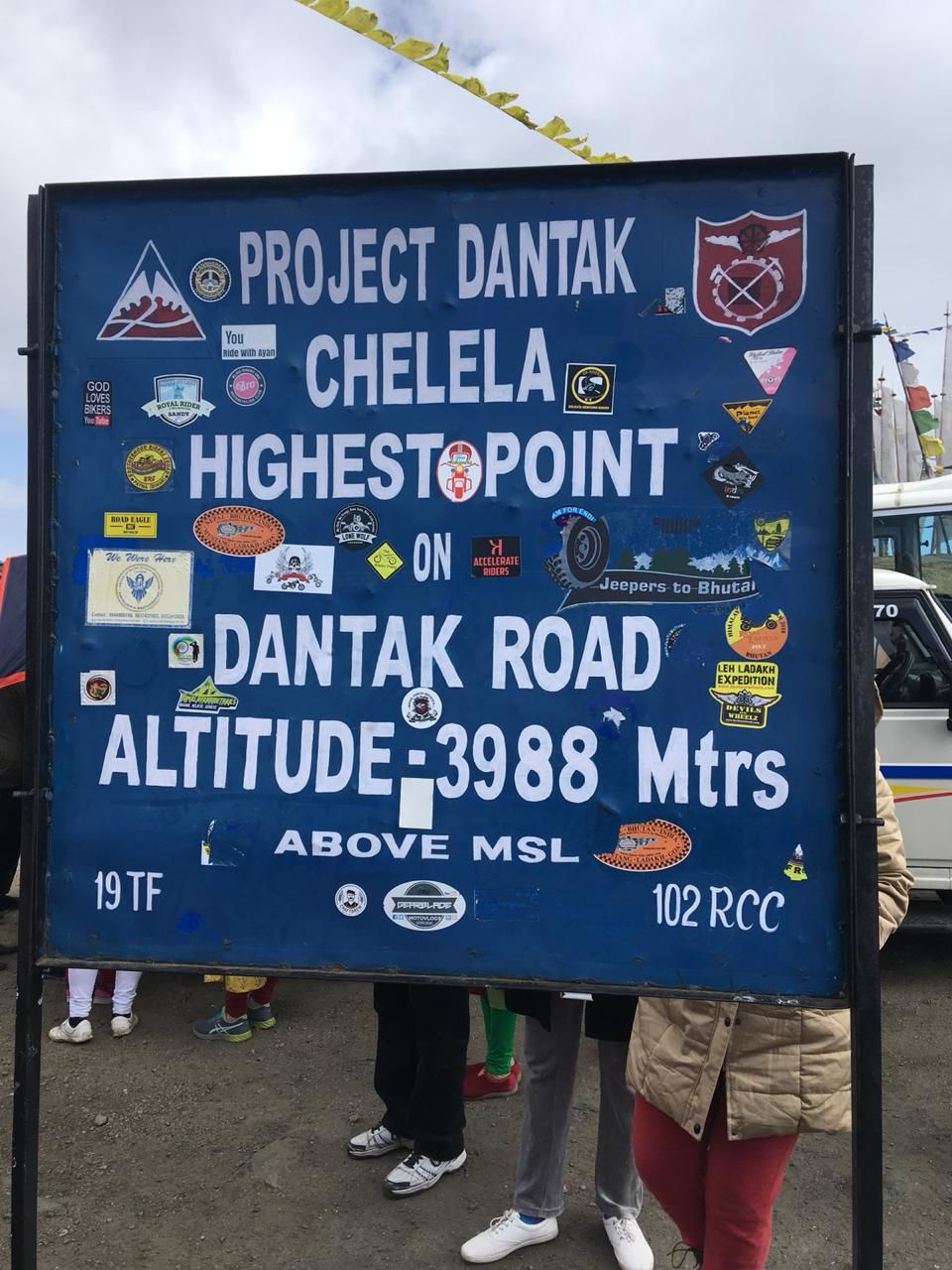 3988m above sea level, this was indeed a different kind of a high. Super cold with the mercury hitting 1 degree celsius here, it was quite difficult to even talk. ;)
But, there's a savior every where!! And here we had a lady selling maggie!
How we loved ordering some 4 plates and hogging it, while we shivered.
We then moved towards our picnic spot. We sat besides the river, ate the food that came packed in hot cases with us from Paro, and absolutely enjoyed being the audience to this masterpiece of nature.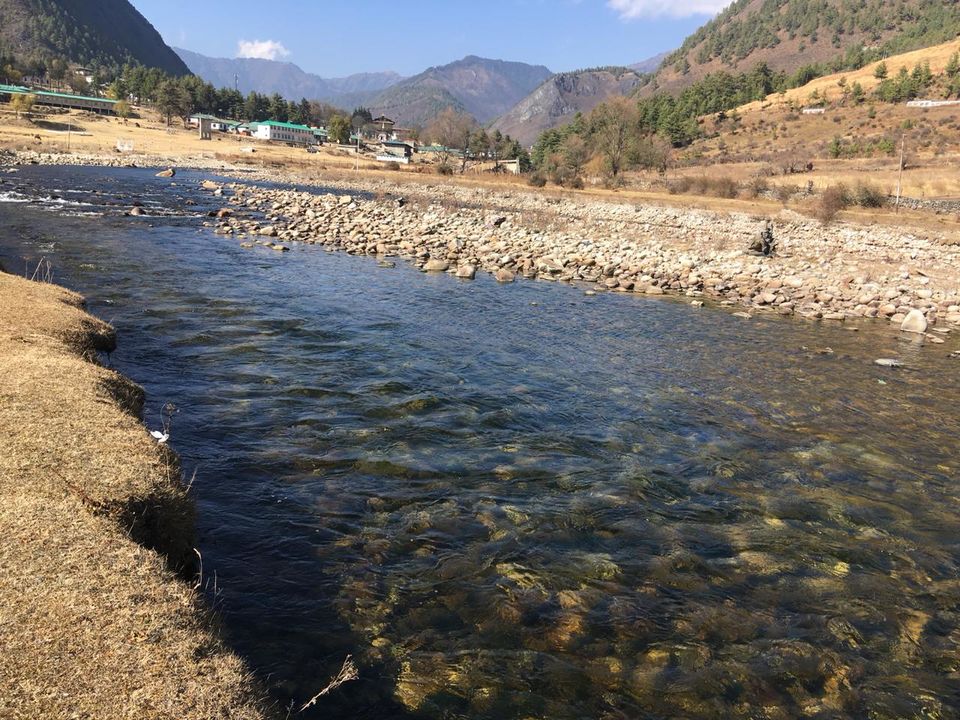 Chele La is also a great view point for Mount Chomolhari that stands 7314m into the sky. And this time, while on our way back, we were lucky to get a glimpse of the mighty.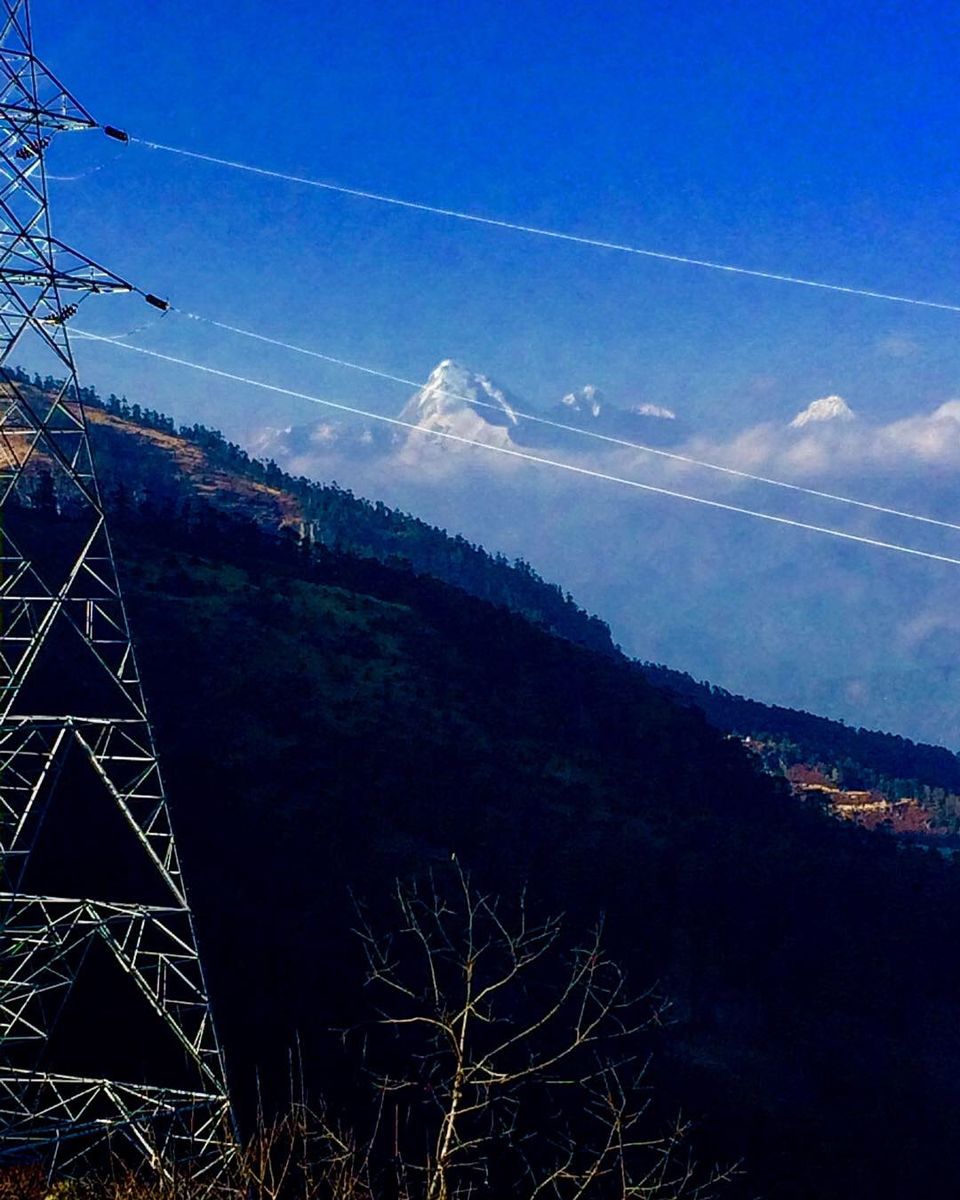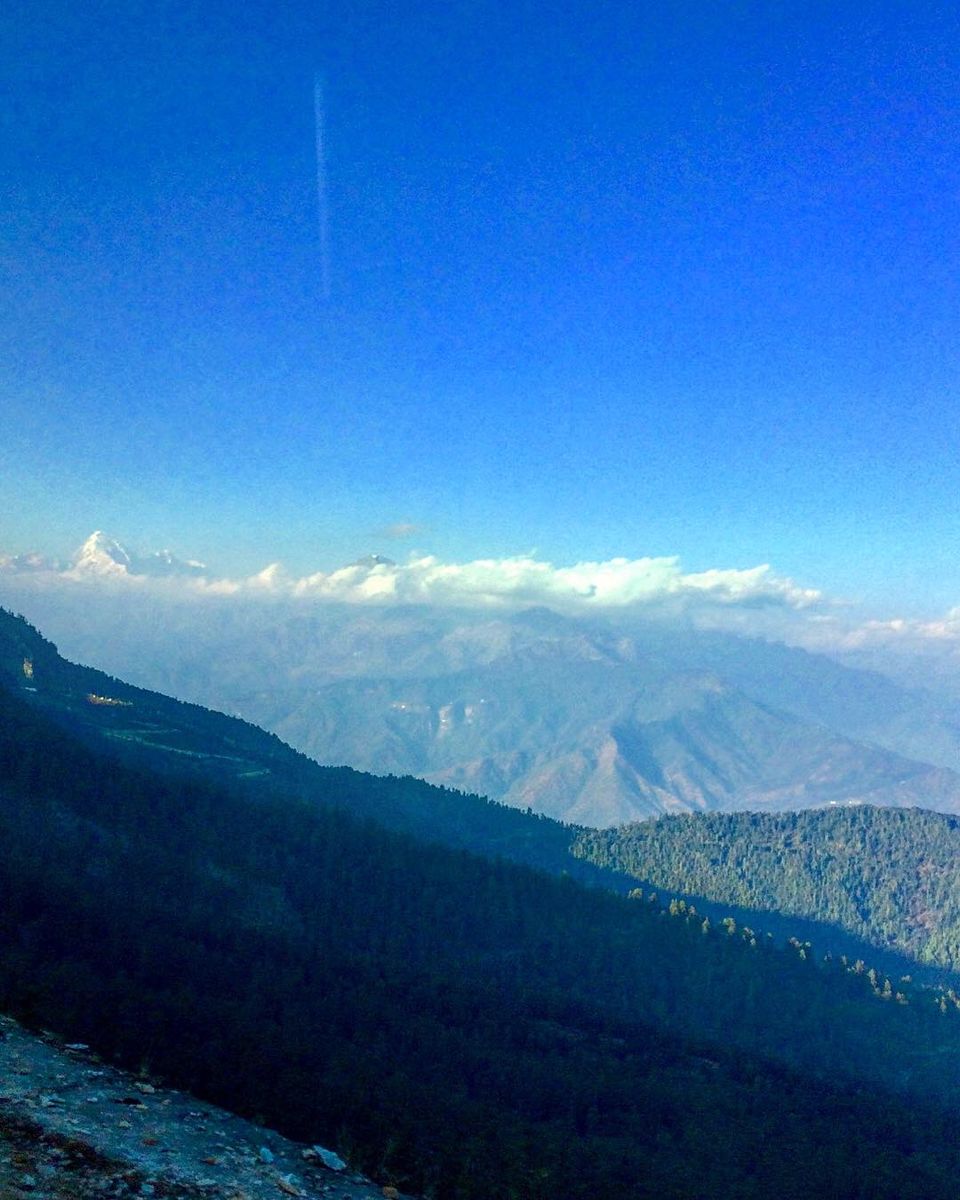 Next day and the last day at Paro was the most awaited hike. Hike to the Taktshang Monastery.
It is one of the most famous of Bhutan's monasteries, perched on the side of a cliff 900m above the Paro valley floor. It is said that Guru Rinpoche arrived here on the back of a tigress and meditated at this monastery and hence it is called 'Tiger's Nest'.
This is a difficult hike of about 12km that took around 3 hours to climb up. You do get a horse ride up, but till the cafeteria which is half way. Post which, one needs to walk up.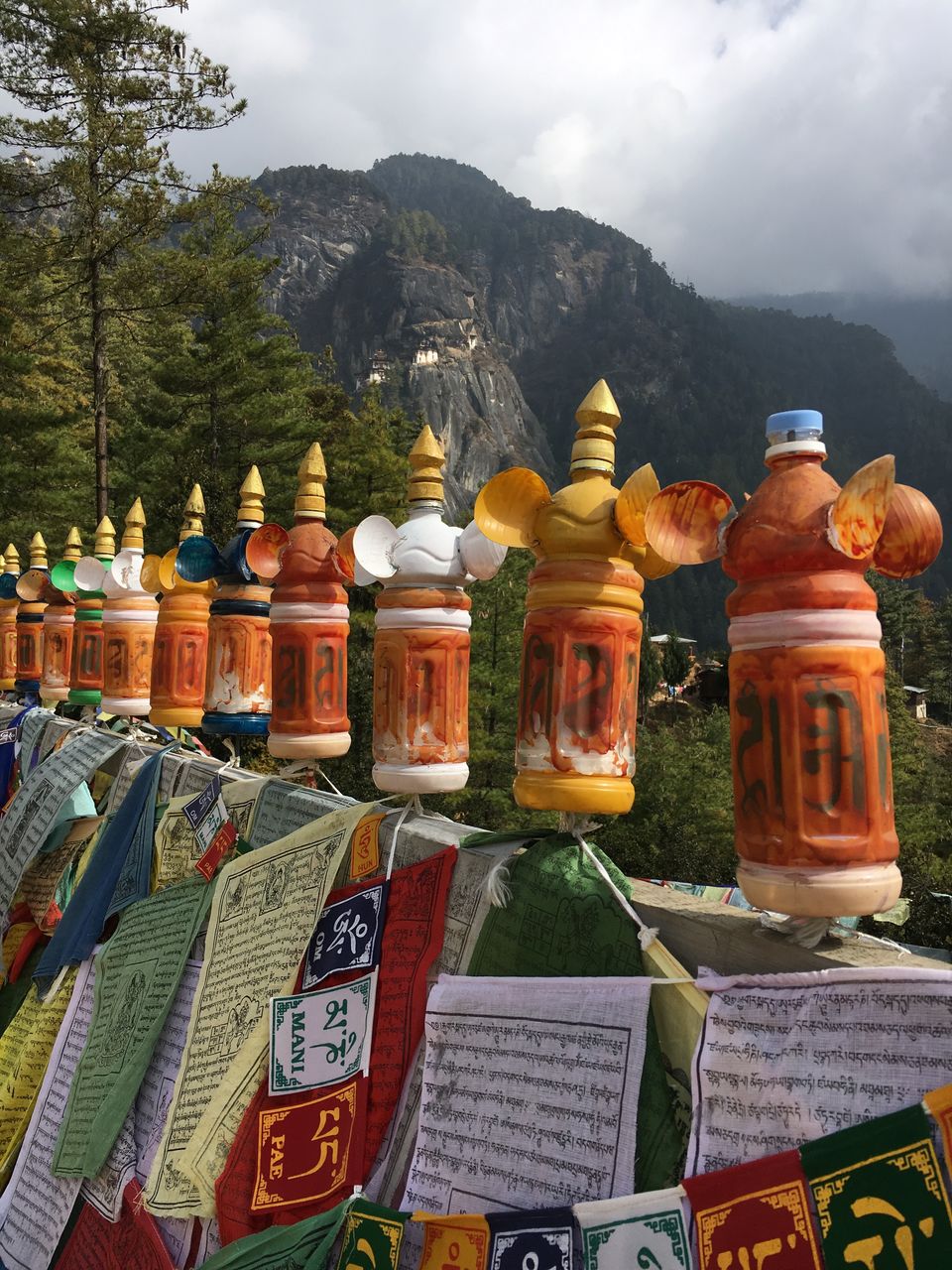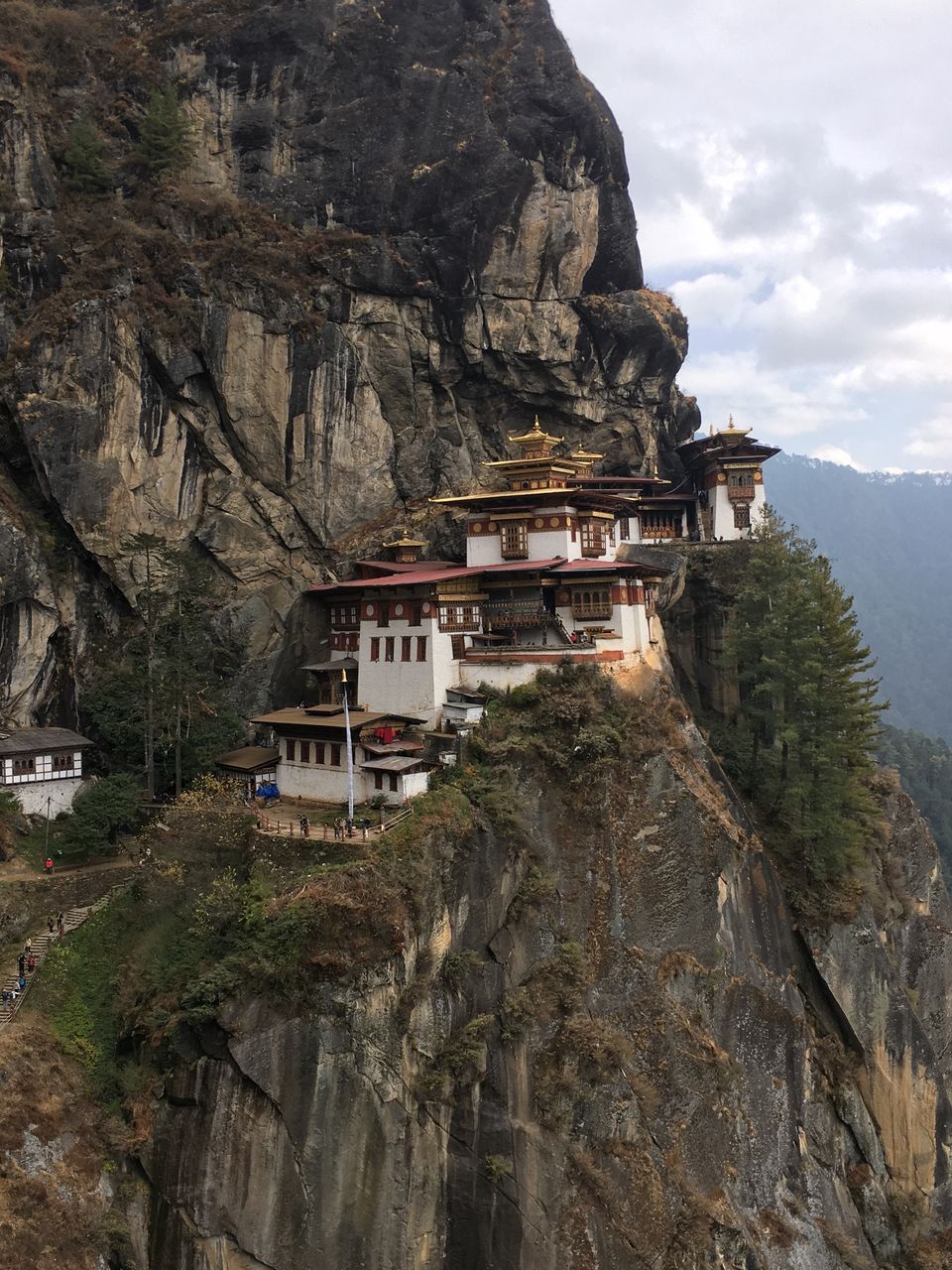 It is a common practice there amongst the tourists to go for a hot stone bath considering the hard-level hike to the Tiger's nest, but a hot water bath followed by a sumptuous dinner at the resort was a good massage for us.
Day 8 was our scheduled departure.
But before I close, let me tell you the 10 things that you must not miss or keep in mind so that you absorb the country well. They will not appear in any itinerary, but are a denouement of the experiences that this country has to offer.
1. Eat at the local restaurants.
2. Do not miss the maggie and tea at Chele La
3. Do the picnic at the Haa Valley.
4. While on your way to the Haa Valley, do stop at the point wherefrom one gets a panoramic view of the air strip, at around 4pm which is the landing time of one of the flights. (you may want to check)
5. Do all the hikes, it will surely make you lose some kgs. :)
6. Book through Druk Air (the official)
7. Do an elaborate souvenir shopping
8. Carry walking, outdoor shoes. Mountains call for a lot of walking.
9. Anytime post October is cold, carry good woollens
10. And lastly, for your self or your friends and family back home you may not want to miss picking up a bottle of K5 whiskey from the airport, which is a product of Bhutan, dedicated to their 5th King.
While I close, I already have a plan to visit the not-so-tread district of Gasa. It lies in the northern most part of the country and strikingly beautiful view of the Himalayas. That is all I know, until I visit it.
Do plan a vacay to this wonderful country. I promise, you will be happy in Bhutan.