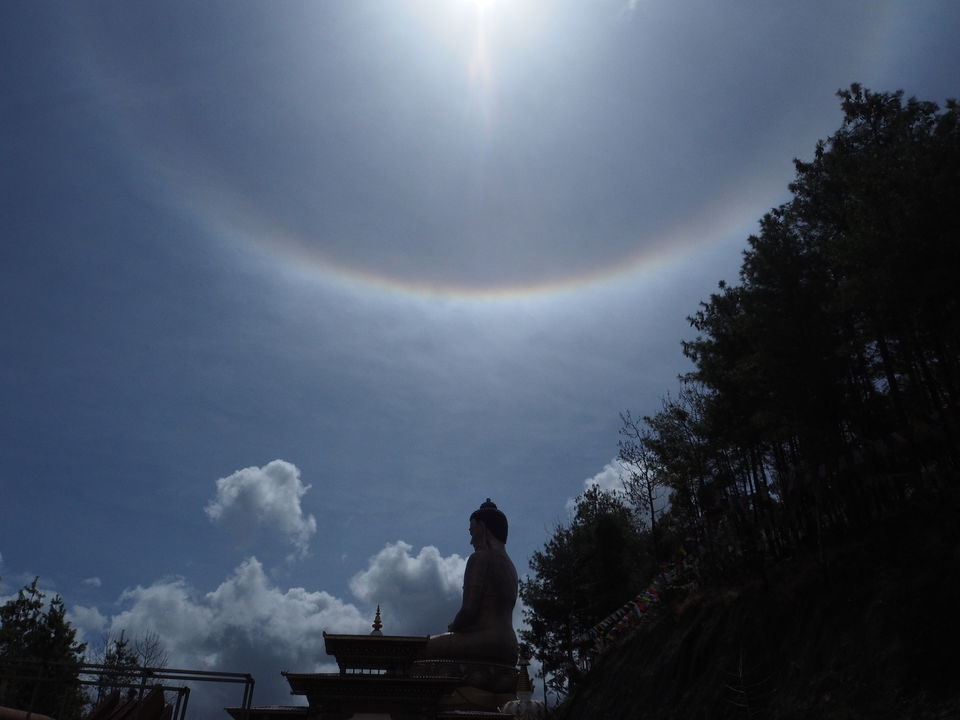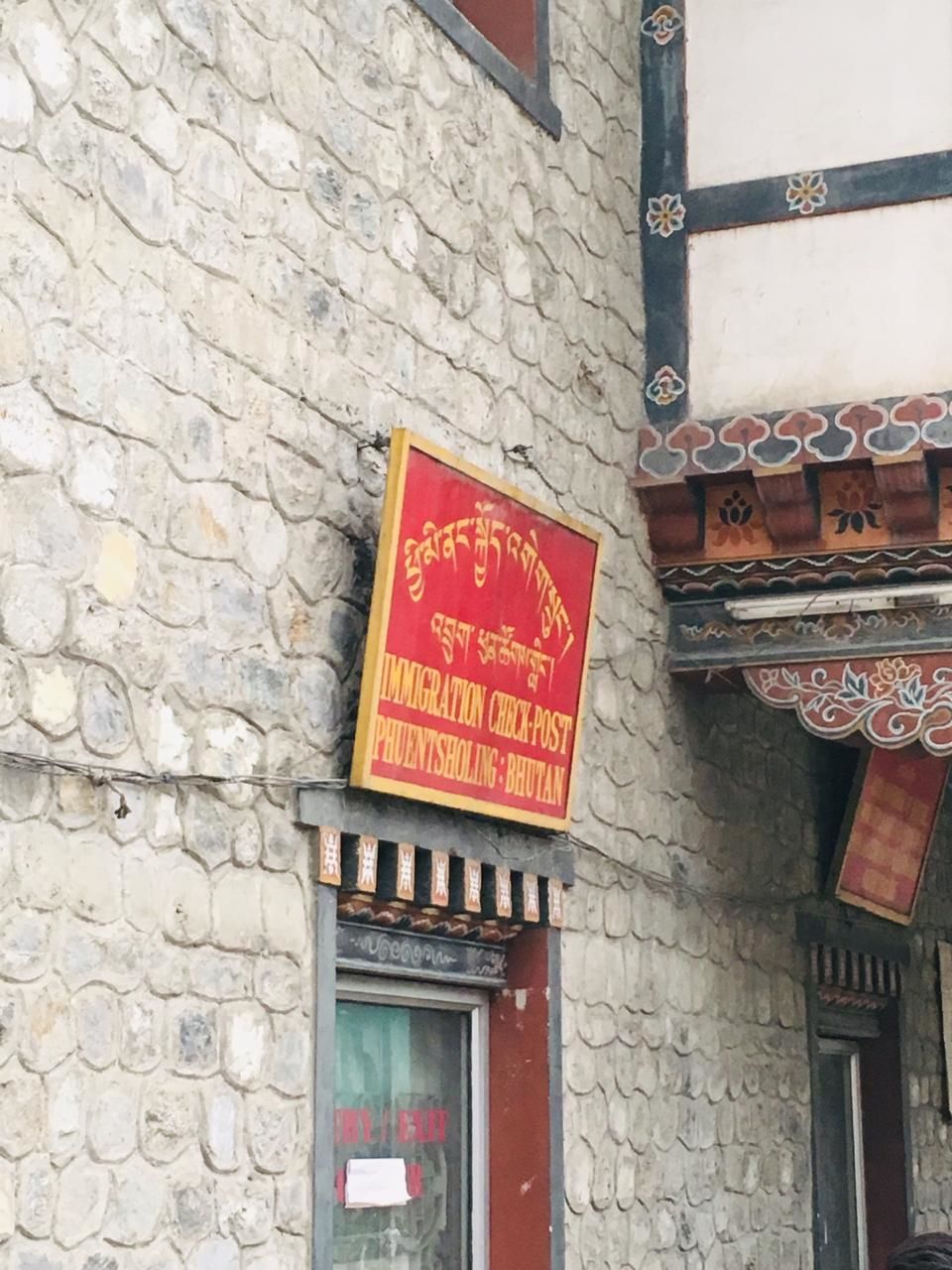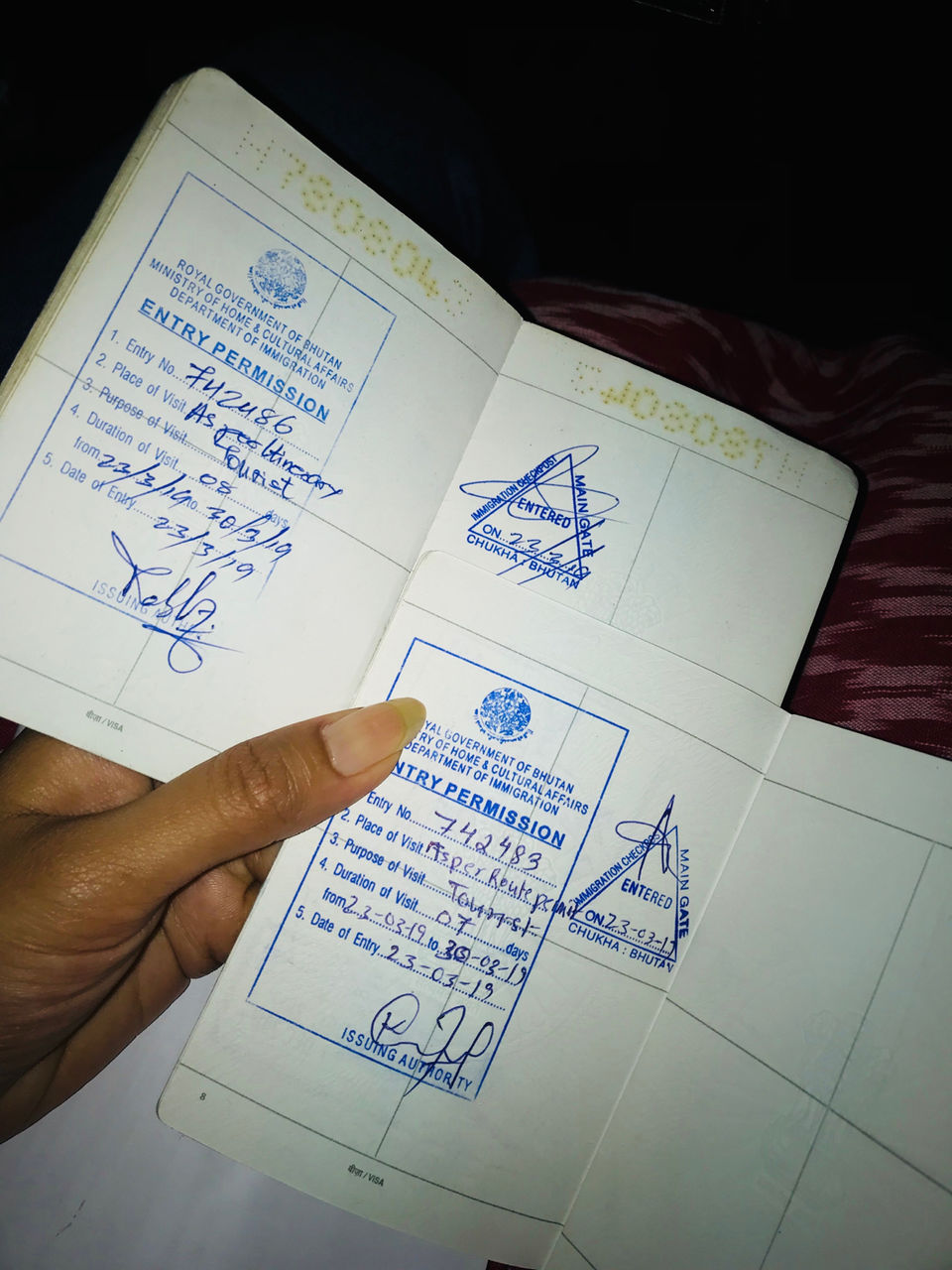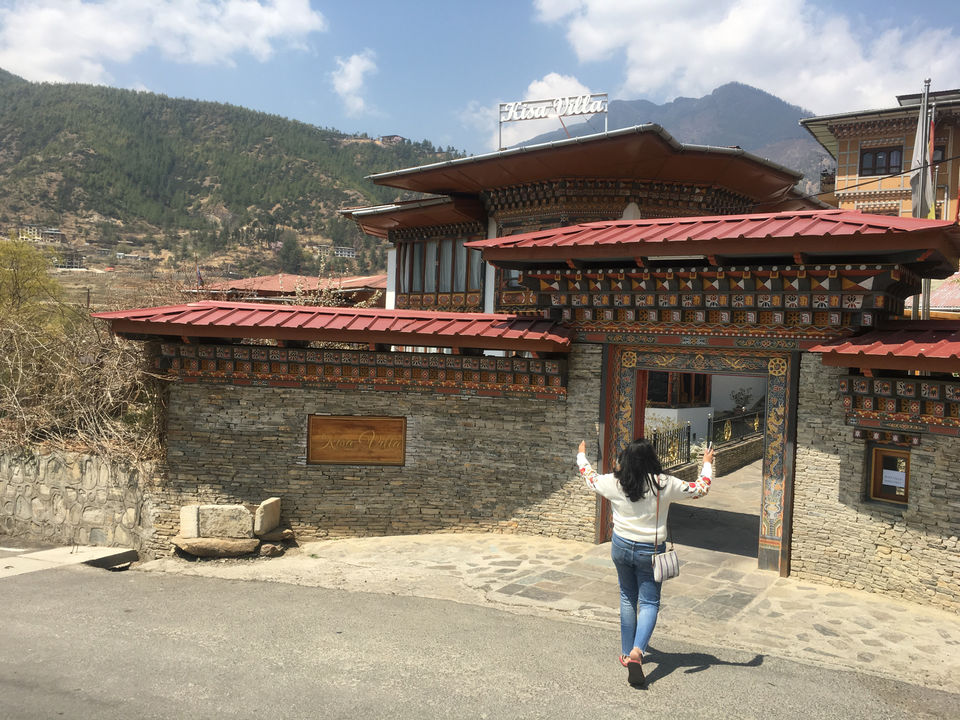 Our trip from Hyderabad started in the early hours of 23rd March, with us(me and my husband Pranov) taking a flight till Guwahati.Instead of flying to Paro,we decided to go via road as there are no flights to Paro on saturday. So, we booked a train from Kamakhya to New Alipurduar which is 60kms from Phuentsholing(our entry point to Bhutan). But, when we reached the station, we were informed that the train got cancelled!
We took the next train, reached New Alipurduar from where we took a cab till Phuentsholing(where our driver was waiting for us with the E-permit).
We can either take the permit after reaching there or through a valid tour agent.But since saturday and sunday are holidays the only way to enter Bhutan was to get the permits beforehand,which we had done through our driver cum guide.
So,finally around 6.30pm, we got our entry permits and then we started towards Thimpu which is approximately a 4.30hrs drive.The hotel we booked at Thimpu was Kisa Villa which is just around the Thimpu Dzong,so we had a great view of it and the stay was very comfortable where we rested for the night!
Day 2- Thimpu-Punakha
The next day, we decided to take a walk through the city and also to visit some cafe where we could have our breakfast.We passed through some scenic views on our way to Thijha Cafe(found through online websites). It was a cool cafe where we had toast and omlet breakfast set,cheese momos(they were really goooood!) and cappuccino.
On our way back to the hotel,we browsed through the local craft shops. After that we started towards Punakha.In order to reach Punakha,we go through Dochula Pass where one can see 108 memorial stupas located.Here, we stopped for lunch at Druk Wangyel Cafe where we had our first taste of Shamu Datshi(Mushroom,Cheese and Chillies) and instantly it was a hit for us.
After lunch,we started towards Punakha.On the way we hiked through the village to chimi lhakhang monastery(Divine Madman's temple).It is famous for particularly women seeking blessings to beget children.
In Punakha,we booked a homestay called Aum Wangmo (It had one of the best reviews in Airbnb and we understand why!).The road to the homestay is a bit rough wand we were worried if we made a wrong choice.But as soon as we reached there all our worries were vanished!
We had some of the great time of our stay here.The people were warm,the food hot and we also got to try the local rice wine(Ara,can be had in 2 ways-warm n cold) and also the famous butter tea!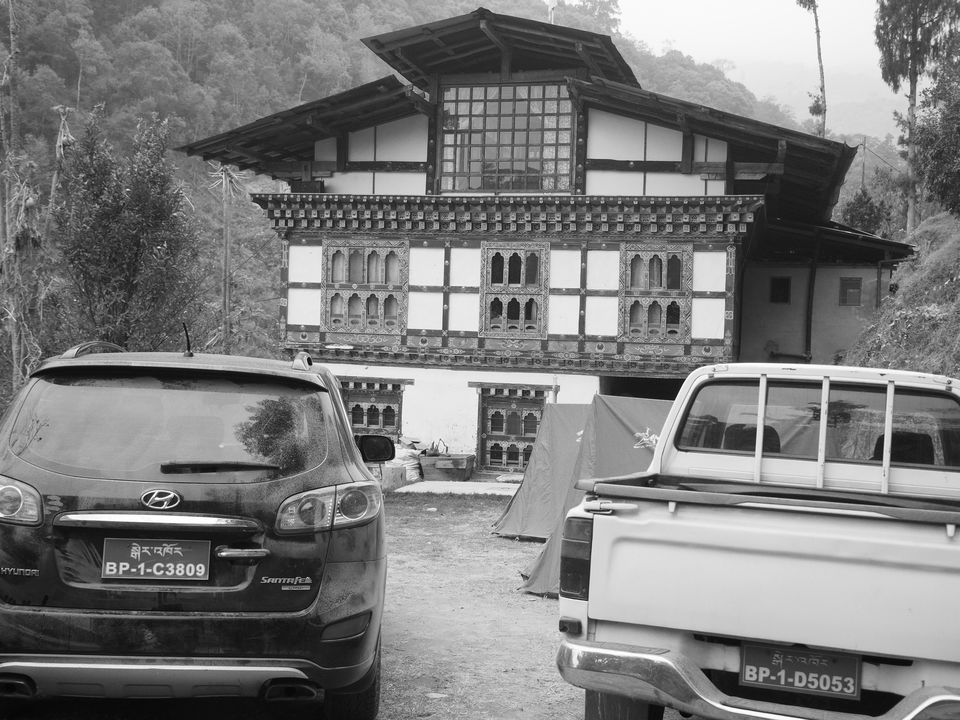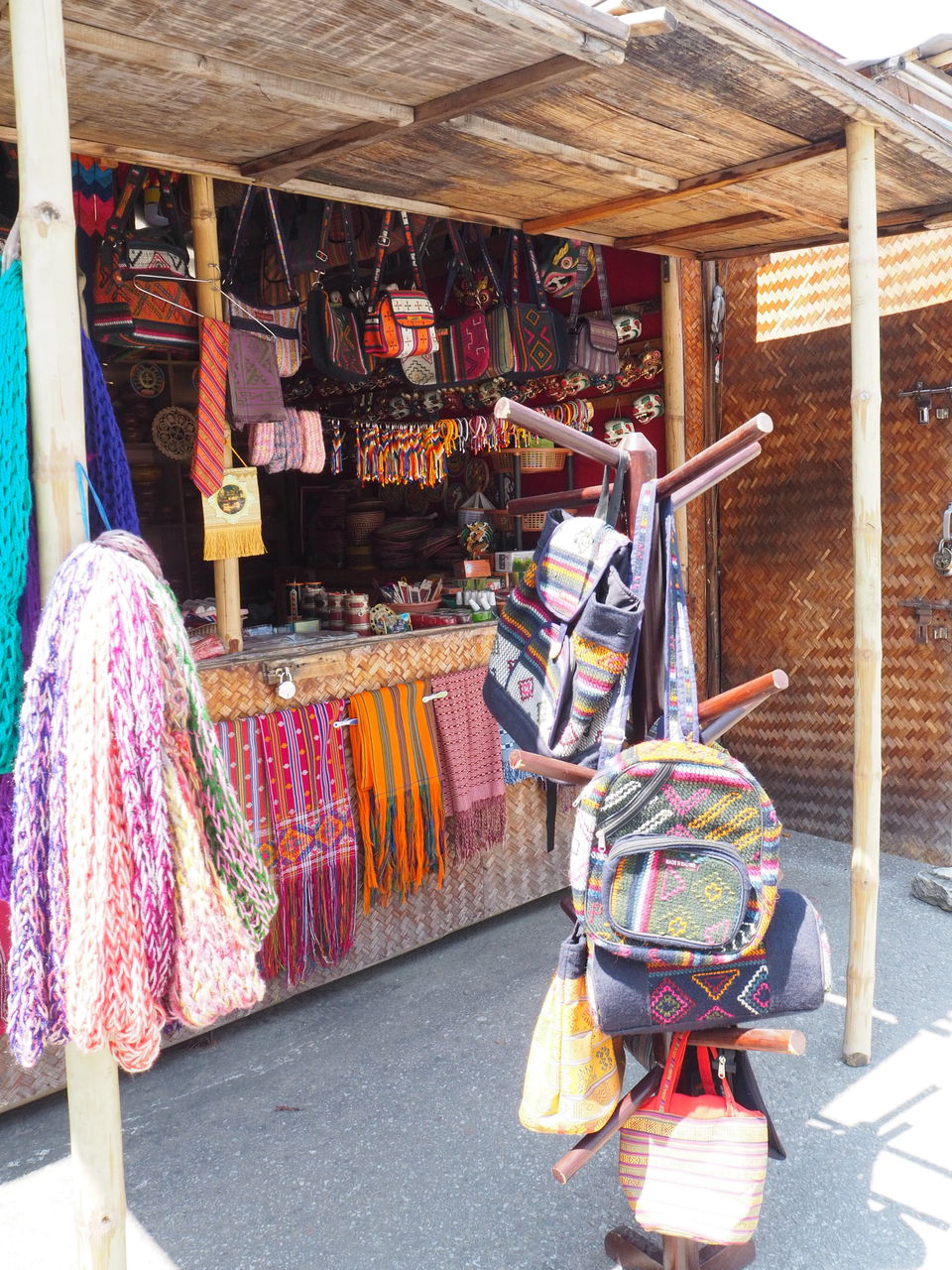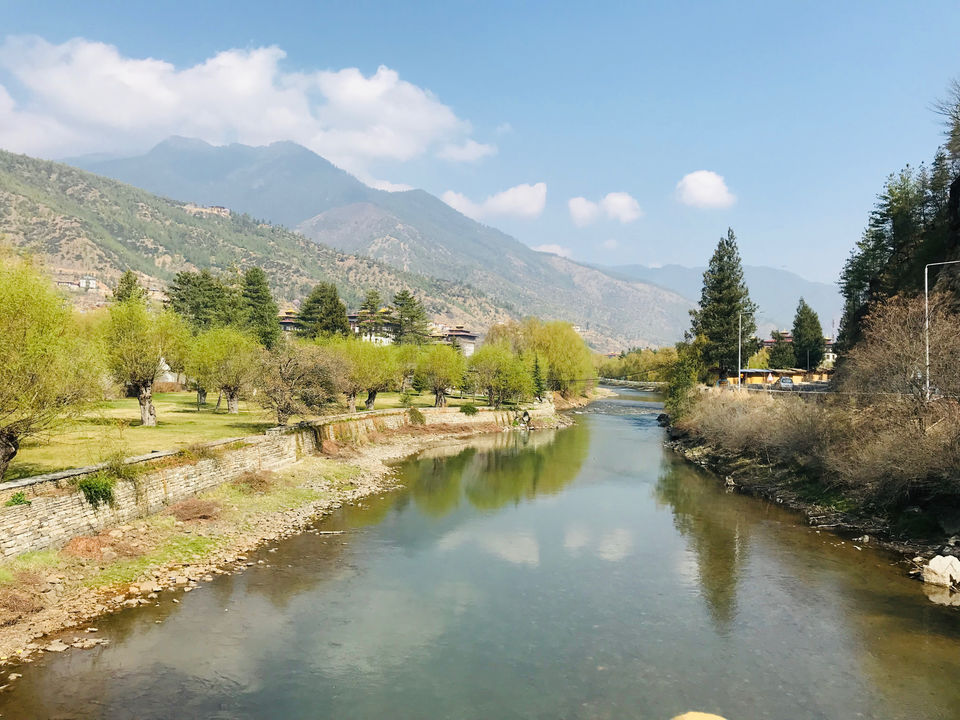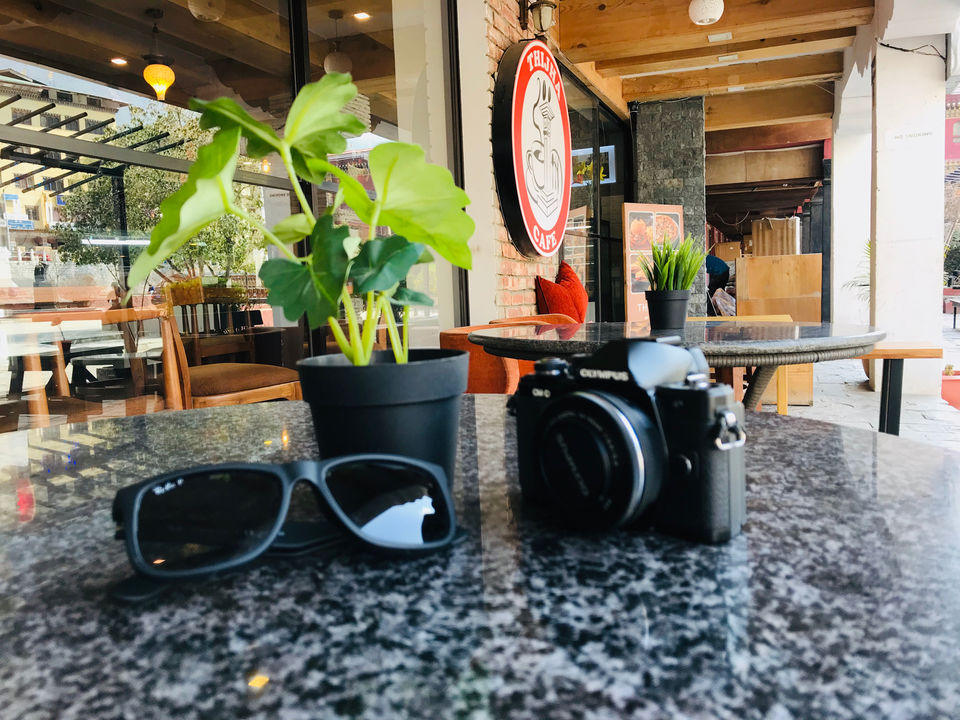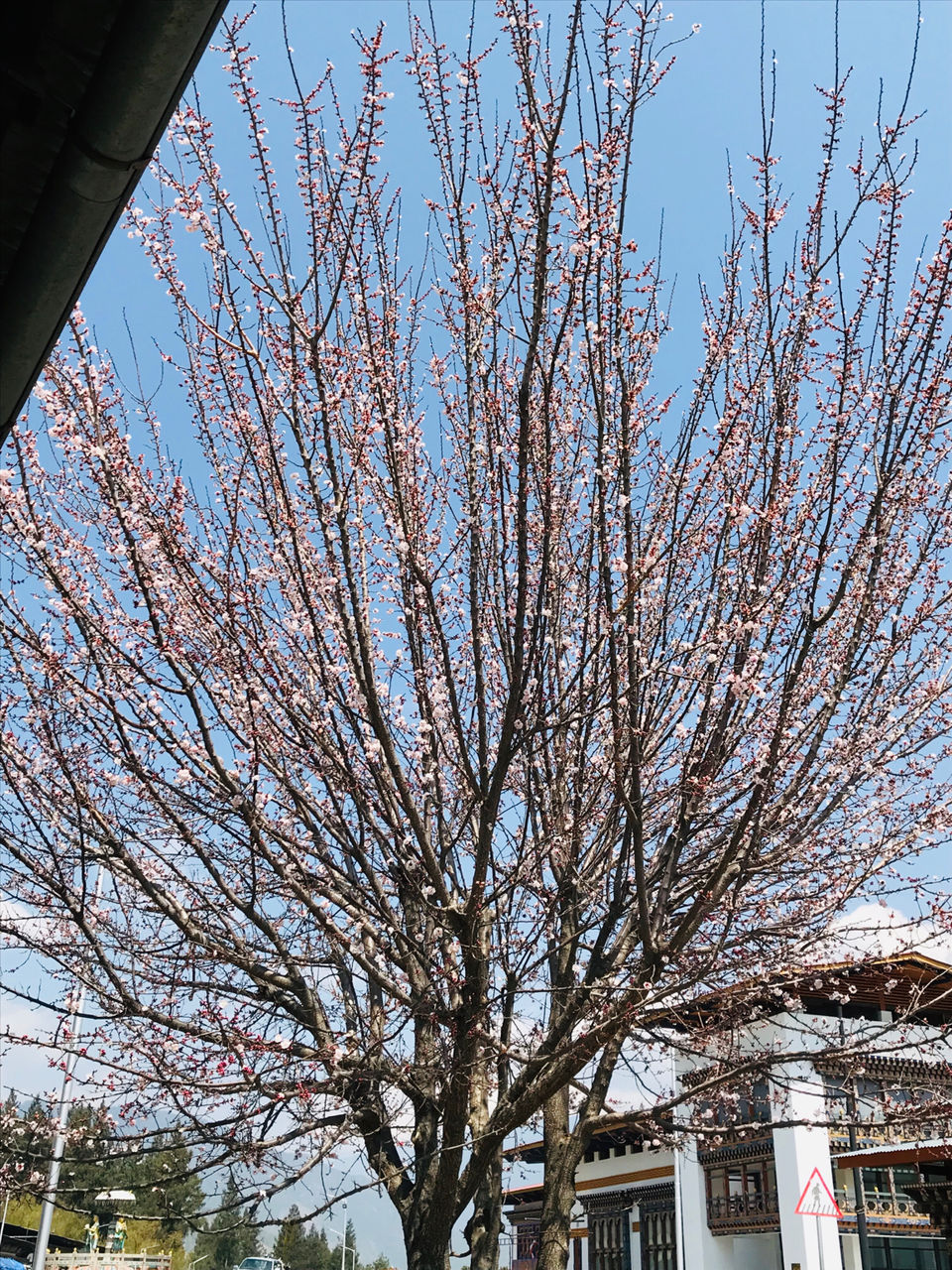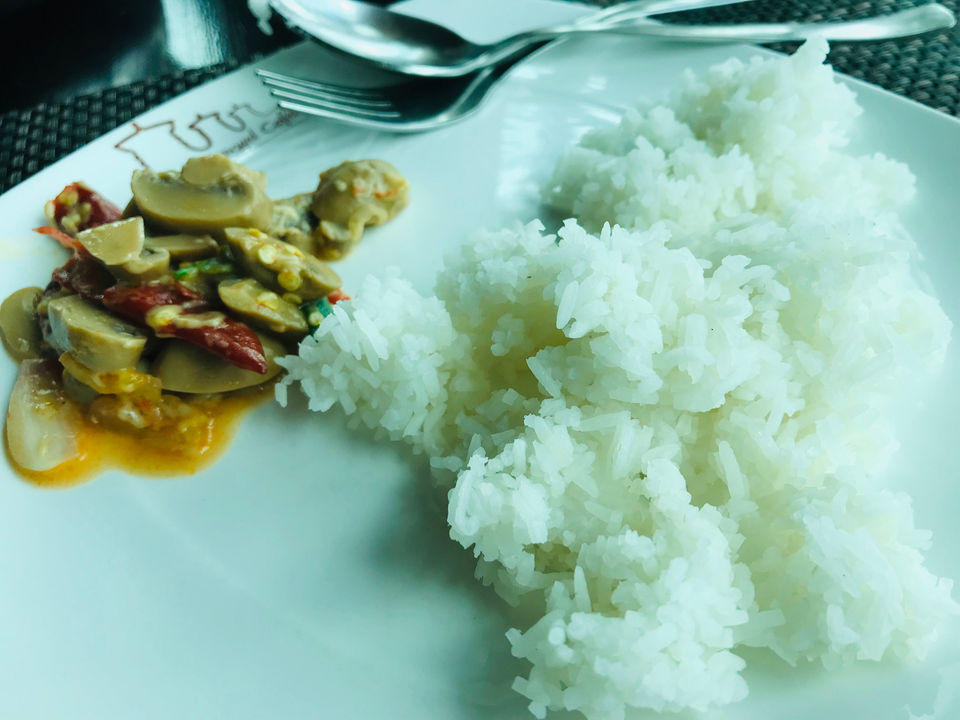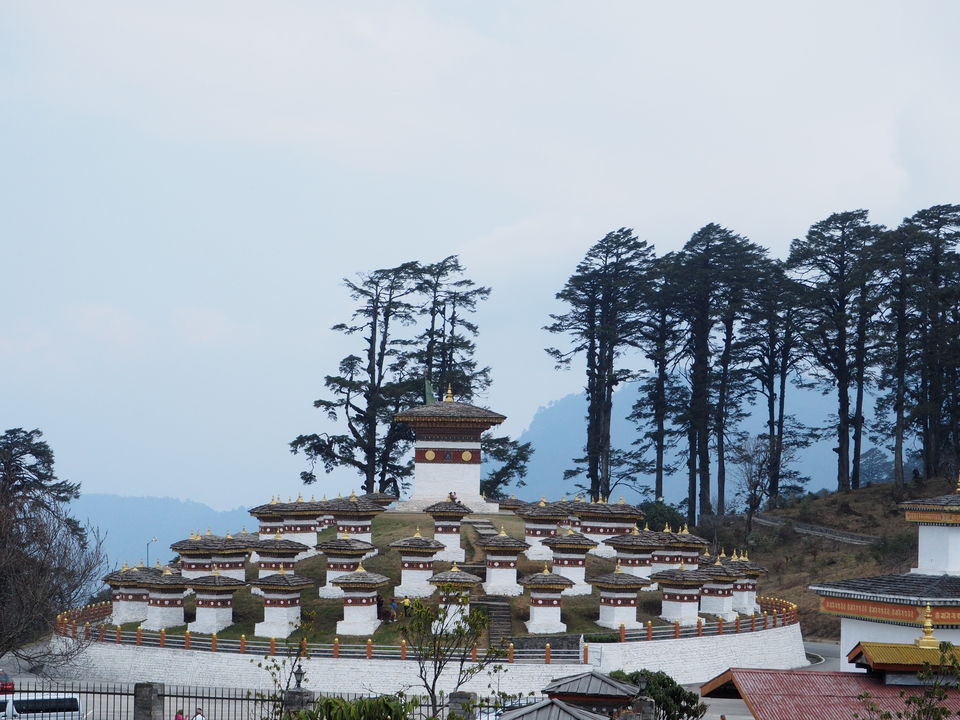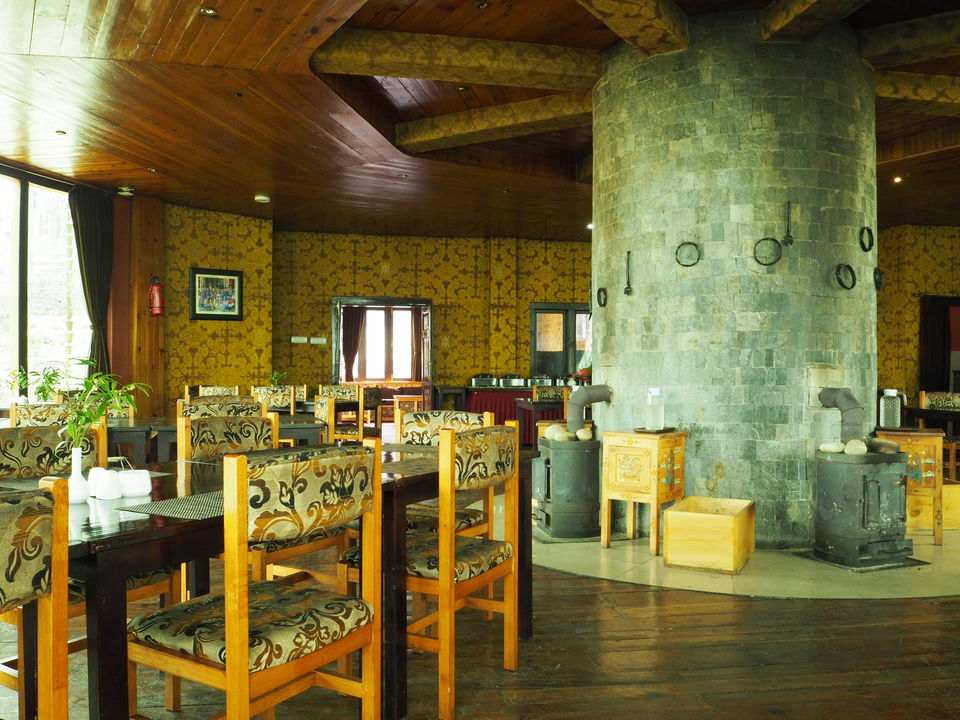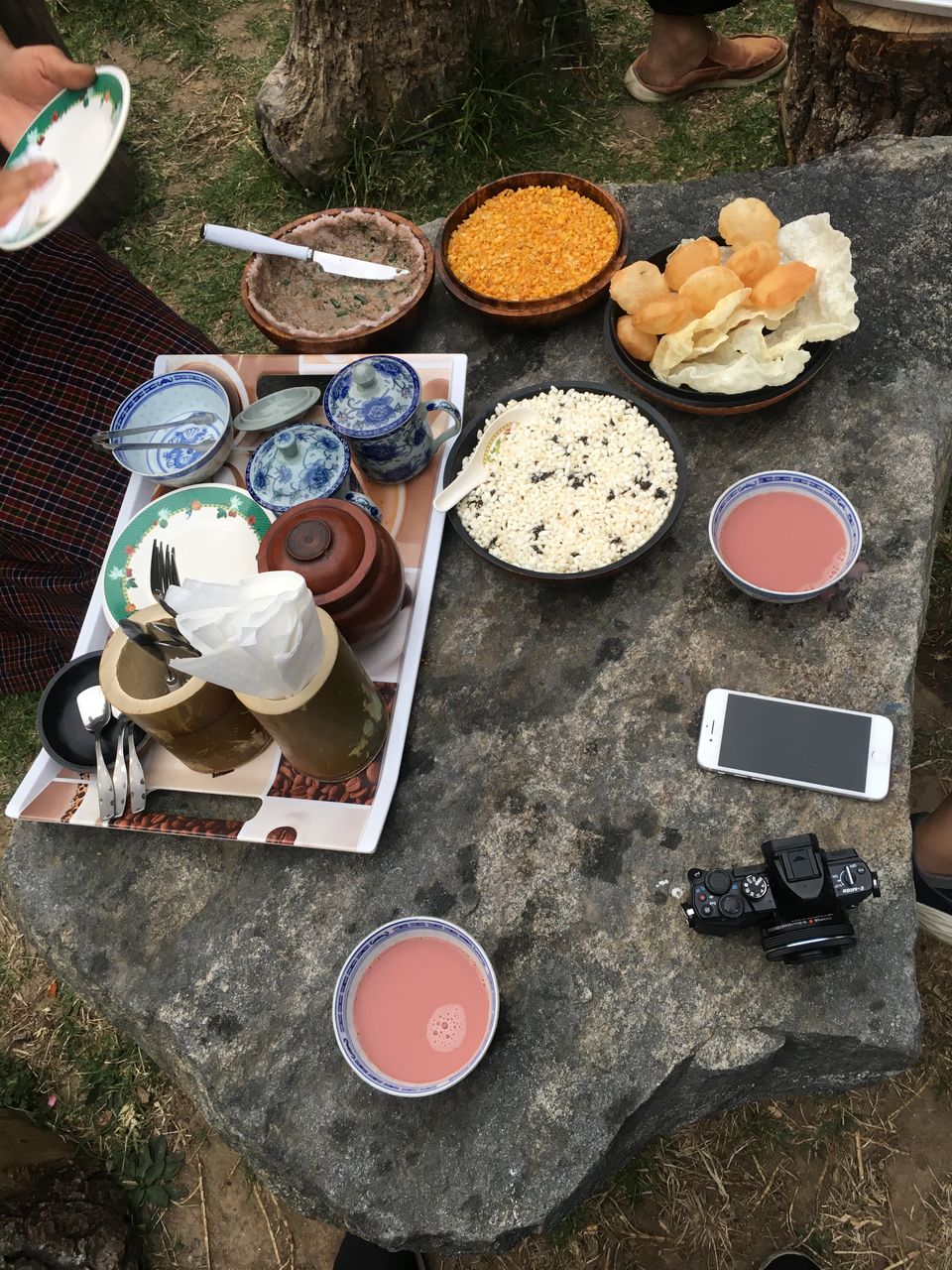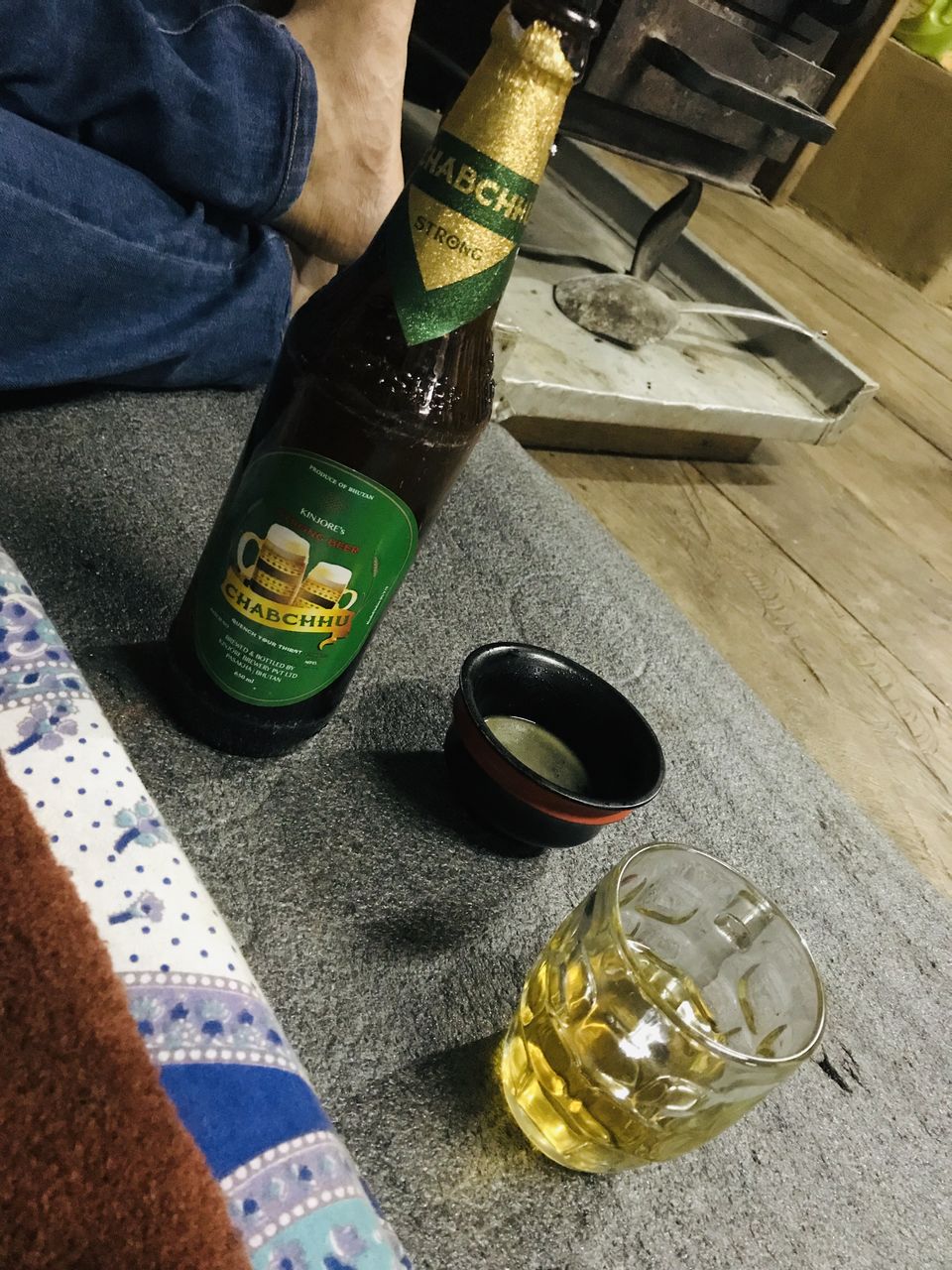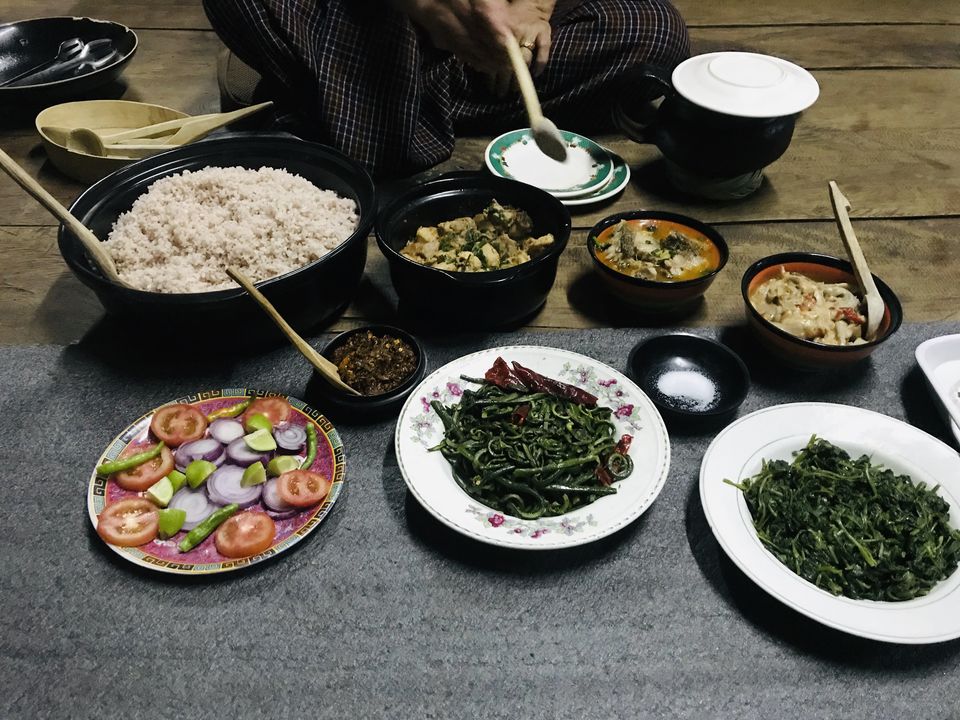 Day 3- Punakha-Phobjika Valley
Our morning started with a breakfast of Bhutanese pancakes,omlets,rice and ema datshi(cheese and Chillies).After the fulfilling breakfast,we bid farewell to the wonderful family and moved on with our sigthseeing for the day. We visited the suspension bridge(160m in length) and the Punakha Dzong(2nd largest dzong in Bhutan).
After the sightseeing at Punakha, we started towards Phobjika valley which is about 2.30hrs away.We had our lunch on the way and reached our stay Wangchuk Resort around 4 pm.Here,we had the first view of the valley which was just mesmerising.
Here, we just relaxed by chatting with our guide and the people there,eating and trying the local beers.During the evening we went to the Black necked crane information center and saw the injured crane Karma which resides there.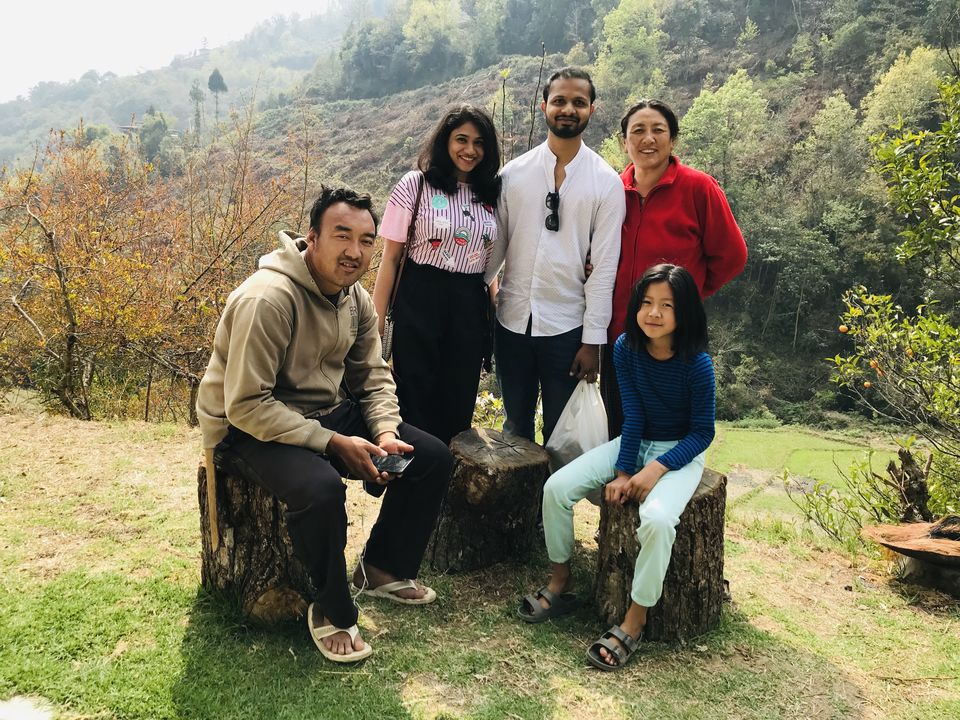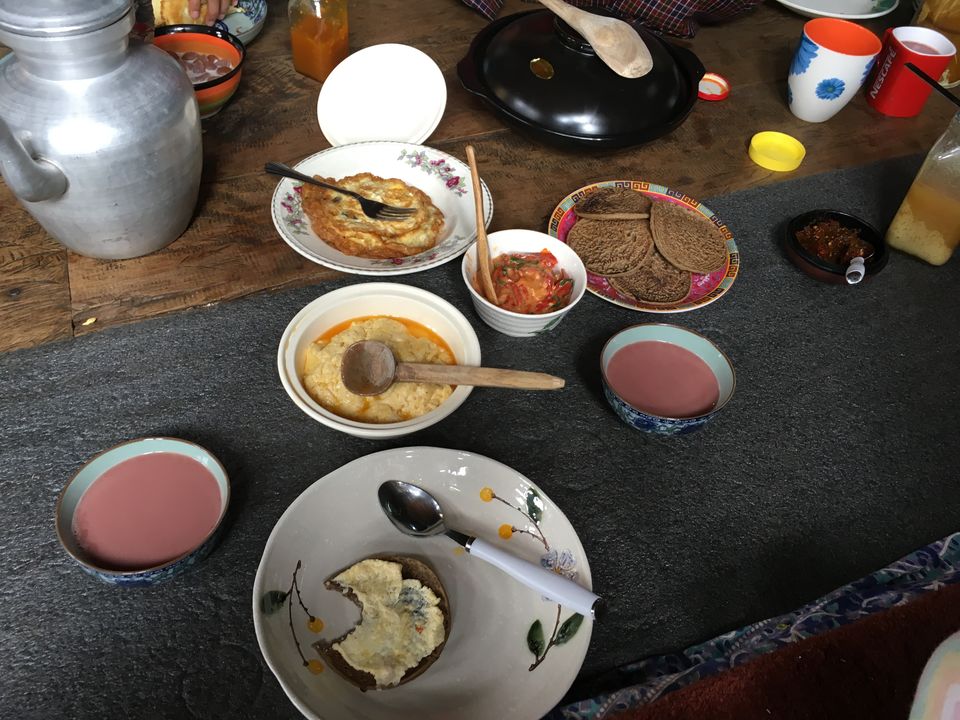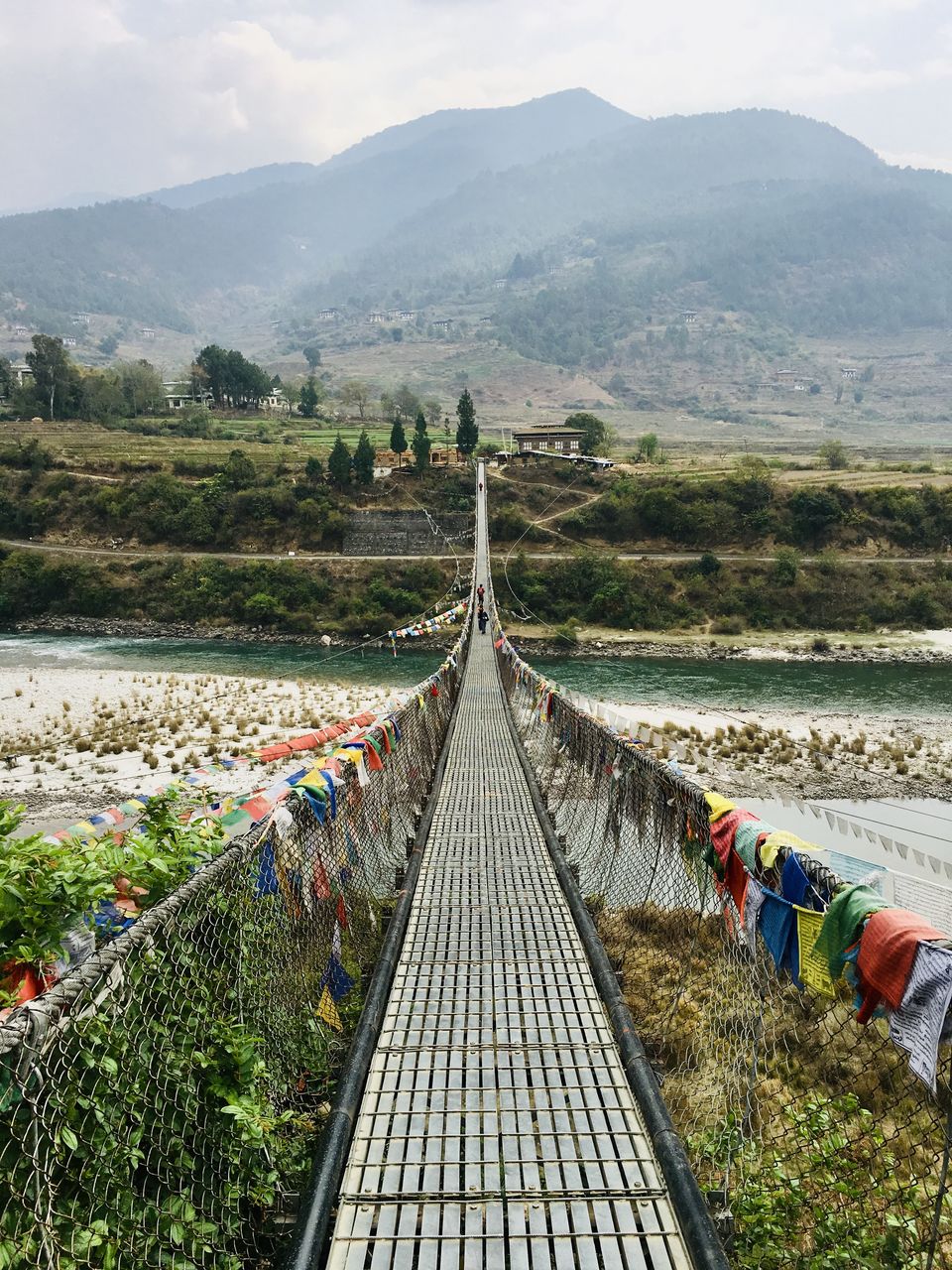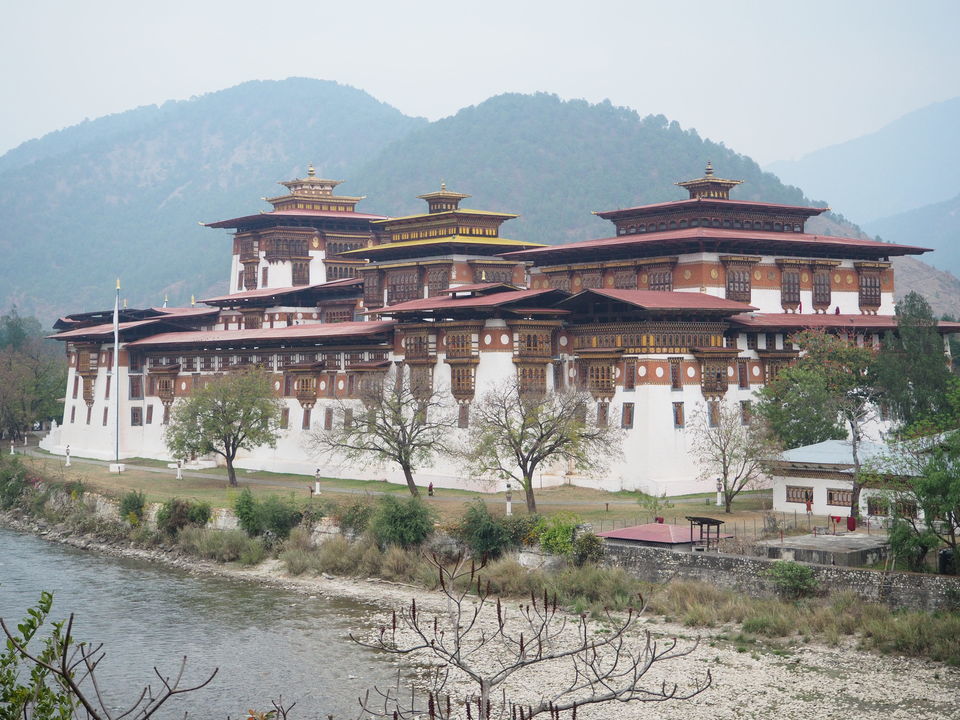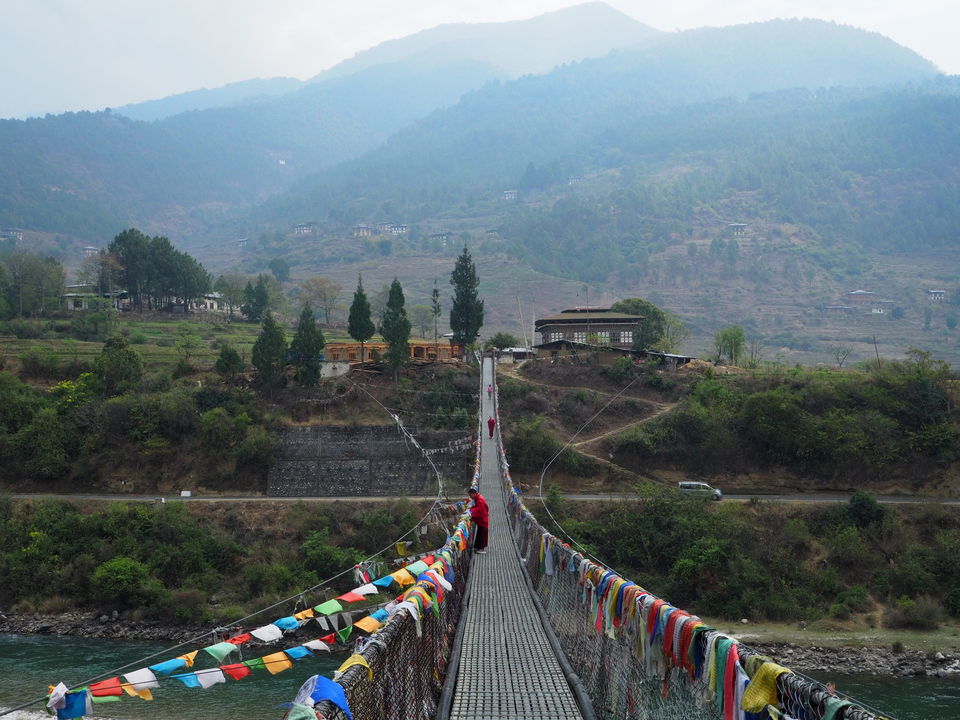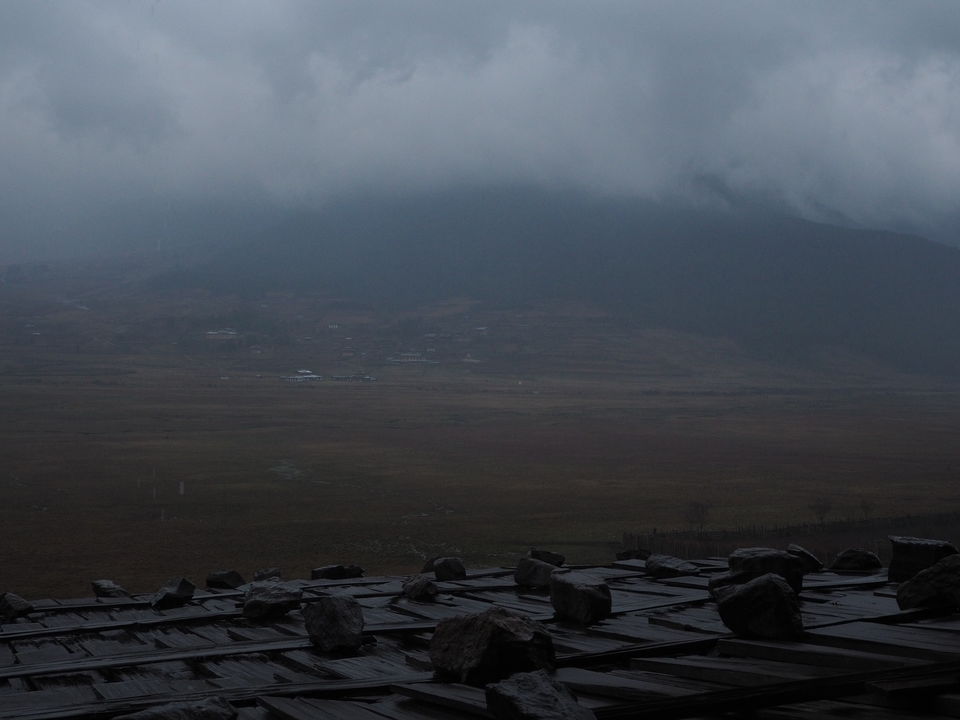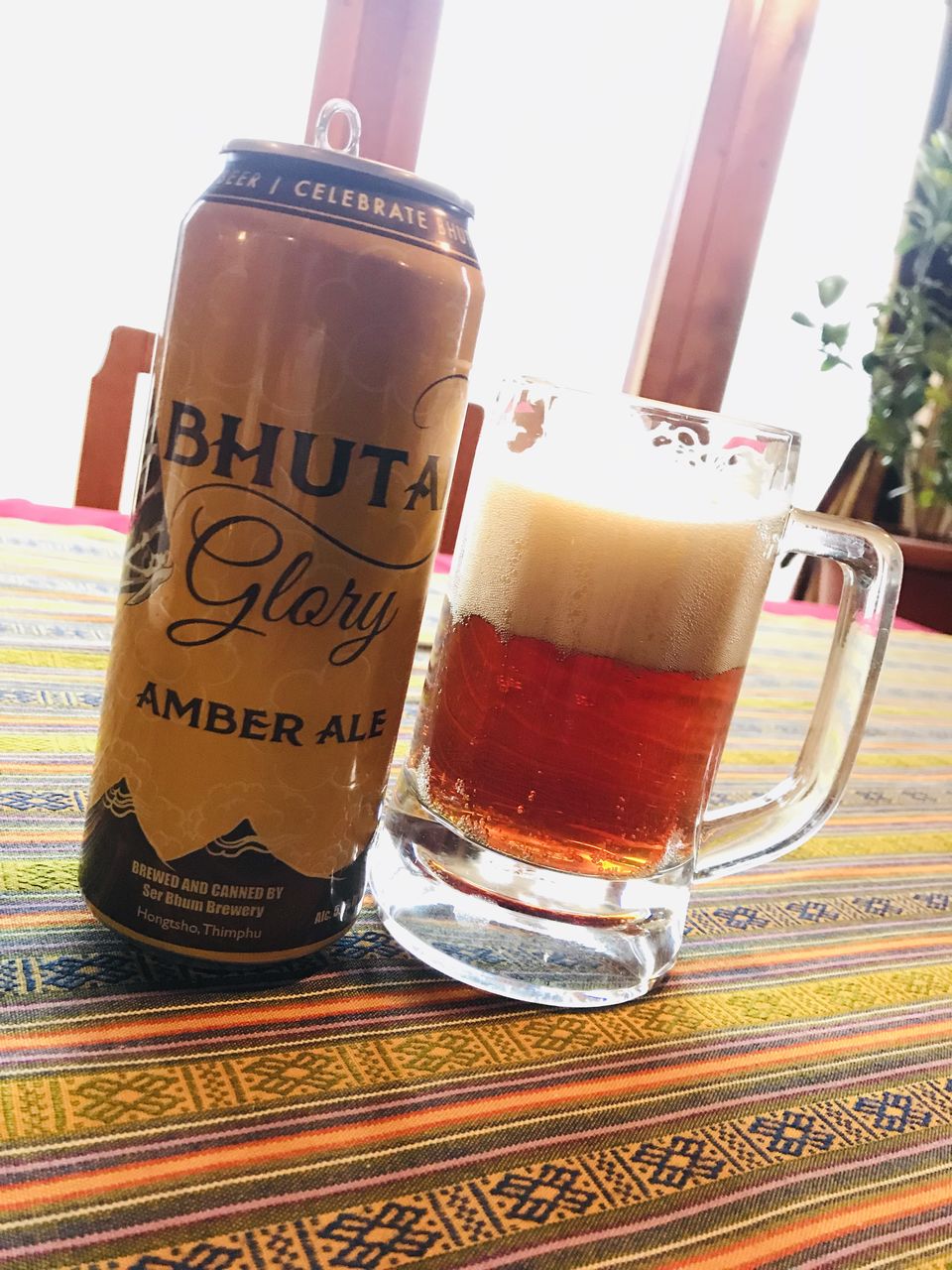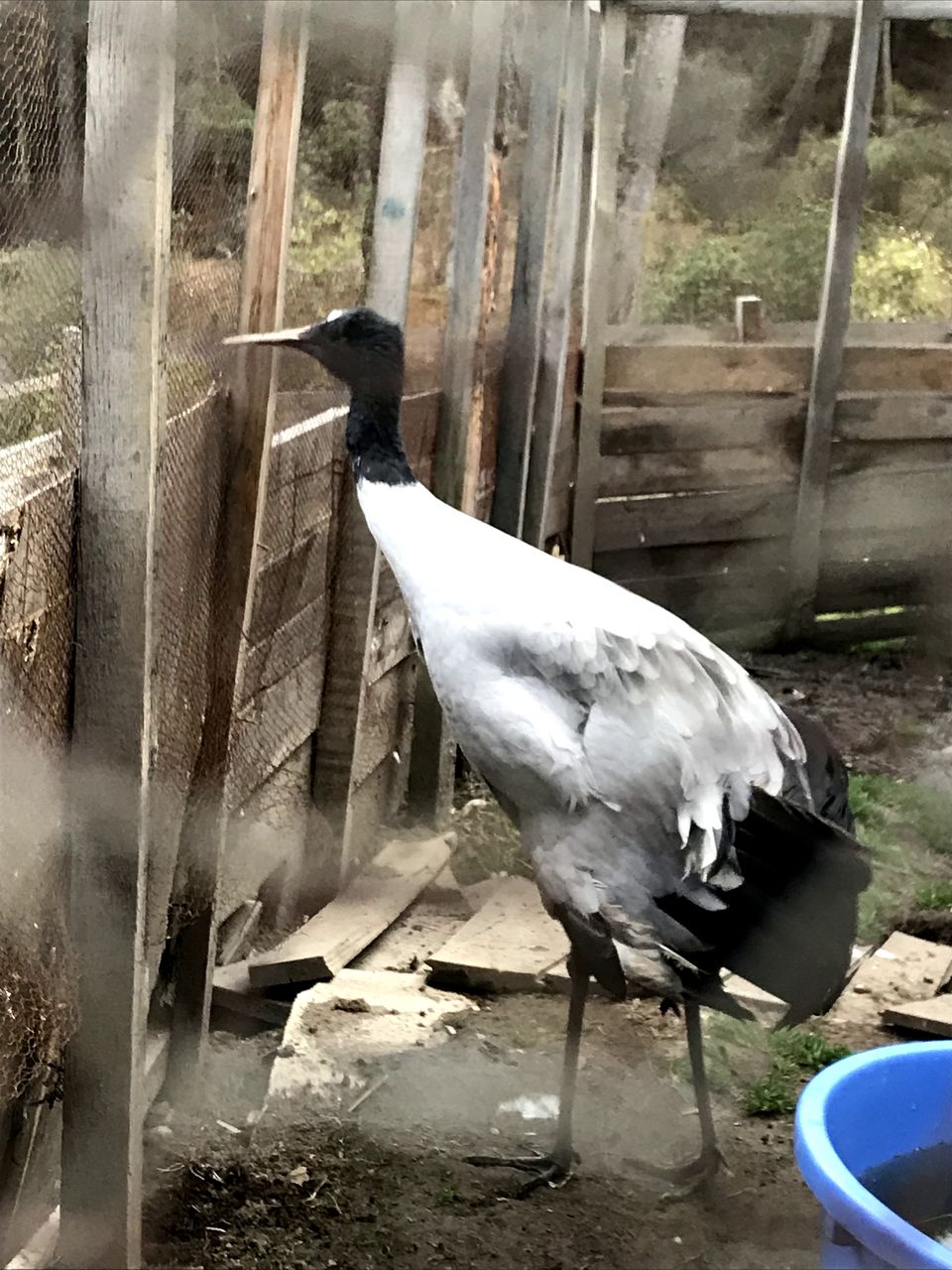 Day 4 - Phobjika - Wangdue Phodrang
The day started with a light breakfast at the resort after which we started the hike through the valley.Its a small hike of about 1 hr to the gangtey monestry but it was so picturesque that we had to stop every few minutes to click pictures!
After the hike,we had lunch at the resort(Ema Datshi again!) and started towards Wangdue(our final destination was Paro but it would be a long journey from Phobjika - Paro) so we decided to spend the night at Wangdue.
When we started our journey it was raining at Phobjika but as we gained some elevation it started to snow!(My first!!) Imagine my suprise as it is summer,we did not expect snow at all and were so elated that we spend some quality time playing in the snow and yes, clicking some pictures and boomerangs!
After the pleasant suprise , we travelled to wangdue and checked into our hotel(Hotel Vara). Here,at the lobby we had a chance to speak to an American lady who was on a cultural trip(3 weeks to India, 10 days in Tibet and last 10 days in Bhutan).She told us that she had been travelling to Buddist temples and monasteries along with few other people , it was a fun conversation which we will recall I am sure in the future.
Since we checked in early, we had time for some momos in the village and after getting back to the hotel had a good, refreshing massage(the hotel had the facility) and an early dinner so that we could start early to Paro.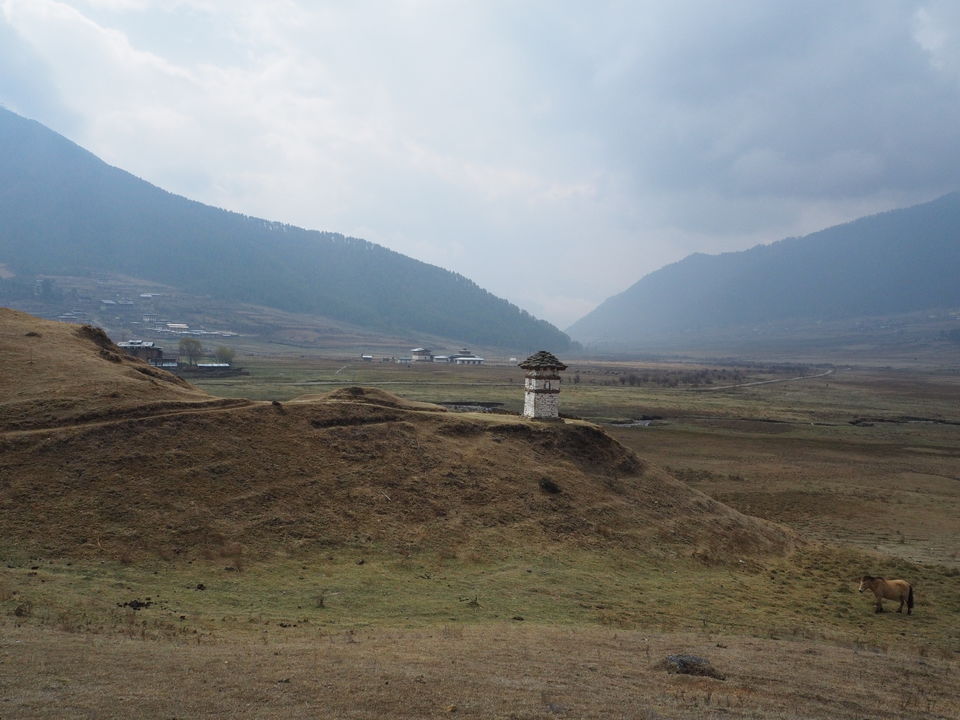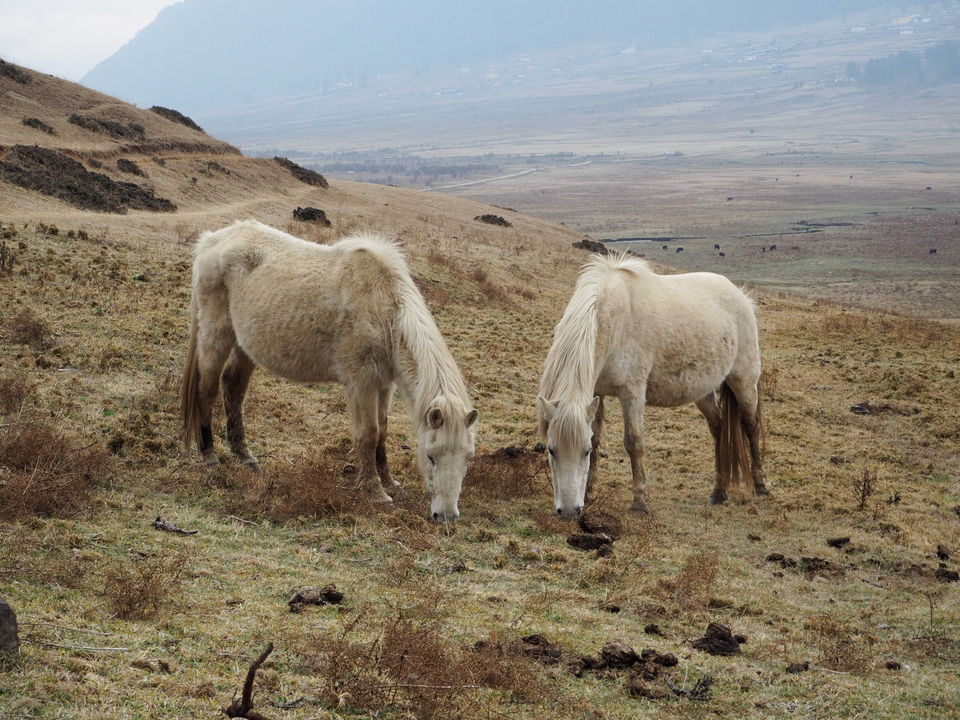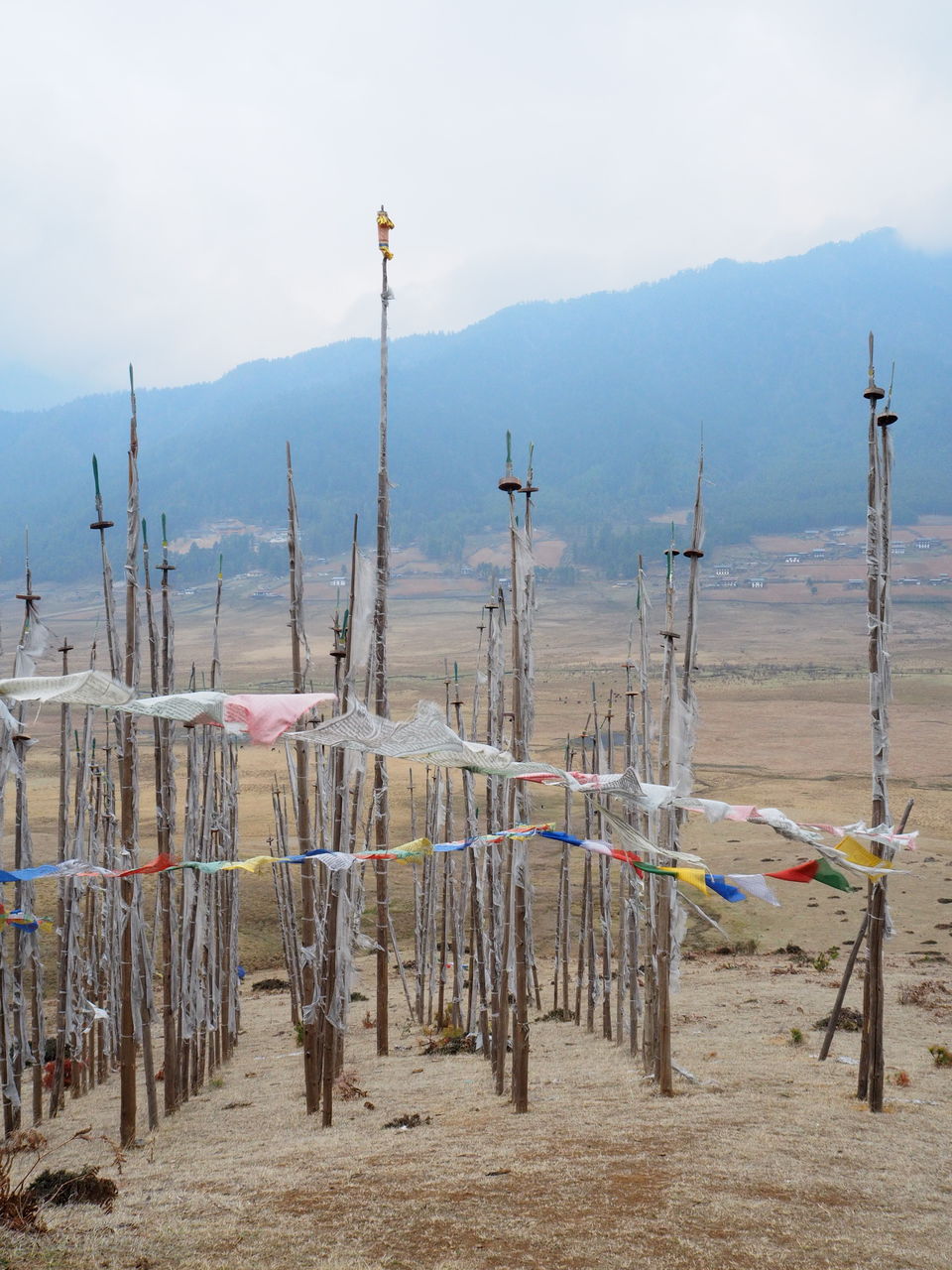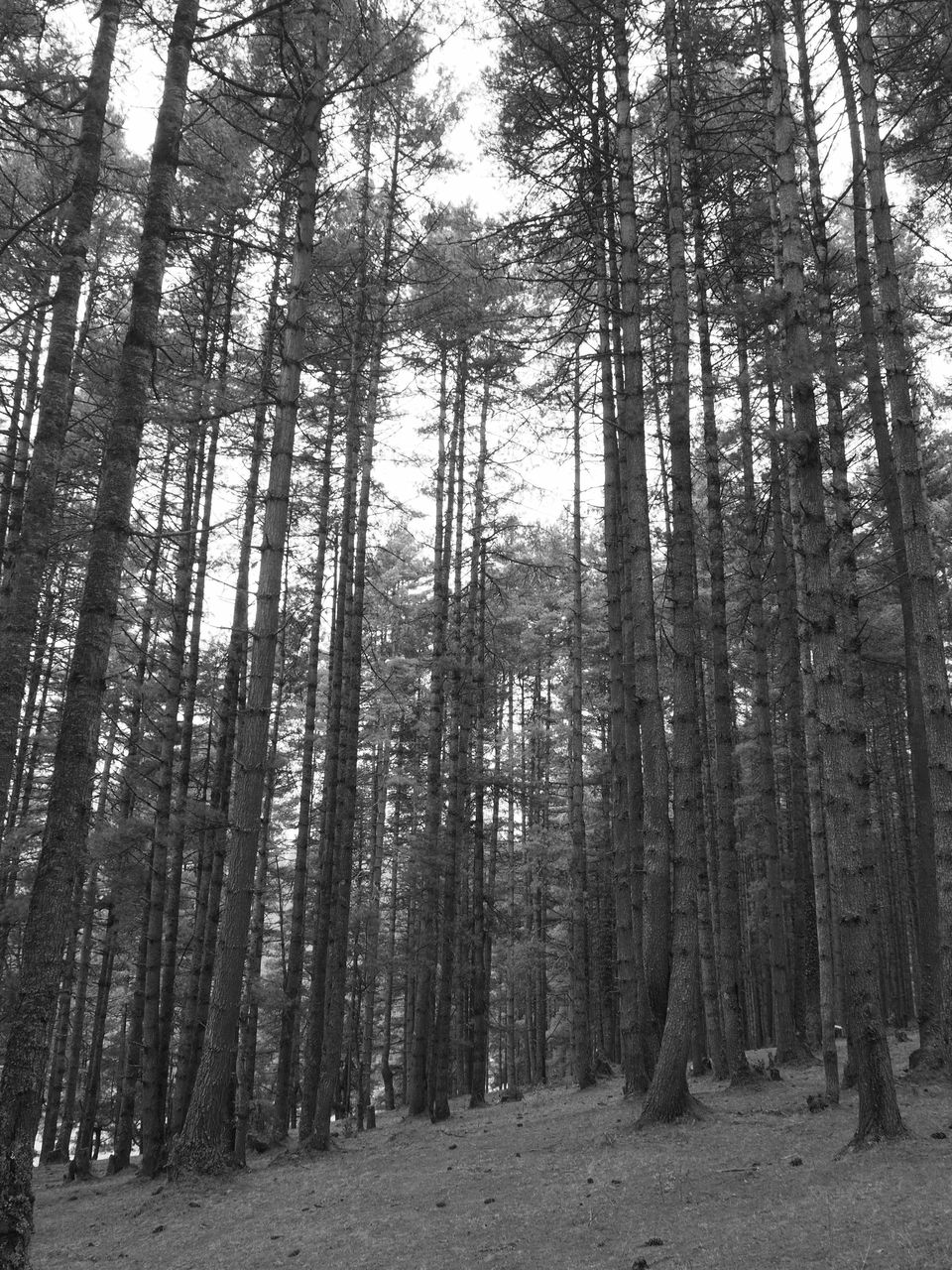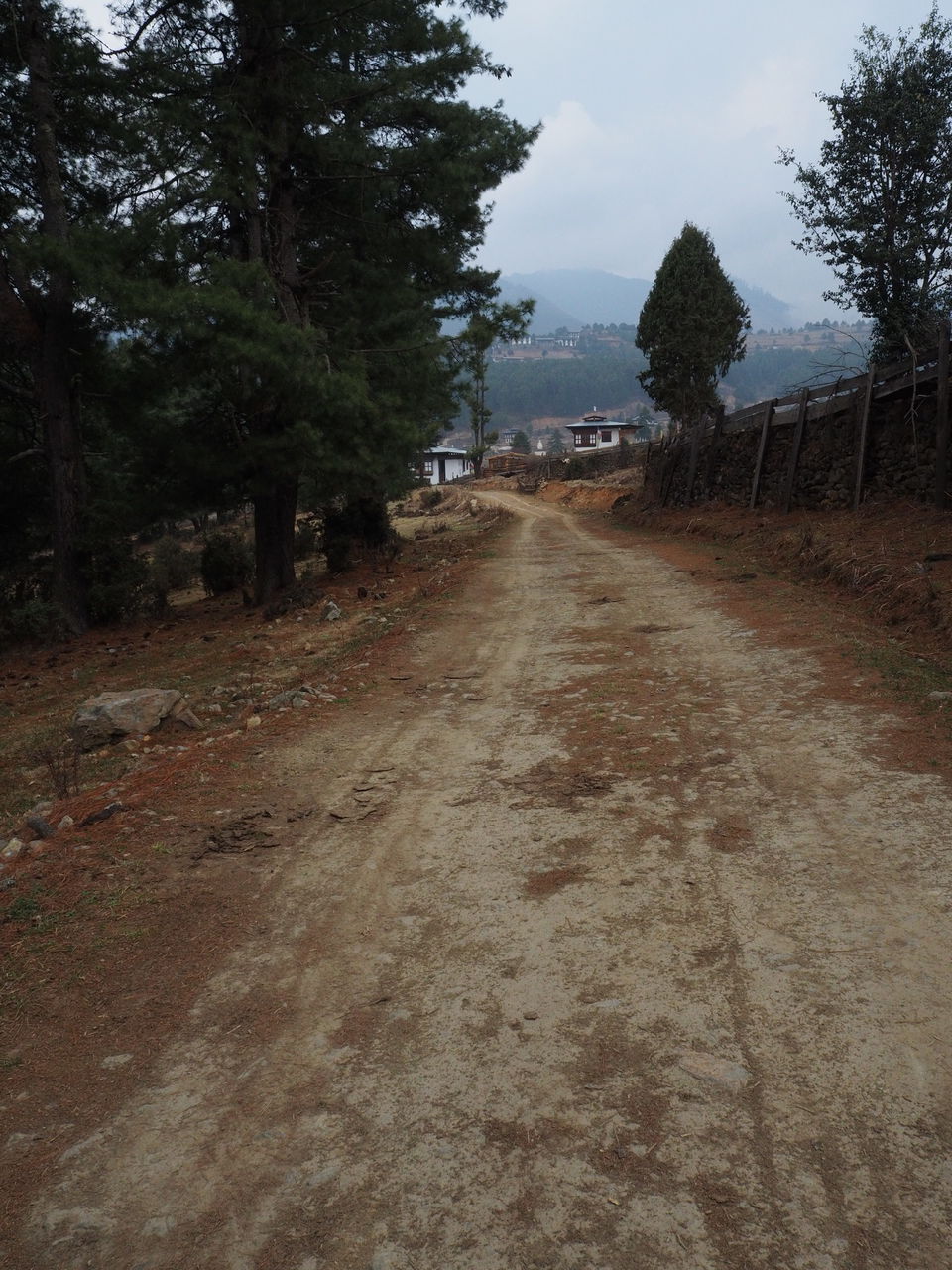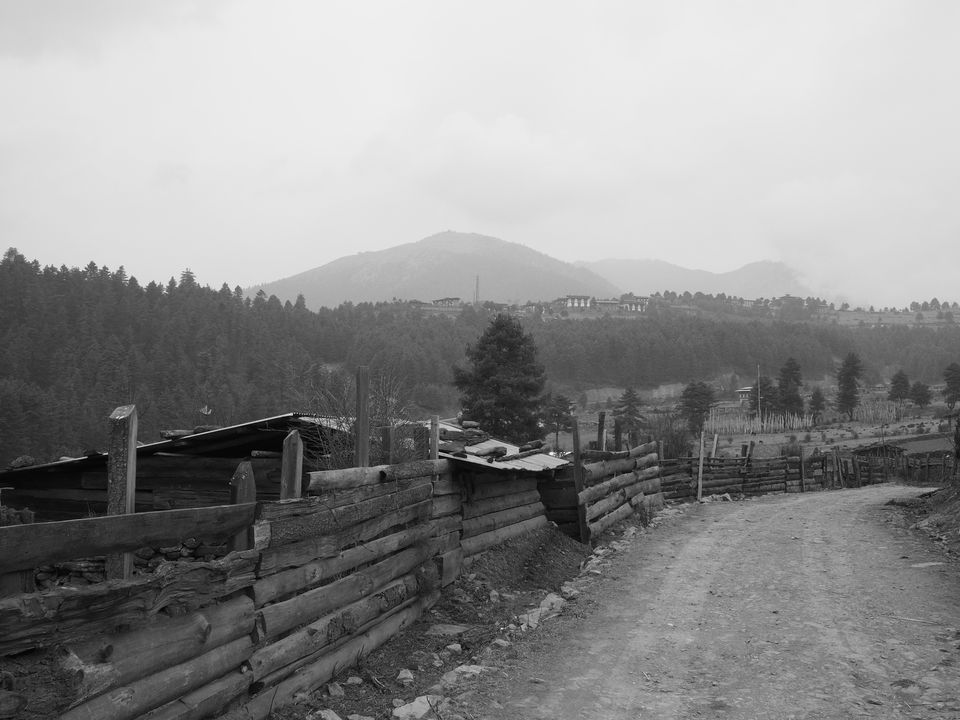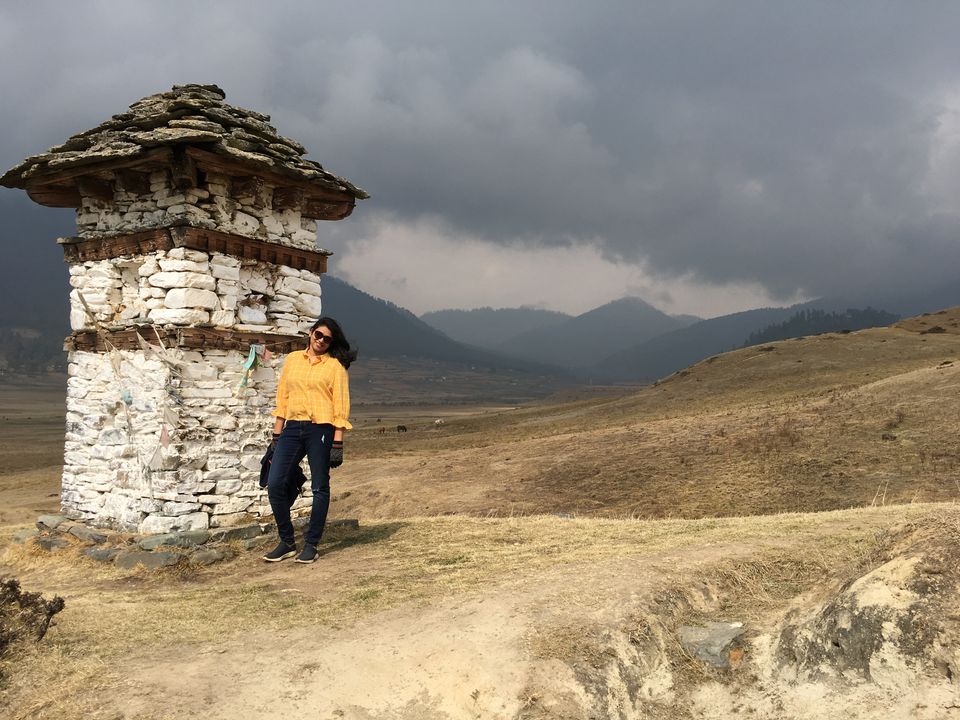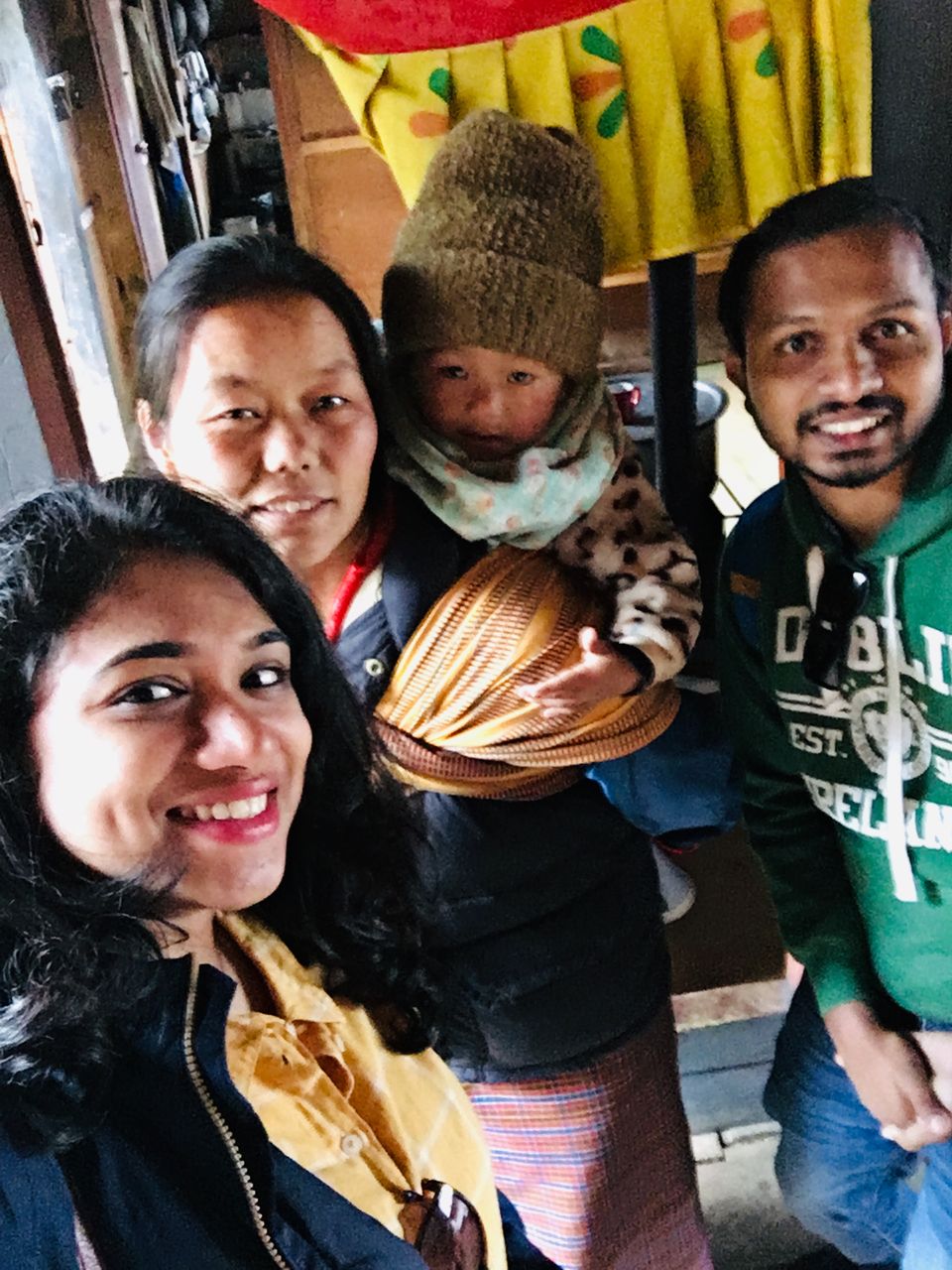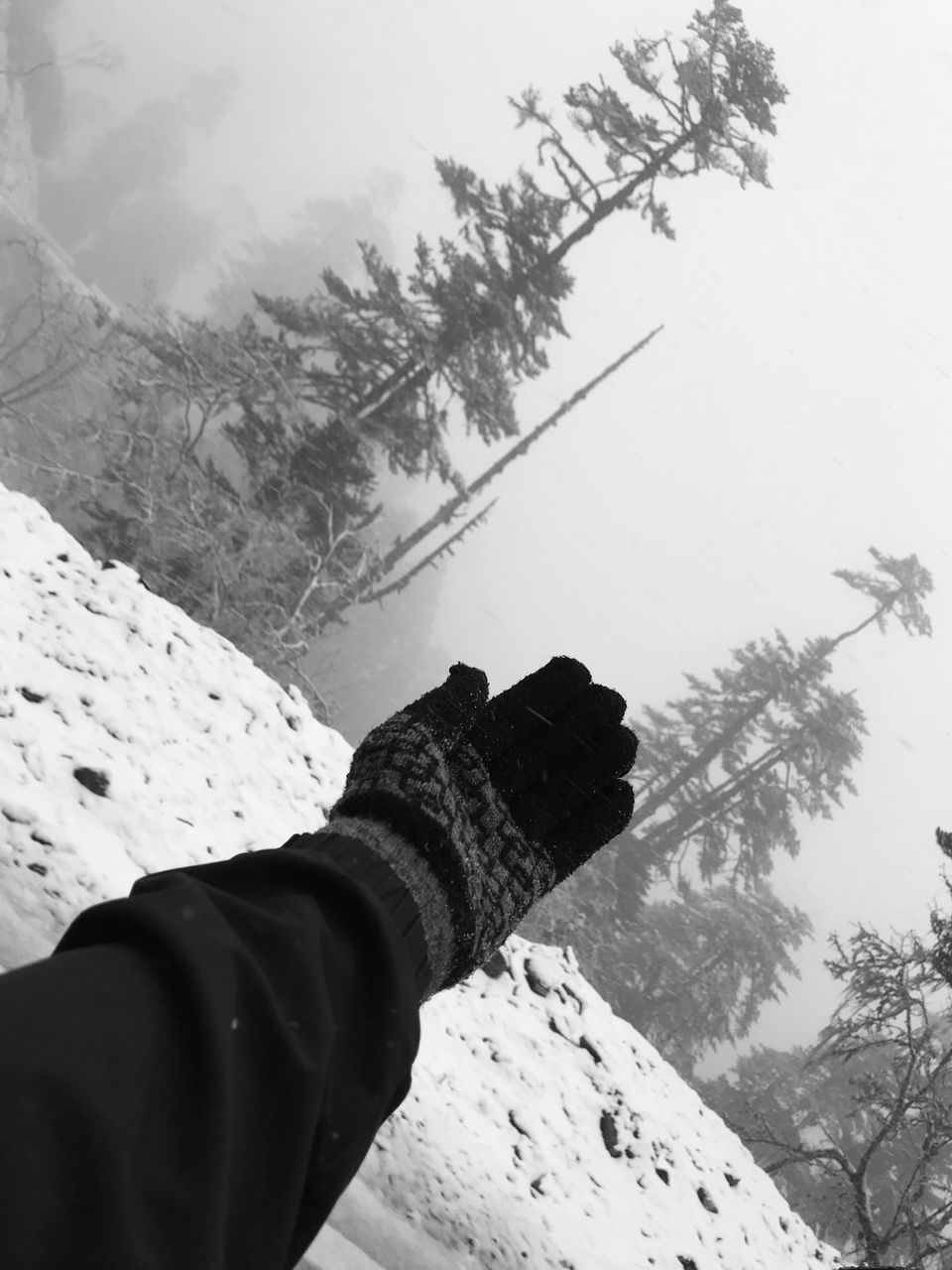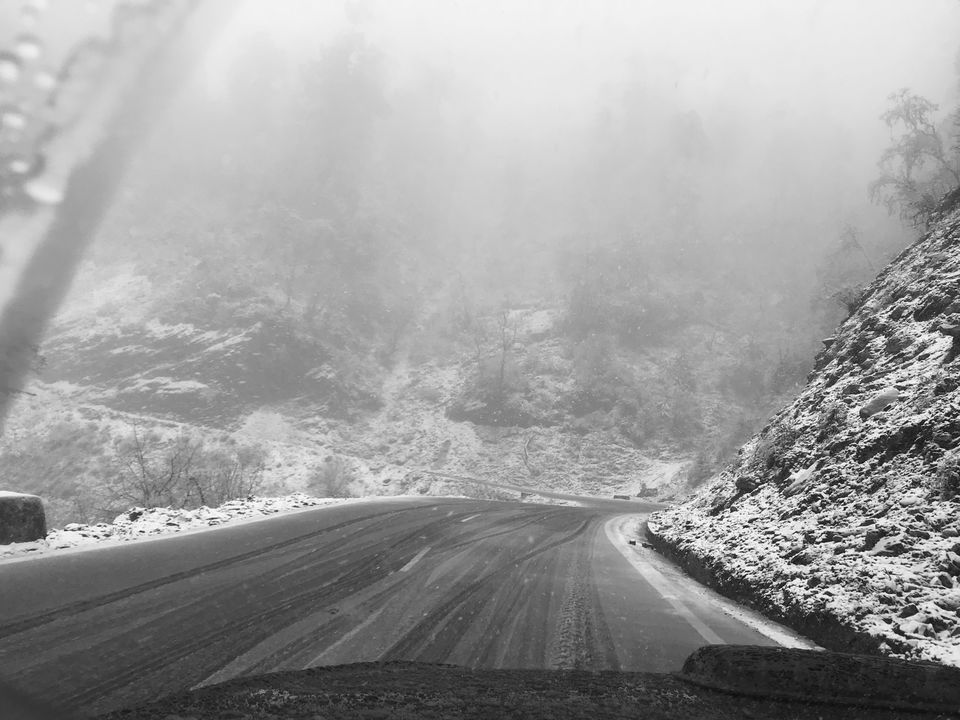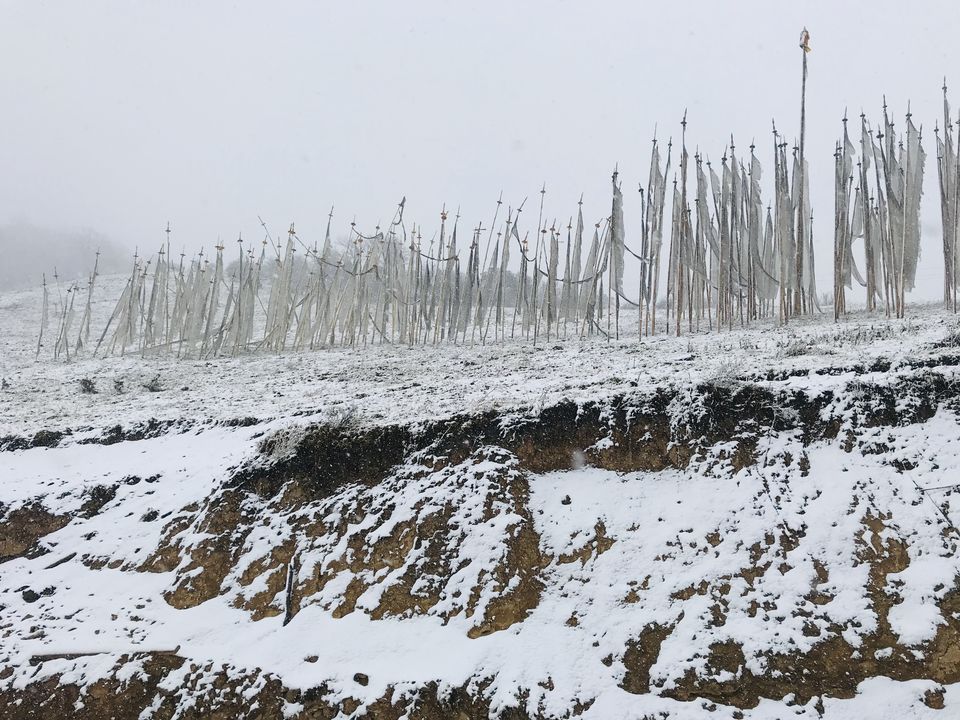 Day 5- Wangdue - Paro
We started to Paro at around 7.30 am and on the way stopped at Druk Wangyel Cafe,Dochula Pass(again) for breakfast(Toast, mushroom cheese omlet and green tea).The butter cookies here are a must try.
The last time we visited Dochula Pass, we dint get to see the meditation caves,so we decided it see it this time.Its just a 5 mins hike opposite the 108 stupas.We chilled here for some time and moved on to our next pit stop(Buddha's Point).
Buddha Point is located in Thimpu.Here the statue is about 177ft and inside this statue there are over thousand buddha statues inside.This point gives a bird eye view of the city too!
In this spot I found something magical.Exactly over the Buddha statue there was a rainbow in a round shape.Have anyone seen anything like it?It is my first one though!It was such a fascination to me!
The next stop was the Paro's river and then we reached our hotel around 2.30pm(Hotel Khamsum) which is in the city centre.We wanted to explore Paro's cafes and night life so preferred to stay inside the city.For lunch we walked to My Kind of Place(450m away from the hotel), had some buckwheat dumplings and a combo meal(Rice,chicken and ema Datshi).The food here was not to our taste( We were very much inclined to visit Champaca cafe as it had amazing reviews but couldnt as the cafe is closed on wednesday) and so we went to brioche cafe(next door) to treat ourselves to a pastry.
After lunch we rested at our hotel and at around 6pm we went to Namgay Artisan Brewery to try the Paro's local tap beers.(This brewery has 7 beers on tap!).We tried around 4 beers(Indian Pale Ale,Cider,Wheat and Red Rice Lager) and by this timefound our favourite!(The Red Rice Lager).It was just wow!(It also has the highest alcohol content).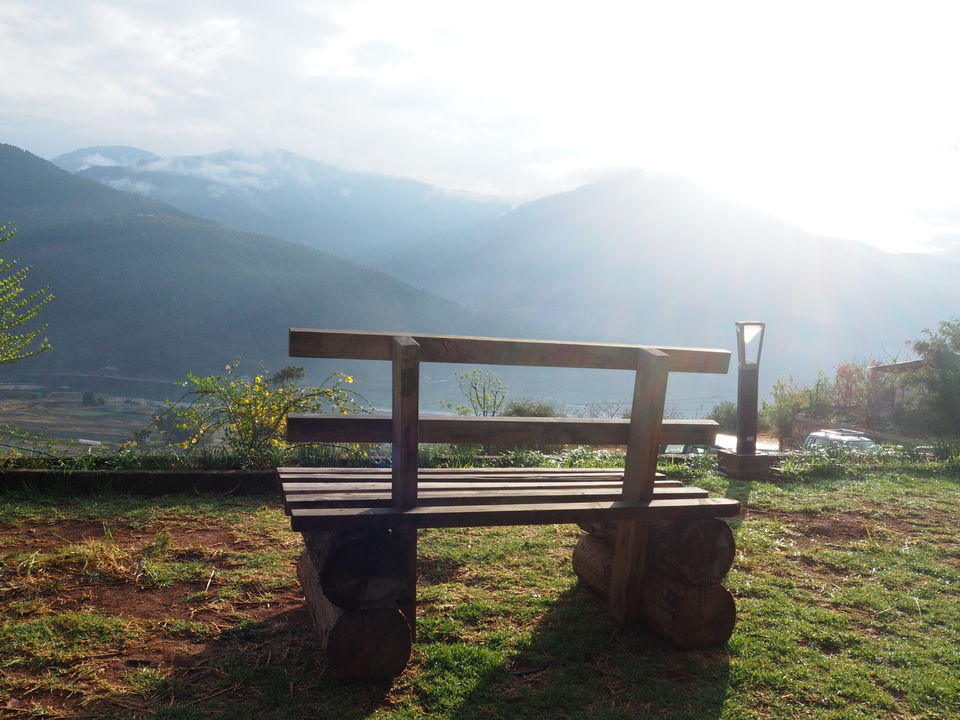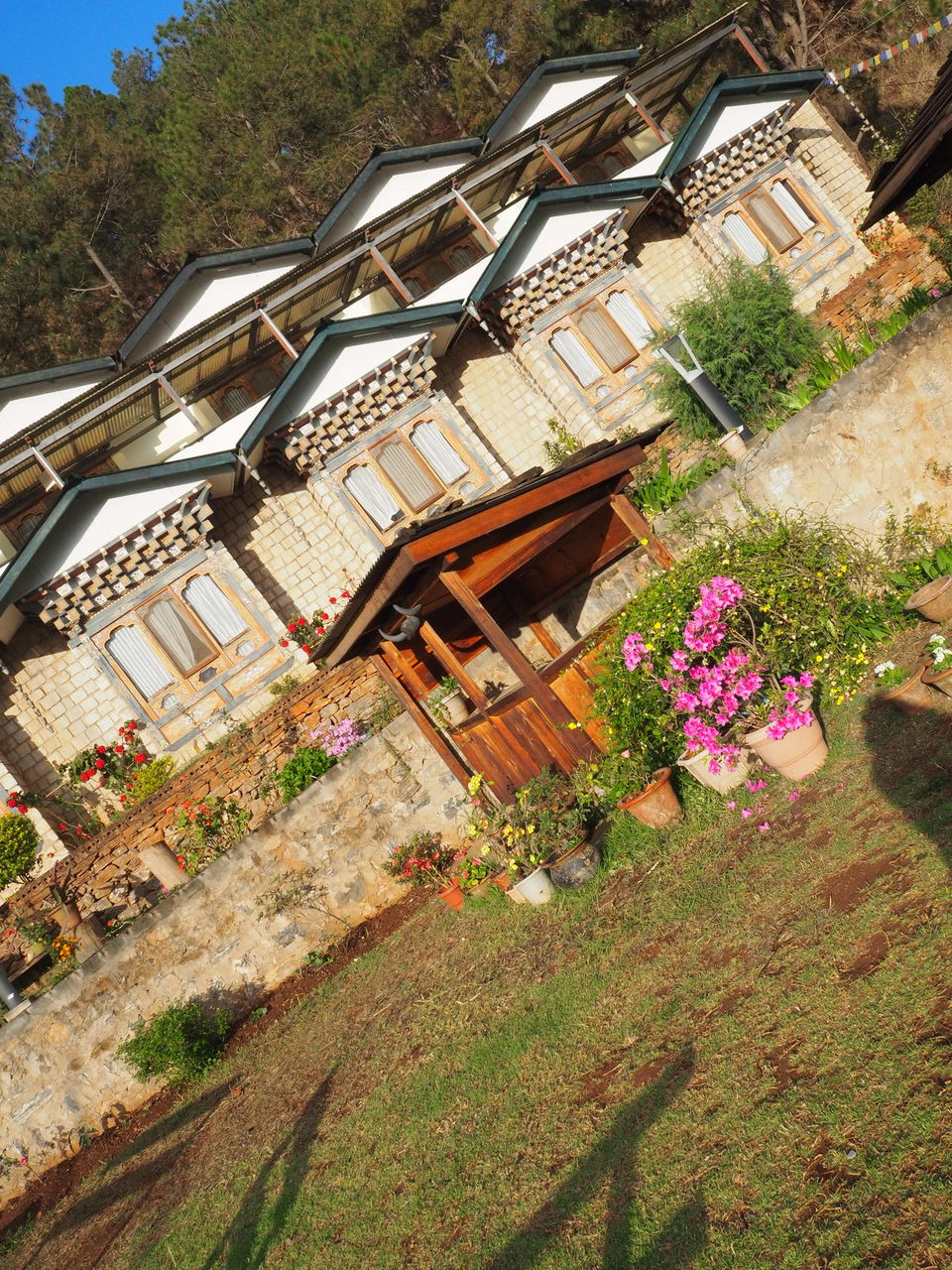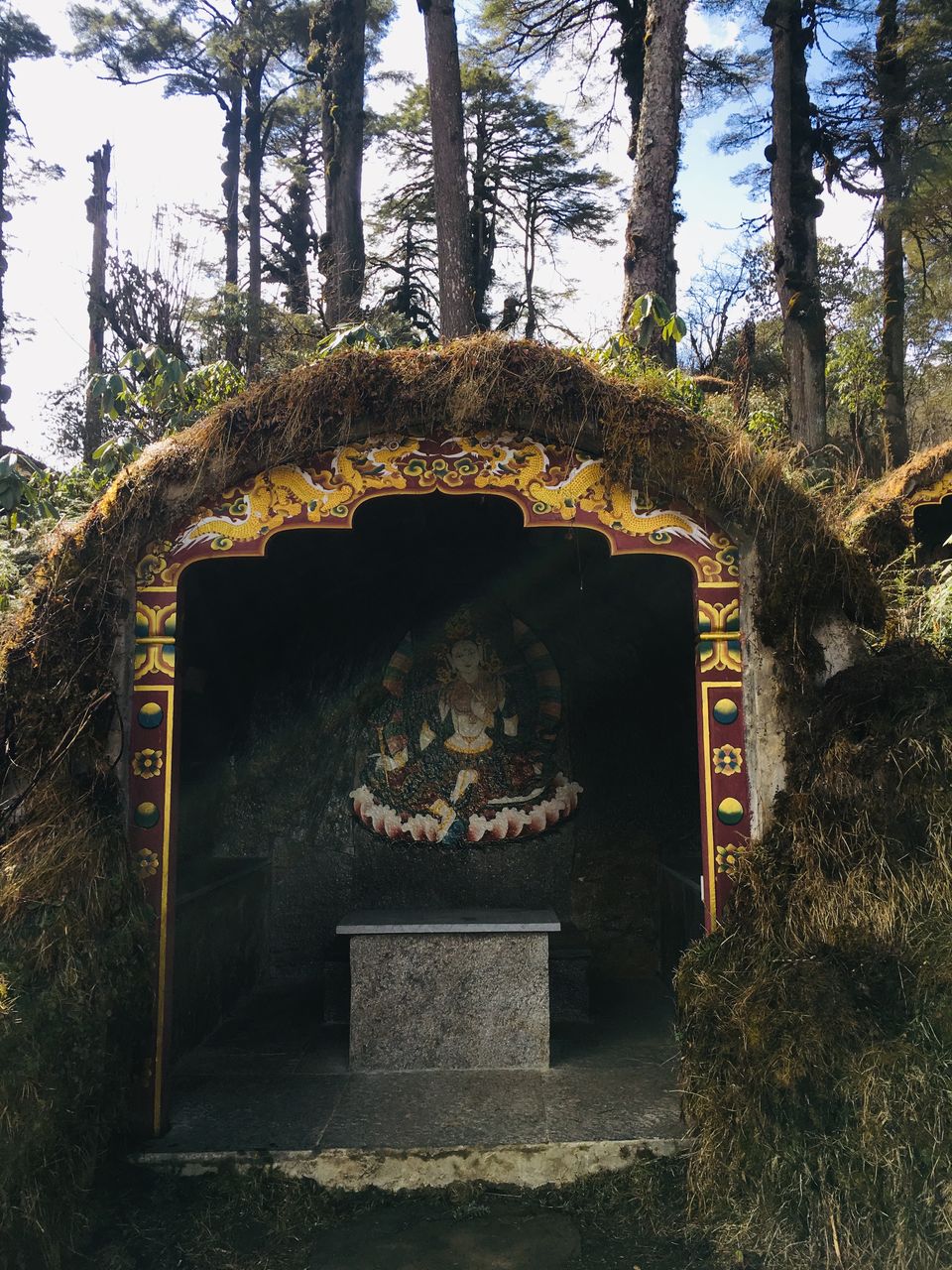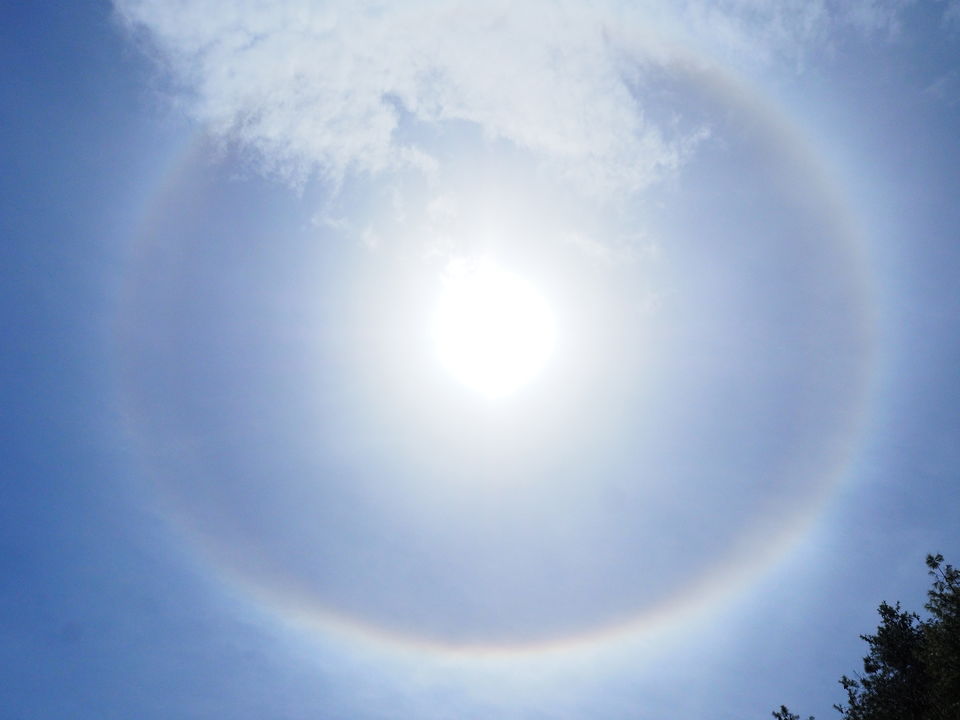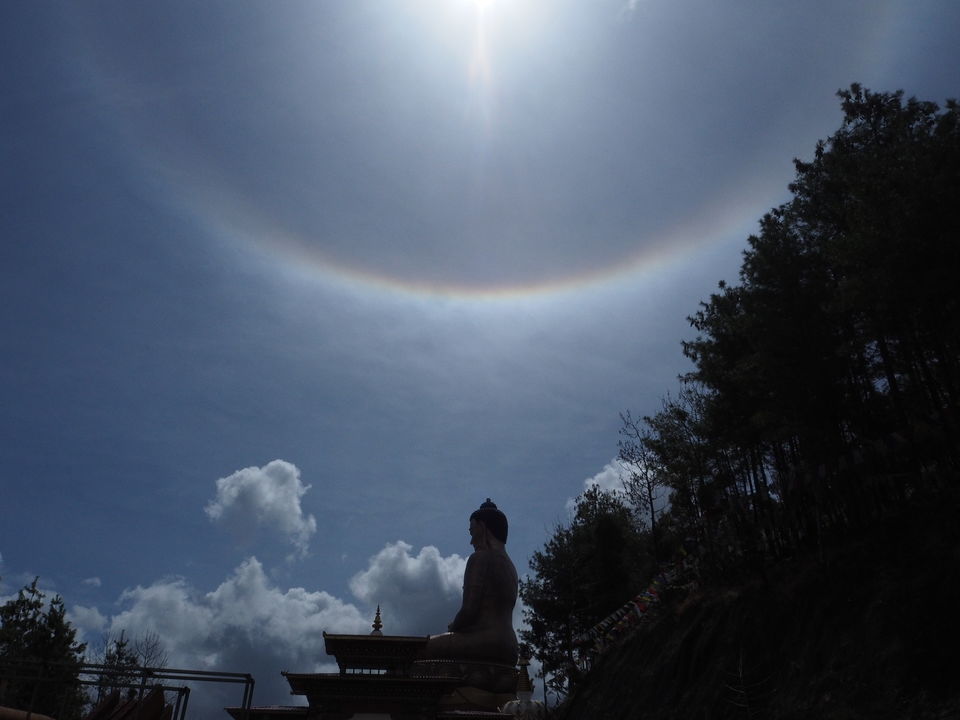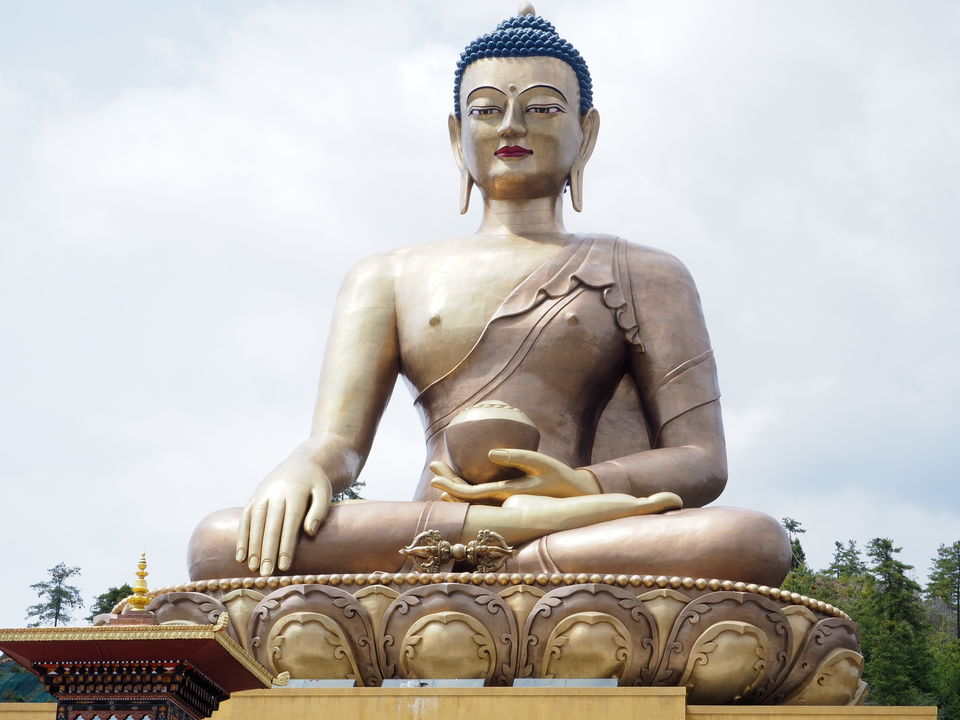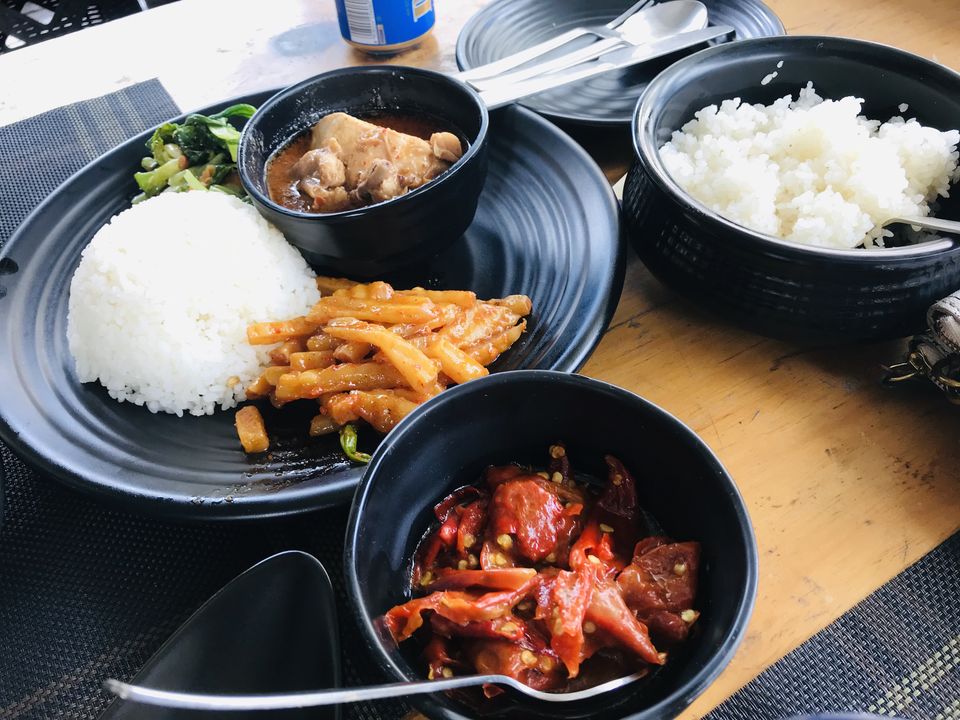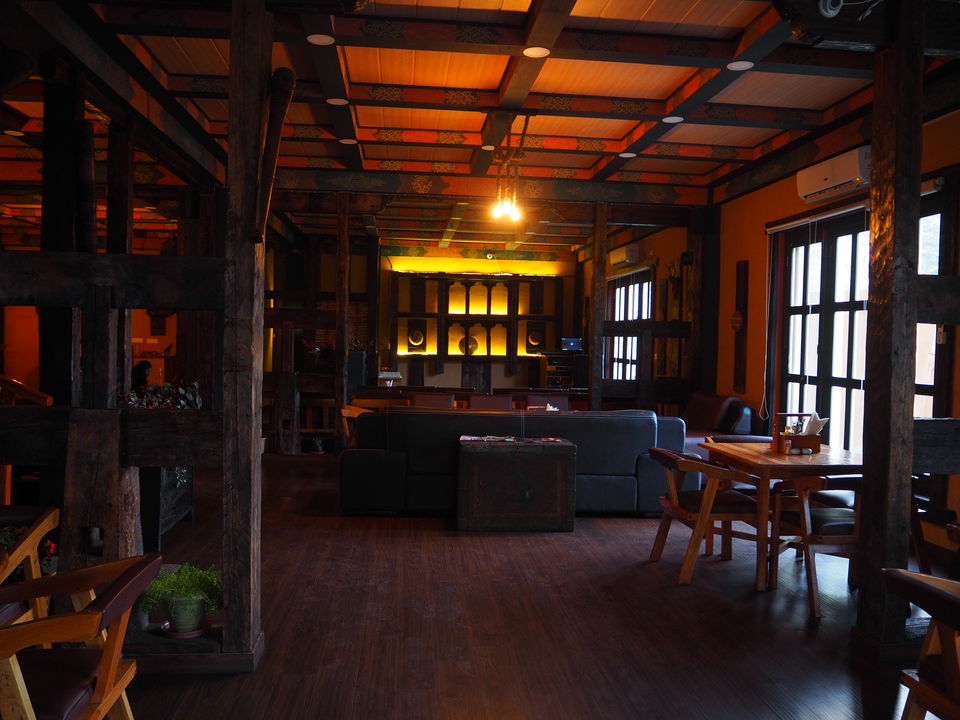 Day 6 - Chela le Pass, Haa
Paro to Haa is around 65kms and we started our journey by having breakfast at Champaka Cafe (as we dint get to go the previous day). The cheese based sandwiches here are a must try along with their selection of coffees! After the satisfying breakfast we moved on to our next destination i.e. Chela le Pass.
There are several routes to Haa village but only one that goes through Chela le.Several tourists come until this point only. The road to Chela le pass was covered with snow(from the previous day's) and it was a sight to behold.From the top, we can see snow capped mountains all around.There's also a short hike that one can do once you reach the top but its very windy out there so its better to wear warm clothes for this journey.
After spending some time at Chela le Pass, we started towards Haa. The stay we booked in this village was a homestay(Ugyen Homestay).By the time we reached there it was around 3pm and as we did not inform the host that we would be coming for lunch,we dropped our luggage and went to the village in search for food and found Pelden Restaurant.We had chicken noodles(soupy) and Ema Datshi with rice here(My husband's favourite by now). I especially like the noodles here(the soup was warm and spicy).
We requested the host for a hot stone bath(it needs a prep of 3hrs min),so in the evening it was ready.The experience was so refreshing(it is said that the chemicals from the stones and the herbs added have medicinal properties)and we felt all the stress from the travel lifted.
After the bath, we sat for some heavenly home cooked vegiterian meal(as we do not have pork or beef,we asked them for a veggie meal).The meal was just what we needed and then retired to bed.(The household here is a little quite compared to the Punakha's homestay but not that I am complaining about it!)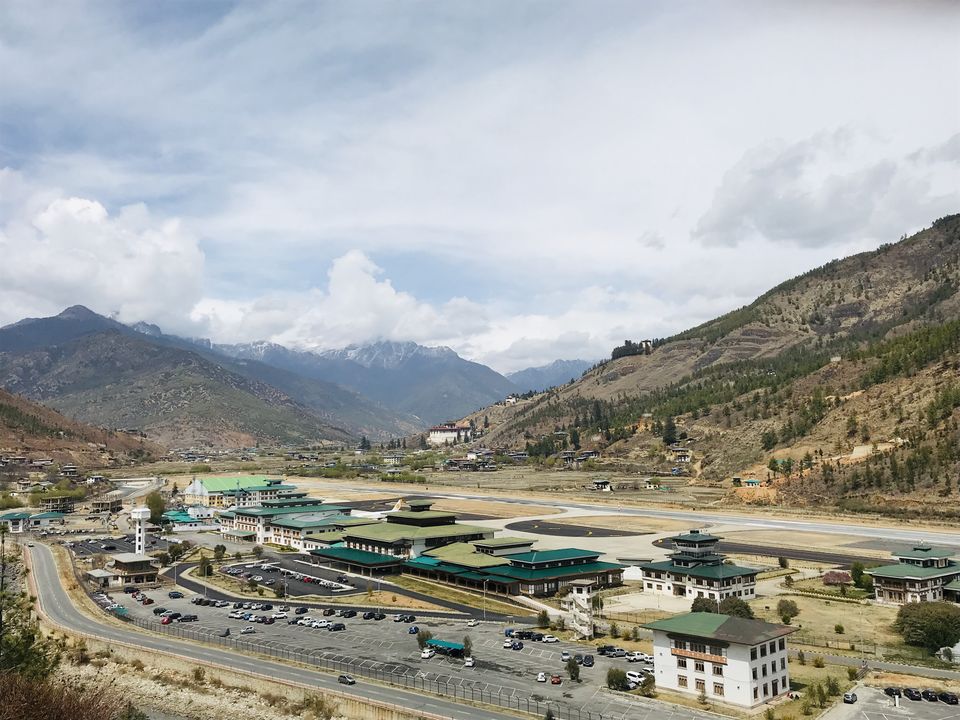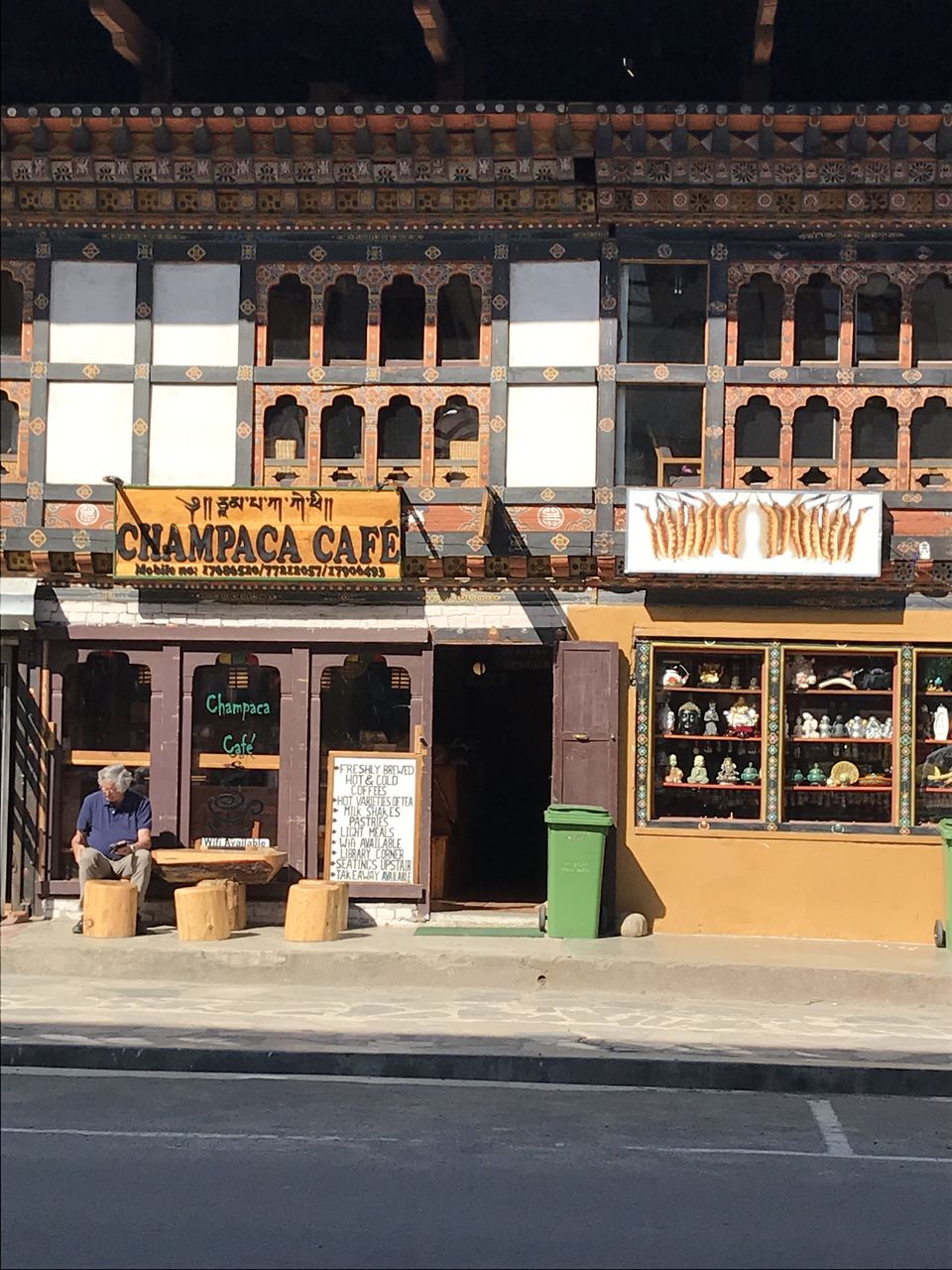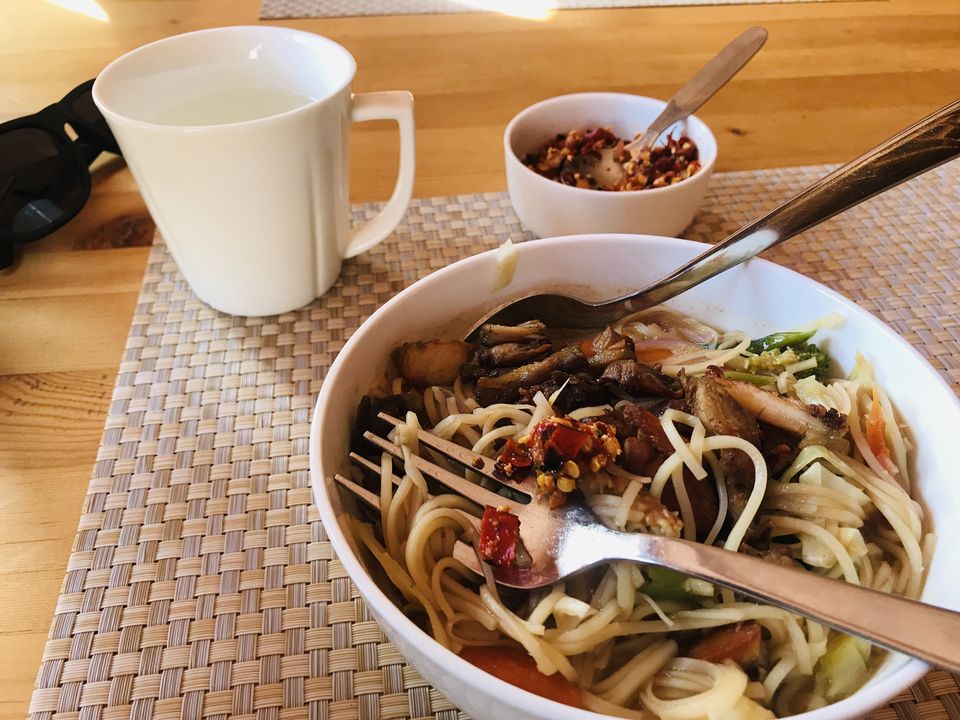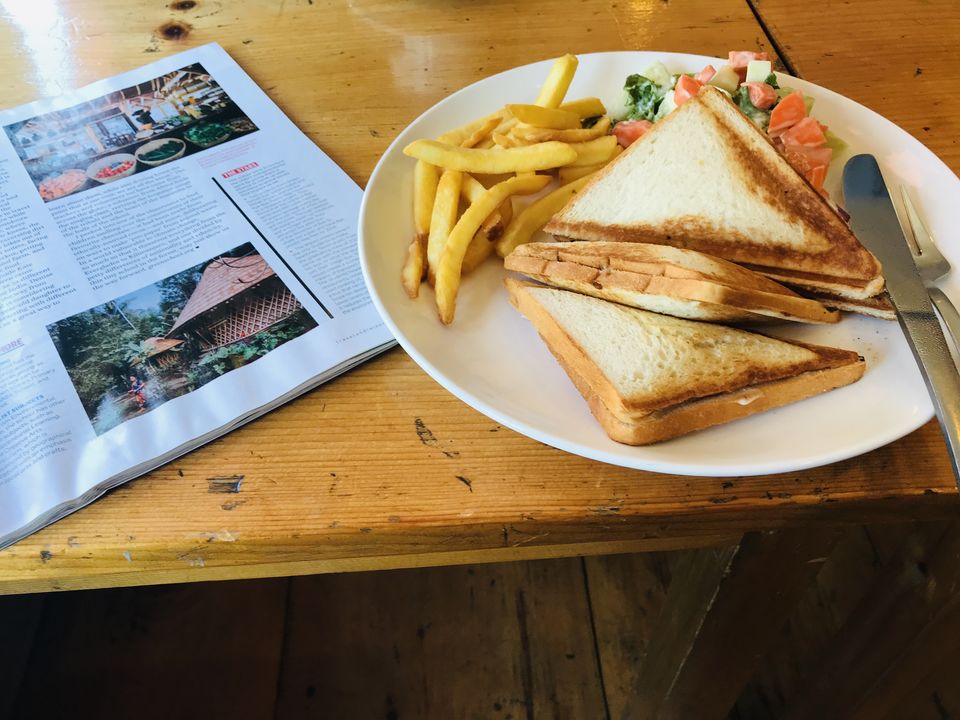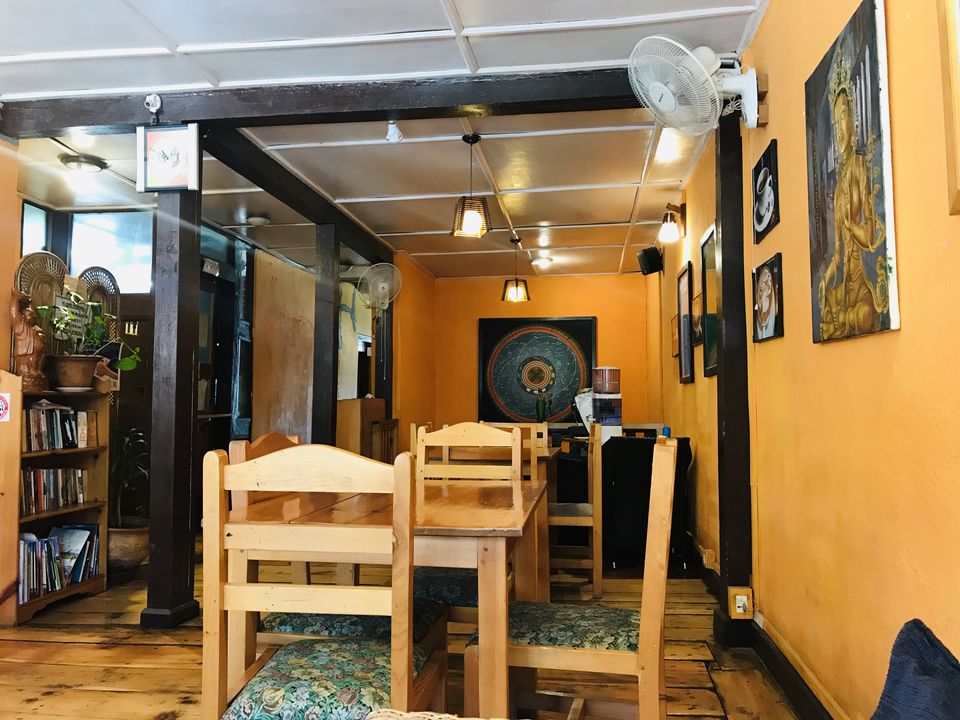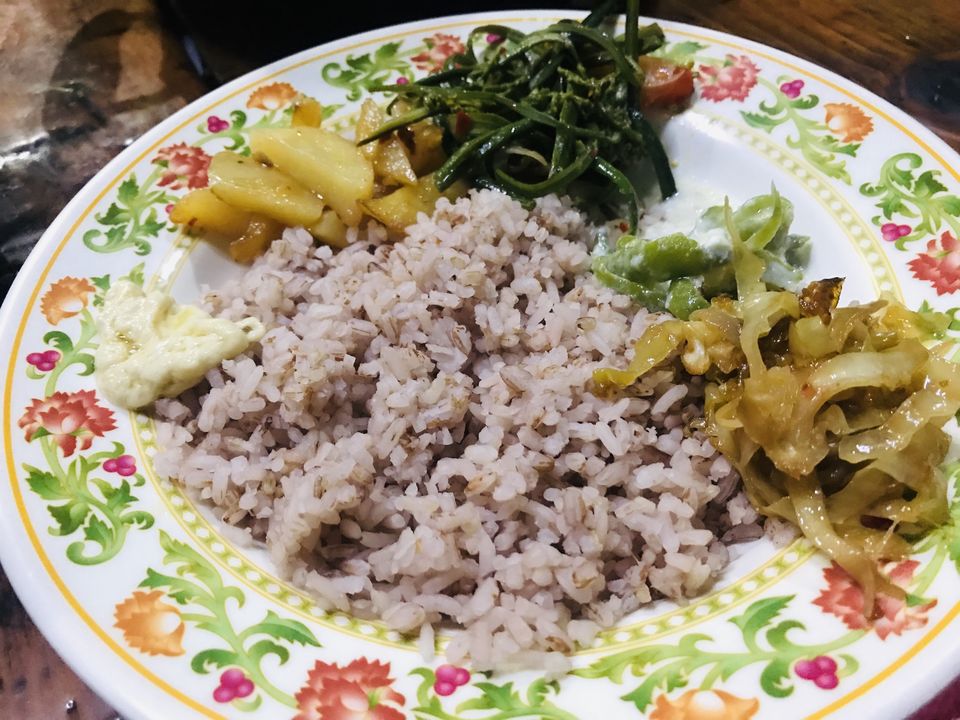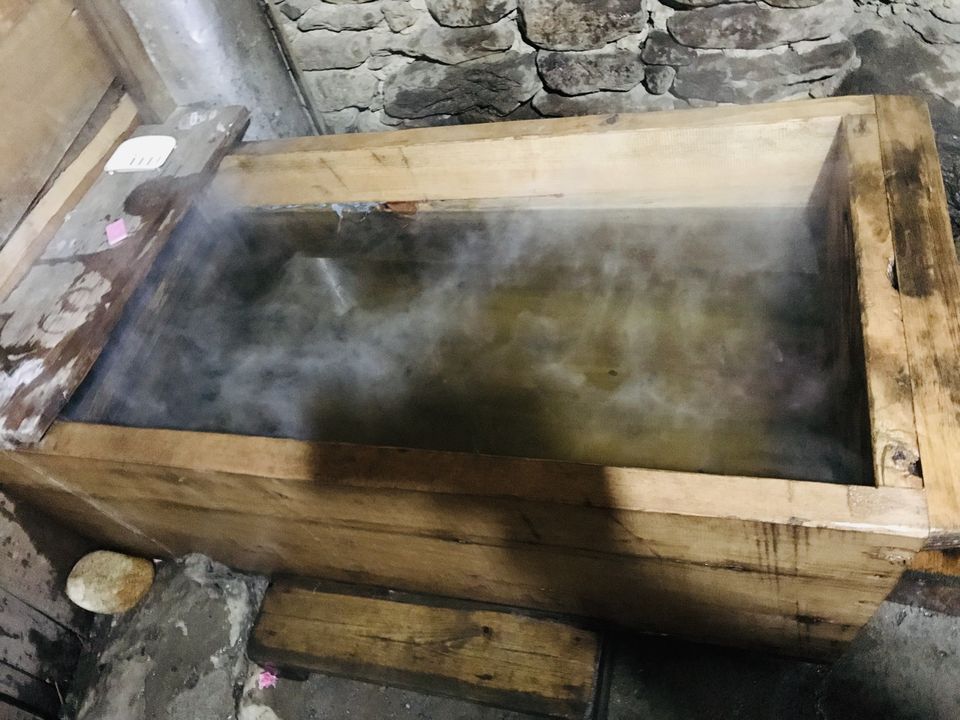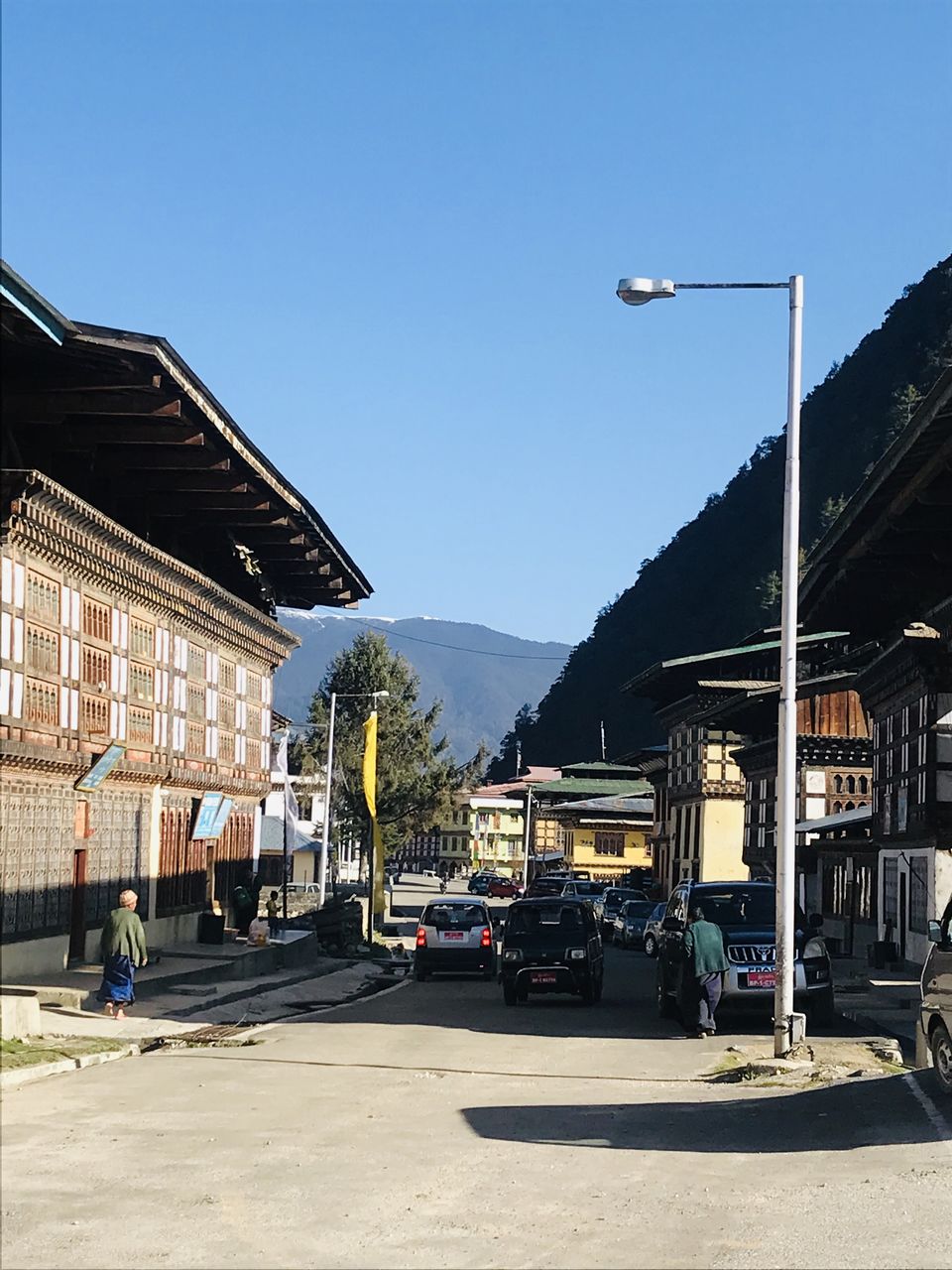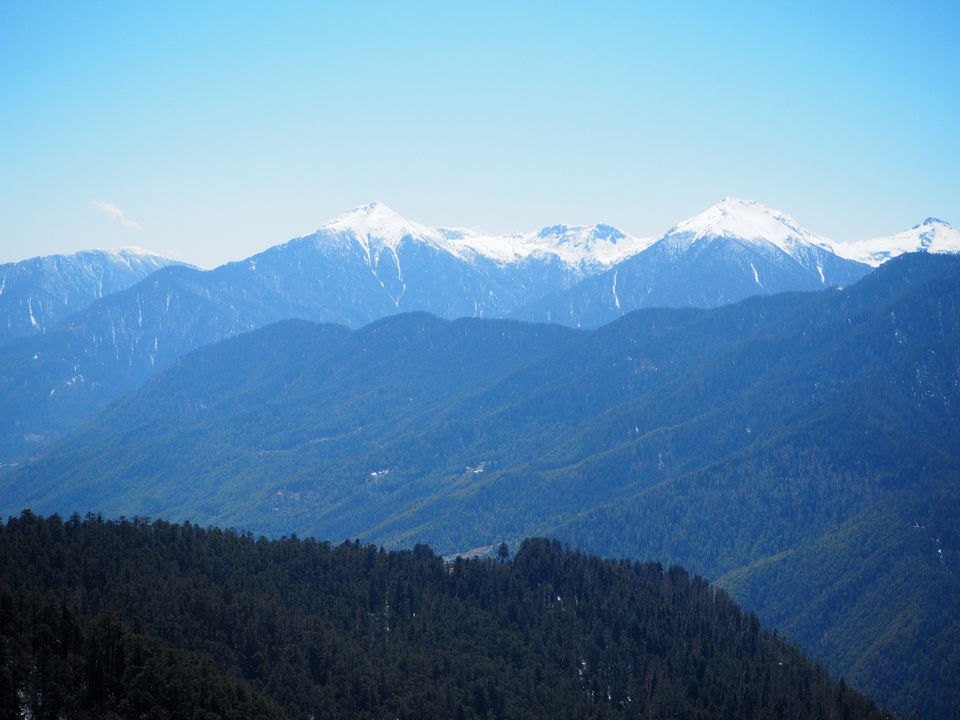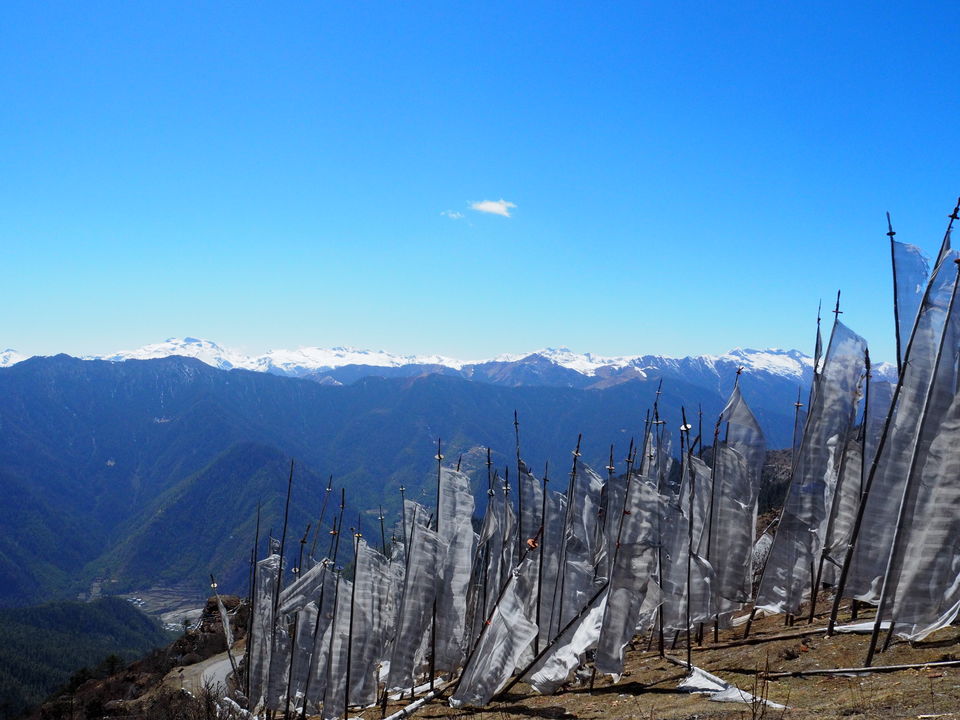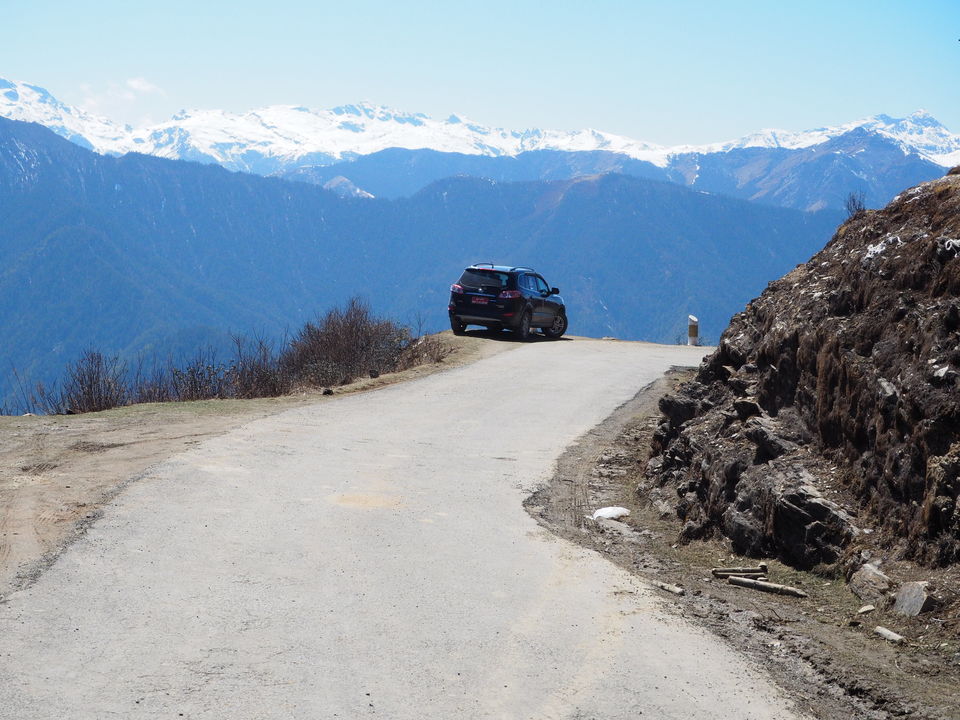 Day 7- Haa-Paro
In Haa,there are a couple of hikes or simply walking through the village is joy.(Beware of the dogs though,some may even bite!).So,in the morning we decided to hike to Katsho Goempa after our breakfast at Pelden(Yes,again!).We had egg koka and milk coffee.
We started to hike through the path our guide suggested,but after an hour realised that we may have missed the path.We asked people on the way(they said 1.5kms more-uphill) but we were already tired by then and returned to our vehicle with much difficulty(Forgot where the car was parked,all streets looked alike).A kind lady helped us to find our way back.
Then we started back to Paro,had lunch at Champaca cafe,bought some souvenirs on the street and went to our hotel for some rest so that we can come out to see paro's night life.(Friday and Saturday the bars here have live music).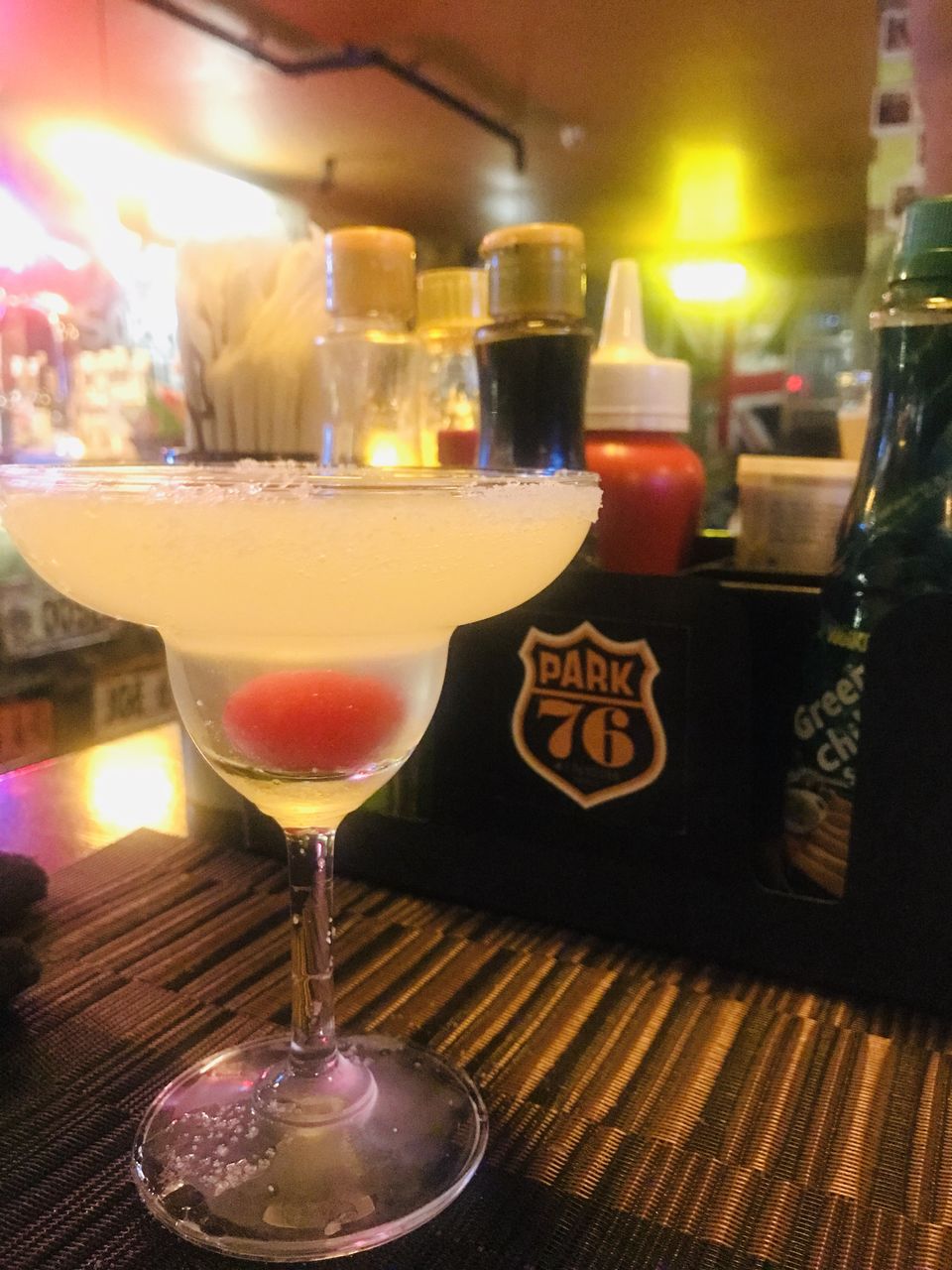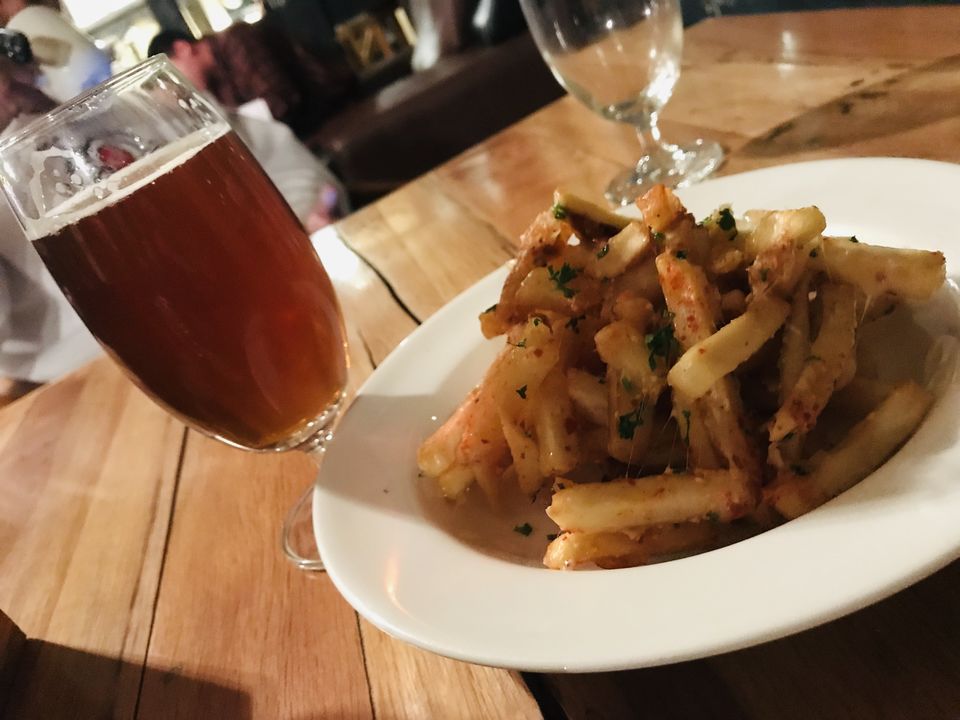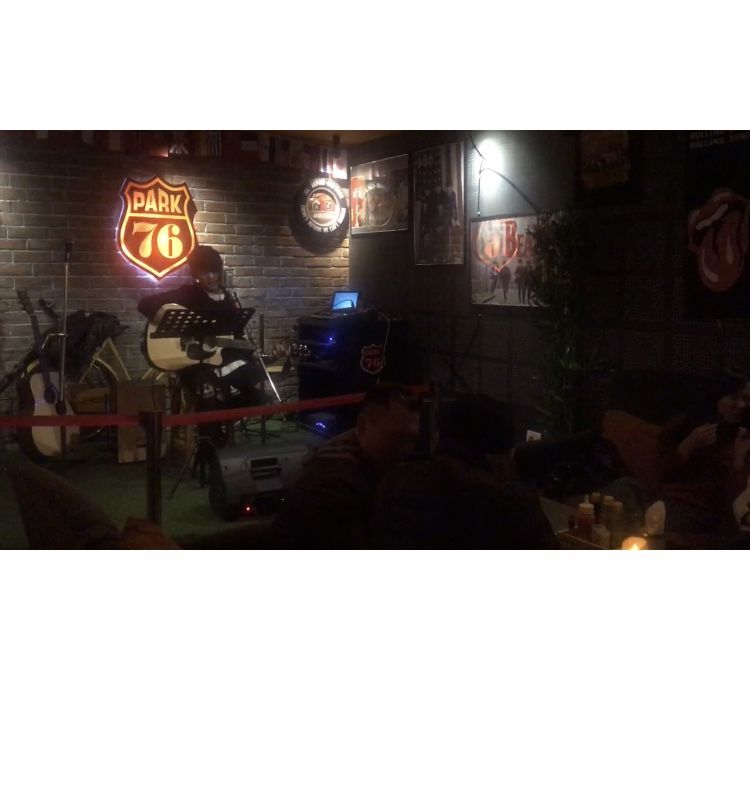 First, we went to Namgay Artisan Brewery to have our favourite red rice lager beer.There the band was performing the local english songs(The music was quite good).After a couple of beers here,we went to Park 76(The most happening place in Paro).Here, I had my first and last cocktail of the trip and a sandwich(Both of them were excellent!).The singer here sang both English and Hindi songs(Aashiqi).All in all,it was a night to remember!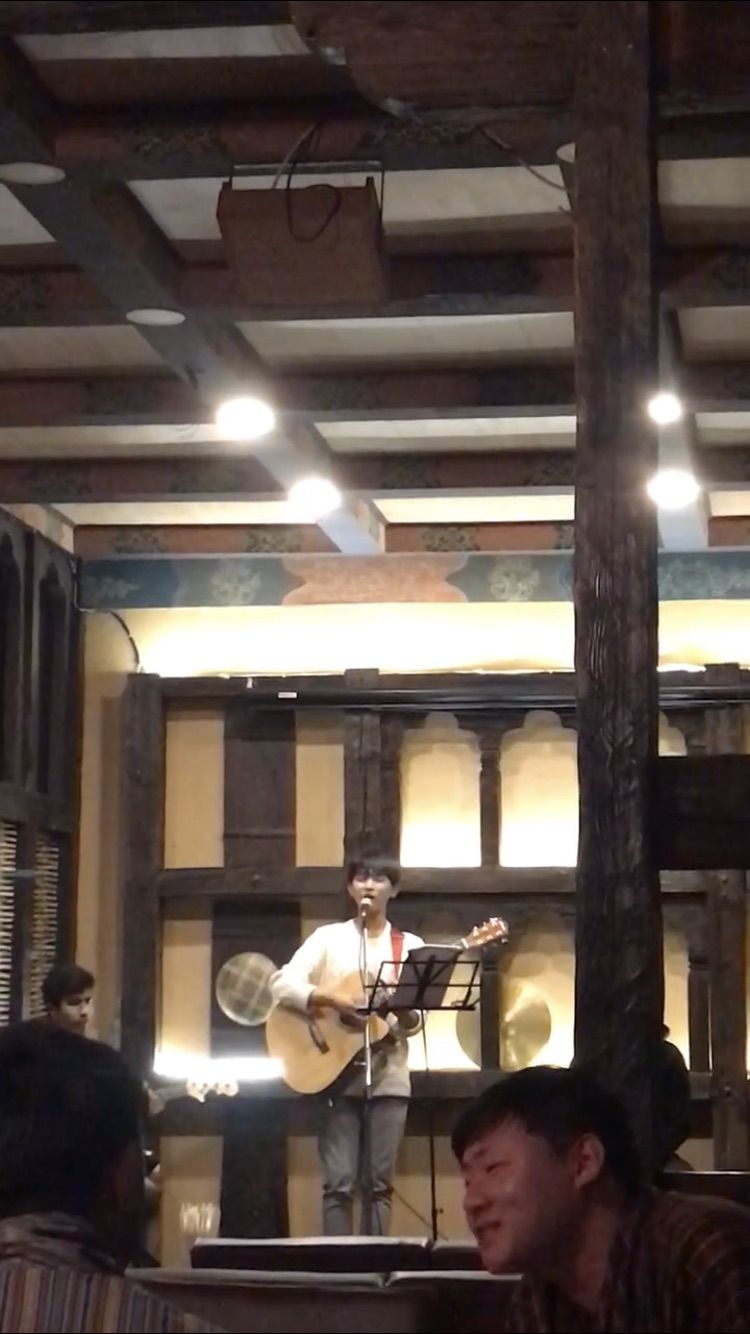 Day 8- Tiger's Nest Hike-Travel to Phuentsoling
Last agenda of our trip was to hike to the Tiger's Nest(Taktsang).The ticket to enter the temple should be taken at the base camp(Rs 500/ticket).We started our hike at around 9.30am and could complete the round trip in 5hrs.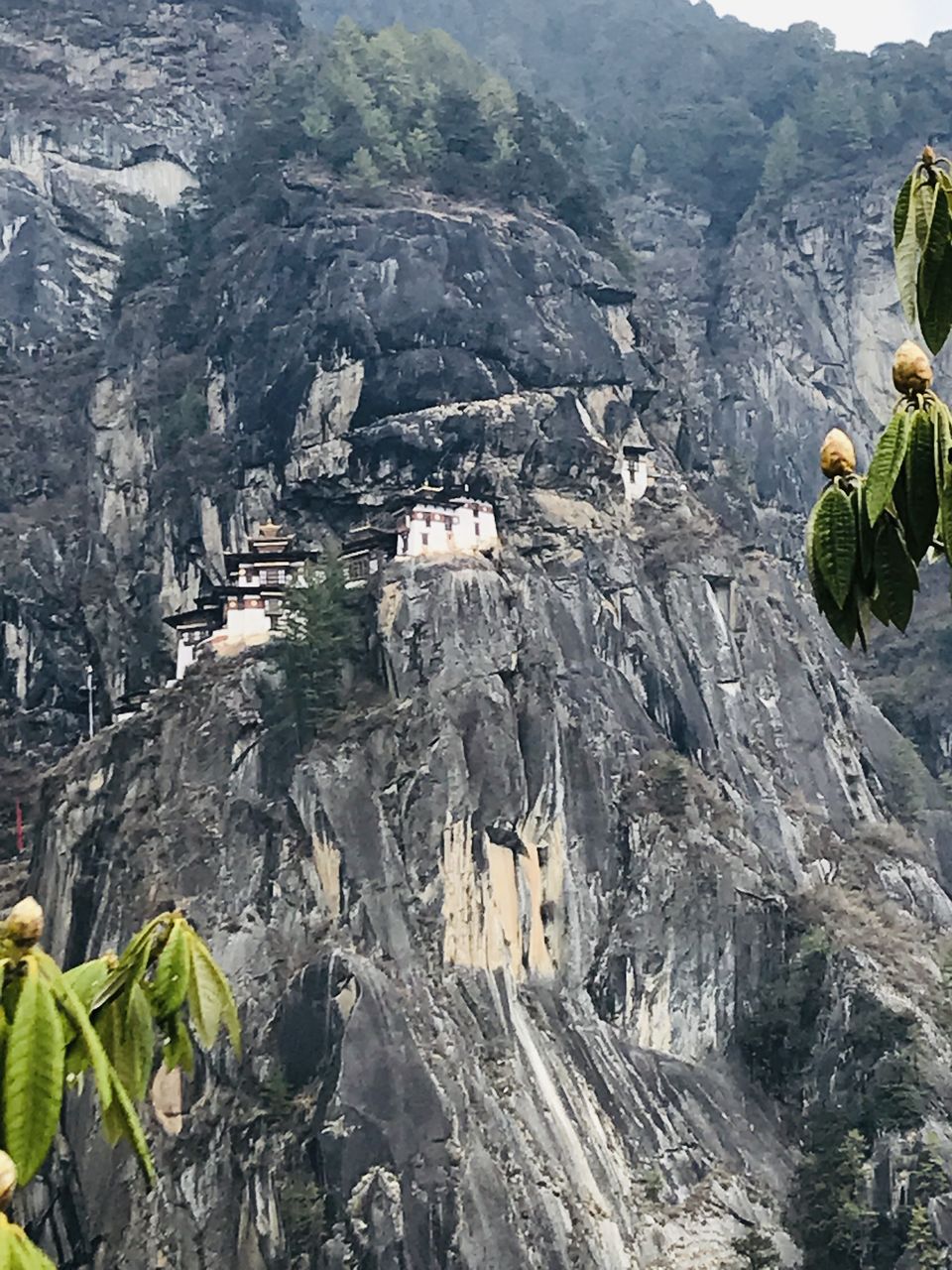 The hike is pretty doable,it might just take a little more/little less time based on one's fitness levels.The path is very well laid.There are also horse services to carry people half the distance,the rest is a narrow path and at the end there are about 1500 steps that one needs to climb in order to reach the temple.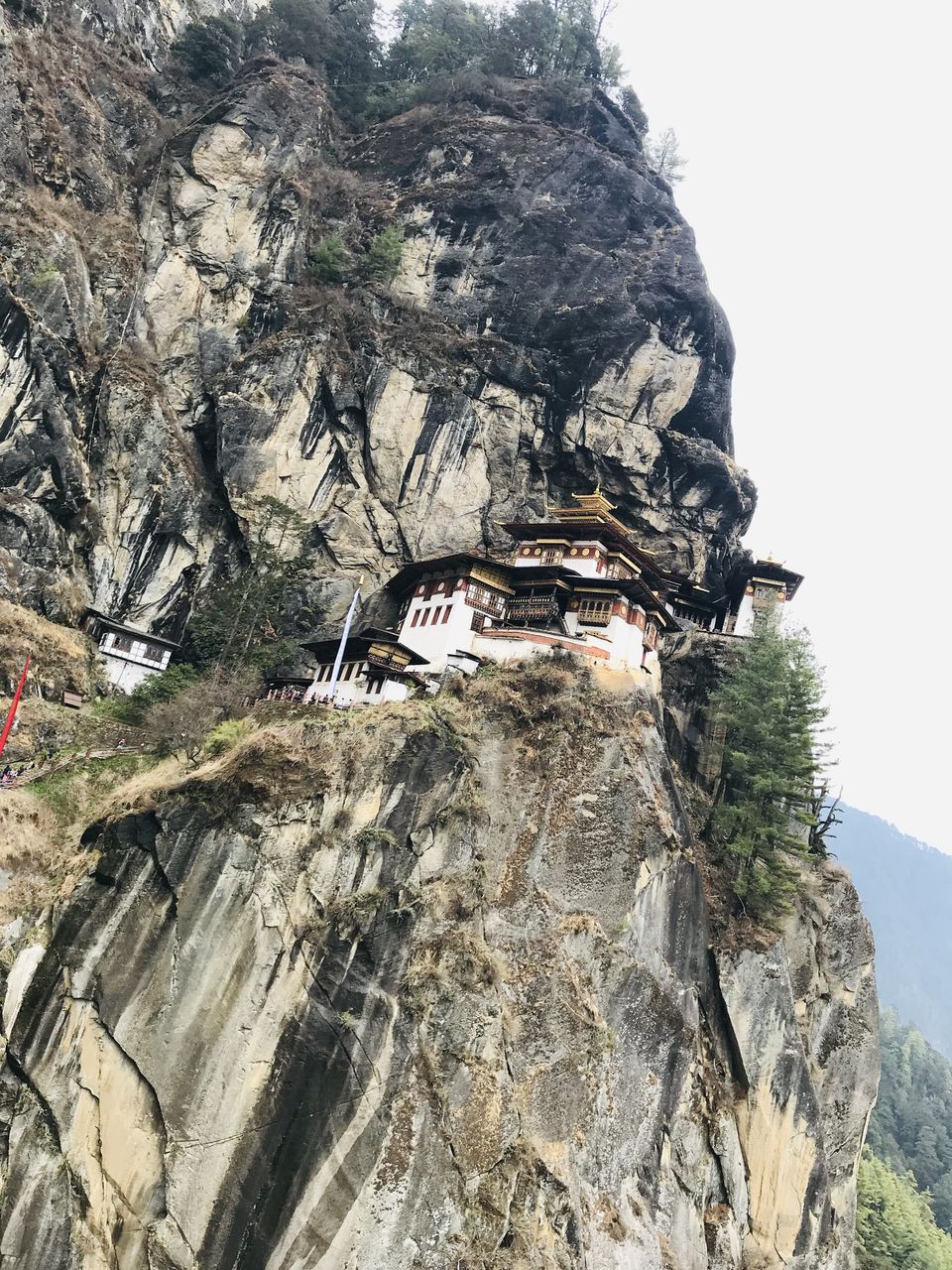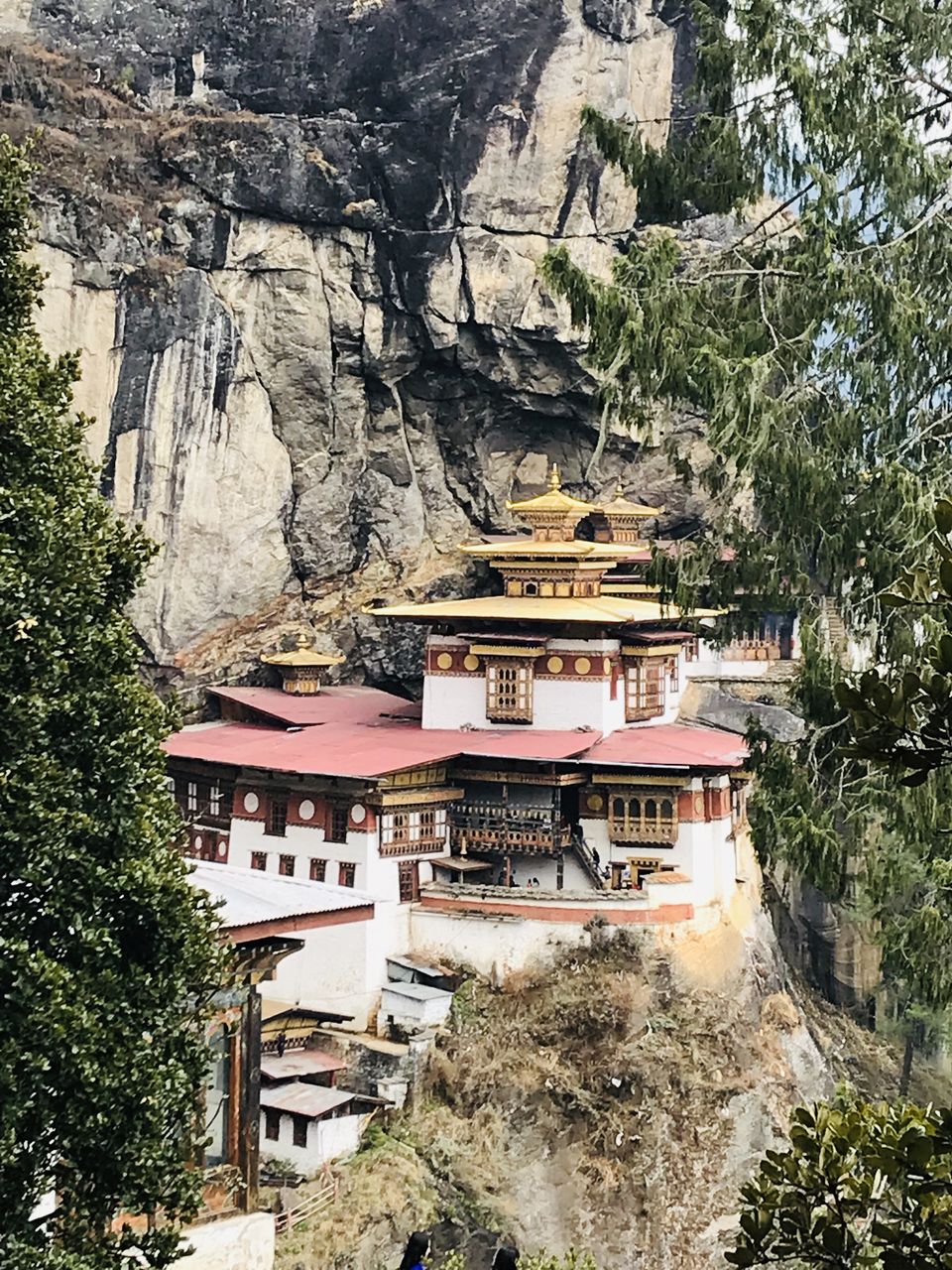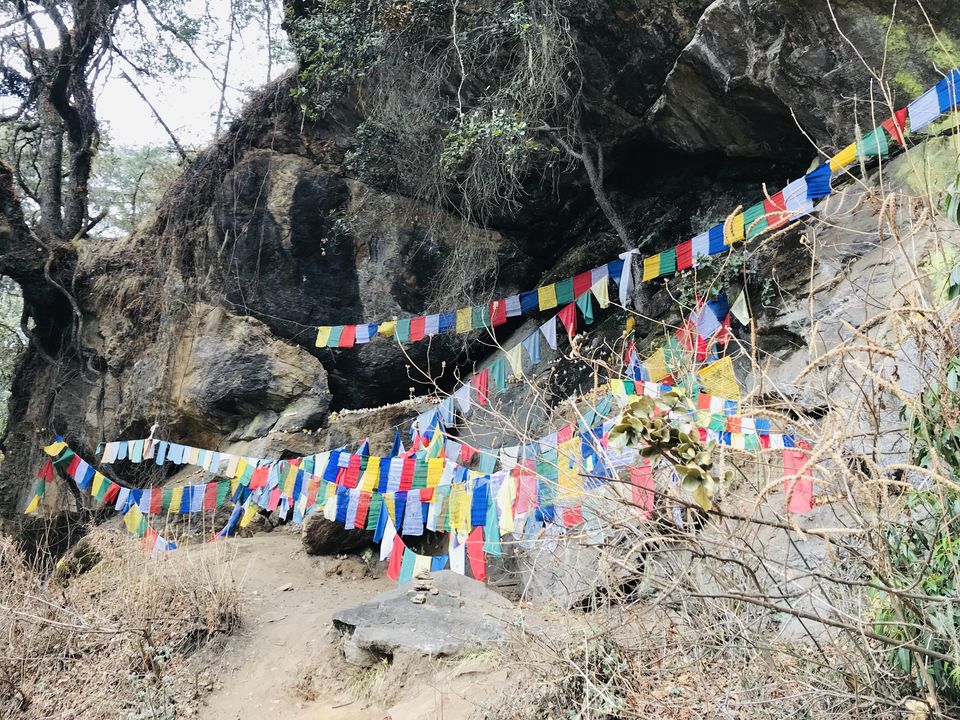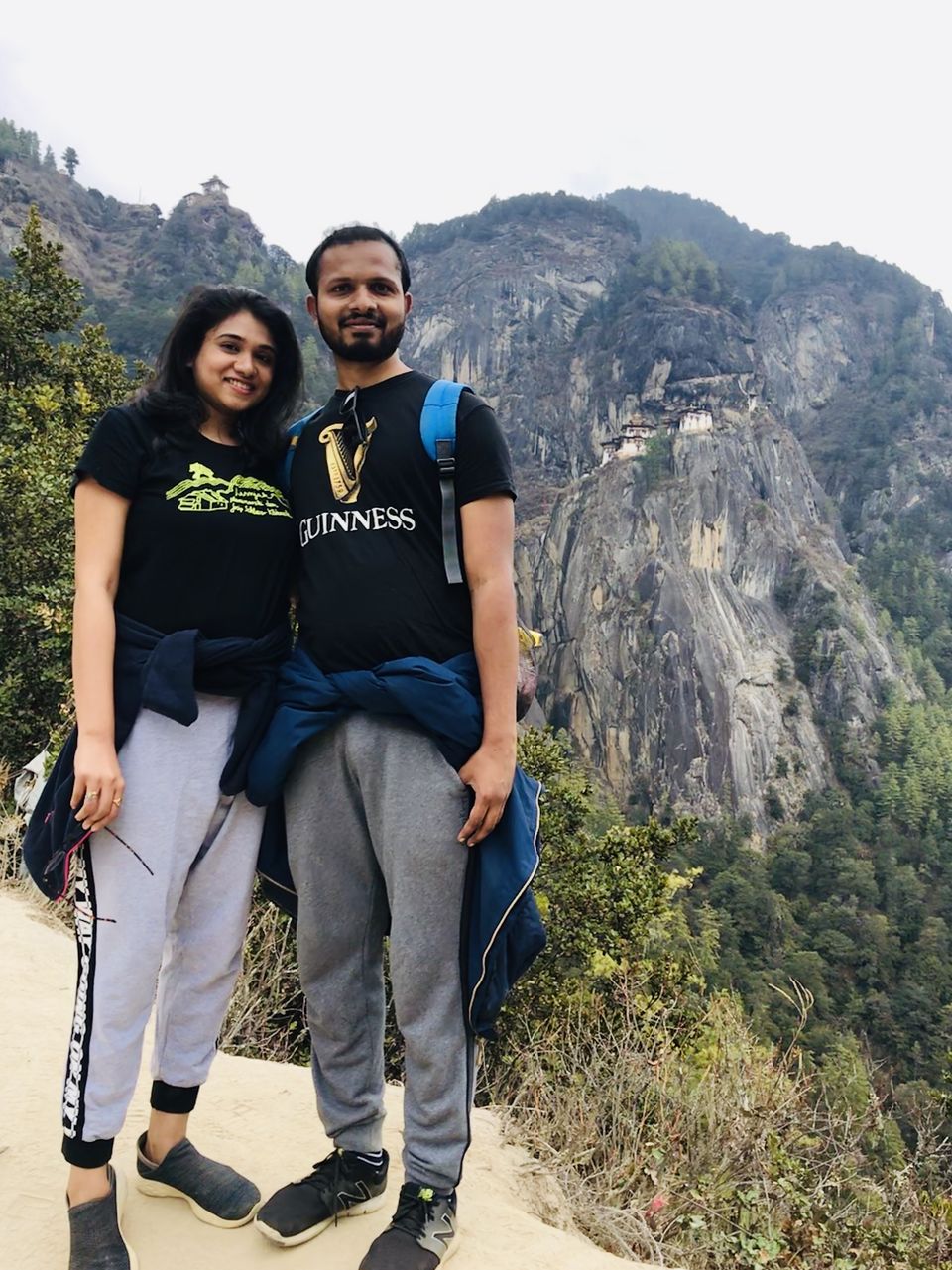 After the trek,we had lunch in the city and started to Phuentsoling.We reached Phuentsoling at around 7pm,checked into Hotel Phuentsoling(just opp bus stand)so that we could catch the bus to siliguri(our return flight is from here) in the morning.
Even though we were tired from the hike and travel, we wanted to explore the restaurants here as well.So,we went to zen family restaurant(500m) and as the reviews suggested,the food was gooood.Also visited the kizom cafe(just beside zen),bought a pastry and went back to enjoy it along with the IPL match!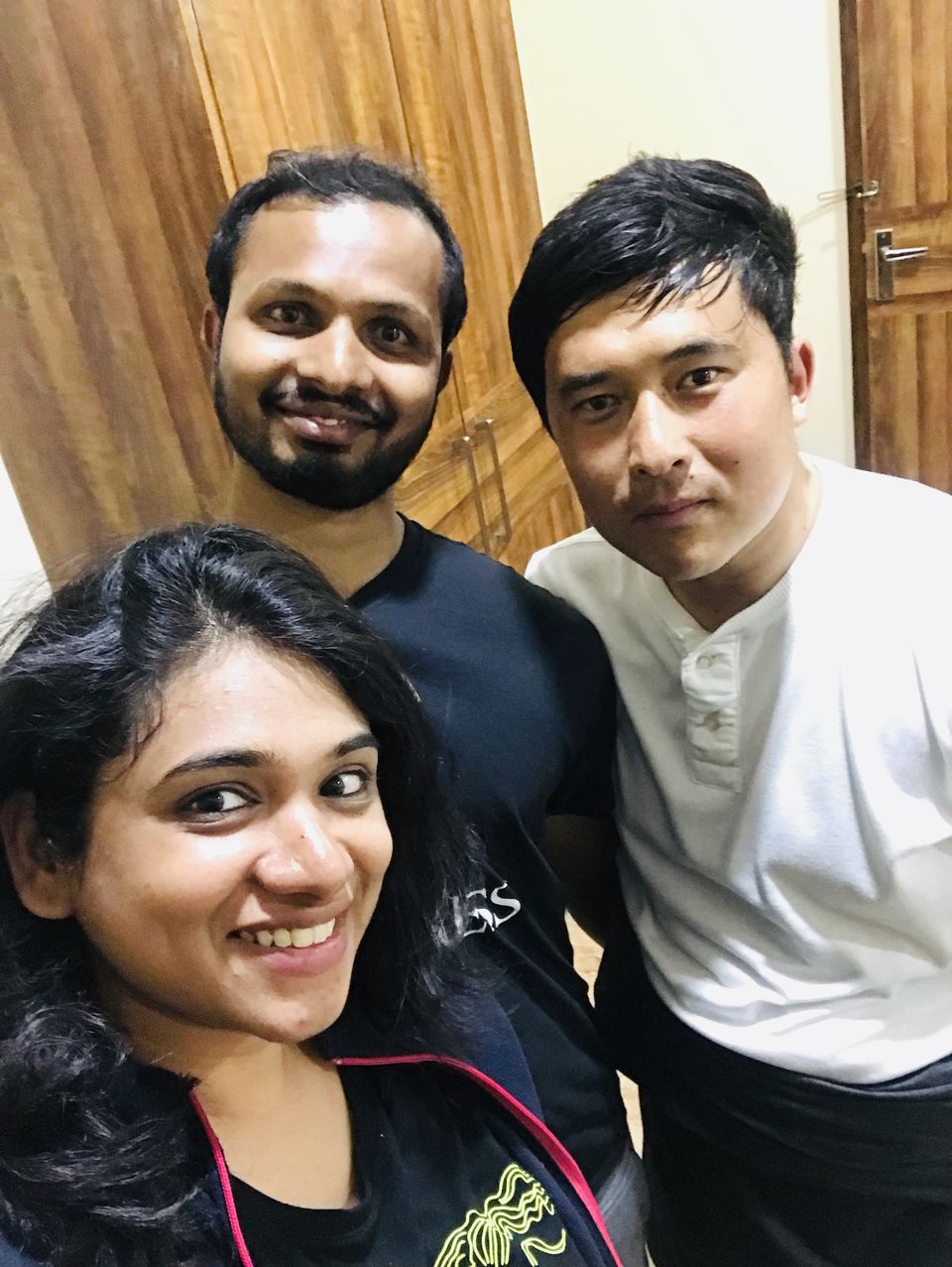 Day 9-Journey back to Home
At 8am, we were supposed to take the Bhutan transport service to Siliguri,but when we reached the bus stand,the first bus was already gone and the 2nd bus was cancelled.The next bus was only at 12pm(but we would miss our flight which was at 3.40pm).
Next,we took a taxi to jaigoan(Indian border district)hoping there we can catch a bus(because we heard there would be buses every half an hour).But our luck did not even permit this!It started raining heavily and the bus got cancelled.
So,we took a bus till Hasimora and then cab from there to Siliguri.We reached Siliguri around 1.30pm,had lunch at the airport cafeteria and boarded the flight.The airport at siliguri is way too crowded and it would be safe to reach early!
Siliguri-Kolkata,2 hrs layover, Kolkata-Hyderabad and finally reached Rajiv Gandhi International Airport at 9.15pm (So,we had to see the Liverpool-Tottenham match in the cab,but yay!Liverpool won,so all is well)and our home at 10.30pm.
That's the end of our Bhutan journey,hope you guys like it!Please do hit love if you like the article and would want to try what we have.
Happy Travel Guys!