Welcome to your 'Bhutan - Himalayan Kingdom' tour! On arrival at the airport in Paro, you will be met and transferred to your hotel in Thimpu, the modern capital City of Bhutan. On arrival, check in to your hotel. The rest of the day is at leisure to explore the city. Overnight in Thimphu. Meals on your own. Enroute Thimpu - 65km, approx 1.5 hour drive.
After breakfast, proceed on a city tour of Thimpu visiting places like The Jungshi Handmade Paper Factory, National Memorial Chorten and Buddha Dordenma Statue. The Jungshi Handmade Paper Factory was established in 1990 to produce the authentic Bhutanese paper known as Deh-sho using traditional techniques that have been practiced for generations. The factory uses the bark of two tree species, the Daphne and Dhekap in the manufacture of the paper.
The large Tibetan-style National Memorial Chorten was built in 1974 to honour the memory of the third King, His Majesty Jigme Dorji Wangchuck (the father of modern Bhutan). This whitewashed chorten, with its golden spires, features elaborate mandalas, statues and a shrine dedicated to the popular third king. The religious paintings and complex tantric statues inside the monument reflect both peaceful and wrathful aspects of Buddhist deities.
Made of bronze and gilded in gold, the Buddha Dordenma is a gigantic Shakyamuni statue, the largest Buddha statue in the world at a height of 169 feet. Sitting upon a large meditation hall, there are 125,000 smaller Buddha statues, also cast in bronze and gilded, that have been placed within the main statue. The rest of the day is at leisure to explore the local markets. Overnight in Thimphu (B)
You can stay in-
Economy- The Wangchuk Hotel or similar.
Standard- Hotel Migmar or similar.
Deluxe- Taj Tashi/ Le Meridian or similar.
This morning, drive to valleys of Punakha,en route visit the Dochu La Pass - a mountain pass in the snow covered mountains. The Pass on a clear day offers magnificent view of the snowcapped mountains of the Himalayas.
In the afternoon, visit the majestic Punakha Dzong, majestically located at the confluence of the Pho Chhu and Mo Chhu rivers. Punakha Dzong is the second oldest and second largest dzong in Bhutan. One of the most picturesque ancient fortresses, it was constructed in 1637-38 by Zhabdrung Ngawang Namgyal, and was the seat of Bhutan's government until Thimphu was established as the new capital in 1955.
You can stay in-
Economy- The Kingaling Hotel And Spa or similar.
Standard- Khuru Resort or similar.
Deluxe- RKPO Green Resort or similar.
Note: The Punakha Dzong is closed in winter months when the monk's body is in Punakha. All visits to Dzong and Monasteries are limited till the courtyard only. Overnight in Punakha (B)
After breakfast, drive to Paro, enroute visit Drukgyel Dzong and Paro Dzong. Drugyel Dzong is the best example of a fortified Dzong built in the 17th century to commemorate Bhutanese victory over the combined forces of Tibetan and Mongolian army, which attempted several invasions to the country. Though the fortress was destroyed by fire in 1951, the ruins remain an impressive and imposing sight, reflecting unique and intriguing design and construction techniques. On arrival, check in to your hotel in Paro. Overnight in Paro (B). Distance- 142km, approx 4 hours drive.
After breakfast, drive till the base of the world famous Taktsang Lhakhang. Taktsang Lhakhang or the Tiger's Nest is the most famous Buddhist pilgrimage site and temple complex in Bhutan. Visible from afar, this stunning and highly revered monastery is perched on a high granite cliff at an altitude of 10,236 ft., overlooking the northern Paro valley.
On the way to town, visit Kyichu Lhakhang. The 7th century Kyichu Lhakhang (temple) is one of the oldest shrines in Bhutan. The temple complex is composed of two temples - the first was built to subdue a giant demoness and the second temple dedicated it to Guru Rinpoche. Overnight in Paro. (B)
You can stay in-
Economy- The Pelri Cottage/Reema Resort or similar.
Standard- Tashi Namgay Resort or similar
Deluxe- Le Meridian/Naskel Boutique Hotel & Spa or similar.
Today, bid farewell to your 'Bhutan - Himalayan Kingdom' tour as you are transferred from hotel to the airport in Paro for your onward journey.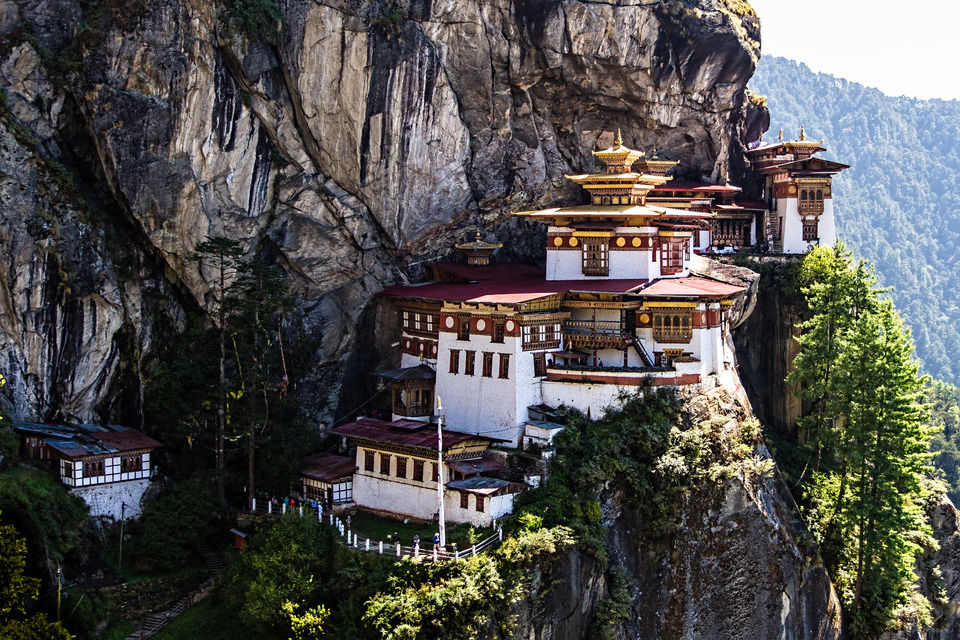 INCLUSIONS
1. Accommodation in the hotels listed or similar hotels.
2. All transfer and sightseeing as per the itinerary by 01 Non AC Santa Fe/Tucson/similar (for 01-04 pax )/ 01 Non AC Hiace/similar for 05-10 pax (Note: AC Vehicle is subject to availability . AC will work only in the plains and will be switched-off during hill drives, because if you use AC in hills then vehicle will stop functioning. Normal vehicle usage timing is from 9:00 a.m to 5:00 p.m.)
3. Meals - Daily buffet breakfast as per the itinerary.
4. Travel Insurance.
5. All currently applicable taxes i.e. Hotel tax and Transportation tax.
Note: Cox and Kings Terms and conditions apply.
- Arrival into and departure from Paro would be on your own arrangements.
- Please contact our sales staff to give you best flight deals.
- Please do not touch any religious artifact or antique.
- Purchase of religious items especially antiques is prohibited.
- Please take off hats while entering Dzong, temples or monastery. Shorts / half pants are not permitted while entering a Dzong, temple or monastery.
- Before entering a Dzong, temple, monastery, please switch off all mobile phones or keep in the silent/vibrating mode.
- Please speak softly within the religious premises.
- Please remember not to point with a single finger but use an upturned flat extended hand especially to indicate a sacred object or place.
- Please refrain from touching any ritual objects or mural paintings.
- Please do not walk over any clothes, books, hearth or materials left open in religious sites.
- Please refrain from smoking or drinking while visiting religious places.
- If you are not sure please ask the local people or the guide.
- Water supply in the hills during the peak season is restricted due to shortage and water is supplied area wise at specific times. Please co-operate with the hotel on same.
- Do carry comfortable walking shoes.
- The hotel confirmed will be as per the brochure or an alternate hotel of similar category will be provided.
- Travel Insurance, included in our package cost is valid for age group up to 80 years only. For age group beyond 80 years, rules, terms and conditions of the Insurance Company will apply. The same needs to be checked on case to case basis with the Insurance Company.
- Visas are not required for Indian Nationals.
- INR (Indian Rupees) denominations of 500 and 1000 are not accepted in Bhutan.
- All the prices are for Indian Nationals only, unless specified.
- It is mandatory to carry a valid photo identity card (Passport / Voter ID card - passport should have a validity of minimum 6 months).
EXCLUSIONS
- Any transport to / from Paro. Your tour price starts Ex Paro.
- Air, Train or Bus fare from / to your originating city of stay, unless specified.
- Any meals / en route meals unless specified.
- Any additional sightseeing tours other than the mentioned in the inclusions.
- Items of personal nature viz, tips, porterage, room service, laundry, mineral water, alcoholic or non alcoholic beverages, phone calls, additional sightseeing tours and excursions not included in the itinerary, still or video camera fees etc.
- Any increase in fuel cost, government taxes, entrance fees, intra and interstate taxes etc, the tour price will be amended in accordance.
- Entrance fees and guide charges wherever applicable.
- Any items / services not specifically mentioned in the 'Tour Price Includes' column.
- Supplement charges applicable for Long weekends and festivals.
- 9% Govt. Service Tax.
Price Of Tour And Dates
Ex - Paro Valid From - 01 November 2016, Valid To - 31 March, 2018
Dates- 7th March 2017 to 31st March 2018
ECONOMY



Frequent searches leading to this page:-
tour plan for Bhutan, Bhutan adventure tour, Bhutan luxury travel, trips to Bhutan tours, Bhutan travel guide, vacation tour packages