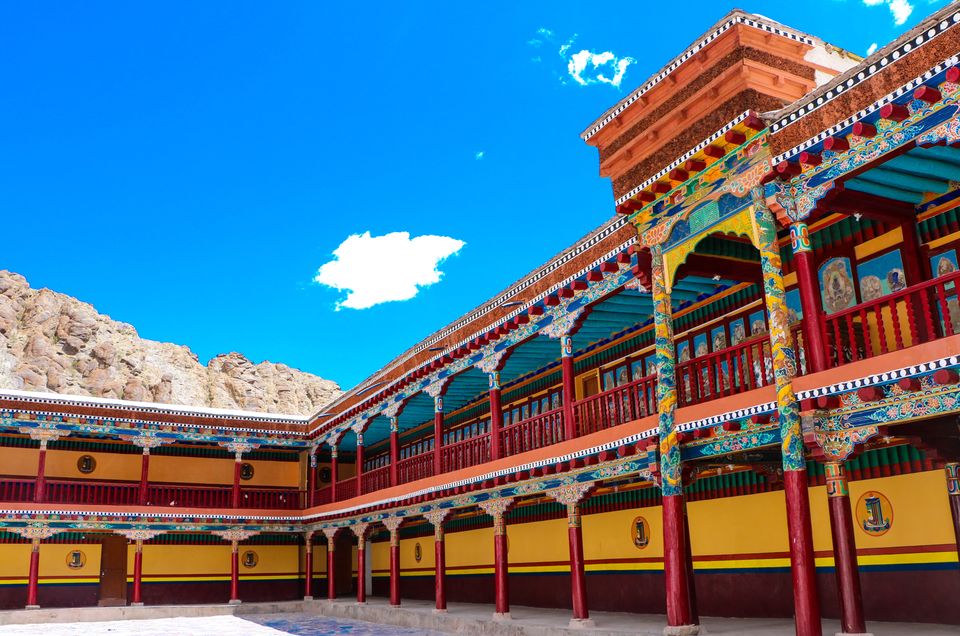 Not so long ago, Bir was just another quaint hill town in Himachal Pradesh, usually serving as a weekend getaway for peace-seeking souls from nearby cities in North India. In 2015, Bir hosted Paragliding World Cup for the first time and shot to fame as one of the best adventure destinations in India. It has since been attracting tourists from all over the world.
Such has been the influence of paragliding in Bir that not many people know that it is also home to some of the most magnificent and ancient Buddhist monasteries in Himachal Pradesh.
And that's we have a list of Buddhist monasteries in Bir which can help you explore the less adventurous but more peaceful side of this small town. Here we go.
1. Choukling Monastery
Chokling Monastery, also known as Pema Ewan Chokgyur Gyurme Ling, was established in Bir under the supervision of the third Neten Chokling Rinpoche in 1960s after Tibetans were exiled as a result of Chinese invasion. It is one of the most significant monasteries in Himachal Pradesh. The monastery complex is home to many stupas, temples, and hostels for monks.
2. Nyingyang Monastery
Palpung Sherabling Monastery was established in 1977 to serve as an institute of higher Buddhist studies. Located just about six km from Bir Paragliding landing area, the monastery is a must-visit for those who cannot adventure in Bir. The trail to the monastery takes you through gorgeous pine and oak forests. And guess what, you can even cycle your way to the monastery from Bir in around 3-4 hours.
3. Tsering Jong Monastery
Situated close to the Tibetan Colony in Bir, is the Tsering Jong Monastery which has spectacular design and typical Tibetan architecture. The monastery houses an expansive park and a residential area which is beautifully decorated with trees and flowers. Moreover, you can relish authentic Tibetan cuisines at a cafe within the monastery campus with prayer flags strewn all around. It's just the kind of place you want to be after a long day of sightseeing.
4. Palpung Sherabling Monastery
Sitting serenely in Bhatu around six km from Bir, Palpung Sherabling Monastery has a huge complex with area spreading over 30 acres. The monastery campus is home to some beautiful stupas, temples, and an iconic 12-metre long statue of Buddha with intricately designed wood carvings.
5. Bhumang Jampaling Monastery
Located just an hour's hike from Lower Bir chaugan, the Bhumang Jampaling monastery is symbolic of the Drikung Kagyu lineage of Tibetan Buddhism. This monastery was established by Dzongsar Rinpoche. Just by paying a small fee, you can even get to stay at the monastery and participate in the prayer congregations alongside the monks.
6. Zabsang Choekhor Ling Monastery
The newest of the lot, Zabsang Choekhor Ling monastery is also located in Chauntra and was inaugurated by His Holiness Dalai Lamaon on April 28, 2014. Surrounded by lush hills, this monastery is the perfect place to spend some time being at peace.
7. Sakya Dirru Monastery
Founded in 1073 A.D by by the eminent Buddhist master Khon Konchok Gyalpo, the bright blue coloured Sakya Dirru monastery is another site of spiritual bliss in Bir which belongs to Sakya school of Tibetan Buddhism. Take a tour of the monastery and rest your thoughts and get refreshed by talking to the monks at the temple.
Isn't it already enough to explore Bir beyond paragliding the next time you plan to visit there? Let us know in the comments below.
Also, you can create your own travel blog and share it with travellers all over the world. Start writing now!

Subscribe to Tripoto on YouTube and watch exciting travel videos.
Get travel inspiration from us daily! Save our number and send a Whatsapp message on 9599147110 to begin!