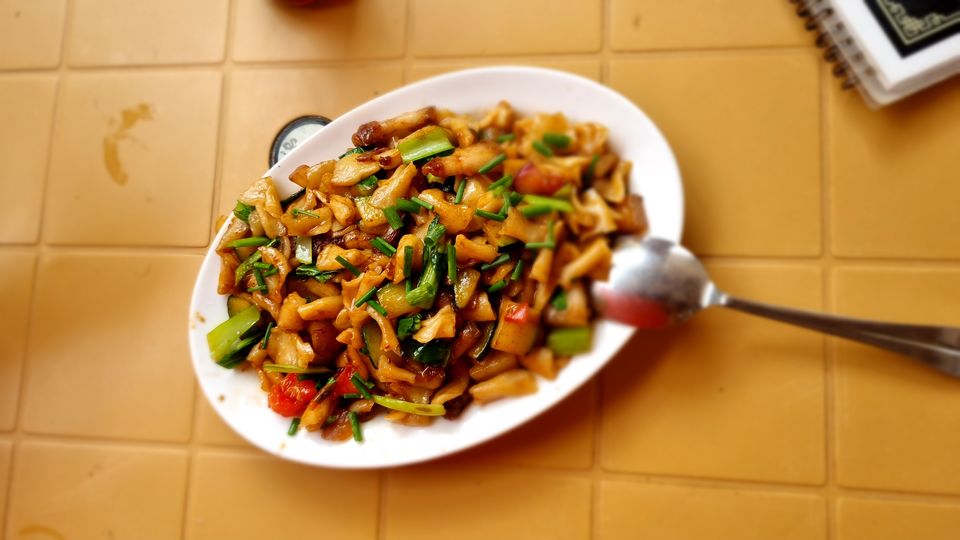 Would you believe me if I told you that I started to write this article earlier but had to stop? Well, you see before I attempted this within the 4 walls of my room and something felt amiss. So, I packed up my bag with a laptop and a doodle pad to walk into Bir's very own Tibetan Colony. Now that I'm seated at a little kiosk with prayer flags fluttering above my head and an aroma of thukpa engulfing my senses, I cannot wait to share my love for the absolutely scrumptious cuisine with you.
For long Bir hadn't been the belle of the ball as Mcleodganj and Dharamshala continued to be crowned in the popularity contests for getaways in Himachal Pradesh. However, the thrill of paragliding and the undeniable beauty of this little hamlet has led it to gain a name too. And, what comes with this increased fame? Crowds, of course. But they also bring with them stacks of restaurants lined one after the other. Now I'm not one to shy away from accepting that we all love a cozy cafe with fairy lights in place, our favourite bowl of pasta and a dessert that's decadently good.
Yet isn't exploring the food of a place akin to understanding the soul of a place? The heavy presence of Buddhism makes the Tibetan influence stark in this Himachali haven. A number of the dishes even have Chinese roots. Plus these delicacies in addition to teasing your foodie frenzy are also healthier and much kinder to your pockets! So, I urge you, my fellow traveller friend, to ditch the pizzas and garlic breads at least for long enough for your taste buds to be transported to Tibet. Here's 5 dishes that you must try during your trip to Bir:
1. Mokthuk
What is it? : "Swimming" momo or momos in a broth
Rough Cost: Rs.160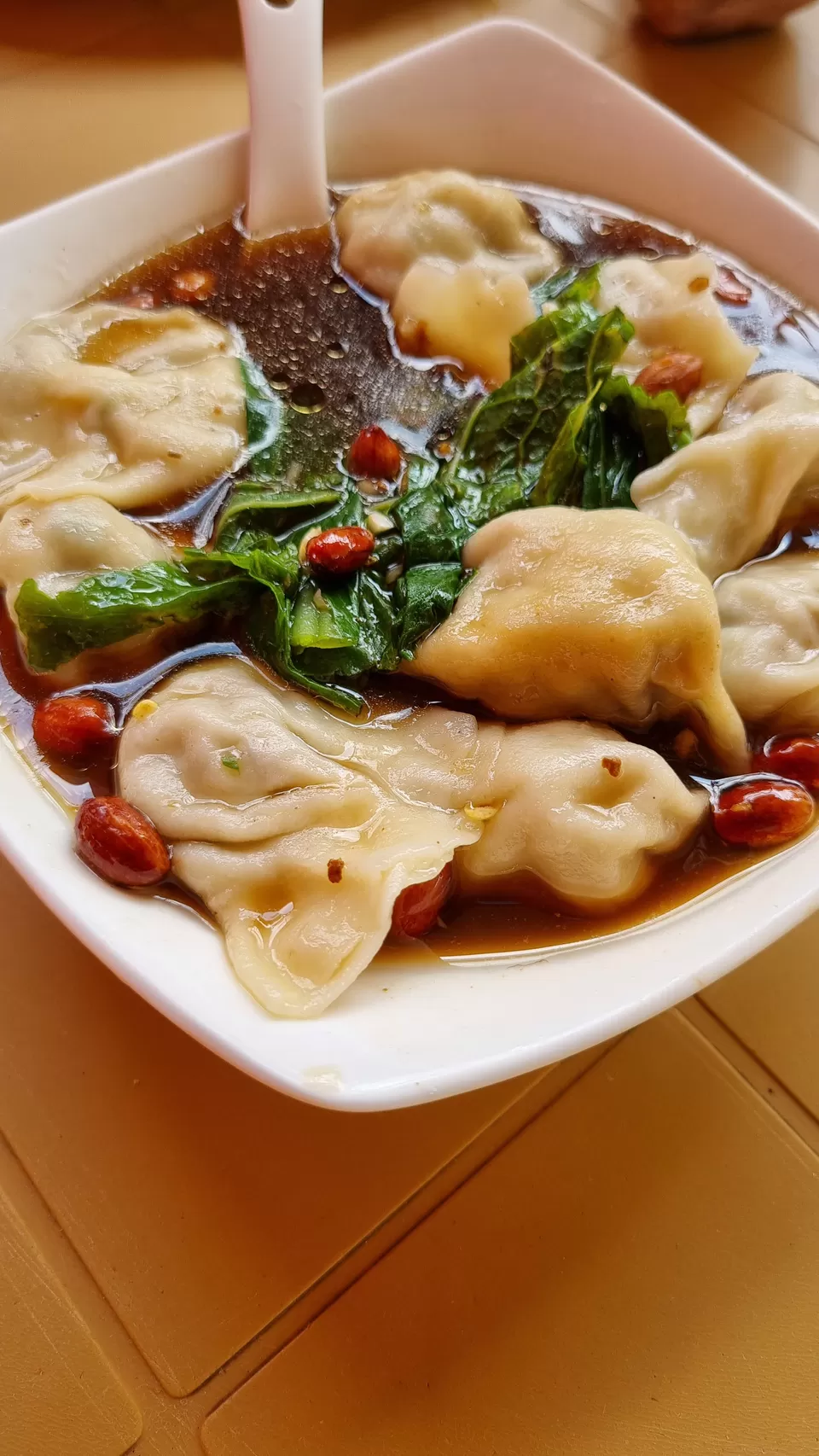 At a restaurant that barely communicates in English, the menu charmingly described a dish named mokthuk as 'swimming momo'. Since I hail from Delhi, of course, momos are a weak spot! Plus the description made me curious. What came in front of us was a flavourful bowl full of green leafy vegetables and a soup made with an array of spices. Added to this were the soft dumplings, so, every time your fork cuts into one, it lathers up with the liquid before touching your mouth.
2. Laphing
What is it?: Jelly noodle rolled with red chilli peppers
Rough Cost: Rs.30
Are you in a hurry? Or are you starting to feel a little broke between your vacay? Presenting to you the most popular Tibetan snack that's an easy and quick eat as well as a treat for your appetite and your bank account! Laphing is made with a flour base that gets a smooth and soft jelly noodle like consistency and then it is stuffed with chilli oil and garlic. The star ingredient is sichuan pepper, a Chinese pepper that's hot enough to wake you up out of any slumber. Laphing can be eaten both in its dry and also in its soupy form. I'd recommend you to try both variants as they send you happily clicking your tongue with every mouthful.
3. Hot Pot
What is it?: A flavoured gravy with multiple ingredients to dip and eat over time.
Rough Cost: Rs.800 - 1,400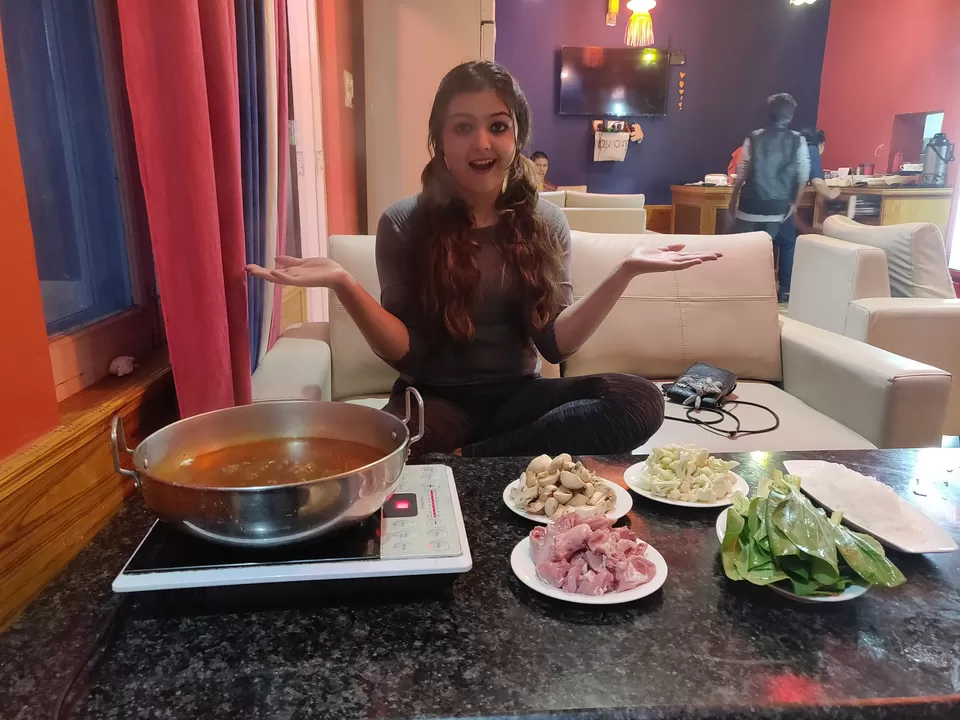 During my first visit to Bir, my friend and I were on a mission to try the most eccentric dishes. Lo behold because that's how we stumbled upon hot pot! In this, a hot plate is set up in front of you to place a vessel with a bubbling broth and then you are given a number of other ingredients that you are expected to dip into the broth and eat. These ingredients could be fresh vegetables, chunks of meat, etc. Popular across a number of Southeast Asian nations, the hot pot is a meal to be enjoyed on a Sunday afternoon when you are in no rush and can lounge about with 3-4 friends talking about everything under the Sun as you relish this meal. Huddle up and go dip, dip, hurray!
4. Shapta
What is it?: Stir-fried chilli meat
Rough Cost: Rs.150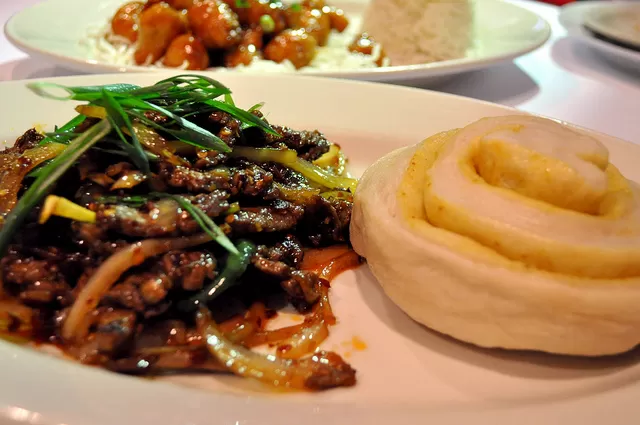 As Indians don't our taste buds love something crunchy and spicy? If you are nodding, then you are going to eagerly wish to dig into the shapta. It comprises of stir fried vegetables and meat. This could be chicken, mutton or beef and the veggies are championed by ginger and red chilli. Glazed with a spicy sauce and done to reach a crispy yet chunky state, this is something that you just cannot go wrong with. In most places it is accompanied by a fluffy friend, the Tibetan bread named tingmo which soothes the spice that starts to settle on your tongue.
5. Phing
What is it?: Glass noodle soup
Rough Cost: Rs.180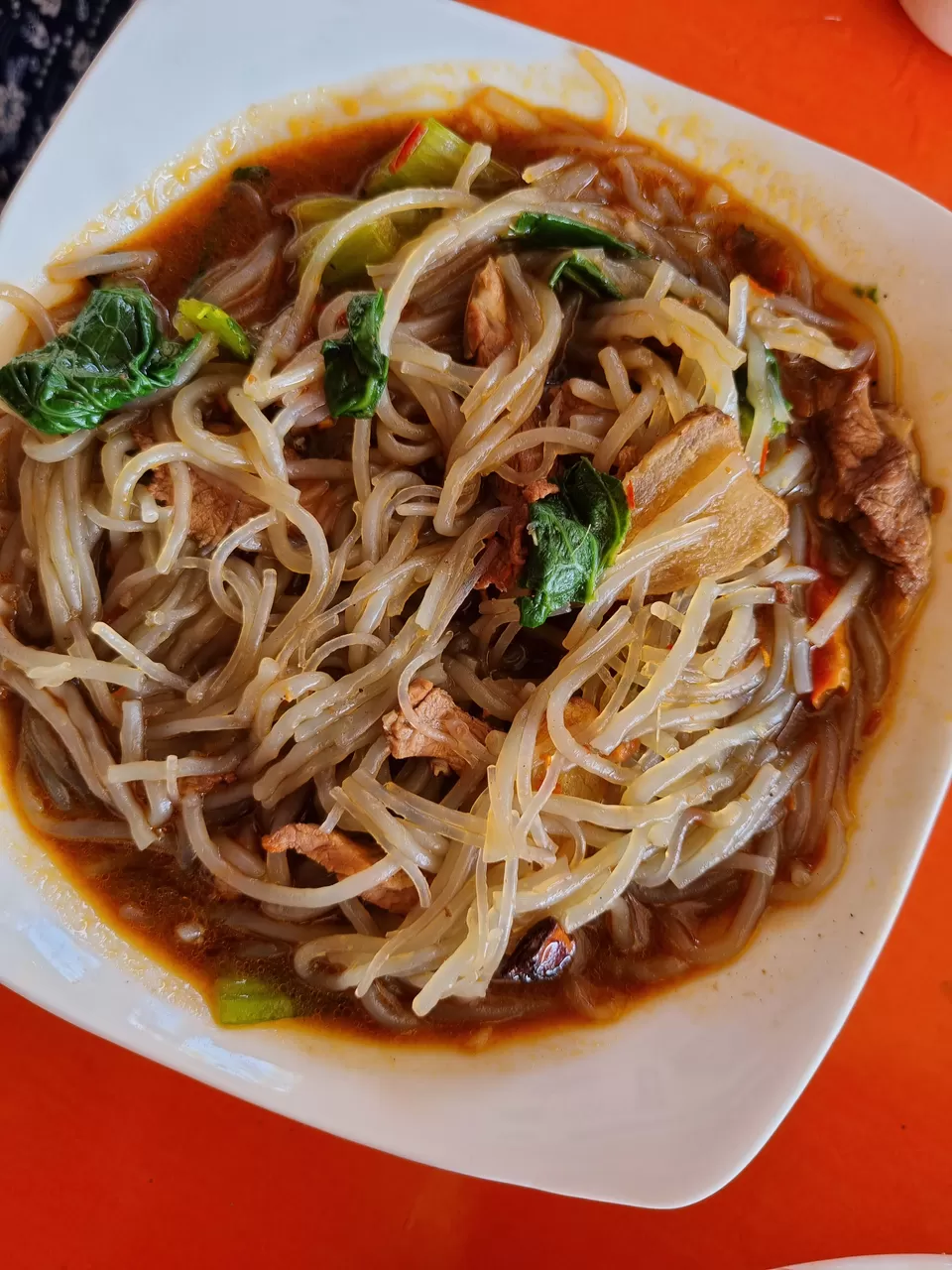 By this point if you have heard a lot of spice be mentioned and are starting to fret over your not so spice loving diet, then you'll be pleased to make an acquaintance with phing. The Tibetan cuisine loves their soups and noodle bowls and this is yet another one. However, what sets the phing apart is that it isn't as hot as the others. Moreover, this is made with glass noodles that are practically transparent, cooked with seasonal vegetables along with the age old goodness of spring onions and lastly, some shredded meat. The warm concoction shall satiate your cravings with its simple and fulfilling finesse.
Not To Forget The Classics!
While the above 5 are dishes that are not so commonly found in the busy cities and thus, ought to be tried whenever you walk into the green landscapes of Bir, your much loved Tibetan goodies including the likes of thukpa, thenthuk and momos can also be found in plentiful.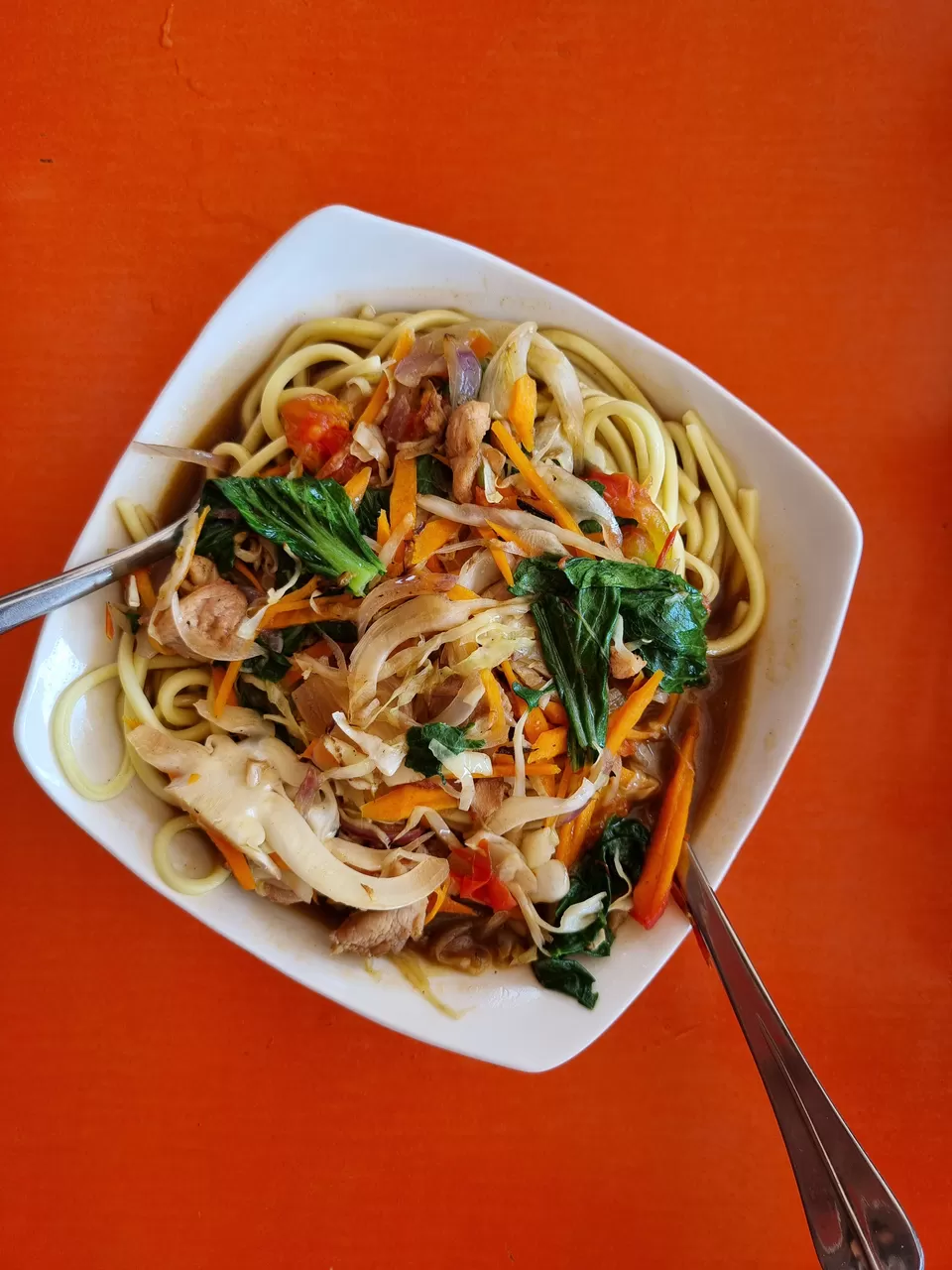 Where to eat?
Additionally, as you meander through the ever so occupied landing site area of Bir and wonder where you may lay your hands on the above, get set to walk away from the madness to these lesser known but highly recommended eateries:
Adruk Restaurant,
Old Himalayan Cafe,
Norgay Restauarnt
Zumkar Restaurant,
and Nyingma Kitchen.
Undoubtedly I am most partial towards Adruk, seeing as how I've eaten there thrice in a week! When you walk into any of the above establishments, you'll notice that not much has been done under the garb of ambiance. They aren't looking to be 'Instagram-worthy' spots unless you love getting snaps of food itself. And yet I feel that their simplicity is reflected in their food. It doesn't pretend to be something that it's not, it comes to you in its most authentic form and it is on you whether you wish to get to know it and sink into its appetizing experiences. So, grab a fork, gobble up and go mmm.