14 Days – 5 Countries – 10 Cities/towns
Total cost- 1 Lac 25 thousand ( 125000 )INR including all Bookings
Original Blog: https://ticketokplease.blogspot.com/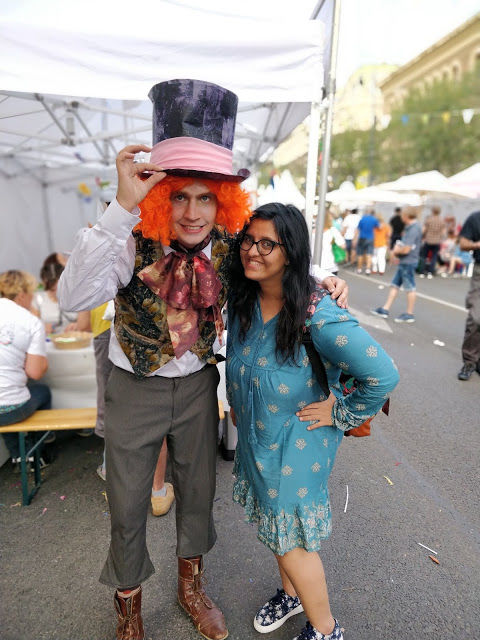 With planning of over 6 months (That's just because I love planning otherwise a few weekends is also good enough) and multiple research to find low cost yet decent flights + hotels, made this trip a fun experience without making hole in my pocket. PS: This was my first ever Solo Trip :)
Checklist for the kind of travel I preferred before I set off for planning one:
Things I was not interested at all which helped me maintaining my budget
As mentioned earlier, one of the focus of my itinerary was visiting small towns/villages, hence I made my itinerary that suited the same by making a point to include a neighboring small town in every city that I visited.
Places I visited in my Europe Trip - Paris, Budapest, Prague, Amsterdam and Belgium
Paris was a one day Visit as part of layover in between my flight from Mumbai to Budapest. Choose the flight intentionally due to the 22 hours transit in Paris which gave me a chance to visit Paris with no travel/stay cost.
Here starts my trip details with cost breakup and necessary tips:
Day 1: Flight from Mumbai to Budapest - Layover in Paris.
Post-midnight flight made me reach Paris by morning 8am approximately. (The main reason for choosing this flight as it gave me an entire day in Paris )
To my advantage, the day I landed in Paris (15 th Sept) turned out to be European Heritage weekend making most of the monuments free to visit and some which are not open all throughout the year were accessible. The disadvantage being, as it was free at most places, there were long queues, so mark your travel places accordingly.
I didn't book any accommodation to stay, reached Airport by midnight, slept at the airport itself to take early morning 6.50am flight to Budapest
Buy a day travel pass. I bought Zone 1 to 5 Day pass as it included trains/buses from Airport to main city and return. If airport travel is not in your agenda, then you can also go for Zone 1 - 3 pass which is little less costly
For cheaper food options, you can eat Crepes available on street stalls for around 3 Euros and more as per the chosen fillings.
Cost:
Flight cost - KLM Dutch Airline - 28000 INR
Zone 1 to 5 Day pass- 2500 INR
Food - 1100 INR
Day 2 to 4 – Budapest
The Cheapest place among all the places I visited in this trip. Stayed in a Hostel in an area called Astoria which is central and has good public transport connectivity.
Two days I spent in Budapest and the third day visited Szentendre, a neighboring small town from Budapest
I bought a two day Big Red Bus ( open sightseeing bus ) ticket with a package of 24 hours Budapest card. As per my experience, the Big Red Bus is useful only if you want to visit only the touristy places. If you want to explore the city on your own which is more fun, then avoid the same.
Budapest card is quite useful as it
gives free access to all public transport, thermal bath (Lukacs), electric car ride in Budapest castle which is otherwise a long walk or charges extra money to take you on the hill top where its situated
Link to buy Budapest Card: http://budapestcards.com/
If you don't buy Budapest card then you can buy a ticket only for the electric car for around 6 - 8 Euro
Try local food like Langos, Pretzel and other bakery products. Infact, there was a small Bakery at the train station of Astoria, which became my go to joint for breakfast. They had puffs, sandwiches, muffins, deserts at low cost, as minimum as 50 INR for one item.
I took a night bus to Prague which is approx. 7 hours from Budapest. Booked in advance on Flixbus which is quite comfortable with good frequency.
Big Red Bus + Budapest Card - 35 Euro - approx. 3000Rs
3 days other travel cost including tickets to Szentendre - 1000 INR
Flixbus ticket cost from Budapest to Prague - 1600 INR
Hostel cost for 3 days - 2600 INR.
Day 5 to 7 – Prague
Prague is cheap place too but slightly higher than Budapest. Stayed at a hostel in Prague.
Again in Prague too, I spent two days in the main city of Prague and one day visited Cesky Krumlov, a neighboring small town.
Buy a one-day travel pass which gives you access to all public transport. Its much easier and cost effective rather than spending time, money and energy to keep buying tickets at every station
You can also buy a one-hour ticket which is obviously cheaper and needs you to board the transport within an hour.
As Cesky Krumlov is around 3 and half hours from Prague with less direct trains frequency, I had booked the train and bus ticket from India itself instead of relying on it for the last minute.
One local food which you will find everywhere is Trdelnik, which is kind of cake with different fillings. It is quite heavy to fill you up for most hours of the day. Starts from approx. 3 Euro and up depending on the filling you choose. Some places you might find cheaper than 3 Euros too.
To my next destination which was Amsterdam, though there are other faster and more convenient mode of transport, I choose to travel by bus (again Flixbus) which took almost 14 hours but was the cheapest option. Choose a night bus so most of the time went in sleeping. Started off at around 11.30pm and reached Amsterdam around 1.30pm.
Cost:
Hostel cost of 3 Nights - 2550 INR
Train ticket from Prague to Cesky Krumlov - 600 INR
Bus Ticket from Cesly Krumlov back to Prague - 500 INR
Flixbus - Prague to Amsterdam - 3400 INR
Food cost of 3 days - 2000 INR
One day Pass cost -110 CZK which is approx. 365 INR ( I bought one day pass for two days and the day I visited Cesky Krumlov, I bought regular ticket as I didn't have much travel in Prague so it didn't make sense to buy the whole day pass )
Other small internal travel - 250 INR
Day 8 to 11 – Amsterdam
I spend four days in Amsterdam, technically 3 and half as I reached Amsterdam by afternoon. Out of these 4, two days I made one day trips. First to Zaanse Schans and other to Haarlem.
Stayed in a Hostel and binged on fries. Opted for cycling which was my prime reason to choose Amsterdam.
As mentioned, I opted for cycling and hence I marked all tourist places on my map, rented a cycle and visited all in a day.
Clarification - I didn't pay for any museums, I visited the free areas and came out as I am not much of a art person.
Anne Frank house needs lot of advance bookings which you can do it online before going. So anyone interested, please go for it.
Amsterdam is only walking place if not for cycling. Didn't buy any day pass or didn't go in any public transport except for entering or exiting the main city. In inner Amsterdam, its only walking
You can munch of lot of fries in Amsterdam. For a small pack too, the quantity is good enough for a single person. Otherwise there are lot of Pizza and burger places too.
Stroop waffles is a specialty of Amsterdam, you get it as cheap as 1 Euro for 4 Stroop waffles. Its quite addictive I must day
Amsterdam is a city with Canals and hence Canal cruise is an important part of their tourist experience. Though I opted for it but didn't quite enjoy it. It was bit boring, I slept half way :P
Again I choose Flixbus to go to my next destination - Belgium (Brussels) which is approx. 3 and half hours from Amsterdam.
Cost:
Hostel - Hans Brinker Hostel for four nights - 9500 INR
Cycle rent - 12 Euros for a day - approx. 1000 INR ( I rented for two days- once in Amsterdam and once in Haarlem )
Food for 4 days - 3500 INR
Canal Cruise - Ride for a n hour - 11 Euro - approx. 950 INR
Other internal travel - Approx 1500 INR
Flixbus from Amsterdam to Brussels - 1100 INR
Day 12 and 13 – Belgium
Though Belgium is quite big, I opted for Brussels as the center point to stay. My Main reason to visit Brussels was to travel to Bruges and then take a flight to Newcastle for family wedding.
Though my total cost mentioned in the start of the blog is irrespective of Newcastle as that was a family trip.
Stayed in an Airbnb in Brussels with a family.
Brussels is quite small, you can finish it in a day so half a day was enough. No need for a day pass or anything. Just buy tickets to the Central station and that will do your work to visit main attractions
Visited Bruges the next day which is all a walking place so no traveling cost except for the ticket to reach Bruges
Canal Cruise in Bruges is much more beautiful than Amsterdam that should be on your list for sure.
Fries and Waffles are available in every next shop. It starts from 3 Euro and goes up depending on your toppings and sauce.
Cost:
Internal travel cost- Approx 1500 INR
Return ticket to Bruges -Approx 2500 INR
Canal Cruise in Bruges - 8 Euro - Approx 700 INR
Airbnb Cost for two nights - 2800 INR
Food for two days - Approx 2500 INR
Flight ticket from Brussels to Newcastle - 10200 INR ( Sharing this just for information, it might not be useful for you readers to plan a trip )
I visited Newcastle and London for a family wedding, it was almost zero cost as I stayed with family. Attended the wedding with no time for sightseeing. Returned back from London in a very cheap deal flight which had one hour halt in Zurich.
This was kind of steal deal as I had booked in much in advance in a non-refundable flight. For travelling in September, booked this flight in May. Though for UK visa, it is mentioned that they advise not to make any bookings before Visa but I took the risk considering the price was low.
Flight from London to Mumbai - Swiss International Airline - 17800 INR
Schengen Visa - Applied from Netherlands Embassy as my maximum stay was in Amsterdam
Cost for Visa along with VFS Service fee - 6047 INR
Matrix Simcard for 15 days with unlimited Data and 100 minutes of calling - 1780 INR (This was useless as the data hardly worked )
Other miscellaneous expenses - 8000 to 10000 which are subjective like tips, medicals, grocery, chocolate buying, currency exchange commission etc.
You can take cash and Forex Card ( Opt for Axis Bank Forex Card for best rates). You can buy Forex Card of any Bank even without having an account in the respective bank. You can either contact a travel agent or the bank directly.
Forex Card allows you to withdraw money from ATM in multiple currencies and also use to swipe for any transactions while buying any item/tickets/shopping during your trip.
I gave a pat on my back after coming back from my trip and checking the expenses. Proudly sharing the information with all so that its helpful for people like me who want to visit Europe on a budget trip.
With no major bank balance backing, I saved for over 6-8 months to make this trip happen. Kept small amount aside every month from my salary into a different account in the name of trip fund, buying flight tickets on EMI and taking out little bit from my earlier savings helped me achieve to make the trip is the set budget.
Will share details of the places I visited and tips for my same in my next blog. Till then start planning...a long due trip might just be a booking away.