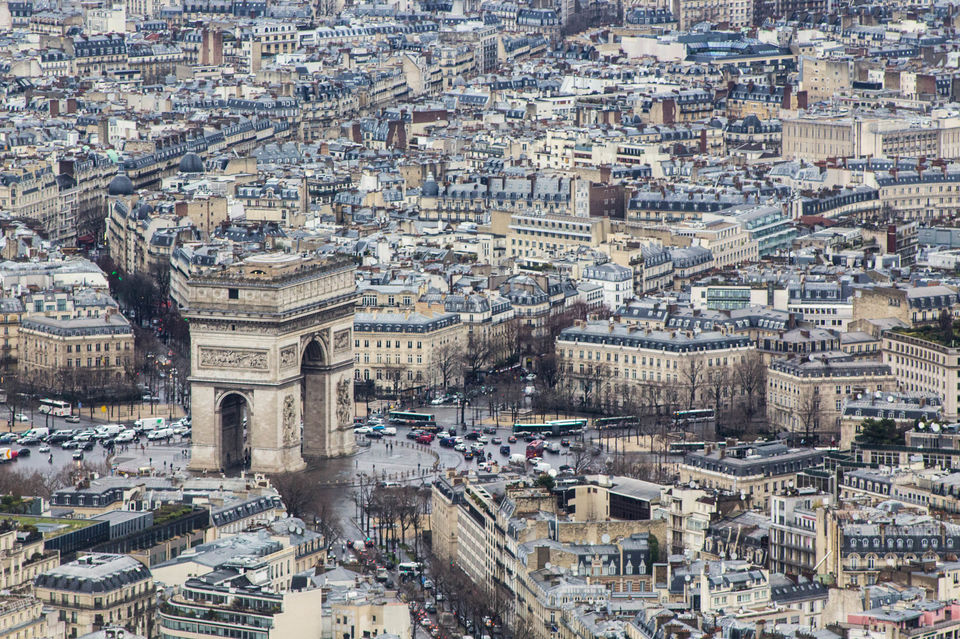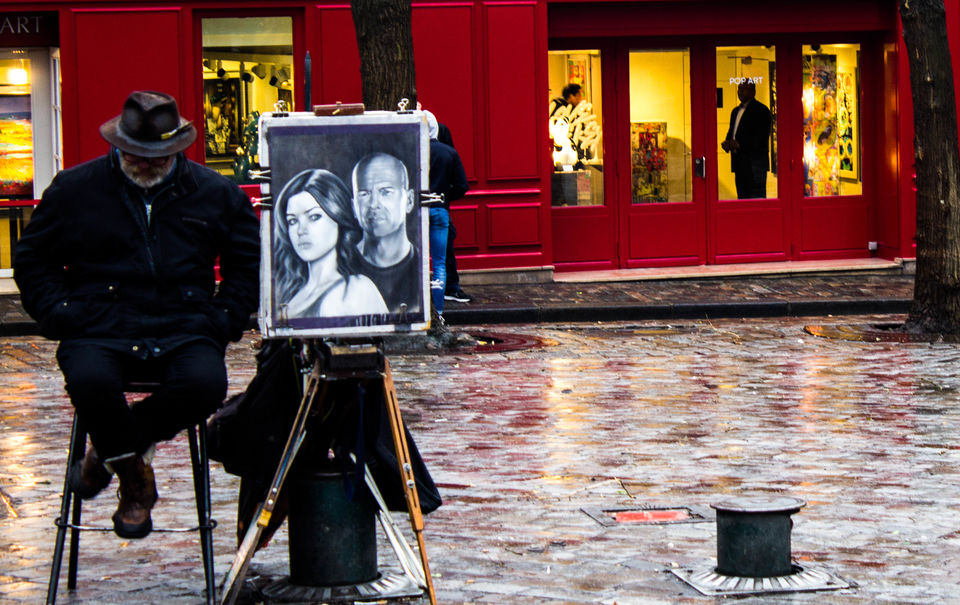 So it was December 2016, and much of the year had flashed by at an alarming rate with no trips or vacations. It was time to change this scheme of things and bring in the New Year with a bang - aka a 3 week jaunt across Western Europe.
And so the planning started, countless hours spend surfing the internet, reading hundreds of blogs, searching for airline deals etc. etc. took up 02 months of time, before it was finally time to pack my bags and leave, not to mention the tedious process of applying for a Schengen visa. I know countless travellers who wince at the thought of travelling to Europe, especially the western regions, because of presumed prohibitively high expenses of travel. This blog is going to be my earnest attempt to change that for travellers from India looking to backpack across Europe. I did an 18 day trip starting from Paris and ending in Amsterdam, seeing most of Belgium and much of Netherlands along the way, and i did it in just over a lakh of rupees including my flights and visa. Read on to know the how, when and where of it.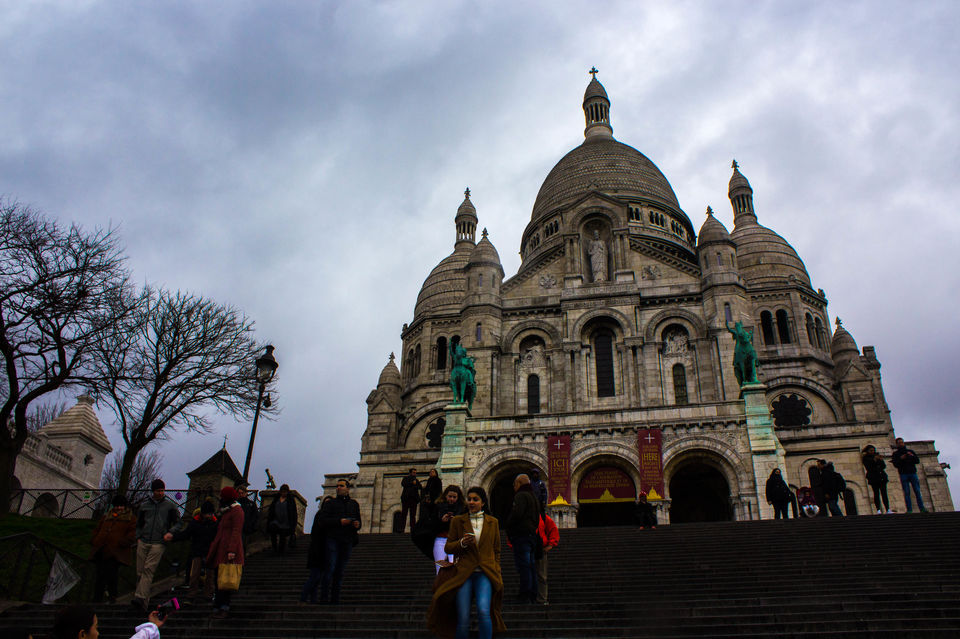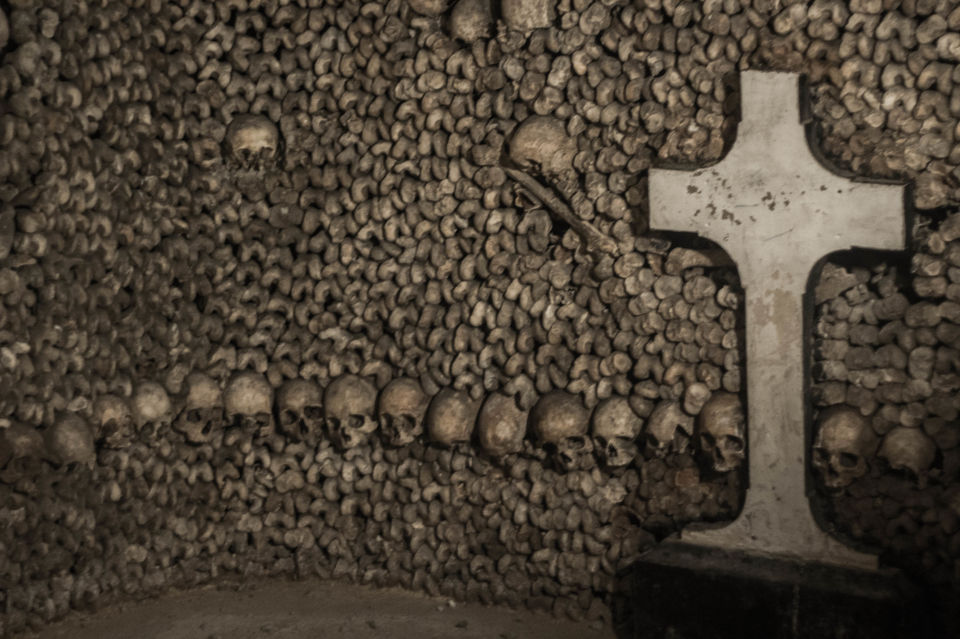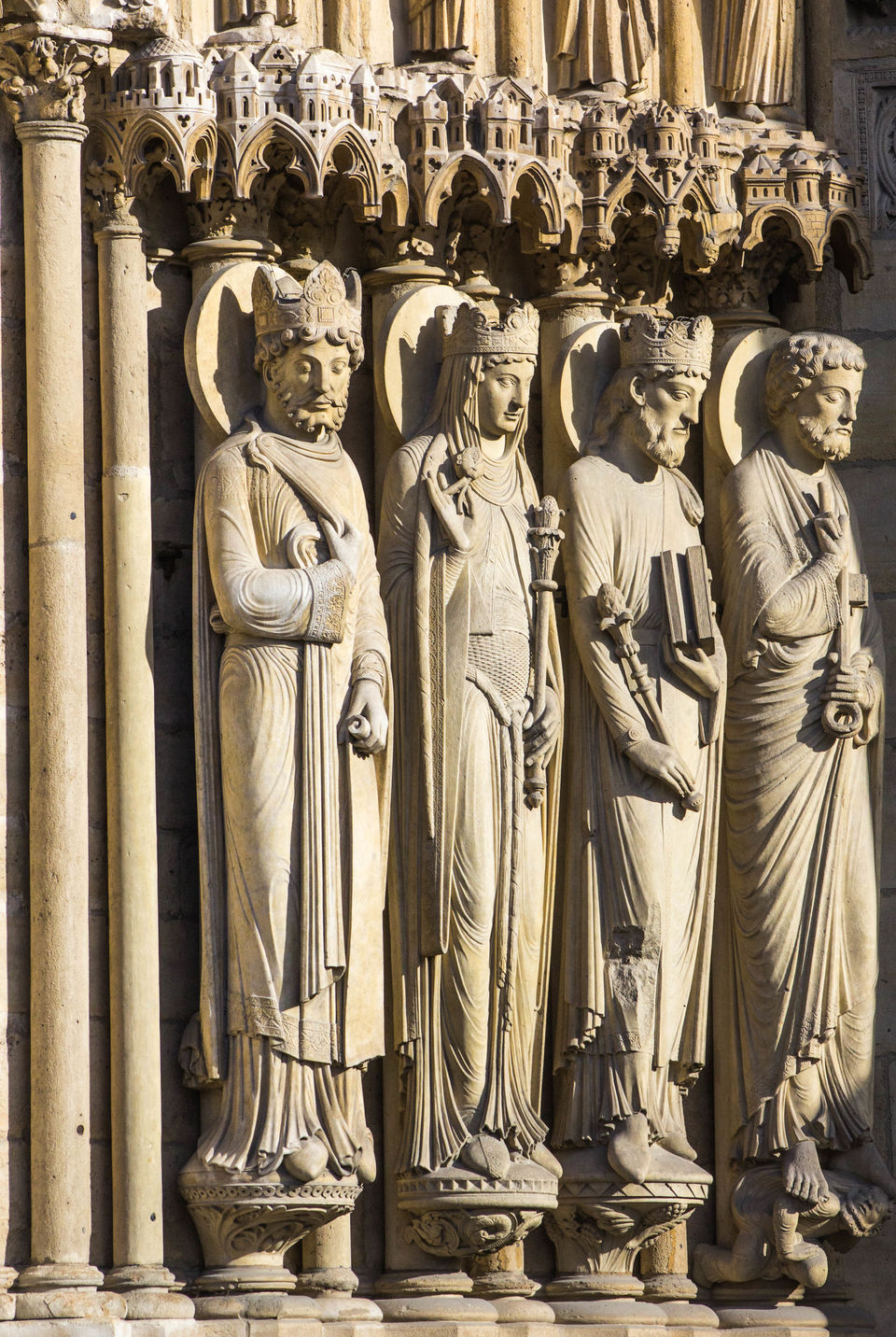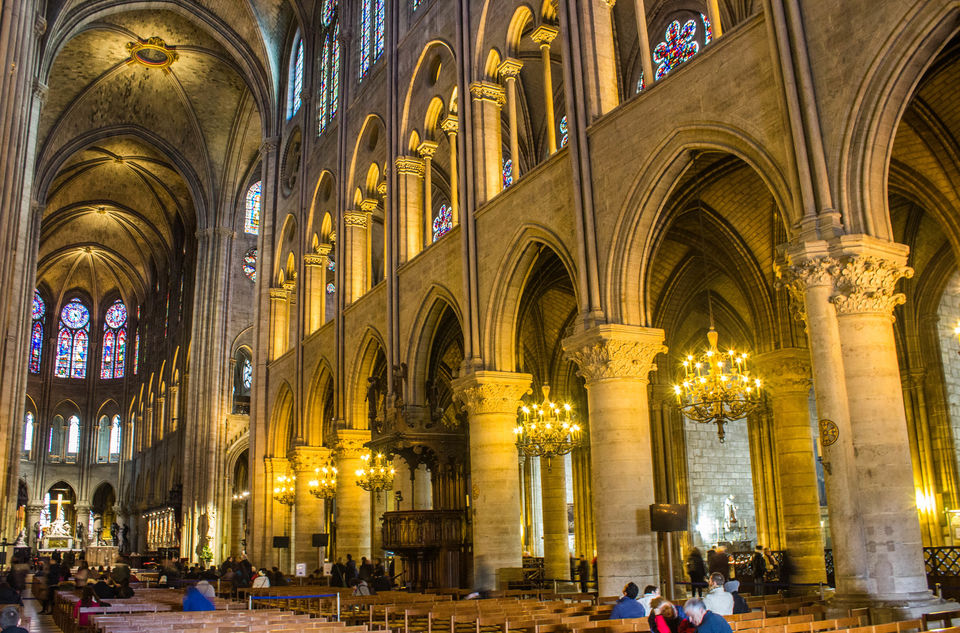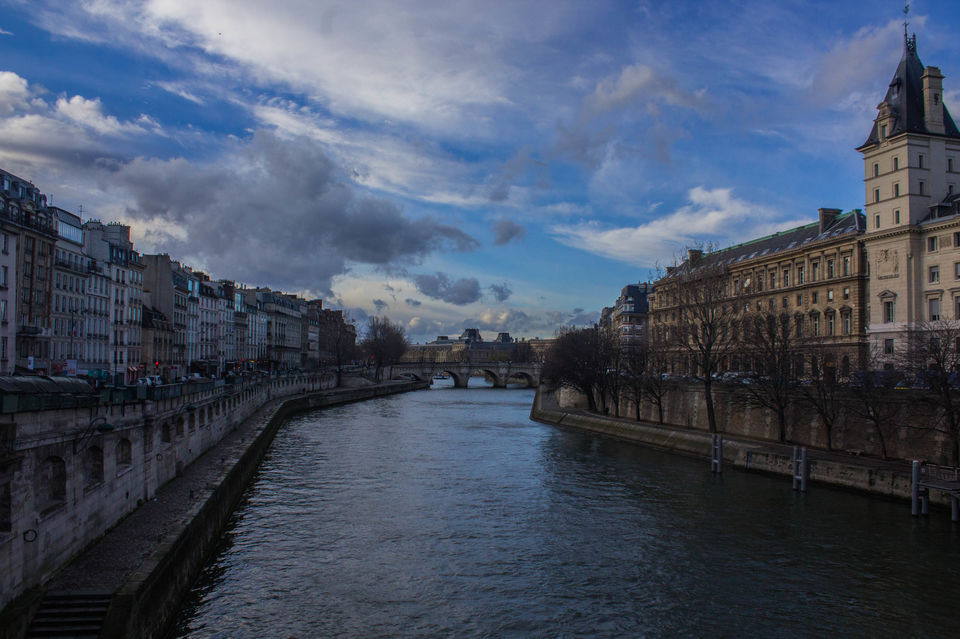 I landed early morning in Paris on the 27th of Feb 2017, i had arranged for a host using Couch surfing for my 4 days in Paris and my plan was to head straight to his home in Montmartre Arrondissement. Getting out of the airport and taking the metro was a fairly straightforward process and i soon found myself at Place De Clichy - this was a small metro station very pretty and cute, near to my host's home. Finding the apartment was a cinch, and i was soon with my new friends in their living room gorging on the quintessential baguette, cheese and tea, breakfast a la French style. Because this was a Monday, my hosts had to go to work, they very graciously offered me their apartment keys and i rested for the better part of the day. Towards early afternoon, after a good rest and a hot shower, i found myself on the streets of Paris, all alone and excited, eager to savor my first evening in Europe. Since i was in Montmartre district, i first walked to the famous Moulin Rouge, the prohibitively expensive ticket prices, prompted me to take a quick picture and move on, thereafter i walked myself to Sacre Coeur - this basilica, situated on top of the hill, affords amazing panoramic views of the city, and is an impressive monument, the history of which entwines itself with the history of France right from the time of crusades. Inside the cathedral, entry to which is free by the way, is super impressive architecture and very peaceful atmosphere, and it must have been a monumental feat for the engineers of 12th century to create such a spectacular structure back in those days.
Soon all the walking made me thirsty, and smells of coffee from a nearby outdoor cafe prompted me to sit and have my first experience of the laid back Parisian way of life, in fact this outdoor cafe culture coupled with people watching, is one of my favorite experiences and something i long to do again & again. There's never a shortage of cafe's to relax across Europe , and they range from gamut of cheap functional ones to the more expensive & fancy ones , move out of the regular tourist areas and the prices consistently drop. ( CHEAP TIP : It is cheaper to have your coffee / drink at the bar , then to have it down at the table , also if you are having it at the bar , then just rounding of the bill will do , sitting at table , then expect to tip the waiters ) . Towards evening , i got lost on the streets of Paris , a happy and convenient mistake , though i had to walk quite a lot , it was good i packed a sturdy pair of shoes and good winter jackets. (Europe is cold in February). Most of Paris is divided into arrondissements -and many of them have this characteristic feeling of a self-contained small village, and it almost doesn't feel like you are in one of the largest metropolis on the planet, this is felt was the best part of living in Paris.
The next couple of days i roamed across the city , purchased a carnet of 10 metro tickets for 14.5 Euros , and travelled across the length & breadth of Paris using the metro - for backpackers , i suppose there is no other convenient and cheaper way of exploring Paris , most of the sights are walking distance from the stations , plus the stations themselves are quirky , artisty & museum like for the most part, and you are never bored , as there's plenty of musicians / street artists performing on the metro / platforms etc. to keep you entertained for free. One of the most gruesome sites I visited was the Catacombs in Paris – these are a series of underground tunnels that hold the remains of more than 5 million people, it was an eerie experience walking the dimly lit tunnels stacked full of bones, skulls and other human remains arranged in a macabre fashion, and even more eerie was the fact that these catacombs were forgotten about, until they started to be used as a novel venue for private concerts and music events early in the 19th century. The Louvre museum was another highlight of Paris, though most people come for the Mona Lisa – which frankly is quite a letdown, the museum has much else to offer, and I spent a happy evening exploring the various galleries and sections, it is said to see all that the Louvre has to offer, one would need a 100 days at least , well for my sake , I spent an afternoon and was quite content , as most other travellers will be , besides museums do tend to get boring after a while , and the Louvre is no different. These few days that I spent exploring the streets and sights of Paris are some of my happiest trip memories, the cafes I visited, places where I ate, and the Parisians I interacted with all left an indelible impression on my mind, perhaps it is because I already had a soft corner for Paris in my heart, or maybe it's because the city charmed me with its easy going & relaxed attitude, whatever it maybe, I shall soon find a way to return.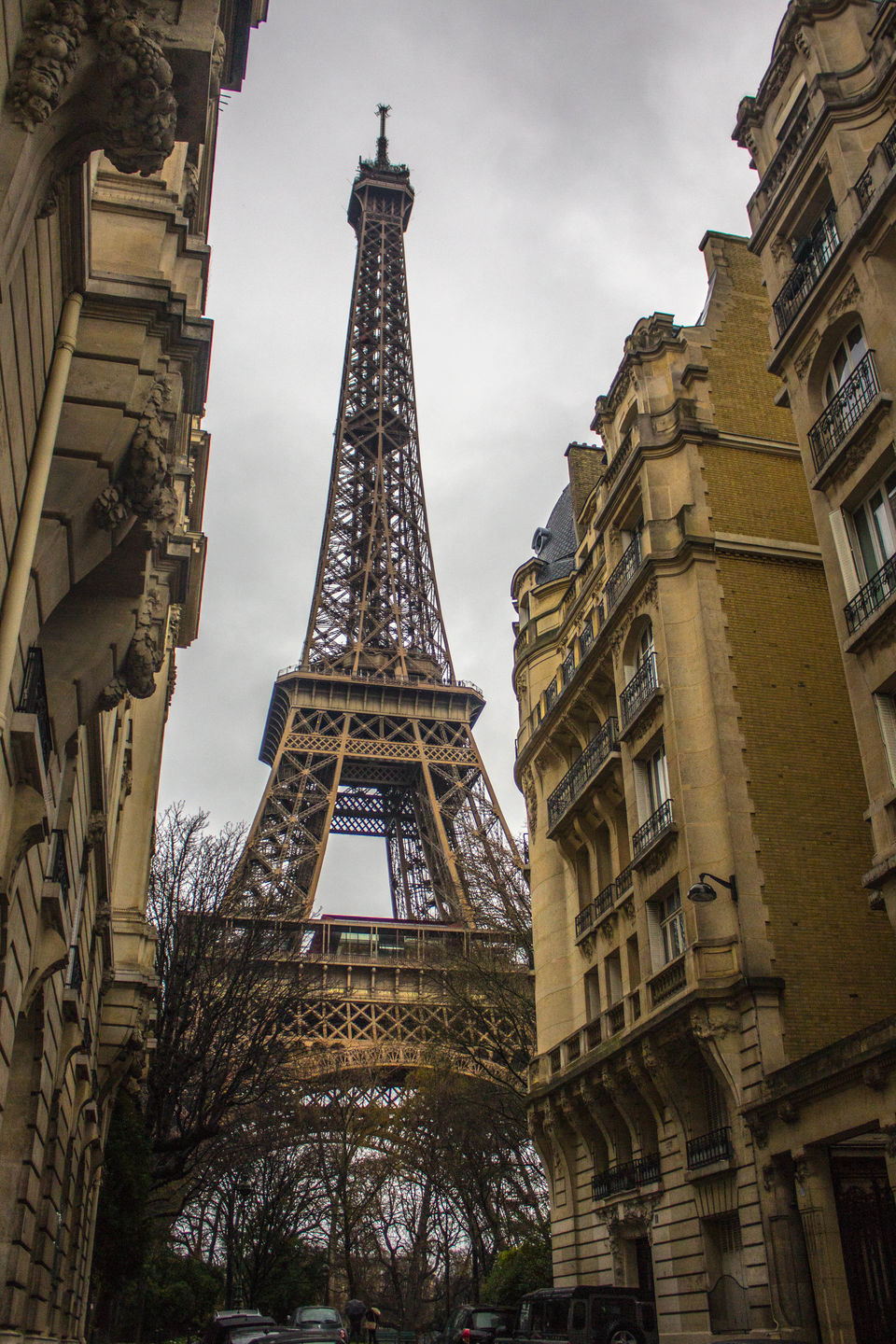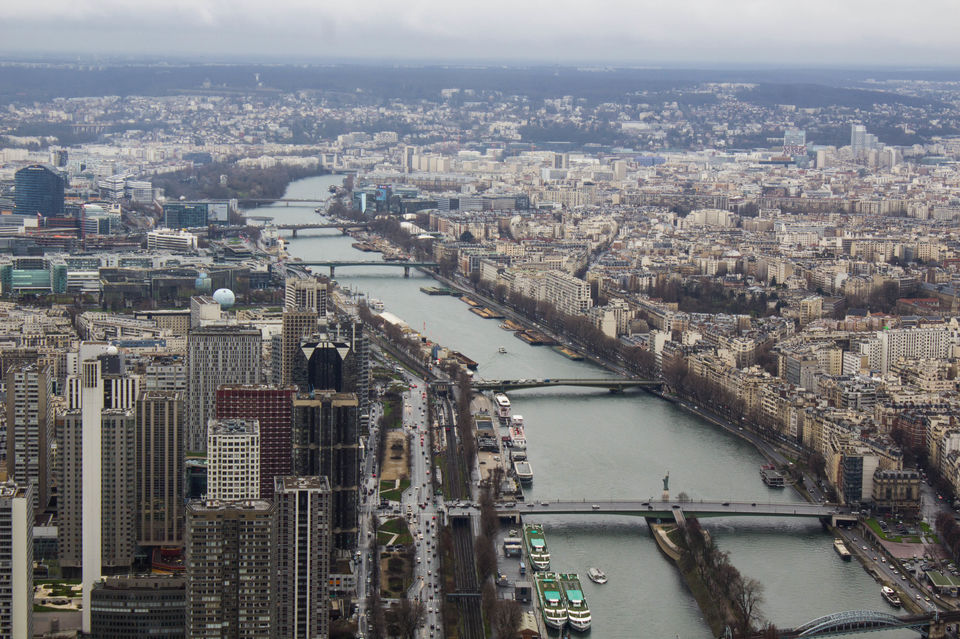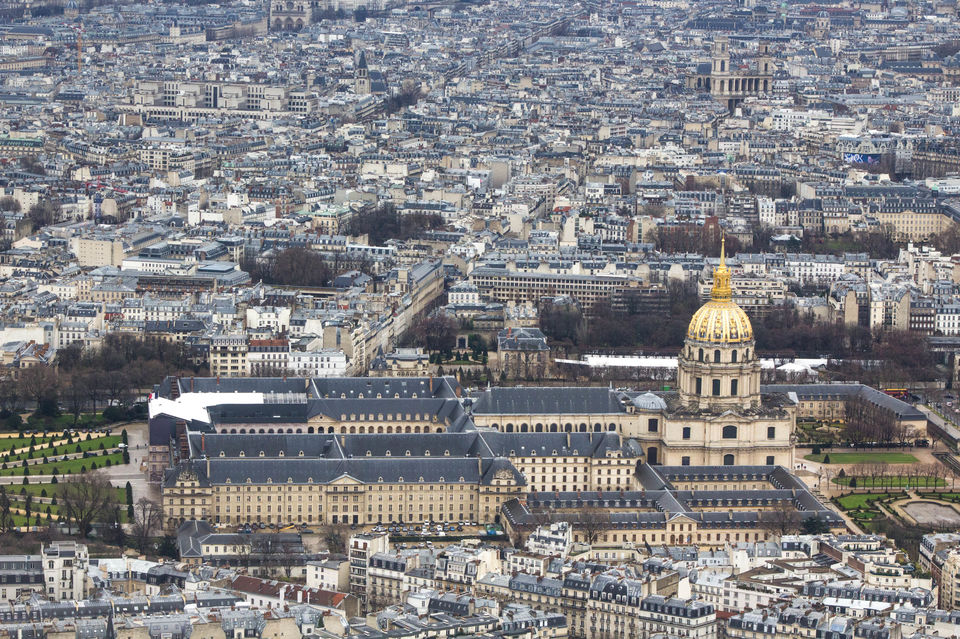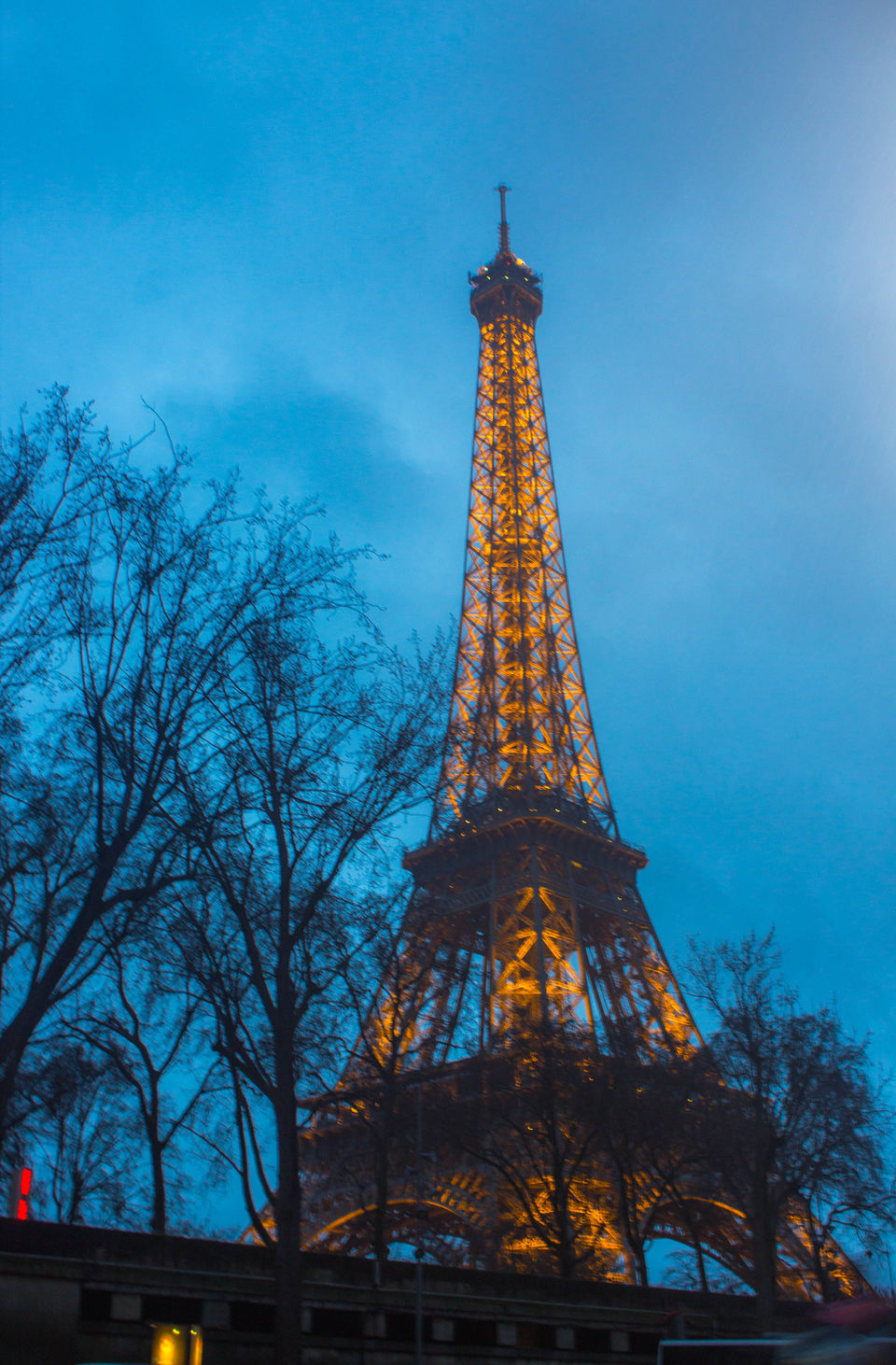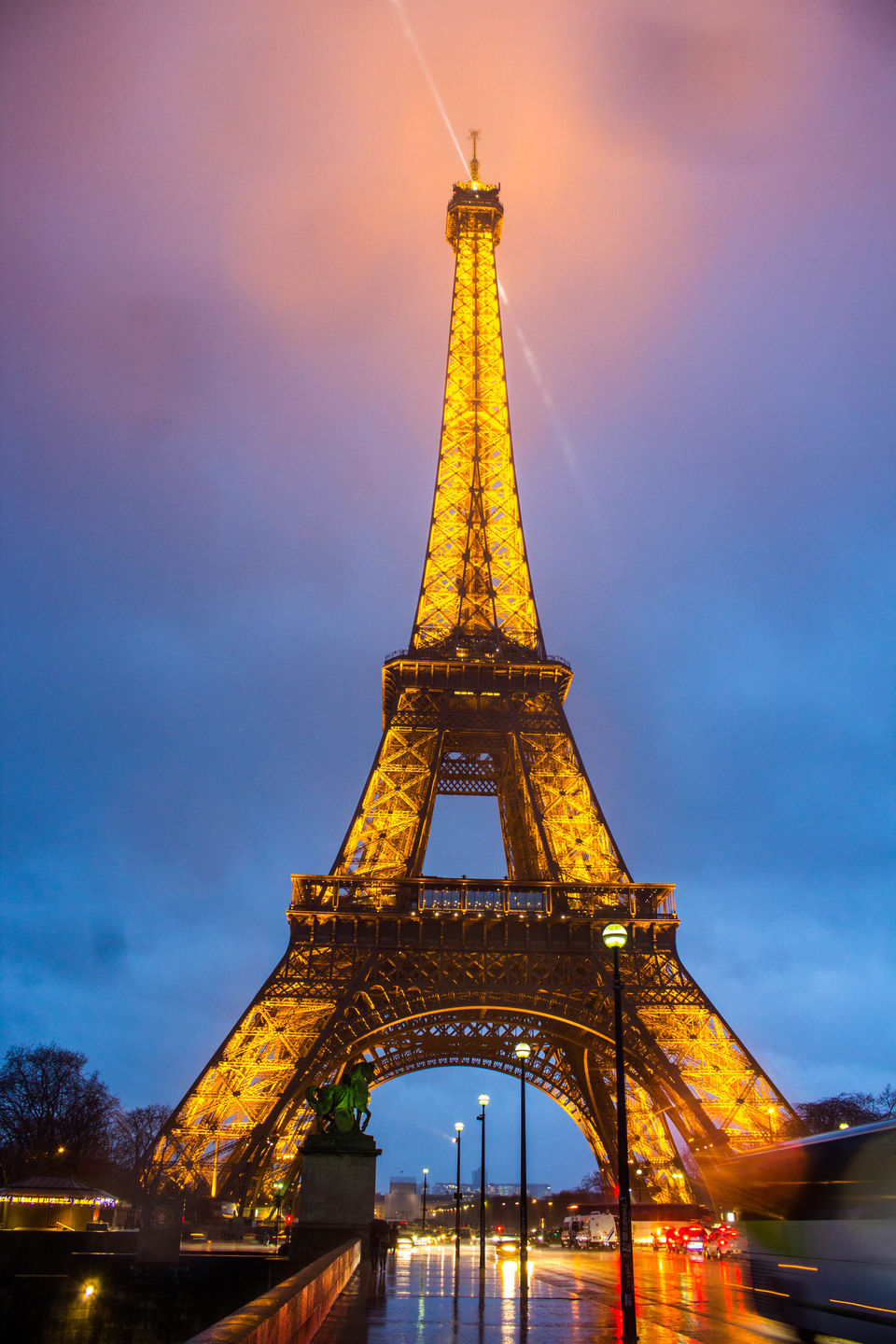 My last evening in the city was spent ascending the Eiffel, as I wanted to take some panoramic shots of the city from a vantage point. Named after the engineer who built it, it's now symbol of France worldwide, and indeed most visitors find themselves at the tower and surrounding gardens during some point of their trip, here a picnic lunch with some wine in nearby gardens is an experience that locals and travellers alike enjoy. Though it is full of tourists & locals, it is something that cannot be missed while in Paris. Later at night, I took my hosts out for a round of drinks , all these days interacting with them I realized how different their social structure & way of thinking was, in terms of societal pressure , marriage , religion and way of life , this inspite of the fact that they lead a pretty routine life , like we do India , with the difference being that there is a lot less poverty , a better standard of living , this because the population is controlled & much better educated and not like in India. My hosts were a gay couple, not judging them, however this was their choice and it was respected in their society without any social stigma, they lived together, loved each other, and were as good a companion as you'd hope to have in any relationship. Though this was a culture shock for me, i soon saw plenty such examples across the length of my trip and i realized that though this was unconventional to me, from where we come, not that it matters, it was widely accepted and, certainly not like the many non -issues we grapple with in india, eg - inter caste marriage, beef ban, cow vigilance, Babri masjid etc. etc. In spite of all their differences, most of which would be looked down upon in our country, these people still lived in comparative harmony and peace. A lesson we'd be wise to learn.
Next morning I took a bus to Brussels – I was sad to leave, the company of my hosts and the familiar atmosphere of a home had given me plenty of cushion and freedom to explore leisurely at my own pace, and I knew that the remaining trip would present more challenges. The 4 hour long journey was quite uneventful and boring. The metro trip in Brussels was a bit confusing, but the guards at the station helped me out, however finding my hostel, that I booked online using the bus Wi-Fi while on my way to Brussels turned out to be quite a painful exercise, lugging across a heavy backpack, I walked aimlessly for the better part of an hour, before I could finally locate my hostel, which surprisingly was just a few hundred feet from the metro station. Anyways, I soon found myself in the company of Javier – a Spanish student visiting Brussels to learn English at my hostel, and we soon found ourselves at a local bar bingeing on 1 euro Beers and fervently cheering a football match, soon it was midnight and we realized we had bar hopped one bar to many, and we walked back to our hostel in a drunken stupor. Morning came with a hangover, and a search near the hostel led me to a Moroccan restaurant, a large breakfast of eggs & bread along with mint tea (this is a great hangover cure) cost me all of 6 Euros and this restaurant along with it friendly Moroccan waiters soon became my go to place for meals, as it had food that suites my taste, the prices were pretty cheap and the mint tea was delicious. It's also worth mentioning that these guys were big fans of Amitabh Bachhan and we naturally bonded over his movie dialogues and songs, by the end of my stay these guys became my friends, and as an Indian, apparently it was very novel for them to pose with me for pictures, so between them, their friends, and their friends relative and their friends I must have posed for at least a hundred pictures. The hostel I stayed in, was in a neighborhood that was full of Moroccan, Algiers and Pakistani expats, most of them ran electronic shops and provision stores, this was also quite nearby to Central Brussels and Grand Place – this is one of the prettiest city squares that I came across in my travels, there are many cafes here and the beautifully restored buildings are a sight to behold in the evening, when the entire square is lit up beautifully , even the many tiny little cobblestone lanes that lead up to the square are quite characterful, each full of shops selling chocolates , curios & exquisite laceworks. It almost feels like walking in medieval times, only if u ignores the many prominent neon Wi-Fi signs and presence of vehicles. The most fun I had in Brussels was sampling free chocolates at many of the Godiva stores that are spread across the city; I stuffed myself with enough free chocolate for that day to save my lunch money, I am not proud of it, but then Europe is expensive and any chance to save money while savoring delicious chocolate at the same time cannot be missed.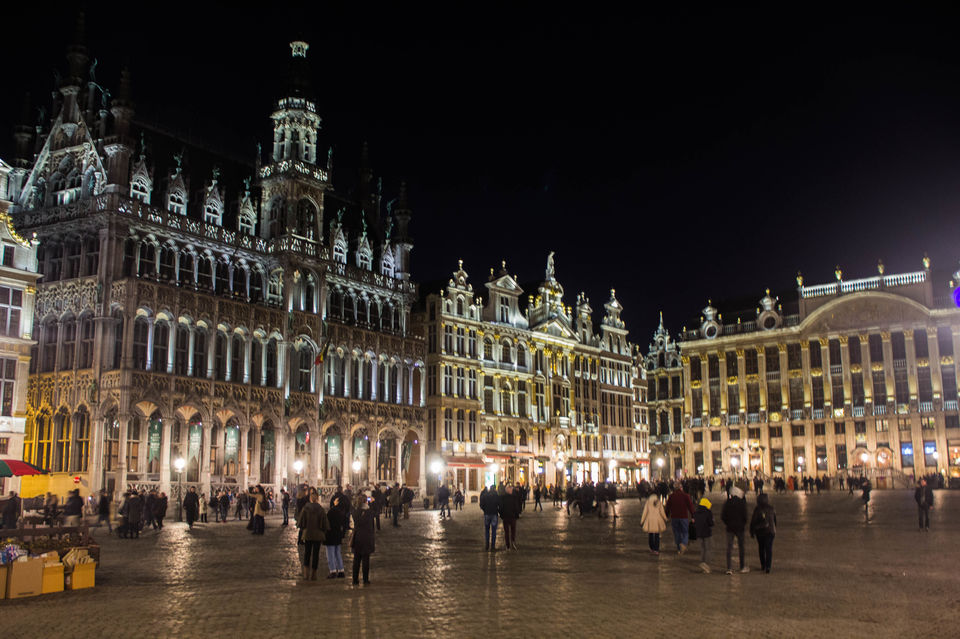 Besides the Grand place, and the meals at Moroccan restaurant, there was nothing much that Brussels could offer me, so it was time for me to move on, and at a whim I decided to visit Ghent – just a short half hour train ride away, this is a university town, with a very well preserved town Centre and charming tram rides. I booked myself at one of the best hostels – Hostel Uppelink – this is a 10th century building remodeled and rebuilt through centuries, the hostel opened only in 2012 – the dorm that I booked had great views and the hostel was itself finely refurbished with all creature comforts, smack bang in the middle of city center, a free breakfast , functional kitchen and cheap hostel bar all added up to the decision of staying here , though I could only spend a night here , as I explored most of the small town on foot on my first evening here and decided that I would leave first thing in the morning.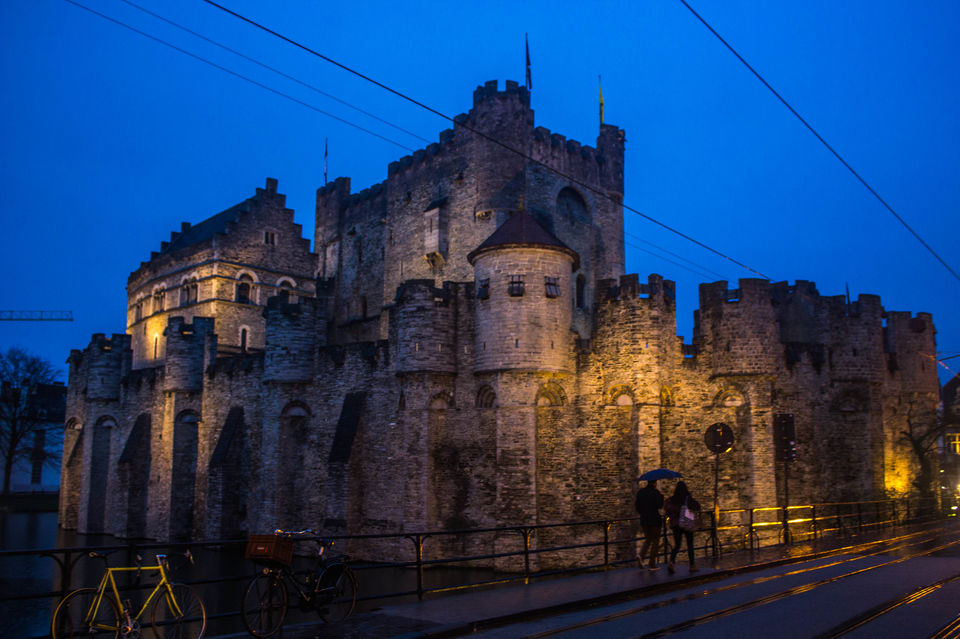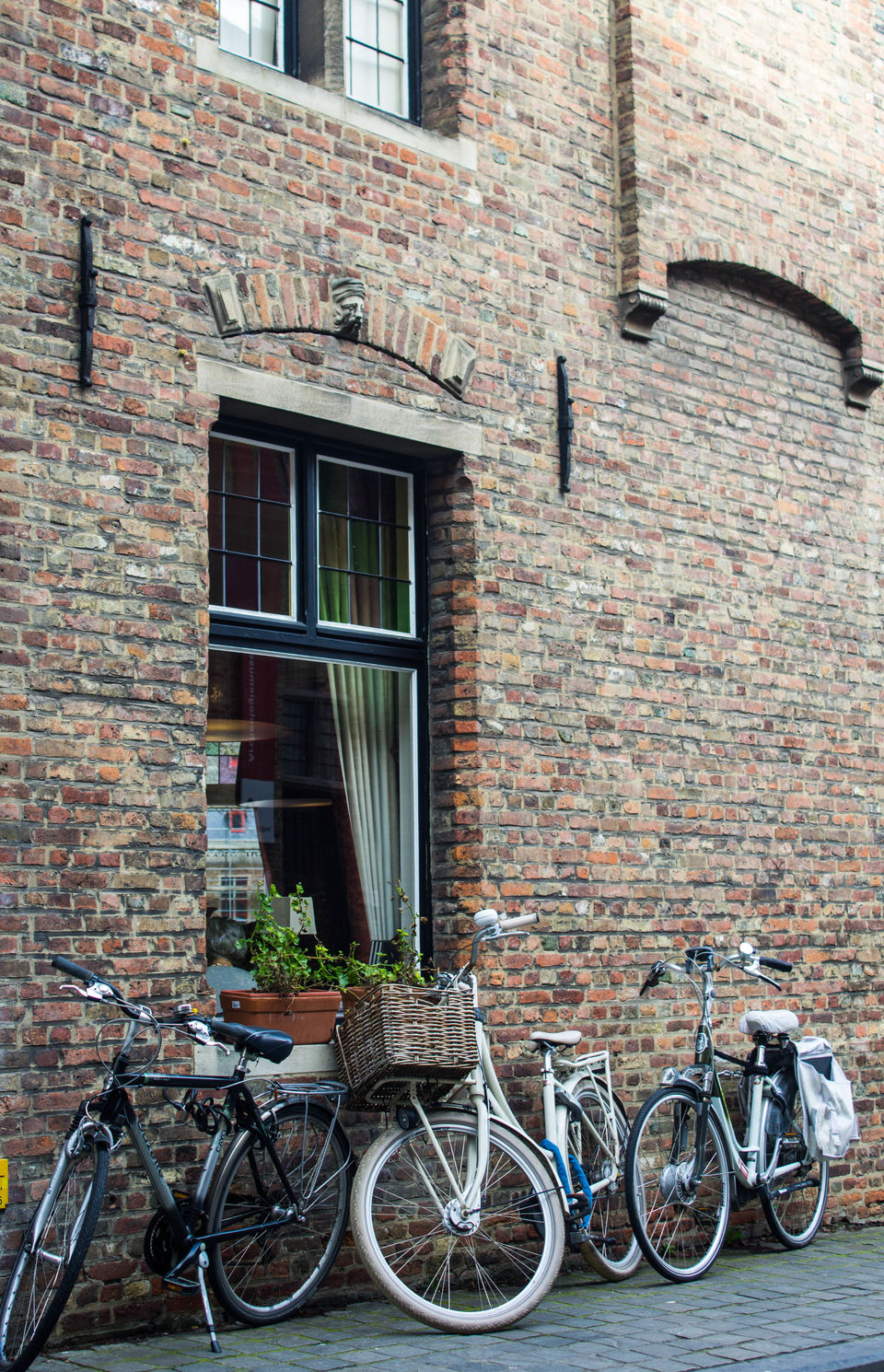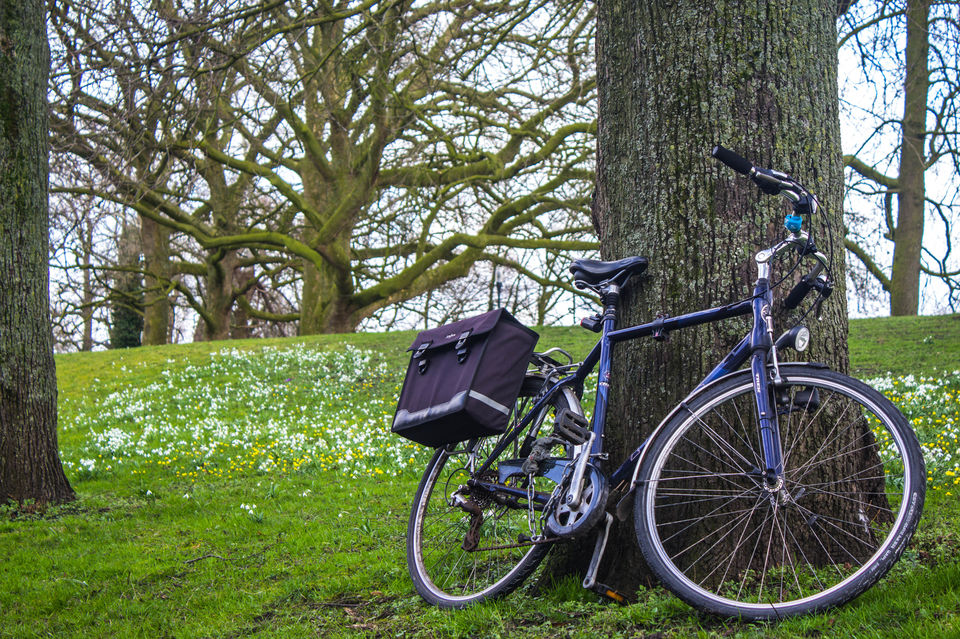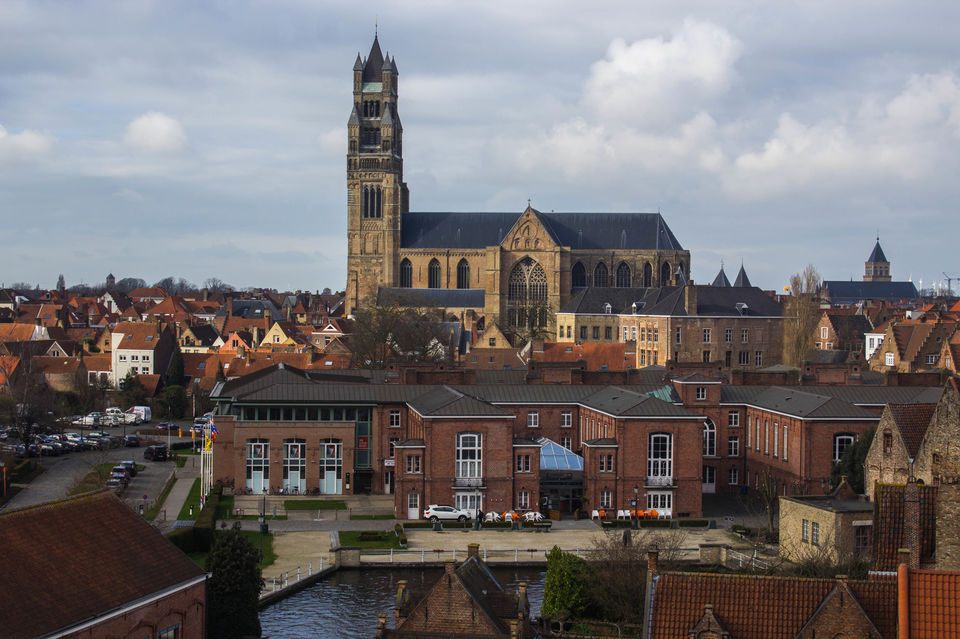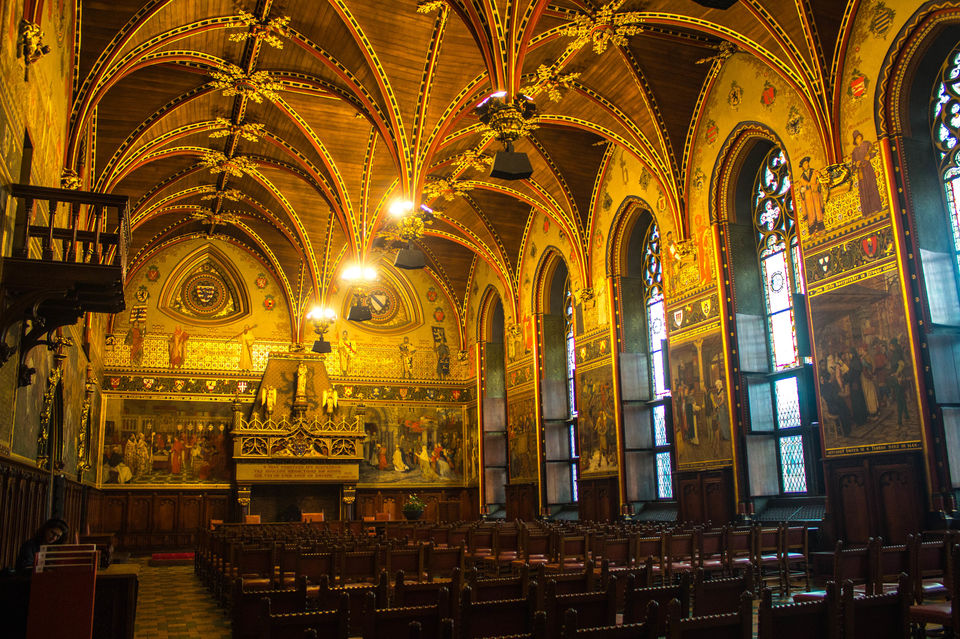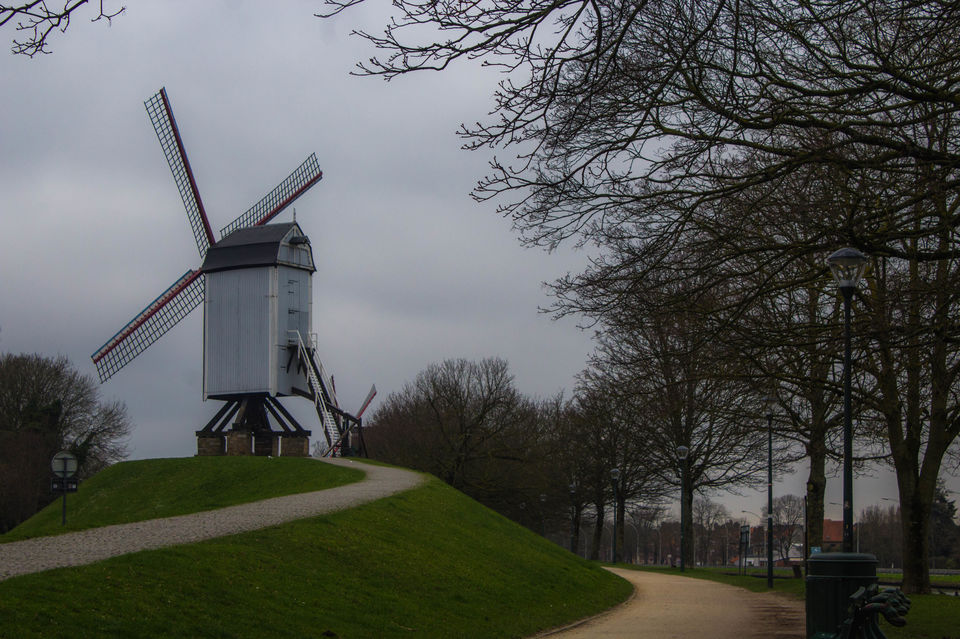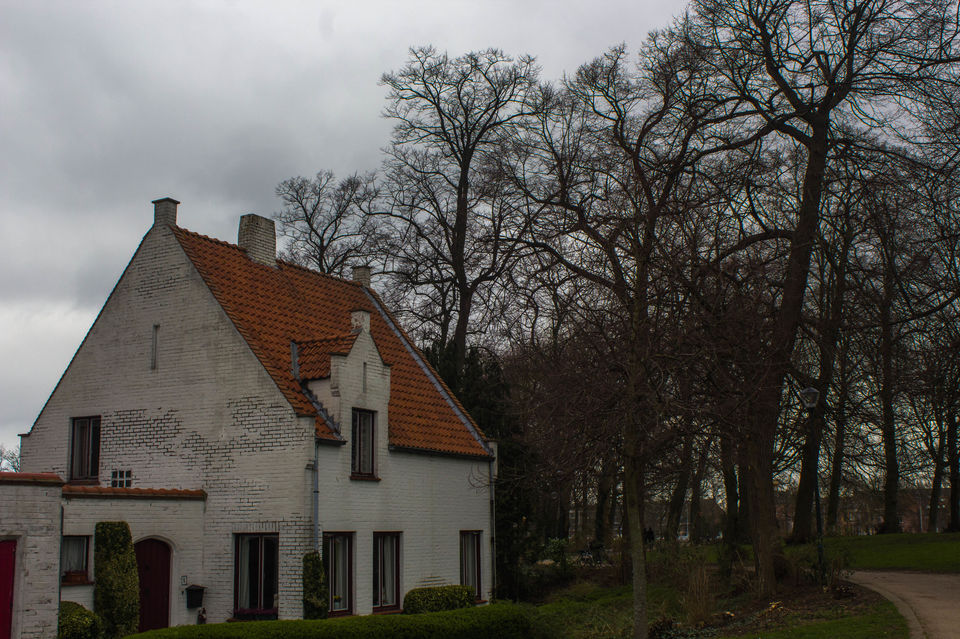 And leave I did, straight to Bruges – another short train ride away, now let's get this straight– Bruges is one of the premier destinations of Flanders and high on popularity quotient, sold as a picturesque European medieval town to package tourists around the world, during the summer season and weekends it gets quite busy which means its more expensive as compared to other locations, however I visited during the cold winter months and in the middle of the week and I found the place largely to myself , and inspite of all this, it is hard not be charmed by the medieval atmosphere this town packs , with glorious canal side homes and cafes , well preserved architecture and a relaxed vibe , Bruges captured my heart in an instant. I overstayed my time here and with good reason. Most of my days were spent aimlessly wandering through the town streets, visiting cafes, taking canal boat rides and gorging on the famous Flemish cuisine. Now you might wonder that these are good enough reasons to visit Bruges , however let me tell you the one and only reason I visited Bruges - it was BEER – let me bore you with a bit of trivia, this 8 square mile town has as many as 1200 hundred varieties of beer , and me being naturally the beer guy , hit the ground running , the interesting part is that each crafted beer comes with its own style of glass and I must have tried at least 40 different types , before deep holes in my pocket brought me back to sense . I had a chance to pick up some cool souvenirs from the Beer museum and I also visited the De Halve Maan Brewery – it was cool seeing how the beer was produced from scratch and even cooler was the fact that at the end of the tour you get a chilled glass of beer fresh from the brewery, this place also has some of the best view from the top of the brewery. One of the days I participated in a free walking tour and our guide took us across some of the prettiest spots in town, before we ended the walk at a waffle store – these waffles are a national dish and they are quite delicious with their many toppings and certainly to be tried while in Belgium. One of the evenings I spent with Hilda, she was a local that I met online – we walked the town and had Flemish dinner at a nice little restaurant she knew of, interacting with her, I came to realize that mass tourism has severely upset the normal routine of people in Bruges – during summer most of the locals relocate to other nearby localities as it is quite impossible to deal and manage the summer package tourists crowd that descends upon this little town. She also helped me learn a great deal about Flanders, and it is through her that I came to realize that despite Flanders being a part of Belgium; it was culturally very different to the rest of the country, with their own language, customs and cuisines. Bruges was also the only place that I ran into a fellow Indian traveller – the only one I met while on the road, we happened to live in the same city back home and we instantly hit it off, though we were both very different individuals, it is quite a happy chance to meet someone from your own native land and interact in the same language after days of solo travelling, we along with a few other travellers spent a nice evening bar hopping and trying various brews on offer in Bruges. We were a motley bunch of travellers with 02 girls from Germany and 01 from the States , and 4 Guys – 02 Indians , 01 Argentinian & 01 Canadian , all grouped together sharing the same passion and exchanging stories of life and travel in foreign lands. It is perhaps this transitory nature of travel experiences, that never lets it became stale or sour, you are free to move from one experience to another without any expectations weighing you down. It was with such somber thoughts that I packed my bags and left Bruges with a heavy heart, I had spent close to a week in Belgium and I decided to move to the last leg of my journey – I crossed over onto Netherlands.
I walked myself to the station and took a train to Antwerp, the tickets were purchased at the station itself and it was pleasant journey of 02 Hrs aboard the train in the company of a beautiful woman from Damme who was travelling to meet her sister in Antwerp. The Antwerpen station itself was the most charming & beautiful railway station I came across, it was converted into its present use from a church facade and its high ceilings and medieval art pieces are a sight to behold, it is widely regarded as one of the best examples of railway architecture across the world and I was glad to have been able to see it for myself. Since it was lunch time and my connecting bus to Utrecht was yet to arrive, I figured I would eat something at a nearby Macdonald's, and here I was surprised when after my meal, I had to pay to use the washrooms. I coughed up the amount anyway, and left in a jiffy, only to find out that my bus was gonna be late , so two hours were spent sitting and smoking on the stairs outside Macdonald's while the rain drizzled down in an bored stupor. Finally my bus arrived and using the Wifi onboard I was able to book myself a hostel in Utrecht. I arrived late at night and some helpful locals pointed me in the direction of my hostel. I checked in and slept like baby.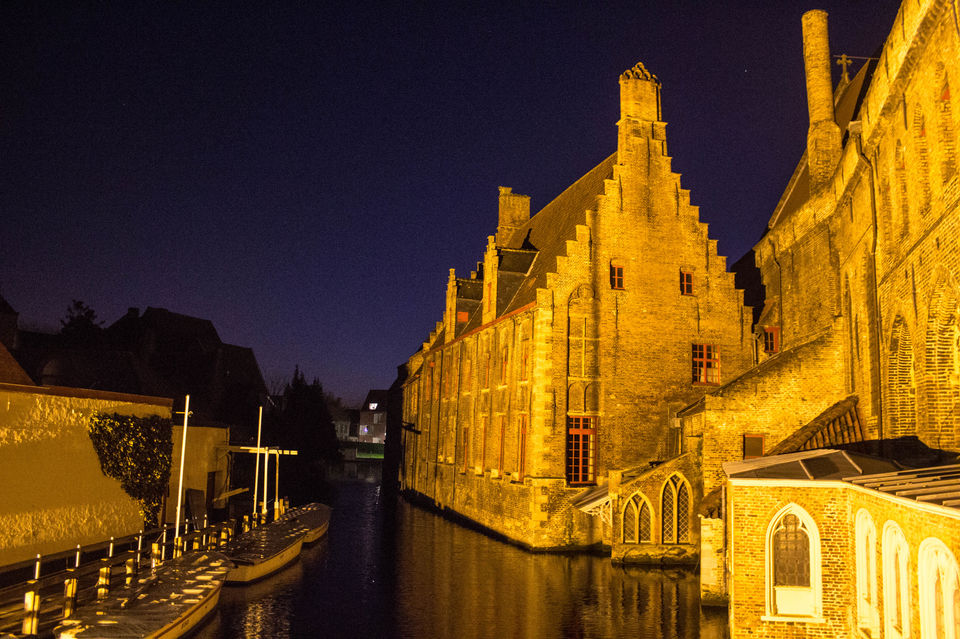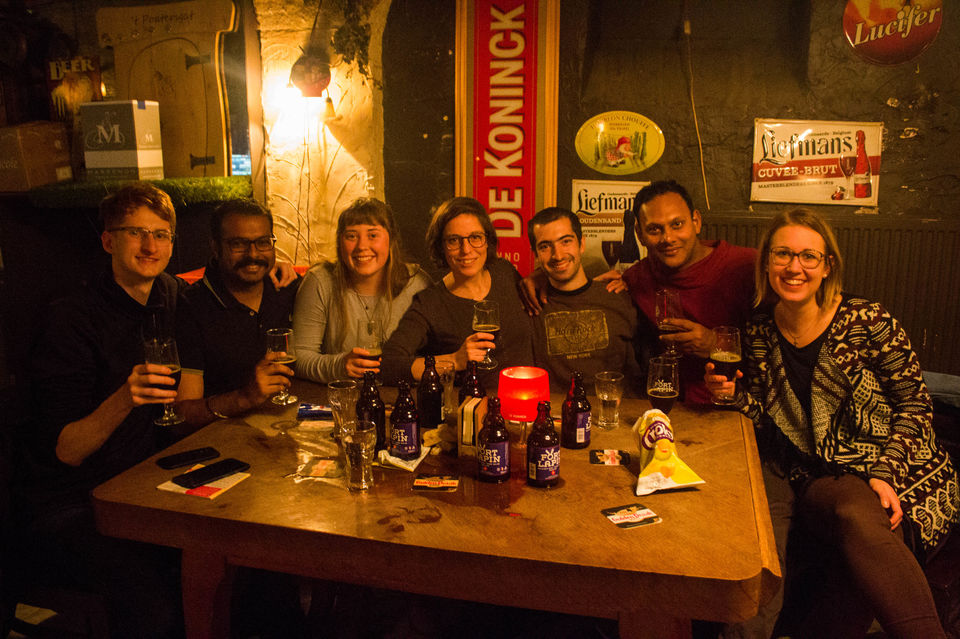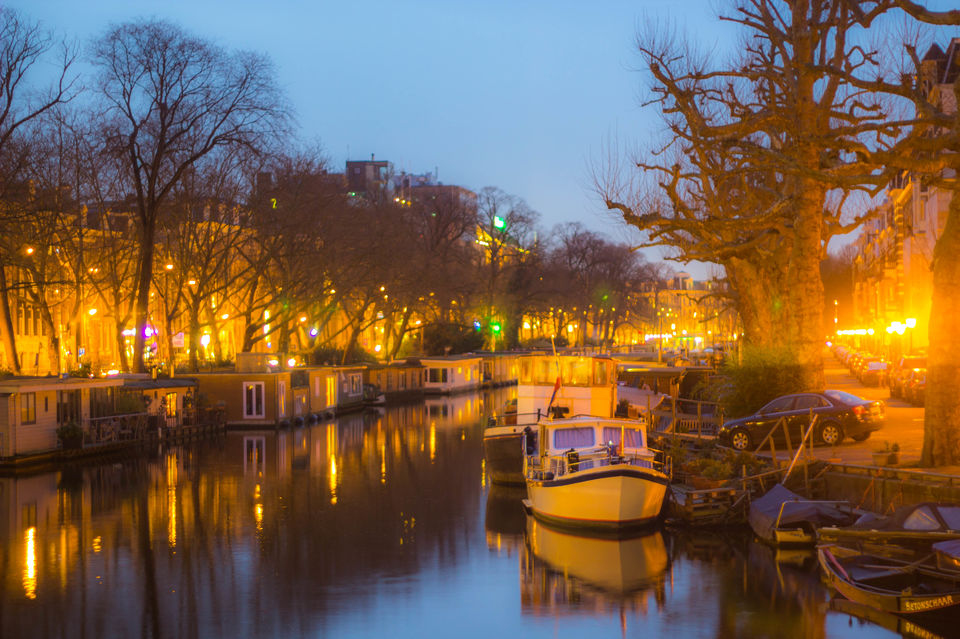 Utrecht was my first experience of Netherlands. I spend the day walking and getting myself acquainted with the town centre. I visited the Albert Heijn Supermarket, this is a local chain of supermarket and they a wide selection of some pretty useful stuff as well a great selection of cheese , wine and beer at amazing local prices. Since my hostel had a kitchen and allowed us to get our own drinks, I purchased my stock of food and beer from here. I purchased eggs, bread, cheese and some veggies and a six pack can of beers all for a meager sum of 7 Euros. While walking across the city , I also came across a couple of coffee shops – now these are not what you would regularly imagine – these establishments sell marijuana ,many have separate areas where you can sit and smoke along with a cup of herbal tea, a joint is available readymade and comes in various qualities and prices. I did knew that smoking up was legal in Netherlands , however I had assumed that this would only be the case in Amsterdam , so I was pleasantly surprised to find these coffee shops. I pretty soon stumbled across Culture Boat – this is a coffee shop, it is actually a boat docked alongside a canal and converted into a restaurant, Utrecht is a canal town as well, though very different in style and architecture to Bruges or Amsterdam. So evening after downing a few beers and nothing better to do, I found myself smoking up alongside the company of a Dutch teacher who was relaxing there after work, we were soon joined by a Nepali couple based out of London and we had a fun evening smoking and chatting. It was talking to Luuk that we understood that the Netherlands is one of the richest countries on the planet, and as a Dutch citizen you are pretty much guaranteed a good education, health care, job and a high standard of living, all of it sponsored by the government, I walked late night back to the hostel, stopping by at a Doner kebab joint for dinner hoping that I would be lucky enough to be born here in my next life, and it's not just because marijuana is legal here.
Days had passed by at an alarming rate and it was time for me to move onto the last leg of my trip – I hopped on to another train and found myself in Amsterdam – the capital of the country and its most populous district, famous for its world class museums, red light districts and coffee shops, I found the city to be too crowded and super expensive for my taste. I was staying with one of my friends and we mostly stayed indoors catching up with each other. I managed to walk myself around for a while, but my spirit was quite frankly dampened by large crowds, expensive prices and also the fact that I was feeling a bit tired & bored towards the end of my trip. I found solitude only in Vondel Park where I had a good sampling of Dutch Genever in comparatively peaceful environs. We also explored the Albert Cuypmarket which is still quite authentic and not overrun by tourists; we had the most amazing fish sandwiches for lunch here. I picked up a lot of Dutch cheese and snacks for folks back home from the market and a bottle of Dutch gin. Last evening was spent in one of Gezellig cafes – these are traditional, comfortable and cozy cafes that serve up great beers and Dutch finger food. They are an integral part of Dutch culture. Throughout my travels, I found Europe and Europeans to be a friendly and helpful bunch of people. It was really warming to see them fire up Google Maps on their smartphones to help me with directions, or helping me choose the right brew, or navigating the ticket vending machines for me, wherever I went , I was met with smiles and genuine warmth. Travelling solo, I never felt lonely or in need of company as simple smiles lead to conversations with random strangers and at times it was difficult to be left alone. Europe is a place I will return , there's plenty of culture and beauty to explore and it is continent that will take a perhaps more than a lifetime to discover.
Now about the Costs of the trip, and tips to cut down on the same ;
Time to Travel : Choose winters , this is off season , which mean hostel prices are down by 50 % , crowds are lesser , major cities like Paris & Amsterdam have tourist year round now due to the invent of Cheap flights. So expect to see a lot of Europeans nd American on city break holidays. Still finding a hostel deal is easy , and advance booking almost guarantees good & cheap prices.
Intercity & Country Travel: It is often cheaper to travel using local trains and buses rather than getting a eurail pass. Bus travel is extremely cheap, you can find 13 Euro tickets between major cities with travel time of around 4 – 6 hrs on Flixbus , OuiBus and Eurolines network if booked in advance. The regional trains fares are fixed and it is often possible to just get to the station , buy the ticket and hop on to the train. With a little advance planning it is possible to get heap tickets on high speed rail llike Thalys. Though this will be a minimum of 35 Euros.
Food & Drinks: Food – it is very easy to prepare you own meals at hostels by shopping at grocery markets or superstores , in paris buying a baguette , cheese , some veggies and a bottle of wine will cost all of 7 euros and this can be a great idea for a picnic lunch . Many restaurants offer set lunch menu in the range of 8 – 11 Euros so lunch can be your mail meal of the Day. If you are on a tighter budget it is possible to have Doner kebabs / Shwarama etc for as little as 3 – 5 Euros. Cooking you own meal in hostels, like I did for breakfast – bought a carton of 6 eggs , a packet of Bread and some chicken salami , and used the leftovers from the hostel kitchen to conjure up a meal , cost me all of 4.5 euros and this was good for 02 Breakfasts in Utrecht . I even had some leftover to dish up an Egg Bhurji – some of my hostel mates gorged upon it and in exchange I got a meal of Italian pasta. So money on dinner saved. Drinks are cheapest at Hostel bar , if you buy your beers and wines from the supermarket it is even cheaper than India. I bought a 6 pack Can of Beers ( Amstel ) 500 Ml each at 3.30 Euro – IE – INR 250 , cheaper than Kingfisher back home , hostels mostly have 01 Euro beers during happy hours. If drinking out expect to Pay in the range of 2.5 – 4.5 Euro per Beer. Wine is the preferred choice of Drink in paris and bottles can be bought from the supermarket from 5 Euros onwards.
Entrances & Activities : These can be a bit steep , like Eiffel is 17 Euros , Louvre is 15 Euros , and other are in the range of 6 – 10 Euros. Investing in a City Pass can work out cheaper if you intend to do heavy sighteeing , I however am not much a fan of it , because europe is full of museum and churches and cathedrals and after a while it gets repetitive , so I mostly just visited places that I fancied and found that it would be cheaper for me to just take it on the go. Still a pass maybe a better idea for people who intend to see a lot of sights. For City tours I mostly signed up for the free walking tours, these are tip based and you tip what you think is appropriate, usually 5 Euros is enough. Brewery Tours , Canal Ride and Cycling usually costs between 5 – 10 Euros. So choose wisely , I usually did one paid activity a day and found that to be more than enough.
Daily Costs Average (As of Feb 2017 )
Hostel – 10 to 15 Euros for a 10 Bed Mixed Dorm > I used Couchsurfing in Paris to Save some costs , however more importantly I got to know the locals in Paris , if using this forum , please do not think of this a just a free stay , it is important to think of it a s cultural exchange and it is nice to bring you hosts a gift – I got a bottle of wine and maybe exchange some skills , or atleast respect their time and interact with them.
Food & Drink – Breakfast – 5 Euro / Lunch & Dinner – 10 Euros Each - this means a set course for Lunch and a street side meal of Doner Kebabs and fries for Dinner. I was often able to get by on 20 Euros per day for Food. Beers or wine would be 5 euros daily , I usually only drank every alternate days.
Transport – I walked to most of the places, I only took the metro in Paris and Amsterdam and this cost me approx. 28 Euros for a carnet of 10 Tickets each at Paris and Amsterdam, this was for my 4 days at each of the places. Remaining places I only used the trains to get from the station to the hostel and vice versa, rest all was walking , and indeed it is very convenient and one of the hallmarks of any European trip to get lost in the maze of alleyways and cobblestoned streets.
Entrances – 10 Euro daily, some of the days I dint incur this expense and some of the days I overshoot my budget , especially in paris, where there are many entrances to be paid . This daily budget assumes you are visiting 01 important sight every days. Double this if you intend to cover a lot of ground.
Resources to use while planning
1 – Seat61.Com for trains schedules and best route info
2 – GoEuro – for Bus , flight and train booking
3- Couchsurfing – great way to interact with locals
4 – Hostelworld – Booking hostels in advance
5 – Lonely Panet guide book – to help with itinerary planning and charting out your day to day plan
6 - NOmadic Matt Europe Travel blog
So Per Day Bare Basic Backpacker Budget Average – 45 EUROS (INR 3400) x 18 Days = Rs 62000
Flights – Rs 34500 Return on AirFrance – BOM – PARIS – AMSTERDAM – BOMBAY
Visa – INR 6900
Total – Rs 1,02,600 ( This was my budget , ofcourse everyone's travel style is different , so plan accordingly , however also keep in mind that it is pretty easy to get by on a budget of under 50 Per day for a euro trip , just need advance planning , and a sensible itinerary , if you intend to cover 12 Towns in 15 Day like a Duniya Dekho Cox and Kings tour , then this figure will skyrocket.
So cheers guys, go take that dream euro trip you've always wanted to go on .
Mail me at indianjourneys01 @gmail.com , if you need any assistance on planning this trip.
Frequent searches leading to this page:-
Europe tour packages for family from Delhi, Europe tour packages for family from India, Europe tour packages for family from Mumbai, Europe tour package from India, best things to do in Europe during winter, best things to do in Europe, unusual things to do in Europe, extreme things to do in Europe