Imagine this: sleeping in a new bed every night, waking up in a new city every other day, lying on a terrace beside a complete stranger and counting stars, venturing into the wild and lands unknown, not knowing what the future holds, and all of this on a shoestring budget!
I have only recently explored the joys of packing a rucksack and setting out on an adventure. The exhilarating experience of backpacking is the essence of travel in the truest sense. And for those who haven't had the luxury of packing their entire life in a backpack and leaving home for an escapade, here's a carefully curated list of top 6 destinations in the world for first-time backpackers!
From carnivals and romantic canals of Venice to the museums and gelatos of Florence. From the stunning Cinque Terre to Naples, the birthplace of Pizza. From the ancient streets of Rome to the finest Italian couture in Milan. Italy has so much to offer in culture, history, landscape, food, and fashion. Italy is Europe in a nutshell, but at a cheaper price! It is fairly inexpensive in terms of accommodation and transport and takes a lifetime to explore. So when in Italy take it slow, savor the scenery and sip in the Tuscan wine!
USP: The transport pass in different cities and the succulent (yet cheap) local food.
I first started backpacking in the mountains of Himachal and fell in love in a heartbeat. The spectacular Himalayan landscape, Buddhist culture, the night sky, cold deserts, terrific high altitude treks, and remote villages in Spiti at an altitude as high as 15,200 ft. everything promises to leave you overwhelmed. The state is really cheap, backpacker friendly, safe and pollution free for most parts. From the best quality hash in Malana to the seat of HH Dalai Lama, you'll find everything here. Travel here to cleanse your mind and immerse yourself in the divinity of Lord Shiva's abode (and hot springs).
USP: HRTC, the transport system is top notch, punctual and never disappoints.
Thailand is where backpacking begins! It is pocket-friendly, diverse and simply magnificent. With white sand beaches, world-renowned diving, lush forests, scenic landscapes and insane parties, Thailand is the ultimate destination for a newbie backpacker. You can rent a bike and explore the quaint coastal line and the stunning islands, or you can party till dawn in Koh Phangan or even better, join a silent, Buddhist meditation retreat or simply chill by a beach with the Chiang beer!
USP: Visa on arrival, delectable cuisine and some of the best beaches in the world, all on a budget!
Indulge in a new culture altogether, shop the colorful souks or surf along the heavenly Atlantic coast, and you'll know why Bob Marley and Jimi Hendrix hung out here. Or, you can simply escape to Imlil for a romantic getaway with your significant other and hike up to North Africa's highest peak, Mt. Toubkal on a pleasant morning. Morocco is the new age backpackers' paradise, with Taghazout being the surfers' hub, and the blue cities of Marrakesh and Chefchaouen being the hotspot for backpackers! It is very well connected to Europe, so you can continue to backpack to Spain (take a ferry to Spain only for USD 35) after you have gone sandboarding in the Sahara desert.
USP: Visa on arrival (t&c applied), oldest Medinas in the world, surfing in the sea and camel rides in Sahara.
Call it my love for snow-capped mountains or simply an "Into the Wild" fan, I find Alaska to be an ideal backpacking destination. Explore the wilderness, camp under the stars, cook your own meal, hike with your buddies under the mellow sun for days (sometimes weeks) and embark on a journey of a lifetime! While the higher reaches in Alaska require some experience in trekking as the difficulty level could be medium to high, but there are several gorgeous national parks and hiking trails that are suitable for first timers too, like Wrangell – St. Elias National Park, Gates of the Arctic National Park and the Arctic National Wildlife Refuge.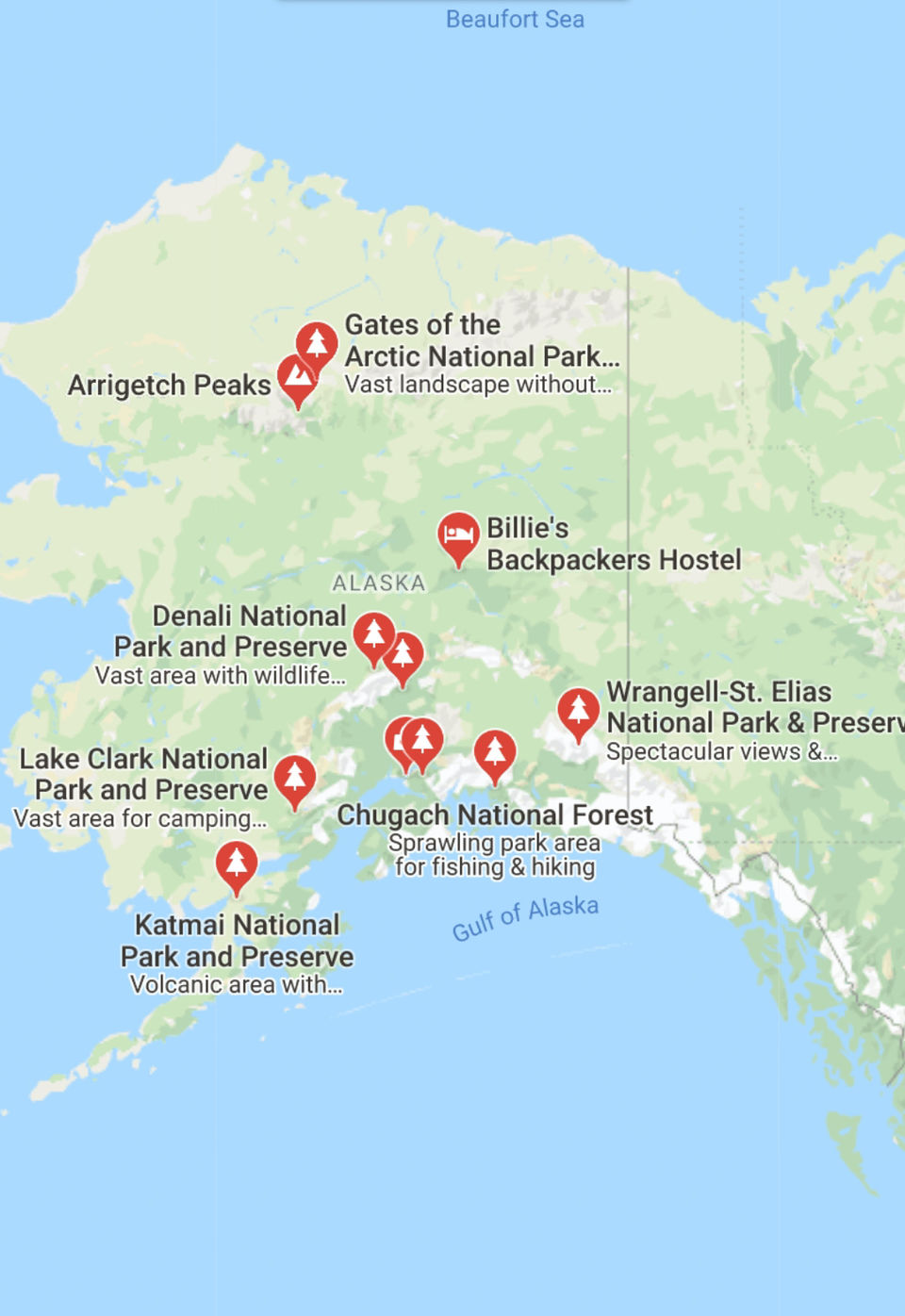 USP: Denali – the highest peak of the US, the wildlife and raw natural beauty.
One of the coolest cities in all of Europe. First-time visitors are advised to visit Buda and stay in Pest (the two different sides of Danube), to experience the ruin bars and backpacking culture. Budapest is a true testament of the Ottoman Empire, it holds an abundance of heritage, and is historically and culturally rich. It has a wild night-life culture as well, showcasing the best of Europe! Budapest is known to be safer, cheaper and less congested than its other European counterparts. Go museum and church hopping, indulge in famous Hungarian cuisine and booze, and soak in the European vibe!
USP: Turkish thermal baths, ruin bars, proximity to Croatia and Austria, two underrated European backpacking gems!
How many of these amazing places have you traveled to?