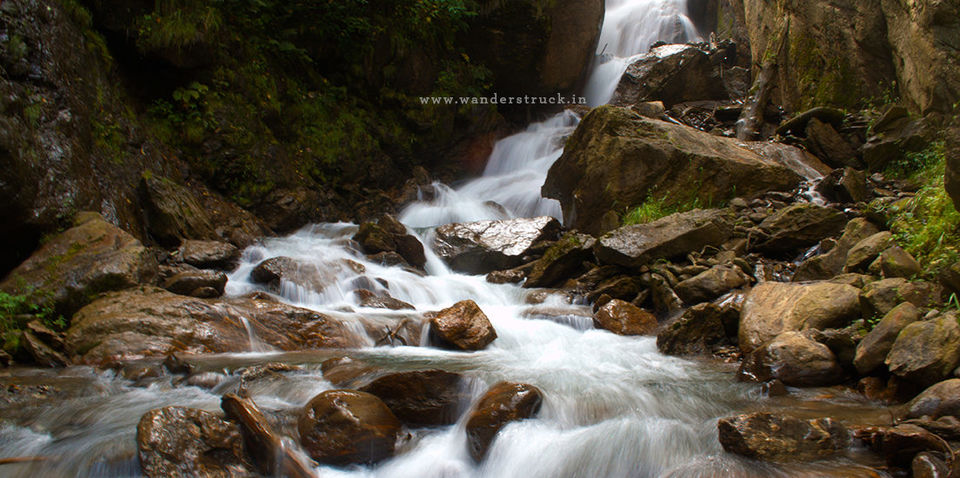 Kheerganga, a meadow where Shiva is said to have meditated for 3000 years. It is one such place that you wish would remain a secret from the world, only to yourself.
One of the most beautiful treks, so picturesque that you feel an impulse to reach for your camera or pinch yourself hard to make sure it's real.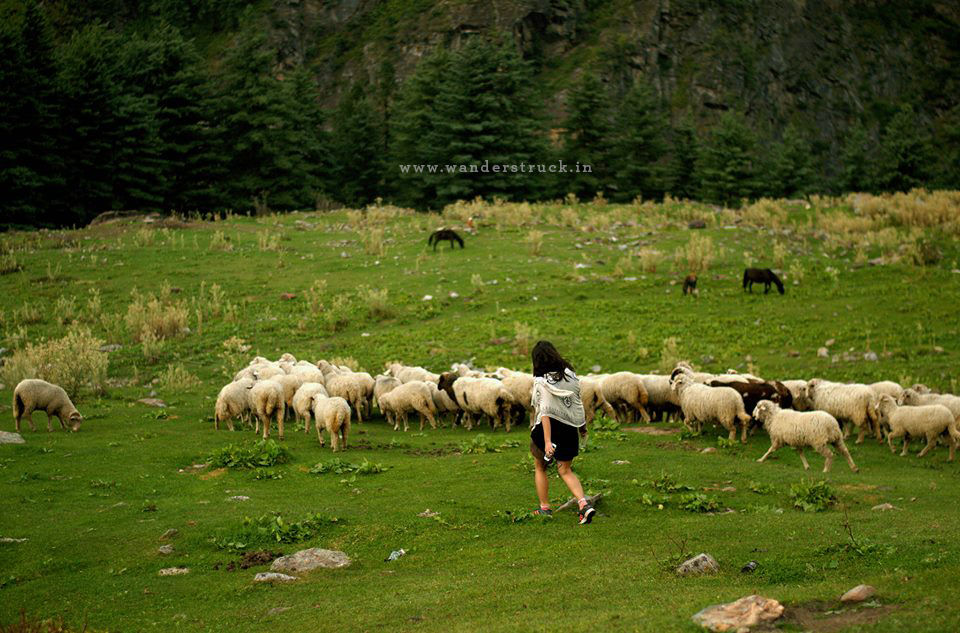 Parvati valley is home to majestic waterfalls, lush green forests, signs of wildlife, beautiful flowers and a well-marked trekking trail.
After a long trek through the forest, there is no better way to rejuvenate, than taking a dip in hot water spring amidst Himalayas. Trust me!
Location -Kheerganga, Parvati Valley, Himachal Pradesh Best Time to Trek:May to November Height: 2,960m / 13,051ft Trek Level: Easy-Moderate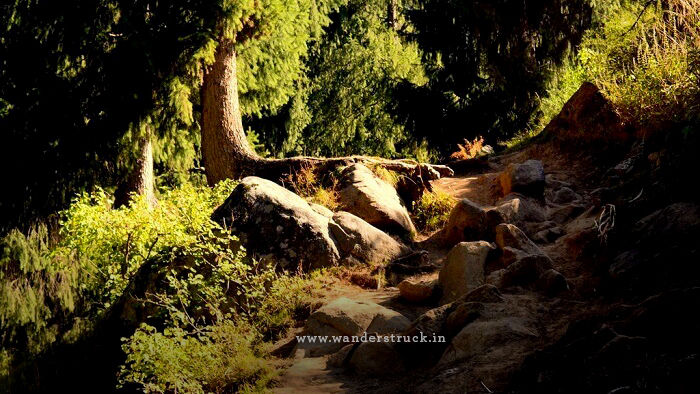 So, this is how I reached Kheerganga. You can either follow the same itinerary or add more days or diversions, like Tosh, Malana, Rashol, etc. (refer to the map below) as per your convenience.
I went for the trek in the month of August from Delhi. The weather was pleasant. Didn't need warm clothes at all during the day, but during the night, some might need a thin jacket.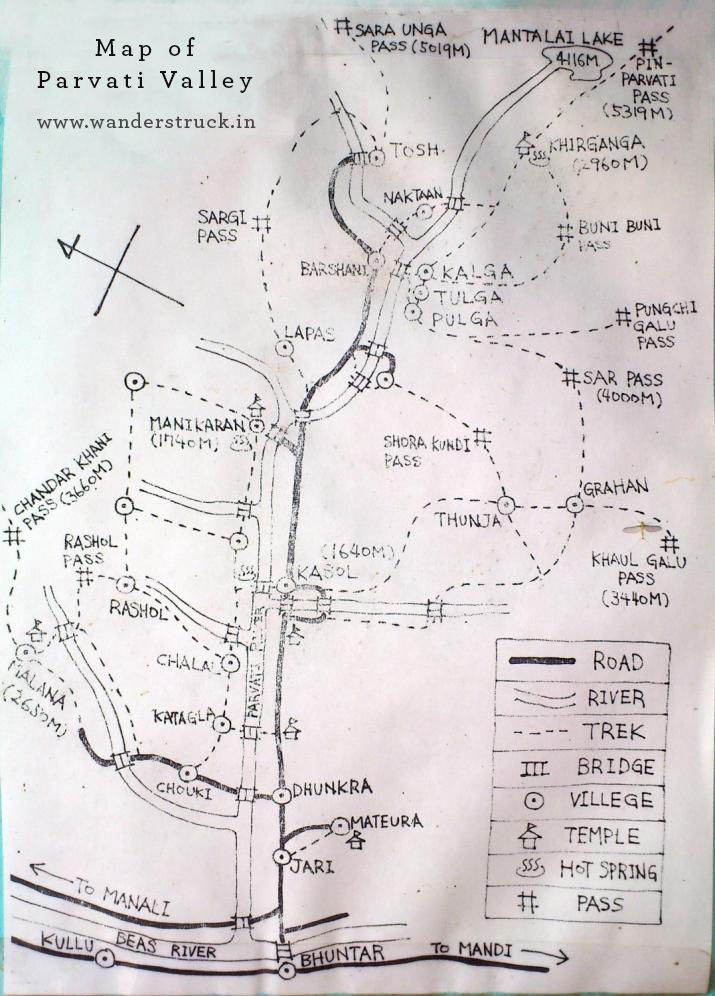 Start Trek to Kheerganga from Kalga/Pulga (4-6 hrs.)Enjoy the rest of the day at Kheerganga.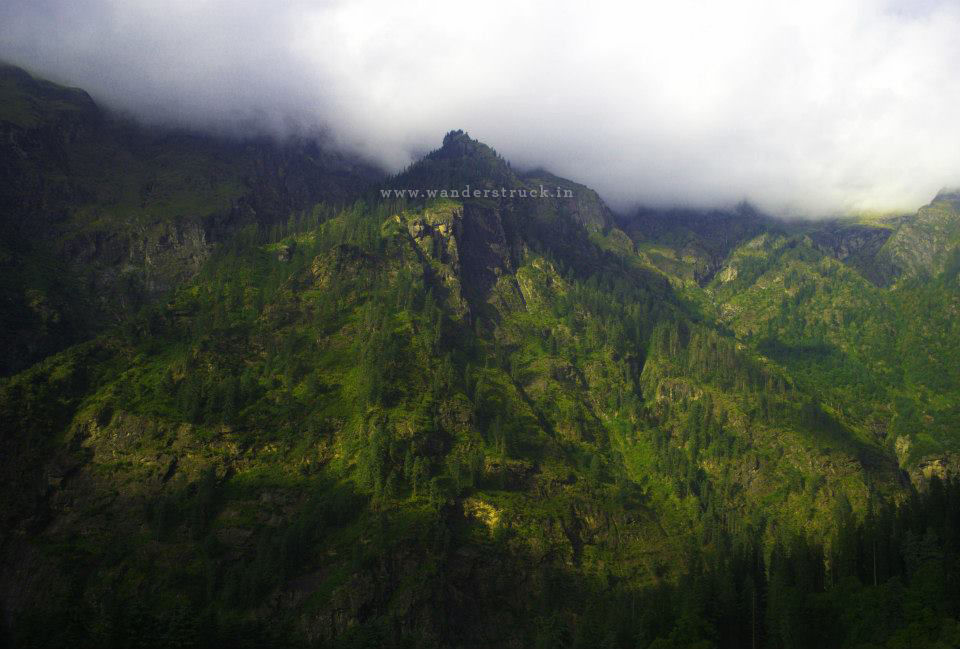 Delhi - Bhuntar
Board a HRTC bus in the evening around 7-8pm. Journey Time: 11 hours approx.
It is recommended you book your tickets online from the HRTC site in advance, as it would save a lot of time standing in the queues, with no surety of getting a Volvo ticket. Ordinary bus tickets might be available. (I missed my bus. I didn't book it in advance and thought might be able to get one around 10. Duh! So I took a bus to Chandigarh, and from Chandigarh booked a cab to Kasol, costed me about 5-6K, though it was much faster than the bus)
Day 2
Bhuntar - Kasol - Barshaini - Kalga/Pulga.
Once you reach Bhuntar, I believe you might be hungry and would want to sit at some restaurant and have breakfast. I suggest you to save your appetite for Kasol. So grab the next local bus from Bhuntar to Kasol (30km, 1hr approx.), and sit and treat yourself with good food and music at Café's in Kasol Post Brunch, take a walk around in the local market. You'll find a lot of handmade woollen Pjs, Sweatshirts, headbands, Chillum, and all kind of Hippie stuff!
Grab a local bus from Kasol to Barshaini(12km, 30mins).
From Barshaini cross the dam and start your tiny trek to Kalga(20mins)/ Pulga (30-40 mins). You can choose to stay at either Kalga or Pulga, with a local family for Rs. 100-500/- a room, food extra (bare minimum cost) or pitch your own tent.
I stayed at Pulga. Both Kalga and Pulga are small villages, with ethereal viewpoints, lovely locals, good vibes and serenity amidst apple orchards.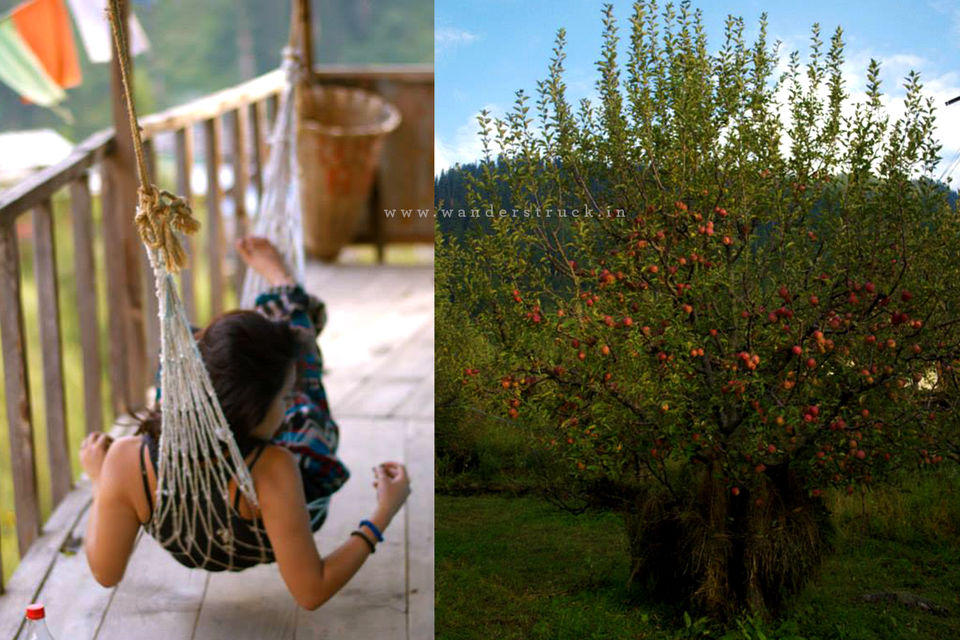 P.S. If you start your trek to Kheerganga from Pulga, Kalga would fall on your way. Which also means Kalga being a bit more closer Kheerganga (refer to the map above).
Day 3
Start your trek to Kheerganga from Kalga/Pulga, post breakfast. If required, you can find a porter for Rs. 400-600 from the village itself to carry your luggage.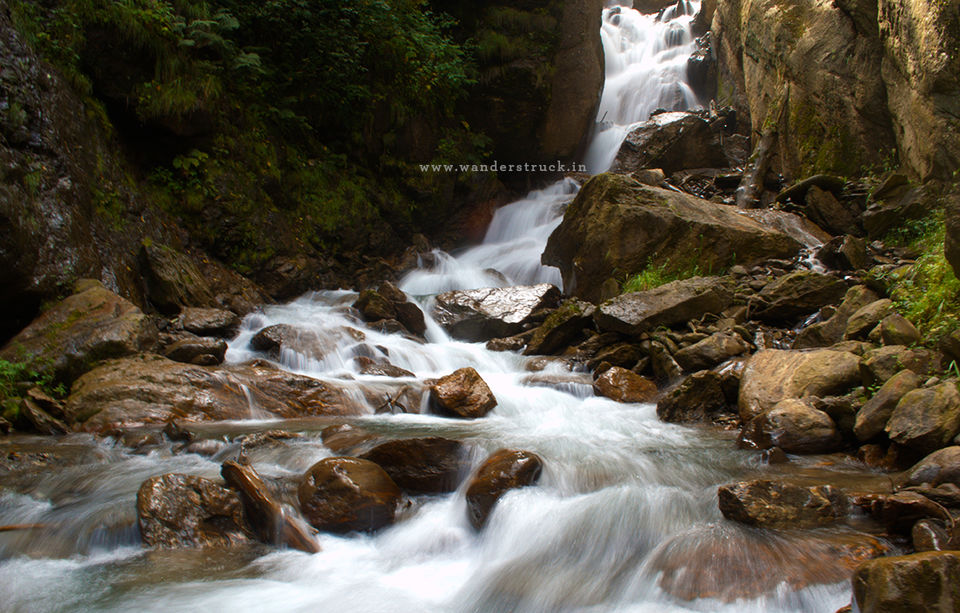 I completed the trek in about 4 to 5 hours, as I took quite a number of breaks throughout the mesmerizing trek. The amazing landscapes, waterfalls and the alpine meadows are bound to make you stop and feel it and soak it in!
I stayed at the Lonely Planet (image below). It was Rs. 200-300 a night. There are many multi-cuisine places to eat at.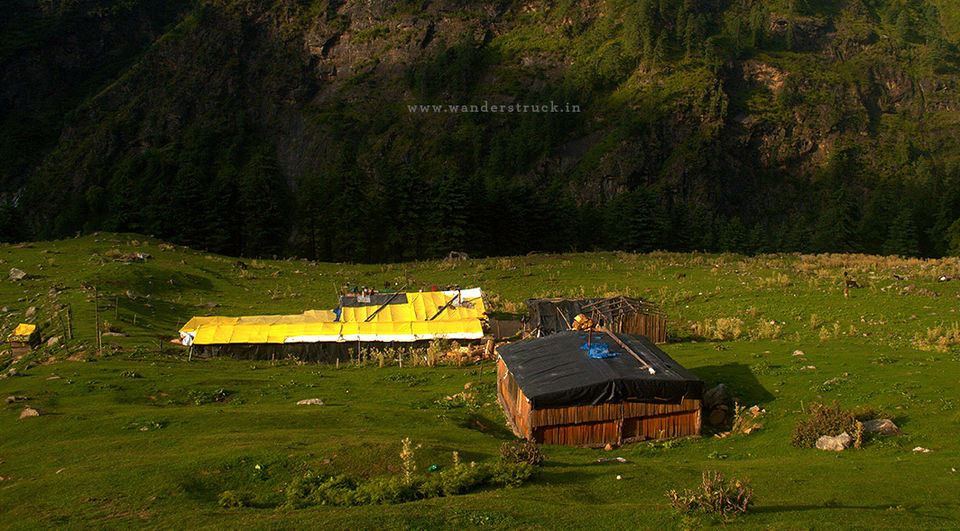 As soon as I reached, I threw my bag in the room and rushed to the Hot Spring amidst the Himalayas.(It is said to be a holy spring with healing properties. The pool has one section for men and the other enclosed one for women)
Post that, I enjoyed a good strong cup of coffee while watching the sun go down.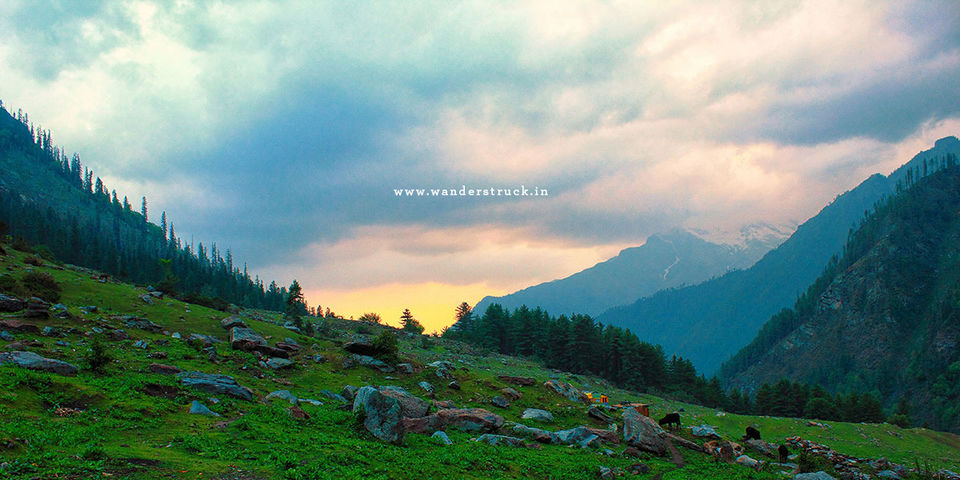 Day 4
Woke up in the morning to see the sun splashing its beautiful colors on the mountains. The bath in the hot springs was so special, I stayed there for quite long. The magical sound of morning chants from the shiva temple just 50mtrs from the spring, made the morning just perfect!
I enjoyed a scrumptious breakfast, and bid my goodbyes to the beautiful valley, with a promise to return again, soon!
1. Pack light & "Light" You don't need those 5-6 t-shirts and 2 pairs of jeans. Carry quick-dry clothes, instead of cotton and denims. Don't forget to carry a torch.
2. Most comfortable pair of shoes Make sure you don't carry shoes you have not worn before. Shoe bite and trekking don't go well together.
3. Weather is unpredictable Take layered clothing. Carry 2 thin jackets instead of one heavy jacket. Rain cover for you & your bag is a must.
4. Keep some dry fruits in your pocket It's a good source to keep your energy levels up.
5. Avoid chocolate and energy bars
Yes, it's true that they give you a sudden boost of energy, but also a sudden drop. Also, it will give you hunger pangs after a while. So, avoid if you are still away from your destination. Keep boiled eggs, if required.
Water prevents muscle cramps. Also, it contains oxygen, which can compensate for the low oxygen levels in ones body
7. Its Not a Race
The reason you are on a trek is because you want to take a break from running around. You want to see, experience and enjoy the nature and not because you wanted to finish it before anyone else. Walk at your comfortable pace & try not to push yourself too much.
It is our responsibility to keep our ecosystem clean, just the way Mother Nature has made it. If you bring anything with you, better bring it back with you. Don't leave trash on the trail, and pick up any extra trash you see out there. Be Responsible!
This blog was originally published on 'Wanderstruck-eat.sleep.travel.repeat.'